Alessia Russo – The Audaciously Brilliant Lioness Ready for the World Stage
It was a summer to remember for England as football finally came home. The Lionesses made home advantage count and roared their way to the European Championship title with their typical verve and joy. The tournament saw many players making their major tournament debuts, as coach Sarina Wiegman put her faith in the young talent within the England set-up.
One of the players who made her mark on the tournament and English football was 23-year-old Manchester United forward, Alessia Russo. Her audaciously brilliant backheel goal against Sweden was rightly voted as 'Goal of the Tournament' and her performances as a super sub, alongside best friend Ella Toone, have earned her an army of new fans across the globe. 
I dreamt of scoring a goal like that my whole life. Never happened. @alessiarusso7 take a bow. Go on England.

— Abby Wambach (@AbbyWambach) July 26, 2022
Every so often a player comes along who could potentially transcend the sport, much like Kelly Smith. Even if you have no idea about women's football in England, chances are, you are aware of Kelly Smith and have some knowledge of how important she was for the sport. With her footballing ability, work ethic and desire to influence changes off the pitch, Alessia Russo could be that player for this generation.
Born in Maidstone in Kent, Russo began playing football for her local team Bearstead Girls before firstly being scouted for the Charlton Athletic Centre of Excellence and then joining Chelsea's Academy. In 2017 Russo signed for Women's Super League team Brighton and Hove Albion where she would make seven appearances, scoring three goals.
She then moved to the USA to attend college and played football for the North Carolina Tar Heels where she scored 28 goals in 57 appearances and was named 2017 ACC Freshman of the Year and 2018 ACC Offensive Player of the Year. Russo then returned to England in 2020, signing for the club she spent her childhood supporting – Manchester United, where she has remained to date.
Russo hit the ground running and scored three goals in her first four games however she then suffered a hamstring injury which sidelined her for the rest of the 2020/21 season. The young forward returned to full fitness for the 2021/22 campaign and took to the pitch with a point to prove, so far, she has bagged 12 goals in 26 appearances for the Red Devils. 
Manchester United typically line up in a 4-2-3-1 formation under Marc Skinner with Russo occupying the lone striker role. She will often drop back to pick up the ball which allows Toone, Galton, and Thomas to get further forward and into goal-scoring positions.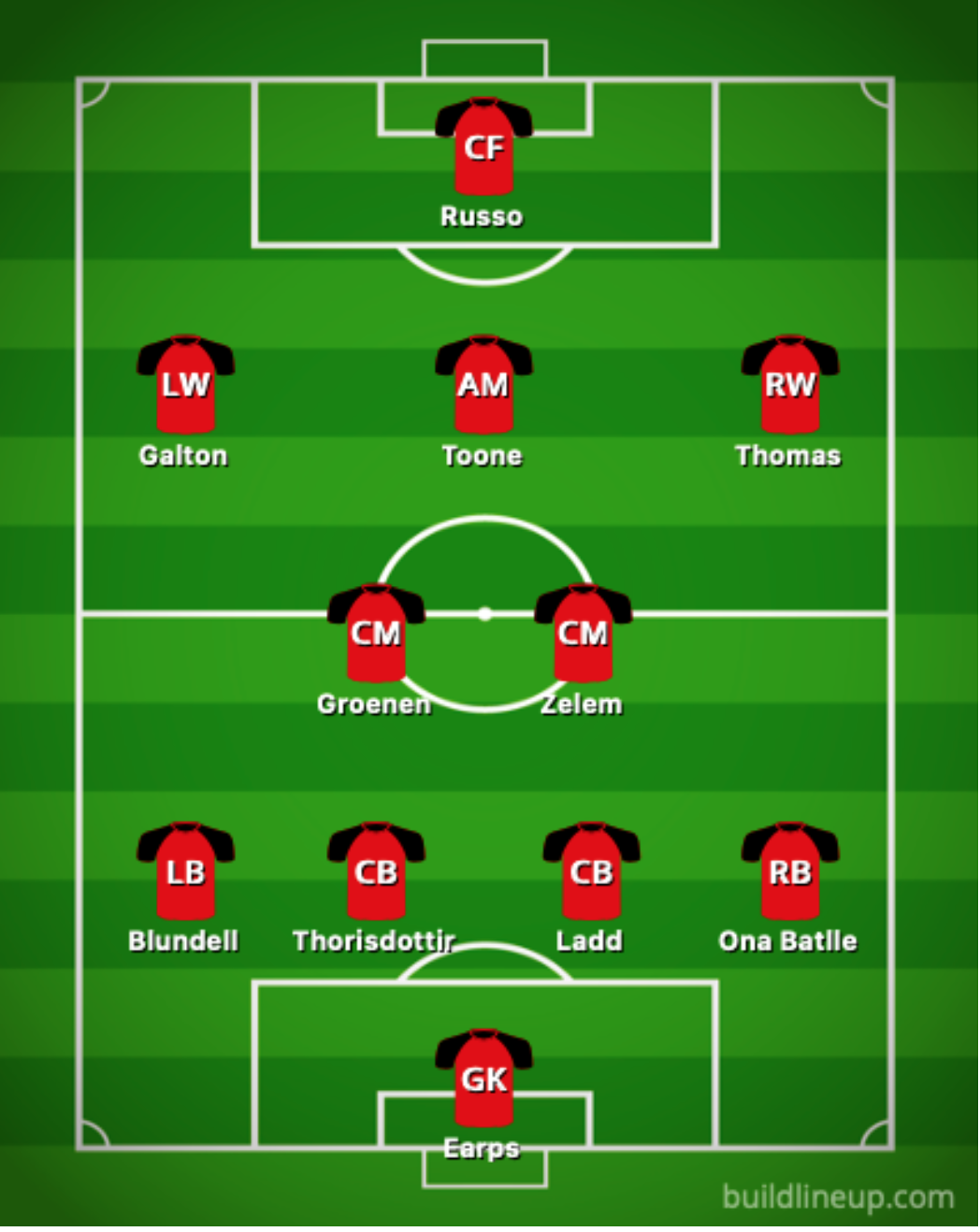 Russo is equally happy to work the channels and drag opposition defenders out wide to create space for teammates which is something we saw Kelly Smith do so frequently in her early playing career. The images below are a good example of Russo running into the channels and using her quick feet to get away from the defenders which creates space for her to cross the ball.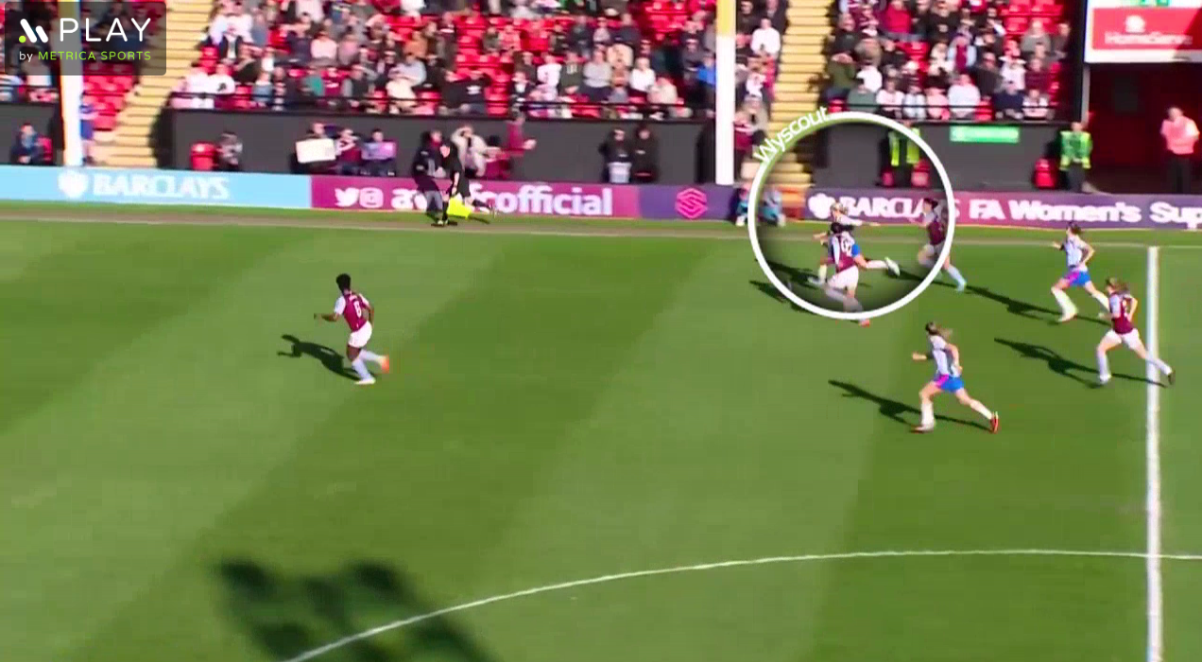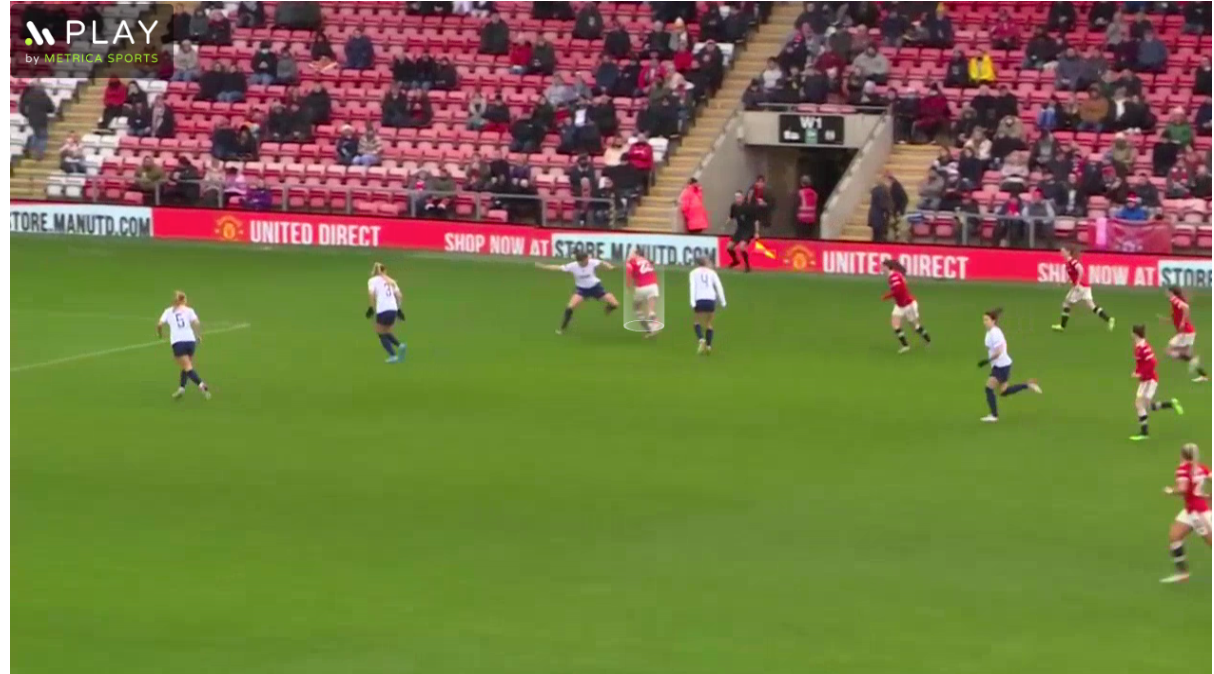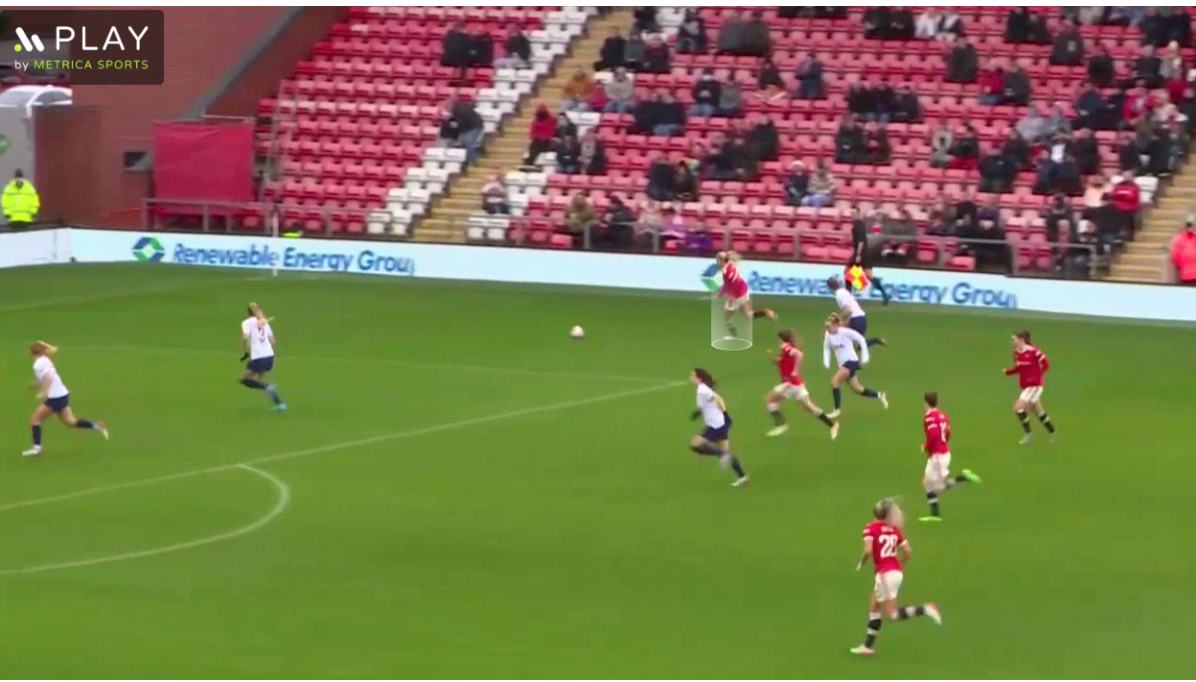 Looking at the data from Wyscout of forwards in the WSL with over 900 minutes played, Russo averages 0.48 goals per 90 which is the fourth best, behind Sam Kerr and Beth England of Chelsea and Vivianne Miedema of Arsenal. This means she is very productive especially as Manchester United are yet to reach the heights of Chelsea and Arsenal.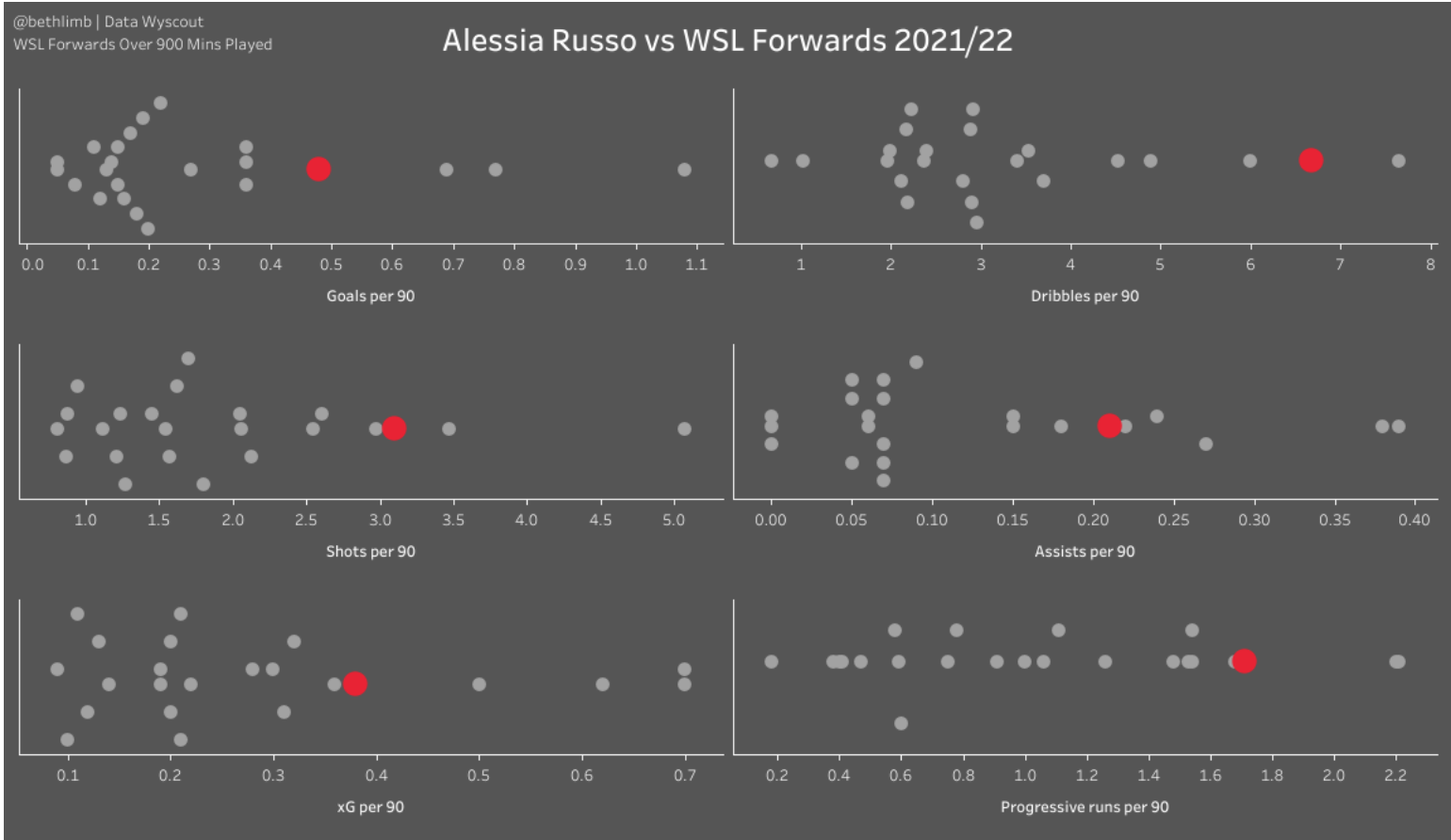 However, as she averages 3.1 shots per 90 it is likely that Manchester United will be wanting to see a higher goal-scoring output from their young striker. Russo is very confident with the ball at her feet as she averages 6.6 dribbles per 90, she is willing and able to run with the ball, making 1.7 progressive runs per 90 and she is also happy to hold up possession to allow teammates to arrive in support.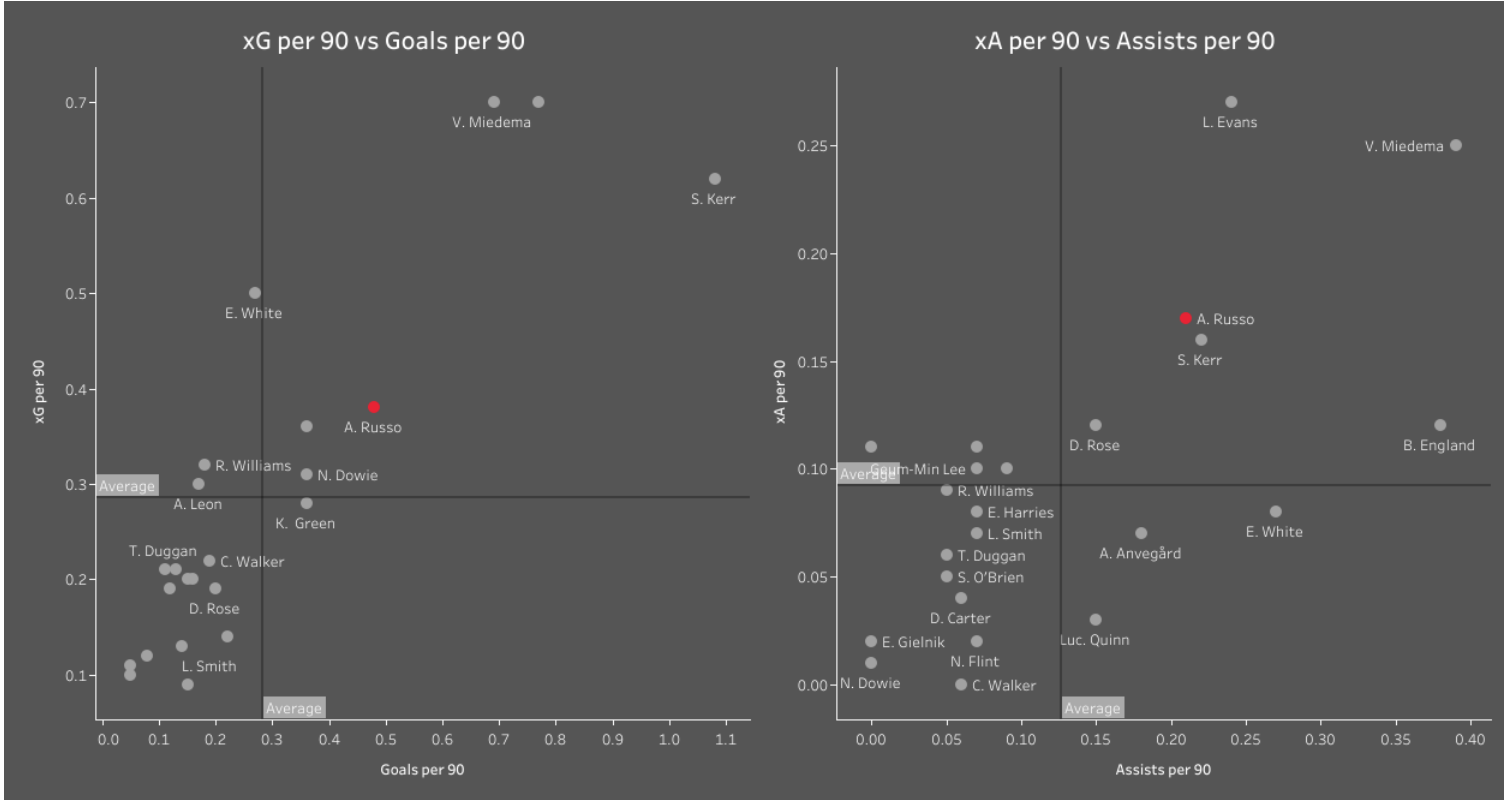 Russo performs above average in many aspects of the game, firstly in terms of both goals and assists compared to her peers. She scored nine goals for Manchester United in the previous season and had three assists to her name. Without a doubt, she will want to improve these numbers, but they are decent enough for a young striker who has just come back from injury.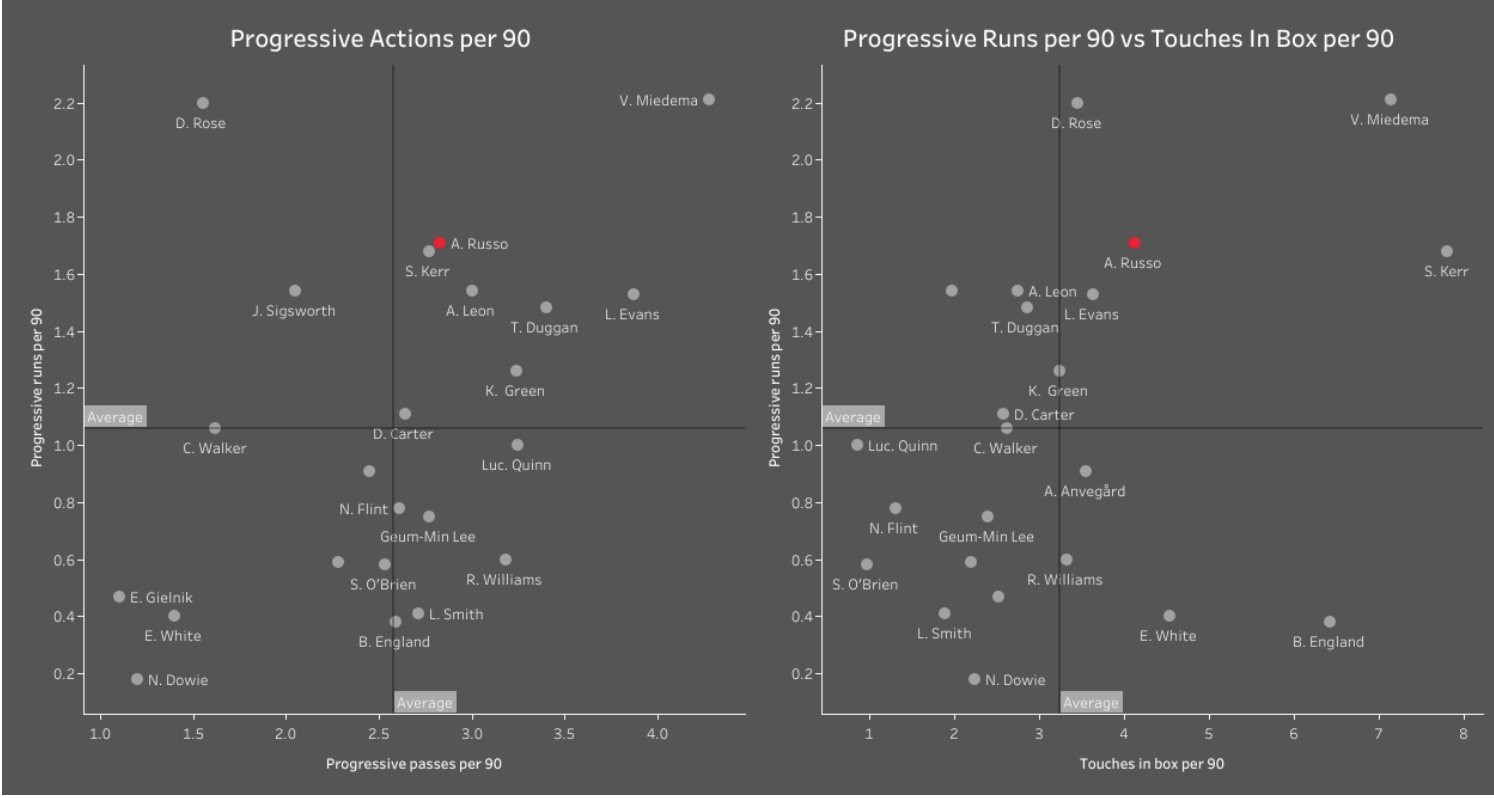 The Kent-born forward is an incredibly progressive player who possesses superb in-game intelligence which is demonstrated in her off-the-ball movement which appears to be intuitive and easy. She is constantly looking to make progressive runs and is willing to play on the shoulder of the last defender, ready to run in behind. However, she is also willing to drop back into the centre of the pitch to hold the ball up and is able to pick a pass out for her teammates who are joining the attacking phase of play.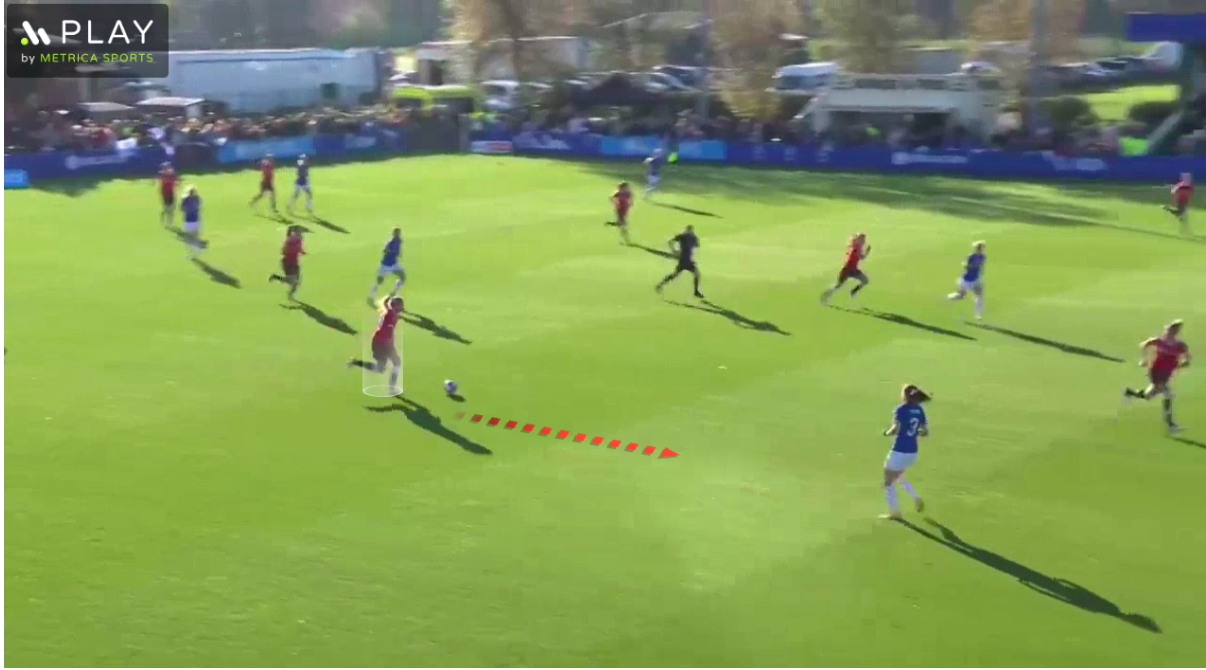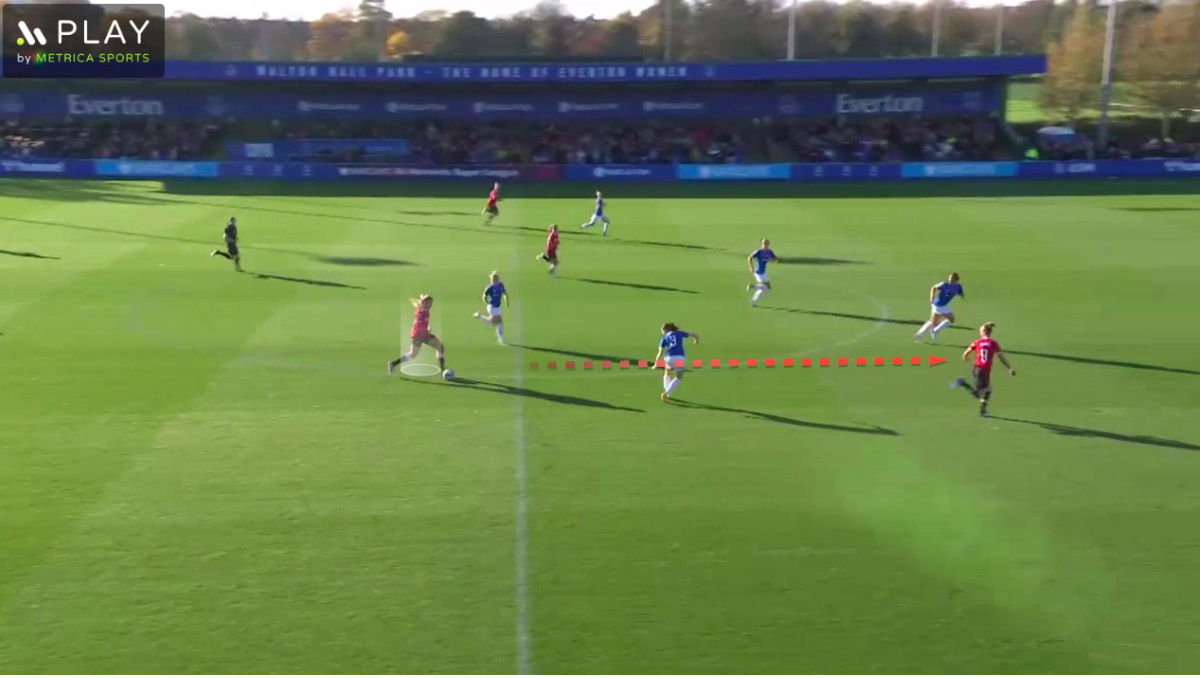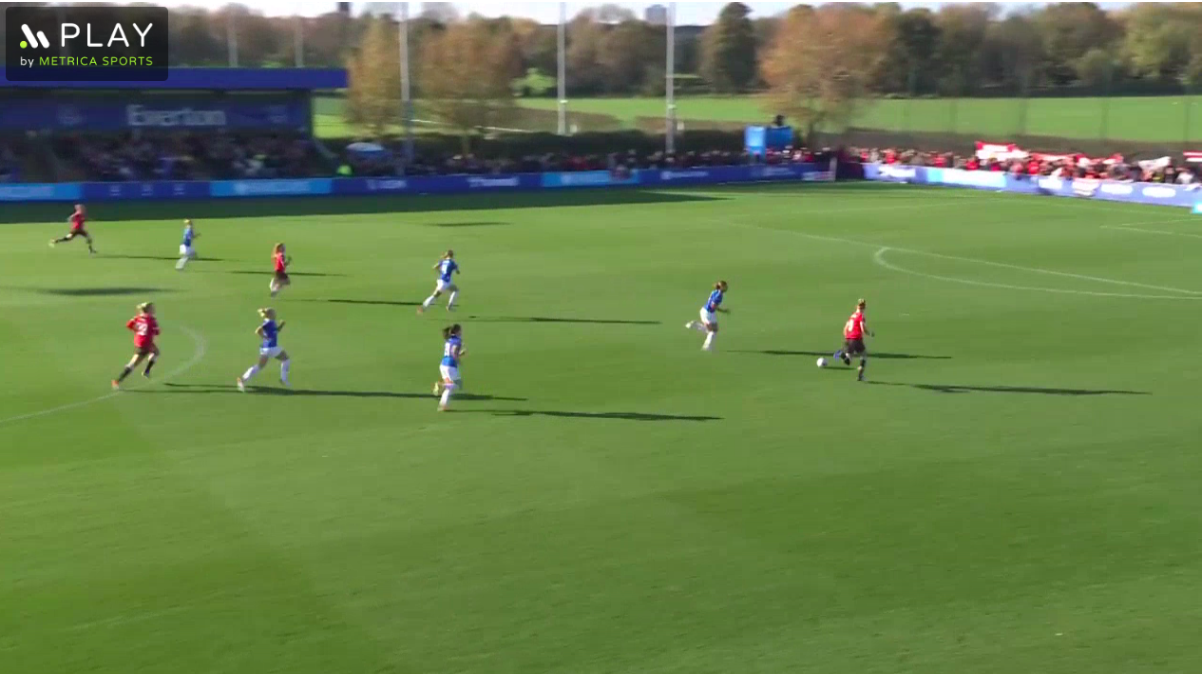 The above images depict Russo picking up the ball in her own half and skilfully dribbling forward into the opposition half. She has her head up and is constantly scanning the pitch to assess where her best passing option is. She spots a teammate who is onside and making a run forward, Russo can play a pass through the lines and gives her teammate a free run at the opposition goal.
The images below show Russo once again drifting onto the right flank and then using her upper body strength to roll the defender and create space to run into. She is very athletic and powerful; this means she is able to generate explosive bursts of pace which enable her to often evade defenders with ease.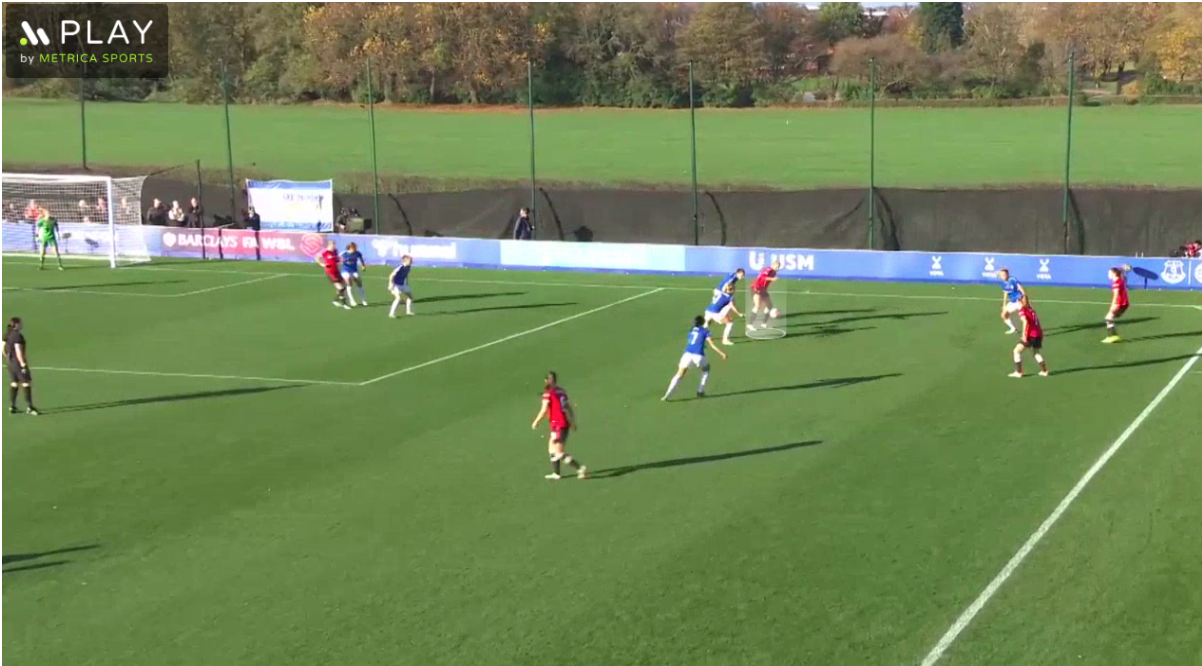 The Manchester United striker has an immense strength and aerial ability, standing at 175 cm she is quite tall for a female player which means she is always in with a good chance of winning the aerial battles. She is physically very strong and shows great bravery when challenging for the ball in the air.
Russo will also use her aerial prowess when defending set pieces as we saw with England during the Euro 2022 tournament, it was often Ella Toone who was the lone player left forward while Russo was tasked with defending.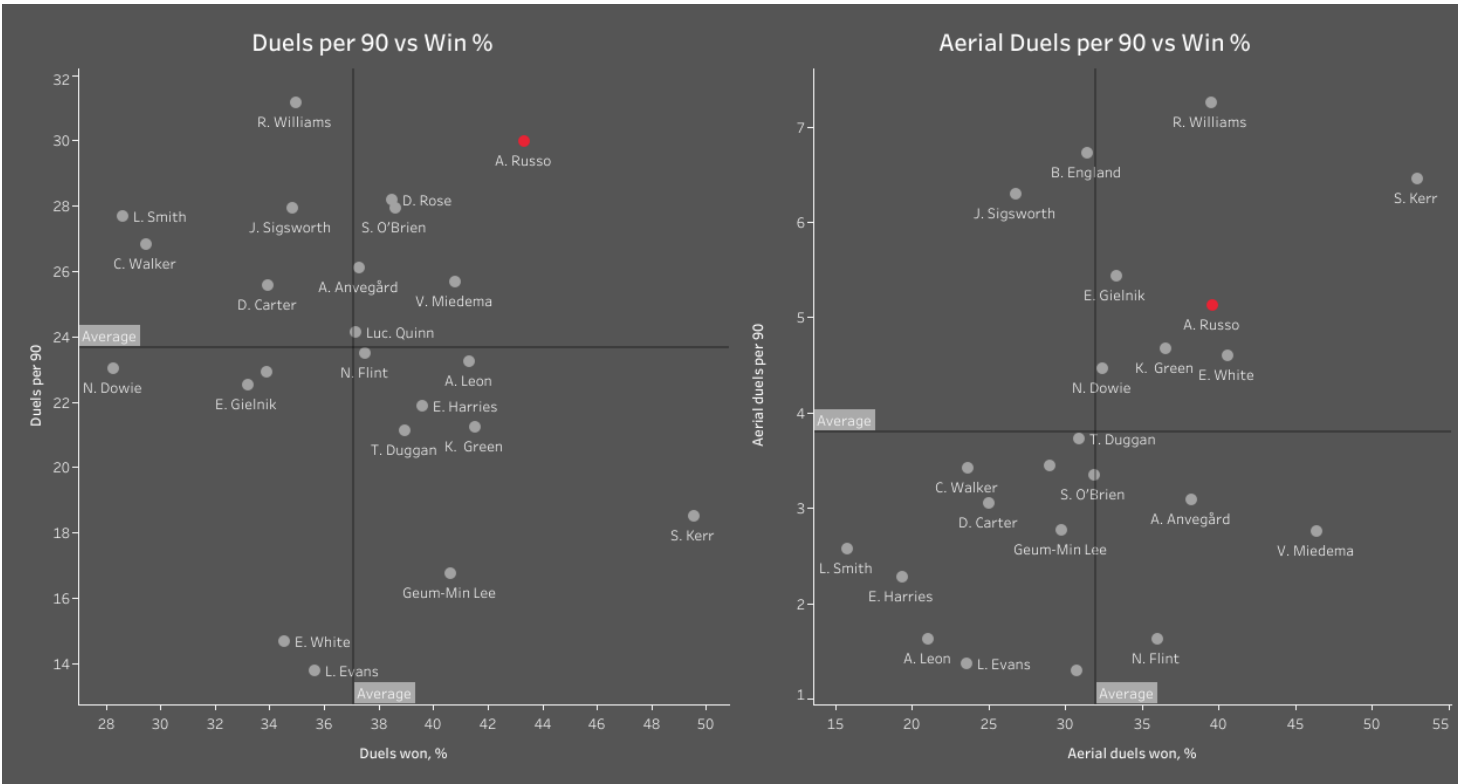 Russo has an immense work ethic (again much like Kelly Smith) and is very useful at leading the press from the front. She performs very highly in terms of the number of possession-adjusted interceptions and sliding tackles she makes which goes to show that Alessia Russo is not just about scoring goals. She can always be relied upon to give maximum effort whether it be attacking or defending.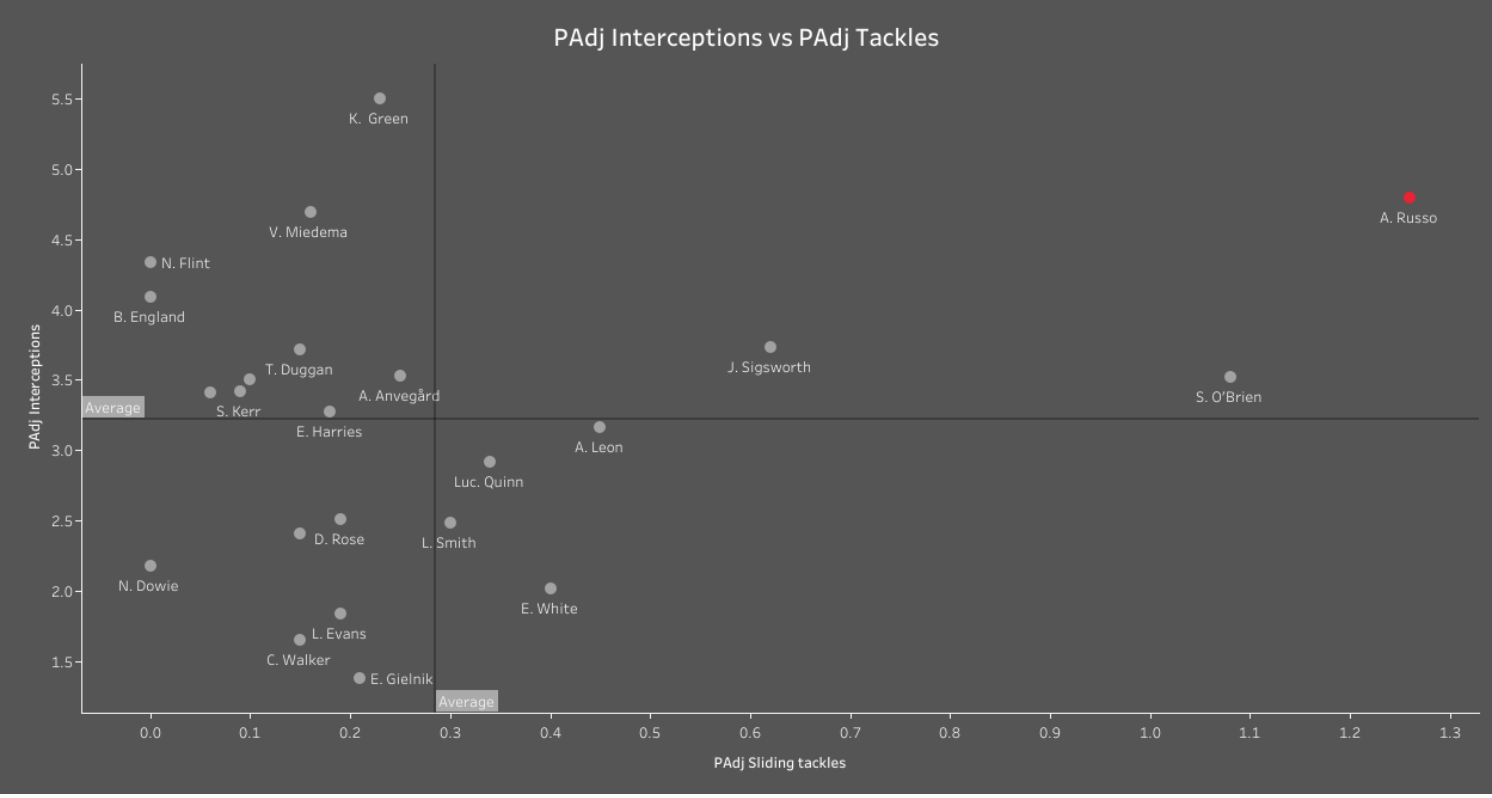 Overall Alessia Russo is without question the future of women's football in England. At 23 years old she has plenty of time ahead of her and with her natural goal-scoring ability and work ethic, there is very chance she could go on to break the goalscoring record for the Lionesses which is currently held by Ellen White.
Of course, as she is significantly younger than White, Russo will have received a higher standard of coaching that is now available in the women's game, but her footballing intelligence is second to none and her style of play appears to be so effortless for the young striker.
With the World Cup taking place next year, the Lionesses and Sarina Wiegman will be targeting the ultimate title in football and Alessia Russo could be a key player if they are going to achieve that.   
By: Bethany Limb / @bethlimb
Featured Image: @GabFoligno / James Gill – Dane House / Getty Images