Alphonse Areola: Fulham's World Champion Goalkeeper
All was well for Alphonse Areola in 2018, as he had just won the domestic treble with Paris Saint-Germain as the starting goalkeeper and was part of France's World Cup-winning team as the country's third-choice goalkeeper. Funnily enough, he achieved this feat before making his debut for the national team in the UEFA Nations League against Germany, keeping a clean sheet which earned him Man of the Match in a goalless draw.
All this achieved at the young age of 25, which in goalkeeping terms, is still years off his prime. The ceiling was high for the Frenchman and being at PSG, competing with Europe's elite can only improve the shot-stopper. Areola was living the dream at Paris, playing for the club he's been apart of since he was 16 and winning domestic trebles season after season. 
This soon changed when PSG decided to sign Keylor Navas, which saw Areola traded the other way to Real Madrid on loan as a deputy to Thibaut Courtois, arguably the world's best goalkeeper at the time. He was never going to get consistent game time under Zinedine Zidane and spent most of the season on the bench. Born in Paris to Filipino parents, Areloa left his hometown for the fourth time in his career after previous loan spells at Lens, Bastia, and Villarreal.
He made a total of 9 league appearances for Los Blancos in his 1 season stint, a far cry from his days with the Parisians. Come the start of this season, his loan ended and he now had to make a major decision, Navas was comfortably Ligue 1's best goalkeeper last season and would be difficult to dislodge, and Areola's best chances of first-team football would have to be elsewhere. 
Here comes Fulham, fresh from promotion back to the Premier League in hopes to fend off relegation. The last time they were in the division, the Cottagers conceded 81 goals and finished 19th in the league. Defence had been an issue for many seasons now and they had to invest, if not another relegation could be on the cards. When Areola became available, Fulham didn't think twice and offered him a route to the Premier League to re-established himself as one of Europe's top goalkeepers. 
Many would think this is career suicide, a World Cup-winning goalkeeper leaving Champions League finalist Paris Saint Germain, for a relegation-threatened Fulham side, but not Areola. The Frenchman deserves praise and respect more than anything for accepting this proposal, a challenge, perhaps what Areola has been prying for the past few seasons, a different challenge. 
And a challenge is what he got in the Premier League. After making his debut against Ipswich in a 1-0 win in an EFL cup tie, it took the keeper 2 months to keep another clean sheet and experience victory in the Premier League for the first time against West Brom. Despite conceding goals at a higher rate than he is used to in Ligue 1, he's had great performances against the likes of West Ham and Crystal Palace to name a few.
The promise is shown but it wasn't until Fulham changed their system to a back 3 where their defence finally looked decent. From then on, Areola managed to help the team secure 8 clean sheets in the Premier League after 26 games played, already bettering Sergio Rico's record the last time Fulham were in the league. 
The 6'5″ keeper not only brought in a sense of calmness and winning mentality from playing in Champions Leagues in his time with PSG and Real Madrid, but his command of area and leadership (alongside Joachim Andersen) is perhaps what Fulham severely lacked in the past seasons or so. Now, Areola has quickly become one of the Premier League's best goalkeepers as well as one of the more underrated signings of the seasons.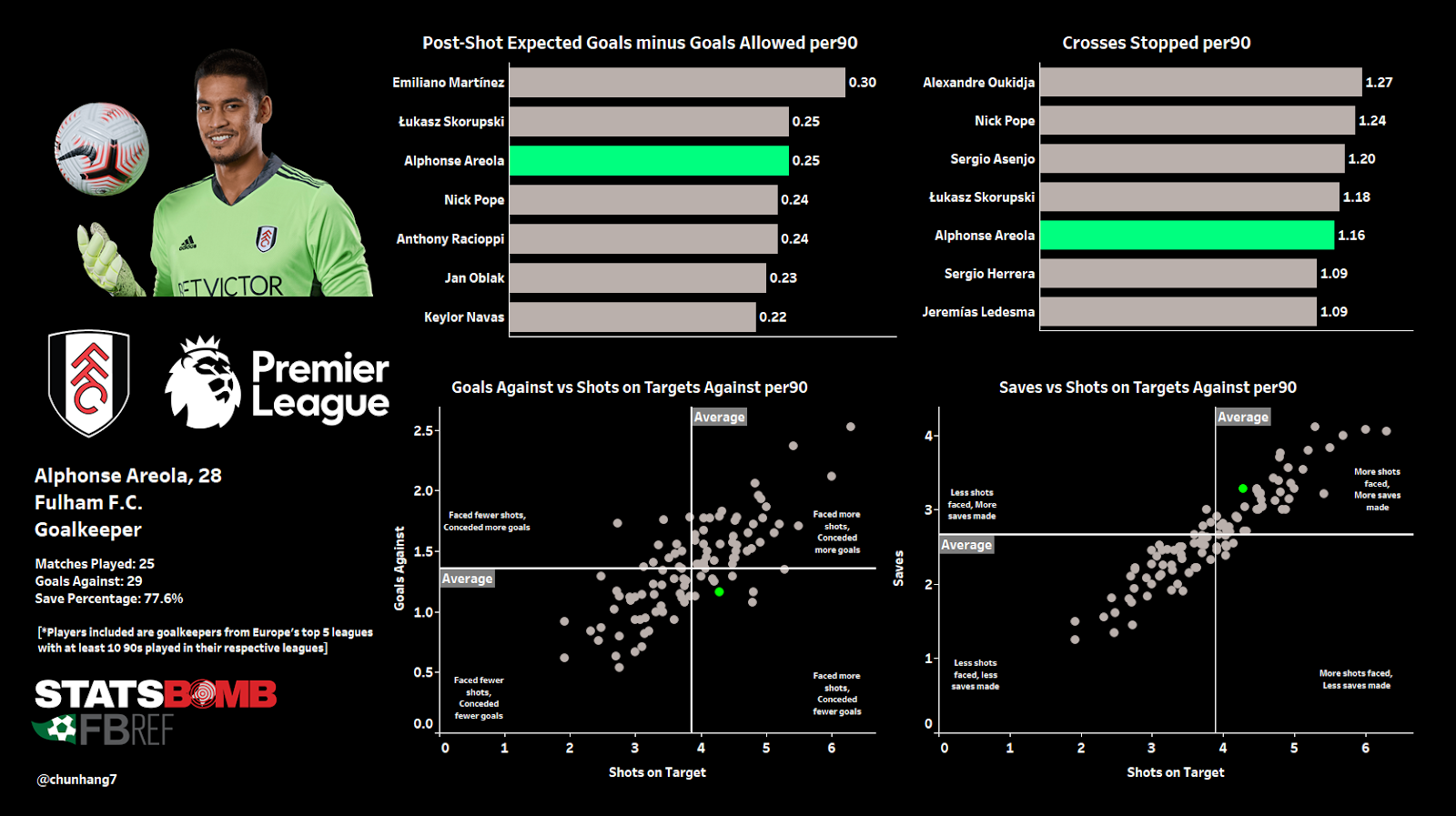 This analysis will cover Areola's performance with Fulham this season. All figures below are based on performance per 90 minutes played, according to FBref via StatsBomb. 
What Do the Stats Say? 
Alphonse Areola has a Post Shot Expected Goals minus Goals Allowed per90 of 0.25, to put it in layman terms, he has prevented an average of 0.25 goals every game this season. In total, the Frenchman is expected to concede 35.2 goals this season but has only conceded 29, meaning he has saved Fulham of 6.2 goals this season, which is crucial in their battle to escape relegation.
This is mainly due to the keeper's brilliant reflexes which have saved Fulham in countless situations. His 77.6% save percentage this season is also amongst the best in Europe. The keeper is light on his feet and extremely agile for a man of his stature, coupled with lighting reflexes, he has denied many opponents in the past. Such an example that showcases his brilliant reflexes is the game against Spurs. When Heung-Min Son was played in for a header at point-blank range, Areola brilliantly reacted and tipped it away from goal. 

A great goalkeeper is not only comfortable saving with his hands but also makes use of his feet. Just like David De Gea in his prime, Areola is comfortable with saving with both his legs when reacting to low shots on either side of him. In the same game against Spurs, Son got at the end of a cross to score but was brilliantly denied by Areola, as he shifted his body brilliantly to make the save with his foot instead of diving low which would be too late to prevent the ball from going in. 

Areola also ranks amongst the best in Europe when it comes to crosses claimed. The 6'5 goalkeeper is an imposing figure, and his size has definitely benefitted him in stopping crosses as effective as he is doing at the moment. With 1.16 crosses stopped per90, only Nick Pope betters him in claiming crosses with 1.24 crosses stopped per90 in the Premier League. This is largely due to his bravery to get amongst the players and claim crosses.
His bravery compliments his immense figure, making the keeper a giant bulldozer in front of strikers. In set-pieces and sometimes crosses, Areola has the tendency to come for the ball and attempt to punch it away from the penalty area or even claim it safely if the pace of the ball is slow, this proactive approach to goalkeeping can be rather risky at times, but Areola ensures the ball travels as far as possible with the power he generates.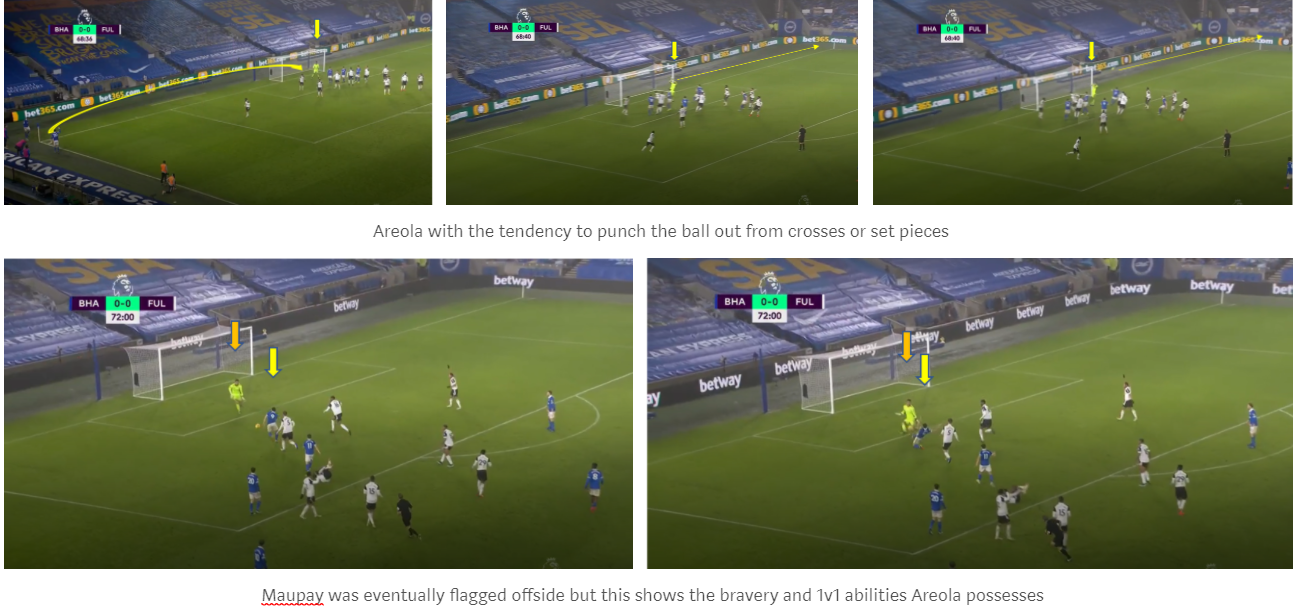 As an old school shot-stopper, Areola has faced a large number of shots on targets per90 with 4.28. This largely down to the quality of players around him and the tactics implemented. Despite conceding a high volume of shots on targets per90, Areola has managed to make 3.28 saves per90, placing him in the topmost percentile in this metric, not only in the Premier League but amongst keepers from Europe's top 5 league.
Having to face a lot of shots, but at the same time saving a lot of them, is a testament to Areola's shot-stopping abilities. Thus far, the keeper has only conceded 1.16 goals per90, which is respectable considering the volume of shots he faces per game. He ranks amongst the busiest yet most efficient goalkeepers in Europe alongside Pope and Emiliano Martínez.

Perhaps a weakness of Areola is his tendency to parry the ball out instead of catching it fully. In many of the saves he has made, he isn't as comfortable as he should be when dealing with balls travelling at a fast pace, perhaps due to misjudgment of the situation and poor awareness of strikers lurking in the penalty box.
His habit made him pay the game against United where he parried a Bruno Fernandes cross into the feet of Edinson Cavani who tucks home the equalizer, a rare error from the Frenchman. Thankfully for Fulham, such errors are not frequent, and he has more than made up for his habit with the miraculous saves he has made over the season.

Current World Champion vs Former World Champion
So how does Areola compare amongst the best goalkeepers in the world? I have decided to compare both Areola with Germany and Bayern Munich captain, Manuel Neuer, to see how he fares against the recipient of the Best FIFA Men's Goalkeeper Award of 2020. The dashboard below will highlight only the crucial shot-stopping attributes including Goals Conceded, Saves, Post-Shot Expected Goals minus Goals Allowed and Crosses Stopped.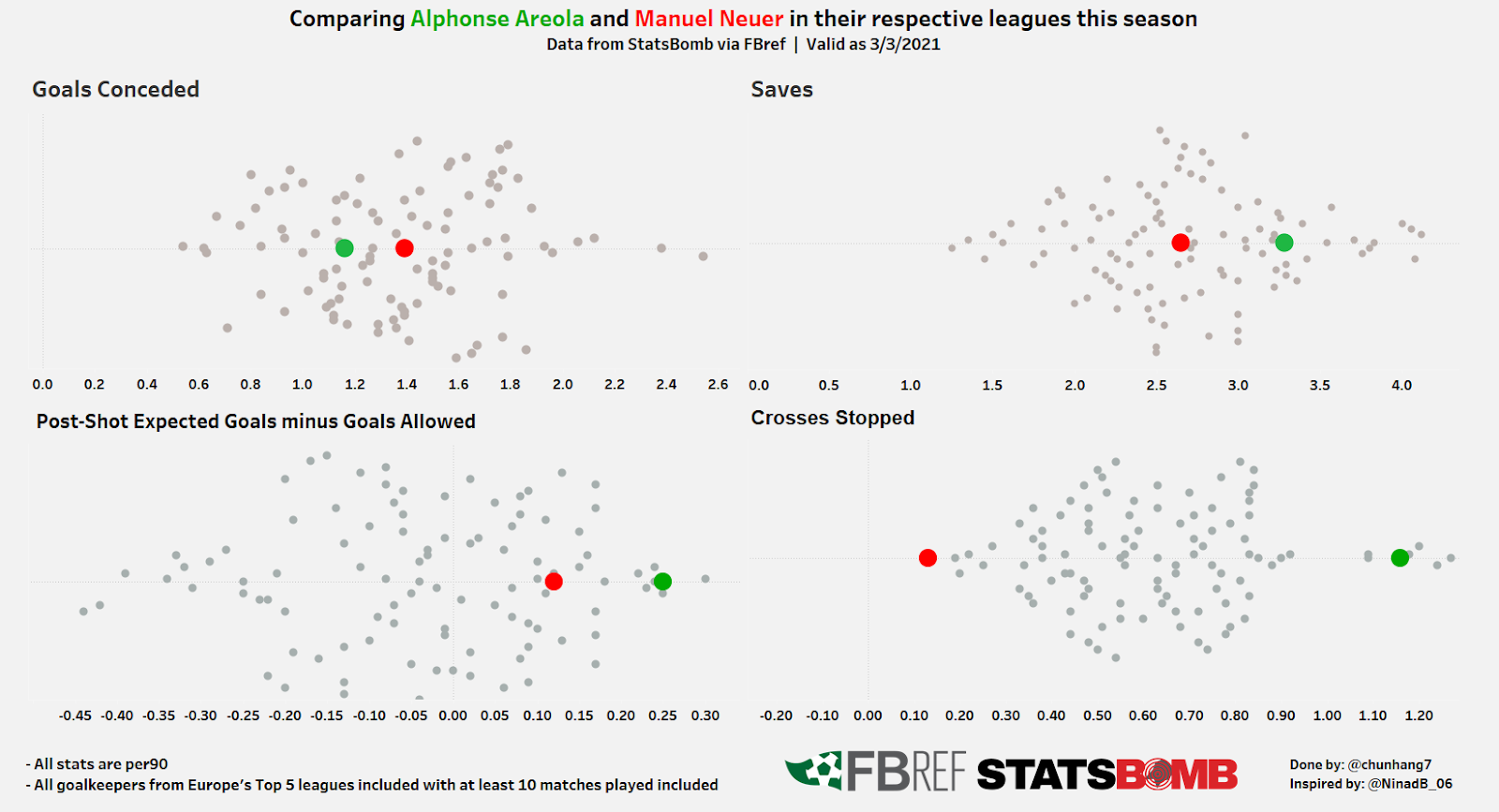 According to the visualization, it would appear that in terms of shot-stopping, the Frenchman betters the German in most. Considering the dominant playing style of Bayern Munich, in contrast to the more conservative approach from Fulham, these may explain the stats clearer. Bayern are dominant and normally see the ball more often than opponents, which meant that there is a much lesser threat in conceding compared to Fulham's setup. As such, it is clear that Areola has been the better shot-stopper amongst the two and conceded only 0.23 goals more than Neuer per game, only by a short distance.
As mentioned, Areola playing for a weaker side is expected to work much more compared to Neuer as shown by the number of saves he's made, crosses claimed, and potential goals prevented. If anything, this just proves that Areola is absolutely one of Europe's top performing keepers in the league this season. If he could keep up his performances, PSG might just regret inserting the option for Fulham to purchase the keeper permanently.  
Areola's Future
Alphonse Areola has proven that he is still one of the best goalkeepers in Europe, and with Keylor Navas approaching 35 years of age, PSG may elect to retrieve Areloa after his loan and give him the chance to compete with the Costa Rican for the starting spot. Still only 28, the Frenchman is just about to reach his physical prime in his career and a strong shout has to be made for him to finally dislodge Hugo Lloris as France's number 1.
With Areola, Fulham are slowly but surely gaining momentum, in hopes to escape the relegation zone as they look to overtake Newcastle in the league. Considering Newcastle's recent injury misfortunes and Fulham's upturn in form and consistency, Areola may just lead the London side to safety this season. This could provide them the funds to purchase him on a permanent deal, rumored to be around £25 million.
If not, his performances thus far would have earned him a move to other clubs in need of a solid starting goalkeeper. With the likes of Tottenham and Dortmund rumored to seek replacements for Lloris and Roman Bürki respectively, I see Areola fitting in just perfect for either team, but if there is one thing that football has taught us in recent times, it's that football's predictably unpredictable.
By: Lee Chung Hang
Featured Image: @GabFoligno / Plumb Images / Leicester City FC