An Analytical Look at Giovanni Reyna
17-year-old Giovanni Reyna is by most accounts one the top young talents in world football. The England-born American is now at Bundesliga side Borussia Dortmund after signing for the club at the age of 16. He made his way to Germany after coming up through the New York City FC Academy, where his father Claudio Reyna was the club's Sporting Director at the time.
Following his switch to BVB, he will look to follow in the footsteps of other recent talents who developed at the club. The easiest comparison to make is that of fellow American Christian Pulisic, who also moved from the United States at a young age, before being promoted to the Dortmund senior squad. Other great examples of talented youth players blossoming at the club include Ousmane Dembélé and Jadon Sancho. 
Reyna began the 2019/20 season as a key member of the clubs U-19 squad, starting 11 matches before making the step to the first team. He was promoted during the winter break in the Bundesliga season, and made his league debut against Augsburg in January. He went on to finish the season with 15 appearances, two of which were starts, and a total of 355 minutes in the league.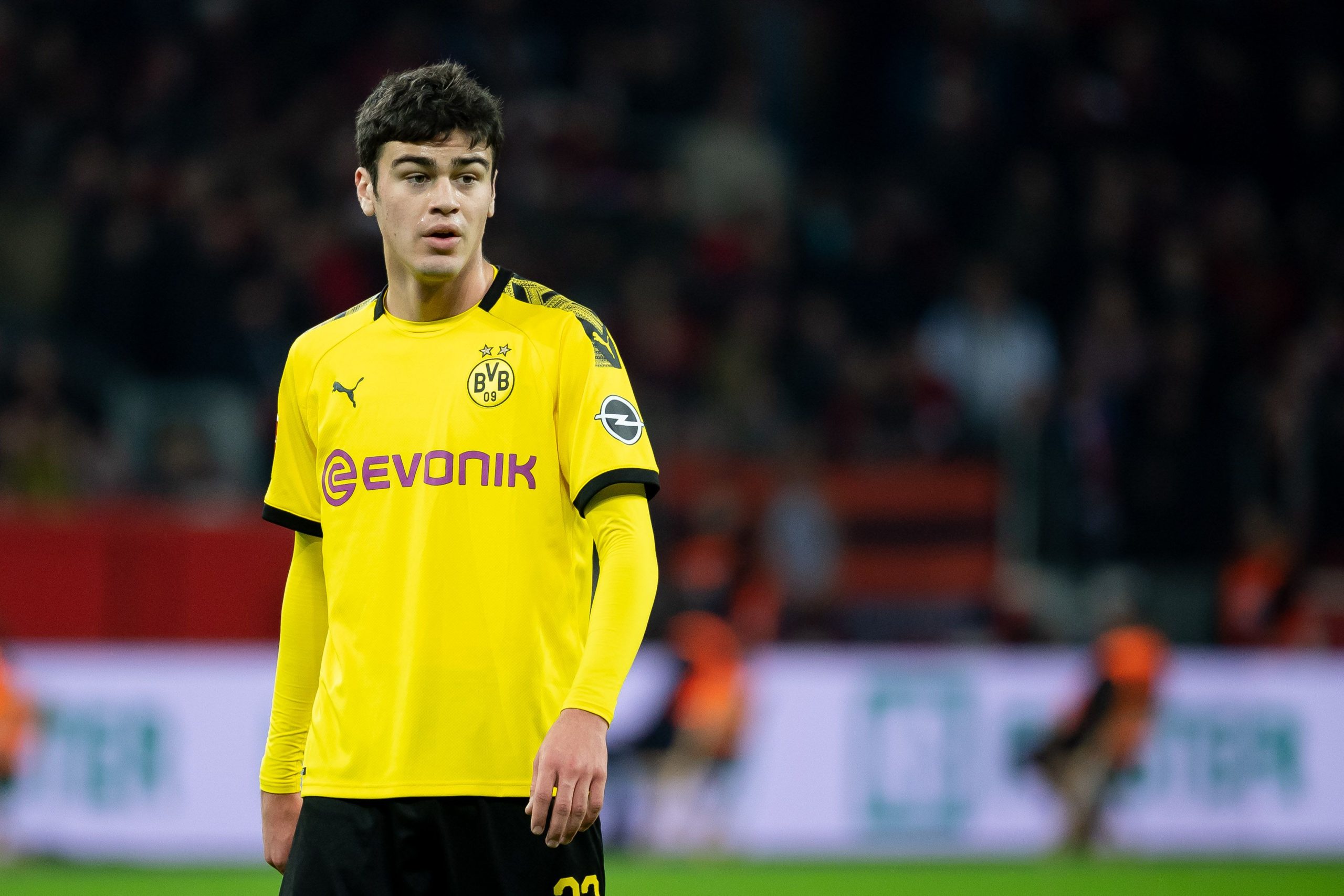 Photo: Getty Images
The faith from manager Lucien Favre is clear to see. Trusting a 17-year-old off the bench is a huge vote of confidence for Reyna, especially in such a deep and talented squad such as Dortmund. Favre was quoted also quoted as saying "In training you can see that he has something special. If you can't see that, you're blind."
A natural attacking player, Reyna is quite solid all around. While he can play centrally as an attacking midfielder, most of his appearances for Dortmund in the Bundesliga came as one of the two attackers underneath the striker, in Favre's fluid 3-4-3 system. 
Here I will take an analytical look at Reyna, by connecting some of his statistical data to his on-field performances. For the purpose of this analysis, all data will be taken only from his appearances in the Bundesliga, while the performance analysis will cover a larger portion of his career to date.
This will allow us to see the bigger picture of his playing style over time, and how it compares at the Bundesliga level statistically. It is important to remember that the data is an extremely small sample size, however this data does reflect his strong performances so far.
Positioning
Able to play in a variety of attacking positions and excellent using both feet, Reyna is a very dangerous attacking player. He is physically gifted with size and power. He also possesses above average speed to go along with great balance and agility. Comfortable on either wing or as an attacking midfielder, Reyna often prefers to find central areas of room on the pitch, as opposed to hugging the sideline.
Below is his heat map from the Bundesliga as well as positions played, with the left attacking mid role where he received most of his minutes. Here it is evident he likes to find room in the half spaces more than he holds the width.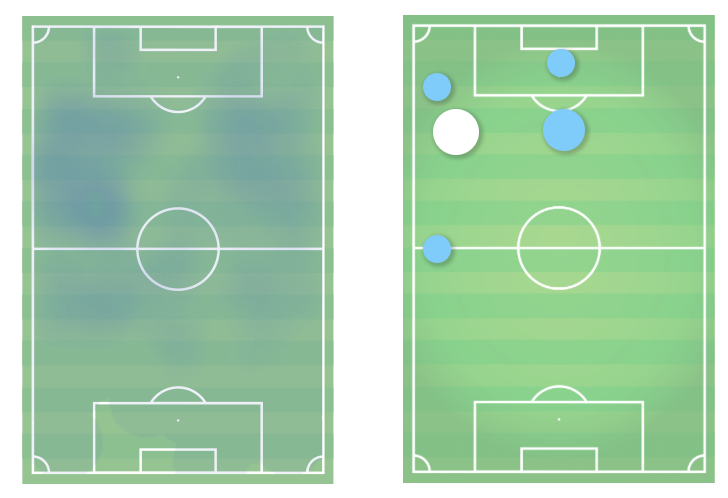 The former NYCFC product is great at finding spaces between the lines and asking for the ball at his feet. He does very well to pick up good positions and exploit the space in opposition defenses. Reyna averaged 68.7 Pass Targets per 90 this season, meaning the number of times he was a target of an attempted pass (FBref).
This is an extremely high number in the league when compared to other top attacking players, especially for such a young player. It not only shows us his ability to find key areas of room, but also his teammates confidence in his ability to receive. Reyna does not only find space in the attacking third, but often will drop a bit deeper to facilitate in the back half as well. 
Here we can see him coming deep into his own half to help with the buildup. By finding space between three Hertha players, he is able to position himself between the lines to receive the ball.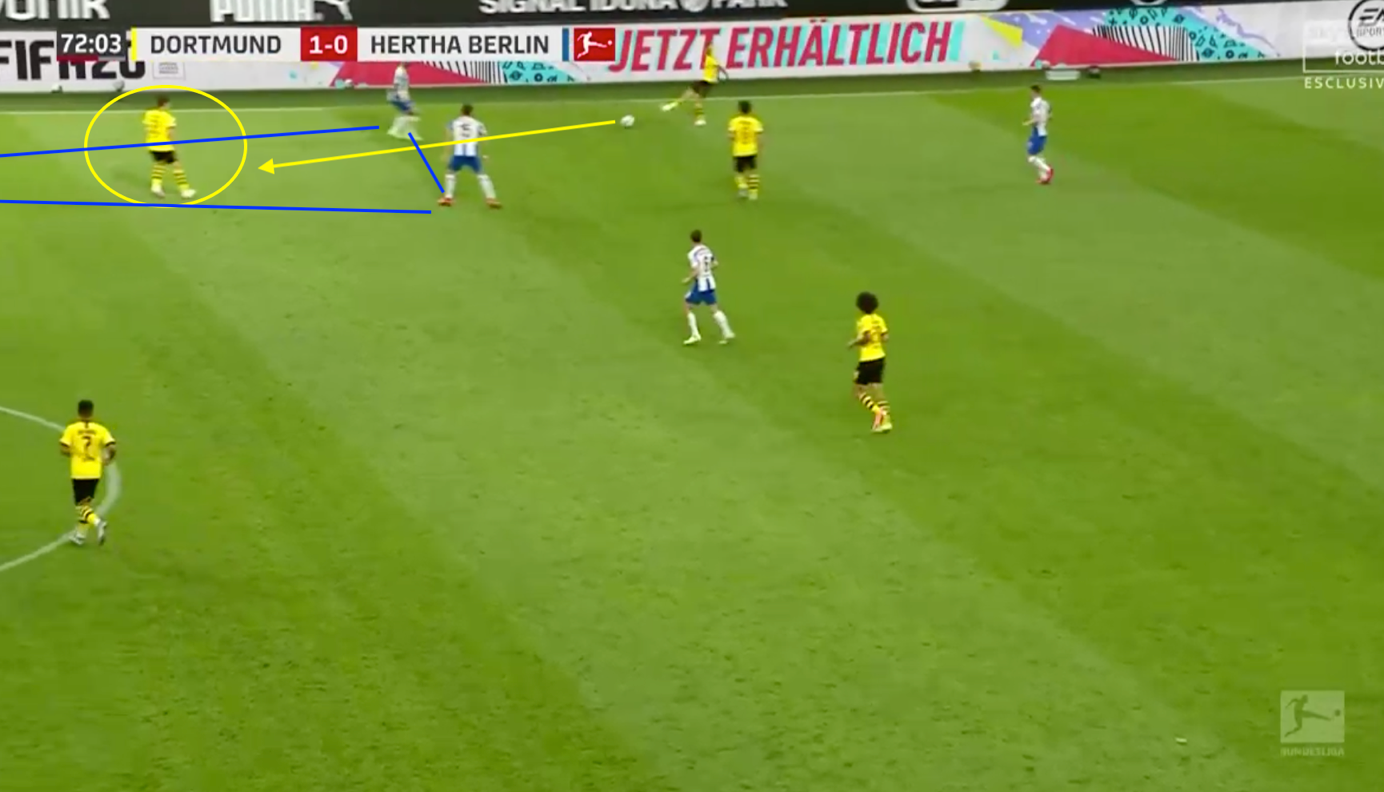 Upon receiving the ball on the half-turn he attacks the empty space towards the center of the pitch. This enables him to find an open Sancho in space, and with Raphaël Guerreiro coming on the overlap on the opposite flank BVB breaks the initial press and Guerreiro is isolated 1v1 on the left.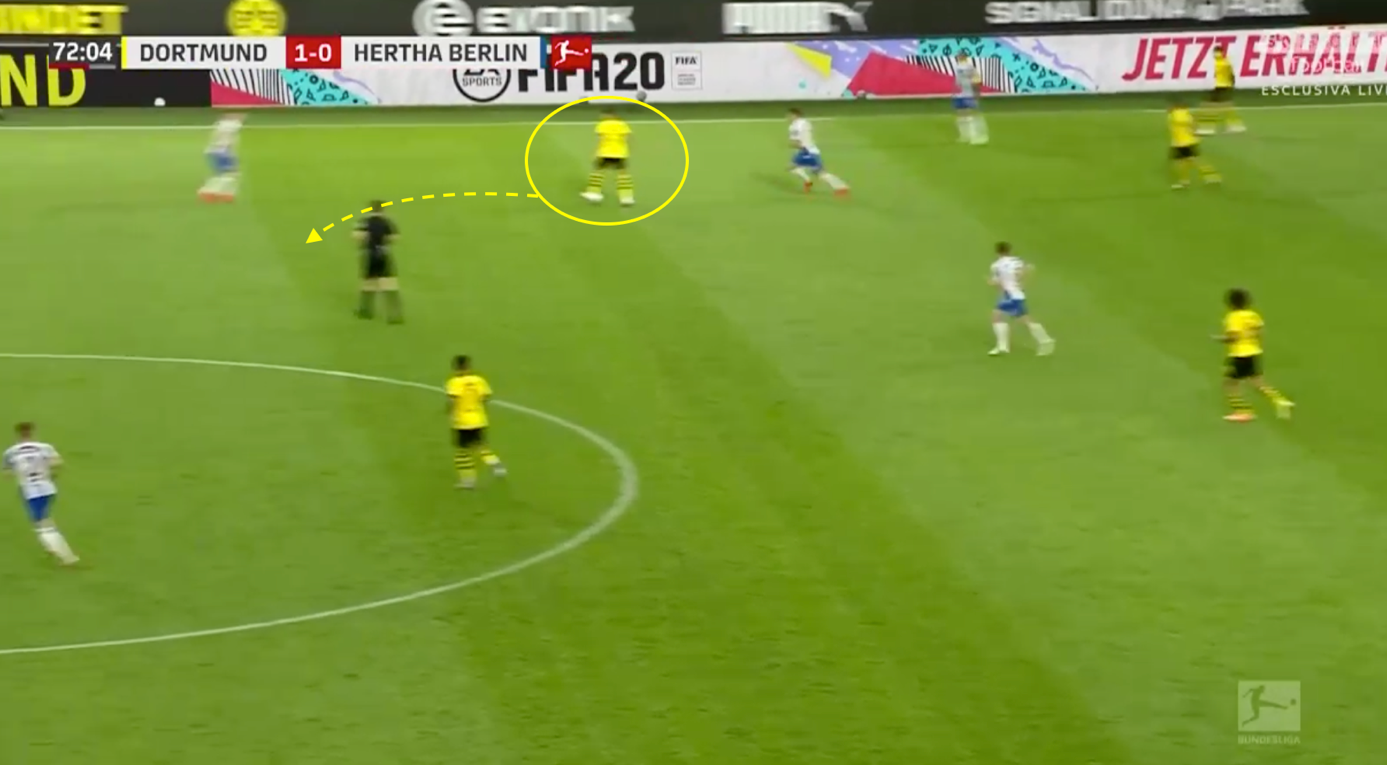 Passing and Vision
Two important attributes which allows Reyna to play senior football at such a young age, is his awareness and creative vision. His understanding of space and time is beyond his years. While most players tend to be less effective as play reaches the final third, Reyna seems to excel here.
A solid passer of the ball, Reyna's Accurate Passes Percentage was 86.1 percent this season. However, as play got closer to the goal, his passing percentage actually increased, with an impressive 88.9 percent completion rate on Passes to the final third (Wyscout). Below is a fantastic sequence where we can see the aforementioned attributes put into action.
In the first image, Reyna is making a well-timed late run into the box from deep, and into the space. During the run he is able to see Erling Braut Haaland´s positioning on the left side of the box in front of him.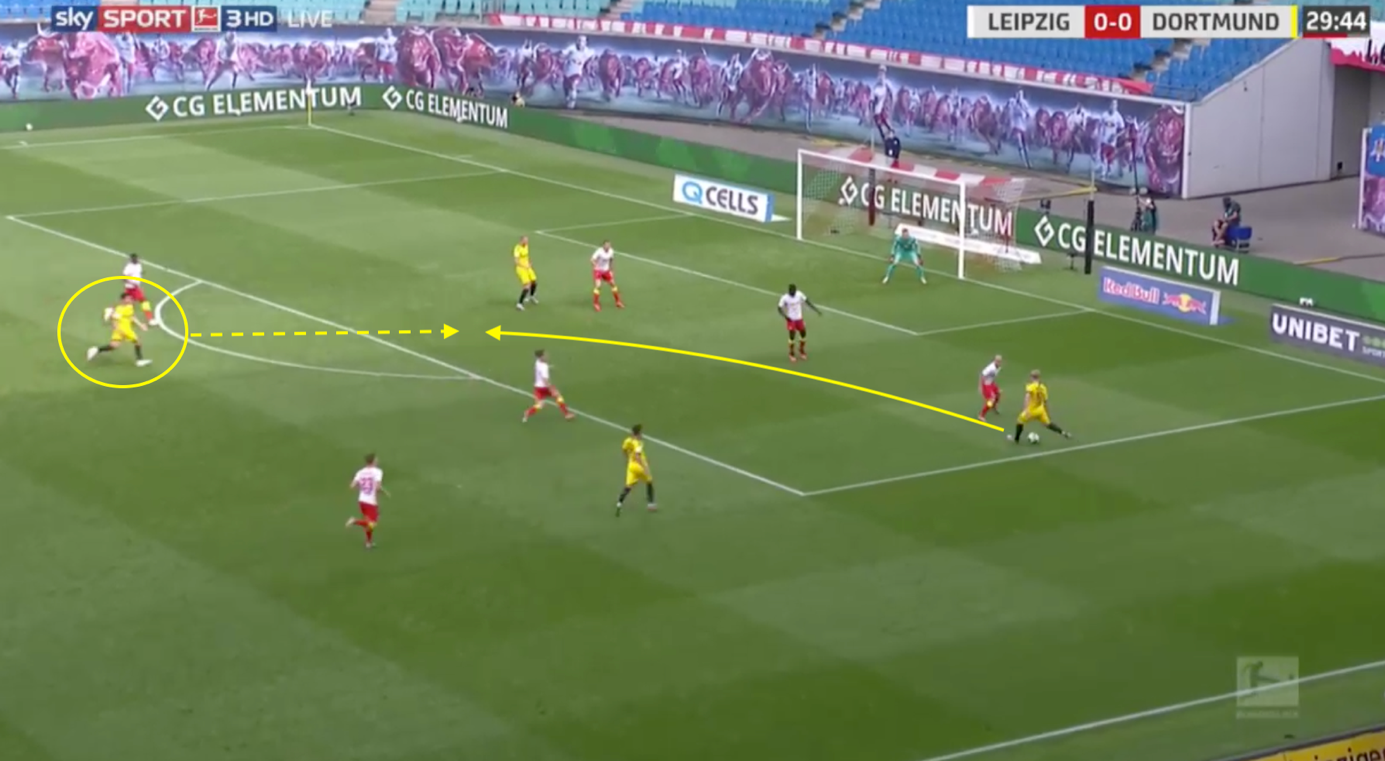 In full stride, Reyna manages to let the ball run across his body to his back foot and keep his shoulders open upon receiving the pass. Using just one touch he guides the ball into the path of Haaland, who is in the process of adjusting his positioning with a step backwards.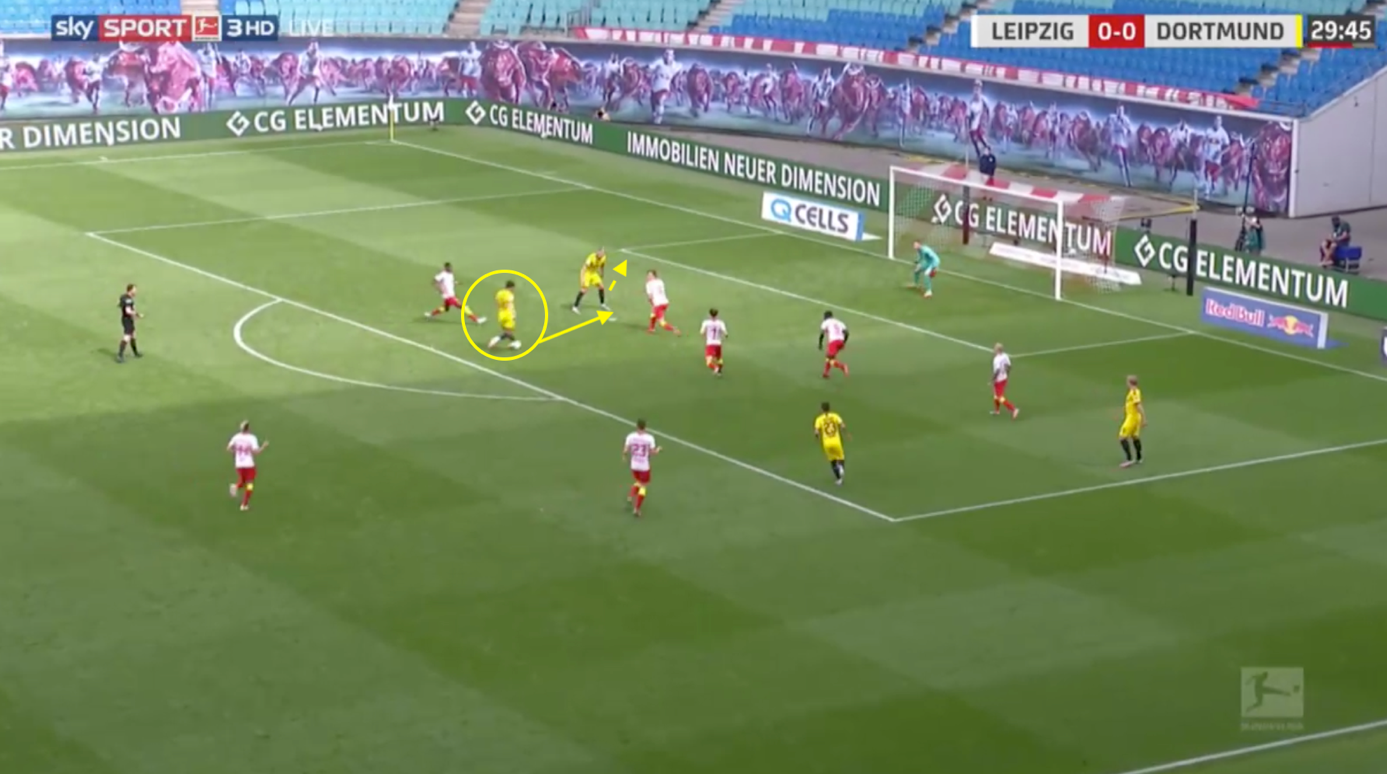 With Haaland's subtle movement and Reyna's perfectly weighted pass to Haaland's back foot, Haaland is able to use his first touch to settle the ball before smashing it past the keeper at the far post.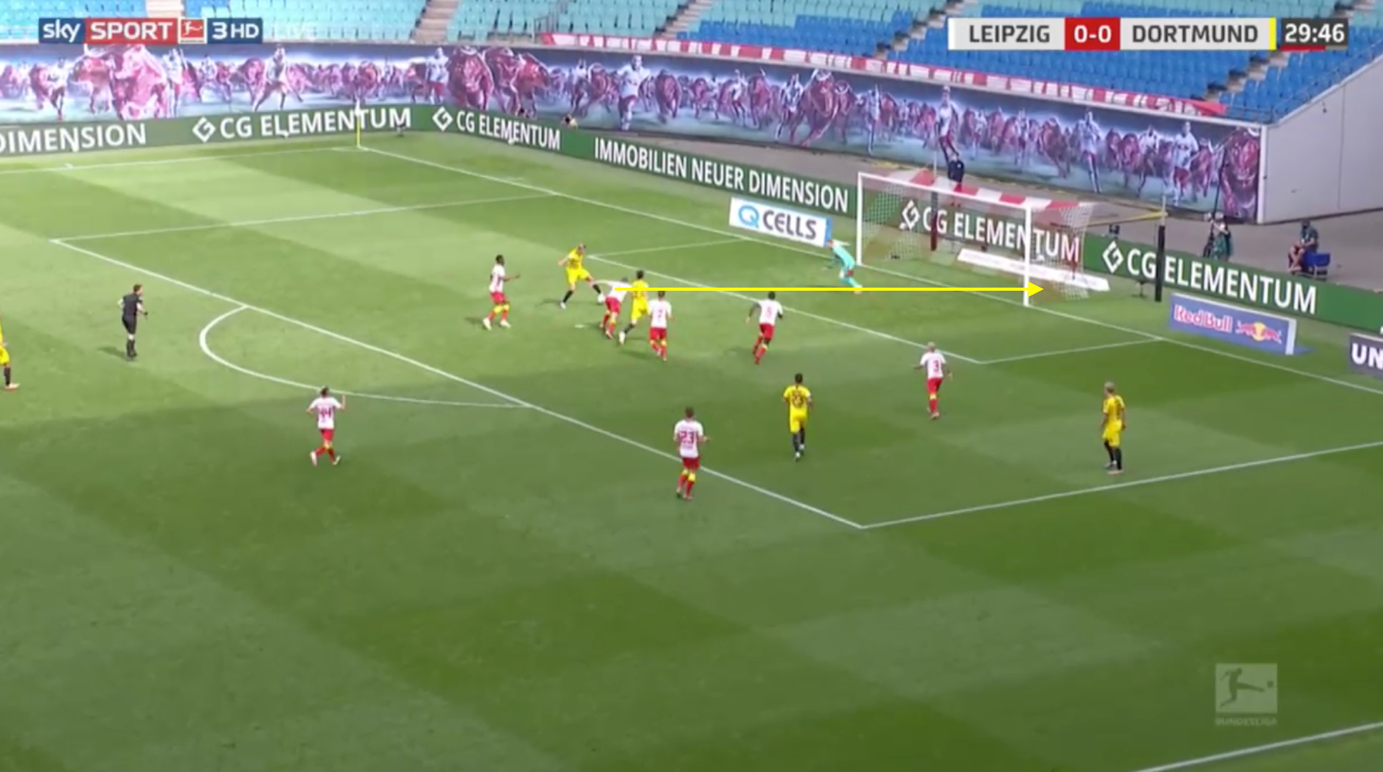 Progressive Dribbling
The American is also an extremely progressive attacking player with a fantastic ability to run with the ball at his feet. Per FBref, he averaged 204.6 yards of Progressive Carries Distance per 90 minutes, as well as 59.2 Carries per 90. Both of these numbers are near the very top of the league for attacking players.
Combine this with his 6.14 Dribbles per 90, with a success rate of 74.1 percent, and he has relatively elite dribbling skills. For reference, amongst all qualified players, Wendell was the league leader with a dribble success rate of 72.09 according to Wyscout.
To supplement these statistics, we can also have a look at some of his underlying numbers from Smarterscout. Smarterscout uses an advanced algorithm which measures a player's playing style. The dimensions are rated on a scale of 1-99 with 99 being the best. Using the Bundesliga as our benchmark league and setting his position to midfielder, Reyna is rated at 88 for Dribble Style Rating and 87 for Ball Retention. These ratings are a great indicator of his style of play and quality in his style. 
Previously I mentioned his intelligence regarding space on the pitch. Here is a really nice example of his ball manipulation combined with his spatial awareness from a match with the U-19 side. With two Leverkusen defenders closing him down, he takes his first touch into the space towards the sideline to relieve some pressure and gain better control of the ball.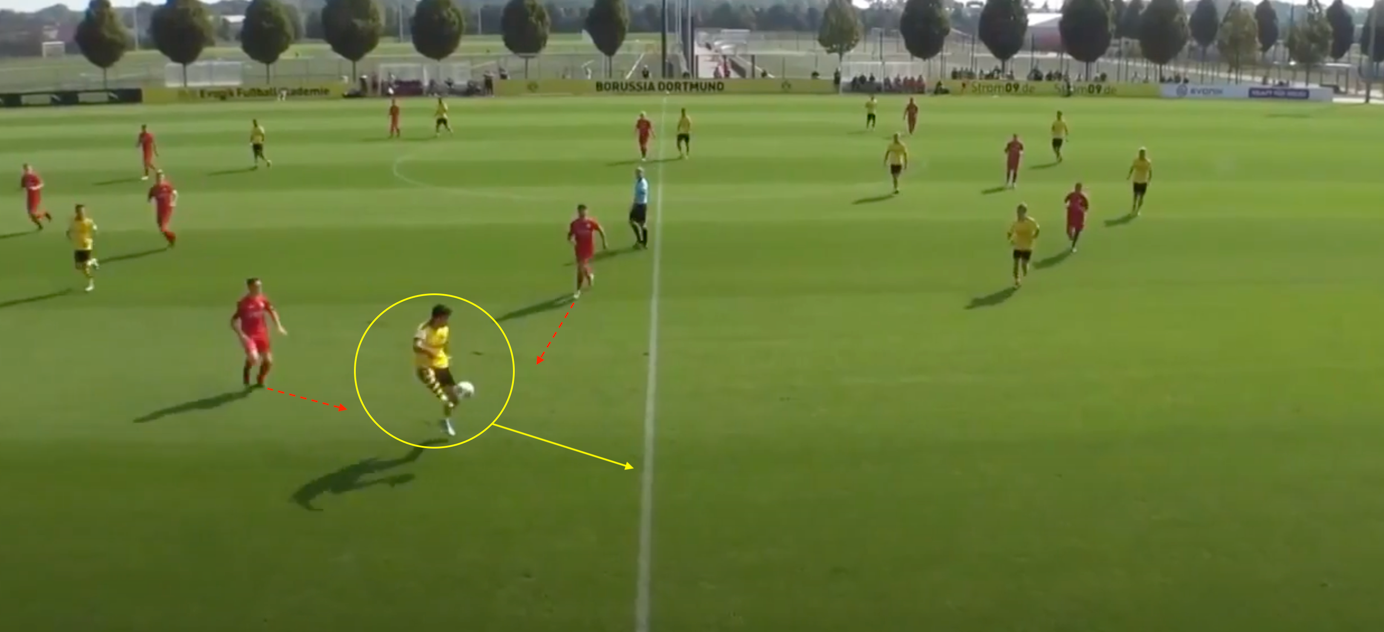 After taking a couple of touches towards his own goal and attracting pressure, the Dortmund left back drops further back, creating depth and taking the opposition forward with him. These two actions combine to create a huge amount of room in the middle of the pitch which Reyna splendidly attacks.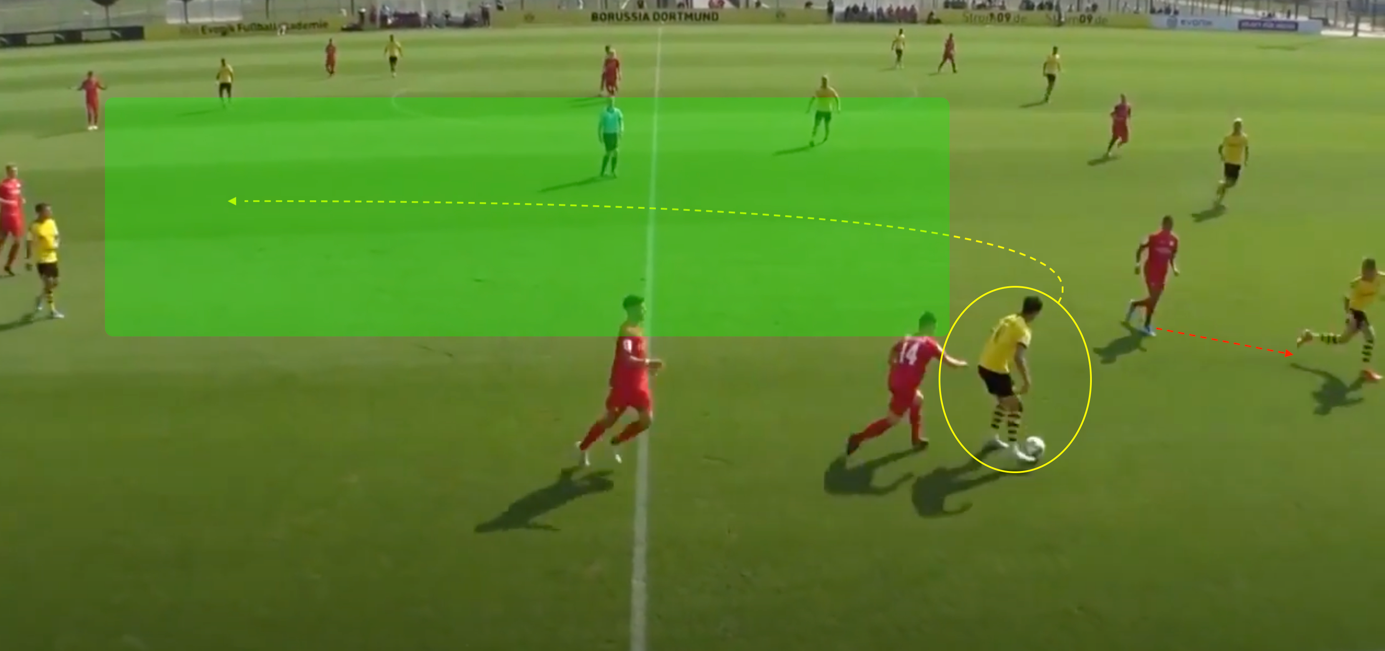 Following his long progressive run he manages to slip a neat through ball into space, between the opposition back four, and into the path of his teammate.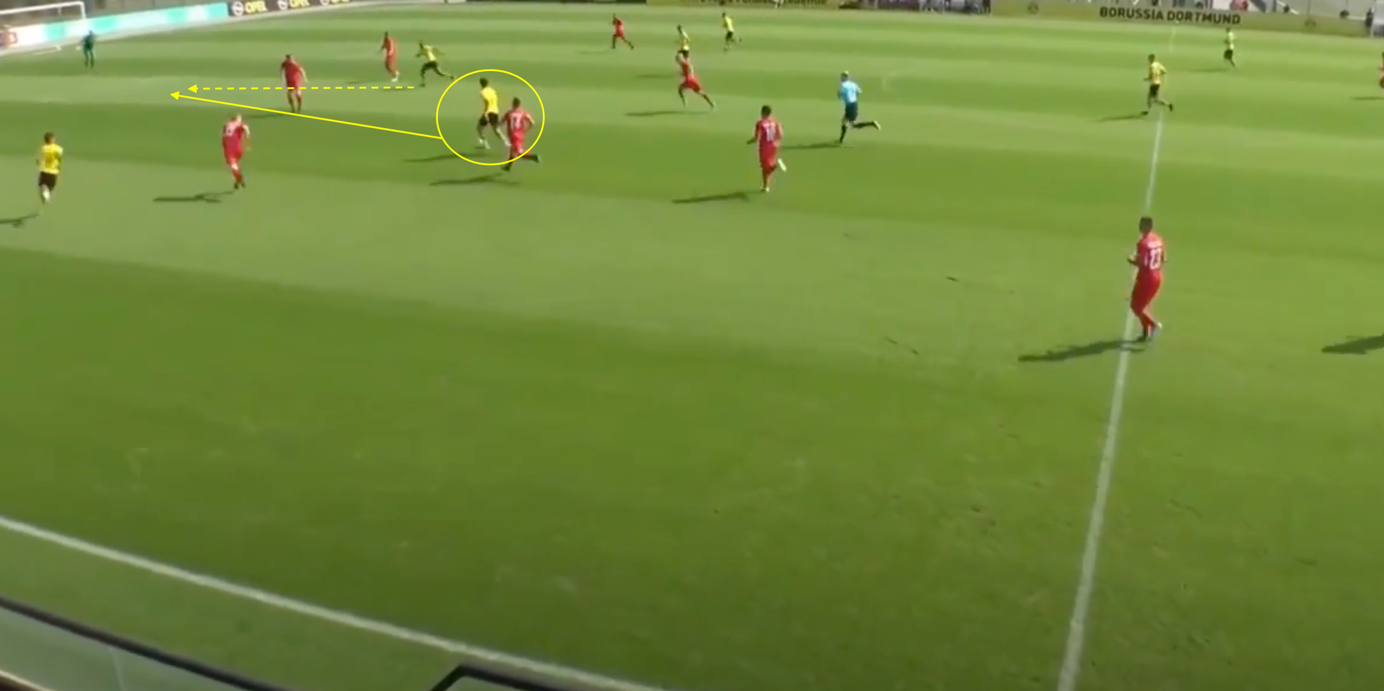 His ability to create imbalance in opposition defenses with his progressive runs is a key attribute of the young attacker. Averaging 2.5 Progressive Runs and 2.95 Fouls Suffered per 90, he manages to create opportunities for his side while also giving defenders problems.
Overall Impact
Above I have taken a look at Reyna's positioning, passing, vision and his able to progress the ball through dribbling. Below is an absolutely phenomenal sequence where he is able to put all of this together. To top it all off, it is in an extremely high-pressure situation, namely the 77th minute of a Champions League Round of 16 match against PSG.
I will break it down into small details just to show how impressive he can be at times. In the first image, he is coming into the right half space and asking for the ball at his feet between the lines.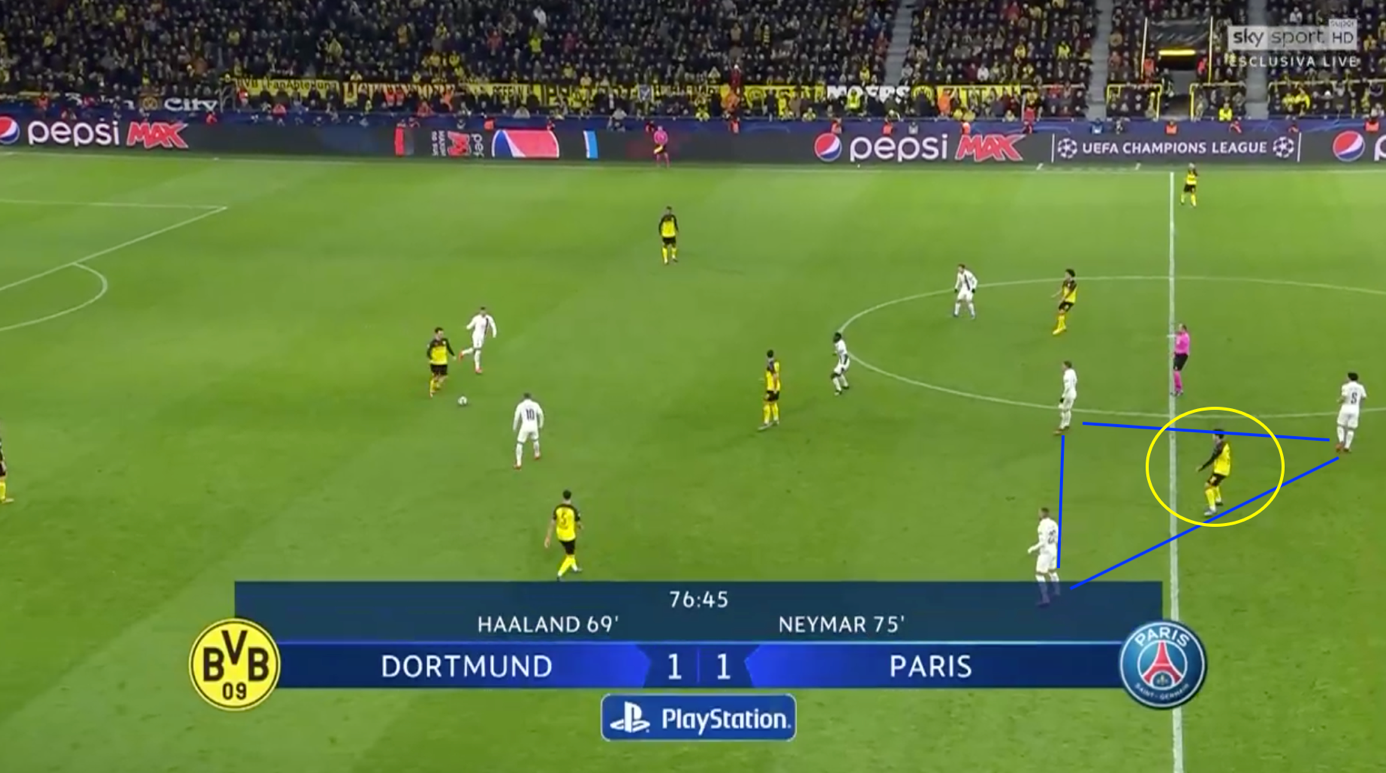 The next detail is not only extremely impressive, but also very important to the outcome. While the pass is on the way, he checks his left shoulder and sees that he is able to turn into a bit of space once he receives the ball.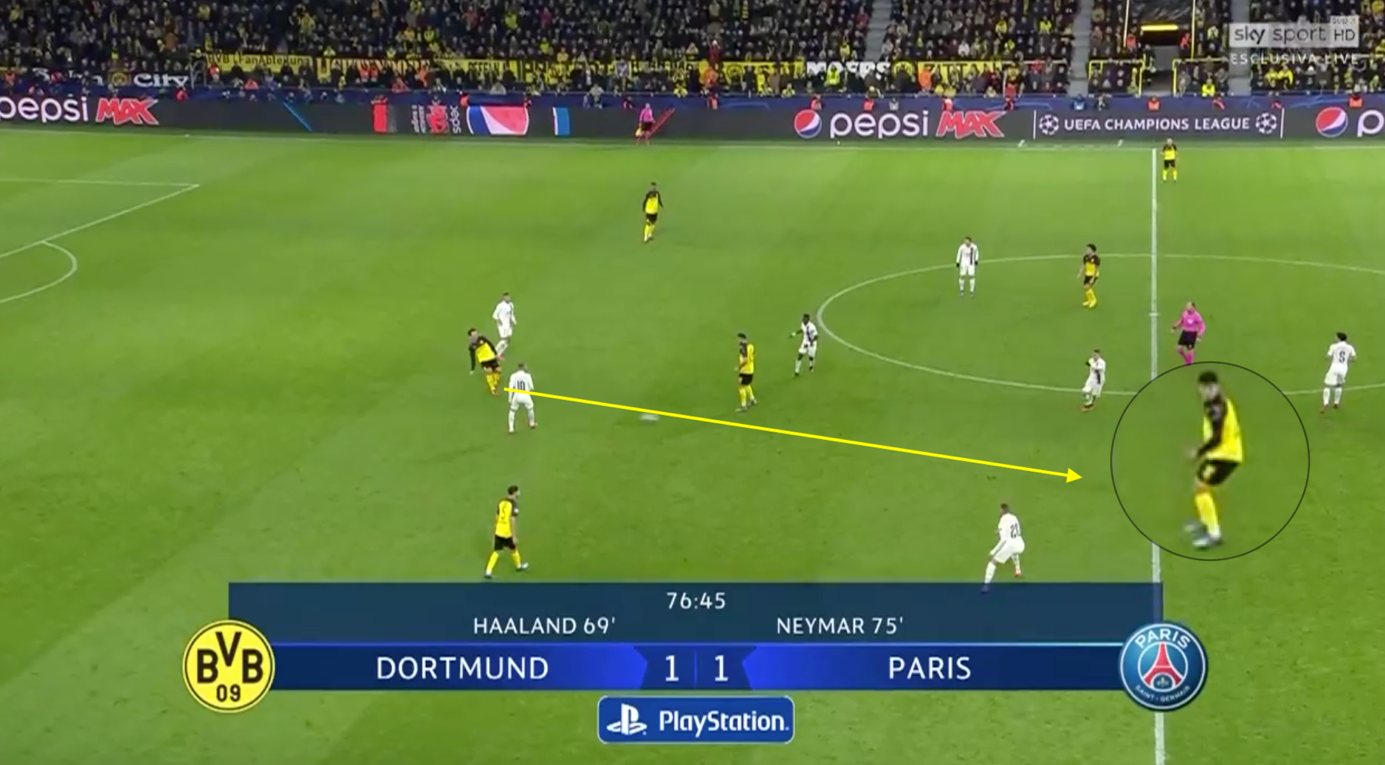 By letting the ball run across his body and receive on the back foot, by the time he takes his first touch he is already facing the goal and has time to see what is in front of him. It is also important to point out that his is over a yard further up the pitch than when the pass was initially played.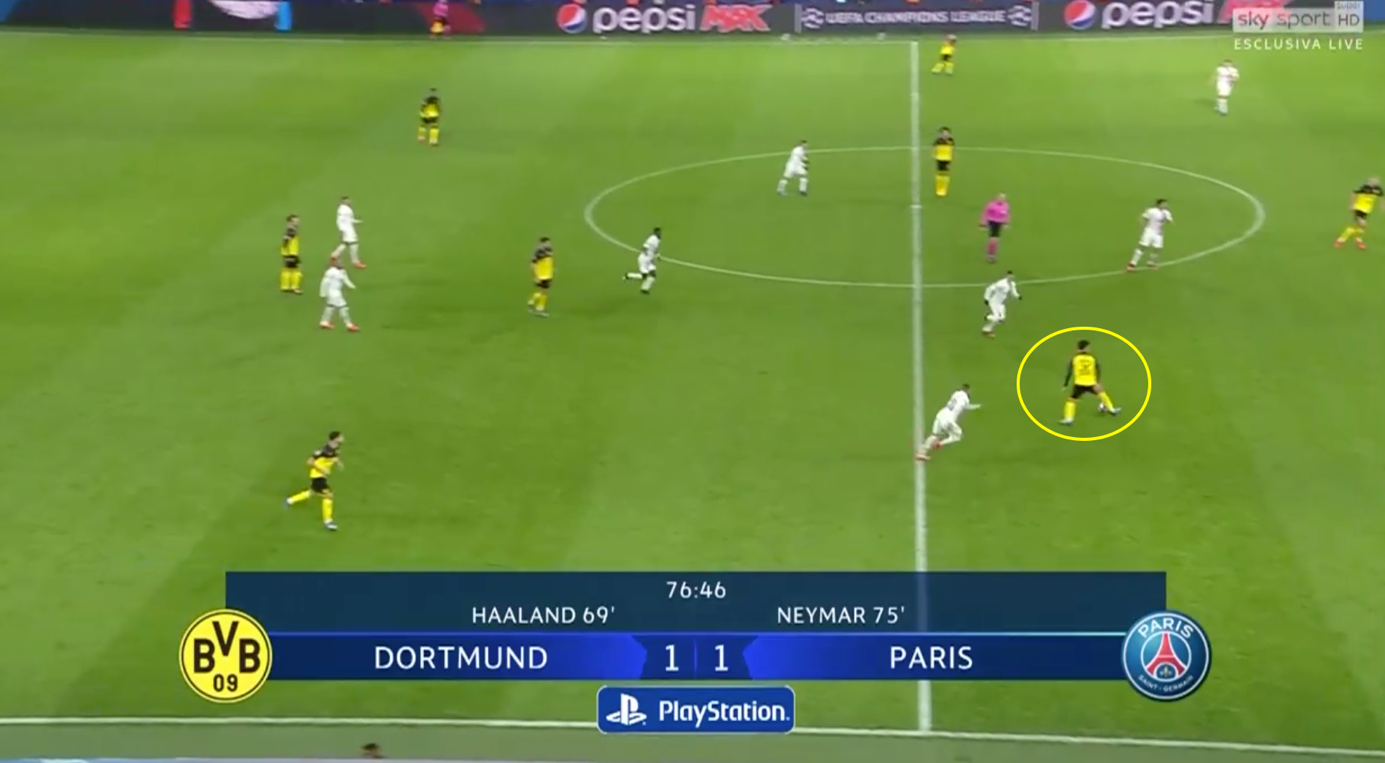 The next image is directly following his second touch of the ball, which he puts into the space in front of him. Here he does fantastic to attack the space and progress the ball with speed. With both Layvin Kurzawa and Marco Veratti closing him down, he sees that Haaland is making a delayed run as opposed to trying to get in behind the last defender.
Reyna smartly plays the ball to his feet instead of a through ball in behind, which is a perfectly weighted pass to his back foot. And with Thiago Silva facing towards the inside, he is unable to turn his hips quick enough to the outside and pressure Haaland upon receiving the pass from Reyna.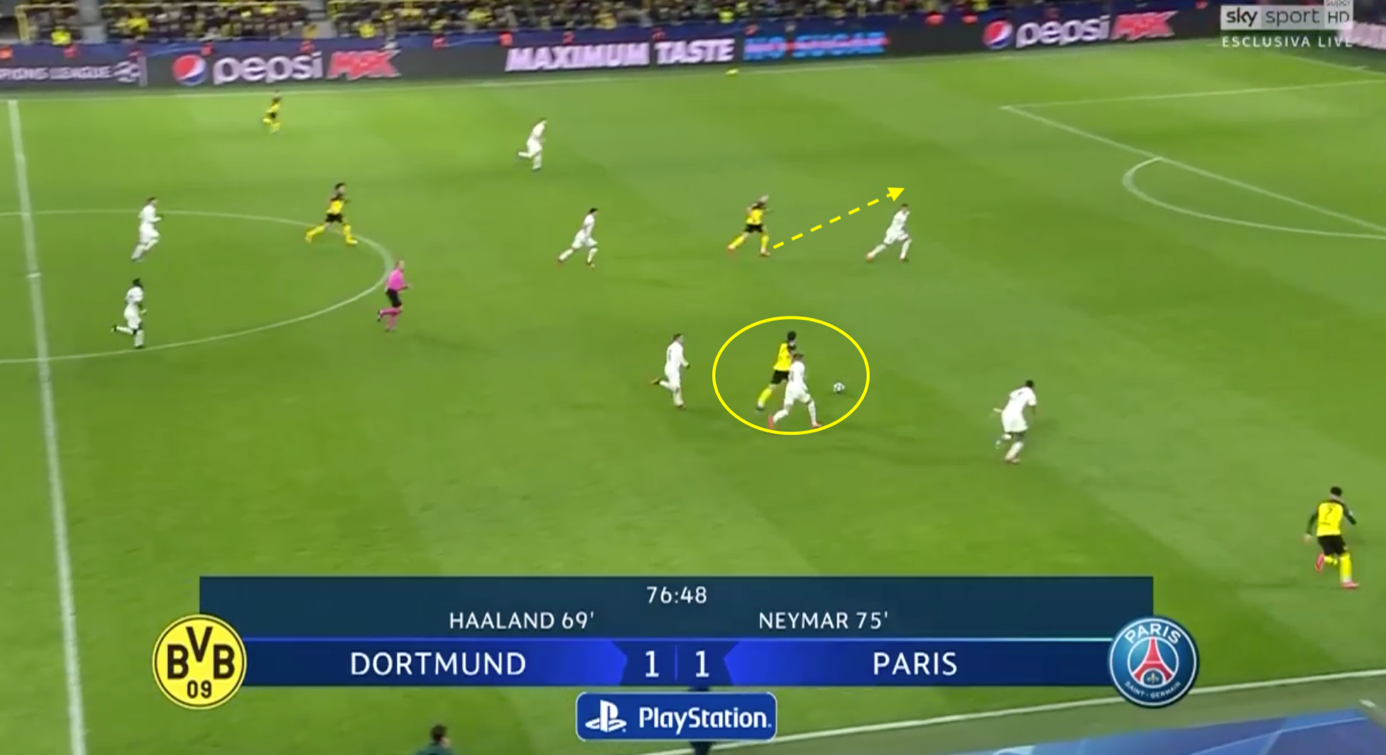 Haaland takes one touch to control the ball and then picks out the top corner of the near post, beating the keeper with both accuracy and power. Dortmund went on to win the match 2-1, however they did fail to progress after losing the away leg.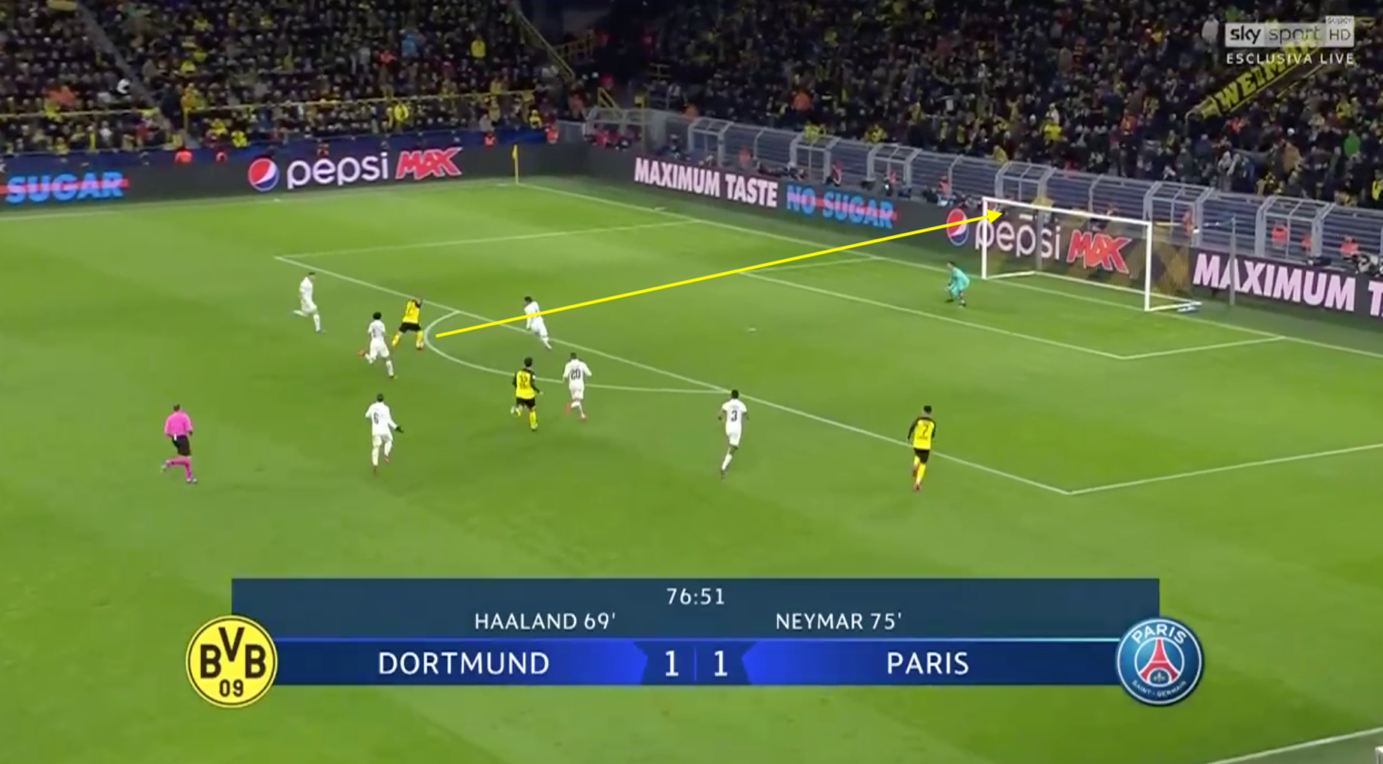 The rise of Giovanni Reyna has been sensational thus far. In March Reyna looked all but certain to make his full national team debut for the United States, before the fixtures were cancelled due to COVID-19. Current USMNT team manager Gregg Berhalter has recently been quoted as saying, "Gio´s going to grow into a fantastic player, there's no question about it." He followed that up by saying it is their job to help him grow.
Over the course of the season he has gone from the clubs U19 squad to becoming a rotational player in Dortmund's senior side. Dortmund has a great history and tradition of trusting youth players in recent times, and bringing them along quickly without stunting their development. I think we can expect Reyna to see even more minutes in the coming season, and continue making an impact for the Black and Yellow. 
By: Eric Laurie
Featured Image: @DeFodi Images