An Analytical Look at Harry Maguire
When the 2018/19 Premier League season concluded, Manchester United finished in a disappointing 6th place, a season in which they conceded a total of 54 league goals, more than any other club inside of the top 6. The oft criticized trio of Chris Smalling, Phil Jones and Marcos Rojo combined for a total of 41 starts in the league, and the club was determined to tighten a leaky defence. 
The summer of 2019 saw United spend a world record transfer fee for a defender, understood to be £80 million. Harry Maguire, the club's reported number one transfer target, joined from Leicester City in early August. While the Red Devils also signed right back Aaron Wan-Bissaka from Crystal Palace and winger Daniel James from Swansea City, there is absolutely no doubt that Maguire was crucial in changing United's fortunes for the better.
Along with their improved 3rd-place finish in 2019/20, United also managed to concede just 36 league goals, 18 fewer than the previous season and just 3 fewer than Premier League champions Liverpool. His arrival not only boosted the club's defensive performances, but his composure and ability on the ball also helped to improve their possession percentage by nearly 2 percent, from 54.5 percent to 56.2 percent.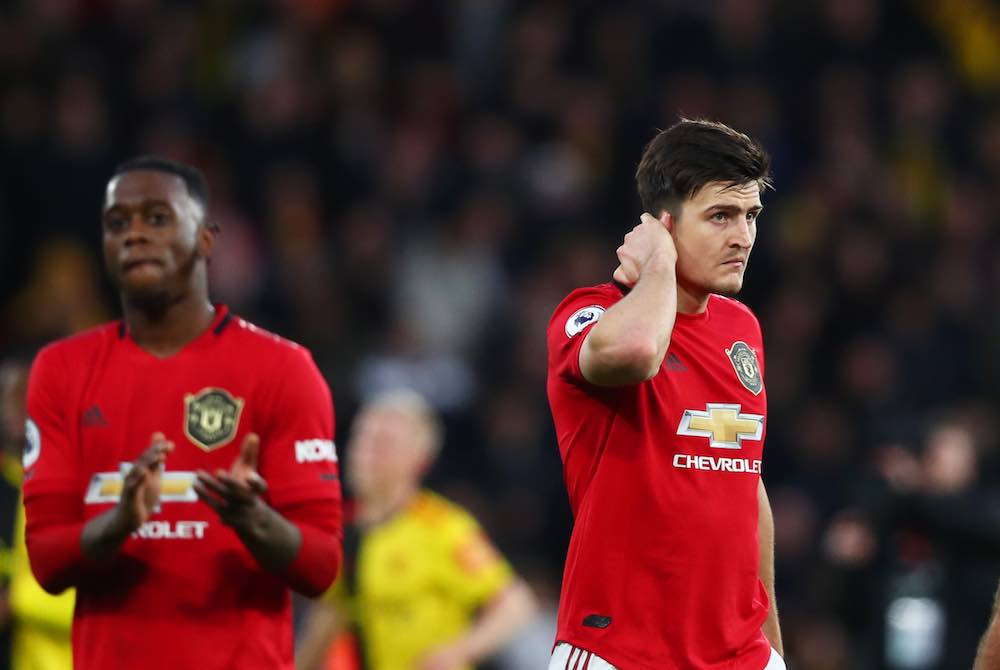 Photo: Dan Istitene / Getty Images
Upon Maguire's arrival, manager Ole Gunnar Solskjær was quoted as saying, "He is a great reader of the game and has a strong presence on the pitch, with the ability to remain calm under pressure – coupled with his composure on the ball and a huge presence in both boxes – I can see he will fit well into this group both on and off the pitch."
The high praise for the England international did not end there as Maguire was appointed club captain midway through the season after the departure of Ashley Young to Inter Milan. By looking into some of his underlying numbers as well as some involvements throughout the season, I will attempt to combine performance analysis with some data analytics, and try to see just why Solskjær had so much confidence in his new central defender.
In Possession
With United adapting to a more protagonist approach under Solskjær, having a center-half who is comfortable in possession was vital to their success. Having signed from Leicester City with the second-highest dribble success rate for a defender the previous season, Maguire proved integral in both United's build up and positional attacks this season.
His importance to United's possession can be highlighted by the fact that of all central-defenders this season, only Virgil van Dijk completed more touches than Maguire (FBRef). Maguire is also extremely comfortable with the ball at his feet, according to data provided by Wyscout, no central defender completed more progressive runs (105) than him this season.
In the image below we can see Maguire preparing to receive an infield pass from Paul Pogba, with two Newcastle attackers closing him down.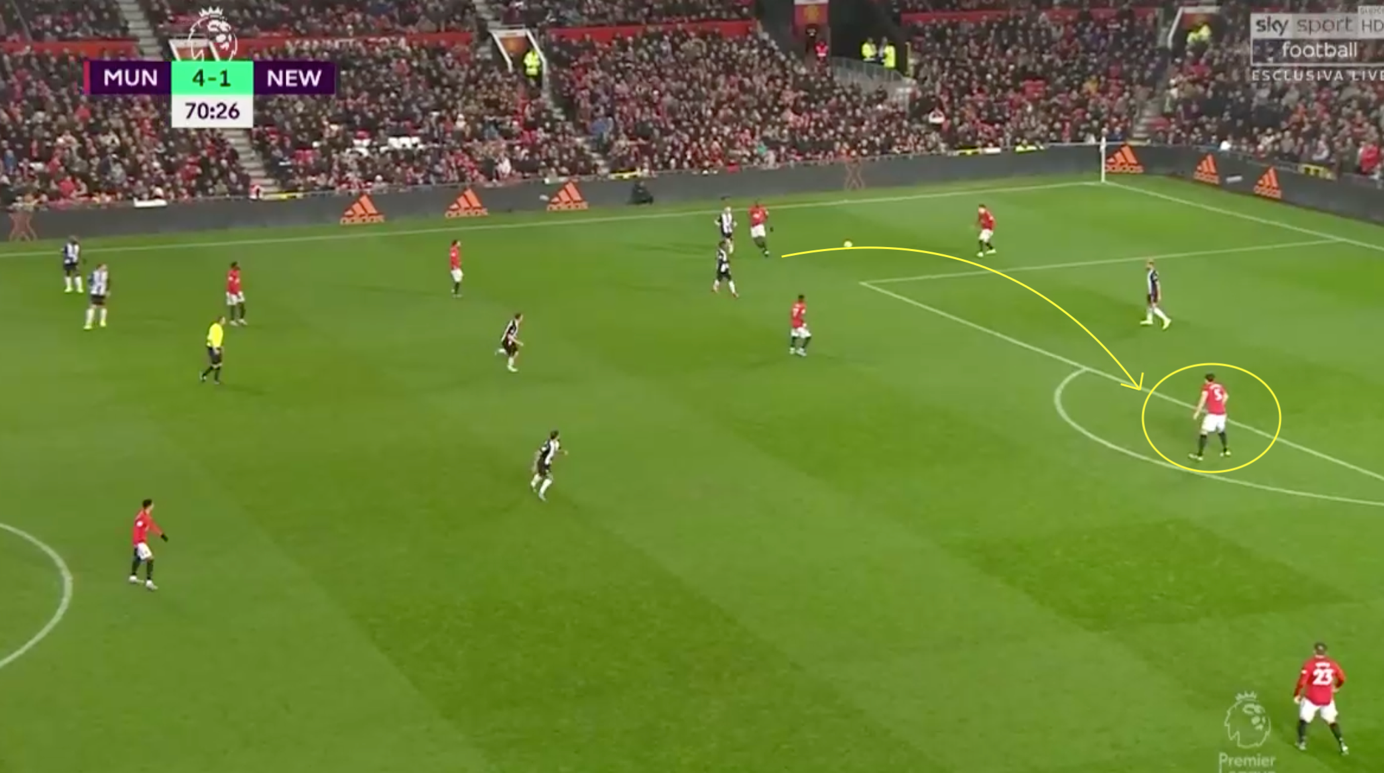 Upon receiving the ball, Maguire is able to beat the initial press and progress the ball almost to midfield, eliminating five Newcastle players, before playing a forward pass to Juan Mata.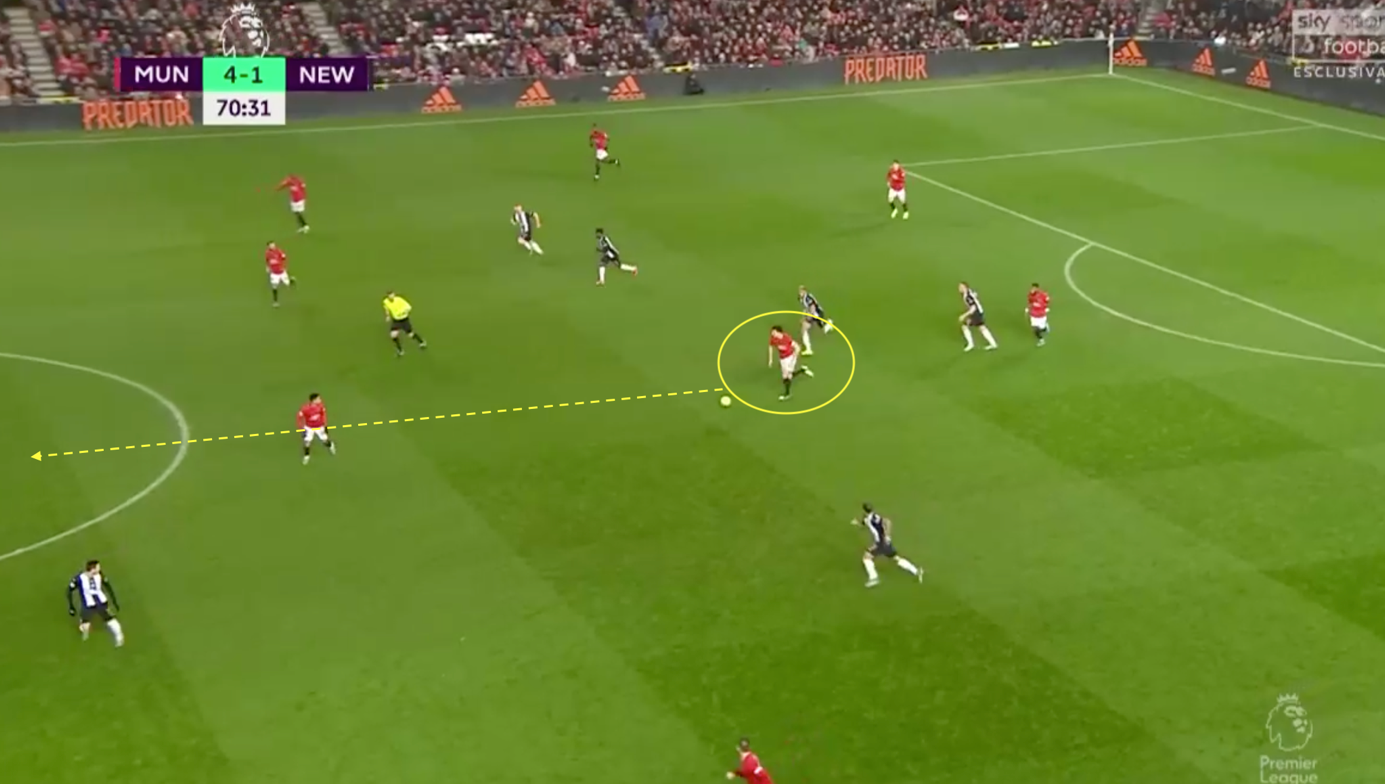 His willingness to step out from the defense is also shown by his impressive progressive carrying distance, where he totaled 8,408 yards this season, more than any other center-half in the Premier League (FBRef).
Looking at data provided by Smarterscout, which uses an advanced algorithm to measure a players playing style, Maguire is rated an outstanding 97 out of 99 in their Dribble Style Ratings category. They define this particular style rating as "moving the ball by advancing it uncontested at least 10% of the length of the field or by taking on a player".
Not only is Maguire adept with the ball at his feet, but he is also a willing and capable passer. According to WhoScored, amongst all central defenders in the Premier League this season, Maguire ranked 2nd in total passes, and 3rd in accurate long balls.
Even more impressive is the fact that he led all central defenders in Key Passes, with a total of 17. Here is an example of his distribution in the buildup phase against Southampton, a match where United were often being pressed high and aggressively from Southampton's front two of Che Adams and Danny Ings.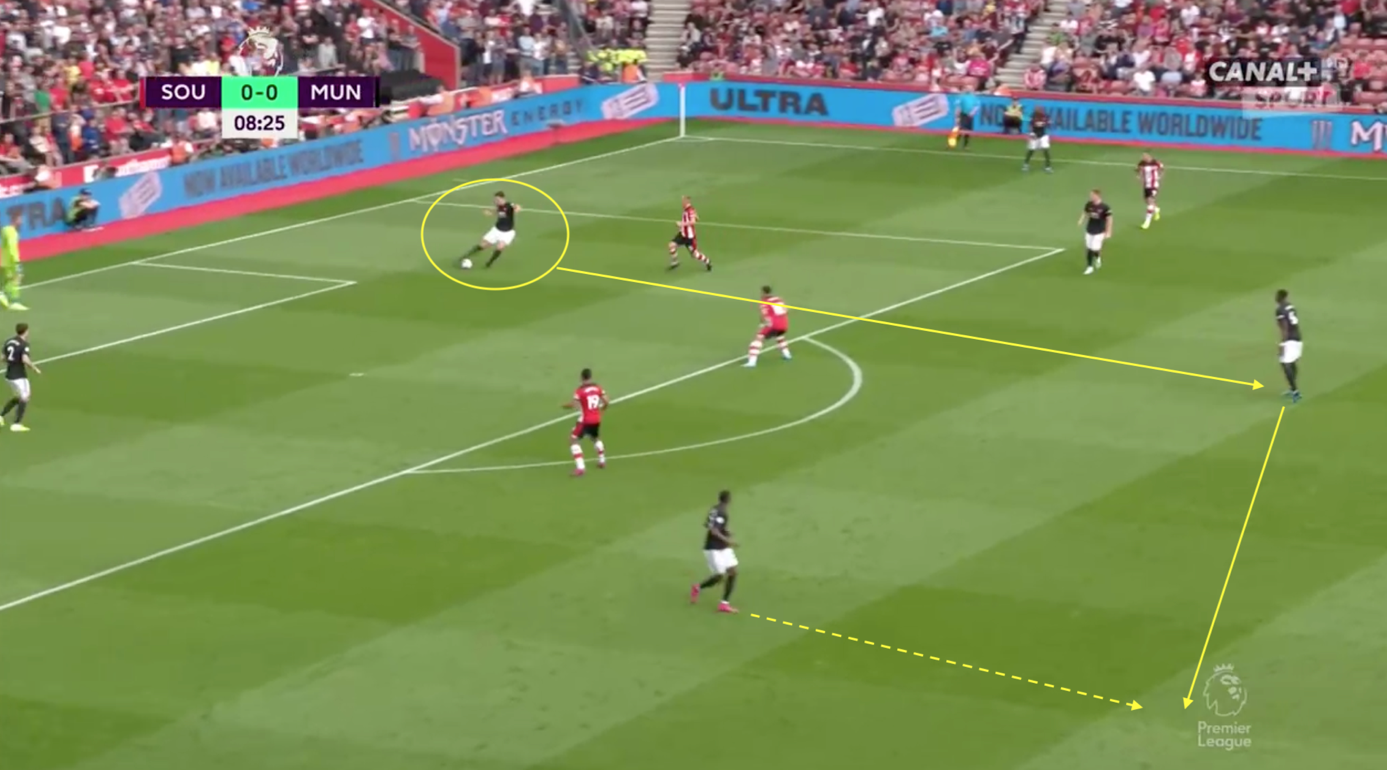 By attracting pressure, Maguire is able to play through the initial press and find Pogba in space, who in turn uses two quick touches to play Wan-Bissaka free on the right side.
Harry is also able to break down defenses higher up the pitch by breaking lines and eliminating defenders with long passes. The image below shows Copenhagen defending compactly in a mid-block, Maguire is able to split the defenders to find an advancing Brandon Williams in the final third on the left, behind the two initial lines of pressure.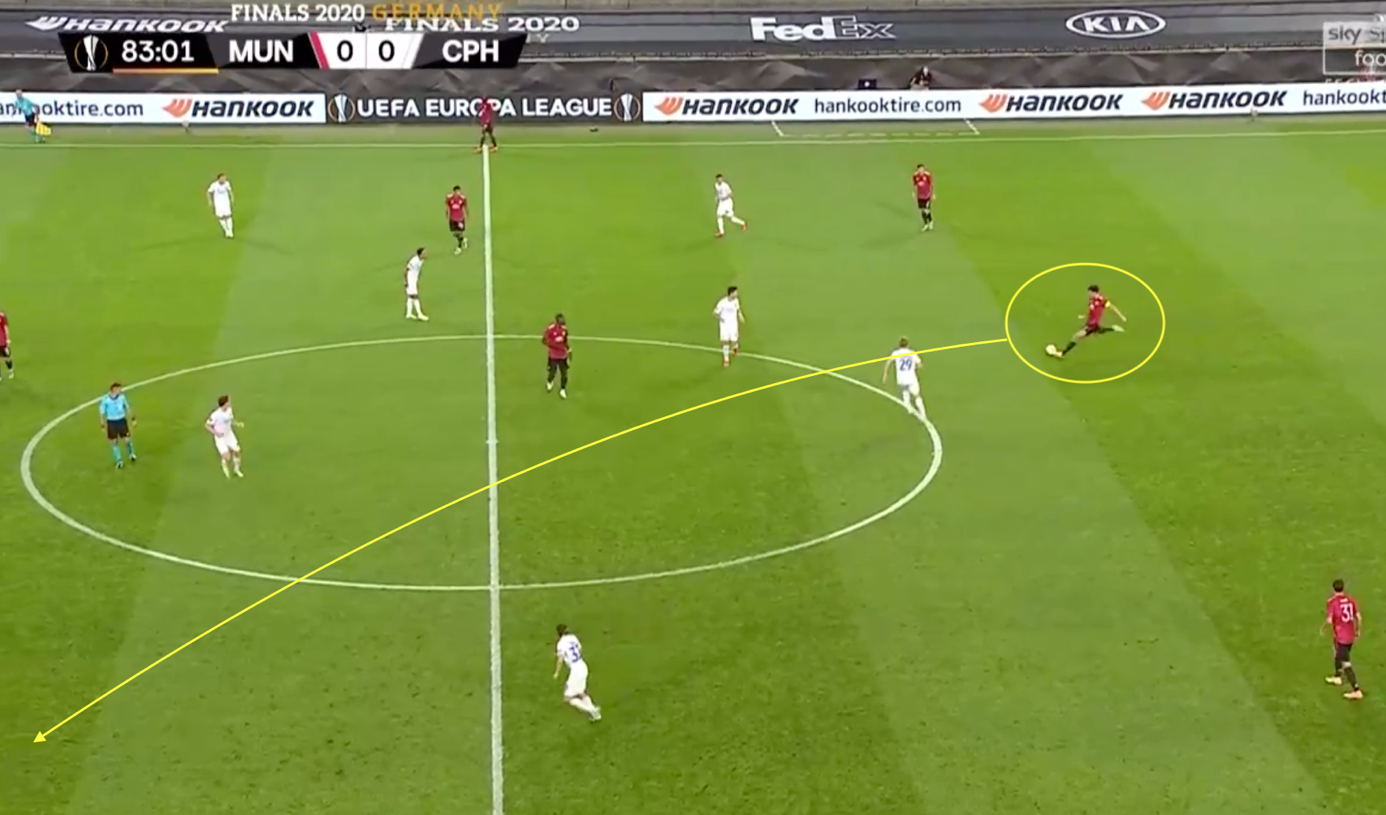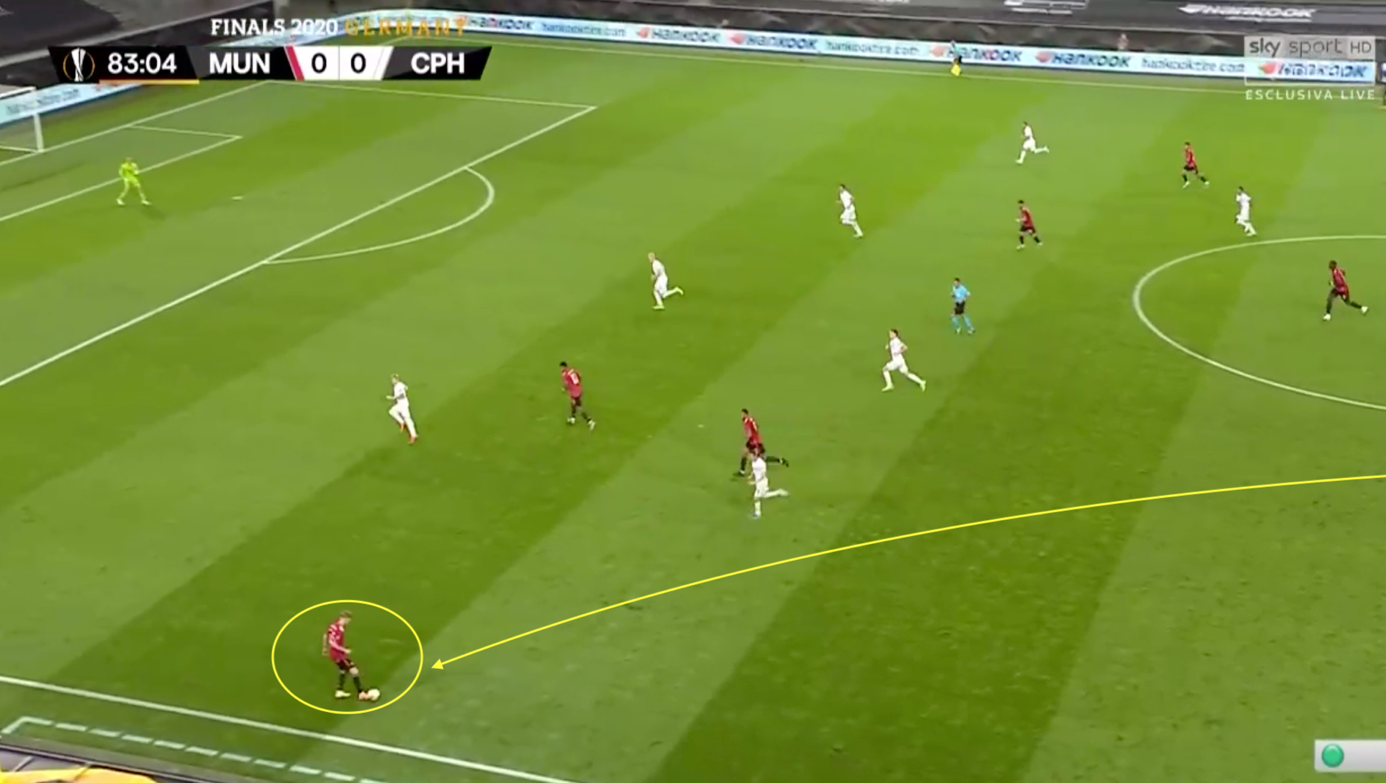 In possession, Maguire is a relatively modern central defender. He is calm and composed on the ball, his ball progression statistics are exceptional, and he is an extremely solid passer. Here is his heat map from all matches played in the Premier League this season, provided by Wyscout.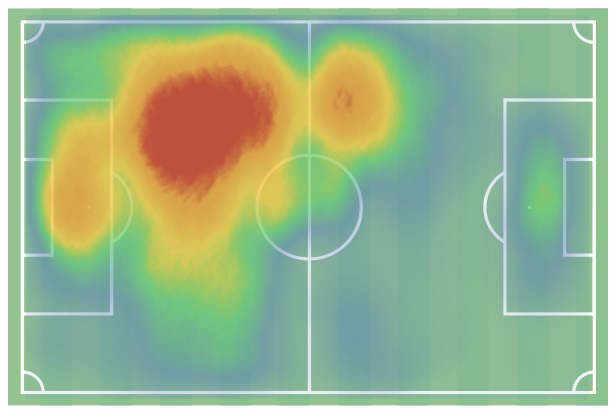 This tells the story of what we have seen in the above examples. His actions are not only deep within his own territory, but he is also heavily involved in the middle third of the pitch.
Out of Possession
Out of possession, Maguire is also a very capable defender. He uses his intelligence and reading of the game, to make up for his conceived lack of pace and mobility. Despite these barriers, according to FBRef, the former Leicester City player led all central defenders in interceptions this season with a total of 75.
Below is a fantastic example of his ability to read the game defensively. In the first image we can see that he is going to step out of defense to pressure David Silva, who receives the ball in a pocket of space.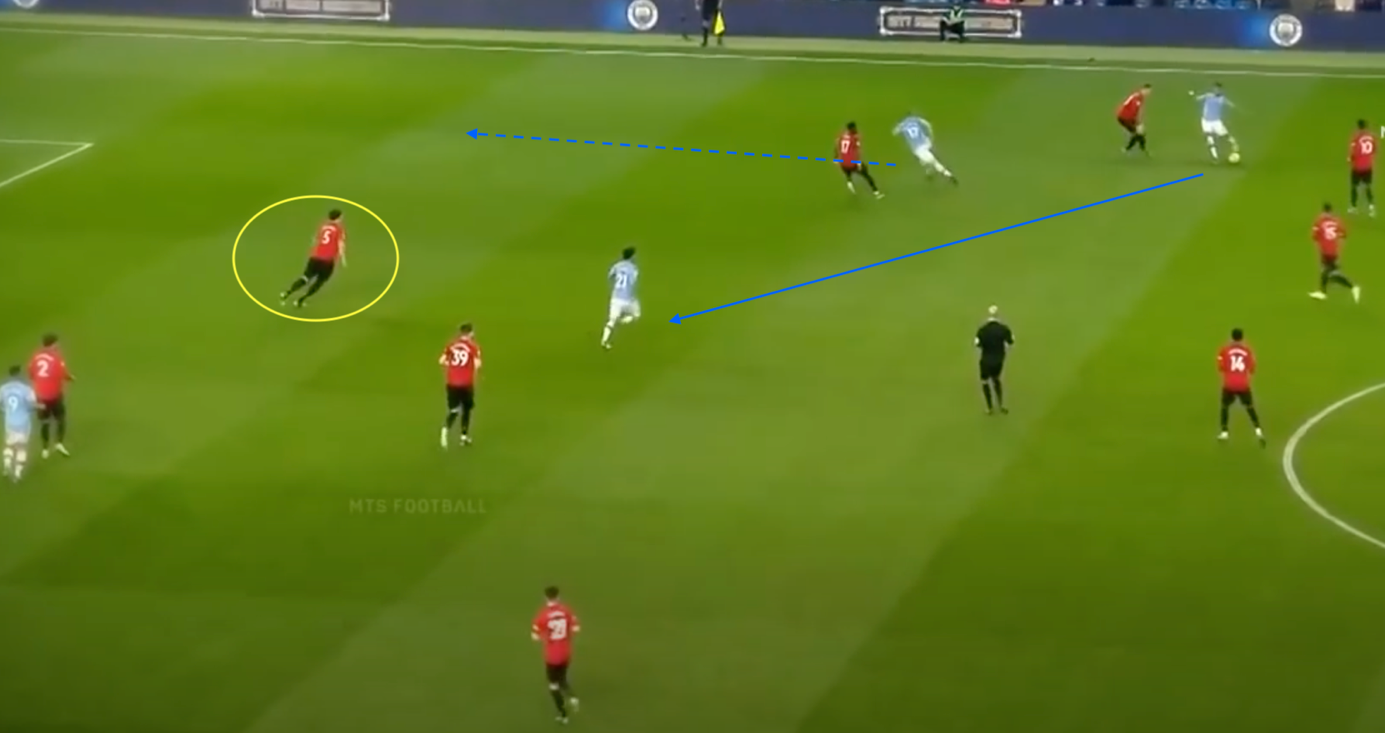 While the pass is on the way, Maguire is able to detect Silva's next action, which is to play a one touch pass down the line to Kevin De Bruyne. Maguire quickly reacts to this by adjusting the angle of his pressure, and is able to cut out the pass at the last second.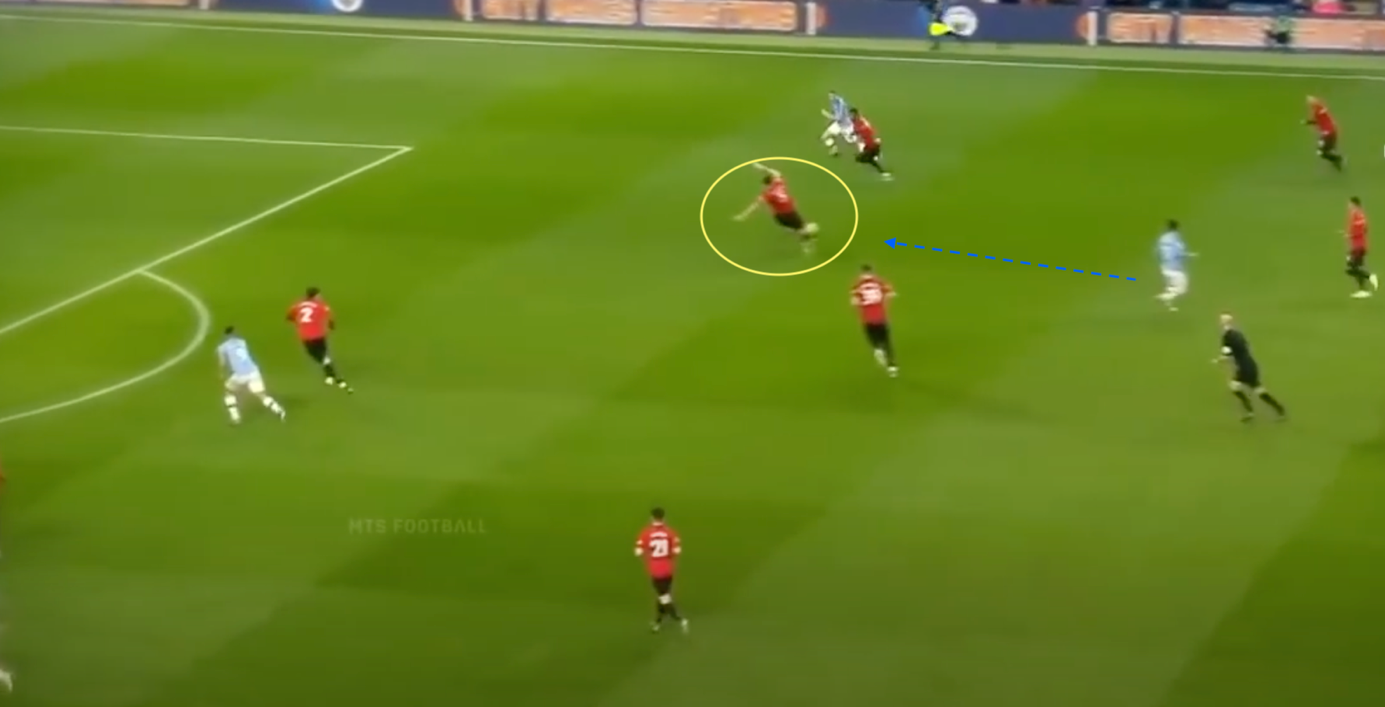 To add to this, he has also won the third most aerial duels amongst central defenders this season, winning 176 in total. While the above defensive statistics can, and will be influenced by a teams style of play, we can look to his defensive duels won percentage as perhaps a better indicator of his individual quality in defense.
According to Wyscout, of all central defenders with 2,000 or more minutes played this season, Maguire ranked second, winning a total of 73.23% of his defensive duels. A number only bettered by one central defender, former United man Jonny Evans. Maguire is an extremely physical and strong defender who wins the majority of his defensive duels, both on the ground and in the air.
Overall Impact
In this analysis, I have so far focused almost entirely in what phases of the game Maguire exceeds in. This is not to say that he is a faultless defender. Maguire does have his weakness, but I feel due to his numerous strengths, his weaknesses are often well hidden.
As touched on briefly above, perhaps his biggest weakness is lack of mobility. Manchester United have attempted to press higher up the pitch this season at times, meaning they must defend with a high back four to maintain their team balance and shape. This has caused a few problems for Maguire.
Below is one of the best examples of his struggle to defend high against a team with speed. Here we see Tottenham's Steven Bergwijn dribbling at Maguire at full speed. Maguire's initial starting position is not particularly poor, and we can see he is trying to show Bergwijn to the outside.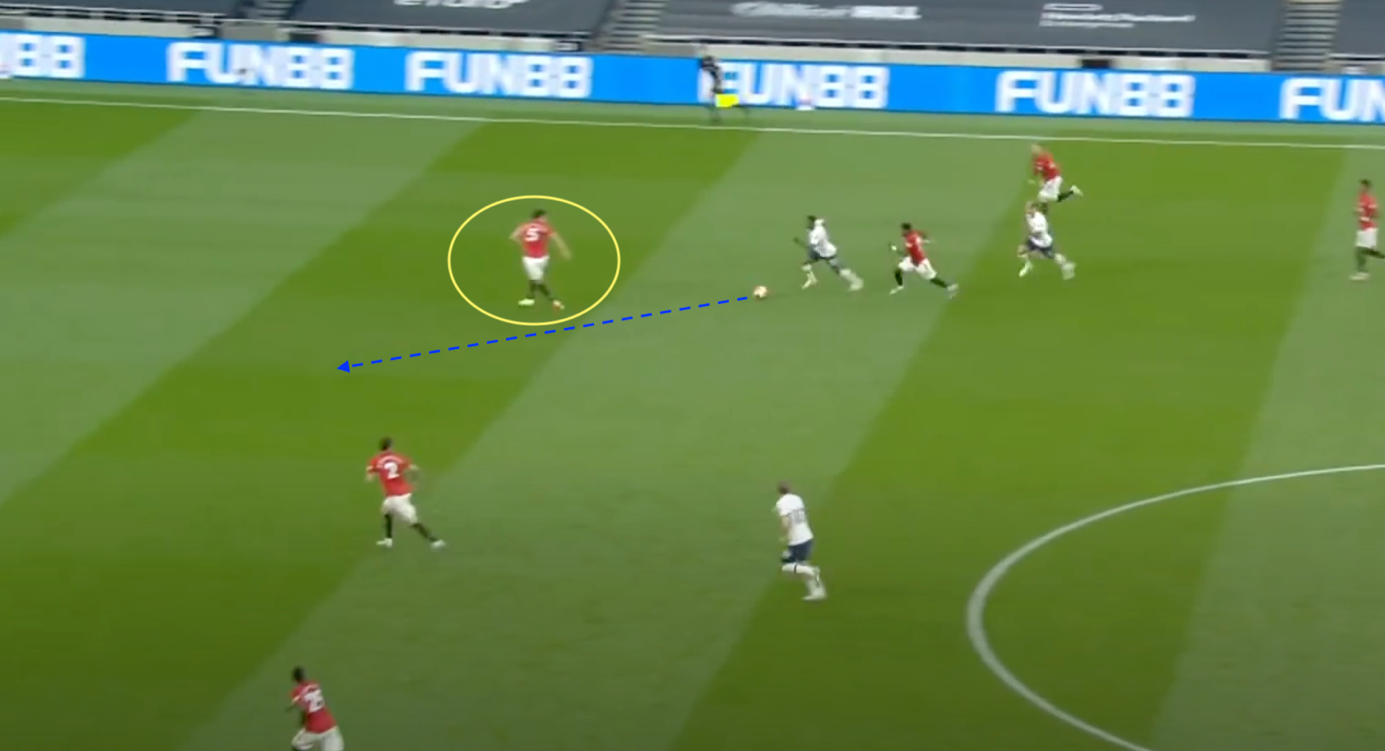 However, Bergwijn is able to beat him for pace on the inside as Maguire is not able to turn his hips quick enough to delay the progress of the Dutch attacker. This particular attack ended with Bergwijgn scoring for Spurs, although United would end up equalizing late on via a Bruno Fernandes penalty.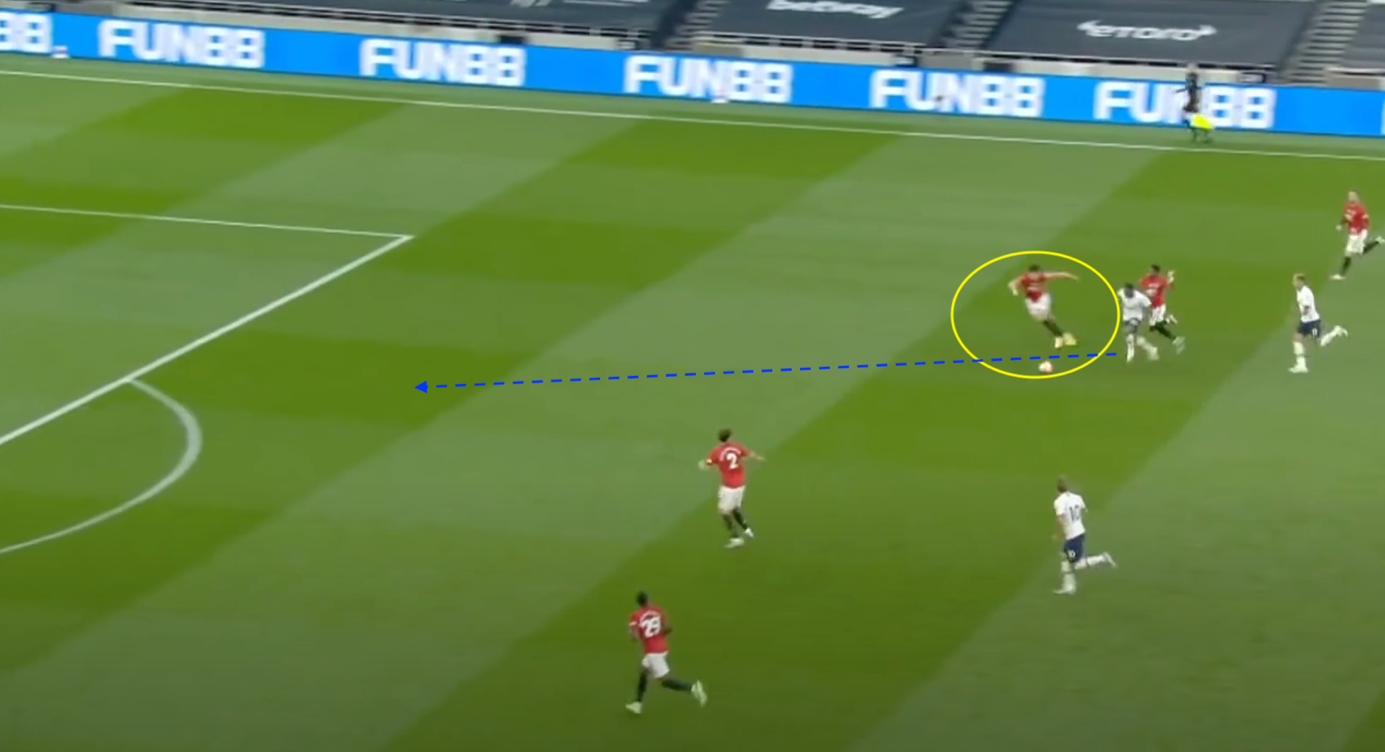 While pace can at times cause problems for Maguire, once again this is where his reading of the game and understanding of angles and space comes to the forefront. Below is a fantastic example of Maguire being beaten by a ball played over the top into space to Newcastle United's Miguel Almirón.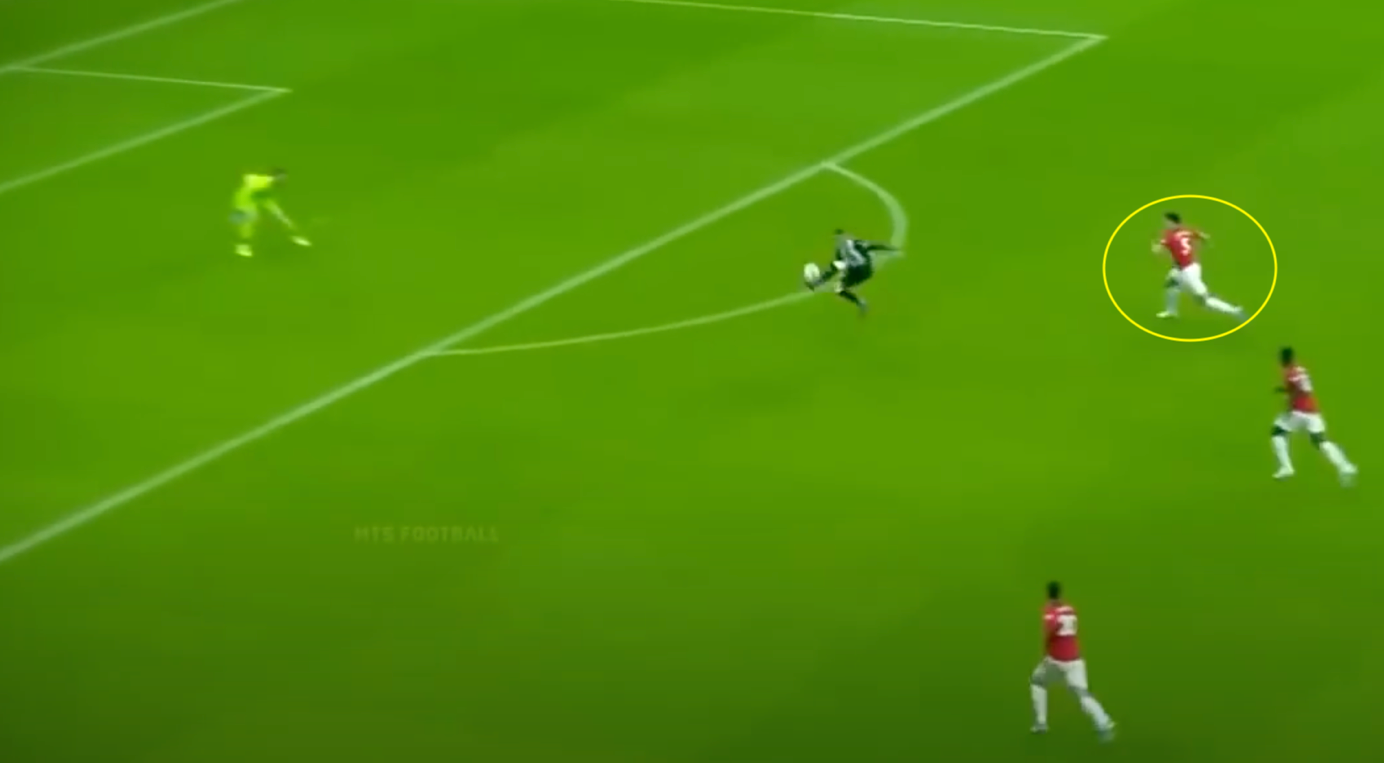 However, in the next frame we see how he manages to take a perfect angle on his recovery, and with extreme timing is able to block what looked to be a sure goal.
Whether fair or unfair, Maguire is often scrutinized due to his hefty price tag. Regardless of how much money was paid for him, he has been an outstanding defender for United this season.
According to the Wyscout Index, which ranks players by position based on a set of parameters key to success their respective position, and also uses an algorithm to calculate their impact, Maguire was the second best center-half in the Premier League in 2019/20.
This season, Maguire started and played every single minute in the Premier League for Manchester United. He has been instrumental to United's success and his leadership and presence in the side will be vital as United look to improve on their third-place finish heading into next season.
By: Eric Laurie
Featured Image: @GabFoligno / Oli Scarff