An Analytical Look at Weston McKennie
In recent months, United States international Weston McKennie has been linked with a move away from Schalke 04. The 21-year-old has been linked with a wide variety of clubs ranging from Hertha Berlin, Southampton, Everton, Leicester City and Aston Villa, with Schalke reportedly demanding a fee within the region of £20 million.
When McKennie made his Bundesliga debut at the age of 18, he was viewed as an energetic midfielder who excelled in the defensive phases of the game, but who was fairly limited going forward. The Texan is naturally athletic with decent speed and fantastic aerial ability. While he does lack elite speed and agility, he still covers a lot of ground and is aggressive and strong in duels.
Under former manager Domenico Tedesco, McKennie was played in a variety of positions. Tedesco, whose preferred system utilized three central defenders, used him seven times as a central midfielder, six as an attacking midfielder and four as a center-half in the 2018/19 Bundesliga season.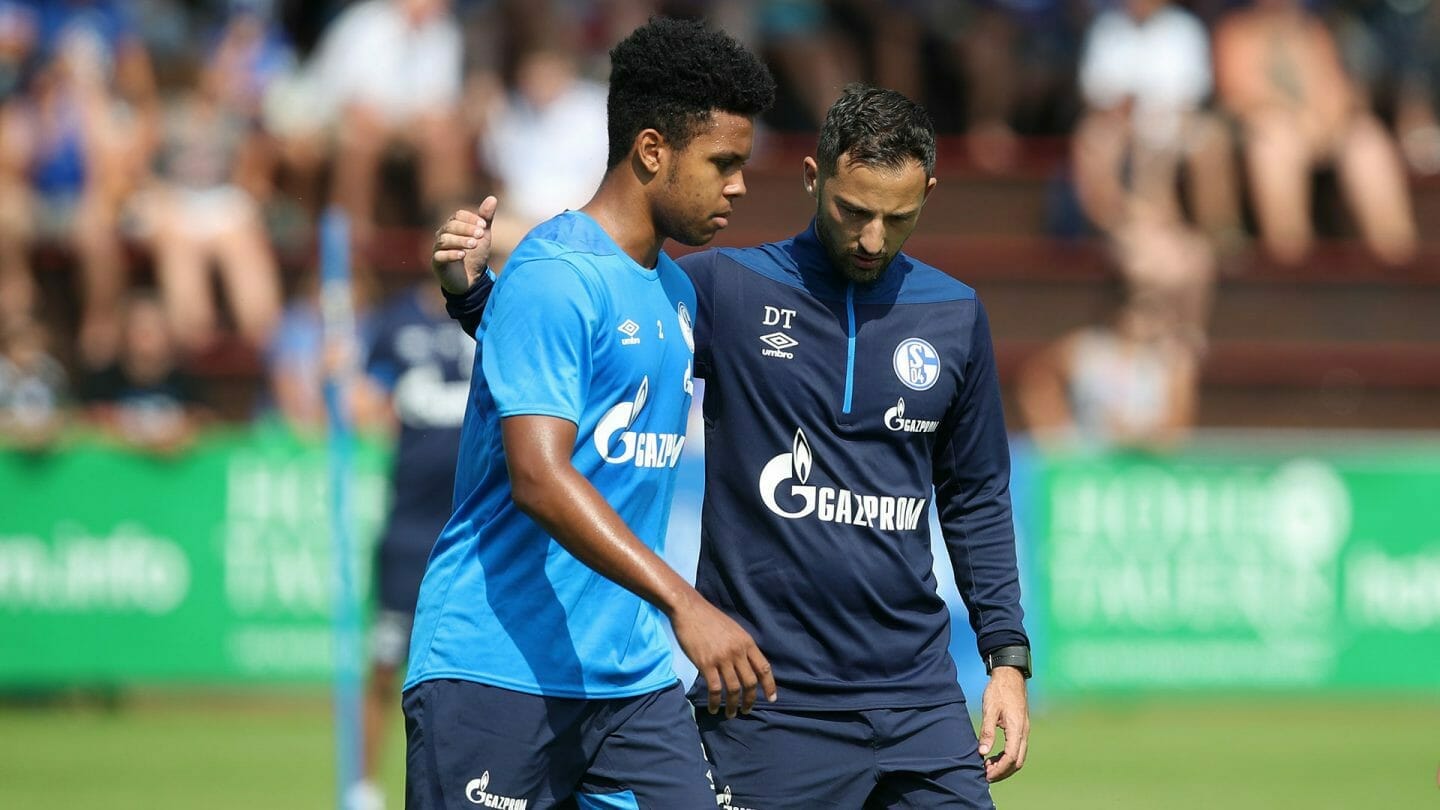 Photo: Schalke 04
While his versatility allowed him to play well in different positions, being shifted around from different positions has limited his potential to excel in a defined role. Since the arrival of current manager David Wagner, McKennie has often been utilized on the right of a double pivot or in a midfield three this past season, which has arguably been his best season to date.
Wagner has been quoted as saying "He's an outstanding talent. In the number 6 or number 8 position, he has the mentality, a real working mentality that you need. And he's brave on the ball as well. He can be one of the best midfielders in the Bundesliga."
In Possession
Playing in a more defensive role this season, McKennie not only has the capacity to get forward, but also has the freedom to do so as well, as he often tends to drift forward on the right. His ball carrying capabilities are well suited to this role, as he is more than adept at driving forward with the ball at his feet.
According to WhoScored, he has completed 1.4 successful dribbles per 90 minutes this season when playing as a central midfielder, the second highest average in the league for midfielders with 12 or more appearances. Below is an example of his fantastic ball carrying abilities. Here he is able to receive the ball on the half-turn in the right half space, deep in his own territory.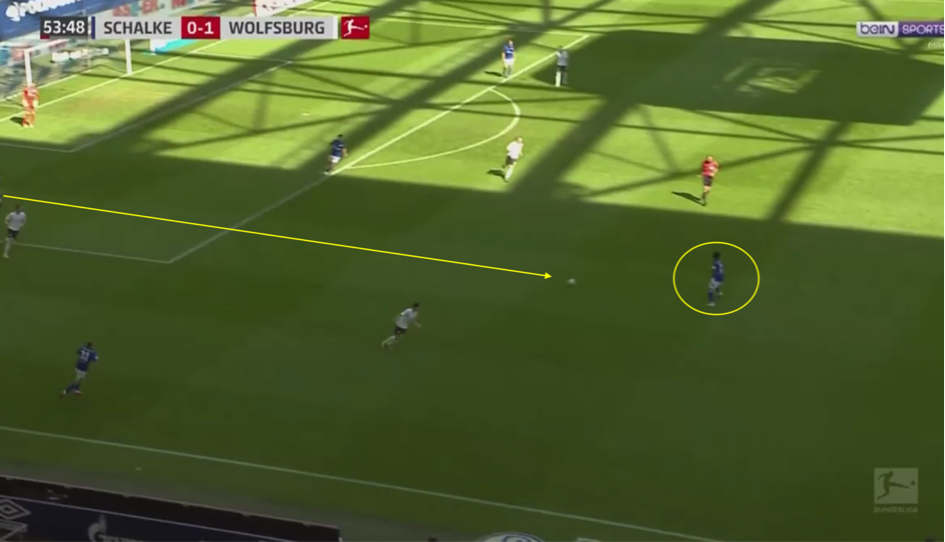 With a quick check over his shoulder, he is able to turn into the space toward the center of the pitch. By utilizing a strong touch, he beats Wolfsburg's Xaver Schlager with pace and power, leaving him with plenty of room to attack going forward.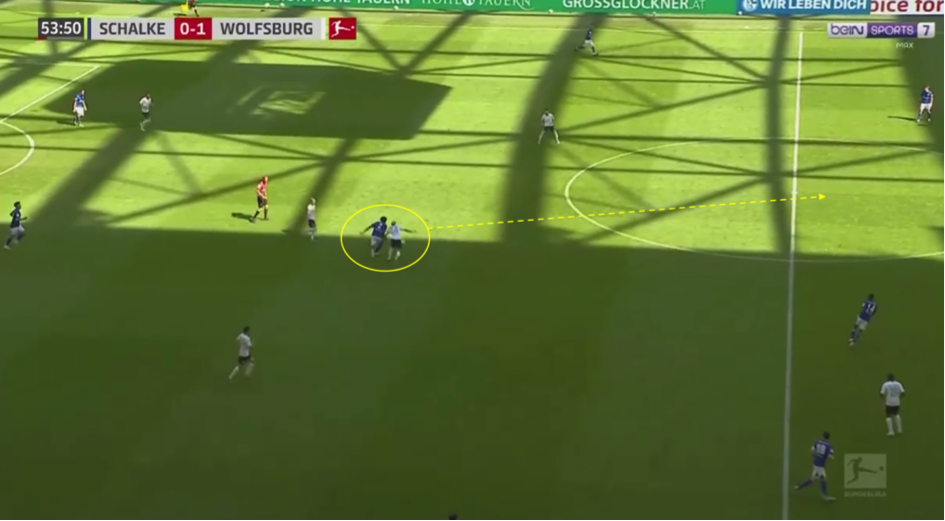 After nearly progressing the ball to the opposition penalty area, he slips in a weighted through ball to the onrushing Juan Miranda on the left, who creates a goal scoring opportunity at the back post with a cross.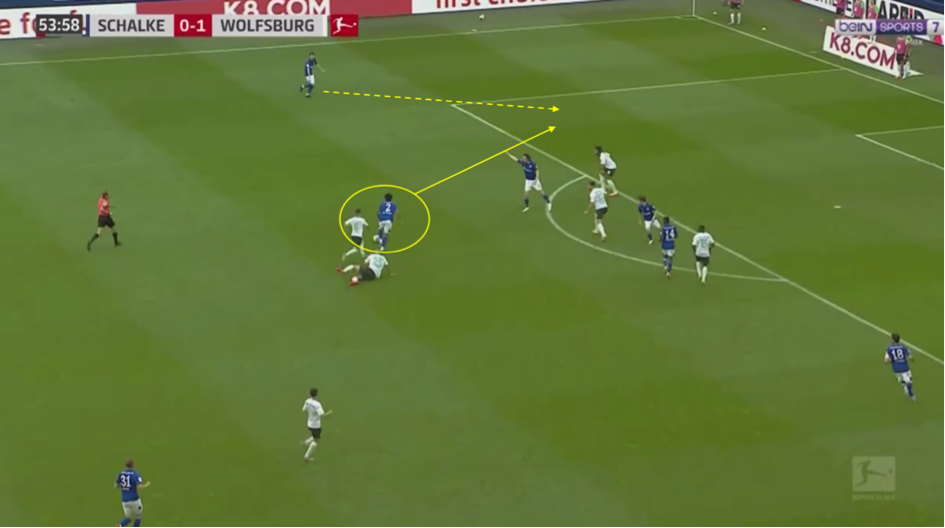 That he is able to progress the ball from one penalty area to the other almost entirely by himself proves extremely valuable to his side. Looking at data provided from Smarterscout, we can find even more impressive underlying numbers from the American.
Smarterscout uses an advanced algorithm that measures a player's playing style. The dimensions are rated on a scale of 1-99 with 99 being the best. Under the Style Rating of Dribble, McKennie ranks as an outstanding 93 when playing as a defensive midfielder. Smarterscout also has a system for rating players in duels, where McKennie receives an excellent 89 for Ground Duels in Possession.
This strength is highlighted in the above example against Wolfsburg where he is able to retain possession after riding two challenges while in possession. McKennie does well to make the difference in possession throughout the duration of a match. Averaging 58.5 touches per 90 minutes in the league, he makes his presence felt with a fairly even spread of touches in each third of the pitch.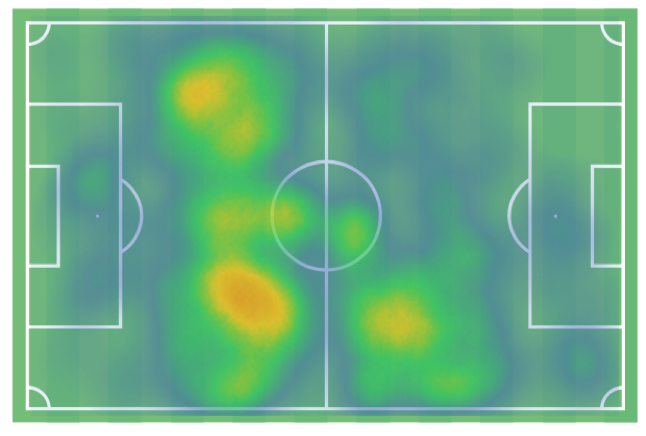 The above heat map from Wyscout shows how McKennie manages to impact the game across the different areas of the pitch, or, as many would tend to call it, from box to box.
One of his greatest attributes is his fortitude in aerial duels. His size, combined with his leaping ability and physicality makes him a constant threat on set pieces. The image below captures his outstanding vertical jump, beating two Eintracht Frankfurt defenders on the back post to score a goal from a corner kick.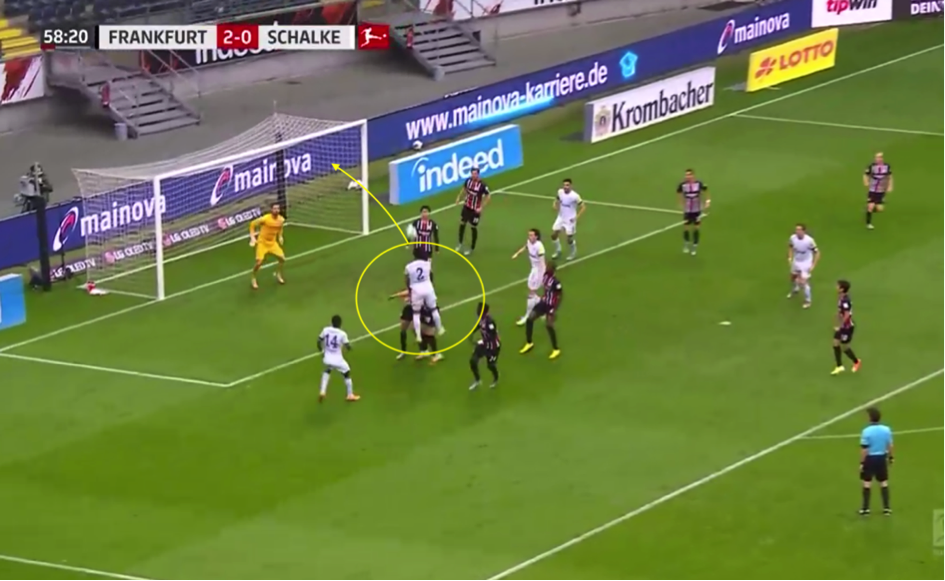 His dominance in the air is further validated by his Aerial Duels Won of 63.9%, a number bettered by only three other midfielders in the Bundesliga this season (FBRef). To top it off, his Aerial Duels / Dead Balls rating from Smarterscout is an astonishing 98.
One thing that he can improve on, however, is his ability to find space without the ball and offer himself as a passing option to his teammates. In possession, he can occasionally jeopardize his team due to a lack of concentration.
While this statistic is affected by the club's style of play, he still places far behind the top central midfielders in Germany when it comes to being a targeted pass receiver. According to FBRef, his Pass Target average of 43 per 90 is well behind some of the Bundesliga's top midfielders.
Out of Possession
While McKennie is a more than capable attacking threat, he truly excels out of possession. There are countless adjectives we can use to describe him in the defensive phase of the game; he has a fantastic work-rate, and he is able to read the play ahead of him quite well.
There are a variety of defensive actions where he stands out as an above average contributor. Smarterscout's Model Rating regarding Defending Quantity rates him at 88 when playing as a midfielder. The simple definition of this rating can be summarized as "the number of defending opportunities a player has per minute out of possession," another indicator of his intense playing style.
This season, he placed third amongst all midfielders with at least 2000 minutes played, averaging 2.09 interceptions per 90 (FBRef). In the following images, we can see a sequence where he uses his reading of the game along with his ability to cover ground to intercept a pass. With Bayer Leverkusen left back Wendell attacking open space, McKennie manages to close the gap quickly.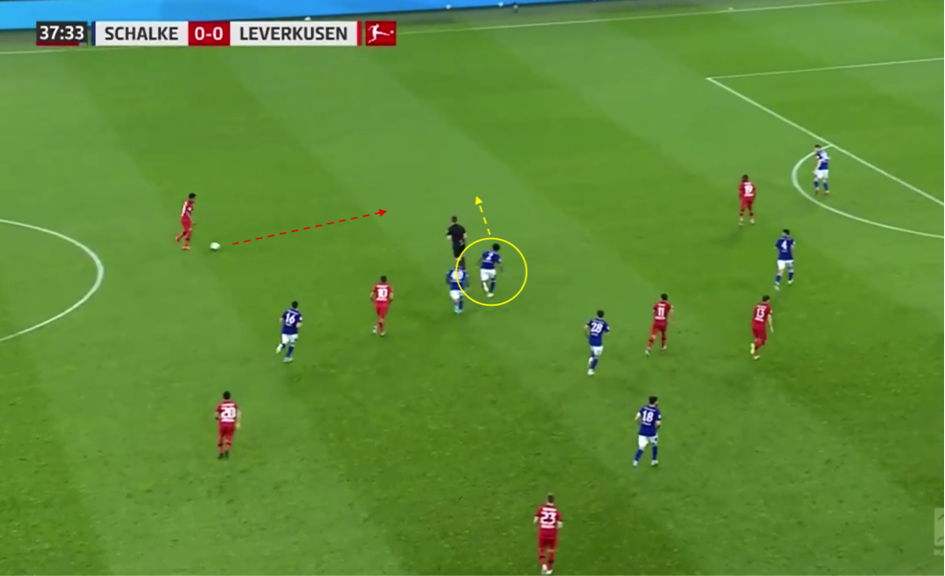 Once McKennie arrives and looks to press the ball carrier, Wendell attempts to disguise his pass, shaping up to pass to the free space on the left, as opposed to the central runner, where he eventually attempts to pass. McKennie is quick to adjust his pressure and cut out the attempted pass, as seen below.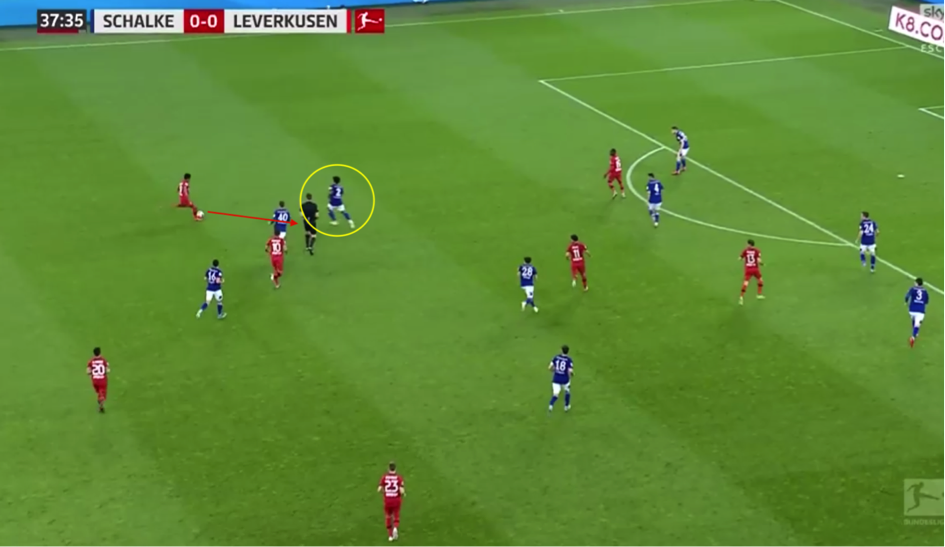 As stated above, McKennie has a lot of tools to work with out of possession. He is a relentless runner who never seems to run out of energy, while also boasting a strong mentality to win back possession.
The following set of images is an accurate representation of McKennie´s defensive prowess, demonstrating his reading of the game, recovery speed and timing in a duel. In the first image, he is on his way to close out and pressure the ball carrier.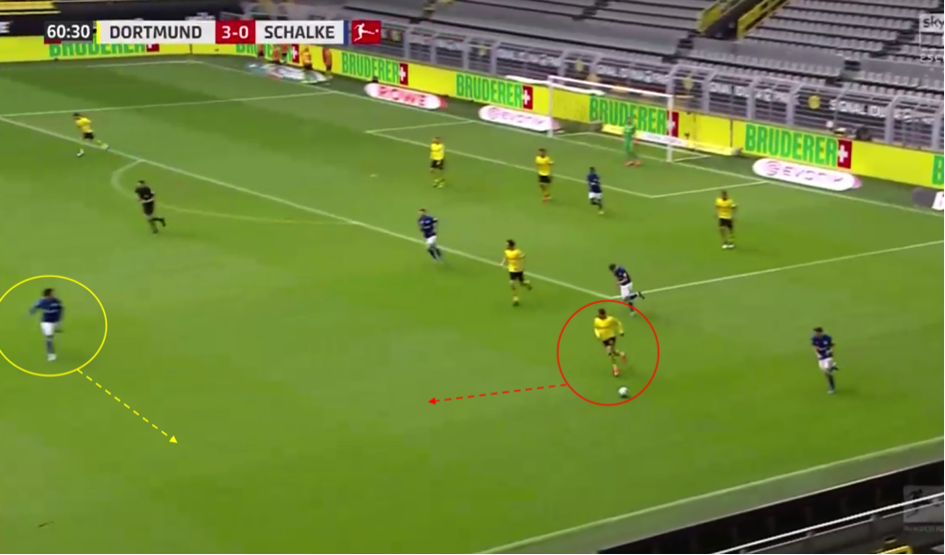 Once the initial press is in place, he checks his shoulder and recognizes the danger in the center of the pitch, as seen below. While slowing down and changing the angle of his run, he is able to also prevent Thorgan Hazard from finding Julian Brandt with a pass by using his cover shadow.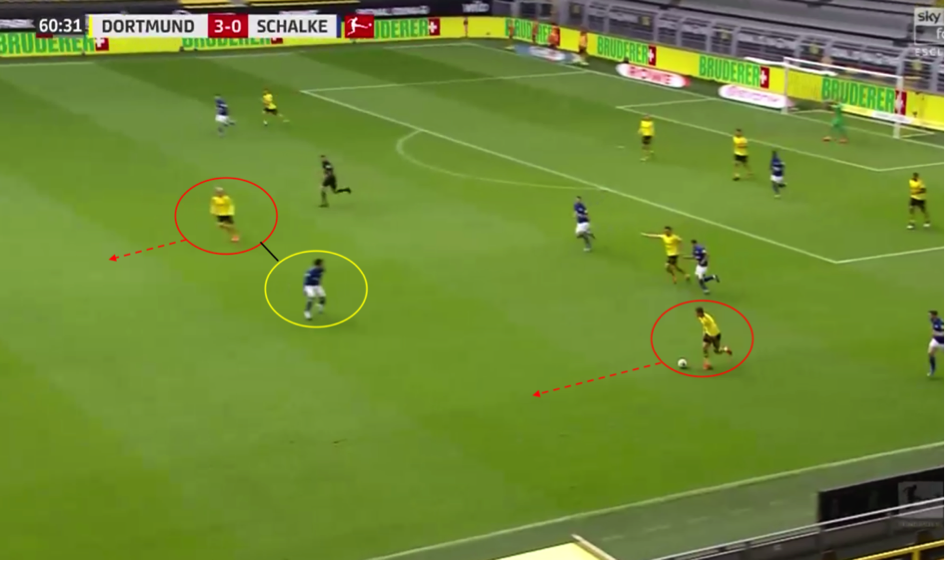 Simply preventing the progressive pass or slowing down the attack is not that impressive. However, he is also able to recover from the change of speed and still manage to challenge the ball carrier. This follows with him getting a foot on the ball, which eventually leads to him picking up possession in his own half.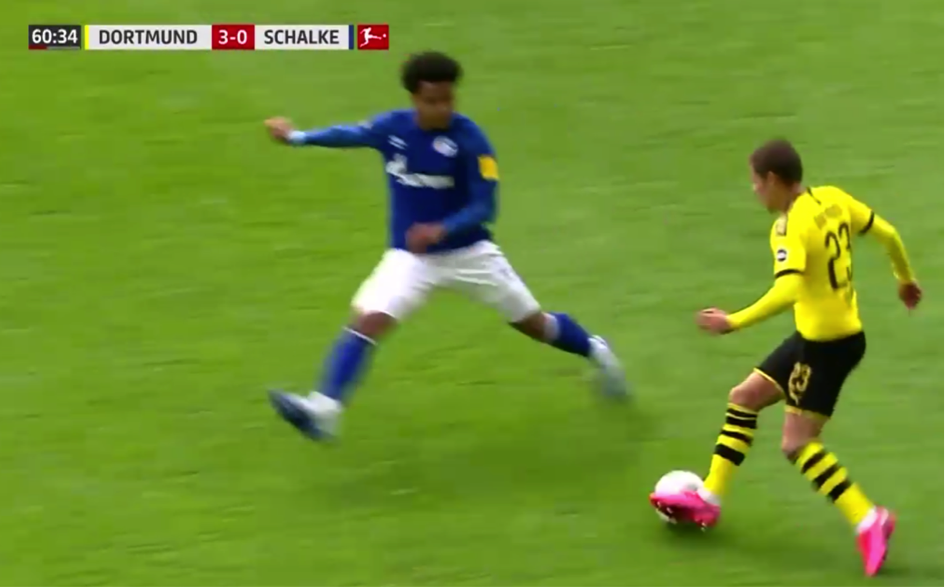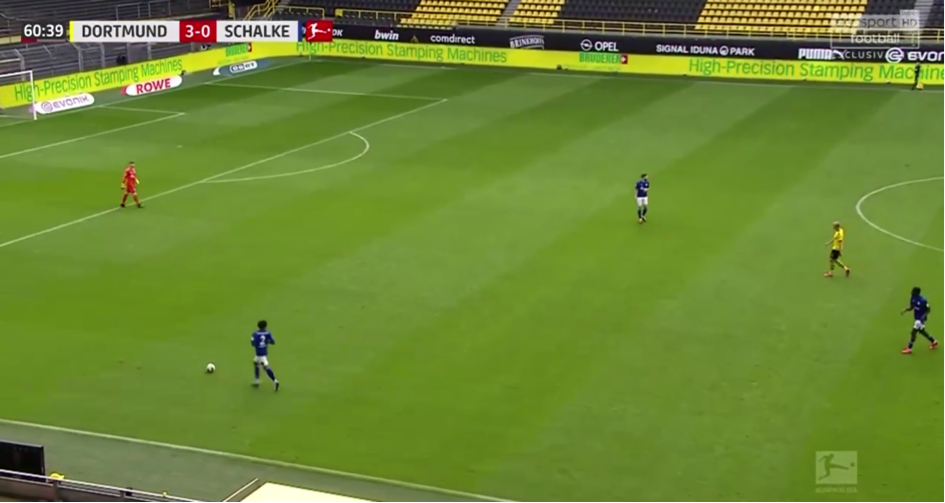 Overall Impact
It is clear to see why teams across Europe are chasing the signature of the American, who was ranked as the 10th best central midfielder in the Bundesliga by the Wyscout Index. But while he excels at progressing the ball through his dribbling, his passing ability lags behind.
Whether due to Schalke's playing style or his own preference, McKennie rarely attempts creative or difficult passes. According to Wyscout, he attempted just 0.78 through passes per 90 in the league this season. His ability in both offensive and defensive transitions is a huge asset in his game, and he has an effortless way in moving about the pitch. McKennie tirelessly works out of possession to regain the ball, and is relatively comfortable using both feet.
While he has still not reached his peak, he is very much a well-rounded player, shown by his versatility and two-way mentality. Despite recently penning a contract extension until 2024, McKennie looks likely to depart the German club this summer as Schalke aim to cash in on one of their top prospects and dig themselves out of their precarious financial situation.
He has come leaps and bounds since departing FC Dallas as a teenager, but playing in a more defined role will only help him refine his skillset as he looks to take the next step in his career.
By: Eric Laurie
Featured Image: @GabFoligno / Uwe Kraft / Getty Images