Analysing Victor Osimhen: The Nigerian Monster
Born in Lagos, Nigeria, Victor James Osimhen started his career at the Ultimate Strikers Academy in Lagos, featuring for the Super Eagles in the 2015 FIFA U-17 World Cup, and turning many heads around at that time for his performances.
He eventually signed a pre-contract with the Bundesliga club, VFL Wolfsburg. His time at the German club was riddled with injuries and he eventually had to look for loan options, even giving trials with Club Brugge and Zulte Waregem in Belgium.
However, a summer bout of malaria left his body so weak that neither of the clubs agreed to take him on loan. He finally joined Belgian club Charleroi in 2018, where he was bought after his successful performances while on loan.
In 2019, Osimhen signed for future Ligue 1 champions, Lille OSC. Showing his potential at the French club, Napoli bought him for a total fee of 80 million Euros, making him the most expensive African player till date.
While his start at the club may have been a bit rocky, he was bounced back and slowly started showing his full potential.
Style Of Play
Victor Osimhen is an athletic, modern and strong striker (9) who has a strong eye for goal, is direct and is pretty good with his hold-up and linkup play.
He frequently looks to attack and create spaces, can receive the ball well with his back to the goal, has a good first touch and often times his runs perfectly. 
At 185cm of height, while he may seem lanky and unathletic, Osimhen is actually a really good presser, useful in pinning back defenders and intercepting passes in the opponent's third.
His pace is one of the deadliest parts of his game, especially in transitions as it allows him to get ahead of his opponents. In short, a modern number 9.
Analysis
With 19 G+A in 28 games in this season, Osimhen has certainly raised the eyebrows with his attacking output.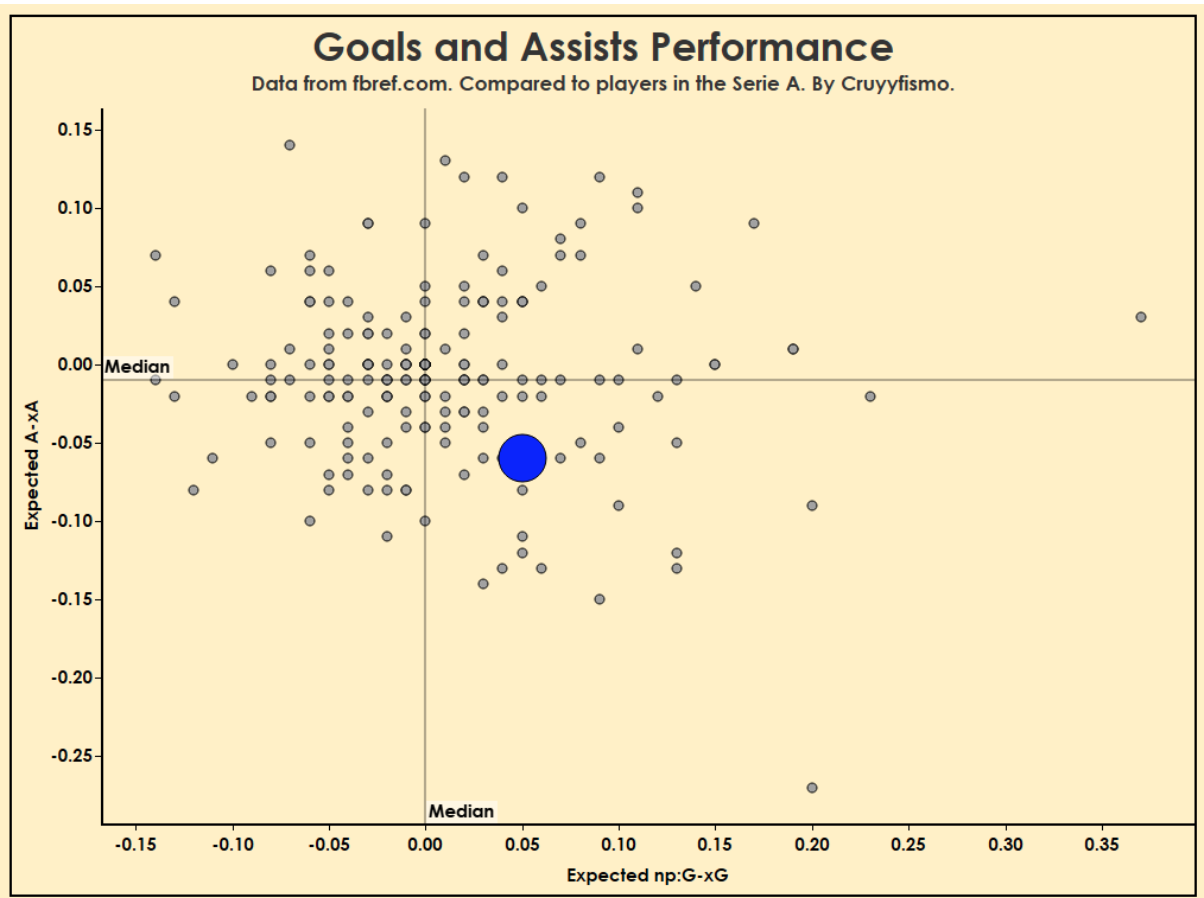 Looking at his underlying numbers this season, we can see that he has been just slightly overperforming his npxG this season, something that could be sustainable over the years. He has also been underperforming in terms of assists, suggesting he could do better in that area.  
One of Osimhen's biggest strengths is surely his pace, which makes him so deadly in transitions. This allows him to get ahead of his opponents and when he can't, he just slows down his run and moves to the blindside of the defender.
In the above video, as he sees the ball coming forward, he makes a run and when he sees the ball played to the player down the wings, he slows himself down and makes a diagonal run towards the blindside of the defenders and eventually scores.
As you can see, he uses his pace to get ahead of the defenders and attack the space in front of him. Once he gets running, it is usually very hard to keep up with him. With him athletic body and long legs, he really is very fast. 
Another thing the video highlights, is his recognition of space, something very useful to have in a modern day number 9. Talking about recognition of space, Osimhen is very adept at recognizing, attacking and creating space.
Seeing the space on the right, Osimhen immediately makes a diagonal run towards the vacant space, where he receives the ball and goes on to score. This type of movement in front of and towards space is a result of him being exceptionally direct, something every club would appreciate.
As we can see above, Osimhen has really good poaching abilites, that is, getting to the right place at the right place. People nowadays slander Ronaldo, Lewandosi and other goalscorers for being "poachers", but being at the right place at the right time is really hard, something Osimhen does/has been doing quite well.
Here, after winning the ball after some pressing, Osimhen stays on the blindside of the defender until the last moment, and anticipating the cross from Insigne, times his run beautifully to score.
More than just his phenomenal goalscoring output, Osimhen is a high pressing forward, something we don't see much in strikers (9's) nowadays.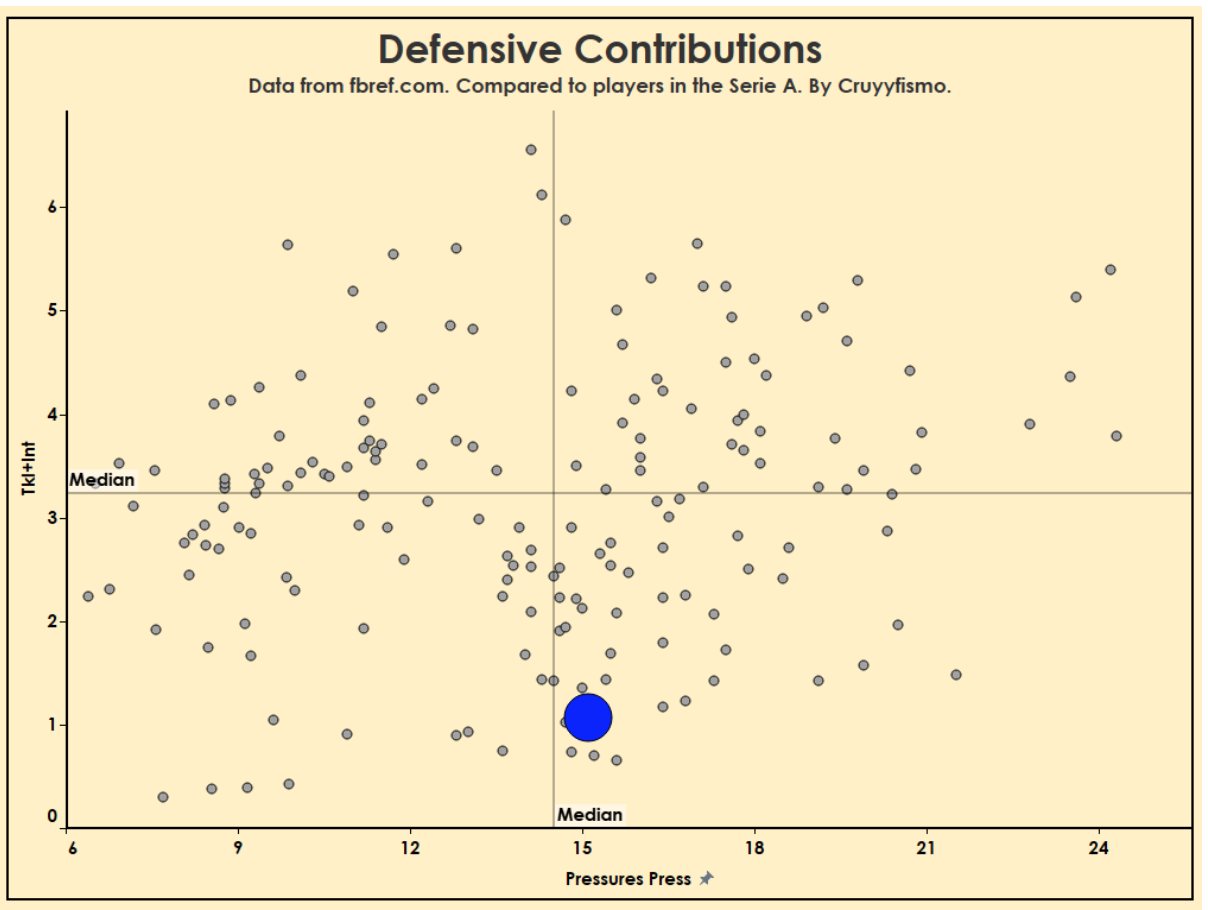 From this viz, we can see that Osimhen ranks above average in Serie A in terms of pressures. But let that not fool you.
While this counts the amounts of pressures successful, it doesn't actually take into account the amount of pressures leading to opponents losing the ball through interceptions or even just pinning back the defenders, preventing them from building up from the back.
Another one of Osimhen's strengths is his holdup play and ability to receive the ball with his back to the goal. Given his strong athletic frame, he doesn't have much problem shielding the ball away from the defenders, a bit like Lukaku. 
His one-touch passing in the opponent third is a very useful part of his game, something Napoli take full advantage of.
As you can see here, he makes a one-touch pass to the midfielder in the opponent box and turns around into the box to slot it into the goal.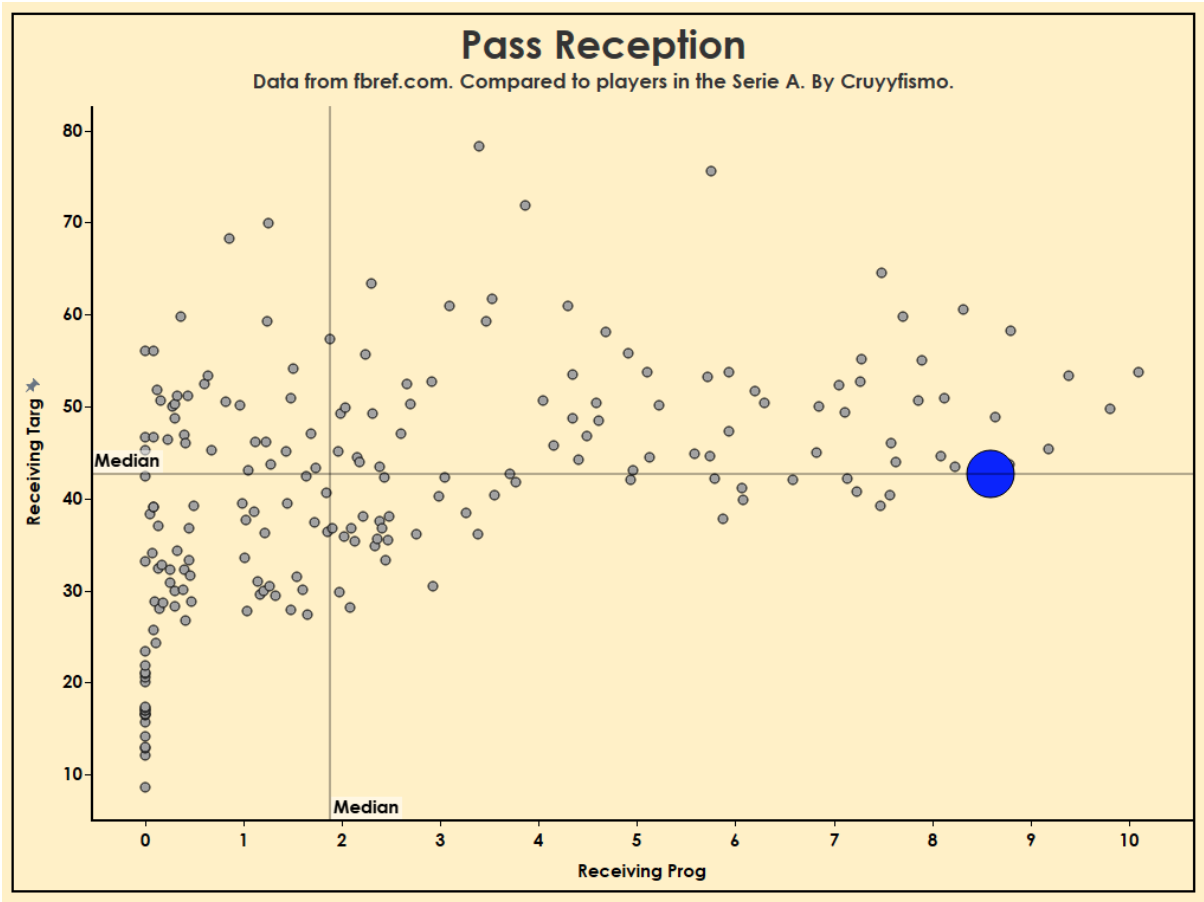 Osimhen also acts as a outlet for his team frequently, ranking quite high in terms of progressive passes received. He is often the face of counter-attacks and is always seen lurking on the shoulder of the last defender, which obviously makes him a target for passes.
Also, this helps in pushing back the defensive line and not allowing the opponent to maintain a high line, something we saw him do vs Barcelona in the UEL 1st leg.
He is also an important asset to have in your team to increase involvement in the opponent third, to put pressure on the defenders. Many teams which lack a poaching presence in the final third are not able to push back the defenders and create pressure on the opponents.
Speaking of shots, Osimhen takes quite a large number of shots, as you can see from above.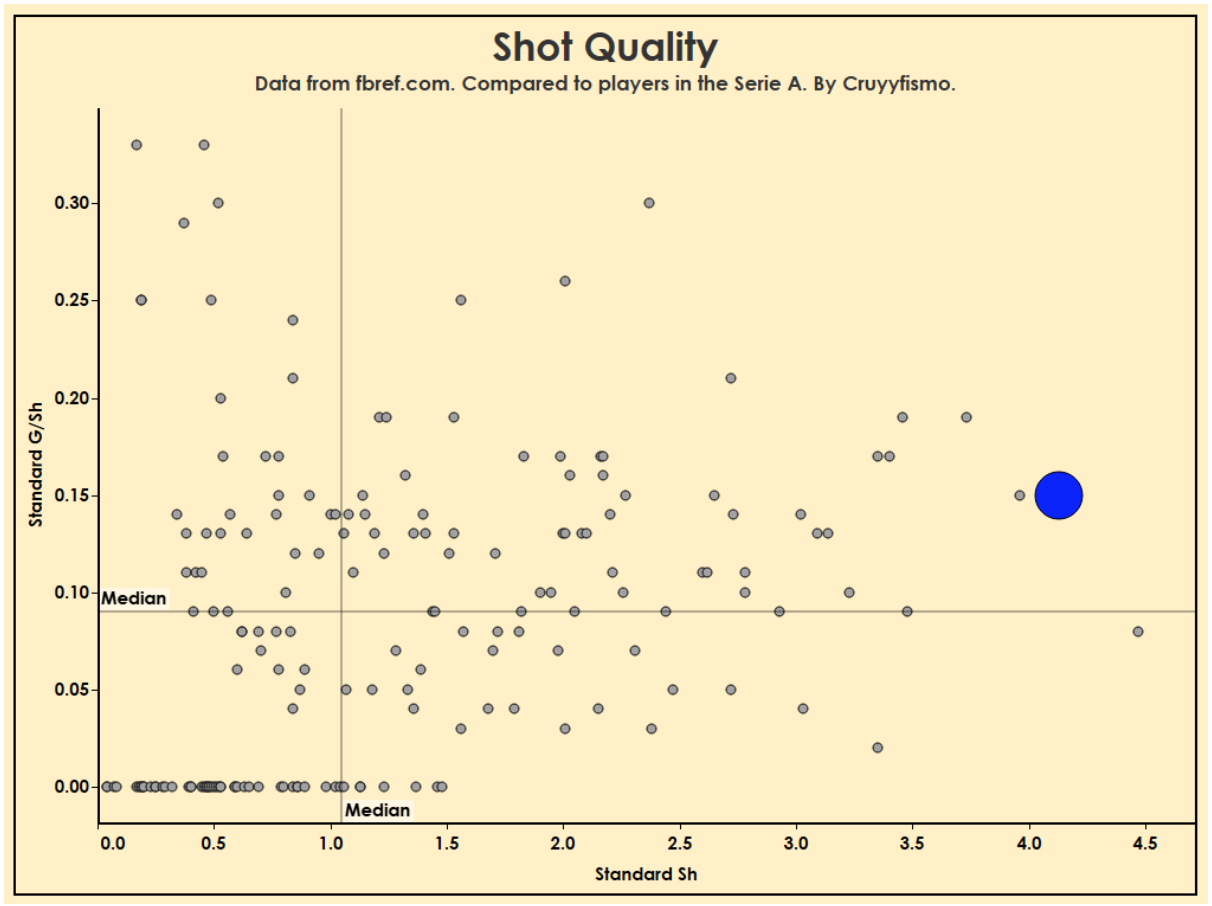 The high Goal/Shot here suggests that Osimhen can be included in the rare breed of strikers who are clinical, that is, takes good chances with both hands. Much like Sergio Aguero, Osimhen only shoots when he sees the opportunity to score, and thus the high G/Sh.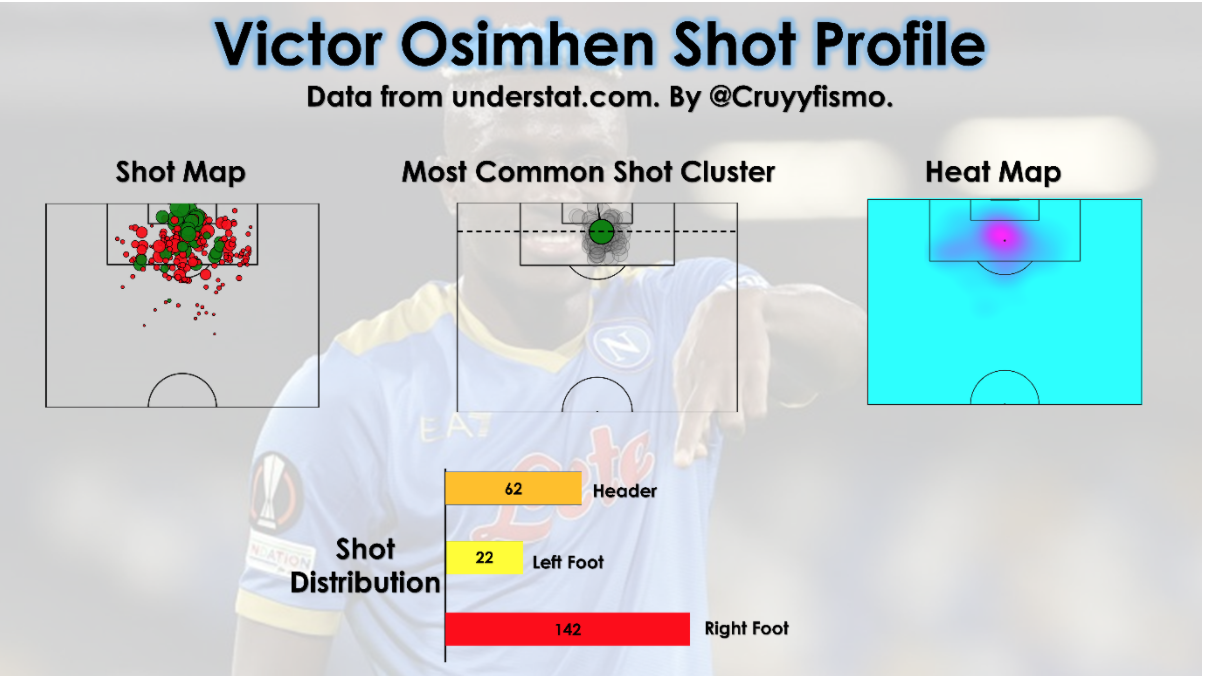 As we can see, Osimhen is much more comfortable with shooting with his right foot. He also uses his head many times, but uses his right foot the least, not being much ambidextrous.
Most of his shots comes from central positions, including his most common shots cluster, signifying he likes to take his shots from central positions.
Another thing worth mentioning about him is his first touch when receiving the ball, which is really good. He always tries to do something innovative when receiving the ball, and even when he doesn't, his basic receiving is quite good too.
In the above example, he nicely brings down the ball to his feet with a simple receive to nicely finish it into the back of the net.
All this being said, he certainly has to improve his creativity and passing skills, having just 1.31 Key Passes per 90 this season.
Conclusion
In conclusion, the 23-year-old is definitely someone to keep an eye out for the future, already raising many eyebrows among Europe's top clubs, including Arsenal. A strong, clinical presence in the box, he is quite good with his holdup and linkup play and is adept at making runs.
Definitely not a false 9, it would be better to see him working on his passing skills a bit more, something that would make him the perfect all-rounded striker and also make him suitable for a more possession-based side.
Already a cult icon in Napoli, he is also considered by many to be very similar to another Napoli legend, Edinson Cavani due to his direct movements in front of goal. If he can avoid injuries, I can definitely see him getting a move to a bigger club pretty soon.
By Pramit Bardhan / @Cruyyfismo
Featured Image: @GabFoligno / DeFodi Images