Arda Guler: Real Madrid's Precocious Turkish Winger
The Galactico era has returned to Real Madrid. Kinda. Instead of splashing money on the best and biggest players in the world, Los Blancos has instead turned to the best youngsters that football has to offer. The likes of Vinicius, Rodrygo, Eduardo Camavinga, Aurelien Tchouameni and Jude Bellingham have all been stockpiled by Madrid. Turkey's biggest talent for a generation is the latest and youngest addition to their U-25 World XI. This is none other than 18-year-old, Arda Guler.
At the start of the 2022/23 campaign, Guler was given the number 10 shirt at Fenerbahce, succeeding Mesut Ozil. The symbolism behind this move is multi-layered. Mesut Ozil, a German World Cup winner, is immensely proud of his Turkish roots and Guler succeeding him at Fenerbahce and now Madrid means he is seemingly destined to be the next footballing star to fly the flag for Turkey on the world stage. Yet, we've seen many young stars move to the Bernabeu and fail to succeed, so the high expectation on the young Turk's shoulders needs to be tempered. However, there is no doubting the talent that resides in Guler's left boot.
The Ankara-born playmaker had 6 goals and 6 assists in 35 games last season. I know these numbers don't jump off the screen, but when you watch him play you can see the level of talent on display. The close control, the wriggling in and out of tight spaces, his absurd vision and playmaking ability and the shot power he possesses make him such a prodigious talent. At no offence to the Super Lig, Guler's level of skill at 18 years old already seemed too much for it.
The man dubbed as the Turkish Messi plays in the same zones and style as his Argentine compatriot. He is a right-winger who loves to operate in the right half-space and number 10 zone, where he loves to pick out teammates, make opponents look foolish with his use of drawbacks or bend it into the top right-hand corner, or all the above in the same sequence.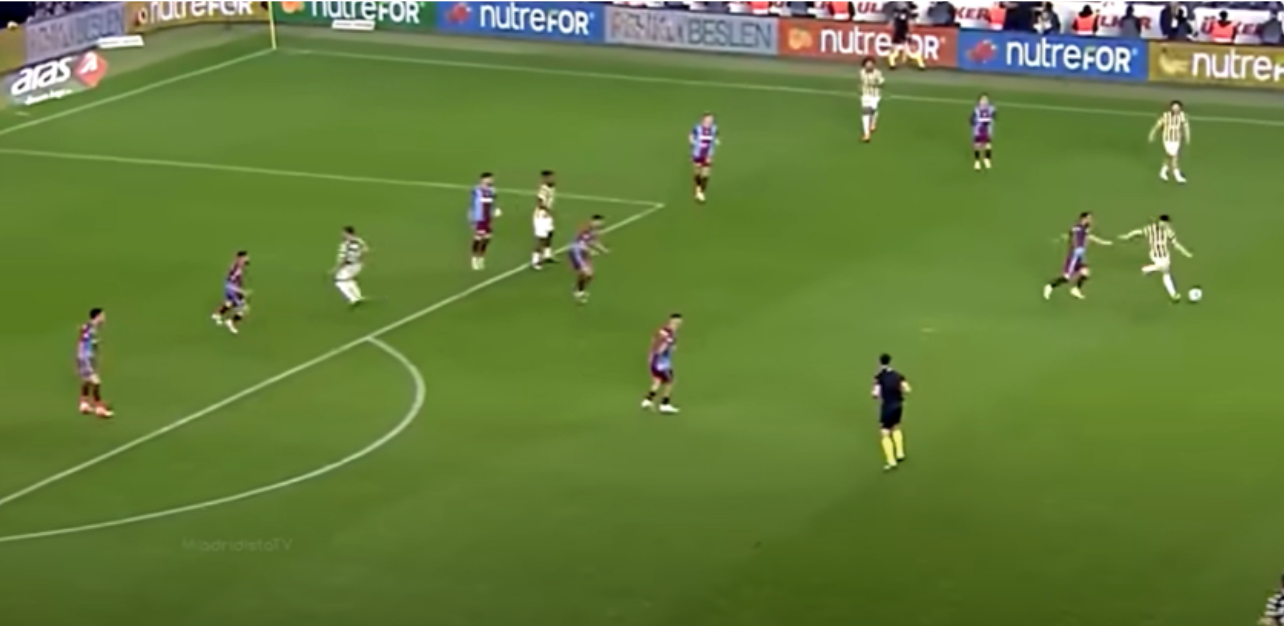 Guler is in his favoured right half-space. It looks like he is being forced to play backwards as he has no way forward against this deep block, right?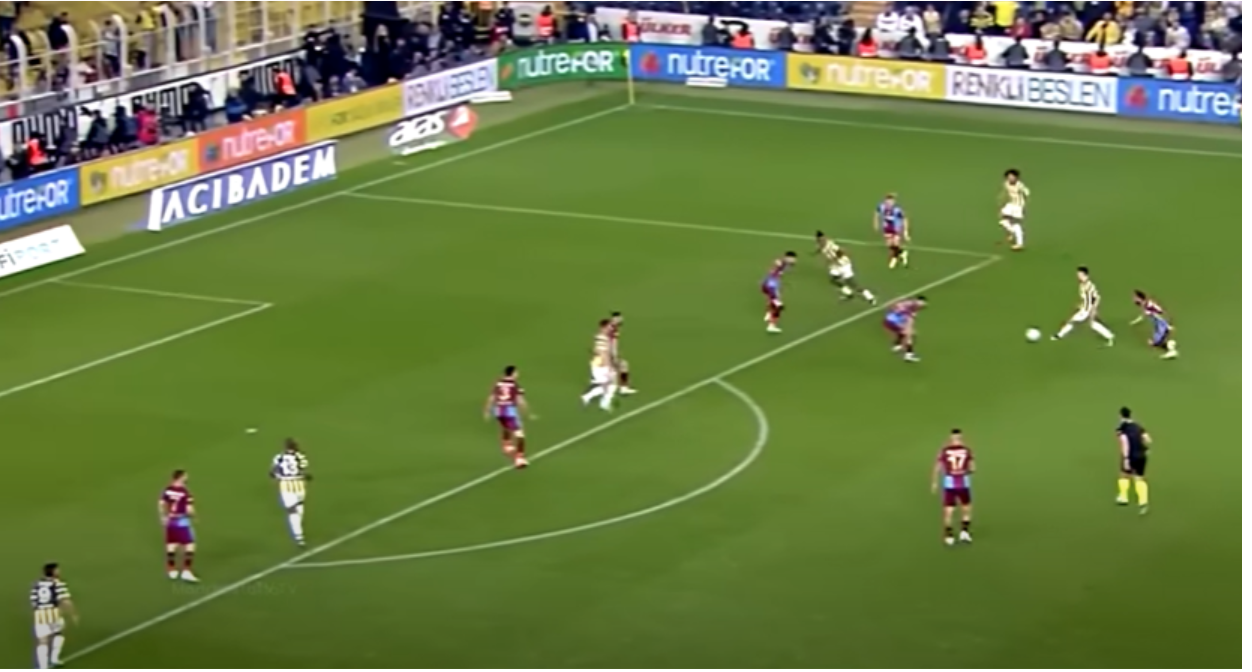 You would be wrong. The little magician uses a drag back, bamboozling his marker and carries the ball forward. What separates him from other young players is that he possesses the vision and calmness to pass to his teammate who then slots it past the keeper. A showcase of skill and vision in one.
An important facet of Guler's game is his counter-pressing. He works extremely hard out of possession and is not a "luxury" player at all. He led the Super Lig in pressures and counter pressures per90, showing both grace and grit. It means he can fit into any number of tactical systems with modern football's obsession with pressing and won't have to be shoehorned in to succeed.
The one thing he shares with Lionel Messi is the ability to stop on a dime whilst dribbling. Being able to dribble, stop and then dribble again allows you to unbalance defenders and dribble past them with ease. His low centre of gravity alongside his agility allows him to do so and explains why he had the highest success dribbles per 90 in the Super Lig. His elite playmaking is also highlighted as he comes out on top in key passes per 90 as well.
As I mentioned beforehand, Guler loves to cut in from the right-hand side and shoot into the top corner. It's where most of his goals come from and where his first one for his national team occurred.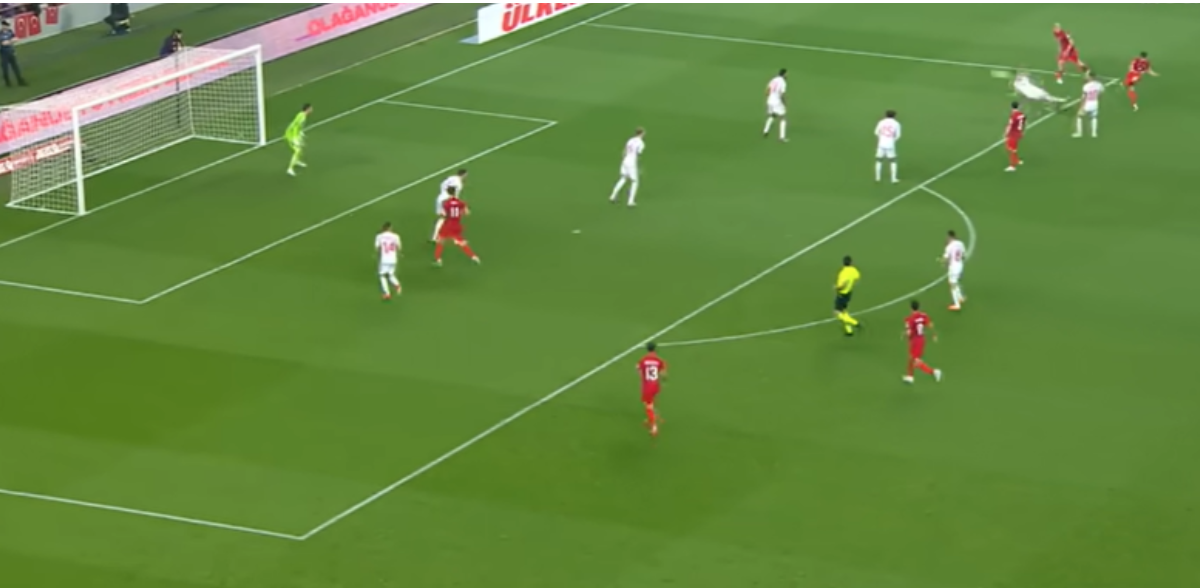 Guler picks the ball up in the corner of the box. Without hesitation, he smacks it top corner, leaving Danny Ward no chance in goal and securing Turkey's 2-0 win. The shot power coupled with his playmaking and dribbling ability make him such a frightening prospect at only 18 years old. It is what made Madrid spend £17.1 million on him. A low price in today's spiralling market. But how will the diminutive playmaker fit in at Los Merengues? That depends on Carlo Ancelotti's flexibility.
So far in preseason, the Italian has trialled a 4-4-2 diamond shape to fit in all the prestigious midfielders at his disposal. With Bellingham operating as the 10, and Vinicius and Rodrygo up top there seems to be no space for the young Turk. Yet, Guler's flexibility means he would be able to play in the 10 and as one of the front 2. Probably in a false 9 role, drifting off the right-hand side and allowing the midfielders to crash the box.
If Ancelotti was to revert to his 4-3-3 formation, it's clear he sees Rodrygo as a false 9. This means the right-wing spot is open. In a straight shootout, Ancelotti may prefer Federico Valverde there due to him playing their last season to a good level. However, with Guler's association play and playmaking ability, if he was given the chance to play with Rodrygo and Vinicius in a front 3, he may just take that starting spot from the Uruguayan before the season is over.
With all these young stars vying for a starting spot in Madrid next season, it's going to be an exciting season for Madridistas. It may seem like Madrid is stockpiling talent for the sake of it, but these are all young talented players whose talent is going to burn bright for the next decade. With Guler being the youngest among them, it will be difficult for him to break into the team. Nevertheless, do not count him out. His talent will mean he will make a difference with whatever minutes he is given on the pitch, and he will show why he is Turkey's jewel for the next generation.
By: Abu Yasin / @Abuy2j
Featured Image: @GabFoligno / Anadolu Agency