Brilliance Beckons For AS Monaco's Teenage Sensation Eliesse Ben Seghir
As the transfer season swirls into action and talents depart Ligue 1 for pastures new, the spotlight seeks the next cab off the ranks destined for big things. It is the nature of French football and an essential component of the league's ecosystem, players leave, and others blossom flourishing in the bask of the vacated spotlight. Young burgeoning talents find sanctuary in France, minutes and opportunities come in abundance if you are good enough.
A perfect example of this talent factory is 18-year-old Ben Seghir a growing power within the ranks of AS Monaco, he sums up the League of Talents as a living and breathing anecdote. In other established European leagues, an 18-year-old is rarely thrust into the limelight with regular occurrence, but last season, the skillful attacker racked up 1099 Ligue 1 minutes, featuring in 19 games.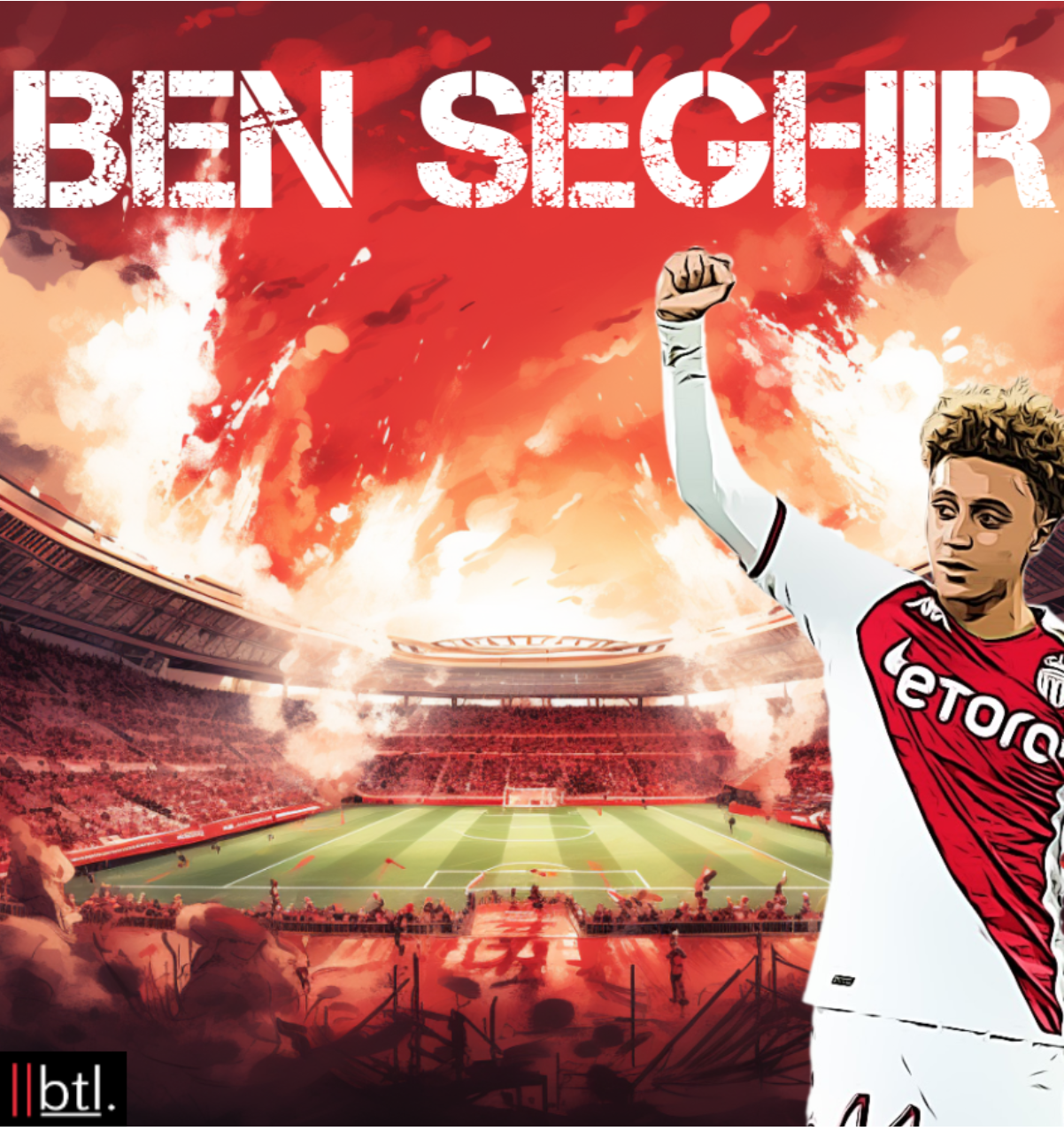 He showed in glimpses, a sample of his magical armoury conjuring four goals and one assist in the process indicating that he may bestow even more technical brilliance this coming season. It all started for Seghir on the big stage against Auxerre on a wintery and unforgiving midweek night in late December 2022.
Baptism of Fire
Established Monaco talisman and captain Wissam Ben Yedder was withdrawn from the battlefield as early as the 46th minute by manager Philippe Clément. In his place was a little-known youngster of slender athletic build, the then 17-year-old Ben Seghir.
What made Clément's bold decision even more bemusing to onlookers was Ben Yedder had scored in the first half from the spot with the game evenly poised at 1-1 and AJ Auxerre battling relegation thirsty for blood on a formidable run of home form, the cauldron was hot for the teenage sensation.
Instead of wilting, he showed composure far beyond his years blasting not one but two eye-catching goals becoming the second youngest player to score a brace for AS Monaco behind a certain Thierry Henry and the youngest French player to score a brace on their debut in the last 75 years.
His witchcraft bewitched the Auxerre defensive lines, Monaco departed the field of battle with three points in their travel bags. Remarkably, Ben Seghir is not the only youngster from his family knocking on the Ligue 1 stage door, his slightly older brother Salim Ben Seghir is on the fridges of the Olympique de Marseille senior squad.
Monaco's Ben Seghir plays the game in a way that gets bums off their seats. He took his first steps towards elite-level football at SC Cogolin (U11) followed by Fréjus (U13) before being snapped up by Monaco at 16, he only signed his first real contract of substance in the summer of 2022. Monaco's new phenomenon is a fanboy of Lionel Messi and Ousmane Dembélé if he continues to build on his undoubted potential, it won't be long until he has some fans of his own.
AS Monaco's Talent Factory 
Seghir may be tender in his physical build, but in fortitude he certainly is not. Life has thrown curve balls his way tragically — he lost his dad when he was just 14. The player's meteoric rise saw him star for the French U17 and U19 teams, he is in the best possible fertile grounds to blossom, AS Monaco are no strangers to harvesting prodigies, just look at the rise to prominence of Thierry Henry and Kylian Mbappé.
Back in 2015, aged 16 years old, Mbappé was thrust into the spotlight of a December Ligue 1 contest and became AS Monaco's youngest-ever first-team player. He went on that season to feature in eleven more Ligue 1 encounters racking up 324 minutes in an attacking right-wing role, producing one goal & an assist.
This summer was not one of just wholesome rest for the youngster, he starred for the French U21s at the famous Festival International "Espoirs" – Tournoi Maurice Revello, bagging two goals from an attacking left-wing position. Ben Seghir has a penchant for cutting inside when marauding down the left wing, once he finds himself in the vacuum between the opposition midfield and defensive structures, he causes havoc. 

 Ben Seghir's heat map for France in the Tournoi Maurice Revello (left) and his heat map for AS Monaco in the 2022/23 Ligue 1 season (right)
What sets the player apart from others who relish cutting inside from the flank is when it comes to his uncanny ability to oscillate between both feet and banging goals with his left and right. Defensive sentinels studying Ben Seghir will be burning the midnight oil when it comes to unpacking his rather large bag of swashbuckling tricks each one of them ghastlier than the other for opposition defenders. Show this errant youngster inside and he will bare down on goal with his right rocket of a foot, lead him down the touchline and he can unleash engagingly exotic damage with his left peg.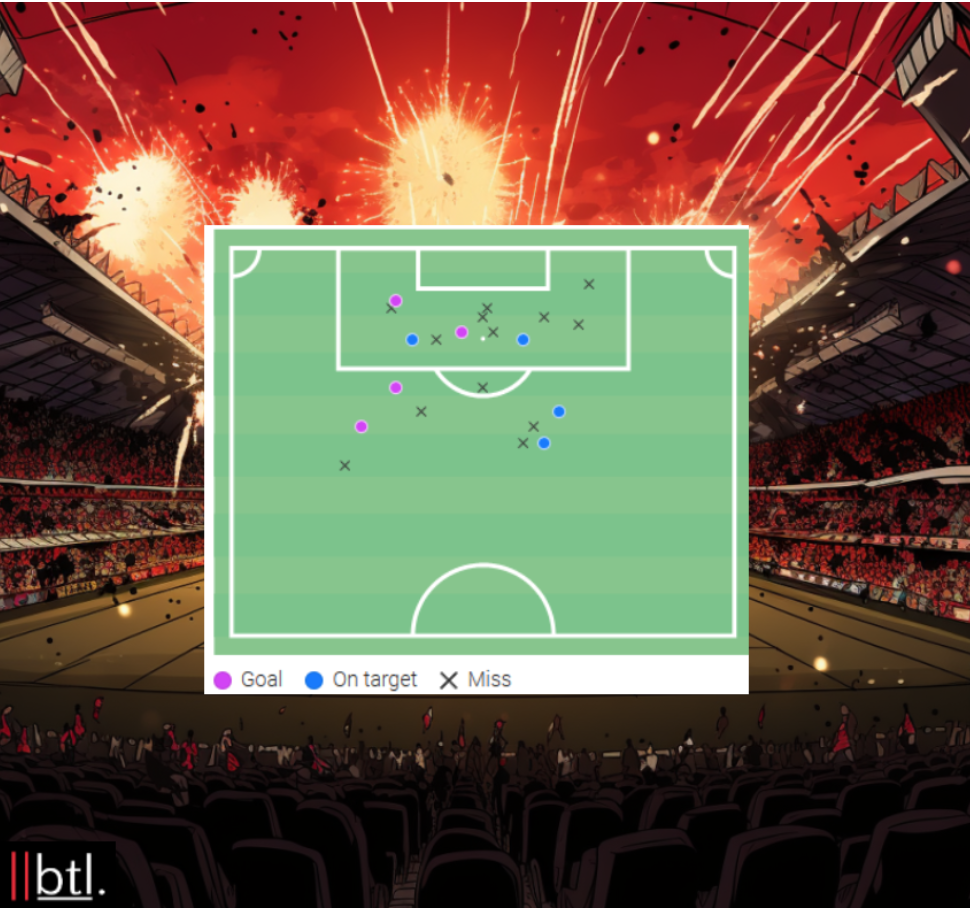 Ben Seghir's shot map for the 2022/23 Ligue 1 season
International Future
Having already showcased his amazing talent for French national youth teams one may forget that a battle for the starlet's international allegiance is still being fought. Ben Seghir holds dual-nationality status, he is Franco-Moroccan and will have to decide which path to follow.
The hottest stars of Africa will be battling it out in January 2024 in the African Cup of Nations, and Morocco coach Walid Regragui will be salivating at the prospect of having AS Monaco's hottest young talent at his disposal. If he opts to represent his parent's country of birth it will be somewhat of a coup for Morocco who surprised more than a few at the last World Cup. Keep an eye out for this player of boundless self-belief with the ball at his feet and considerable nous, he may well become a true phenomenon in Ligue 1 this season and beyond. 
By: Liam Scahill / @LiamScahill
Featured Image: @GabFoligno / Johnny Fidelin / Icon Sport