Calvin Stengs: Feyenoord's Misunderstood Creative Technician
Calvin Stengs is having a resurgence in Rotterdam. Formerly a promising young winger, his career struggled after leaving AZ Alkmaar for OGC Nice in 2021. However, a €6 million transfer to Feyenoord has catapulted his name back into the global spotlight. His dominant performances in both Eredivisie and Champions League games have resulted in a return to the national team. The architect of his revival is Arne Slot. Reunited after their time at AZ, he saw a profile in Stengs that others could not. 
Stengs has long been seen as a possession-based, creative, inverted right winger. At AZ, Nice, and for a period at Royal Antwerp, he was used primarily in this role, staying close to the touchline and providing balls into the box.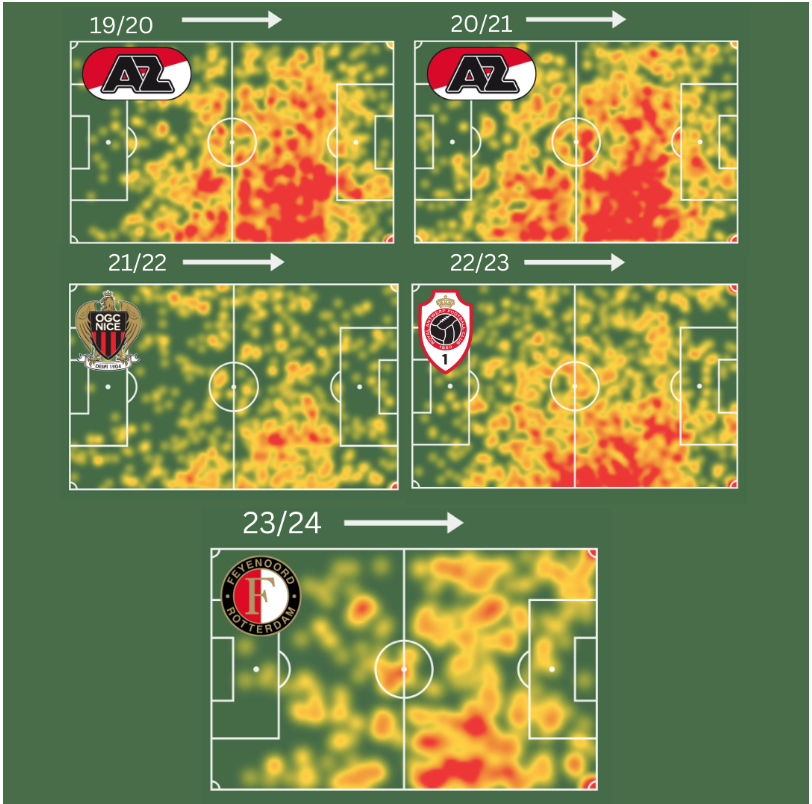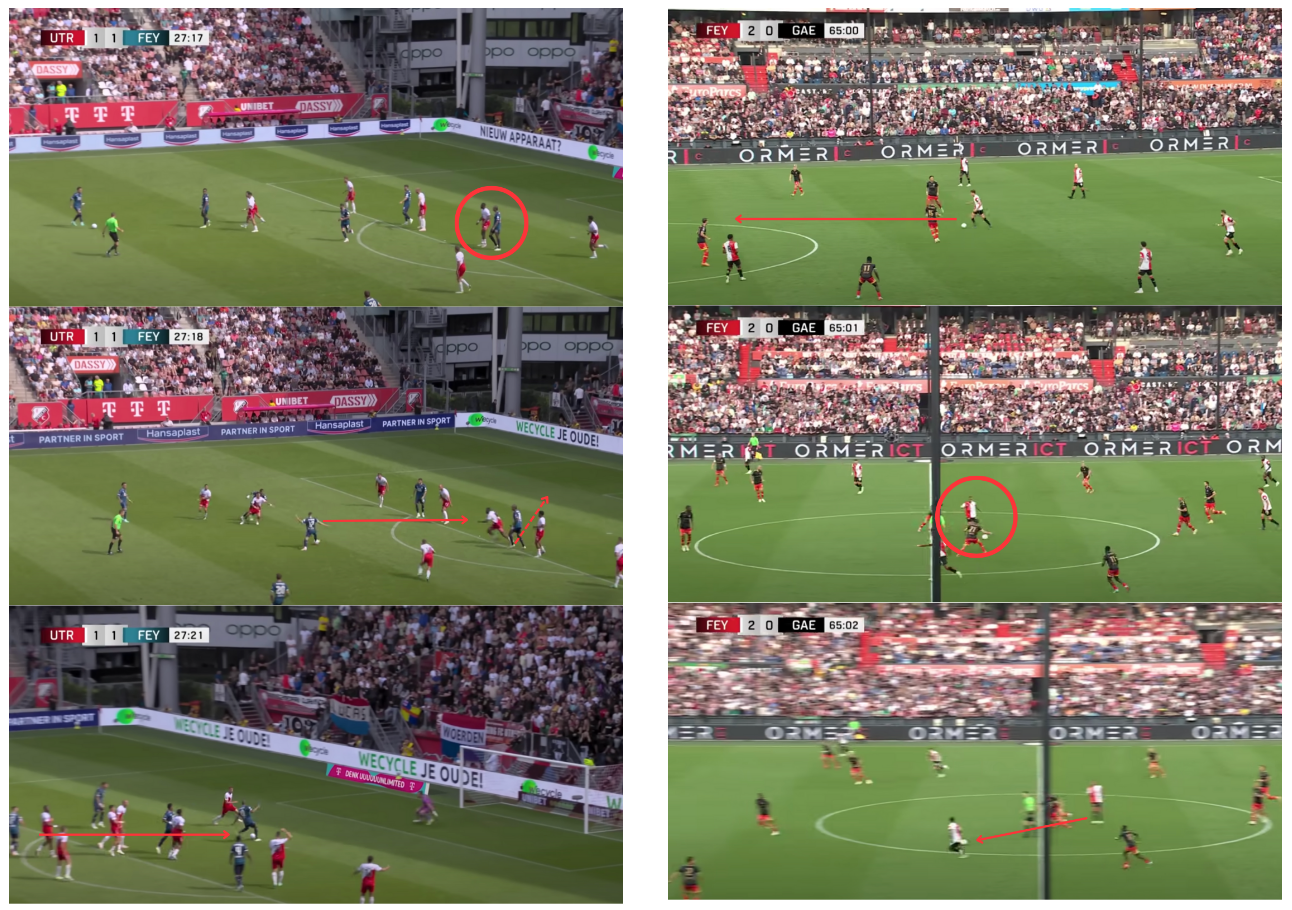 But now at Feyenoord, we see how Slot uses Stengs as a free-roaming attacking midfielder. Stengs moves across the front four positions in a 4-2-3-1 shape, as well as dropping into the no.8 role when rotation allows. He is getting between the goalposts and close to the box, allowing him to influence the game more heavily. 
His positional flexibility is key here. Stengs is of course comfortable playing wide on the right due to his time at previous clubs, but his efficacy in central roles is more impressive. Often playing alongside Santiago Gimenez as a strike partnership, he executes forward play well, both creating space around the box but also dropping deeper to facilitate the midfield build-up.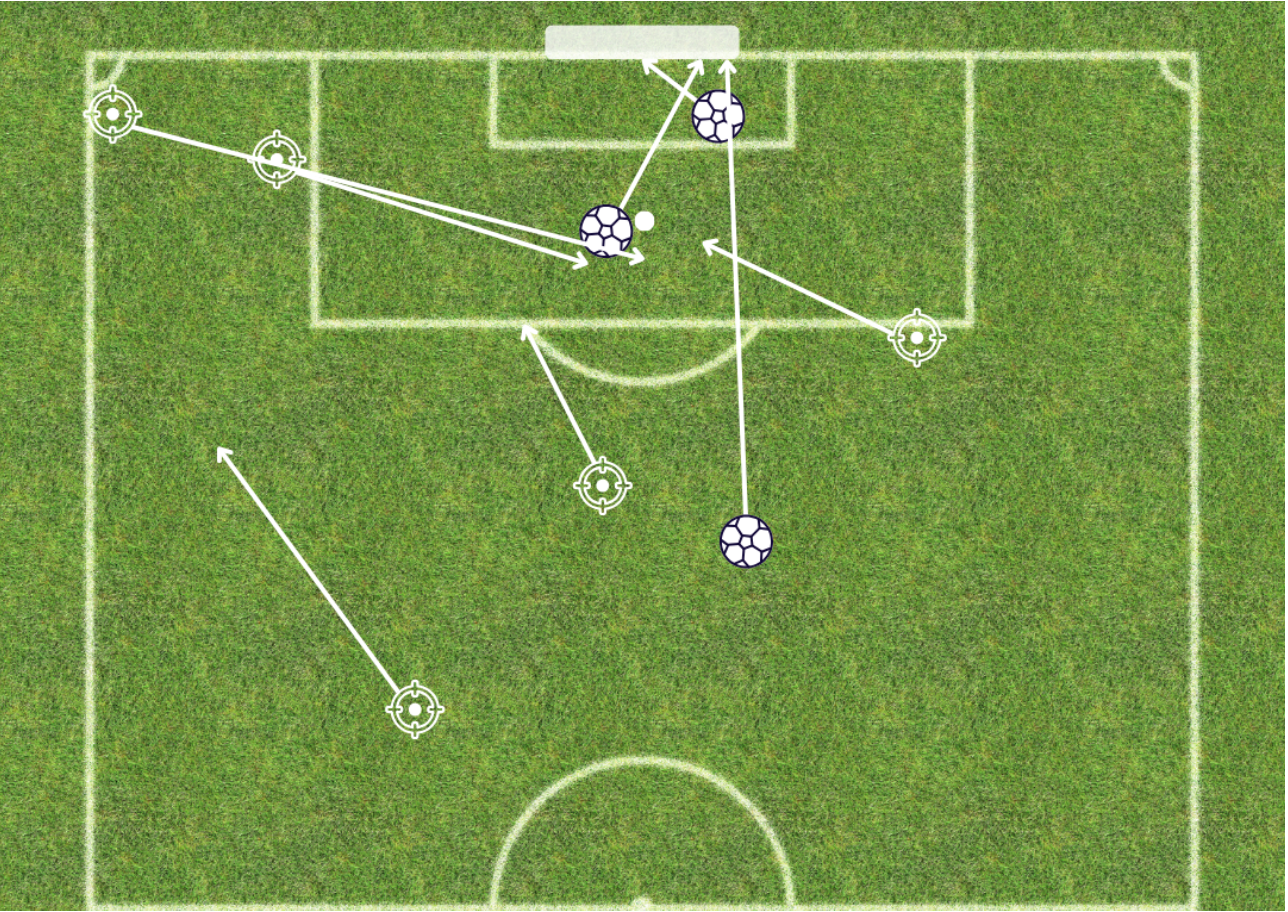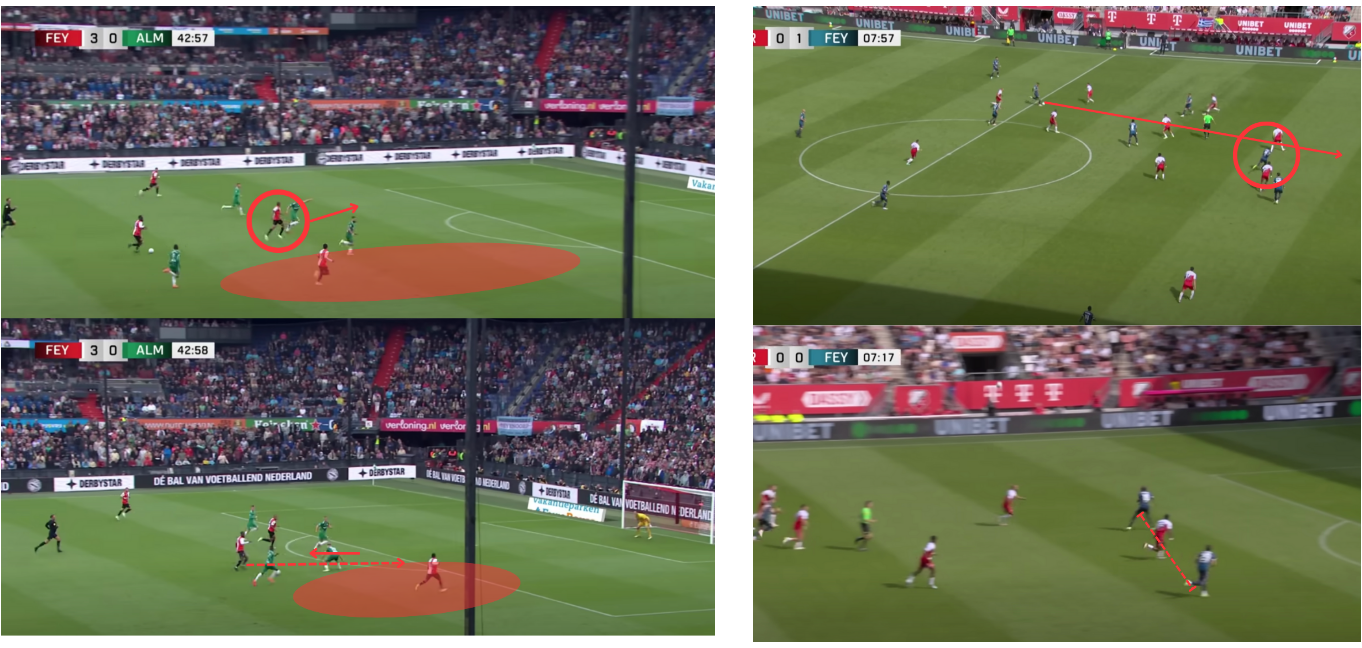 His third-man runs are elite, breaking from the edge of the box to provide an attacking option. The timing is well-executed, and his ability to identify space and exploit it is really impressive.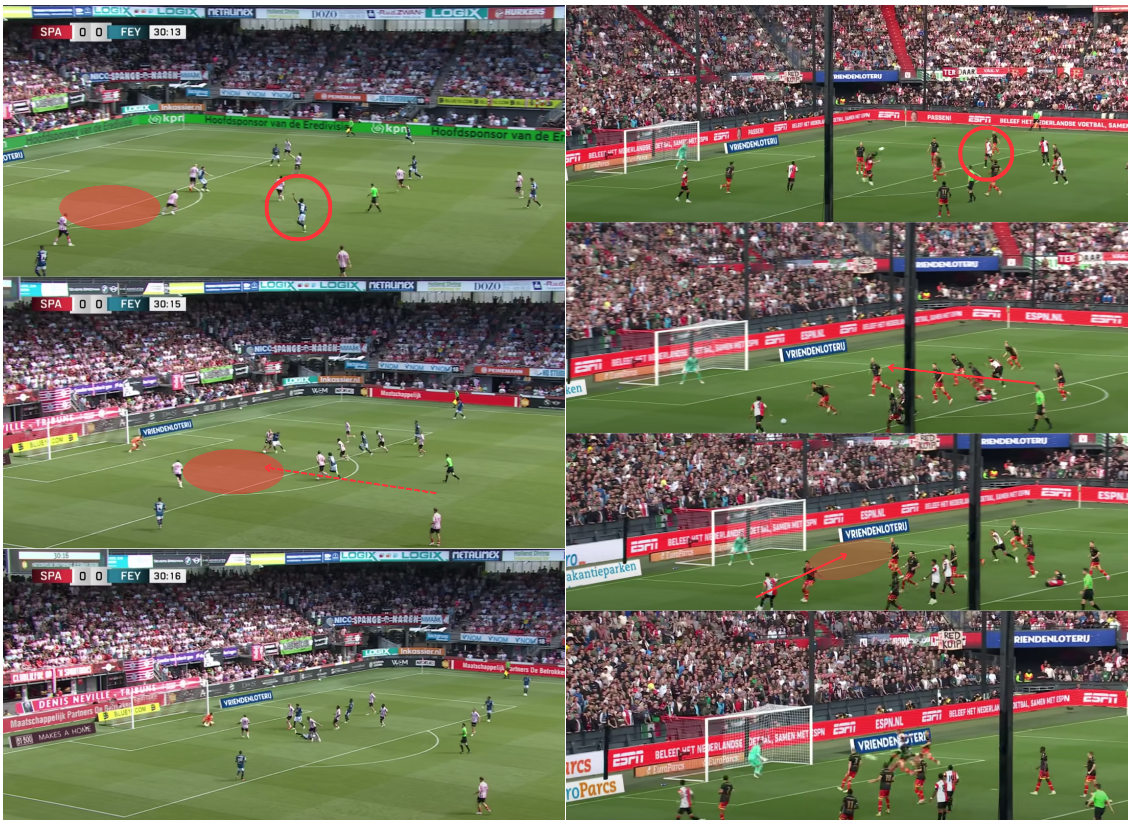 By being able to find space and finish chances, but also being a key creator around the edge of the box, Stengs varies his approach to the situation. Below we can see two occasions where he allows teammates to offer the forward runs, while he exploits the space vacated, and provides the final ball under pressure.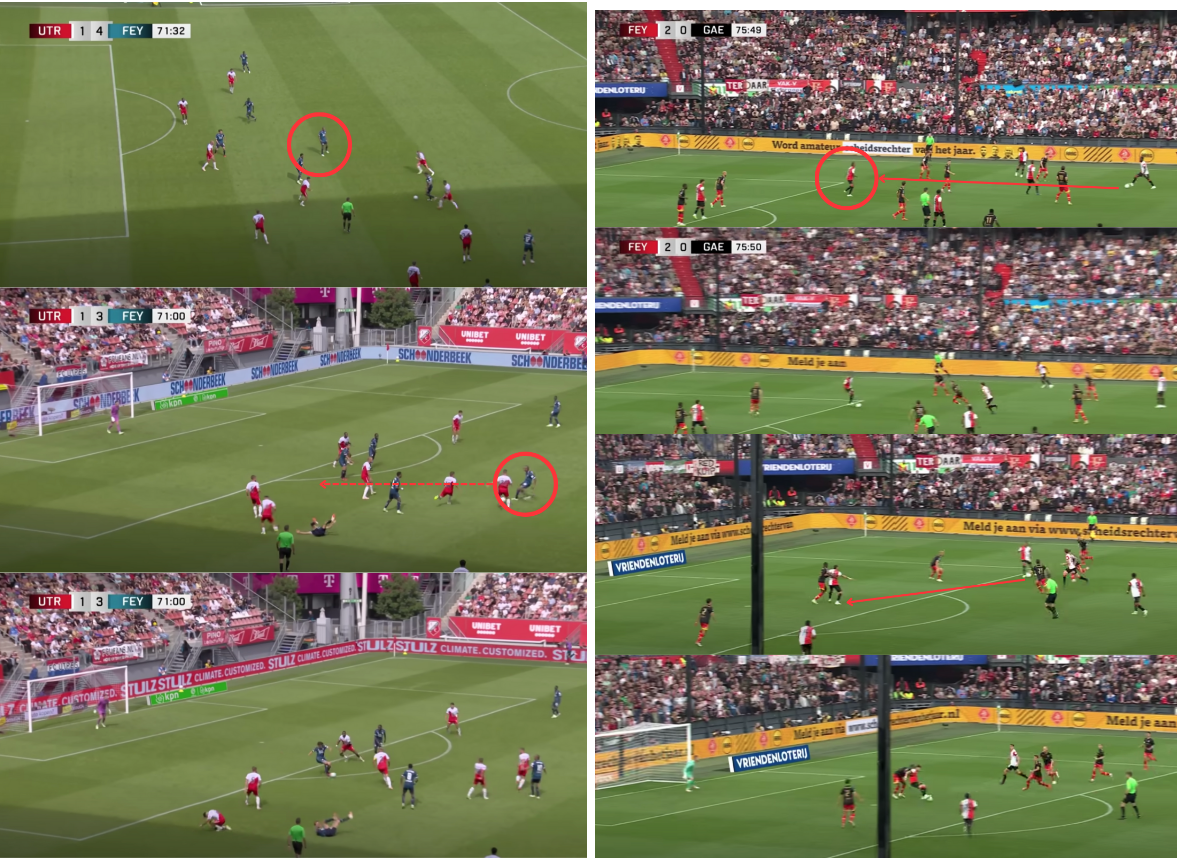 Perhaps where Stengs has seen the most improvement is in his decision-making and maturity. His final ball selection is far better than at previous clubs. He appears to have more tactical empathy for his teammates, considering their actions and how he can better facilitate them. 
To be elite at breaking down defences, creators must play the ball into the teammate's movement, onto their favoured foot or with consideration to the defender's position. Stengs is starting to operate at this level.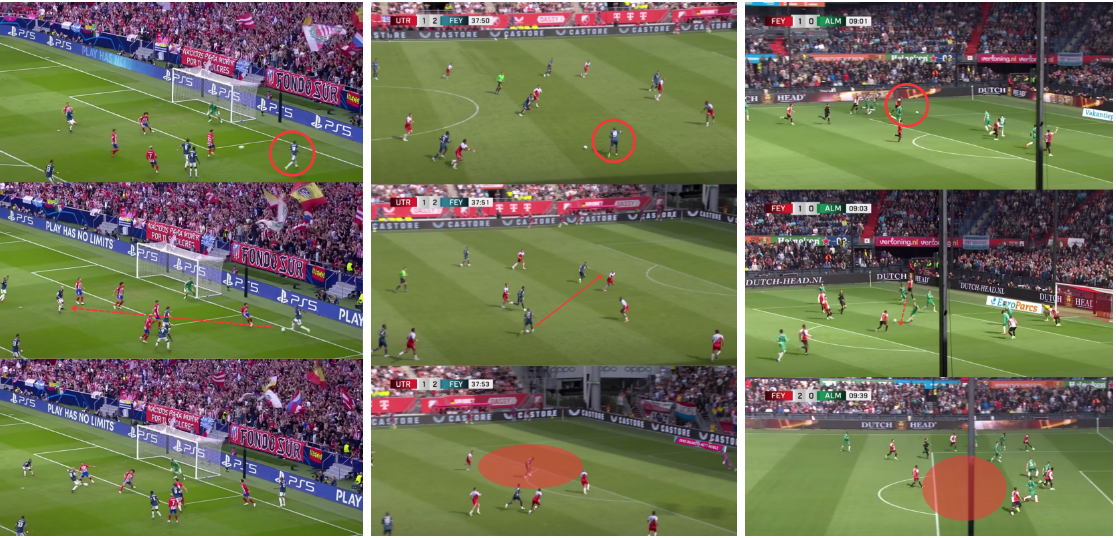 We can see that Stengs has a clear appreciation for space and his teammates' movement, trying to improve the recipients' chances of success. His maturity has perhaps come from taking a more senior role in such a young team. Despite being just 24 years old, Stengs is usually the elder of Feyenoord's midfield and attack. He is becoming the wise facilitator who allows the electric, tricky wingers and midfielders to show off. 
As we've seen, Stengs is able to break down defences through his own movement, through cutbacks from wide positions and through deploying incisive passes from central positions. Combined with his developed tactical empathy, Stengs can rotate positionally with teammates and remain effective. Clear synergies are being built most notably with Gimenez, Quinten Timber and Lutsharel Geertruida.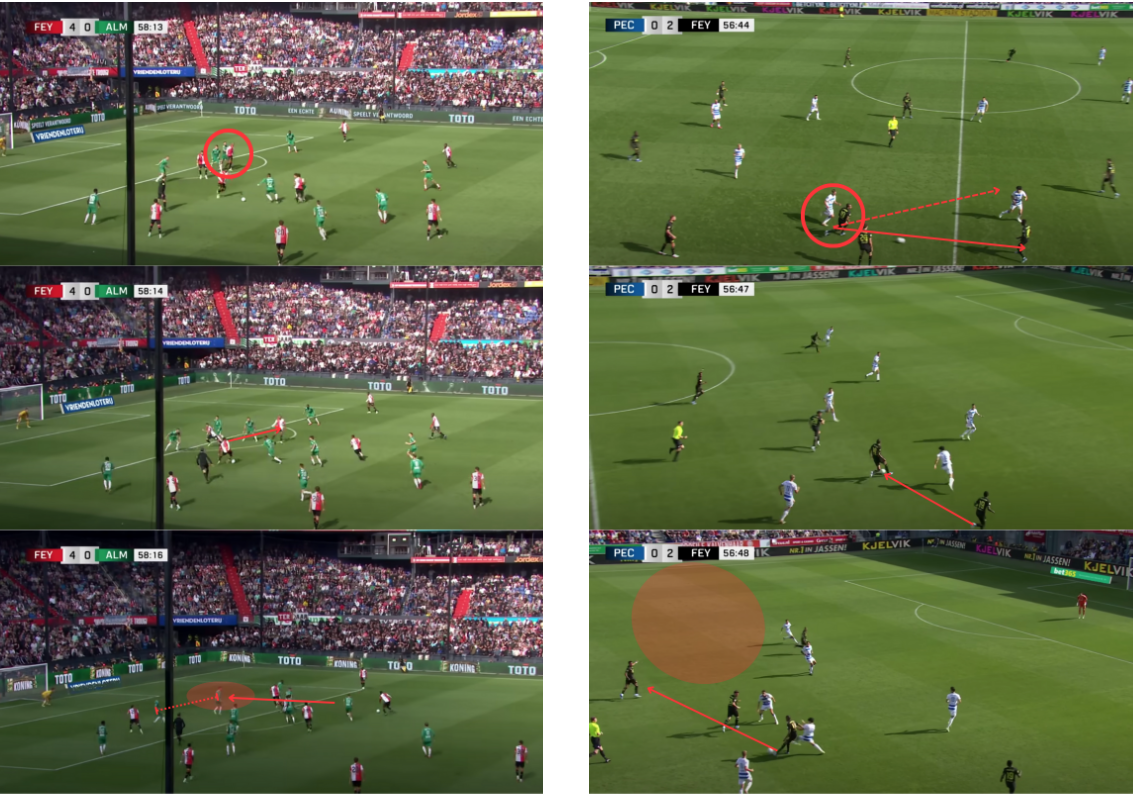 We see him here stepping into both a striker and a midfielder role, while his teammates occupy positions that Stengs would naturally fill. Timber and Geertruida like to play in deeper midfield roles, primarily towards the right side of the pitch, making explosive runs forward using their pace and strength. Stengs is comfortable being the on-ball no.8, therefore allowing them to make these aggressive runs and often finding them with passes. 
Gimenez on the other hand likes to drop off his centre back and link play. He is physically aggressive with good close control, making him very effective in hold-up play. Stengs has grown to identify these movements and react accordingly, breaking in behind Gimenez or offering a passing option near the striker.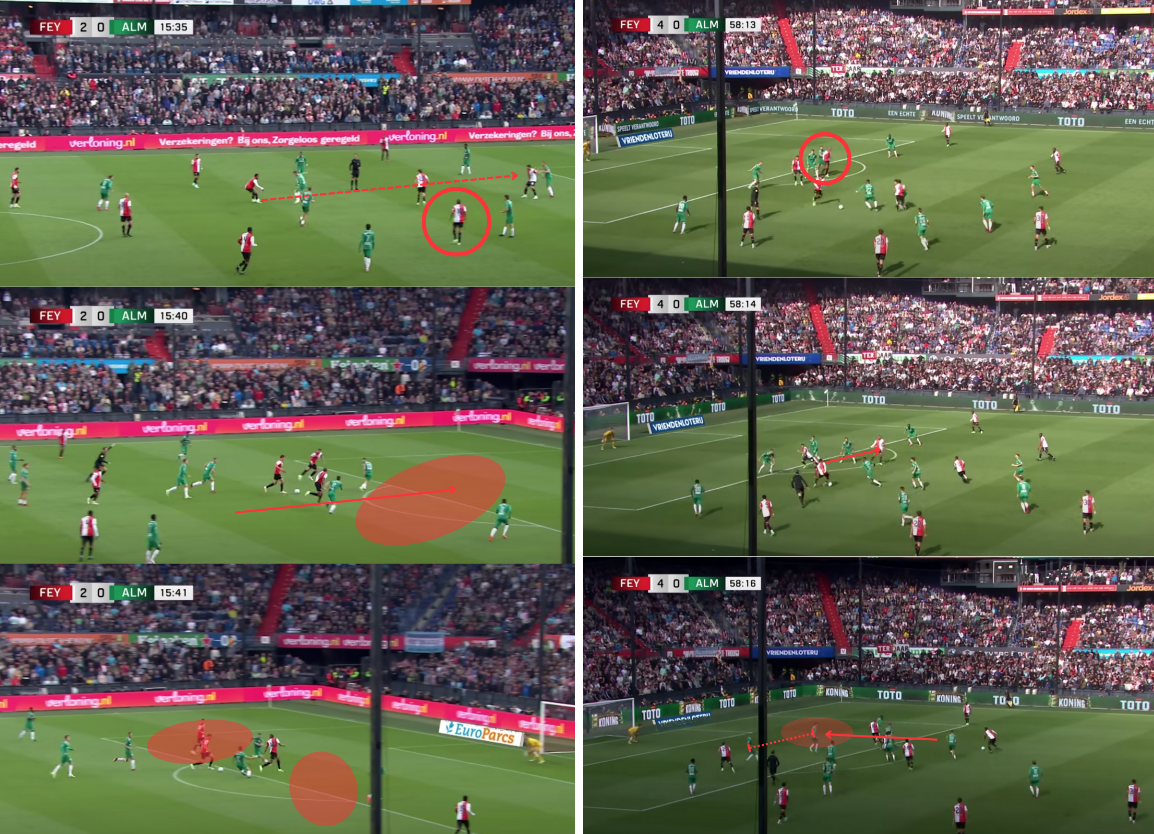 So far this season, Stengs has 3 goals and 6 assists in 12 Eredivisie appearances as well as 1 goal and 1 assist in the Champions League for Feyenoord, who sit second in the league table, seven points behind PSV, two points above Twente and three above AZ. They also sit third in their Champions League group, five points above Celtic, one point behind Lazio and two behind Atletico Madrid with just two matches left. More significant than the change in output, the change in Stengs' overall play at Feyenoord is evident when looking into deeper stats.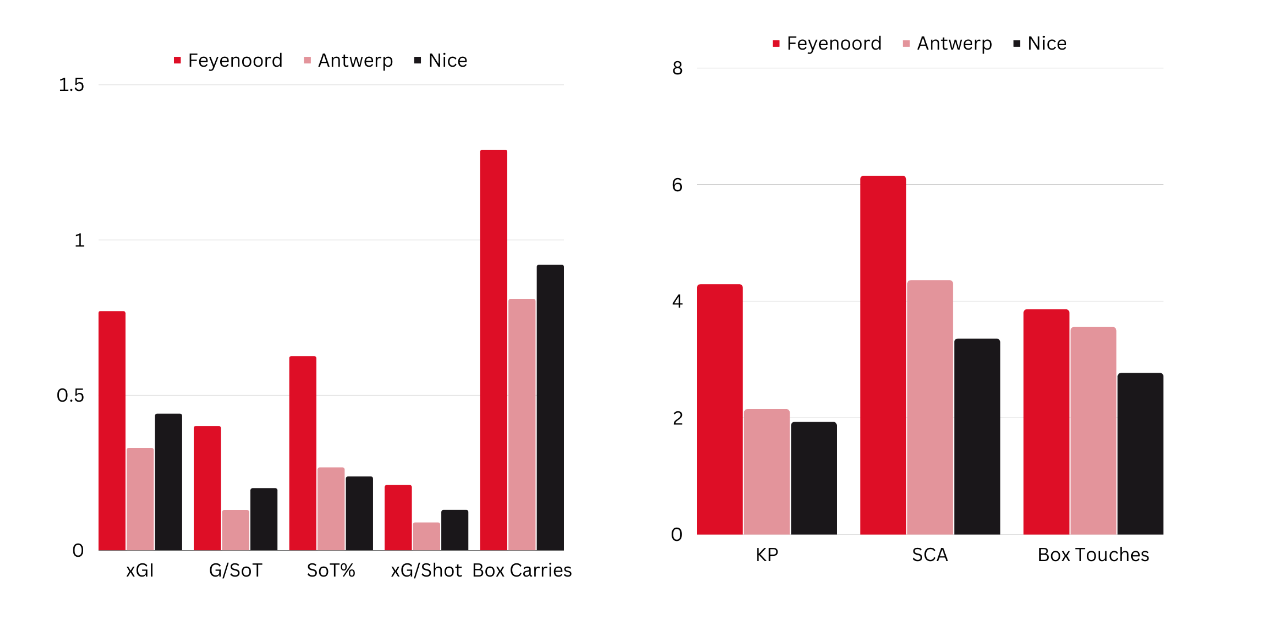 He is taking better-quality shots from better-quality positions, due to playing close to the box and in between the posts. He is having more box touches and carries into the box, again showing his usage around the danger area. Additionally, his passing is far more effective, having twice as many Key Passes despite averaging a similar number of passes per90 at each club (42.3, 46, 34.5 respectively). 
The stats confirm what is clear to the eye, Slot is using Stengs closer to the opposition's goal, in and around the box. Stengs is effective in these areas, with great decision-making and pass execution due to his maturity and intelligence. His use of space is very good and his understanding of various positions or roles makes him unpredictable. As if that wasn't enough, the attacking midfielder also has a wicked delivery from set-pieces.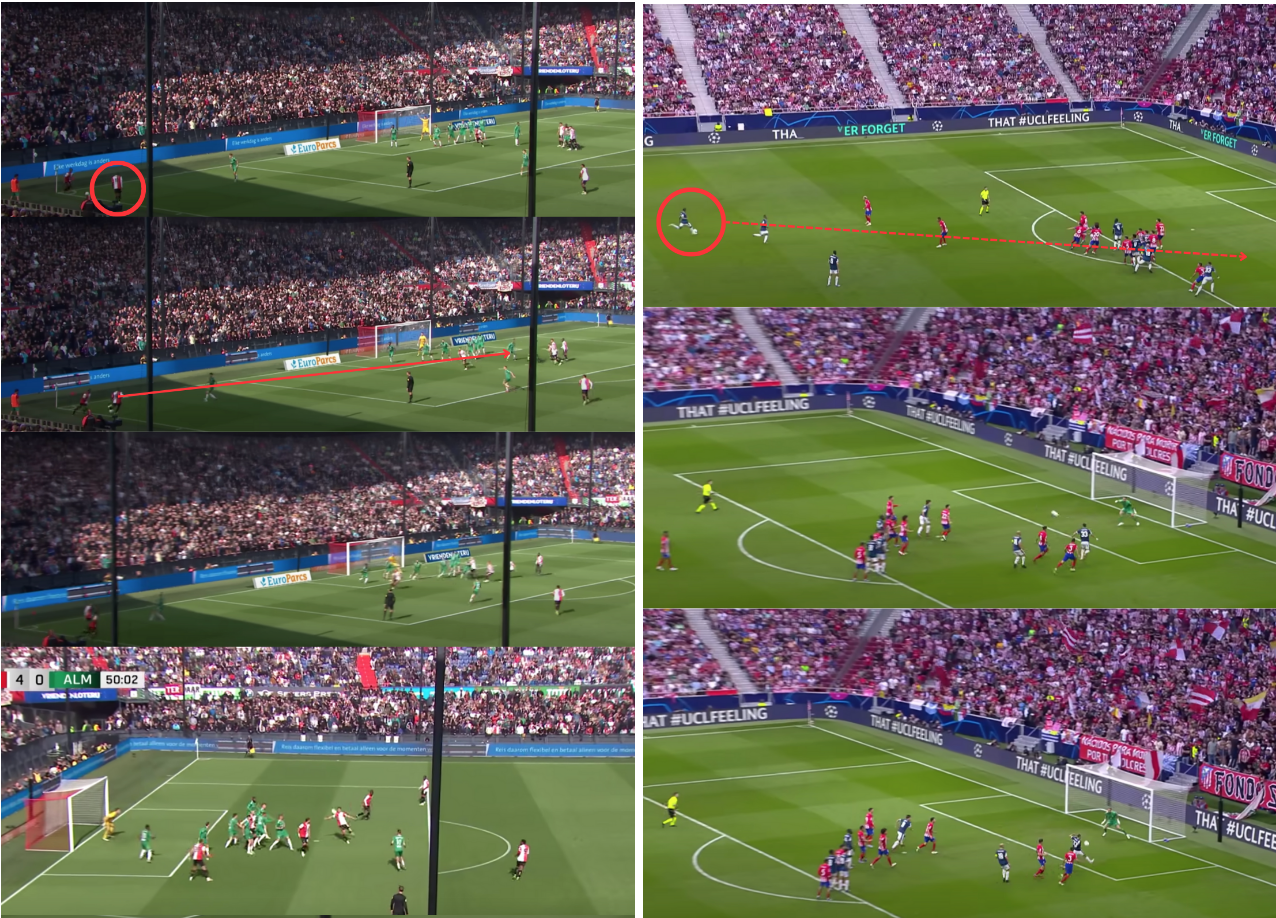 Using both in-swingers and out-swingers, Stengs can create 'bonus' chances for his side as a low-probability set-piece turns into a clean header from 6 yards out. Calvin Stengs has a very desirable skill set for a creative attacker, with a level of intelligence and tactical empathy rarely seen at his age. His advanced understanding of various roles and larger 6'1 frame give a team assets that most players in his position cannot. 
Playing under a brilliant manager in an excellent side, Stengs has a huge chance to reinvent himself in the footballing world. He will push for a spot in the Eredivisie Best XI, while his side's progress in the Champions League or his emergence as a Netherlands starter may actually propel him closer to a major move. 
By: @FootballEcon_
Featured Image: @GabFoligno / ProShots / Icon Sport