Can a Return to Boyhood Club Galatasaray Revitalize Arda Turan's Career?
The face mask may have hidden his beard but poking out from behind the white fabric the figure was still unmistakable. Amongst an entourage of officials and holding the rather fetching new kit of Galatasaray was Arda Turan.
The last time Arda was seen in a Galatasaray shirt was 28 July 2011. Following that friendly against Liverpool he packed his bags amidst a €12 million transfer to Atlético Madrid. Fans were disappointed but not surprised, wishing well to a player thoroughly believed to have everything in place to become the greatest Turkish footballer of all time. Since then the world has changed into a very different place, both for him and those watching.
Arda's return to Galatasaray means his career has travelled full circle back to where he made his professional debut at the age of 17. He was seen as the club's greatest ever prospect, becoming its youngest ever captain at 21 and bedazzling those who saw him play. Here was a kid from Istanbul's poor district of Bayrampaşa with the world at his feet. A decade later and he is at a crossroads.
It wasn't always like this. At Euro 2008, Arda played an enormous part in getting Turkey to the semi-finals. He scored a last-minute winner against Switzerland before starting an improbable comeback over the Czech Republic to ensure progress from the group stage. In the quarter final with Croatia he converted in the shootout to send Turkey to the semi-finals, which was narrowly lost to Germany.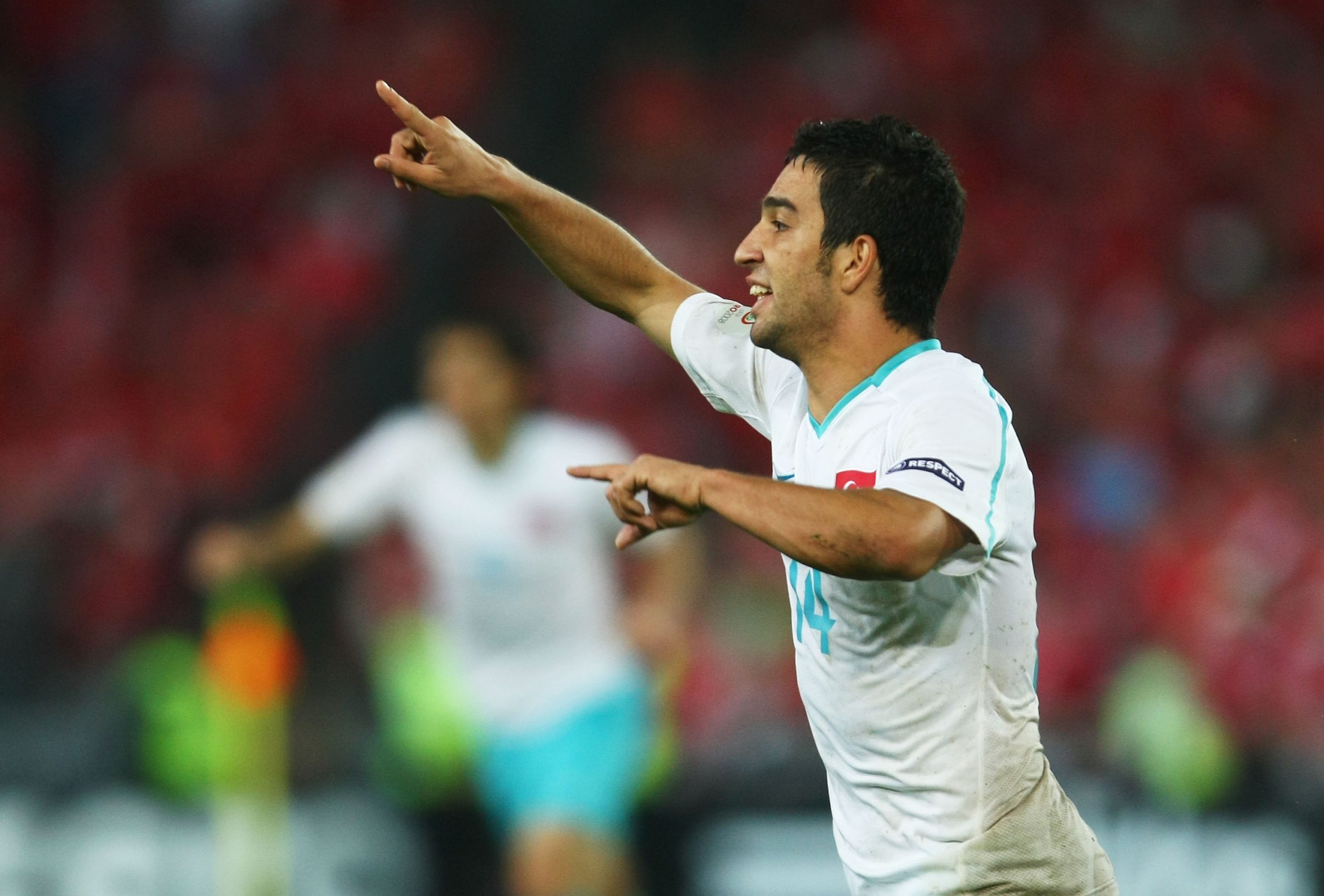 Photo: Bongarts / Getty
Following his transfer to Spain, Arda excelled. In his first season with Atlético he was instrumental in Atlético winning the Europa League, following this up by winning the Copa del Rey in 2013 and La Liga the following season. In 2014, he scored in the Champions League semi-final against Chelsea and was nominated for the UEFA Team of the Year. Rumours abounded of a move away and in 2015 he got such a transfer.
€34 million was the price, the most expensive Turkish player of all time was the label, and Barcelona was the destination. Arda's only compatriot to play at Camp Nou before was goalkeeper Rüştü Reçber, whom Frank Rijkaard dropped because he could not communicate with his defence. Whilst a brilliant shot stopper, with all respect to Rüştü he was equally liable to inexplicable errors.
Arda however was different. He had dribbling ability, touch and vision that few players full stop, let alone from Turkey, possess. The stage was truly set. For all this talent though, it went enormously wrong.
Given Barça's transfer ban he was ineligible to play for the first half of the 2015/16 season.  A Champions League hat-trick against Mönchengladbach aside, it wouldn't prove worth waiting for. Soon fans wanted him gone and new manager Ernesto Valverde wasn't interested. In January 2018 it was announced he was joining İstanbul Başakşehir on a two-and-a-half-year loan, conveniently the length of time left on his contract in Spain.
At 30 it looked to be a case of rebooting; however, things were not that simple. Başakşehir have close links to the AKP of Recep Tayyip Erdoğan. Arda personally is very close to the President, which partly contributes to largely negative public opinions of him.
Photo: IHA Photo
These have been exacerbated through a series of incidents concerning the national team. To understand this one must realise that to most in Turkey the importance of international football goes far beyond simple patriotism. This stems from a violent independence war against the British and French who were attempting to portion up what had been the Ottoman empire after World War I.
As a result, the red shirts of the national team symbolise the blood of those fighting for the very existence of the Republic. By extension, anyone playing for Turkey carries this association. This explains why Turks are so keen to see their country win internationals, particularly against teams from Western Europe. It also means anyone perceived to devalue the shirt is turned into a national pariah.
It is at such a point where Arda fits the narrative. Back in June 2017 he was on board a plane with the rest of the squad leaving North Macedonia after a friendly. On board was journalist Bilal Meşe, who had written a derogatory article concerning his attitude and performances at Euro 2016. It is alleged that Arda grabbed Meşe round the throat and called him a son of a bitch before teammates had to restrain him.
Despite the TFF settling the issue behind closed doors news soon broke. Arda was kicked out of the squad and then proceeded to retire from the national team. In response he was universally condemned as being unpatriotic and insulting to the dead. Never mind that he would relent several weeks later, the damage had been done.
From there things got worse. Despite scoring on his debut, Arda's performances for Başakşehir failed to relight his fire. Towards the end of the 2017/18 campaign he pushed over an assistant referee against Sivasspor having not been awarded a free kick. In response he was handed a record ban of 16 matches, later reduced to ten on appeal.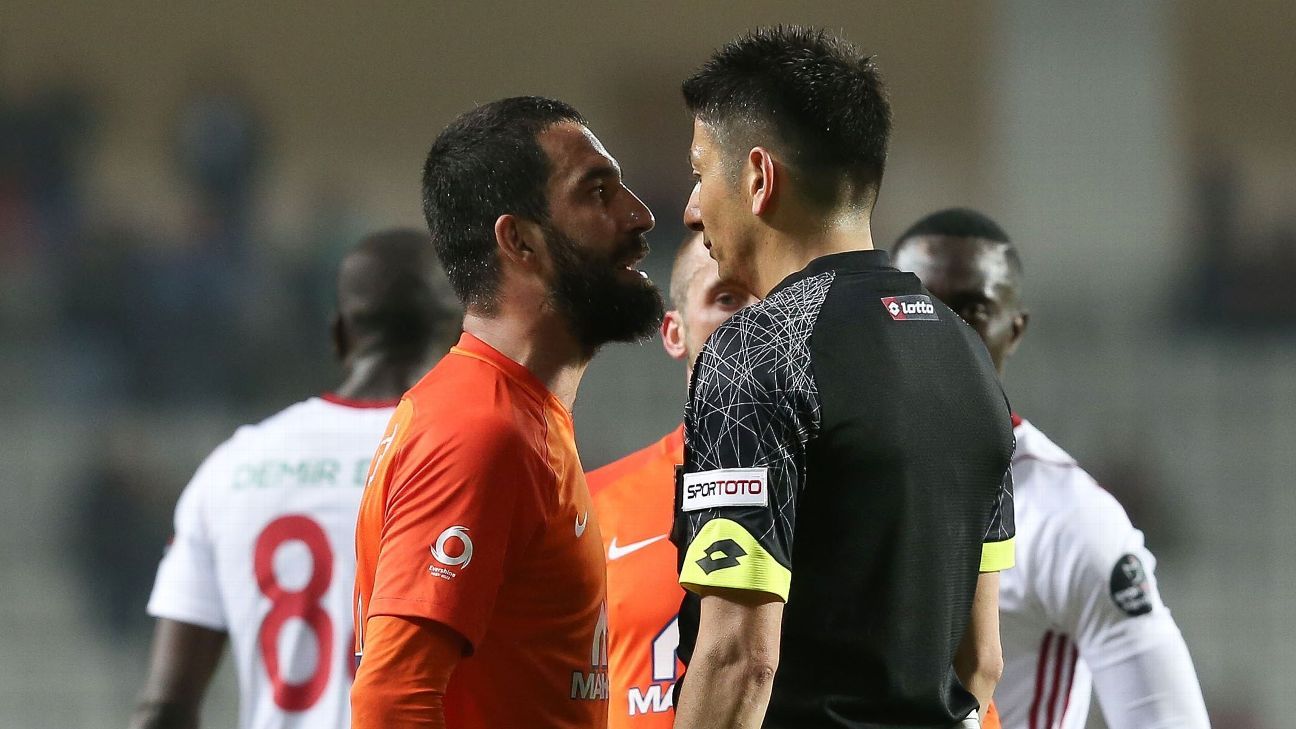 Photo: Arif Hudaverdi Yaman/Anadolu Agency/Getty
To the Turkish public this was now what was expected. In their eyes the impish winger with a trick up his sleeve had turned into a pig-headed egomaniac. Success had gone to his head; the humble kid was no more. As corporate deals, the national team fiasco and now this proved, Arda had sold out.
Later that year the new normal was exposed again when he attacked Berkay Şahin in an Istanbul nightclub. Arda had supposedly agitated the well-known singer after making suggestive remarks to his wife, prompting a scuffle that ended in the player breaking Berkay's nose. Things got more surreal when Arda visited the singer in hospital carrying an unlicensed gun and ended up firing it at the floor inside.
In response he was fined £350,000 by Başakşehir and handed a suspended prison sentence of nearly three years. Should he commit a crime in the next half decade Arda will be incarcerated. It could have been far worse, with press reporting he could have faced twelve years in jail.
Let's remember that whilst all this madness was unfolding, Arda was still an employee of FC Barcelona. Mes que un club is however an ironically suitable way to describe the Berkay incident. This came just days after his suspension expired, and amidst the madness things failed to improve on the pitch. He played another 28 times across a season and a half before Başakşehir terminated his loan early in January this year.
With six months left on his Barcelona deal, Arda found himself between a rock and a hard place. In relinquishing the La Liga title to Real Madrid, it is remarkable to think Quique Setién could have called on the Turk in the run-in.
Obviously though he didn't. On 30 June, Arda's five-year contract at Camp Nou expired, and the question was what next. It was widely reported he had signed a pre-contract to return to Galatasaray, amidst interest from Hannover. It would have capped a remarkable fall from grace to go from Barcelona to Bundesliga 2, but returning to Gala is hardly any more straightforward.
Galatasaray have just finished sixth in Süper Lig. In a league where there have only ever been six champions in 62 seasons, that is a big deal. Their joint lowest finish for nine years, a 13-point gap to champions Başakşehir represents a futile title defence. That Başakşehir were able to win the league without Arda foreshadows how important, or unimportant, he may be for Galatasaray.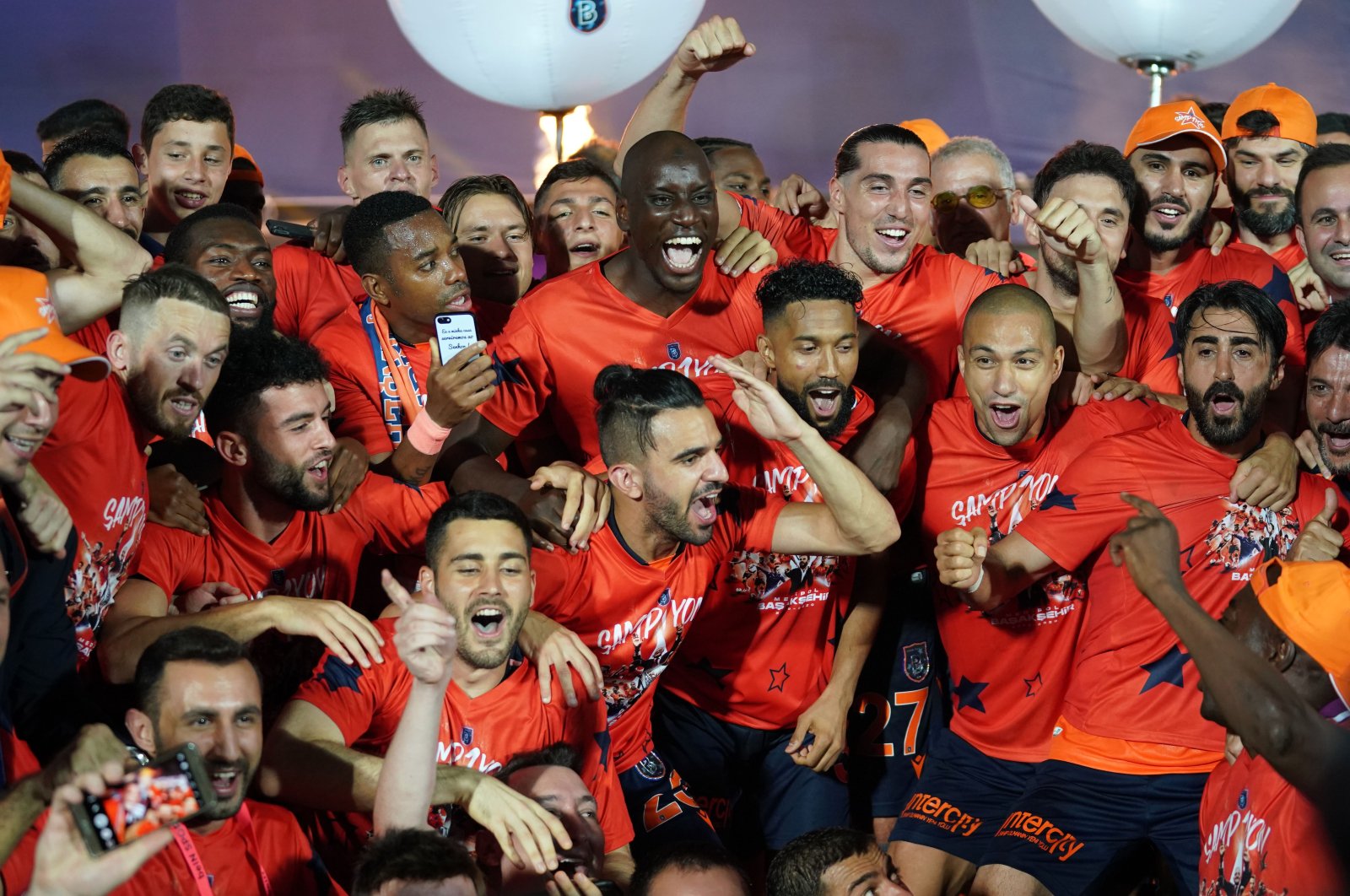 Photo: IHA Photo
At Başakşehir the creative force is undeniably Bosnian winger Edin Višća, who has recorded double figures for goals and assists in each of his past five seasons. Whatever he would like to think, Arda's arrival was never going to change that. In his first year, Abdullah Avcı mainly started Arda as a number 10, although in his second campaign switched him to left wing in a 4-1-4-1. Successor Okan Buruk stuck with this system, although moved Arda back infield to accommodate the faster Eljero Elia.
This exposes a glaring issue. As his cameos last season prove Arda is no longer mobile enough to play as an out-and-out winger. Fatih Terim knows this, and surely must see him as a central midfielder. Terim is very much a chalk-and-cheese manager, although Galatasaray's poor form after the restart has prompted increasing numbers to question if he is past it.
The season just gone he experimented with several formations, loosely settling on 4-1-4-1 for the second half of the campaign. Admittedly, their lack of options in the center of the pitch haven't helped either. Poor form from Jean Michaël Seri, Steven Nzonzi and Younès Belhanda alongside injury to Emre Akbaba gave Terim a severe midfield headache. Heading into the new season Galatasaray need a reset- and resigning Arda may not be the best catalyst.
With a stricter foreign player rule seemingly about to be implemented for the upcoming season it is feasible Arda has been brought in to meet this quota. Nostalgia in football is also a dangerous mistress, stoking hopes in fans that a return home might see the midfielder rediscover his once mesmerising ability.
This alone though doesn't guarantee any success. On paper, Galatasaray already possess better Turkish options. The versatile Ömer Bayram got ten assists last season and can play in the same left wing and central roles as Arda, whilst Akbaba offers more of a direct goal threat from midfield.
In terms of an upgrade, the Arda of 2020 represents little of the sort. For Başakşehir he recorded an assist every ten games. Whilst at his peak stats largely hid his ability, an average match rating of just 6.1 on WhoScored is hardly the standard of player needed for a title challenge. When factoring in Arda's reported wages of €25,000 per game with a €500,000 league bonus and Galatasaray's rumoured €90 million debt, the transfer looks little else other than misguided.
The only hope is that as his coach at Euro 2008, Terim can inject a new lease of life into the now 33-year-old. Meanwhile the player carried a remorseful tone after his unveiling, stating he has recognised the numerous mistakes made during his career. Moreover, Arda has reportedly lost 7 kg in an attempt to regain fitness ahead of the 2020/21 season.
So, could it actually work? It seems unlikely. Then again, given what Arda Turan has done over the past five years, nothing is beyond him.
By: James Kelly
Featured Image: @GabFoligno