Chuba Akpom – Fulfilling His Potential on Teesside
On the eve of the 2022/23 season few people, if anyone at all, would've earmarked Middlesborough's Chuba Akpom to be leading the Championship scoring charts over halfway through the season. The 27-year-old forward, a graduate of Arsenal's Hale End academy system, has scored 14 goals in 18 league starts and was the Championship Player of the Month for December. He was 100/1 with bookmakers to win the golden boot however, finding himself in a state of footballing purgatory at the start of the campaign. 
Akpom spent last season enjoying a second spell at Greek side PAOK, where he bagged a passable 6 league goals in 18 starts. One look at the player's social media channels and it is clear that he felt at home in Thessaloniki, a place where he undoubtedly matured as a player and won both league and cup titles when at the club permanently. Due to his productive time there, he was signed by Boro in 2020 for just under three million pounds, yet began this season unfancied by manager Chris Wilder.
Not included in first-team activities and with two years remaining on his contract, Akpom was sent to train with the under-21s, with the expectation being that he would be moved on swiftly. However, a transfer never occurred and Akpom was forced to bide his time. Left out of the squad entirely for seven straight games, he was then invited back into the fold by Wilder, scoring twice in four starts before Wilder was dismissed from his post.
His replacement, former Manchester United player and coach Michael Carrick, was to make an altogether different appraisal of what the striker could offer. Implementing a possession-based system, a change from Wilder's unique and highly specialised brand of football, Carrick chose to give Akpom a starting role immediately as a number ten in what appears on paper as a 4-2-3-1 formation.
Michael Carrick Showing Early Signs of Promise as a First-time Manager at Middlesbrough
The reality, however, is far more fluid and incorporates multiple aspects of positional play practised by the likes of Pep Guardiola, Mikel Arteta and Roberto De Zerbi in the Premier League, as well as Vincent Kompany's Burnley in the second tier. Without going into too much detail regarding this system's intricacies, it is important to understand how Middlesbrough constructs attacks in the final third before examining the goals which it has allowed Akpom to score.
In short, Carrick's system takes on numerous shapes depending on the phase of play. Teammates move relative to each other, often beginning as a 4-2-4 in the build-up, before transitioning to a 3-2-5 shape in attacking situations. In order for this to happen the left back, Wolves loanee Ryan Giles moves upfield to take up a position on the left wing.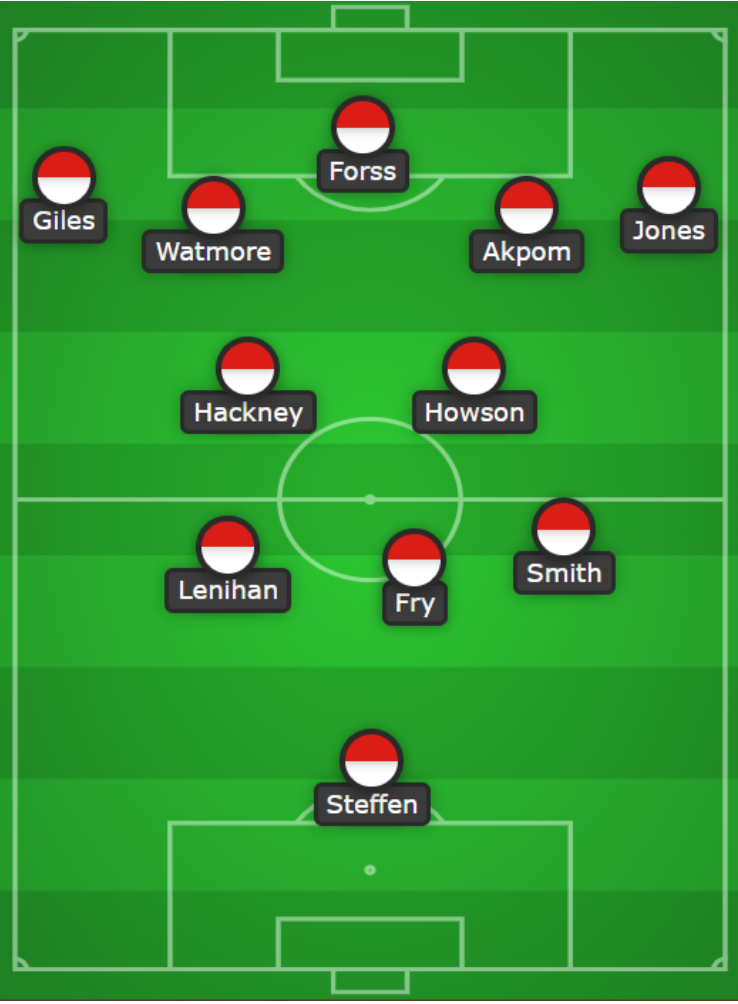 The starting left winger, usually Duncan Watmore or Riley McGree, moves inside to take up a position in the left half-space, with Akpom occupying the channel on the right and Isiah Jones maintaining width to form a front five with the central striker,  often Marcus Forss or occasionally Matt Crooks, as shown in the image below.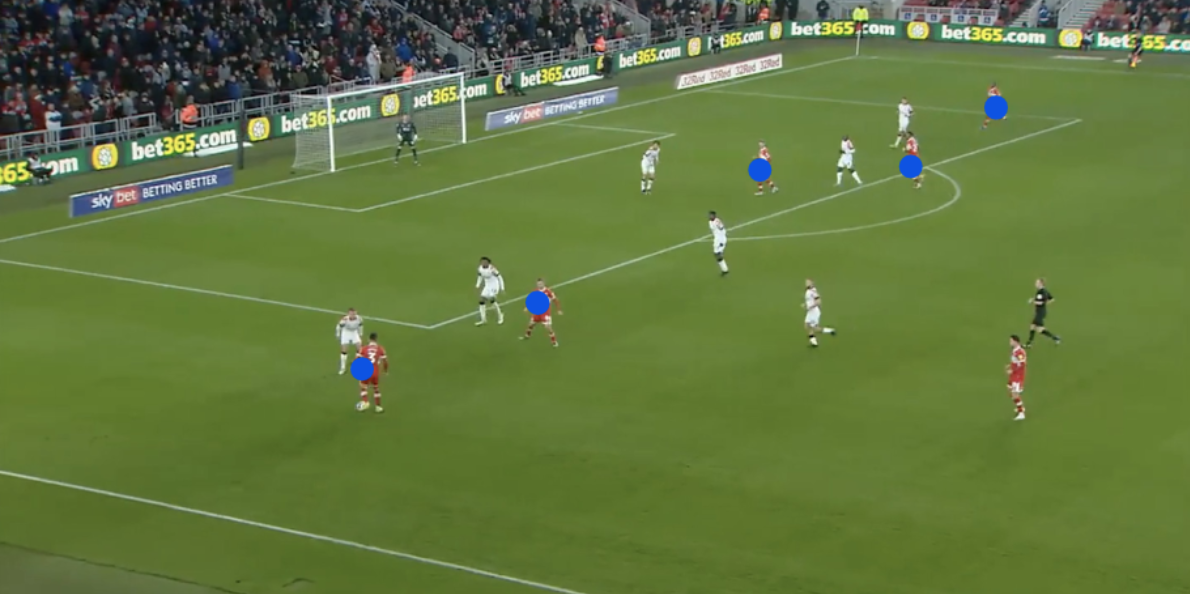 The example of Crooks, a defensive midfielder by trade, being used as a centre forward shows that Carrick is unafraid to deploy players in new positions. Akpom, who has been a number nine for a majority of his career is another example of this flexible attitude to what players can and can't do. For managers like Carrick, it is roles within the system, not positions within a formation, which take precedence. 
Playing in this role removes the pressure of having to lead the line and allows Akpom to use his positional intelligence, finding pockets of space and catching defenders unawares. This often takes the form of runs alongside and beyond Forss, either to overload the opposing centre backs or to rotate with the striker in order to confuse them. 
The latter is shown below by one of his three goals in the 4-1 demolition of Wigan on Boxing Day. The play begins with midfielder Hayden Hackney on the ball, about to pass out wide to Giles. Akpom, marked with a blue dot, has positioned himself on the shoulder of Wigan's left centre back.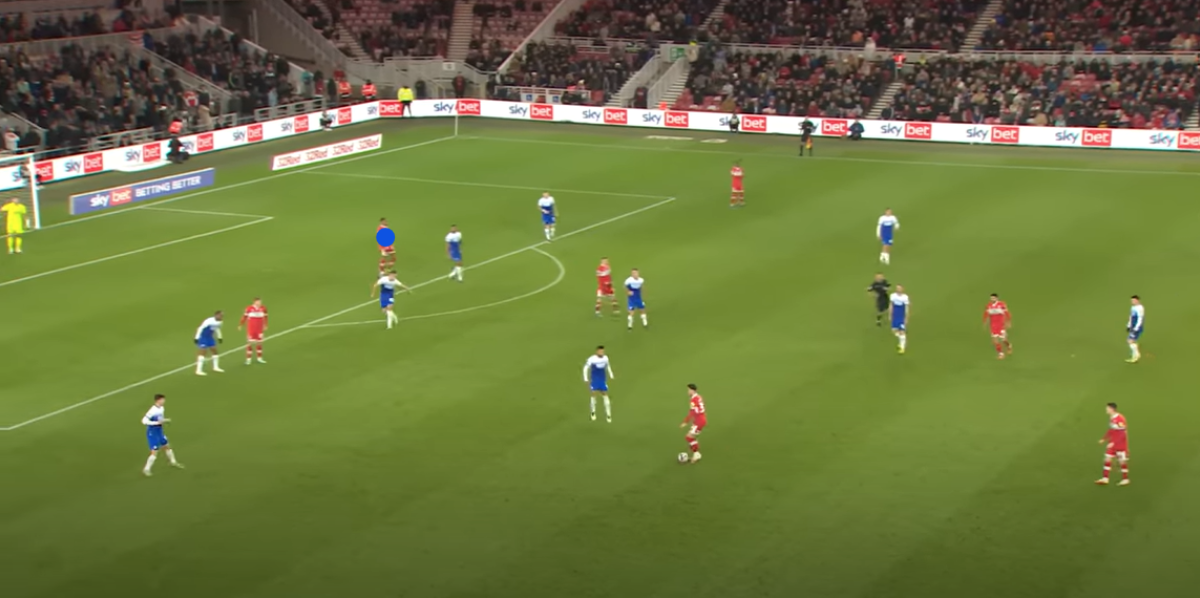 On this occasion the striker, Marcus Forss, has dropped into the left half-space, with Watmore going into the right channel. This allows Akpom to move forward, creating a three man rotation which causes confusion among the Wigan defence, dragging players out of position and disrupting any man marking instructions.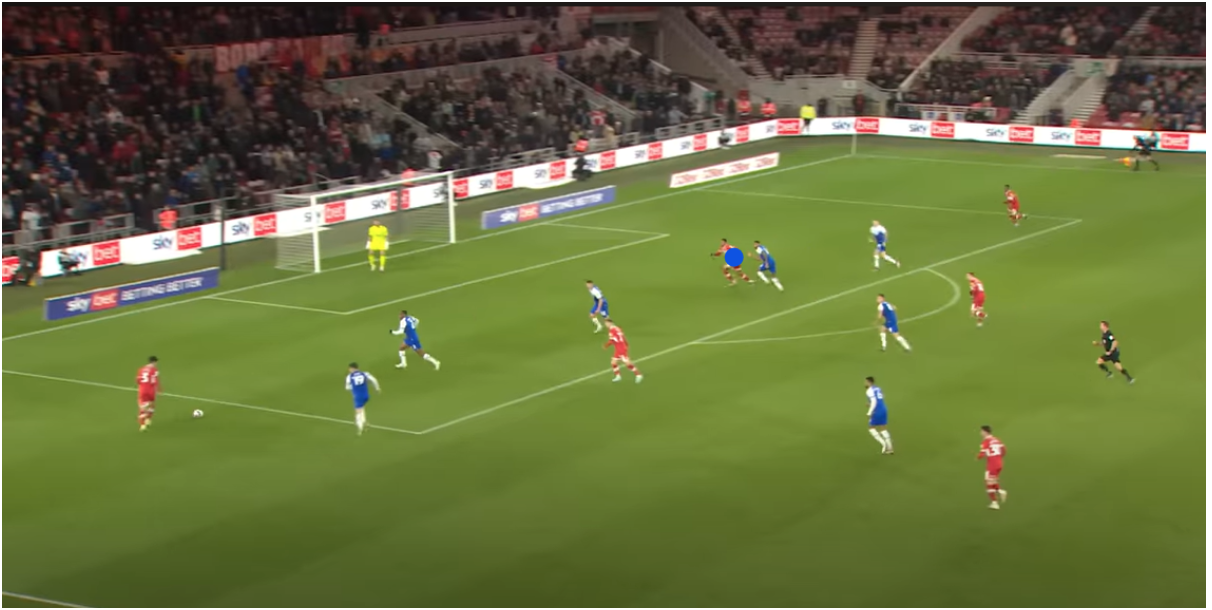 A fantastic line breaking pass finds Giles, whose quick low cross is met by a perfectly timed run from Akpom, expertly finished.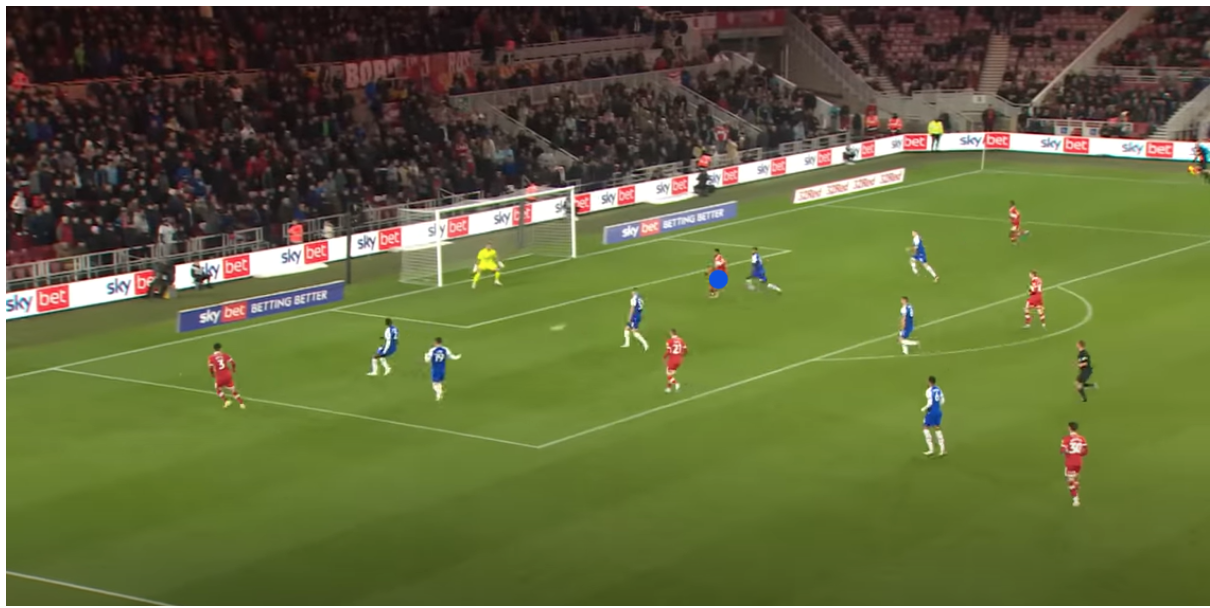 This was not the only example in that Wigan game of Akpom's excellent positional sense and ability to time his runs. In his second goal of the night for example, the forward can be seen checking his run to ensure he remains onside as soon as Giles begins to progress the ball into midfield.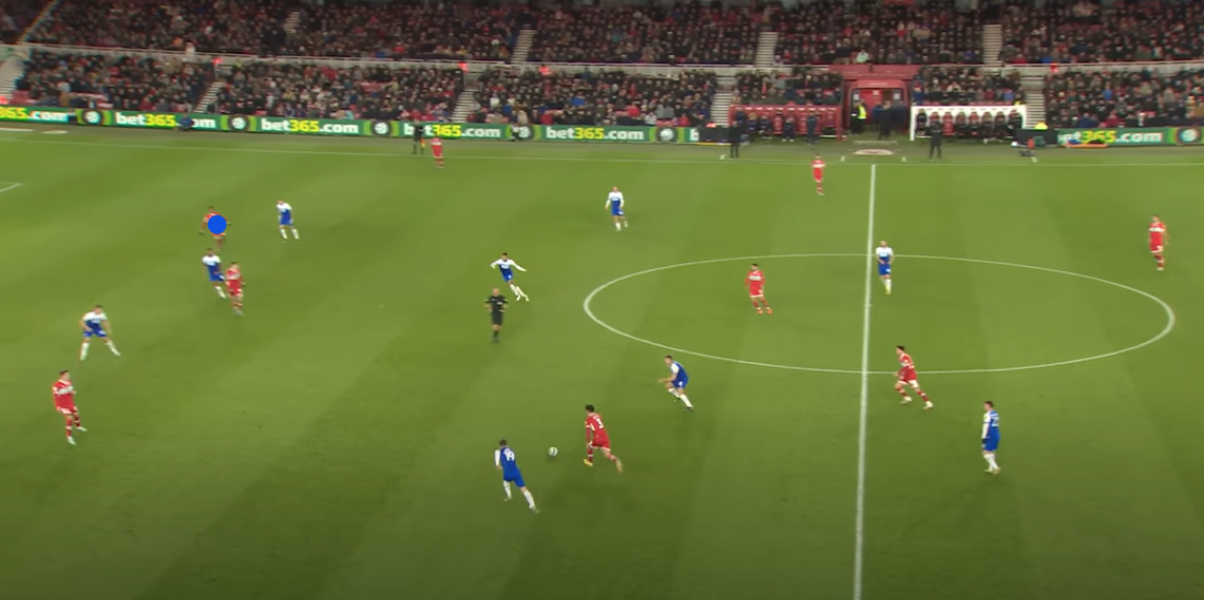 He curves his run to ensure he remains onside, breaking from the right half-space, across into the left. A devastating diagonal run to meet Giles' through ball, which he again finishes brilliantly.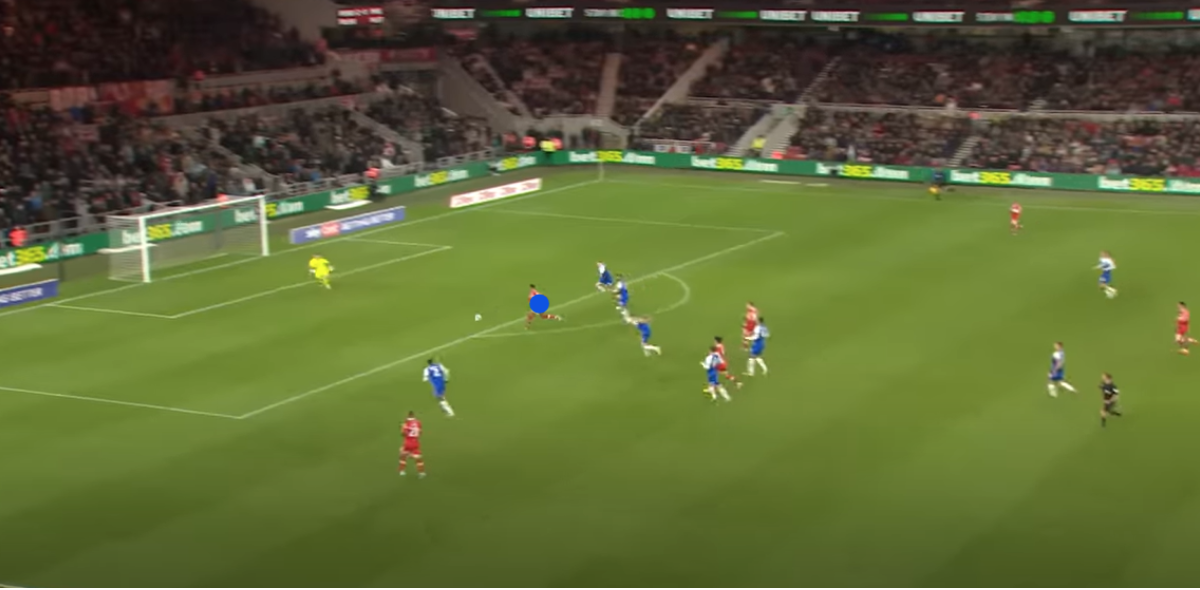 We can see a demonstration from this game of Akpom's place within Boro's front five. As shown by the below average position graphic, he (number 29) occupies the right half-space consistently. When compared with his accompanying season heatmap, we can see that he only really breaks from this channel in order to get into the box and finish off moves. A lot of his work is done dropping into midfield to assist with progression, crucial to a system such as this, as members of the five must rotate and move in order to avoid isolation and keep passing lanes open.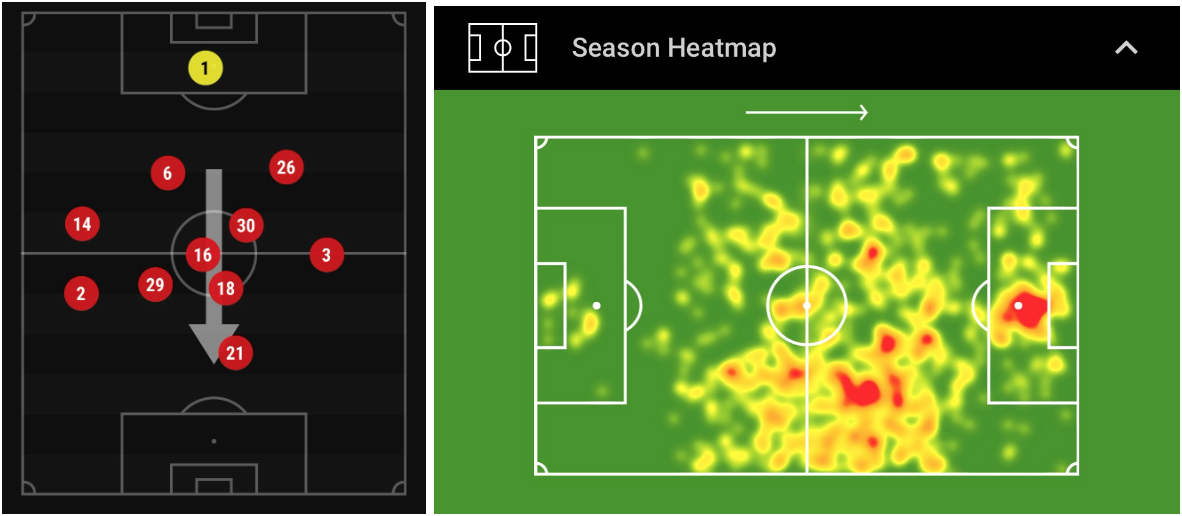 In order to put up numbers like Akpom's, any forward needs a supply of chances in both quality and quantity. Carrick's side do not create an inordinate amount of shots, managing 3.70 shots on target per 90 minutes, good enough for 11th in the division. Wilder's eleven games should act as a caveat here, as the poor performances within that spell will dampen the figures, but what is more encouraging is the quality of the shots that Boro do create.
This season Middlesborough have generated 39.1 expected goals (xG), scoring the same amount, 39. As the above examples show, many of these take the form of through balls to put players one on one with the keeper, low crosses into the path of strikers within six yards of goal and quick cutback passes in the box akin to a typical Manchester City or Arsenal goal. 
These sort of close range opportunities come with a high probability of resulting in a goal, therefore score highly in the xG model. Boro's ability to match this forecast is testament to the clinical finishing of their attacking players. Akpom is no exception, as we have discovered. He alone has generated 11.6 xG, outscoring this with his tally of 13.
This is helped by the fact that he takes a lot of shots, 3.12 per 90 to be exact, putting him in the 89th percentile among Championship forwards. His xG generation per 90 minutes of 0.72 is enough for the 98th percentile among his peers. Not only is Akpom one of the most active forwards in the division, but also one of the most clinical.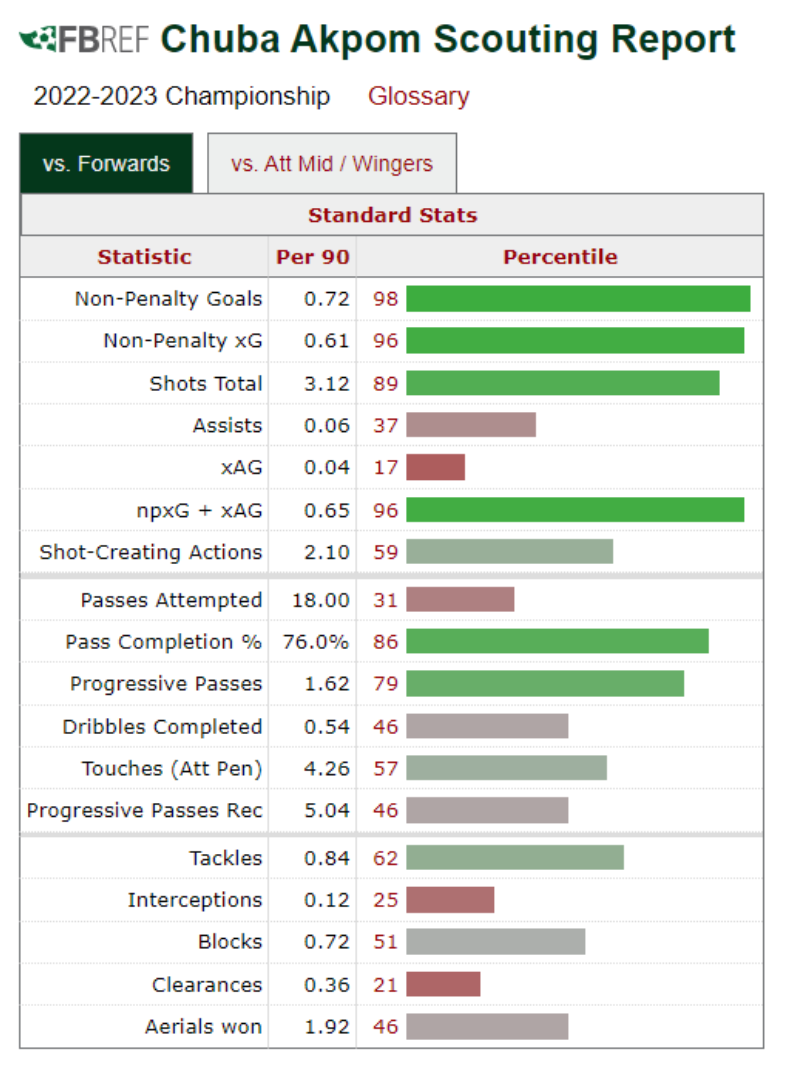 This explains Chuba Akpom's goal-scoring feats this season, but a question remains over what he exactly is. As we can see from the aforementioned average position graphics, he is essentially playing as an attacking midfielder, but due to the frequency of his forward runs and his propensity to swap positions with the number nine, it seems slightly misleading to compare him with other attacking midfielders. 
Akpom then, is a hybrid player in Carrick's system. Not a nine, not a ten, but both. Whichever the situation and attacking opportunity requires him to be. This duality is perhaps reflected in his 79th percentile progressive passes and 86th percentile pass completion when compared to strikers, likely inflated by his time in games spent assisting the midfield.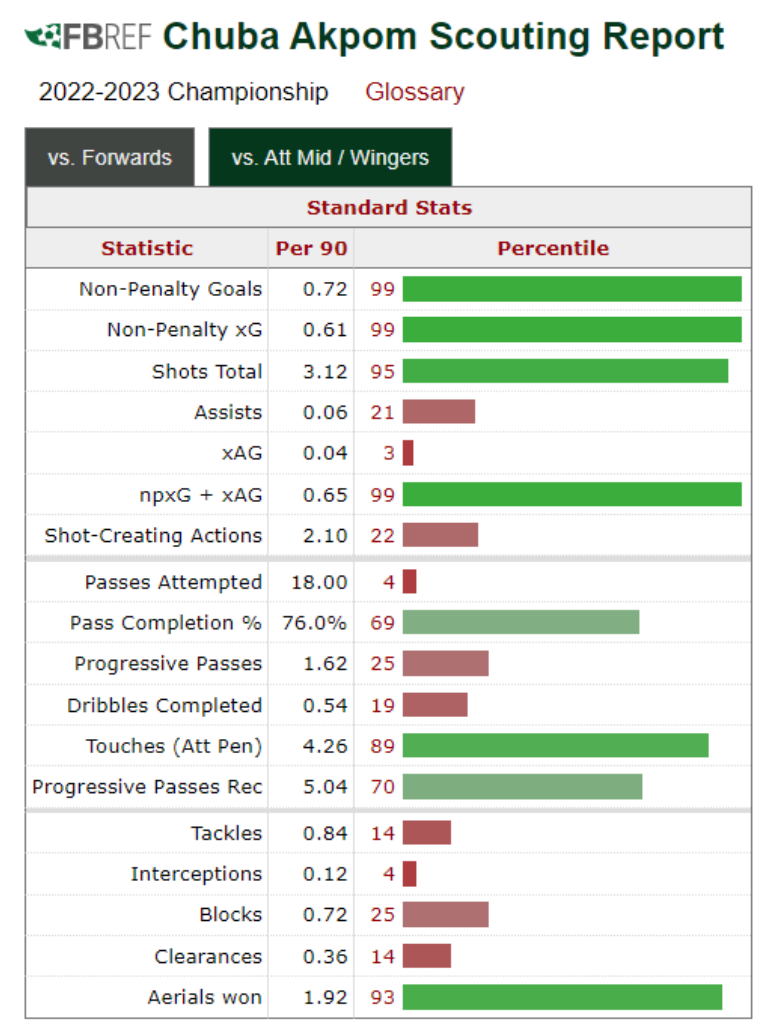 When compared to attacking midfielders above we have a similar issue. His attacking contributions are incredibly high, whilst metrics such as touches in the opposition box and progressive passes received, as well as his deft ability to win headers (four of his league goals have come from headers so far), are influenced by his role as a 'half-striker'. 
Whatever Chuba Akpom is, what is undeniable is that he is fulfilling his potential and at the top of his game. In a very specific role, perhaps tailored just for him, Akpom is contributing more than ever before in his career and is winning plaudits throughout English football. 
His manager appears to be particularly proud. "Chuba has played for a number of different clubs so far, but he seems happy and he seems settled here. He's enjoying himself and I think that's a big part of being in the business – to enjoy it and do what you're good at, and he's certainly doing that at the moment," Carrick told the Northern Echo. "Chuba has been fantastic since I've been here. I'm sure he'd be the first to say he appreciates his team-mates and how much they've given him the foundations to perform in the way that he has'.
With reported interest from Premier League clubs such as Everton, Crystal Palace and Southampton reportedly showing interest this January, it seems likely that Akpom's story involving nine different professional clubs may have its best chapters yet to come. 
By Oliver Haines – @otg_uk
Featured Image: @GabFoligno / NurPhoto
Images and quotations courtesy of: Fbref.com, Wigan Athletic FC – YouTube, SofaScore.com, Transfermarkt.co.uk, Chosen11.com, SkySports.com, TheAthletic.com, TheNorthernEcho.co.uk