Cristian Romero: Tottenham's Argentine Rock at the Back
It is perhaps an understatement to claim Argentina as the birthplace of the world's greatest forwards in history. The late Diego Maradona needs no introduction, whereas the great Lionel Messi is looking to add his 7th Ballon d'Or in his trophy cabinet. Sergio Agüero is currently the Premier League's 4th top goal-scorer of all time, while Lautaro Martinez just ended the previous season as Serie A Champions with Inter Milan. 
We could go on for hours marveling the achievements of the great Argentinian forwards, but you get the point – Argentina knows a thing or two about producing elite forwards. Hence, young Argentinian attackers has always been granted more media attention. Some even branded as "The Next Big Thing" or if they are good enough, "The Next Messi".
That said, the success hasn't been replicated on the other end of the field. While Argentina is blessed with immense attacking talent, their defence has been their Achilles heel over the past few years. If we were to discuss Argentina's best defenders in recent memory, Javier Zanetti, Javier Mascherano and maybe even Nicolas Otamendi springs into mind, but you'd struggle to find another 1 worthy to be added to that list. 
That may soon change, given the introduction of a young center-back in Argentina's Copa America campaign that saw them clinch their first honor since the 2008 Olympics. The defender was injured after the third group game but was deemed too vital to be left out against Brazil in the final. Following a crucial clean sheet and victory against the Seleção, Cristian Romero, from the tiny town of Villa Lago Rivadavia, has risen from an unknown quantity to a national treasure.
Apenas duró algunos minutos, pero hoy Cristian Romero se estrenó para el Tottenham y ganó al Manchester City en su primer partido en Inglaterra.

En el primer episodio de Rompiendo Lineas, @santideciancio y @gonzalocarol29 hablan del 'Cuti' Romero.https://t.co/bD1FAJLlpT pic.twitter.com/pZWhQ34cxc

— Breaking The Lines (@BTLvid) August 15, 2021
The recipient of Serie A's best defender last season has since secured a loan move to Tottenham with an option for a €55m permanent deal.  The dashboard below shows why Romero is highly regarded in Italy and the importance he brings to Atalanta when compared to other center-backs in the league.
This analysis will cover the Argentinian's performance with his club last season. All figures below are based on performance per 90 minutes played, according to StatsBomb via FBref.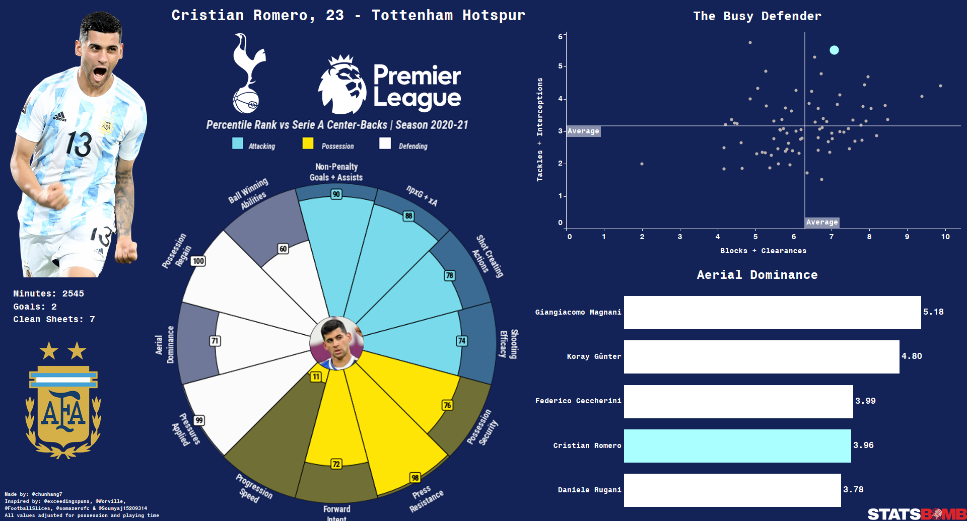 In a league known for its emphasis on defensive solidity and tactical innovations, being awarded the league's best defender award is no small feat. The achievement is all the more impressive when you consider the other defenders Romero beat to the award: Kalidou Koulibaly, Milan Škriniar, Leonardo Bonucci and Chris Smalling to name a few (ok, maybe not Smalling). This is just an indication of the elite levels and defensive performances Romero is capable of. 
The Argentinian is a rugged, aggressive defender who plays in the center of a three-man defence under Gian Piero Gasperini. As the central defender, Romero does not advance as high up the pitch compared to his two defensive partners in Rafael Toloi and Berat Djimsiti or José Luis Palomino. Instead, he remains in a central position, pushing the defensive line high up. 

That is not to say the player is not granted the positional freedom under Gasperini. In the event where one of their central midfielders drops deep to influence play, Romero can be seen advancing to the midfield position to create overloads or present himself as a passing option as play progresses. The assist produced against Milan is an illustration of such tactical ingenuity.
With men back, Romero makes a blind-sided run across the Milan midfield to make himself a passing option as the play progresses. Pessina spots his runs and relays the ball onwards to Romero, who continues to dribble the ball towards the final third in a favourable 3v2 situation. The center-back makes a through ball towards Zapata who scores. 

Romero has often been compared to Sergio Ramos due to the resemblance in the aggressive style of play implemented by both players. Both players are aggressive in the press and look to win the ball instantly and is also a capable sweeper of the ball. Not to mention, both have a feisty attitude that translates in their tendency to receive bookings.
Across both of their careers, Ramos has collected 0.36 yellow cards and 0.05 red cards per90, whereas Romero has collected 0.43 yellow cards and 0.03 red cards per90. The comparison may be flawed due to Ramos' larger sample size as a player, but it does show Romero's unhealthy appetite for a booking early on in his career. 
Gasperini utilizes Romero's aggression as a means to effectively implement his man-oriented pressing system. Romero's tenacity and eagerness to win the ball back coupled with Gasperini's relentless pressing system is essentially the perfect combination.
Romero is instructed to push the defensive line high up the pitch, so he could directly press the opposition's attackers. This effectively utilizes Romero's physicality and pace to nullify opponents at the earliest opportunity, giving Atalanta the opportunity to play a much higher line, suffocating opponents.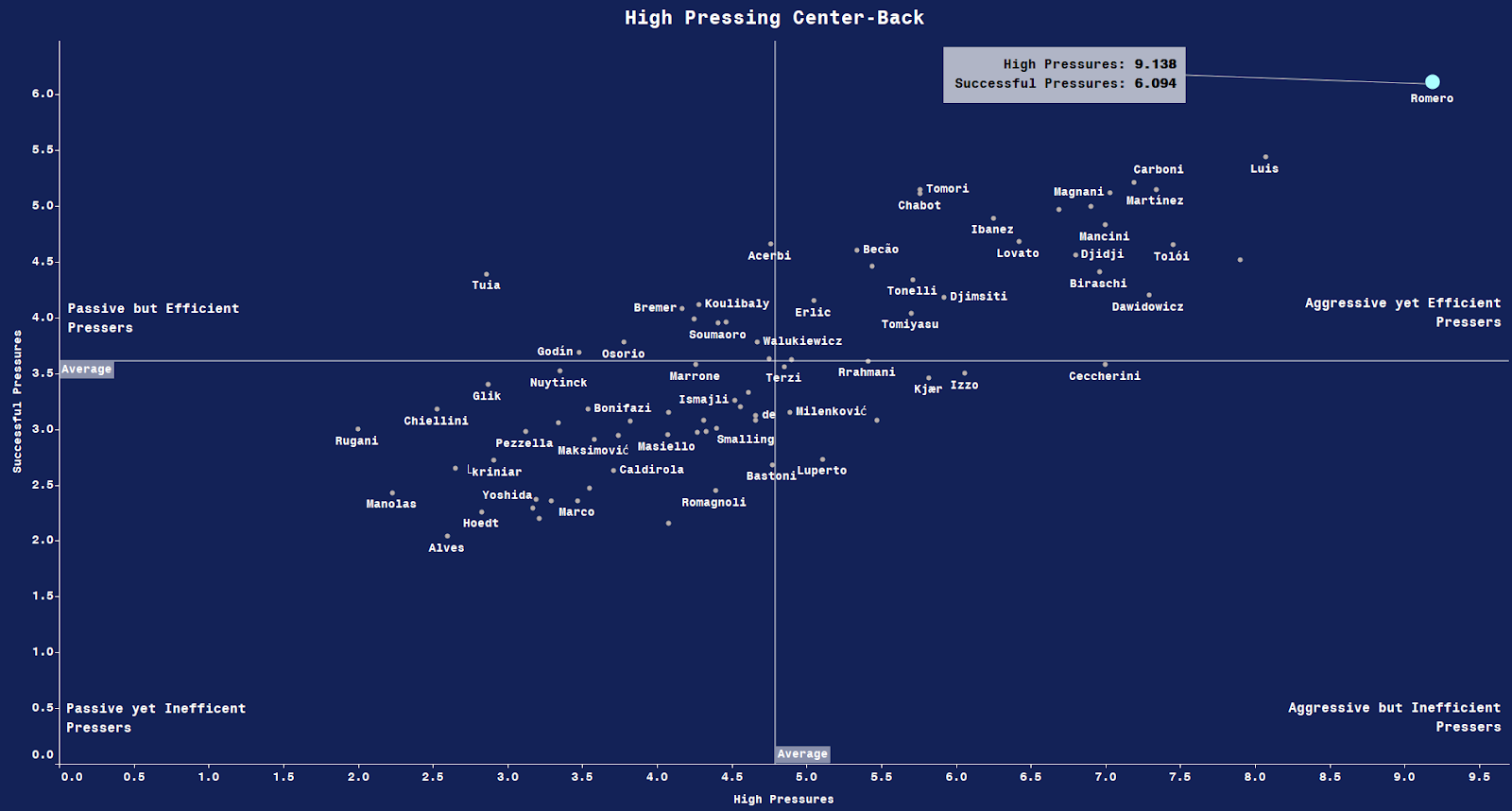 Based on the graph above, All Atalanta center-backs are placed in the upper-left quartile, which demonstrates the intense pressing system utilized by Gasperini. Last season, Romero ranks as the most aggressive yet efficient presser when compared with other center-backs in the league.
The Argentinian has attempted 9.138 pressures in the middle third and attacking third of the pitch, whilst achieving 6.094 successful pressures per90. Considering last season was the only season the two worked together, Romero has shown complete faith and belief in the system implemented by the manager. 
In the game against Real Madrid, his high pressing can be seen in his duel against Isco. As Varane releases a pass towards the Spaniard, Romero can be seen sprinting towards him to apply pressure straight away. His high press in the center of the pitch enables Atalanta to win the ball back instantly and instigate a counterattack.
This is by no means an isolated incident as evident by the stats shown. Such intensity and tendency to press attackers would bode well in the Premier League, where defenders are encouraged to press attackers immediately.

His high-intensity pressing may, however, cause him an issue or two. Skilled or experienced players may shrug him off with a skill before turning away from him. In the game against Napoli. Zielinski received a ball from a throw-in and Romero charges forward to confront the midfielder. Zielinski, however, manages to knock the ball past him in a sequence of move and leave him for dead, chasing his shadows. This goes to show the vulnerability presented in Romero's high pressing. 

Romero's aggressive nature as a center-back makes him an imposing figure at the back despite a relatively short stature at 6 ft 1. The Argentinian regularly wins his tackles and interceptions due to his expert reading of the game. He anticipates the pass and immediately rushes in to put a foot in, stopping the attack. In situations when a through ball is played in behind for the striker to run on to, Romero acts as a brilliant sweeper with his pace, recovering the ball before calmly clearing it or passing it to his teammates.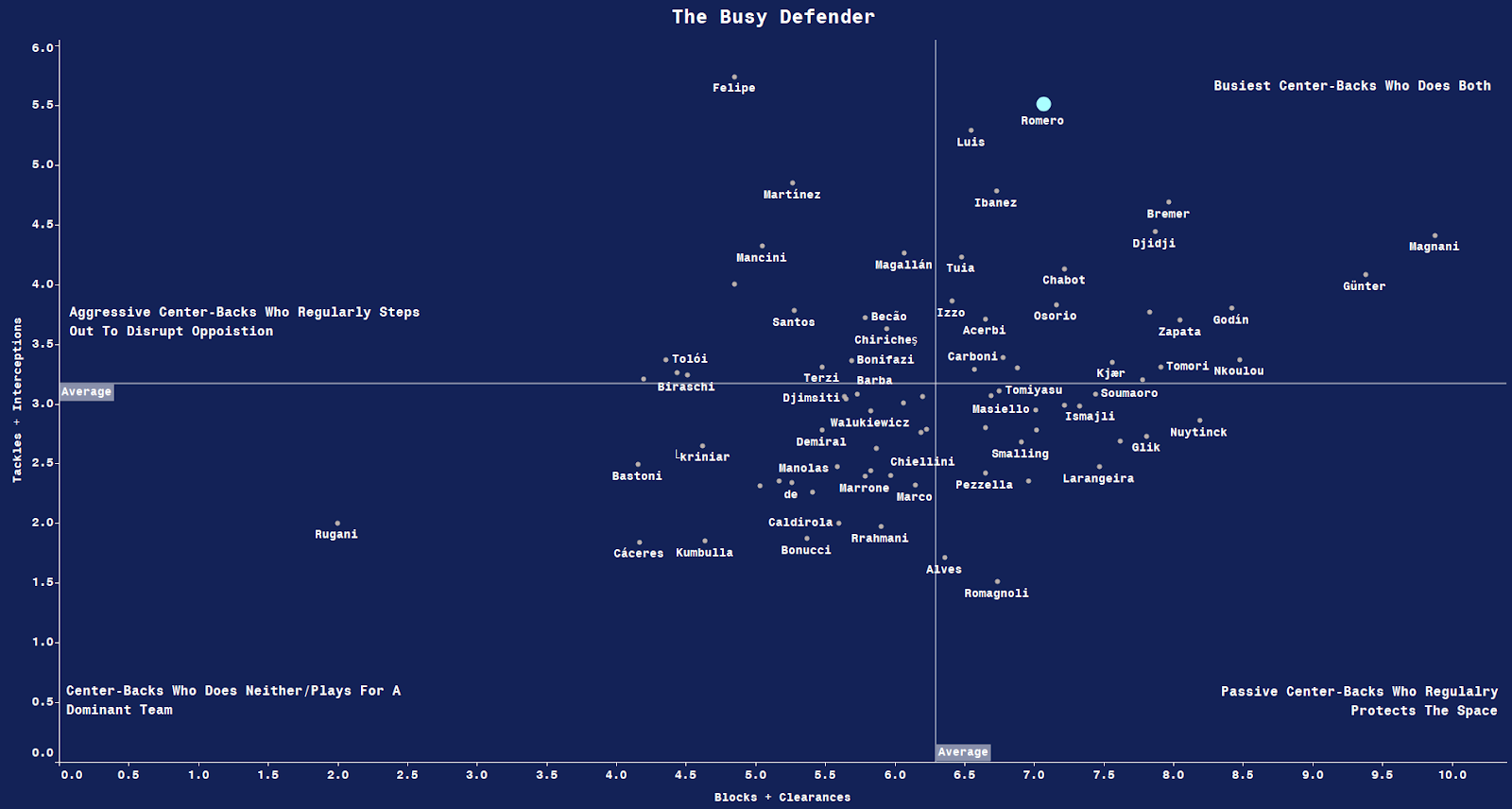 Last season, Romero has proven that he can do it all. Not only is he amongst the most aggressive of center-backs in the league with 5.51 Tackles + Interceptions per90 (only losing out to Luiz Felipe with 5.74), but Romero also regularly protects the space efficiently with 7.07 Blocks + Clearances per90.
This goes to show that though the Argentinian can be an aggressive player without the ball, he has the awareness and concentration to focus on balls being played through the defence and is not afraid to put his body on the line to block a shot. His assist against Napoli derives from his Interception and subsequent tackle before threading a through ball to Sam Lammers.
Romero begins the sequence by aggressively stepping out of defence to intercept a ball, before tackling Bakayoko to regain possession of the ball. He progresses the ball up fields, before escaping a sliding challenge from Koulibaly. As Manolas leaves Lammers to deal with Romero, the defender threads a fantastic through pass to Lammers who scores.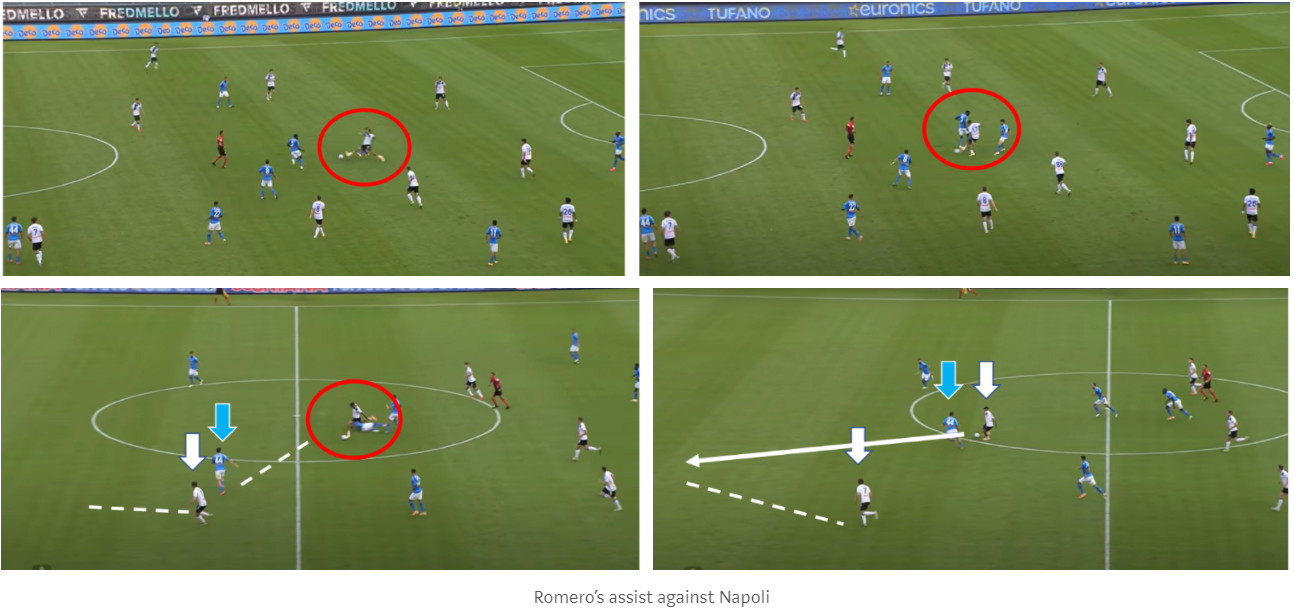 A goal-saving tackle and block made against AC Milan, is one of the highlights of his 1-year stint at Bergamo. A poor header falls into the feet of Frank Kessie in the box, who sets it up, ready to shoot it towards goal. Romero was alert to the danger and produces a brilliant tackle to knock the ball out of Kessie's feet. The loose ball came to Mandzukic and Romero once again dives in to make a crucial block, taking out the sting from the shot.

For someone of Romero's stature, you'd probably say he is on the shorter side as a center-back. In reality, Romero makes up for his lack of height with his amazing leap. The 6 ft 1 defender has won 3.96 aerial duels per90. When compared with other center-backs in the league, he is ranked as the 4th in most headers won.
Sure, his tenacious defensive style does give him the upper hand when engaging in aerial duels with opponents, often catching them off guard as they leap for the header. Nonetheless, it does display the defender's determination and physicality in physical battles. To put it in context, he has won more headers than 6 ft 4 Koulibaly, who wins 1.84 headers per90.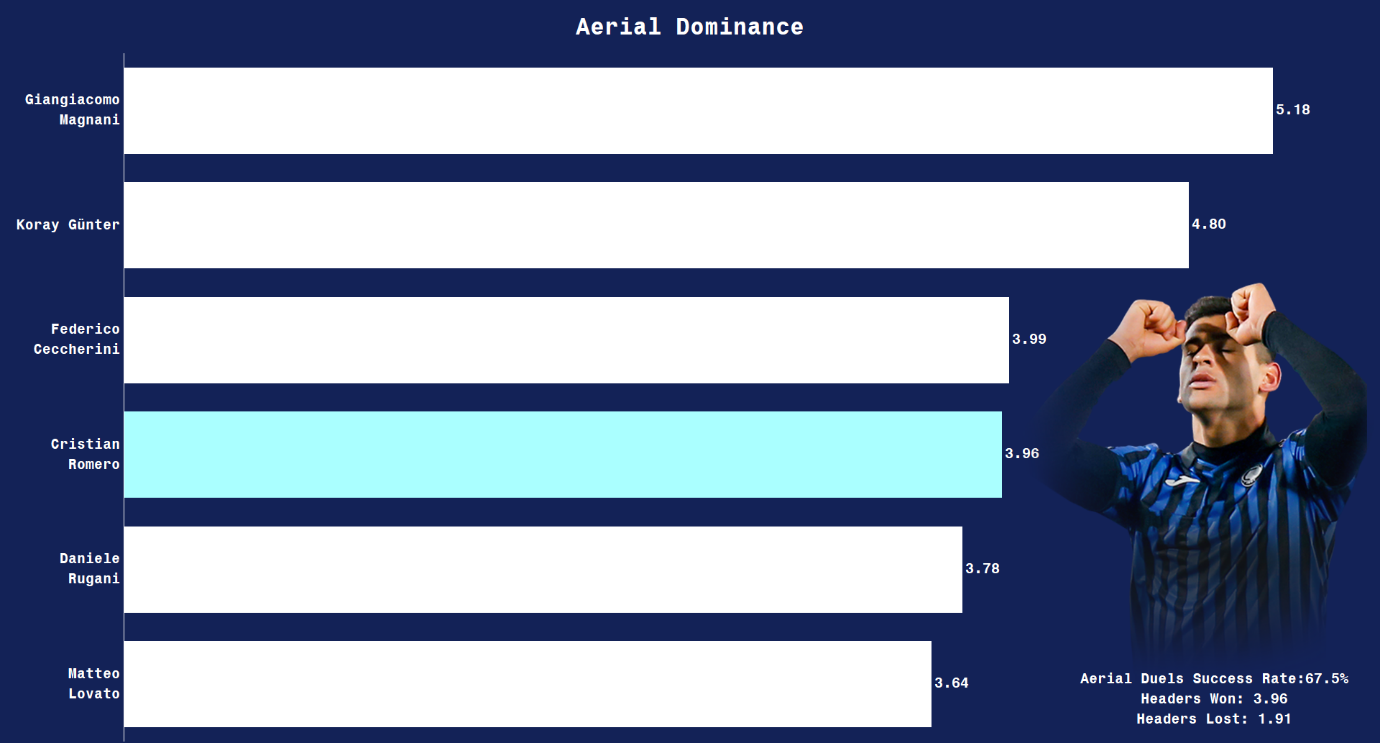 This is perhaps indicative of the goals Romero scores. The defender has scored 4 goals in the last campaign total (2 in Serie A, 1 in Champions League, 1 in World Cup Qualifier), with all of them being headers from set-pieces. A common theme of his goals is his intelligent movement in the box. He anticipates the direction of the pass and beats his marker to gain first contact of the ball.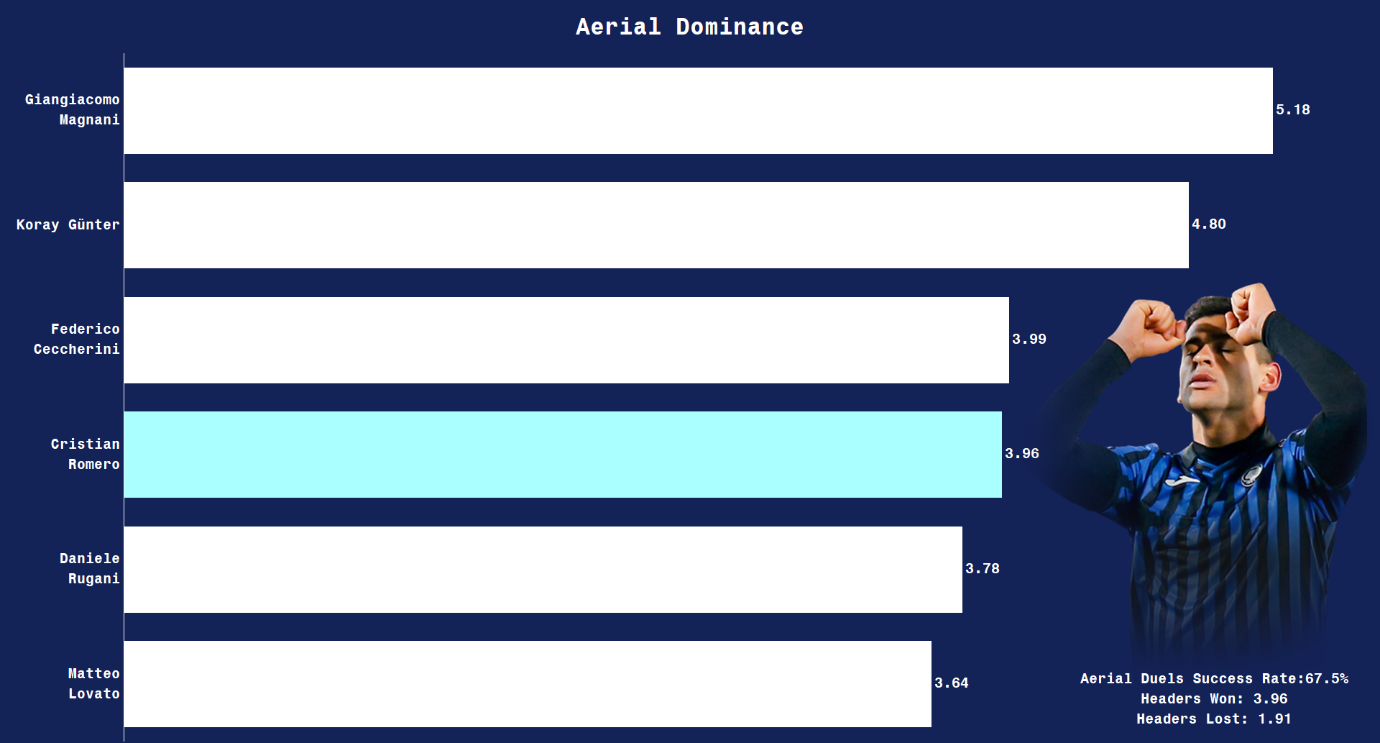 We should also consider the shoes he is filling in. After 6 seasons at White Hart Lane, Toby Alderweireld will leave as one of Spurs' greatest acquisitions in recent memory; he cost Tottenham just €16m and has formed one half of a stone wall defence alongside Jan Vertonghen.
The Belgian defender deserves respect and has now earned himself a massive pay-check in Qatar. Romero will be his direct replacement at center back and look to inject urgency in Nuno's side. There are, however, minor differences in the playstyle of both center-backs.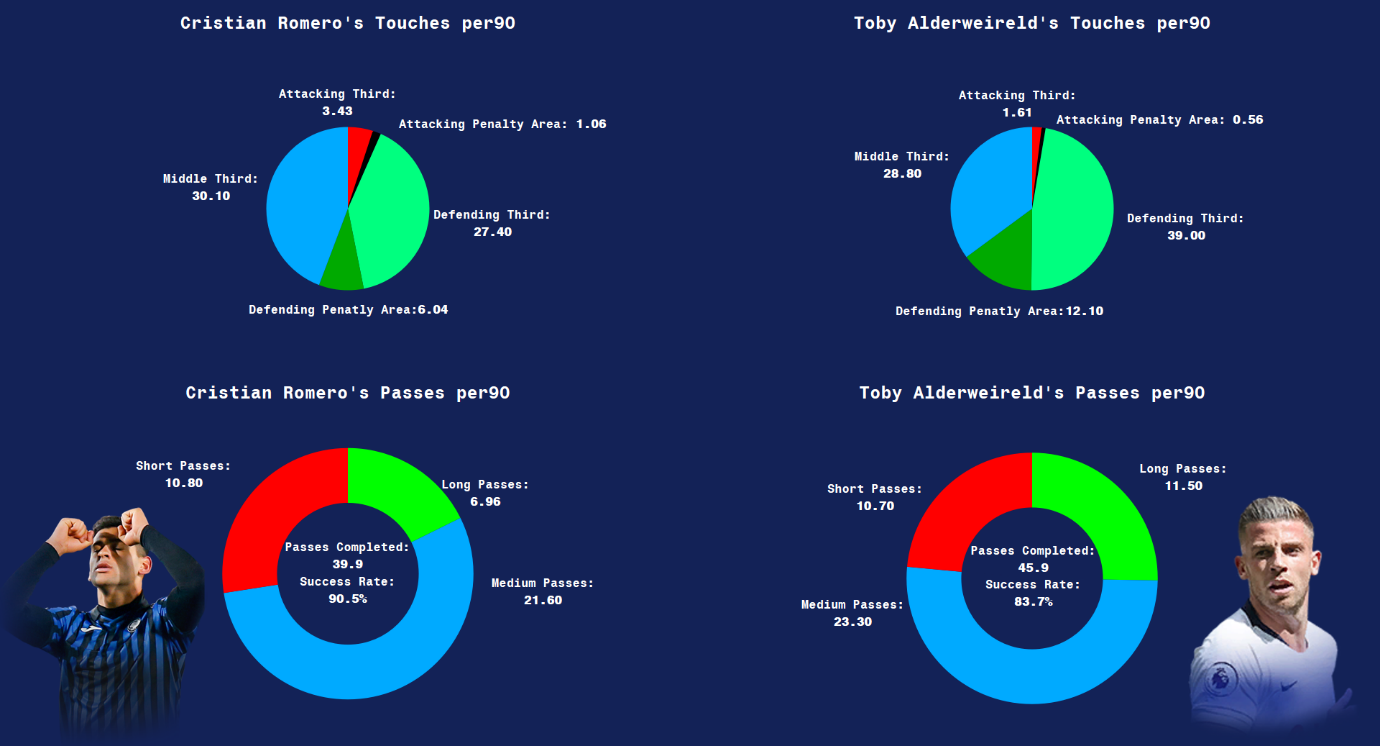 As mentioned previously, Gasperini's demands of a high defensive line would mean Romero has more touches of the ball higher up the pitch compared to his Belgian counterpart. If Spurs decide to play on the front-foot more, expect to see Romero to be the first to throw in tackles in the opening minutes, announcing his arrival to opposition attackers.
Perhaps what is more eye-catching about the differences between the two are their passing. Alderweireld is regarded as one of the best ball-playing defenders in the league, which shows in the high number of passes he registers a game. In Atalanta, Romero normally opts for the safer passes, funnelling the passes to his other center-backs or midfielders to dictate the play instead.
That is not to say he isn't capable of such long diagonals Tottenham fans have come accustomed to with Alderweireld. The pass against Liverpool in the Champions League is a perfect illustration of his ability. He may have to produce more of them next season, especially when you have Son and Moura running onto them.

At times, Alderweireld would struggle when dragged outside the channels due to a clear lack of pace. Romero on the other hand, has demonstrated time and time again of his immense speed and comfort when dealing with attackers on either flank.
In the game against Napoli, a through ball is played through to Osimhen (who is no slouch), as he beats the offside trap. Romero shows a burst of pace to catch up and make the tackle despite being at a disadvantage from the start. 

Concerns over the player's adaptability is also raised, as not many defenders from Serie A make lasting stays in the Premier League. Romero would be joining a much more physical league in the Premier League and though his range of physical attributes alongside his aggressive nature will theoretically suit him well, it remains to be seen if Nuno is willing to experiment on a high defensive line at Tottenham to fully utilize his strengths.
Last season, Nuno's Wolves registered the least number of high pressures (Pressures in the middle third + Pressures in the attacking third) with 3090 per game. Nuno would have to implement adjustments to his defensive line if he were to fully utilize Romero's aggression when defending.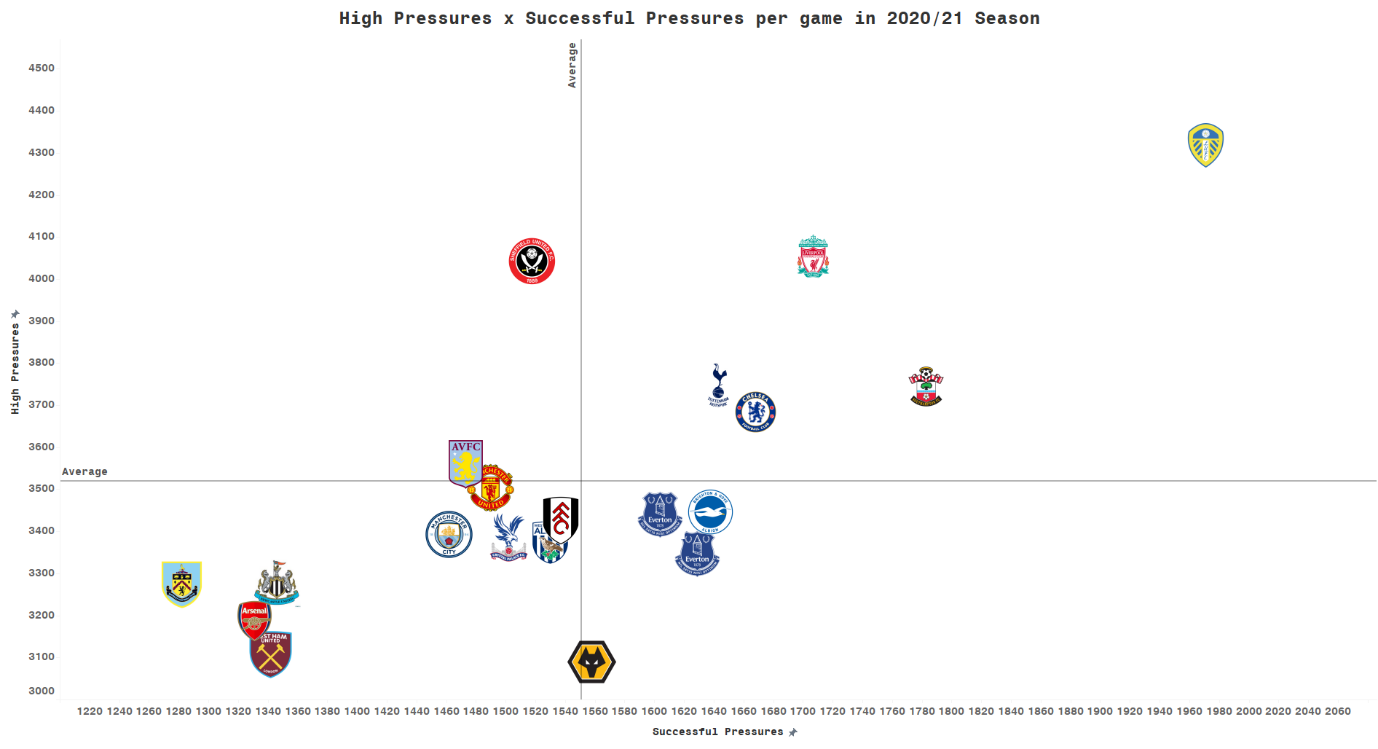 Nevertheless, Cristian Romero has shown to be very tactically adaptable in his time in Genoa. The center-back was required to play under 6 managers in his 2 seasons at the club, styles of each can be very different from one another. Any suggestion that Romero could struggle to adapt to the new system implemented by Nuno would be premature, due to the defender's vast experience under different coaches.
With all things considered, Cristian Romero looks set to lead Tottenham's fragile defence into one reminiscent of the days of Sol Campbell and Ledley King. Fans would hope the promise shown in Serie A, will now be translate into greatness in the Premier League, as the Argentinian looks set to make his debut against defending champions Manchester City.
The imminent departure of Kane (sooner or later) would be detrimental to Spurs' attacking output, but the security of Romero has (at the very least) brought a sense of belief at the heart of defence, as they look to continue their rebuild under Paratici.
If anything, Paratici looks to have secured another shrewd signing for his new employers, as his plans of a dressing room influx of a Serie A influence is in full swing. The signing of Serie A's best defender may even open the door for future signings from Italy, as it proves to be a signing indicative of the ambition and desire for trophies in a new era, with or without Harry Kane.
By: Lee Chunhang / @chunhang7
Featured Image: @GabFoligno / DeFodi Images