Declan Rice: The European Champion Caught in a Tug-of-war Between Arsenal and Manchester City
From being released by Chelsea's academy to captaining West Ham on their journey to their first trophy in 50 years (a first off English soil barring the 1966 World Cup, of course), Declan Rice has become of the most coveted commodities on the market. At 24, the Englishman is at a pivotal crossroad as he enters his prime years. On the back of a fantastic 2022/23 campaign, with club and country, it seems like now is the perfect time to make the next step in his career. 
In what is set to be the most drawn-out transfer in this summer's window, it is looking likely that the two clubs who battled it out for last season's Premier League trophy, will be going head-to-head again for the signature of West Ham's main man, which could have big ramifications in deciding where the league title will go next season. 
If Rice joins City, he pretty much guarantees a 4th title win in a row; at a point where there is a slight chink in the team's armour, with players aging and others leaving, signing Rice will refresh and strengthen the best team in the world.  If he joins Arsenal, he will be given a starting berth in one of the most promising projects in European football and be tasked with helping the youngest side in the league get over the final hurdle – hurdles which they have faceplanted into in the last two seasons.
He has always reiterated his desire to play at the highest level, with both suitors able to offer this with the guarantee of Champions League football for at least next season; but which team is better suited?
Position
After adding claret to the blue of Chelsea, Rice started his West Ham career as a promising centre back before transitioning into a midfielder and making his senior debut in the last game of the 2016/17 season.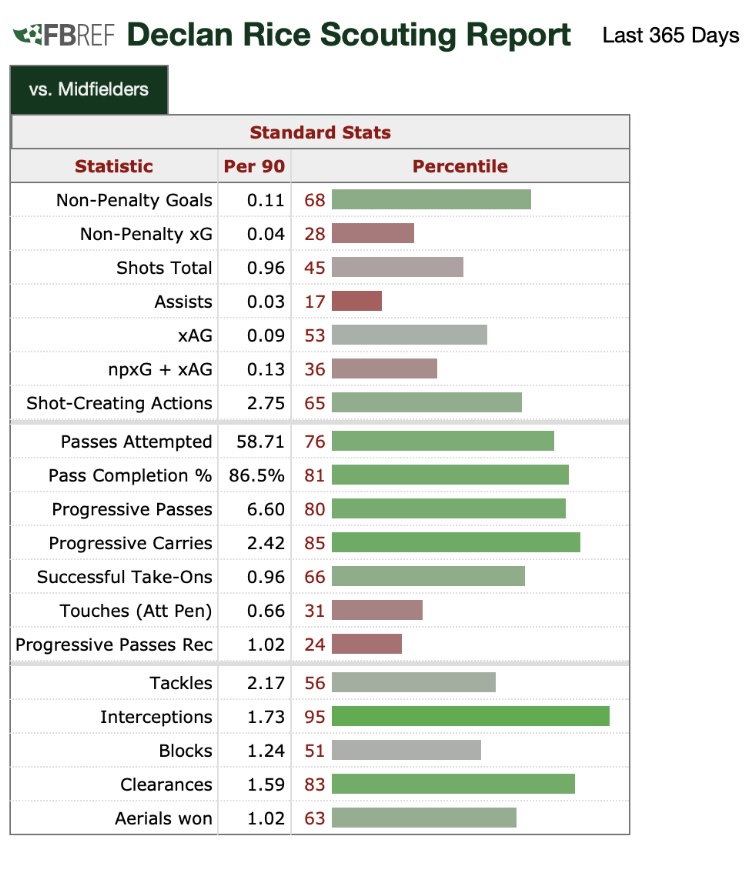 Photo: FBRef
At the Hammers, David Moyes places a premium on defensive structure and tactical discipline, with a heavy focus on transitional plays to get the goals. This is also mirrored on the international stage by England coach Gareth Southgate, who also likes his players to adhere to their specific roles and responsibilities on the pitch.
This has heavily influenced the playing style of Rice, particularly in his evolution as a elite holding midfielder, acting as a single pivot anchor alongside the more immobile Tomáš Souček. Rice's development has been managed perfectly by West Ham, perhaps learning from the mismanagement of former prodigy Reece Oxford, who burst onto the scene at just 16 years old in a famous win over Arsenal in 2015.
In recent seasons, Rice has been granted more freedom on the pitch, allowing him to demonstrate his prowess with the ball at his feet. As a result, he has emerged as a more well-rounded midfielder, with 5 goals and 4 assists in his past 2 seasons, while still maintaining his defensive responsibilities.

In 2022, Rice expressed his desire to be recognised as more than just a holding midfielder. A potential move to either City or Arsenal could provide him with the opportunity to fulfill this ambition, as both teams employ a fluid positional system. Both City and Arsenal typically dominate possession in their matches. City, topping the league with an average of 65.2% possession, Arsenal ranking 4th with 59.7% with West Ham only 18th (41.4%) (Whoscored, Premier League 2022/23).
Additionally, City and Arsenal tend to spend a significant portion of the game in the opposition's half and boast the two highest defensive lines in the league, with distances of 51.65m and 50.29m respectively, while West Ham's average defensive line stands at 43.91m (11th) (Markstats, Premier League 2022/23).
At City, the path to the first team is not so clear cut however. To begin with, new signings are often integrated into the starting 11 gradually, with players given the first season or two to acclimatise to Pep's unique system, similar to how Rodri and Jack Grealish were integrated in recent seasons. 
For the first time in 58 years, West Ham have won a major European trophy after beating Fiorentina 2-1 in the UEFA Europa Conference League Final.

Today, we're shedding light on some of the heroes behind the Hammers' epic European campaign: pic.twitter.com/1VJBPNw3XF

— Breaking The Lines (@BTLvid) June 7, 2023
Moreover, with Rodri, City have one of the best, if not the best holding midfielders in world football, and at 27 he shows no signs of slowing down. Although Rice is a superior upgrade to current understudy Kalvin Philips, does it make financial sense to replace Philips after his £45m transfer last summer? Despite only playing 595 mins last season, bringing in Rice to play as a holding midfielder would reduce the playing time even further and in turn adversely affect his transfer value.  
Alternatively, there's the option to play Rice in the left 8 channel, however, City already have a ready-made replacement for the departing Ilkay Gündogan in new signing Mateo Kovačić. This role would be unfamiliar to Rice, potentially elongating his adaptation period within the team.
At Arsenal, the situation appears more straightforward, with Rice a tailor-made replacement for Thomas Partey in the heart of the midfield. As evidenced by the below spider charts, Rice would be an upgrade on the Ghanian, but more importantly, Rice's track record of never missing a game due to injury makes him a more reliable option than Partey, whose availability has been questionable at times. 
Considering that Arsenal already have three midfielders over the age of 30 in Xhaka, Jorginho, and Partey, now is the opportune moment to integrate their successors. The signings of Kai Havertz and Rice would undoubtedly inject new energy into the midfield, which played a significant role in the team's success last season.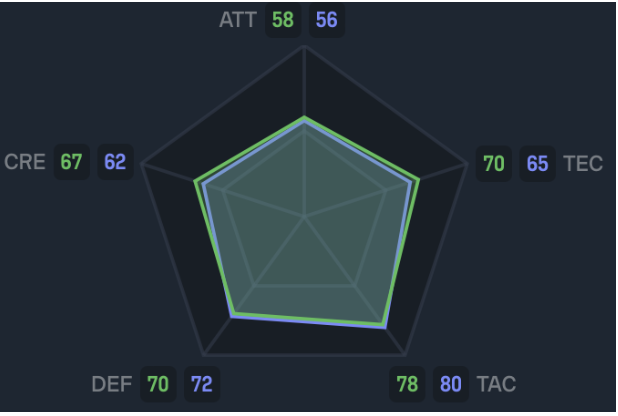 Rice (blue) vs. Rodri (green) [SofaScore]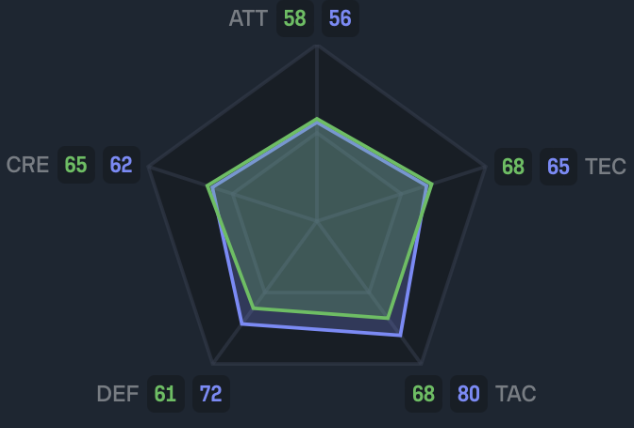 Rice (blue) vs. Partey (green)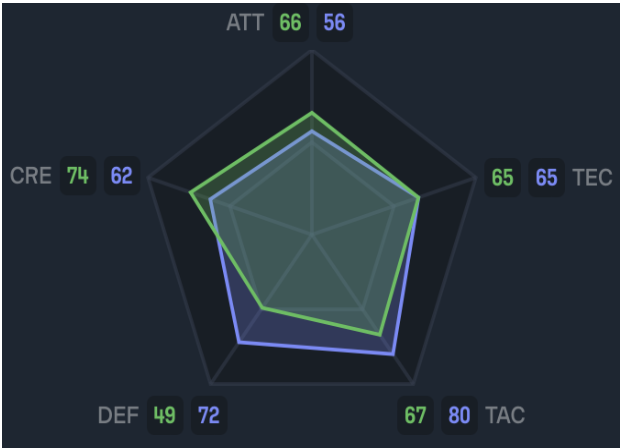 Rice vs. Gundogan
Rice vs. Xhaka
Strengths and Weaknesses
Declan Rice's early experience playing in defence at West Ham's academy has greatly influenced his game with his defensive awareness and positioning being second to none. His main strengths lie with his ability to break up opposition attacks, win possession and swiftly and efficiently distribute to the creative players up top.
Ranking in the 95th percentile for interceptions and 99th percentile for recoveries, he provides a reassuring presence in front of the backline as well as being a beast in 1v1s, with a 62% success rate in tackling dribblers and minimal challenges lost (0.52 per 90). Moreover, he demonstrates excellent discipline with only 0.63 fouls committed per 90 minutes (96th percentile), per FBRef.
Additionally, Rice is adept at distributing the ball accurately and initiating attacks from deep positions, with the midfielder performing above average for all passing types, whilst also showcasing his skill as a progressive ball carrier with an average of 2.42 progressive carries per 90 minutes.
Undoubtedly, Rice's biggest strength lies in his leadership qualities, shaped by his mentorship under West Ham legend Mark Noble. Despite his young age, Rice displays maturity beyond his years and is poised to captain England in the near future. He leads by example through his exceptional work rate, dedication, and astute reading of the game. With both City and Arsenal potentially losing influential players from their squads, Rice will be a valuable addition to either dressing room. 
How West Ham Beat Fiorentina in the 2023 Europa Conference League Final
It's hard to identify any significant weaknesses in the Rice's game, with any areas he may fall short being primarily influenced by the system he is currently in, where defensive duties take precedence. Nevertheless, Rice is operating at a genuinely world class level. It would be interesting to see how he transitions to a team of higher quality, where defensive-minded players are more actively involved in the attacking phase.
Conclusion
With his defensive prowess, passing ability, and a thirst for improvement, Rice has established himself as one of the most exciting young players in world football. He is operating at an elite level for both club and country and if the reported transfer figures are accurate, his potential move to either Arsenal or Manchester City could set new club records (matching the Grealish deal).
Although Arsenal have been in the boss seat for the past few weeks/months, the possibility of Rice joining City is genuine and credible option. To join City may seem like the easier choice but may not necessarily be the best for his development; at a time where he should be playing week in week out, its more than likely he could find himself starting from the bench or in an unfamiliar position. There is no doubt the Rice will win multiple trophies but he may just turn out to be another cog in the unstoppable City machine. 
However, at Arsenal, Rice would immediately be taking on that leadership role in the young squad, which he may relish. Additionally, he would not have to uproot himself from London, where he has spent his entire career, especially at a time when he has recently become a father. Of course, the guarantee of trophies is not there, with the Gunners only limited to a handful of FA Cups in the past 20 years. Regardless of which team he joins, Rice will be a success, and barring any significant injuries, he will be remember as one of England's greatest midfielders when he eventually hangs up his boots.
By: @079Ziz
Featured Image: @GabFoligno / NurPhoto