Enzo Fernandez – The Future Of Argentina and Benfica's Midfield?
Enzo Fernandez is the latest highly-rated Argentine, who has made his move to European football, as Benfica snapped him up from River Plate this summer. In today's piece, we will find out how good Fernandez really is and if he will be yet another name who eventually moves to the elite in the Premier League. 
He is another talent who was produced by the River Plate youth system as he came up the youth ranks, before getting some experience by going out on loan to Defensa who were the same club who have previously developed the likes of Lisandro Martinez. The season after, Enzo played a role in helping his side win the league, and shortly after, some of the big teams in Europe started to monitor him closely. 
Name: Enzo Fernandez
Age: 21
Position: Midfielder
Nationality: Argentina
Height: 180cm
Preferred Foot: Right
Enzo is a central midfielder who for River Plate was deployed on the right-hand side of a 3-man midfield. As per the below graphic, we can see from the heat map that Fernandez appears to be the case over his season last year and spends most of his time on that right side.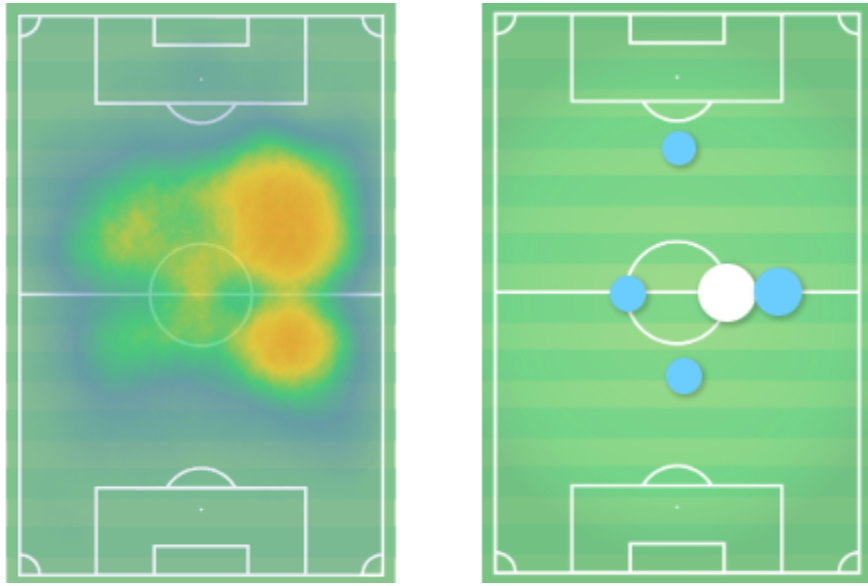 For Benfica, Fernandez has already scored goals for his new side in his first few games. For Benfica he is sitting more central, however, still managing to get up and down the pitch, so looking like a great box-to-box midfielder already. 
Data Analysis
In this section, we will be looking at some data analysis from the Argentinian league from last calendar year, for purely midfielders and how Enzo compares to the other midfielders in the league. Again as per the other data analysis pieces, we have to bear in mind the standard of the league the player is featuring in.  
Firstly, we will be looking at the XG vs. XA rate for the midfielders in the league from the last calendar year. As we can see, Enzo ranked higher for expected goals rather than expected assists. The breakdowns further down, will help paint a better picture of how much this means exactly. 
This time around, this analysis shows Enzo in a different light as he is ranked one of the highest for successful defensive actions and not so higher for successful attacking. This would be contributed due to the fact way River Plate play their football, with the counter-pressing style.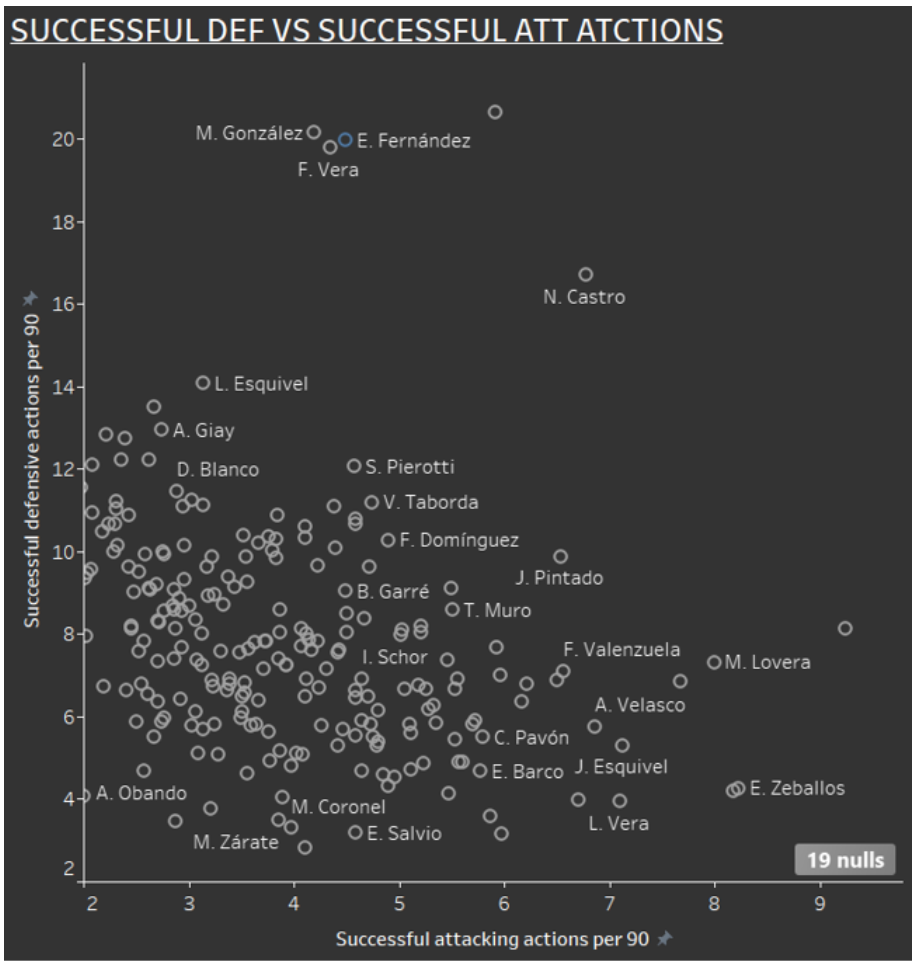 Enzo led the way this time for both progressive passes and through passes per 90. A player who isn't just good at making successful defensive actions but also looked to create plenty for his side, already looking like a super box-to-box.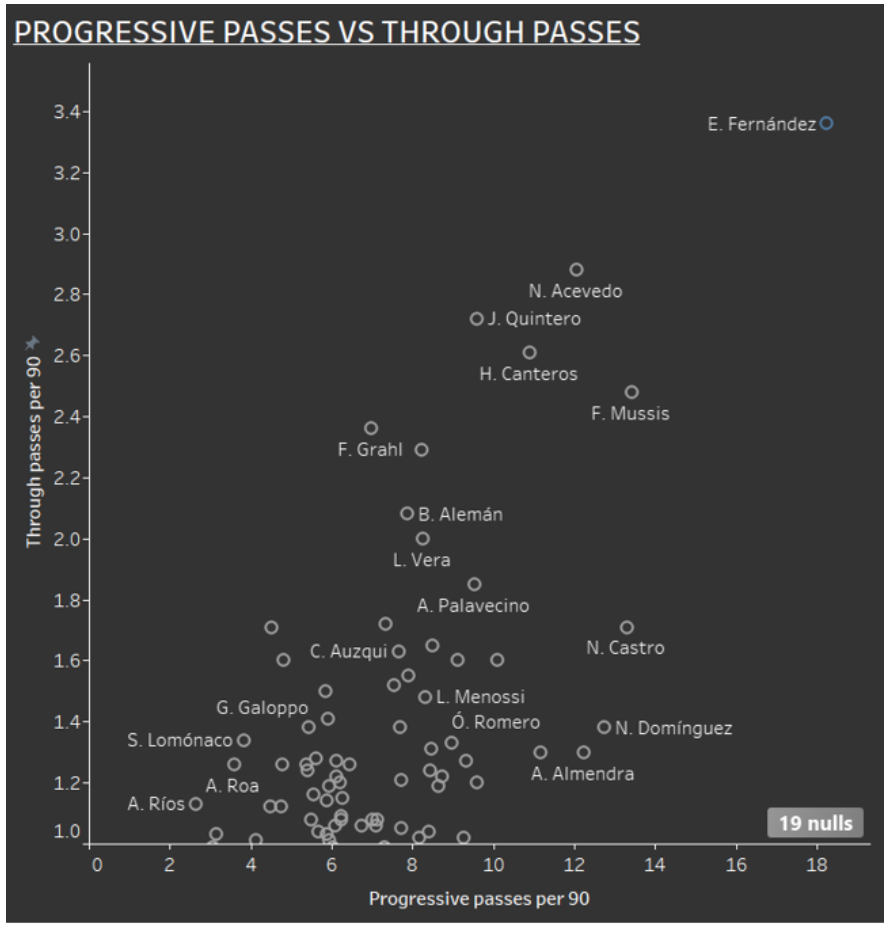 Again, Enzo is ranking well for his defensive duties, this time for interceptions as well as duels. He ranked up 2nd overall, which again demonstrates his box-to-box style, and appears to have a good work ethic on the pitch.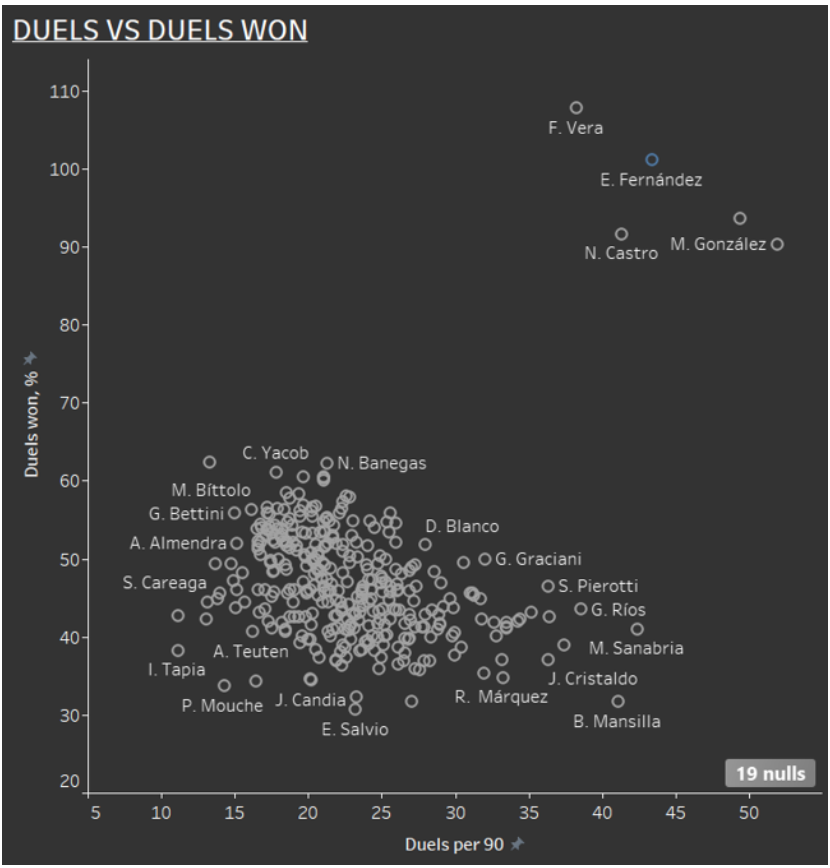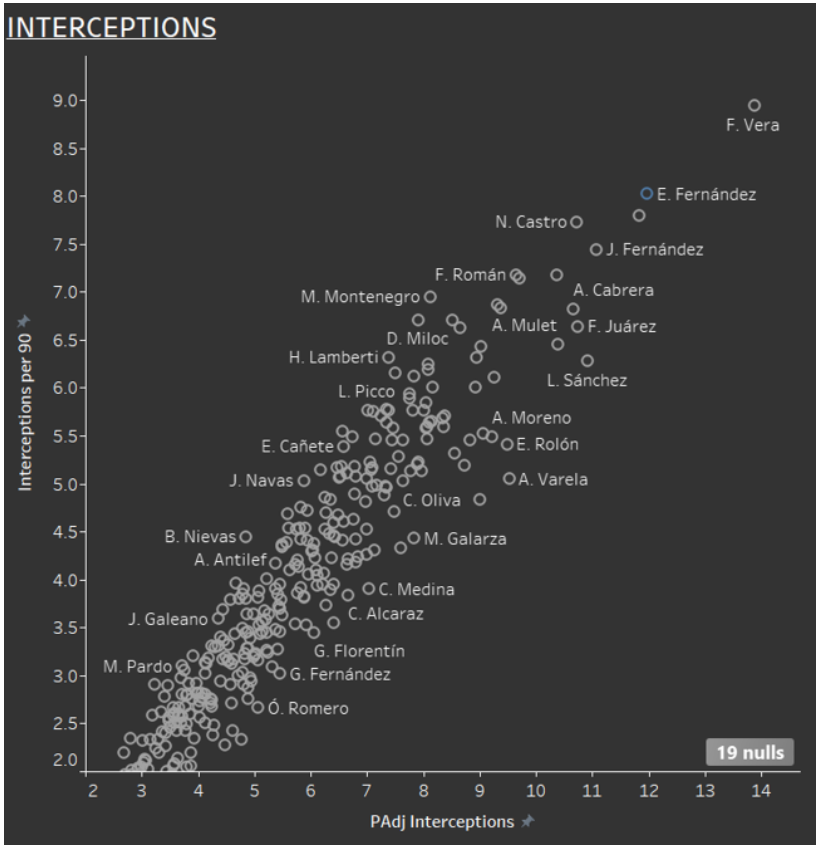 As Enzo was coming up good for his defensive work according to data, I wanted to see how he showed up for his aerial duels. As we can see below, although he didn't make as many aerial duels compared to the rest, he was up there for winning them which makes an interesting read. Another metric that is making this box-to-box midfielder a real asset.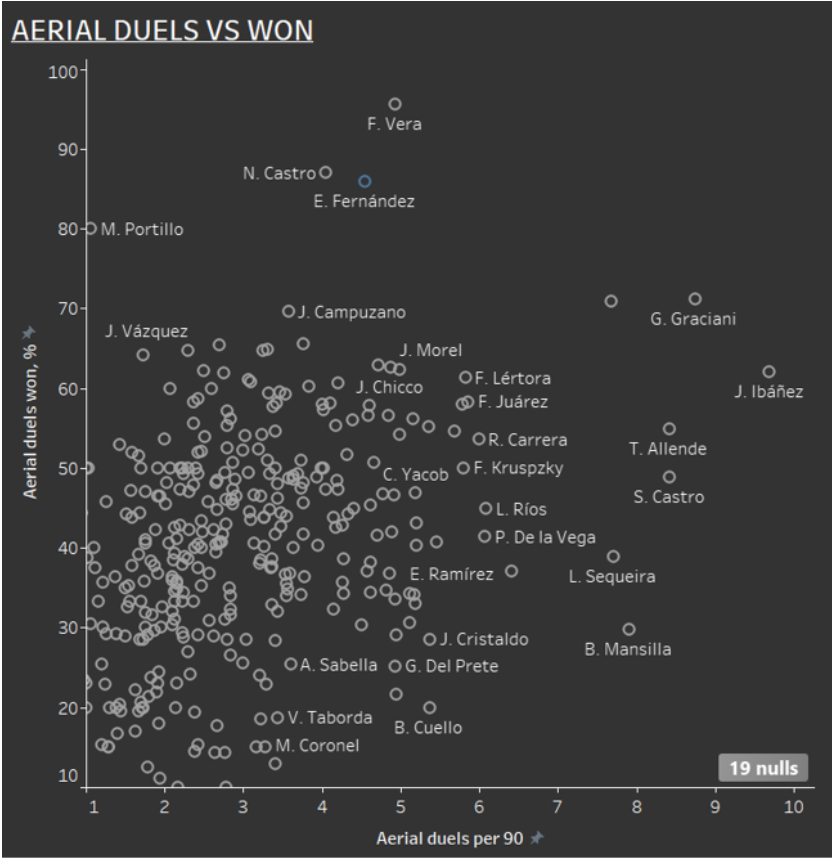 Finally, we take a look at the passing metrics for Enzo compared to the rest of the league's midfielders. As per below, Fernandez is way ahead in terms of his passes per 90 and his accurate passing %.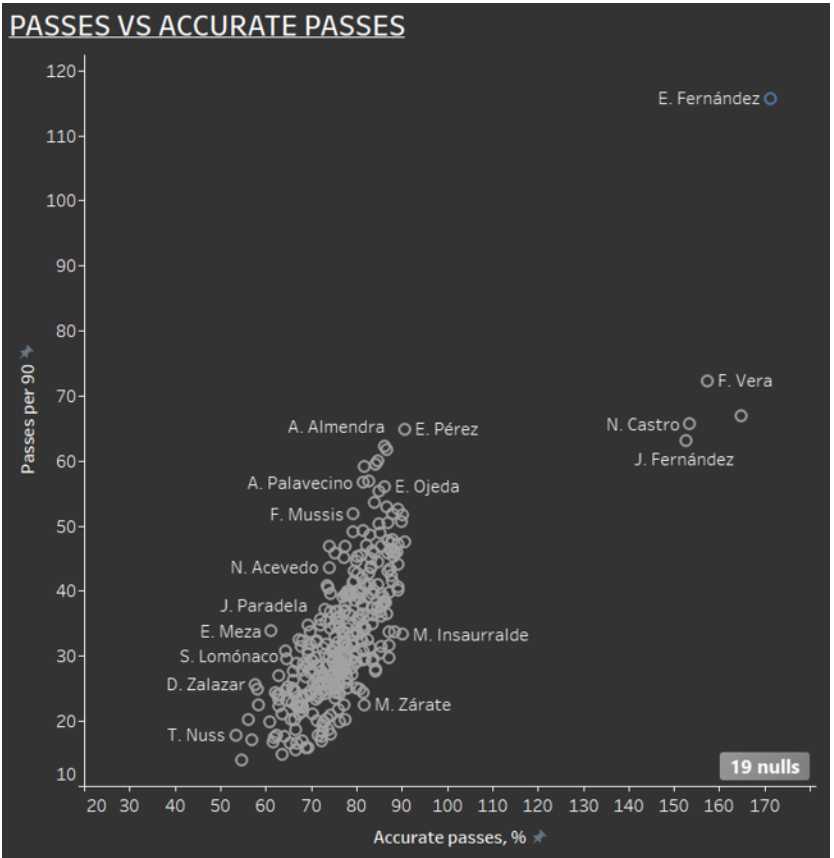 Video Analysis
In this section, we will be providing some examples and backing up the points made in the data analysis section above for Enzo. 
Firstly, here we can see a great strike from Fernandez for his new side. Here we can see the composure to strike the ball the first time and score. What a great start to his life in Portugal, as he has already scored a few goals as mentioned.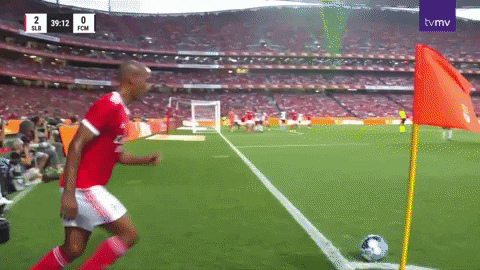 As per the data analysis section, we see that Enzo has some good defensive traits. Here we can see an example of this, as he reads the game well and anticipates the next move from the opposition as he intercepts well.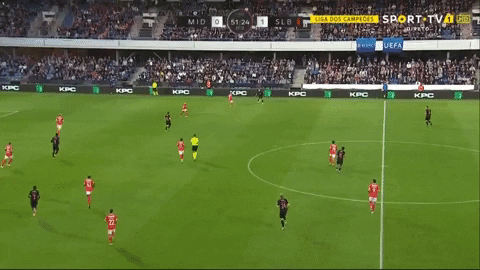 Just expanding on the defensive side of Enzo's game, here we can see another example of how he helps his side. This time, we can see that Fernandez has noticed his defenders are being dragged out of position, so he gets back to a slot in to protect the backline. This type of movement was observed a few times from the clips reviewed for him.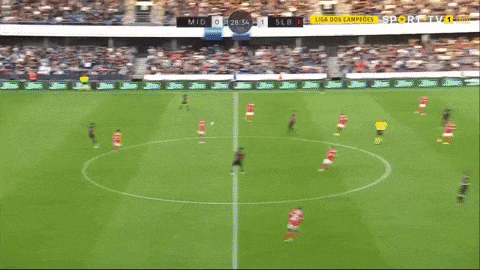 Another thing that was noticed a lot in Enzo's game is this type of passing, where he puts through some great balls for his forward men. Here particularly, we can see that Enzo has the vision to pick out a great pass and a good opportunity to move onto goal.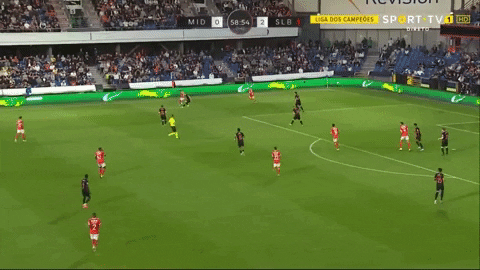 Also, it isn't just his through balls that are effective but also as per below, an example of the passing range that Enzo has in his locker. This time, a lovely long-range pass that picked out the wide man very well.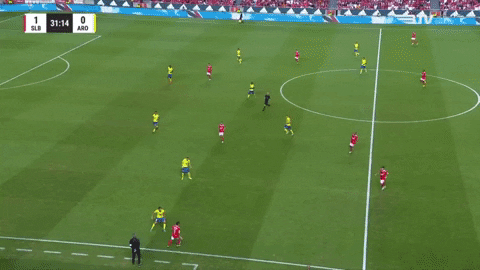 Conclusion
Enzo Fernandez looks to be another player who will have a bright future no doubt. I personally feel that making a move to Portugal was a very good move for him, rather than jumping straight into a Premier League side, as he was previously linked with a few English teams beforehand.
Enzo looks to be a great box-to-box and is off to a great start with his new club, hopefully, he keeps up the good form. With the way the recruitment style of teams in the Premier League has gone lately, with regards to raiding the Liga NOS, we could see the young man in England one day. 
Benfica has picked up a great talent for a decent fee and could be again making a profit in years to come on this signing. It will be interesting to follow Enzo's journey and see if he manages to make the national team for the World Cup.
By: Dhillon Gill / @_iamdhillon
Featured Image: @GabFoligno / Carlos Rodrigues / Getty Images