Enzo Le Fée: Lorient's Midfield Metronome
When it comes to ranking the big leagues based on their competitiveness, it's unlikely that you'd find Ligue 1 at the pinnacle, with The Premier League, La Liga & Serie A a lot more even across the board, making them more cutthroat and in turn more appealing.
We all know about Paris Saint-Germain's recent dominance in France due to the financial backing they enjoy; so the idea of another club sustaining a challenge for the crown looks more unlikely with every passing season, as the gap continues to widen between them and the rest of the teams in the league. 
As a consolation nonetheless, look one step below the throne and you see a picture of constant change, heterogeneity, and upward mobility – a few clubs with more humble balance sheets challenging for the higher spots.
These sides often come armed with largely unknown but exciting talents, displaying bold and distinctive tactics that power them towards a chance at playing Champions League football alongside the Parisian powerhouse as a reward. Examples include Lens since gaining promotion, Monaco from time to time, and the sleeping giants, that are Lyon and Marseille.
This season's new entry seems to fit the bill like no other. FC Lorient. The club only won promotion back into the French top division two seasons ago (finishing 16th in the season past) but right now, they sit in third place, only 5 points behind PSG and even with Lens as we reach the halfway point.
After achieving promotion in 2020, Lorient have finished 16th in Ligue 1 twice, narrowly avoiding relegation under Christophe Pélissier before appointing Régis Le Bris on a three-year contract in June.

Today, they're third in Ligue 1; 3 points behind PSG and 1 behind Marseille. pic.twitter.com/J31ixmm1zu

— Breaking The Lines (@BTLvid) September 21, 2022
It's a position that seems unimaginable for a club with their highest-ever finish in Ligue 1 of seventh and even more impressively with one of the lowest wage bills in the league. One of the biggest reasons for their early success in this campaign is Frenchman Enzo Le Fée's eye-catching form.
Born in 2000, Enzo began his footballing career at local youth club, La Vigilante FL Kéryado, before moving to the Lorient academy at the age of 8 and has been at the club ever since. Through the years he has been a part of the youth national ranks, currently in the annoyingly talented U21 squad that boasts the likes of Wesley Fofana and Amine Gouiri.
Having broken into the Lorient first team at the start of the 19-20 season (made his debut in November 2018), Le Fée has now finally established himself as a key member of Les Merlus's brilliant young team under French manager, Regis Le Bris' guidance.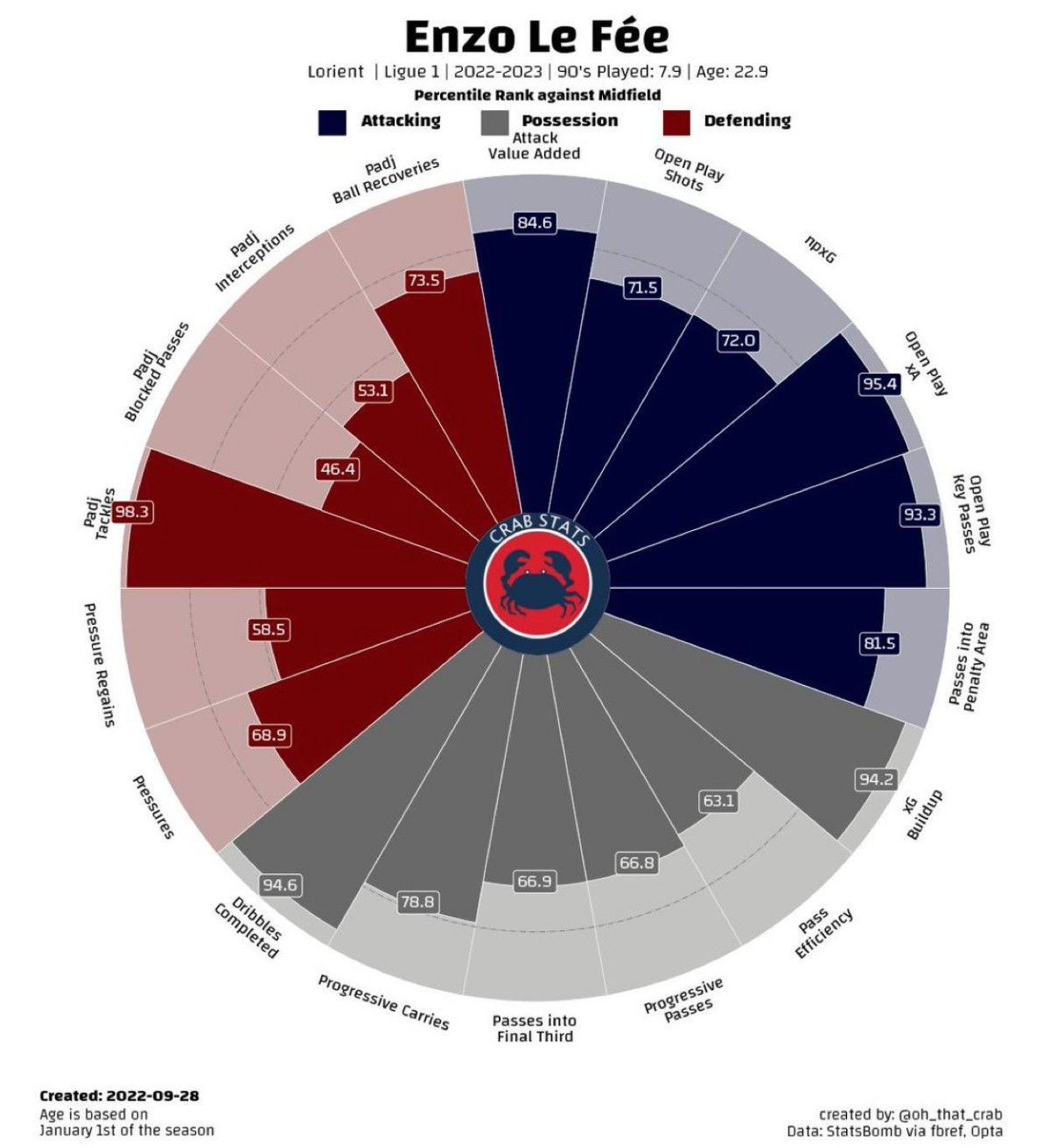 At only 22, he already has 130 appearances under his belt between Ligue 1 and Ligue 2. He fits perfectly into the positional-attacking game of Le Bris, as he is remarkably good going forward, being in the 98th percentile among midfielders in Europe when it comes to creating shot-creating actions (avg 4.28 per 90).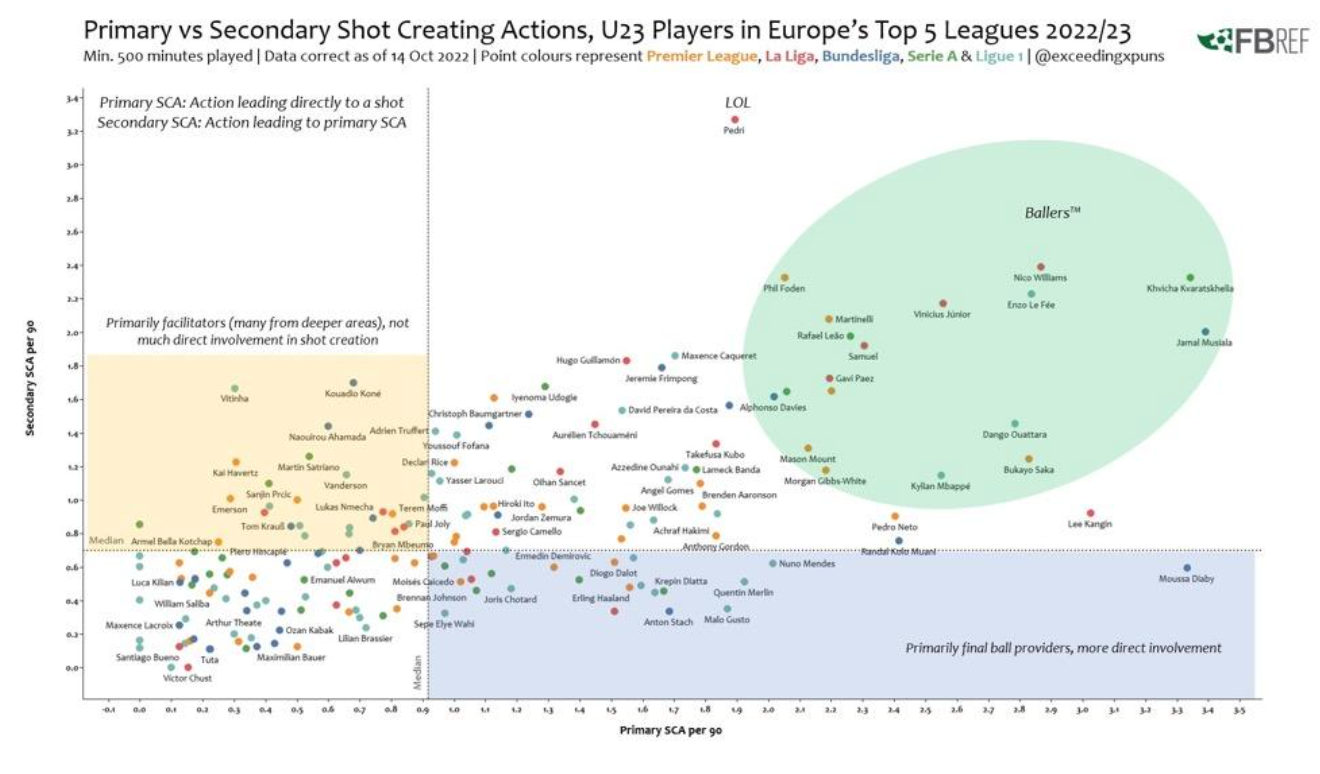 Not only is Enzo endowed with great body orientation with which he often makes the most of, but he also oozes class and confidence on the ball beyond his age, using his low center of gravity exceptionally well (being only 5'7/170cm), hence often likened to stars Marco Verratti and Thiago Alcantara.
 In addition, he is a quick player, especially over a short distance. The advanced midfielder shows a very good ability to accelerate, decelerate, and then quickly shift again (in the same direction) without taking too much time or losing much momentum. This makes him quite a burden to deal with, especially in 1v1 situations. Furthermore, he possesses a pretty impressive amount of pace over long distances, though his endurance could still improve.
In years past his lack of stamina has been clear to see, with him not being able to maintain his speed over long distances constantly, however, Enzo looks to have worked on that aspect of his game, completing 1068 minutes in 12 games thus far in the league.
Anyhow, Le Fée usually makes up for this by picking his runs or the right moments to press intelligently. He is not a player who typically tracks back and will only do so if his side of the pitch is being attacked and outnumbered. He does show commitment to the game by working hard, covering a good amount of area on the pitch, and actively contributes in every phase of play.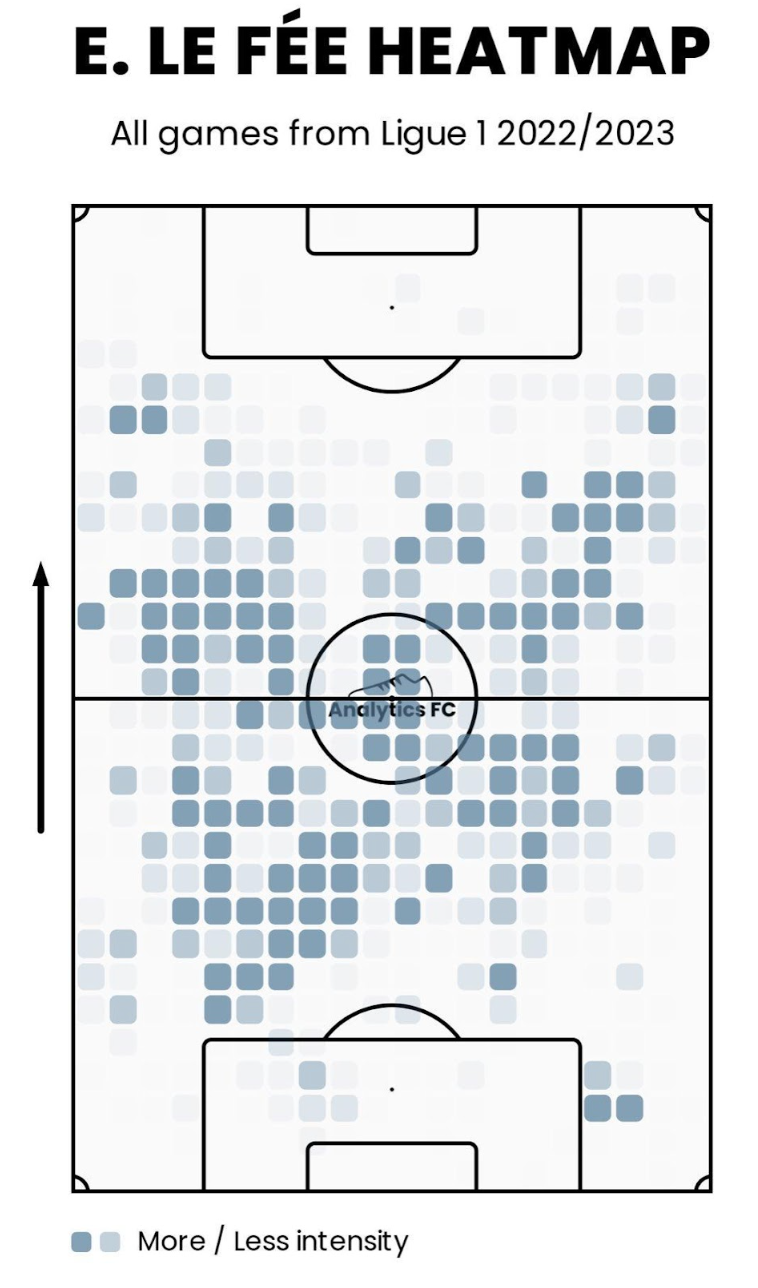 In fact, an underrated part of his game is his efficiency out of possession, having the highest win rate when it comes to ground duels and the second most tackles won across all of Ligue 1 this season, winning 3.32 tackles per 90.
This is often a beneficial asset for Le Bris' men to kick-start counterattacks with his disciplined defensive effort helping in retaining the ball. Although at times he fouls frequently, he fouls smartly. Obstructing the opposition's momentum, interrupting counterattacks or preventing dangerous transitions.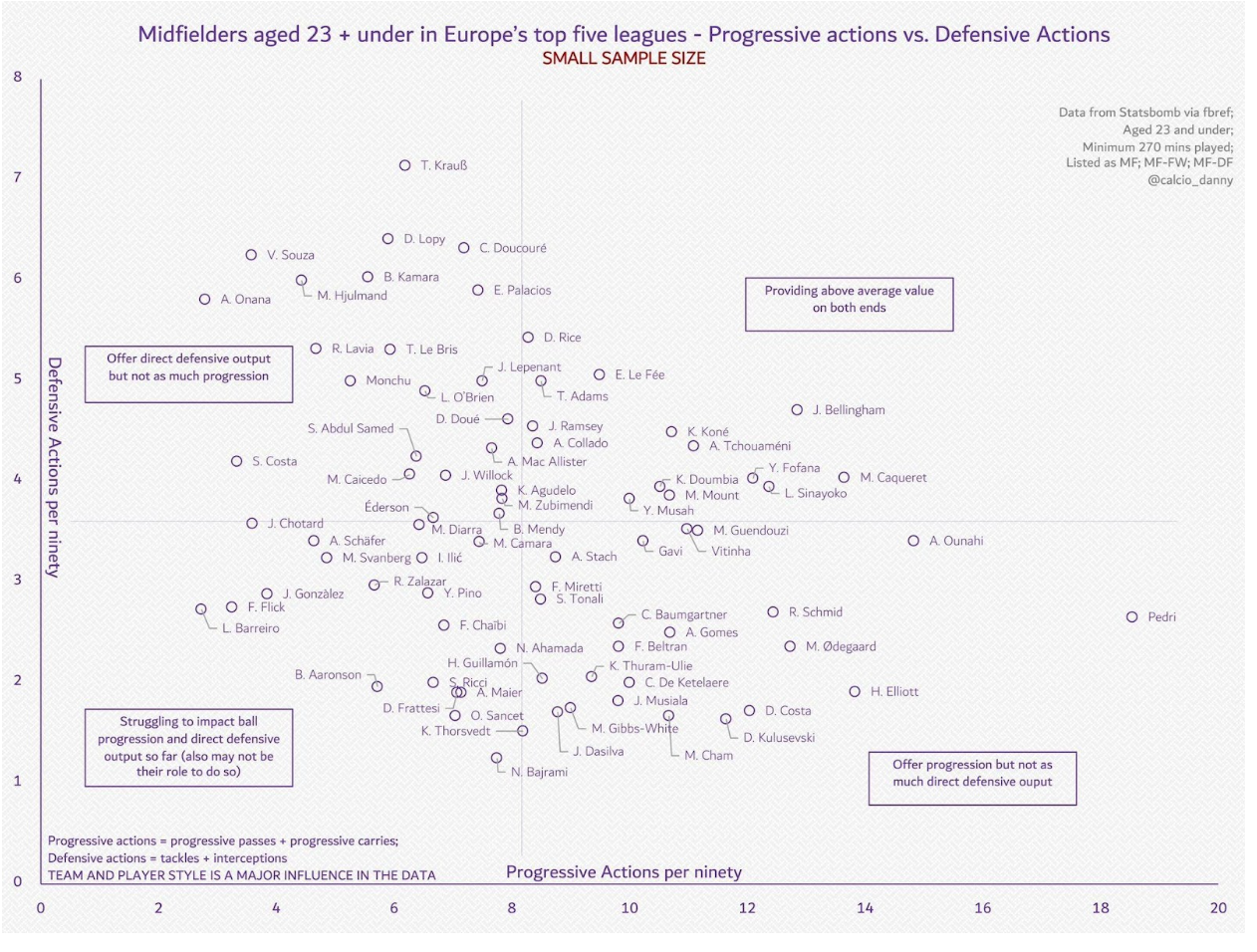 Another offensive metric he dominates is dribbles completed, managing to do so around 1.77 times per game (the fifth most in the league). Enzo's vision of the spaces allows him to dribble comfortably in any part of the field to draw pressure on himself. It poses a great threat as he is able to find the free man between the lines consistently.
Adding to his excellent ability to successfully execute in the final third, he is also a great progressive passer despite often receiving in advanced areas. His ability to shield the ball well allows him to protect the ball even from more physically gifted opponents. Frankly, Le Fée is one of the best creators in Ligue 1 for xA and Key Passes per 90.
When it comes to shooting, Le Fée actually has a pretty good ball-striking technique which can be seen especially from set pieces, scoring directly from one a couple of weeks back. He also likes to try shots from long range, however, he seems to lack accuracy in most of these shots despite hitting them with a pretty good amount of power and technique. An area of his game that could potentially take him to the next level if adequately improved on. The signs look promising though as his all-around game has taken a significant leap from last year.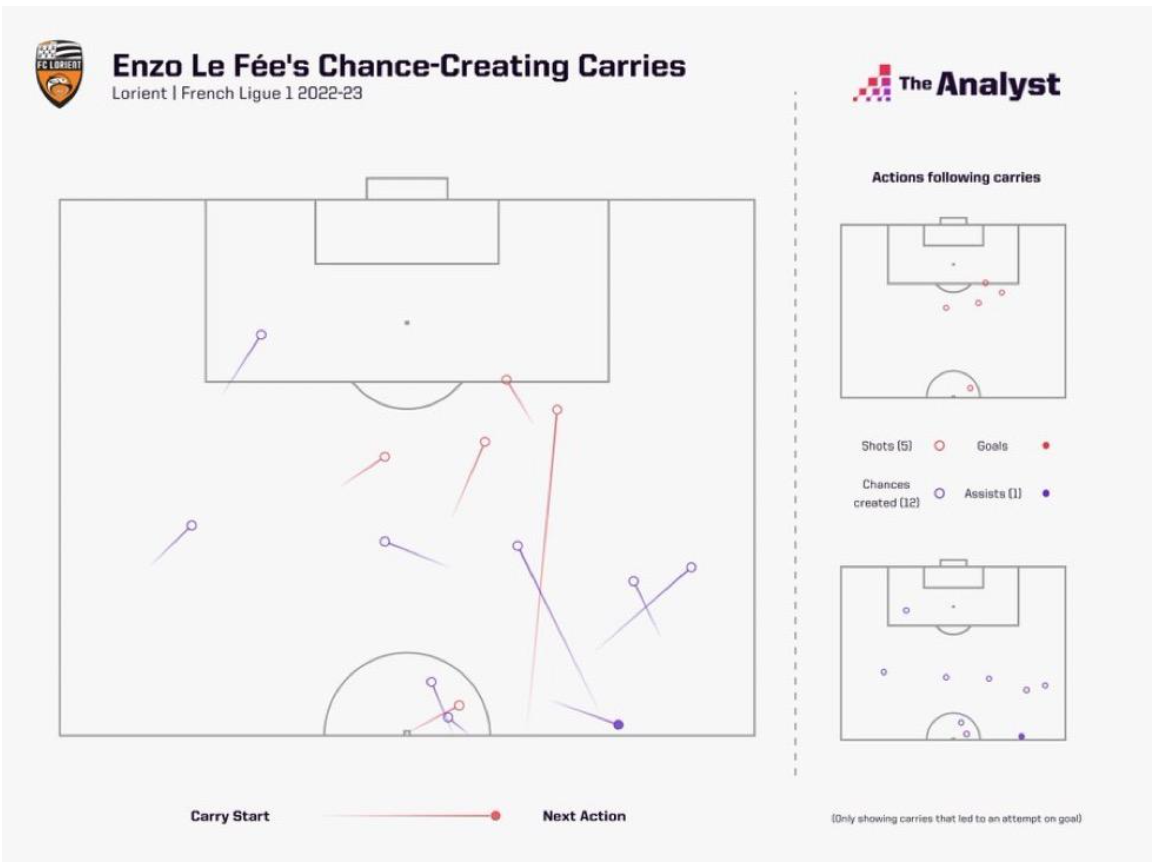 Last season he mainly played in the center of a 4-2-3-1 or in a two-man midfield but by the admission of his coach, Enzo is equally effective in the defensive midfield role in the 4-4-2 or as a deep-lying playmaker in a 4-2-3-1 formation, dropping down to offer a passing option for the centre-back before, in turn, distributing the ball towards more advanced players.
He seems to have the tendency of playing diagonal balls (usually towards the left flank due to him being mainly right-footed) upon receiving the ball in the midfield. These tendencies in his positioning and movements show not only superior spatial and positional awareness but also good tactical understanding and decision-making.
This seems to be the season Le Fée announces himself to the rest of the world, if he can consistently perform at the level he's started the 22/23 campaign on that is. As far as teams that could suit his elegant yet effective style of play, clubs like Napoli (who play heavily possession-based football) or even Dortmund (could be a massive asset for the German giants as he is very versatile and can adapt to the constant transitions in the Bundesliga). With two years left on his current deals, it will be intriguing to see which clubs are linked to one of Europe's finest young talents.
By: Vuyo Reggie Ndebele / @RegaloJnr
Featured Image: @GabFoligno / Icon Sport