Eric Maxim Choupo-Moting's Renaissance at Bayern Munich
When you mention Eric Maxim Choupo-Moting to casuals or non-Bundesliga watchers, the rhetoric would still be his failed stint at Stoke City or how he has the best agent because of how he subsequently got moves to PSG or Bayern. However, the rise of Choupo-Moting as one of the key cogs in the Bayern machine this season has been nothing short of remarkable.
Bayern create the most chances in a top 5 league where the most chances are created and most goals are scored. This allowed Robert Lewandowski to get Messi/Ronaldo-esque numbers. Replacing a striker like this, who not only scores a plethora of goals but has also overperformed expected goals in 4 of his last 5 seasons at Bayern (including by 3.3 in 19-20 and 9.7 in 20-21), costs 9 figure sums. 
In the summer, Bayern looked long and hard at Stuttgart's Sasa Kalajdzic as a typical target man who runners can play off of in addition to signing Sadio Mane from Liverpool. So the bosses, Oliver Kahn and Hasan Salihamidzic had an idea that a target man could be crucial to Bayern's success. However, Bayern were eventually priced out for Kalajdzic.
Following that, the main theme from Nagelsmann, Kahn and Salihamidzic's interviews were that they were not going to sign a striker and that Sadio Mane could play that position. Salihamidzic on whether Bayern are breaking the tradition of having a classic striker: "It's a question of the market. When there's no classic striker that is affordable and you have the chance to sign someone like Mane, it was worth rethinking our plans."
Choupo-Moting was barely getting a mention by Bayern and the fans alike. And with good reason too. He only scored a solitary goal in all competitions against bottom-of-the-table Greuther Furth between late October and the end of the season.
The difference in his goal threat and positions taken up is made clear when we compare his numbers from the respective time frames (as shown above). But just exactly how has this happened?
Bayern went into the 22-23 season with a hybrid 4-2-2-2/4-2-3-1 system where one of the forwards dropped in to link up. This was, in theory, to play Mane and Thomas Muller furthest forward, where they could play in half spaces or occupy defenders in the box. This would allow runners (who were Serge Gnabry and Jamal Musiala at the start) space coming from wider areas. There would obviously be constant rotation as all 4 players have played both roles.
It really looked like Nagelsmann had to pick 4 of 6 players (Muller, Mane, Gnabry for the 2 upfront positions, Leroy Sane, Musiala as the 2 players in behind and Kingsley Coman as the only natural winger). This system worked in the initial games vs Leipzig, Frankfurt, Wolfsburg, Bochum and even Gladbach (where Bayern only drew because future recruit Yann Sommer made the most saves in a Bundesliga match ever with 19).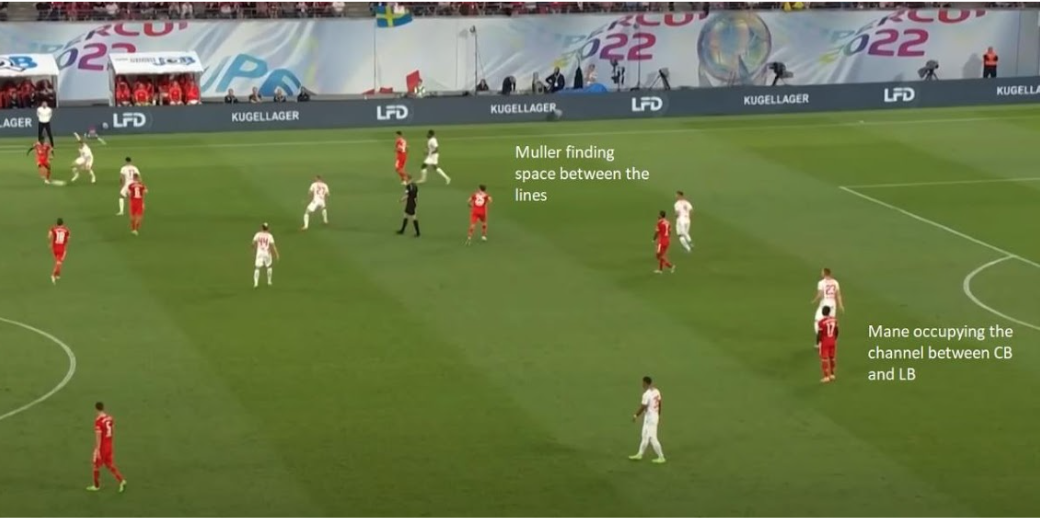 In the above pic, Muller and Gnabry were serving as the front 2 with Muller regularly coming short to link up play.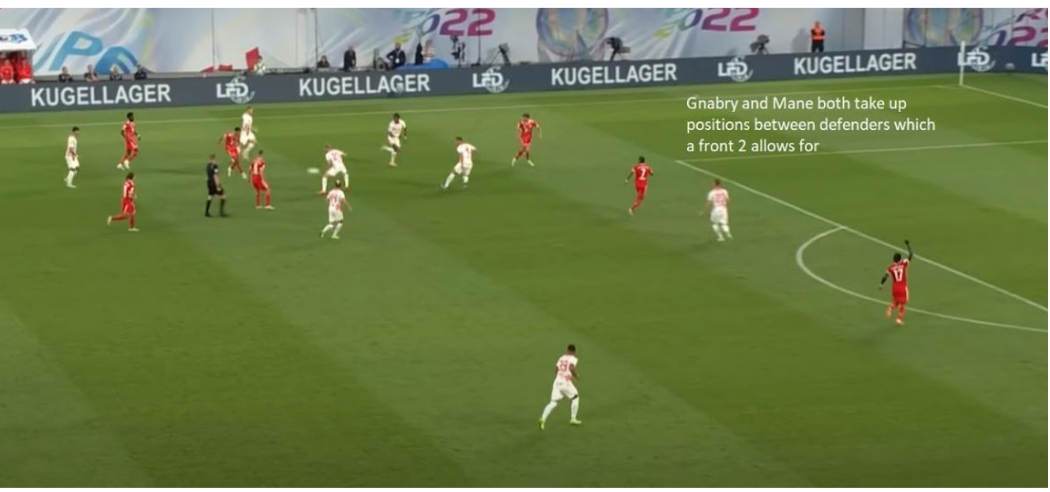 As Musiala plays the pass, Muller and Gnabry draw to both CBs towards them allowing Mane space from which he scores.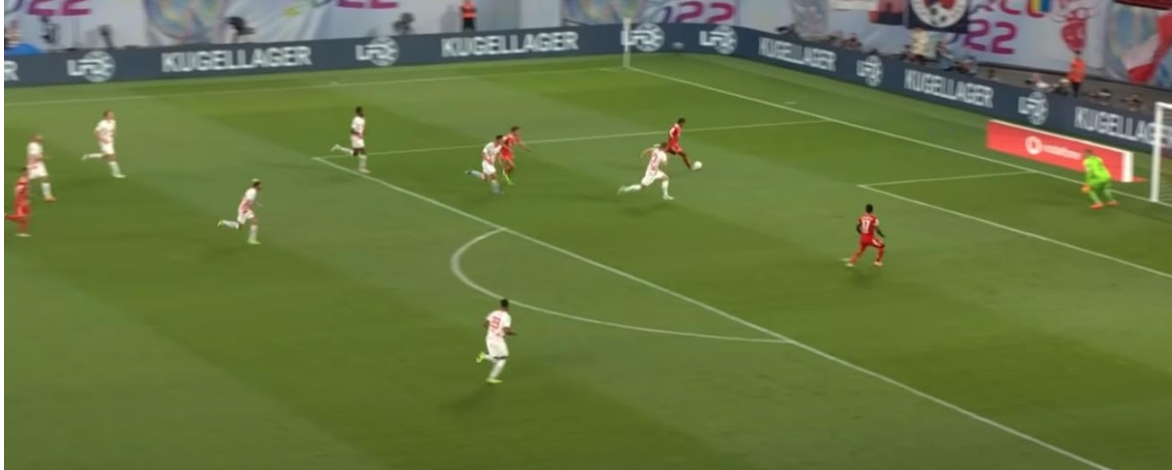 There are more instances of patterns like these in the games mentioned. 

(vs Frankfurt: Mane linking up from deep. Musiala in between defenders. Muller and Gnabry this time on the outside)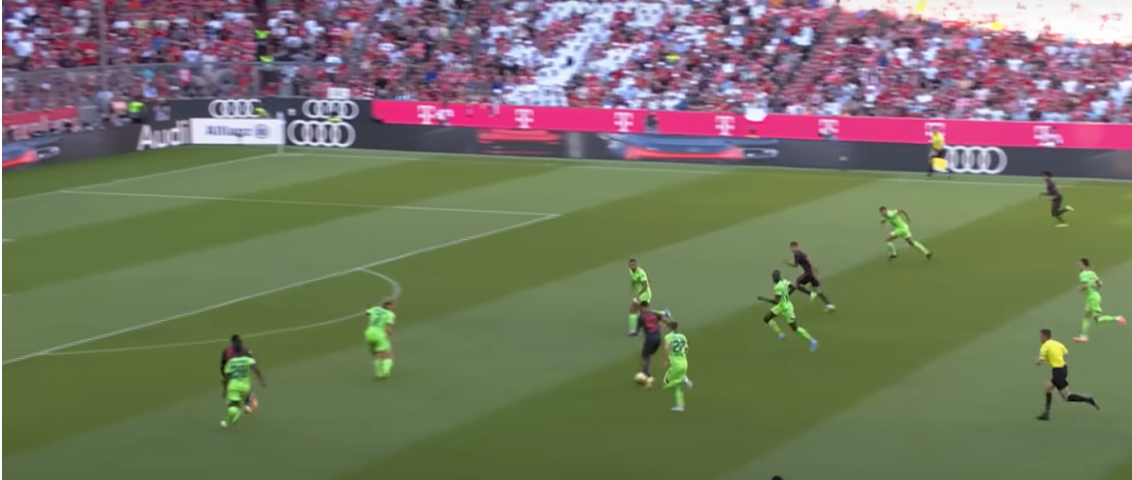 (vs Wolfsburg: Musiala progressing the ball. Muller running in behind CB and LB. Mane from wide left making a dart into the box)
However, Bayern then went into 4 straight games vs deeper blocks on average (Gladbach, Union, Stuttgart and Augsburg). The football in the first 3 games was still brilliant with Bayern creating chance on chance but lacked a clinical edge. 

(Scoreline and Xg values via FBRef)
Bayern clearly beat their opposition on Xg while underperforming Xg by 2.5 in just 3 games. This made sense as Sane, Gnabry, Muller, Coman had never been prolific goalscorers (at least in the last 4-5 seasons). Mane's impact dropped off in this period too. In the game vs Augsburg, Bayern weren't even able to create chances using this system and lost 1-0. This was a game where Manuel Neuer was a bigger threat in the box in the last 2 minutes than any of the other forwards were for the 90 minutes. 
Being so profligate in front of goal encourages opponents even more and with Bayern struggling with set pieces, what should have been at least 3 wins turned into 3 draws and 1 defeat which is unacceptable for Bayern in the Bundesliga in 2022. Another game vs Dortmund where the system did not yield results and where a 2-goal lead was thrown away was the final straw.
Introduction of Choupo-Moting:
A game vs high-flying and another deep block in Freiburg seemed like a banana skin. Choupo-Moting was included in the starting XI to many people's surprise but it just felt like a normal rotation from Julian Nagelsmann. It was a lot more than that, however. Bayern reverted back to the tried and tested 4-2-3-1 with a target man and with Leon Goretzka making runs from deep.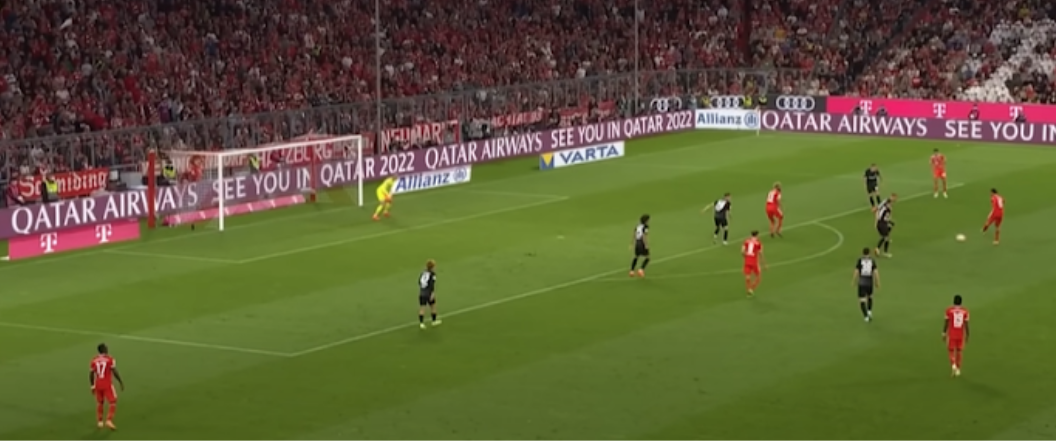 (vs Freiburg: Sane playing as the 10 with 2 wide players and Choupo-Moting. A play from which Choupo scores from a tight angle)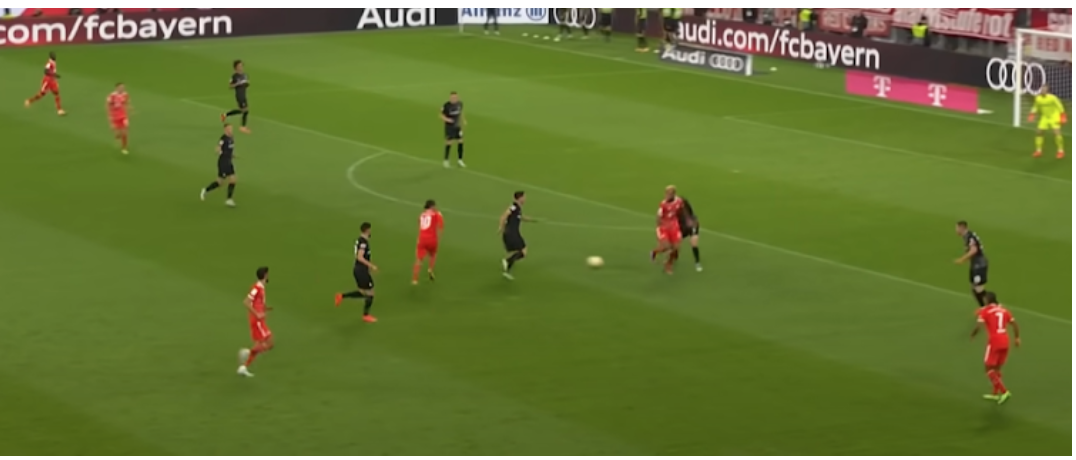 (vs Freiburg: Choupo-Moting linking up with Sane from which he scores)
Choupo-Moting ended the game with a goal and assist in a 5-0 win and it was clear that with the impact he had on the game and on a watertight Freiburg defence, he could not be dropped immediately. Bayern then went to Augsburg (the team that deservedly beat Bayern earlier) in the DFB Pokal with the same system. Choupo-Moting went 1 better with 2 goals, an assist and an overall MOTM performance.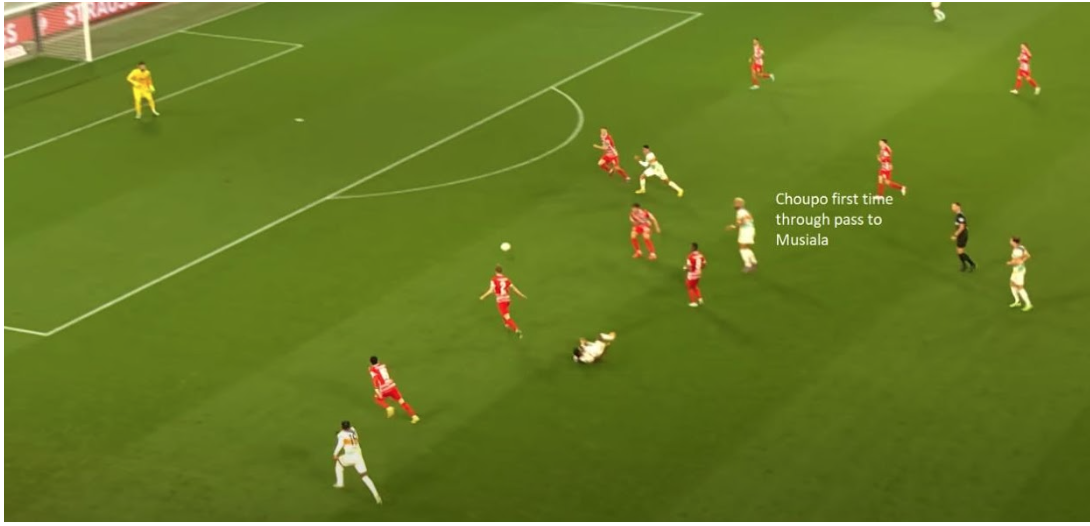 (vs Augsburg: Another instance of Choupo-Moting's link-up which was a pre-assist as well)
The bosses recognized how important being clinical and scoring important goals was and he pretty much became an automatic starter. Hasan Salihamidzic: "The first 10 minutes were difficult, then it was okay. We played well in the second half. Choupo played a good game again. Converting chances is important for us."
Nagelsmann: "In general, nobody is a guaranteed starter, we want to keep up the competition. But he made a case for himself today. The second goal was a classic #9 goal, he was in exactly the right place."
Choupo-Moting had taken his chance. He went on a run of scoring in 7 straight games in all competitions and in 8 of the 9 games before the World Cup break. These goals included typical striker finishes from close to goal (which Bayern had missed) but also goals from a lot of low-probability positions (tight angles and long-range efforts).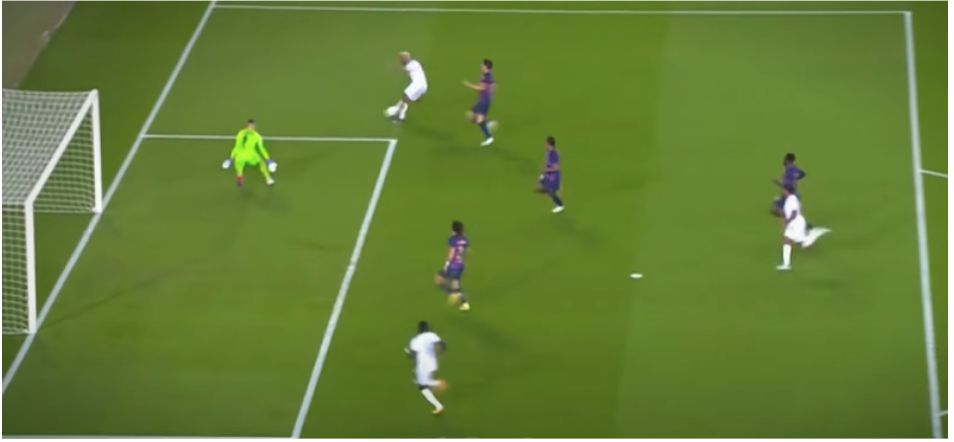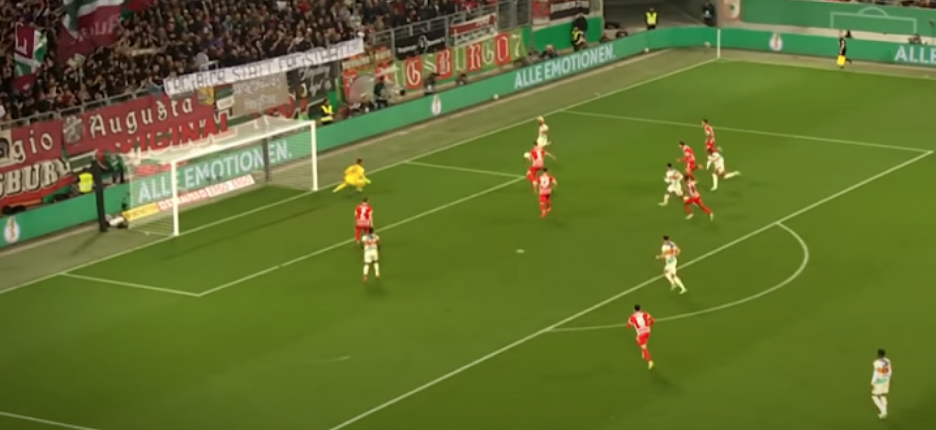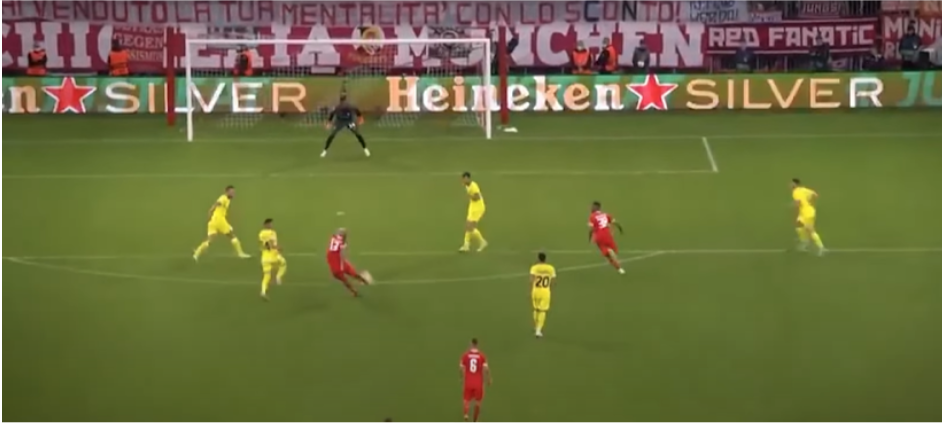 In fact, he overperformed xG in 8 of the 9 games mentioned above which indicated that this was not just a typical poacher who got a lot of shots in from good positions. The eye test backs that up.
Impact on Bayern:
The impact Choupo-Moting has had on Bayern's season has been profound on so many different levels. With a target man in the side, Bayern no longer had to score the perfect goal to break down opponents (especially those who sit back). There was always an alternate route to goal by playing it early and direct.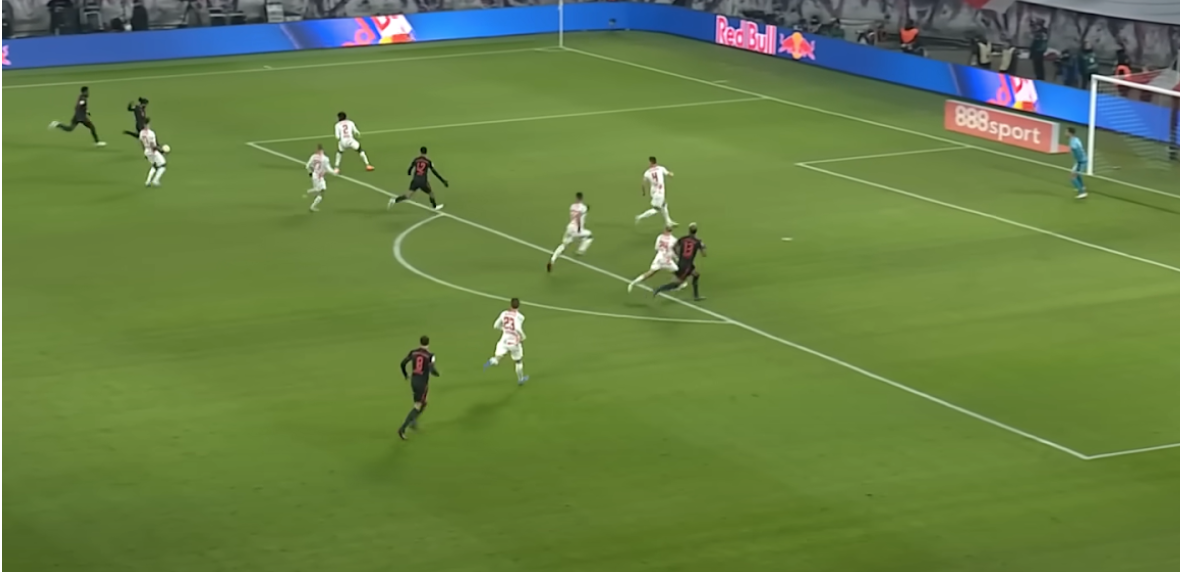 (Leipzig game: Gnabry can play the ball early in aerial instead of having to play it along the turf)
Another thing Choupo-Moting really helped with was being a genuine out-ball. So when teams pressed Bayern high up the field, the goalkeeper/defenders can bypass the midfield and press for Choupo-Moting to knock balls down for the oncoming runners thereby beating a huge part of the press. 
The game vs Barcelona at home was the best example of this where in the absence of an out-ball, Barcelona pressed Bayern really high up the field forcing Bayern to play long and lose the ball. Bayern were completely outplayed in that first half and were caught off guard. This is reflected in the high number of long passes and the low completion % of these long passes.

By occupying defenders, it created that little bit more space for players like Musiala, Sane, Mane, Gnabry etc with which they can be exponentially more lethal. It is also clear to see how the xG and points per game values have improved drastically with Bayern perfect until the World Cup.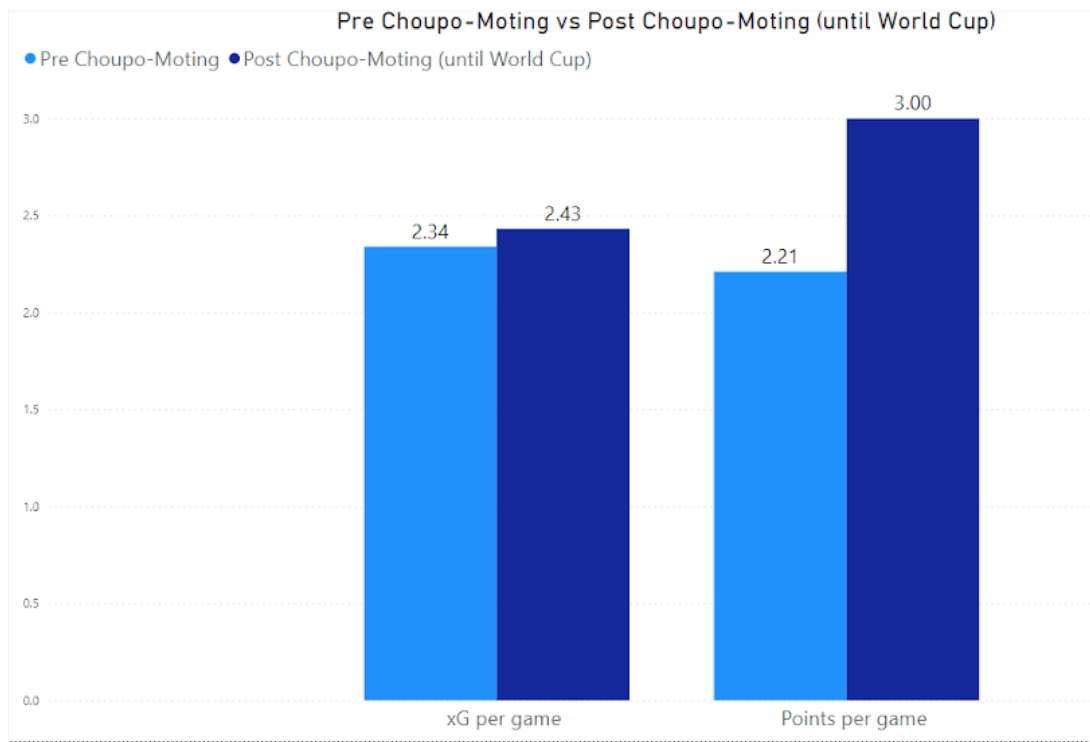 Data: FBRef
Post-World Cup Blues
Choupo-Moting impressed in his Bayern spell so much that Cameroon had no choice but to find a spot for him (even in place of talisman Vincent Aboubakar). He scored a goal vs Serbia too. However, 70-80% Bayern players came out of the World Cup with a bad morale (losing in the final, unexpected group stage exits, skiing injuries, ACL injuries, covid related complications etc) which was reflected in the 3 Bundesliga draws that followed the long 3-month winter break. All of the attack looked flat and rusty including Choupo-Moting (despite the fact that he scored a very good strikers goal vs Leipzig).
The Cameroonian forward's expected goals per 90 dipped to 0.36 per game from the 0.61 per game in the previous 7 games and in general he has not been as involved in play as before. Bayern would hope that his form picks up because a firing Choupo-Moting is an asset in a lot of ways. Either way, the one thing Choupo-Moting has done is shown every football fan and the Bayern board how the current squad plays discernibly better with an out-and-out striker.
By: Aniket Raman / @SweeperKeeperMN
Featured Image: @GabFoligno / Alexander Hassenstein / Getty Images