Fikayo Tomori's Redemption in Milan
AC Milan fans will yearn for the day they see their starting eleven for more than two matches. The Rossoneri have been injury-ravaged for the entire season. The endurance and grit shown by Milan is not to be underestimated in the context of their 2nd position in the league and encouraging performance against Manchester United in the last 16 of the Europa League, where they really should've won. 
They have rekindled the spirit and tenacity of great Milan teams in years gone by, the rich history of the Milanisti is being upheld, and for the first time in a long time, Milan fans have a team they can rely on to give it their all, even when the chips are down. Having said that, club director and icon Paolo Maldini and the rest of the Milan hierarchy searched in January to aid a team in an inescapable injury crisis.
Enter Fikayo Tomori, fresh off being deemed surplus to requirements by Frank Lampard at Chelsea, Milan snapped him up on a loan deal till the end of season, if Tomori had any doubts at moving to Italy at all, they were quelled by a personal phone call from Maldini himself, what defender would say no with Paolo on the other end of the line?
As it so happens Tomori has slotted in seamlessly in defence. Palpably he looks like he has been playing in the Milan backline for years, that too with a cigar in his mouth. The confidence and steely calm exuberated in his performances show he has arrived with the mind set of proving his worth, wanting to grasp the opportunity to prove to Chelsea they were erroneous in sending him on loan and allowing Milan the chance to permanently secure his signature. 
His reading of the ball has been highly impressive; there hasn't been a rush of blood or a secular moment of panic. His clearances aren't just wafted into Row Z, there is a guile to them. Patently assured in his own ability, so much so that he is comfortable enough to lull attackers into a false sense of security when they have the opportunity to score.


After coming off the bench for an injured Simon Kjær in a Coppa Italia fixture against Inter, Tomori made his full debut in a 2-1 victory over Bologna. We see an example of his impressive defensive skills in this example against Bologna; Nicola Sansone sets up Nicolás Domínguez with a pass in space, and Tomori is forced to defend a 2v1 situation against the Argentine midfielder and Musa Barrow.
Tomori makes sure to block off the passing lane to the Gambian striker whilst simultaneously pressing Domínguez and forcing a hurried shot. Gianluigi Donnarumma does well to stop the shot and clear it out of danger, but he may not have been as lucky if it weren't for Tomori's impressive positional awareness, recovery speed, and timing.
Because of his pace, he can afford to wait until the last minute and not lunge in picking the appropriate time to make a tackle as his blistering pace ensures this. He resembles a Rolls-Royce Rio Ferdinand-esque swagger about him, effortless and quick. Timing of a challenge is key as a centre-back and Tomori always appears to have plenty of it to nip in at the opportune moment.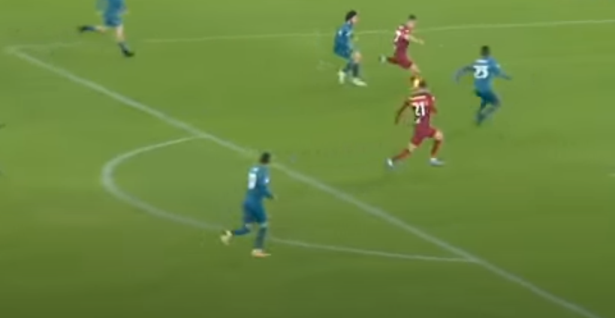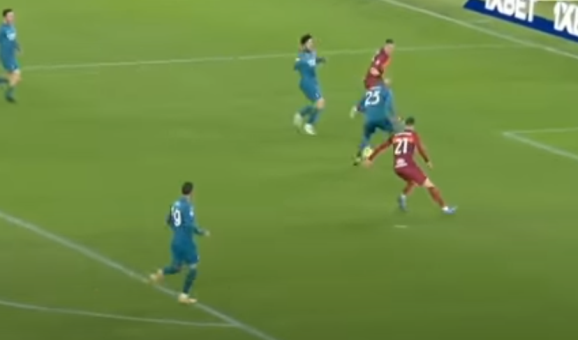 We can see another example of this in Milan's 2-1 victory over Roma on February 28. Leonardo Spinazzola finds Jordan Veretout in space with a through ball, but as the French midfielder attempts to thread Borja Mayoral by the spot, his pass is calmly stopped and recycled by Tomori. In total, Tomori would finish the match with six clearances, two blocked shots, and one interception, and he nearly opened the scoring, but it was overruled due to offsides.
Tomori also isn't afraid to take the game to his strikers and get up close and tight if they come to retain the ball in deep-lying positions. As seen below, Tomori's excellent use of his physical presence is utilised to exhibit he isn't afraid of this new challenge in this new league but is rather eager to win possession up the pitch and get Milan moving.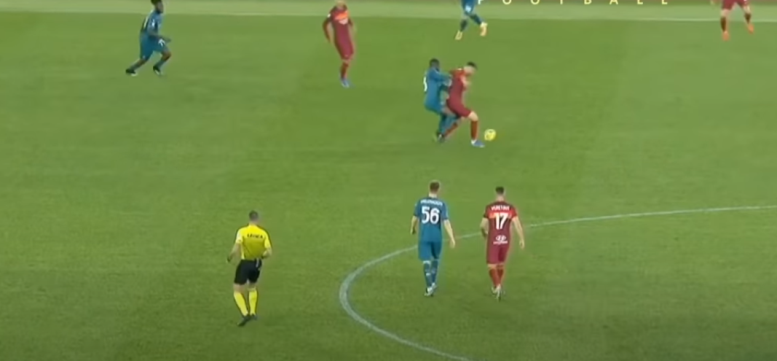 Apart from the recent 0-1 loss to Napoli, Milan have won all five of the games that Tomori has started in, partnering both Kjær and Alessio Romagnoli in defense, aside from the Napoli match where he played alongside Matteo Gabbia. A bold move from manager Stefano Pioli was dropping captain Romagnoli against one of Serie A's best attacks in Roma, but Tomori repaid his manager's faith, finessing the likes of Henrikh Mkhitaryan, Lorenzo Pellegrini and Borja Mayoral. 
To combine with motoring speed, a rugged physical presence and a cool head on his shoulders, his passing completion stands at 87% as he has bought into this Milan team playing on the front foot. Particularly it must be said, against Manchester United, where he defended less but his passing was quintessential. 
At the moment, Tomori fits Milan like a glove, there are normally a whole host of issues to deal with when moving to a new country in a new league where you don't speak the language. However, Tomori is a player who is extremely vocal on the pitch for Milan, there is a fearlessness about the youngster to admire, you don't feel like you are watching 'Tomori the player on loan' you are observing 'Tomori – Milan Centre back for years to come.'
It is extremely early days, and against one of Serie A's most dangerous attacks in Napoli, Tomori was really tested and looked shaky at times, although Matteo Politano's goal did come from the opposite flank. He will also have ample time to learn in a league that has the most goals scored out of the top five leagues in Europe. Regardless, Tomori's start to life may result in a late charge for an England place in the Euros as he has given himself a great platform to build on.
Tomori will certainly have caught the eye of Chelsea manager Thomas Tuchel, but Milan will be tempted to take up their purchase option of £25 million as well as £5 million in add-ons if he maintains his current level. While the Rossoneri have stuttered in form in recent weeks, they still remain in second place and are chasing their first Champions League qualification since 2013 thanks in large part to the 23-year-old's performances in the heart of defence.
By: Dharnish Iqbal
Featured Image: @GabFoligno / Nicolò Campo / Light Rocket