Filip Kostić – The Soaring Serbian Eagle
Eintracht Frankfurt are flying quite high right now. The Eagles' 2-1 victory over Borussia Dortmund has put them seven points clear in 4th spot in the Bundesliga, so they are quite handily placed to qualify for Champions League football next season.
If they were to do so, it would only be their second entry into Europe's premier club competition in their history, with the first coming in 1959/60 when they went all the way to the European Cup finals but were ultimately beaten by Real Madrid, at a time when the Bundesliga did not even exist. Adi Hütter is, therefore, on course to create history with this Frankfurt side, and one of his most important players has been Filip Kostić.
The Serbian international was signed in the summer of 2018, which was when the Austrian manager replaced the Bayern-bound Niko Kovač in Frankfurt. The initial deal was a one-year loan from Hamburg, but a successful campaign including 10 goals and 12 assists in the Bundesliga and Europa League saw Kostić join on a permanent deal for just €6 million. That proved to be an absolute bargain, as he added six goals and 14 assists in those two competitions in 2019/20, while already matching his Bundesliga tally of four goals and 11 assists from last season in 2020/21.
Kostić, much like Frankfurt, got off to a slow start this season with just one assist in his first 11 appearances, missing the entirety of October due to an injury. He found his form at the right time, though, racking up 14 goal involvements in his last 12 outings. So, let us take a look at his qualities that make him such a consistent offensive threat for Frankfurt:
Attacking Positioning
Adi Hütter has alternated between a 3-4-2-1 and a 3-4-1-2 this season, but in either case, Filip Kostić's role remains the same. Erik Durm typically plays on the right flank, whilst Kostić operates on the left and combines with the likes of André Silva, Amin Younes, Luka Jović and Daichi Kamara in Die Adler's attack.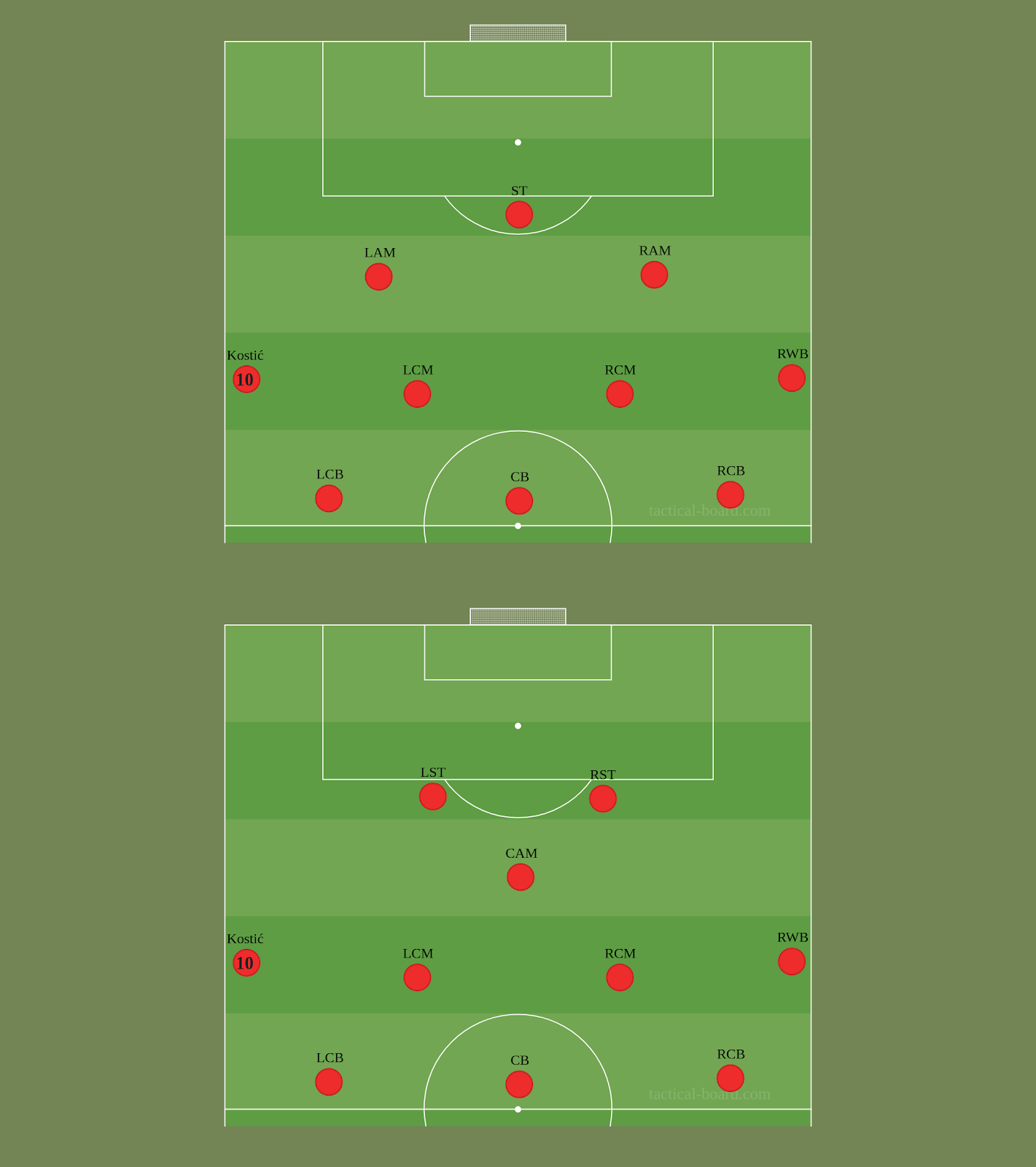 The Serbian international is used as a left wing-back, and he has the license to get far forward in possession. Whilst Younes typically cuts inside, Kostić can push forward and provide width on the left flank and deliver crosses into the box.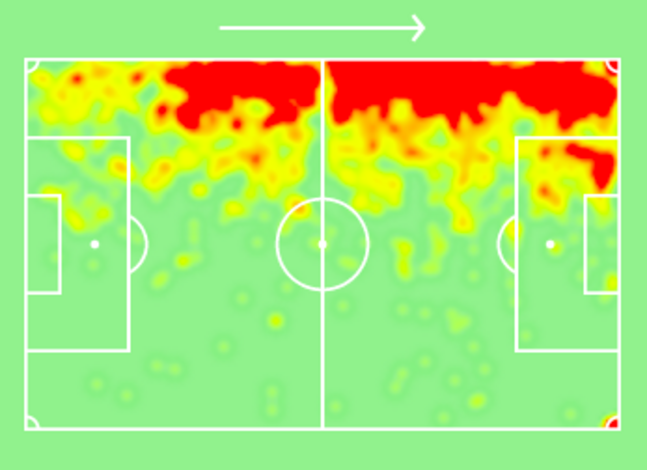 Photo: SofaScore
His heatmap from the 2020/21 Bundesliga season indicates just that, with the red mass in the opposition half showing his consistent attacking exploits.
Photo: WhoScored
Kostić certainly is a major outlet for Frankfurt, as is proven by the fact that a majority of their attacking moves have come from the left this season. One of the main reasons for this is Frankfurt's left-sided bias in their build-ups.
Hütter has used a 3-2-4-1 in his build-ups regardless of whether his side are playing a 3-4-2-1 or a 3-4-1-2. Kostić is on the left of the four in this shape.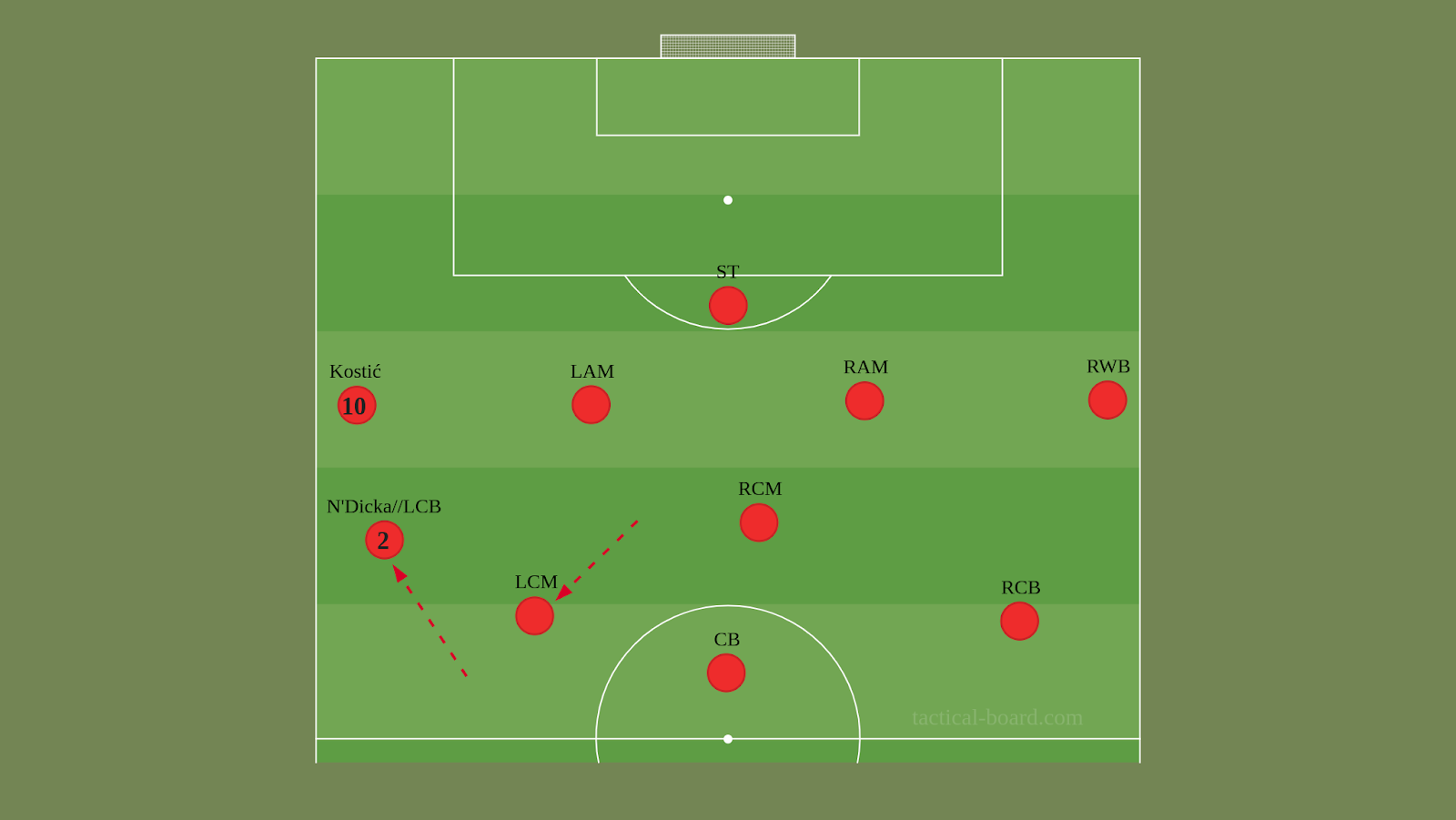 The left-sided bias stems from a movement pattern that they have often used. This usually involves Evan N'Dicka at left-centre-back, who shifts out to the touchline and lets the left midfielder drop into the backline.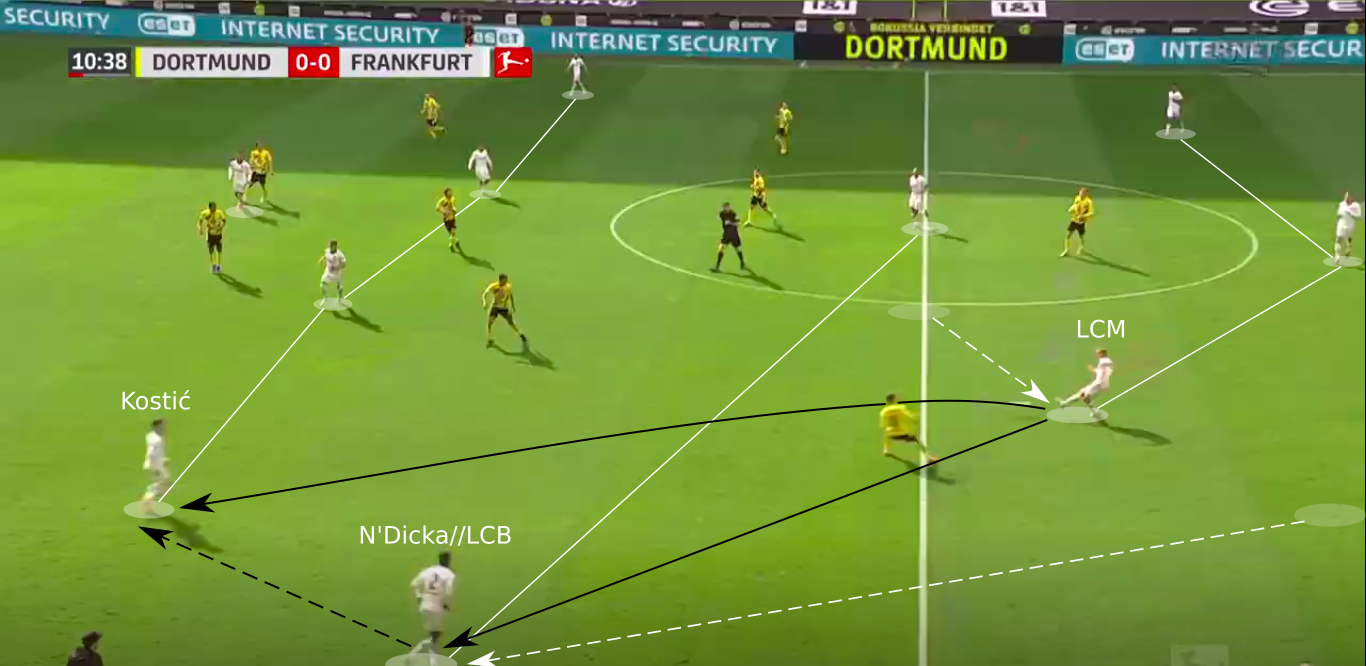 This naturally overloads the left side and provides a simple ball progression option towards Kostić, both directly and indirectly.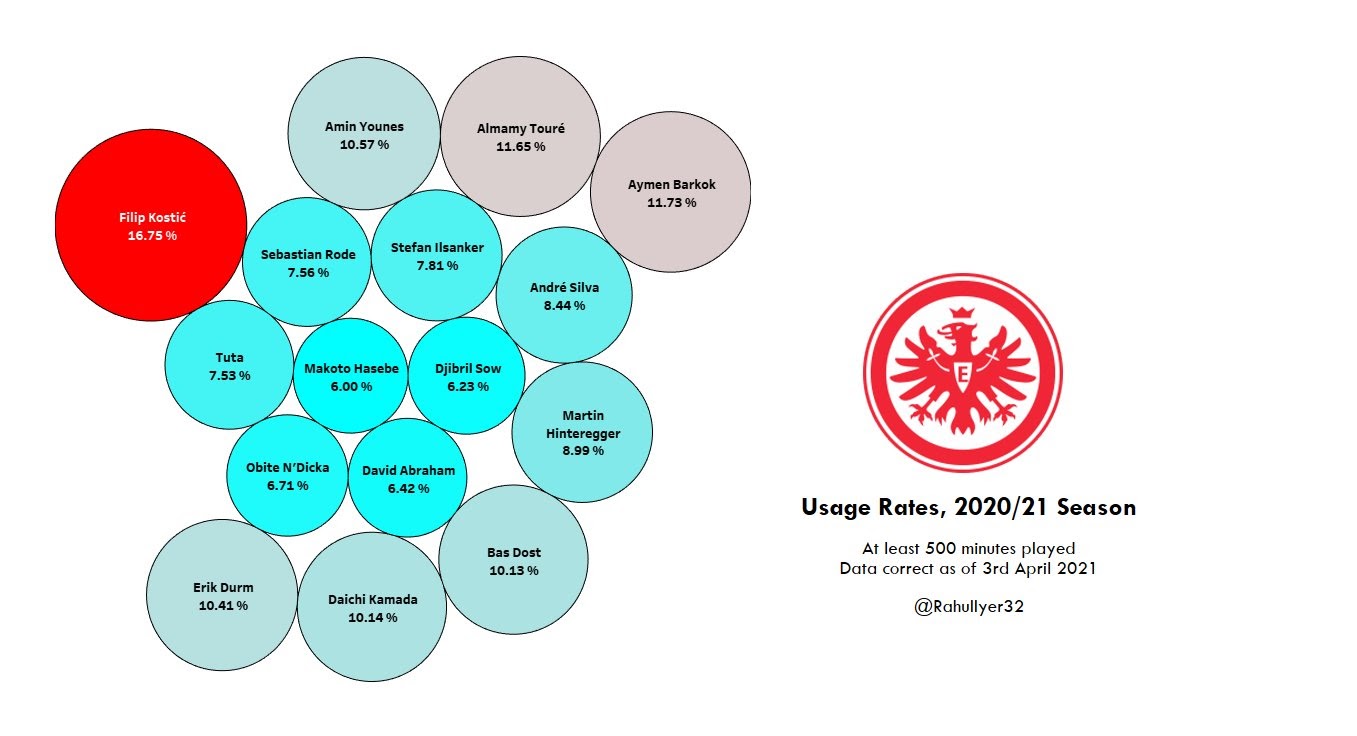 Photo: Rahul Iyer / @RahulIyer32
Using the usage rate model, we can see that Kostić is easily Frankfurt's most productive player in possession. The Eagles' build-up system of course helps, but a lot of this is also down to the Serbian wing-back's brilliance on the ball, which we will focus on later.
Defensive Involvement
For all of his attacking quality, Filip Kostić has to work hard in defence too since he is a wing-back after all, as seen in the below example from Eintracht's 2-1 victory over Borussia Dortmund on April 3.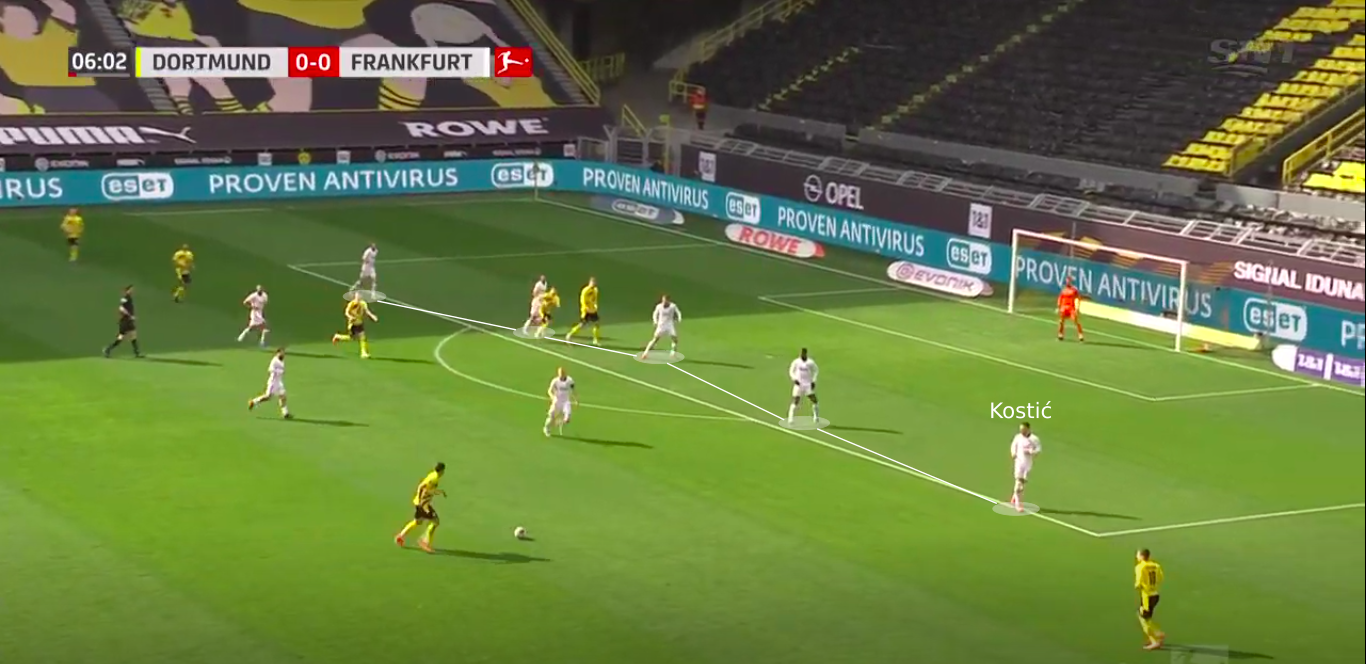 Eintracht Frankfurt's defensive shape varies depending on the number of strikers they are fielding, but they persist with a back-five in either case as the wing-backs drop back. Kostić is, obviously, positioned on the extreme left of this. However, the Eagles typically like to press high up the pitch, where they usually employ a 3-1-4-2. Here too, Kostić pushes up high on the left.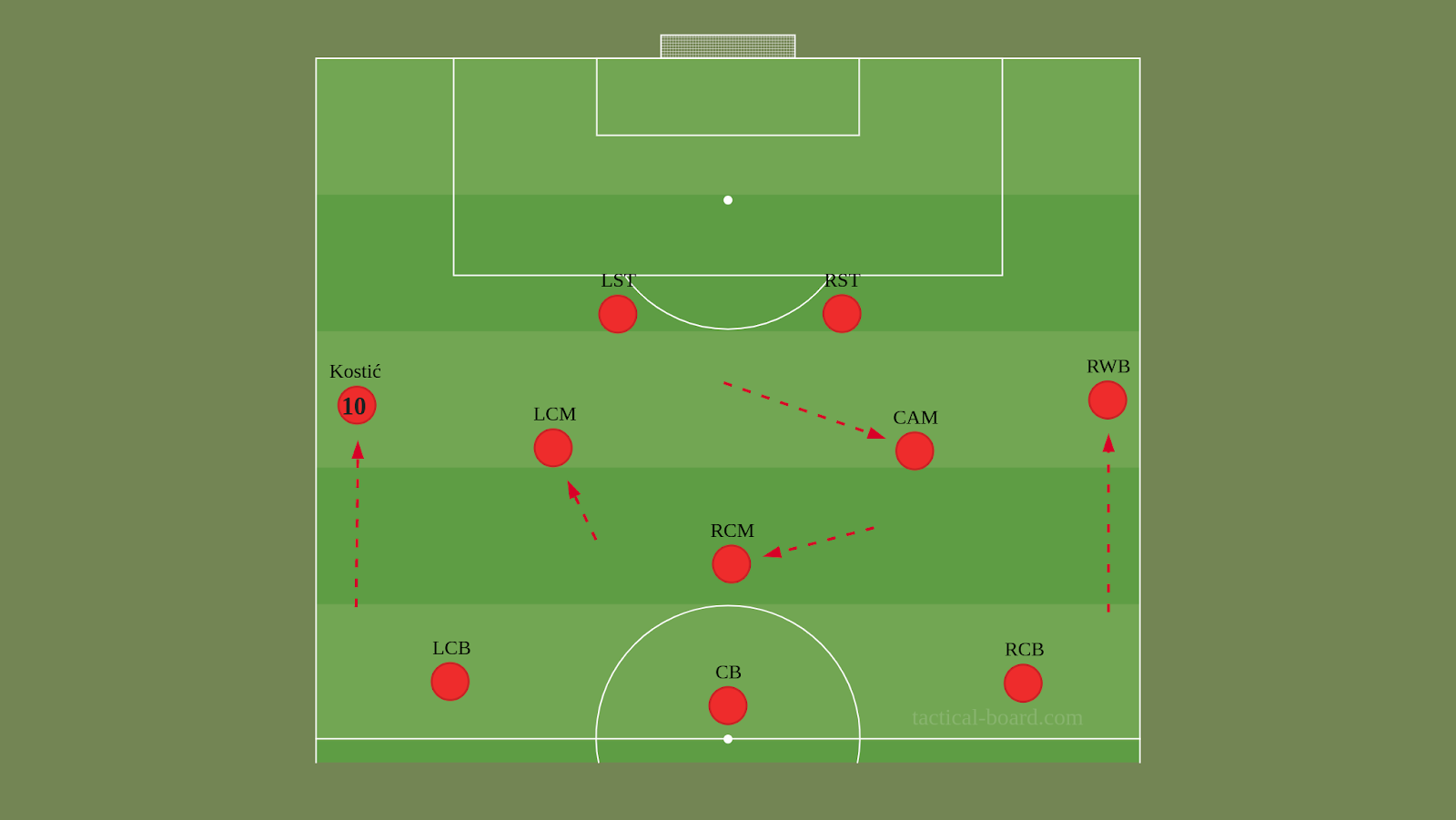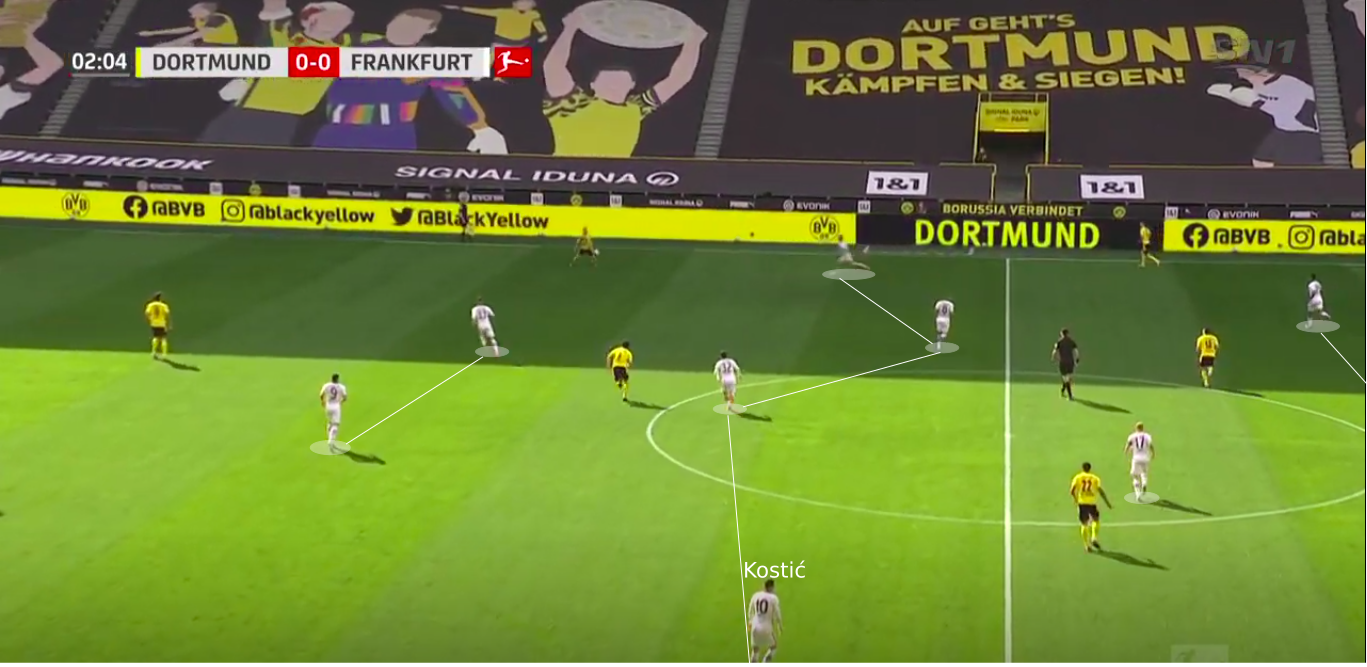 The Serbian international does not do too badly either, staying above the median for his side both in terms of pressing and pressure success rates this season.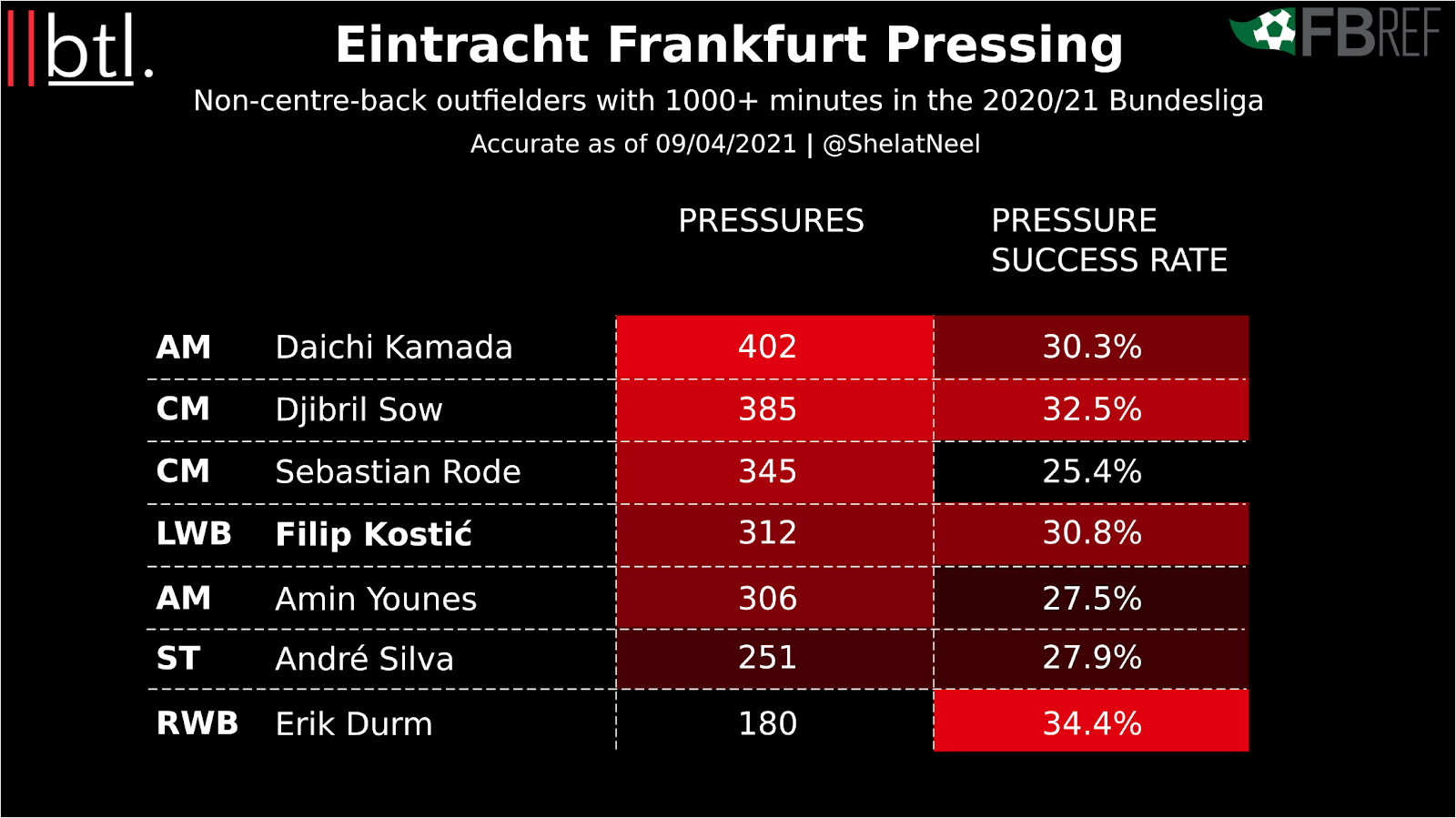 There is a risk that Frankfurt run with such a high press, though, as teams can exploit the vast expanses of space behind the advanced wing-backs – particularly Kostić who tends to press much more than his counterpart on the opposite flank as the above chart indicates. Direct football can, therefore, be used to good success against them.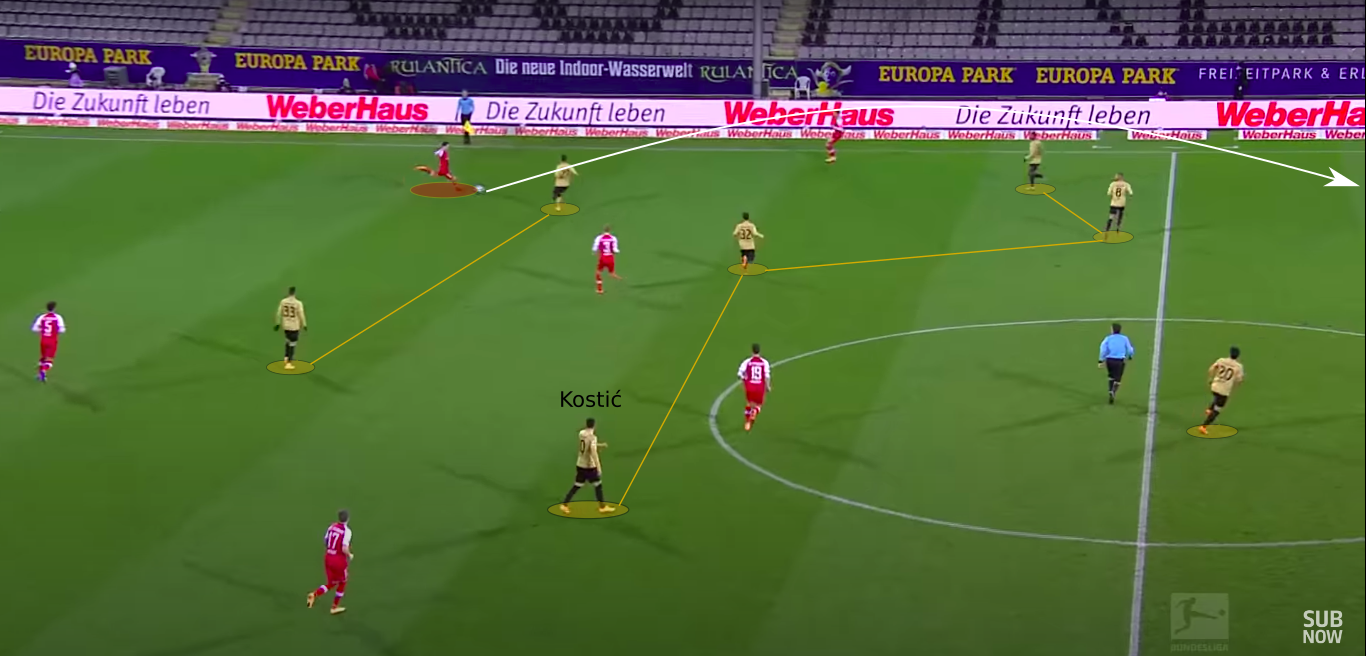 Here is a prime example of that with Freiburg. Kostić, in the bottom of the frame, has pushed forward in the 3-1-4-2 as a Freiburg defender looks to punt a long ball up the pitch.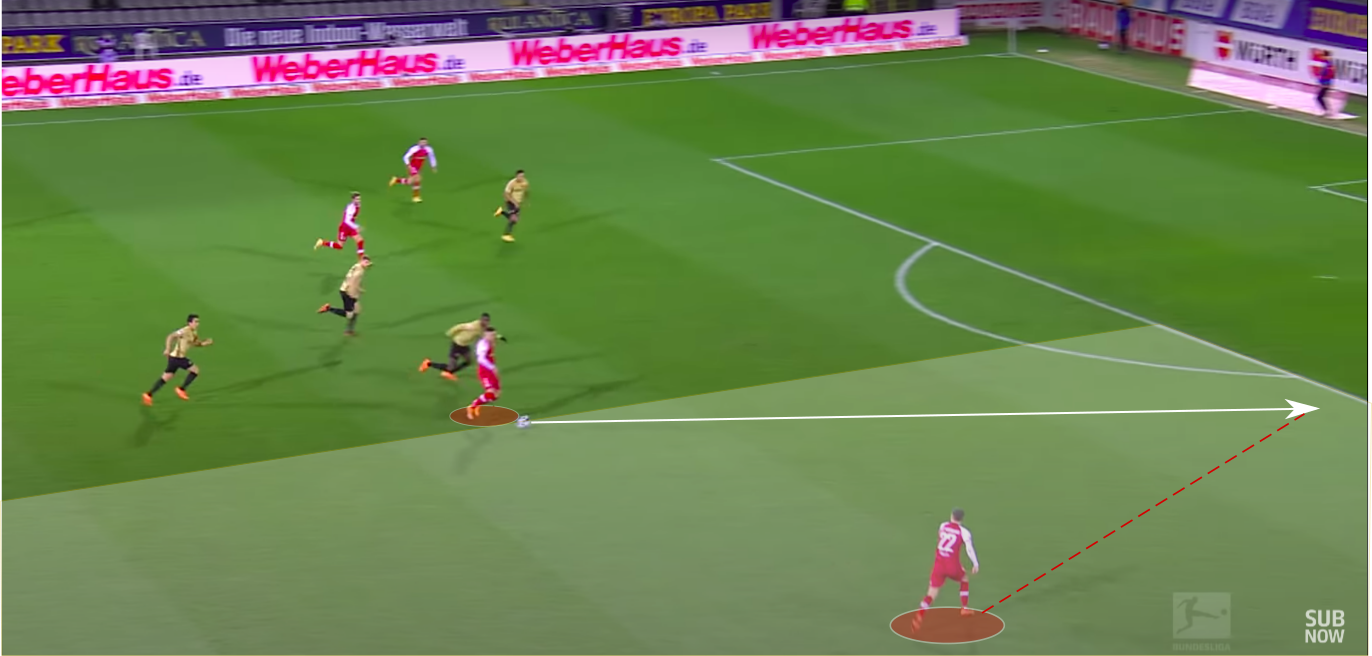 Lucas Höler gets the flick-on, so when Ermedin Demirović takes the ball down and turns, he sees Rolland Sallai all alone on the flank, as Kostić is nowhere near the Frankfurt backline. Similarly, the Serbian wing-back can get caught out of position in transition too.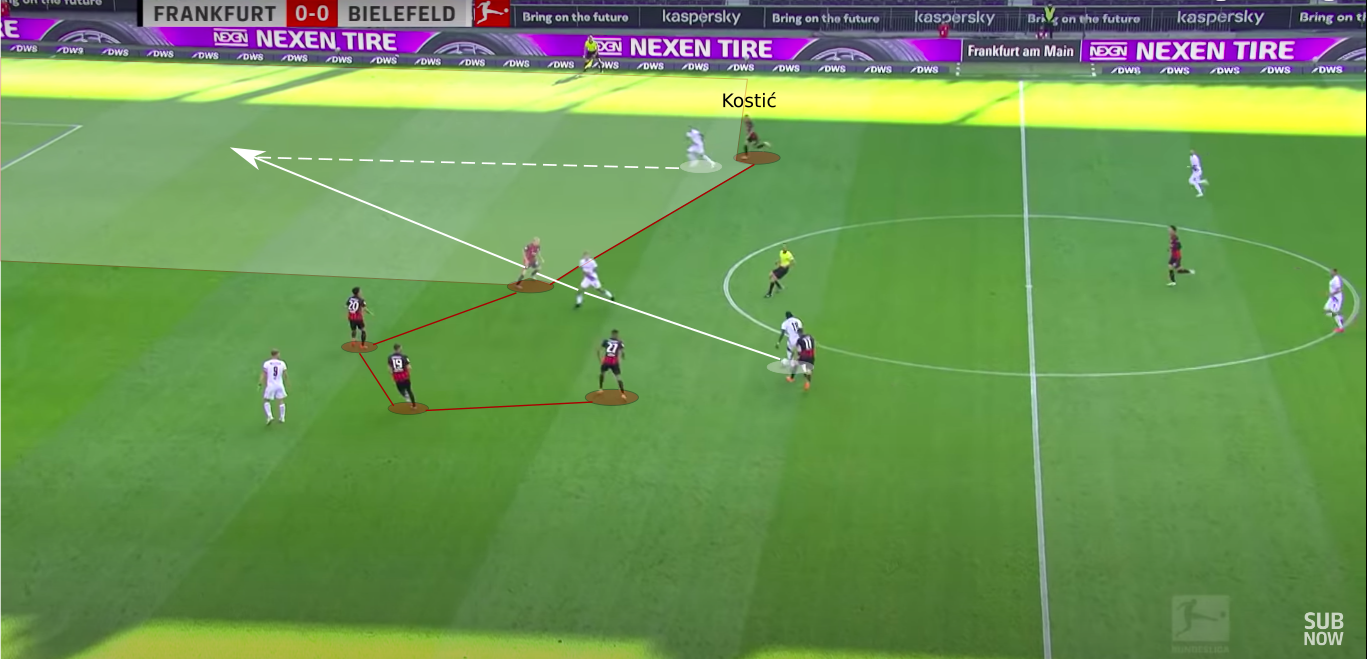 The Frankfurt defence is all out of sorts here after Arminia Bielefeld won possession in midfield, but the biggest gap is on the left, where Cebio Soukou is goal-side of Kostić and racing through onto a through ball. This is one clear weakness caused by Kostić's high positioning, but its advantages easily outweigh these troubles.
Threat in Transition
One of Filip Kostić's greatest strengths are his marauding runs down the left in transition, which often feature some very direct ball carrying.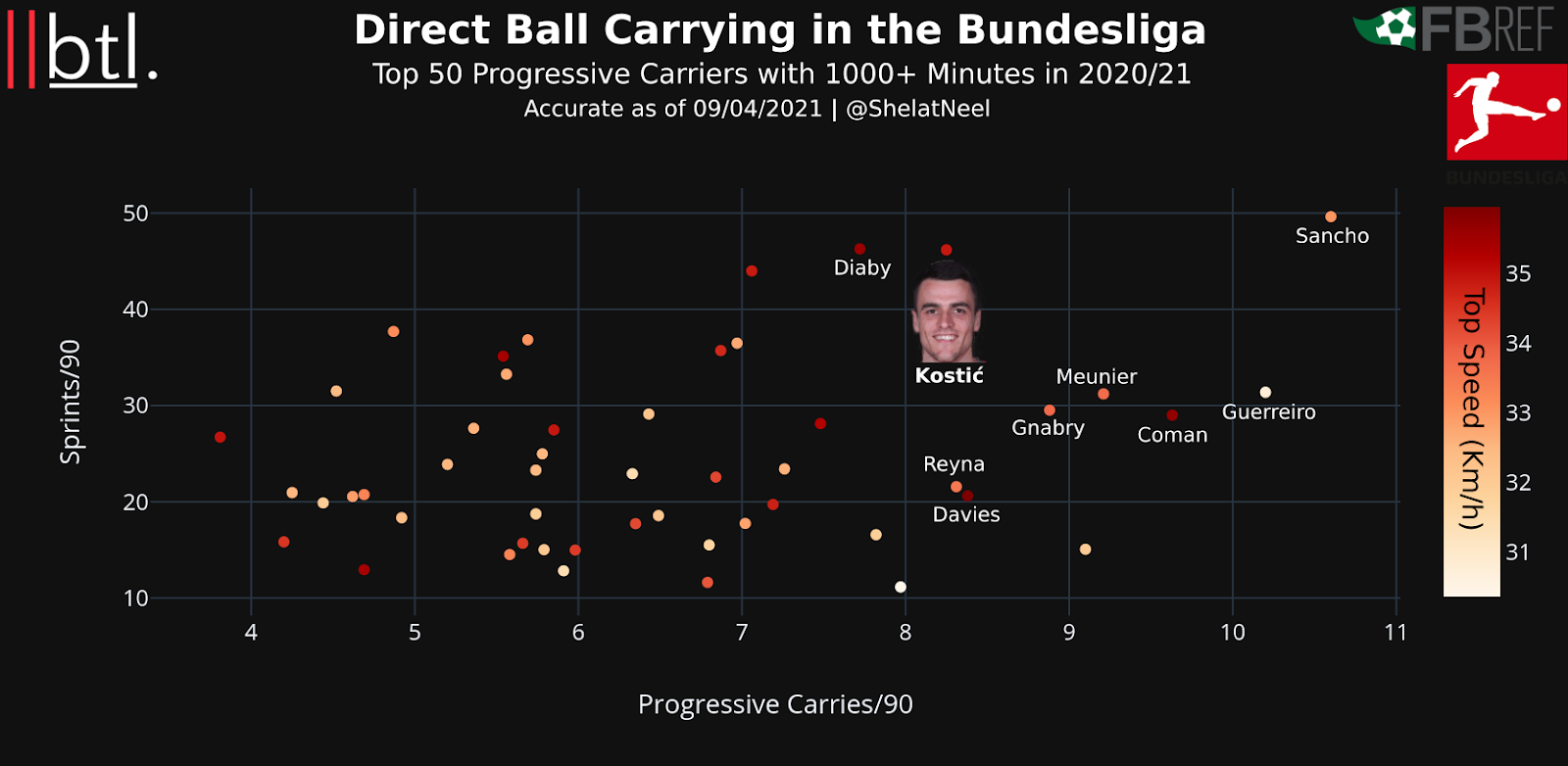 As you can see in this scatter, Kostić is up there along with the Bundesliga's best including the likes of Serge Gnabry, Kingsley Coman and Moussa Diaby in terms of progressive carries and sprints per 90, while also not looking too shabby in terms of top speed (with a more than respectable 34.9 km/h). Kostić's advanced positioning means that he can pose a serious threat in attacking transitions using his speed and direct ball-carrying ability.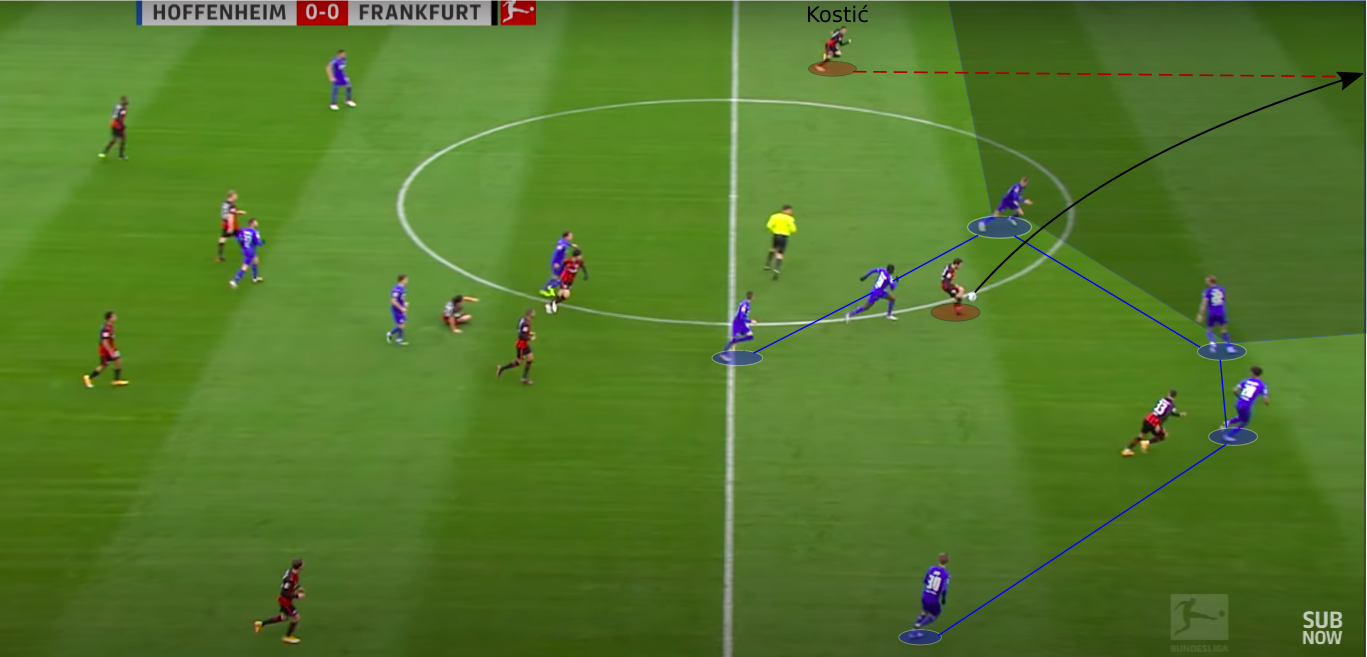 That was exactly how he scored against Hoffenheim. Eintracht Frankfurt won the ball after a scuffle in midfield, and with the opposition defence in disarray – especially on their right – Amin Younes slipped a through ball to Kostić.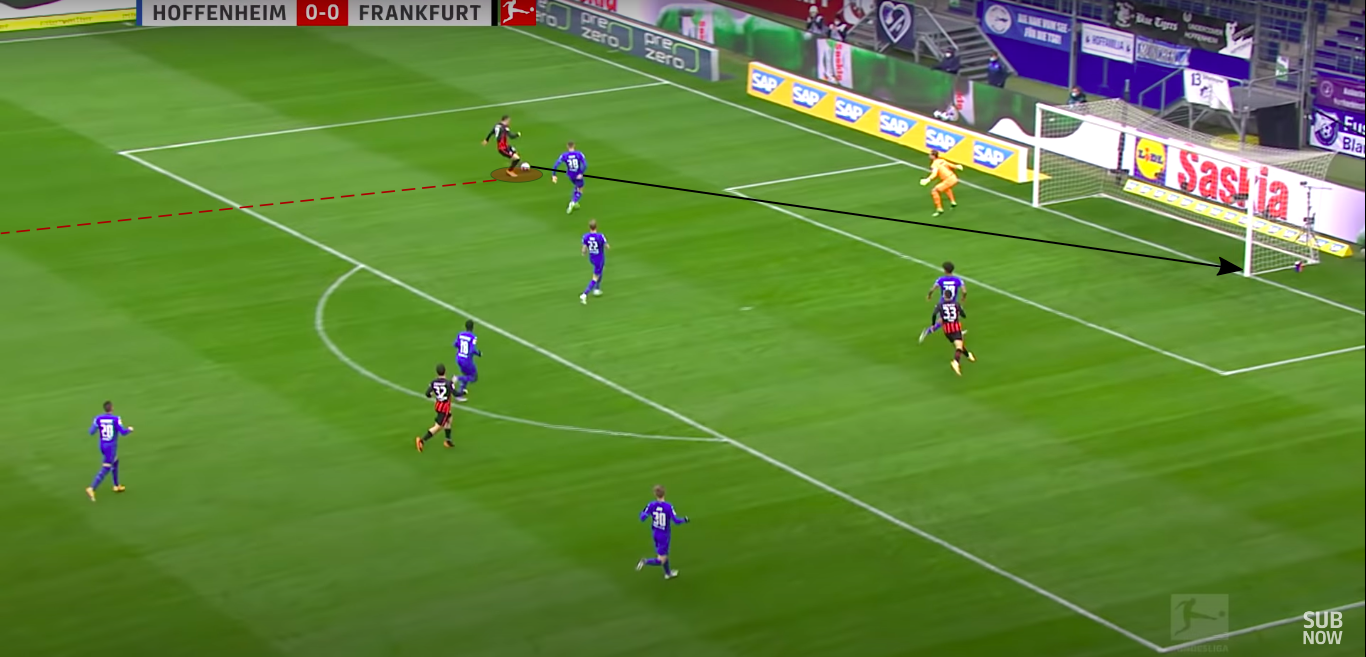 The ex-Hamburg man used his pace to carry it into the opposition box, and when a shooting angle opened up, he calmly slotted it into the far corner showing great finishing as well in one of his five goals this season for club and country. His speed helps quite a bit in getting into crossing positions too.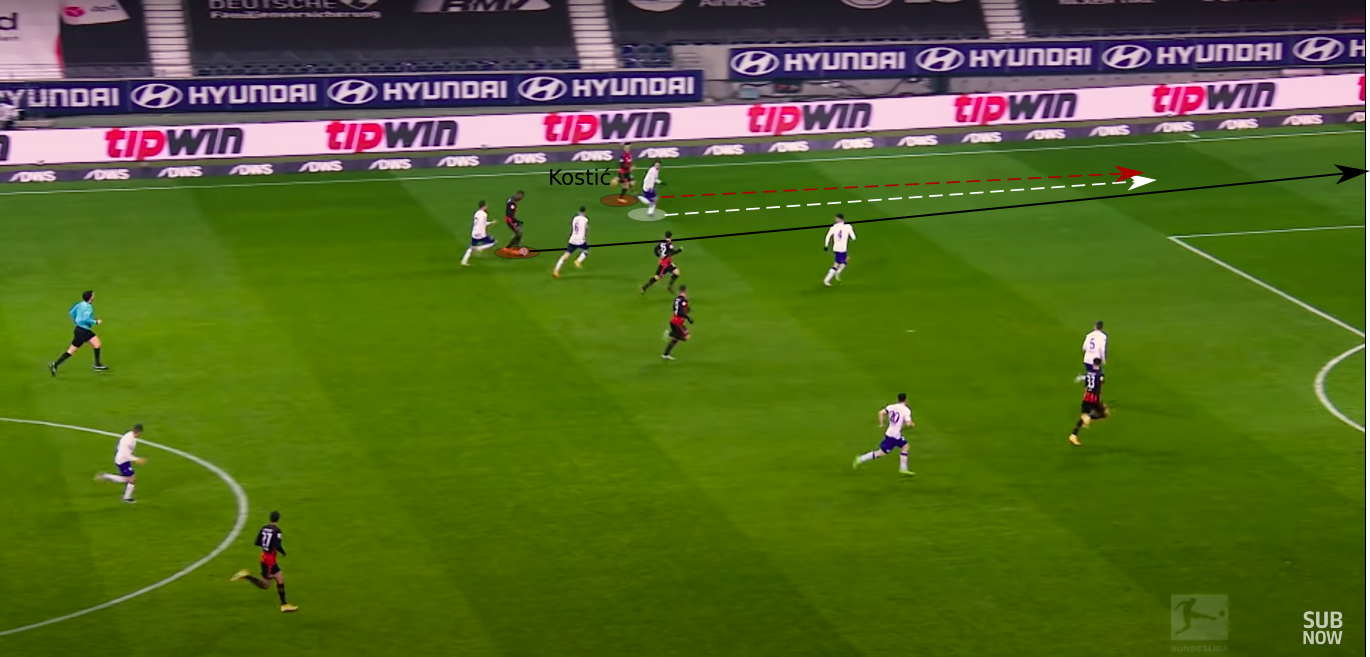 As N'Dicka plays a through ball down the left flank, Kostić races past Schalke's Benjamin Stambouli and puts on the afterburners to latch onto the Frenchman's pass.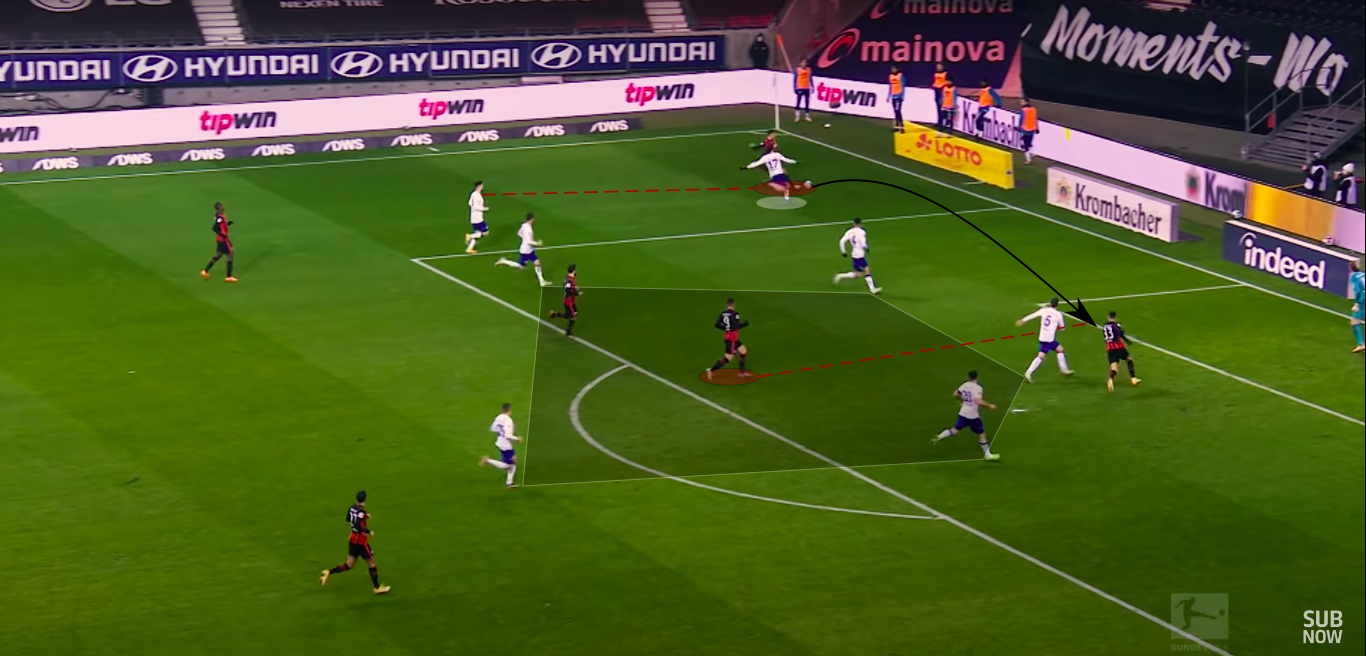 Kostić's cross soars over Ozan Kabak and falls right into the feet of substitute Luka Jović, who fired in a half-volley past Ralf Fährmann to cap off his return to Eintracht in stunning fashion.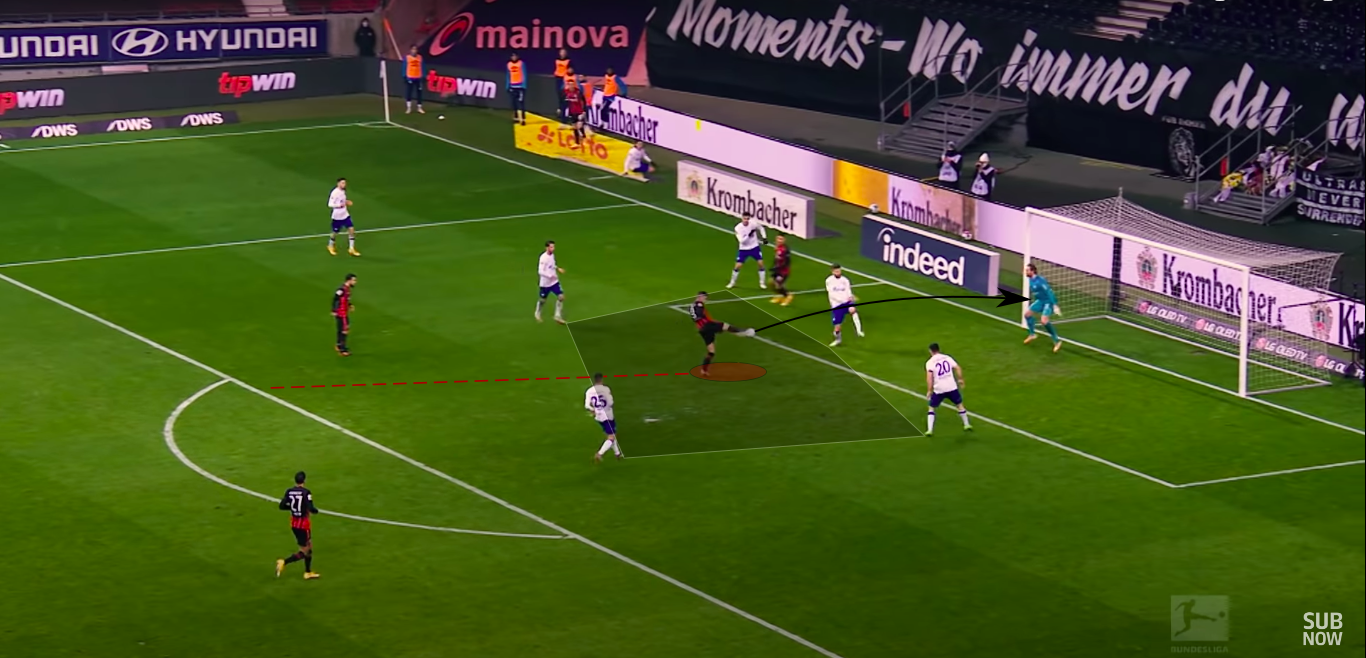 Despite being at full tilt while putting the ball into the box, Kostić's cross was absolutely on point and into a dangerous area, where his old friend and compatriot Luka Jović arrived to profit. He possesses a good burst of acceleration as well, which helps him create half-a-yard of space to deliver a cross when closed down on the wing.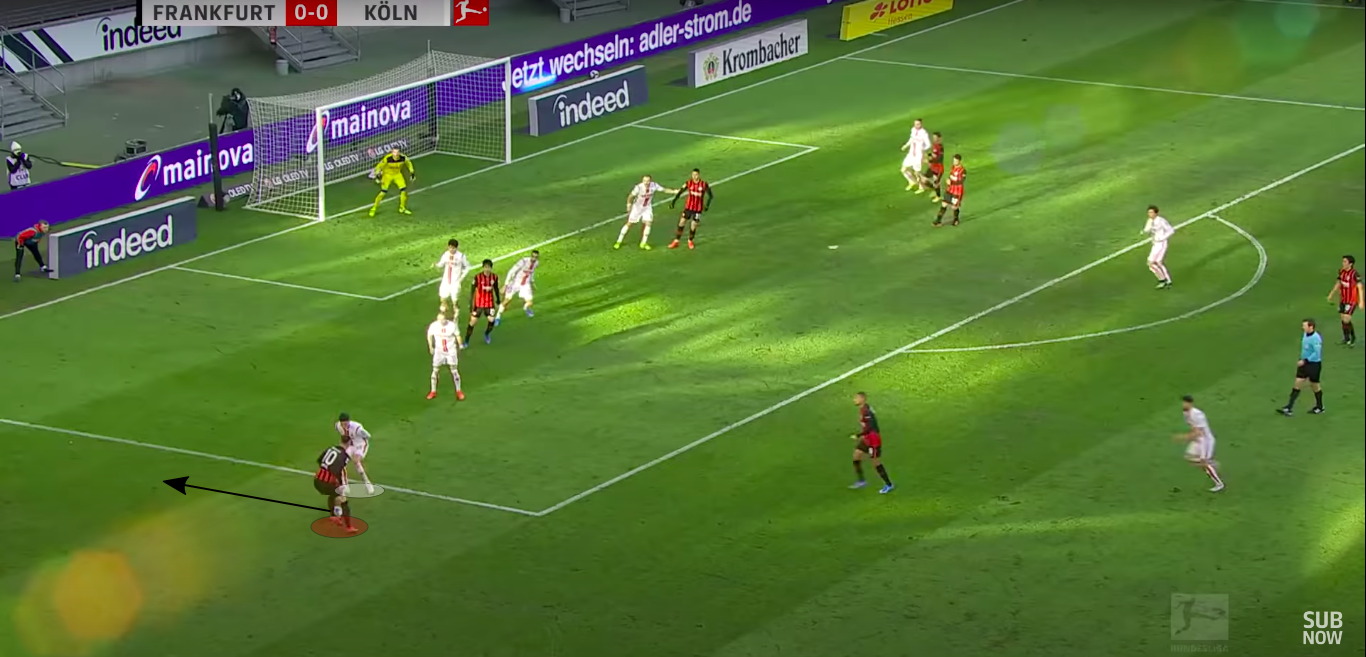 In this instance, Köln defender Sava-Arangel Čestić probably thinks that he has done well enough to close Kostić down and prevent a cross.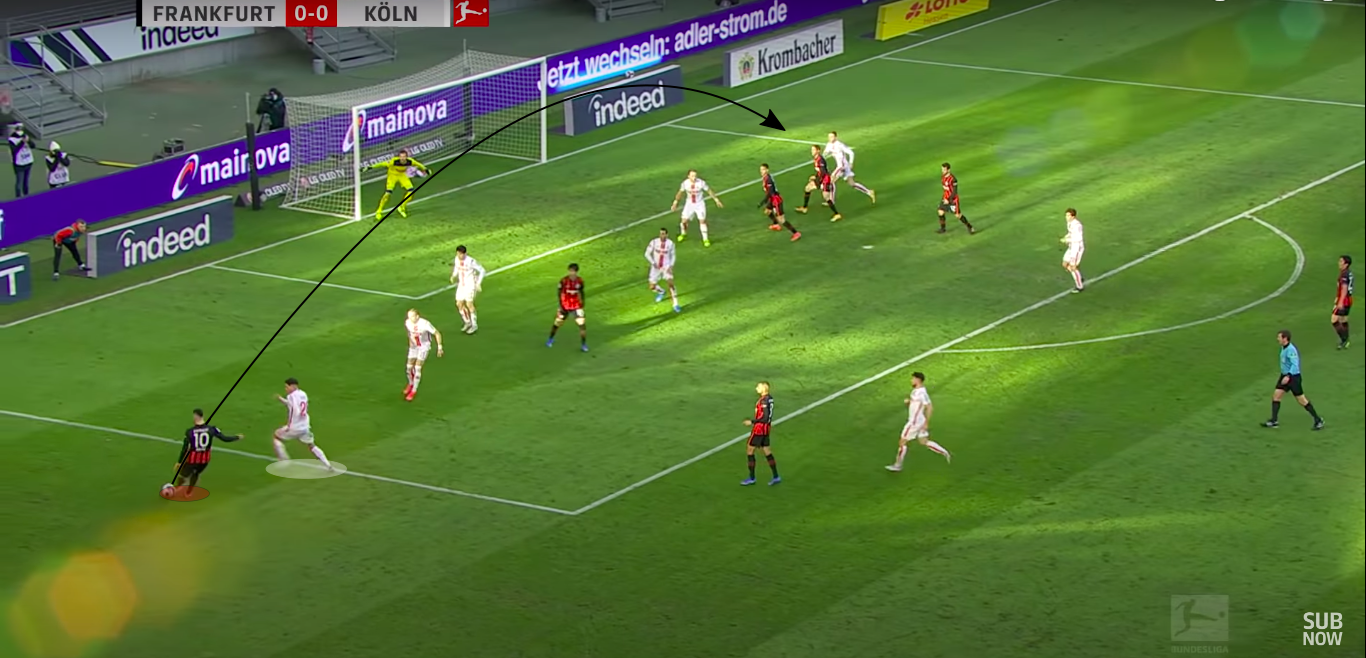 He was wrong, though, as the ex-Groningen man knocked the ball forward and chipped a ball into the box before he was closed down again.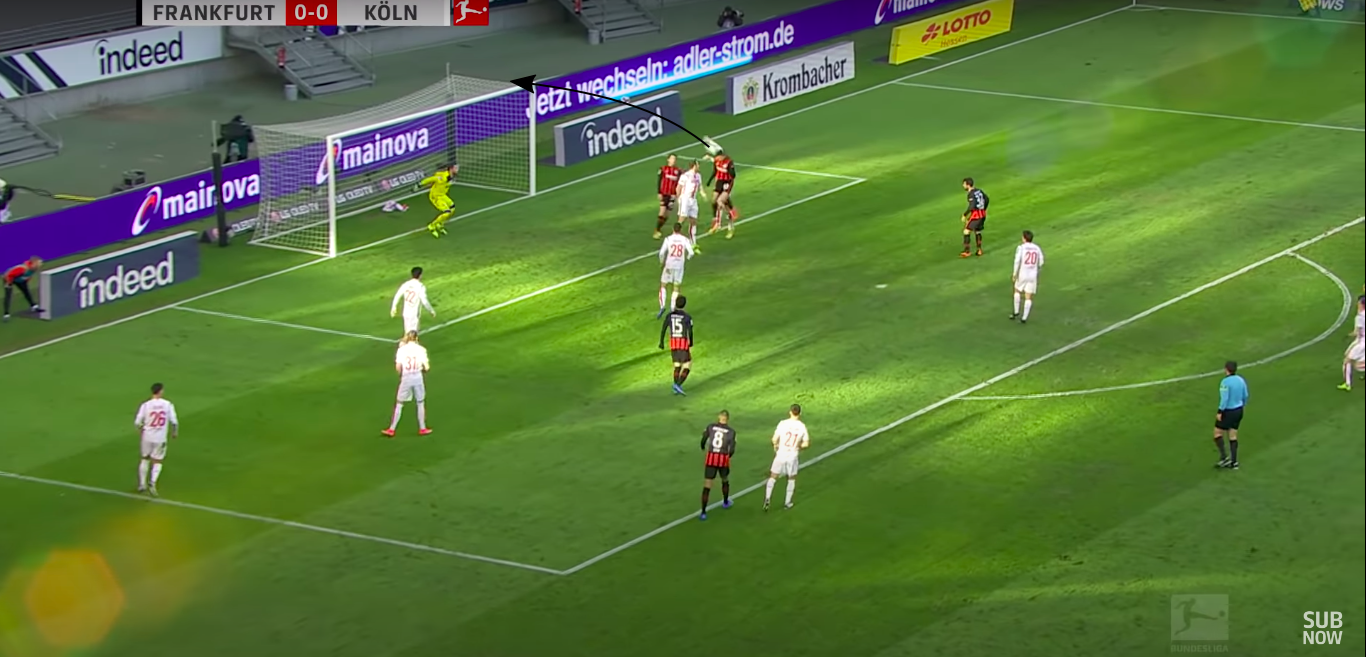 André Silva was on the end of it, but he could not keep his header down in this case. Not to worry, though; Eintracht would go on to defeat Köln at the Waldstadion via goals from Silva and N'Dicka.
Crossing and Chance Creation
Creating goalscoring chances certainly is Filip Kostić's greatest strength. Throughout his Frankfurt days, he has been up there with the best crossers in Europe, and that is the case this season too: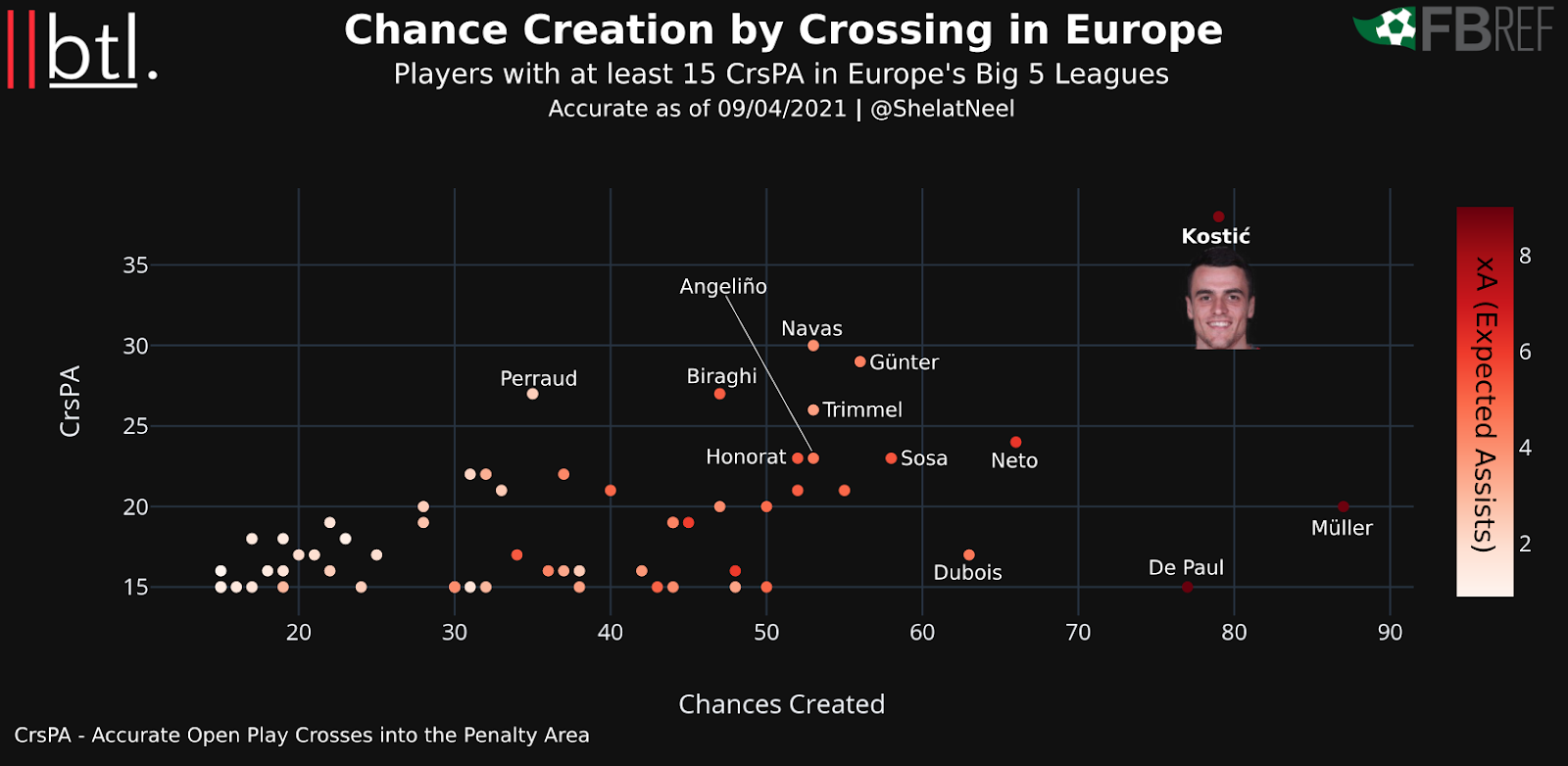 As you can see with this scatter, Kostić is by far the best crosser in all of Europe's top five leagues this season, ranking ahead of the likes of Thomas Müller, Pedro Neto, Rodrigo De Paul and Angeliño. His chance creation overall is not too shabby either, with the seventh highest xA in Europe.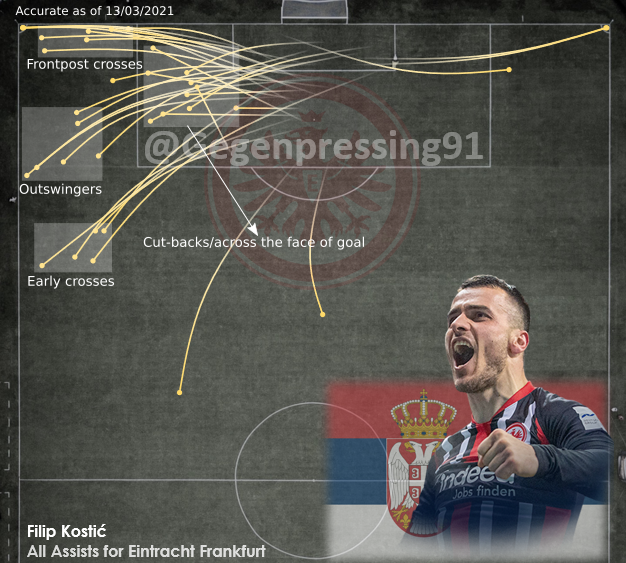 Photo: Marius Fischer (@Gegenpressing91)
This map of Kostić's assists for Frankfurt does a great job of showing the various types of crosses he delivers. The 28-year-old wing-back likes to deliver early crosses, but his favourite types of deliveries are outswingers and frontpost crosses, often combining the two. He has delivered a fair few cut-backs and balls across the face of goal too, while also getting a good few assists from set-pieces, which we will discuss later.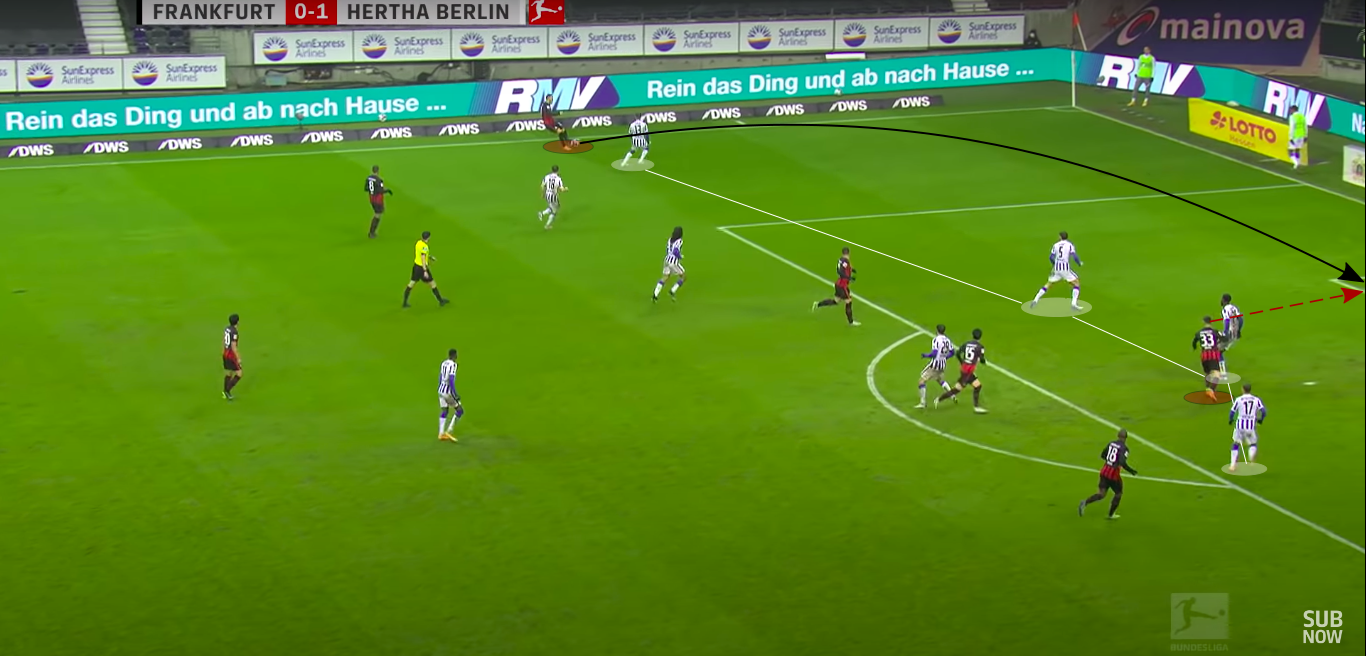 Here is an example of a typical Filip Kostić cross – a relatively early outswinger dropping behind the opposition defence angled towards the frontpost region.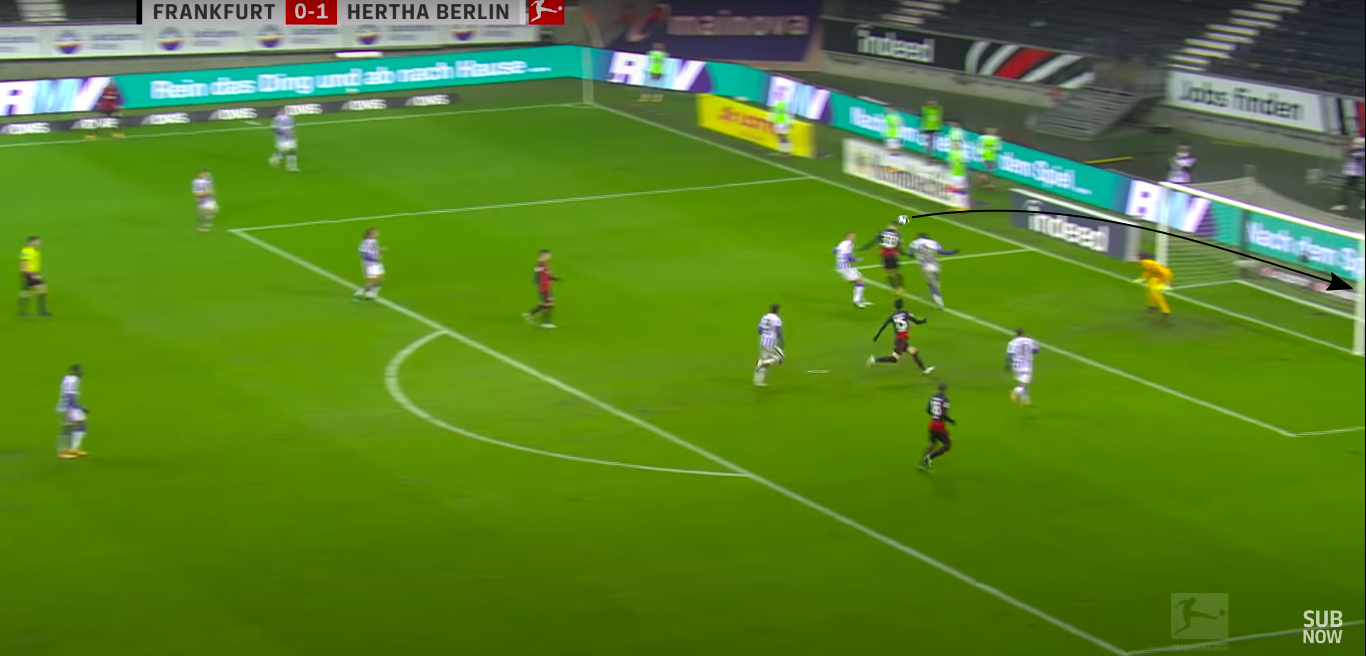 André Silva reached it first, easily guiding it past the keeper. This was one of seven times that Kostić has assisted the Portuguese striker this season in the Bundesliga, which makes them the joint-deadliest duo in the competition this season along with Thomas Müller and Robert Lewandowski.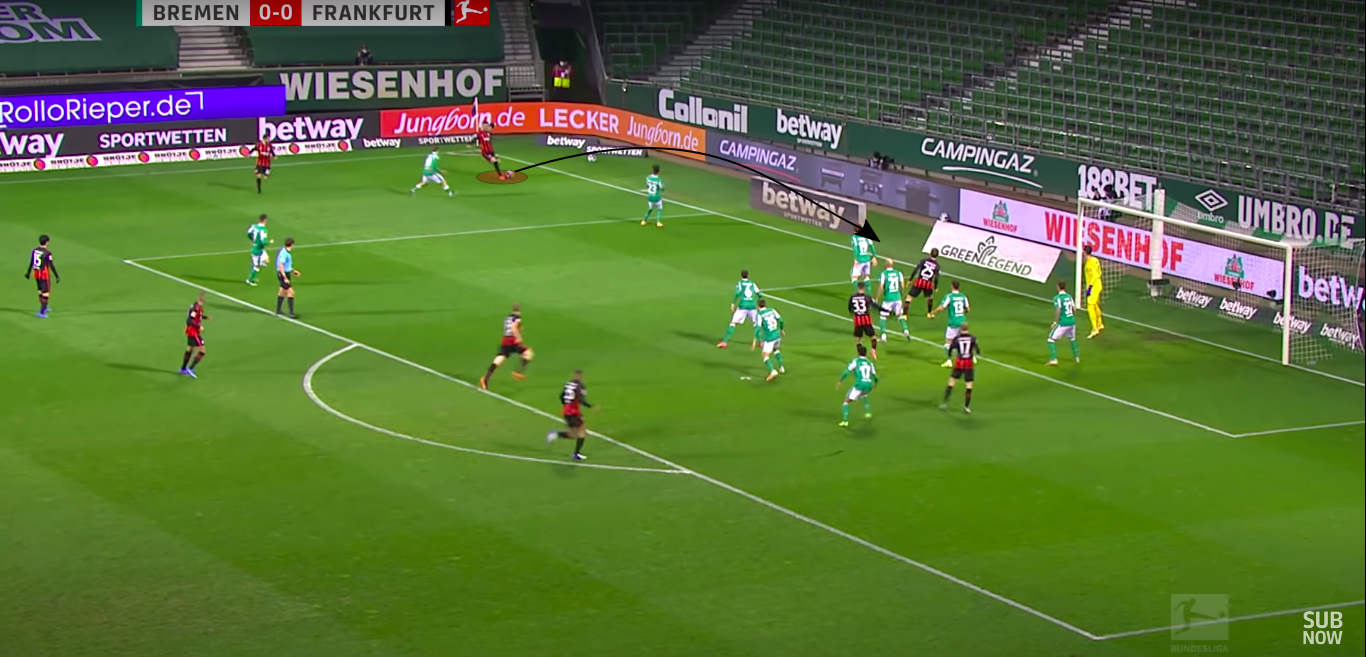 He can deliver a similar sort of cross from further positions too, as seen in this example against Werder Bremen where he picks up a short pass from a corner-kick and plays a pinpoint cross into the box.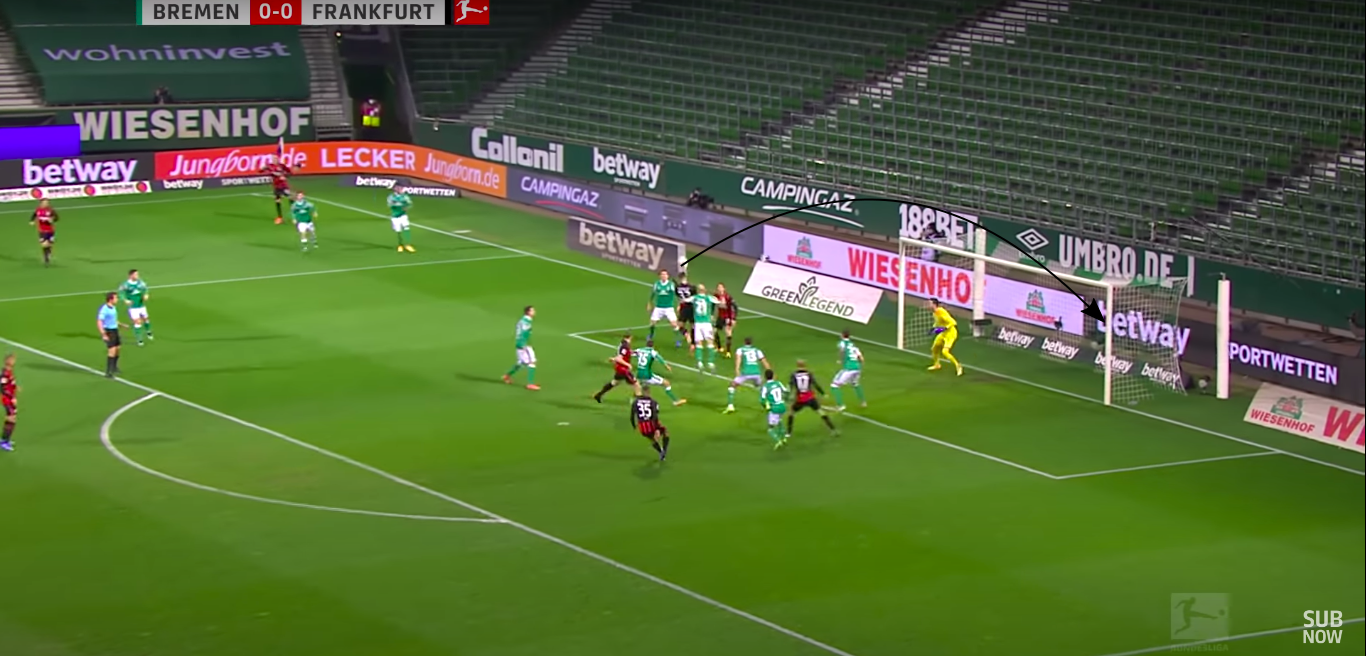 Once again, Silva was the one who profited, rising above Ömer Toprak and placing his header past Jiří Pavlenka and into the top-right corner. However, Werder Bremen would go on to complete a shock victory via second-half goals from Theodor Gebre Selassie and Josh Sargent, putting an end to Eintracht's five-game winning streak.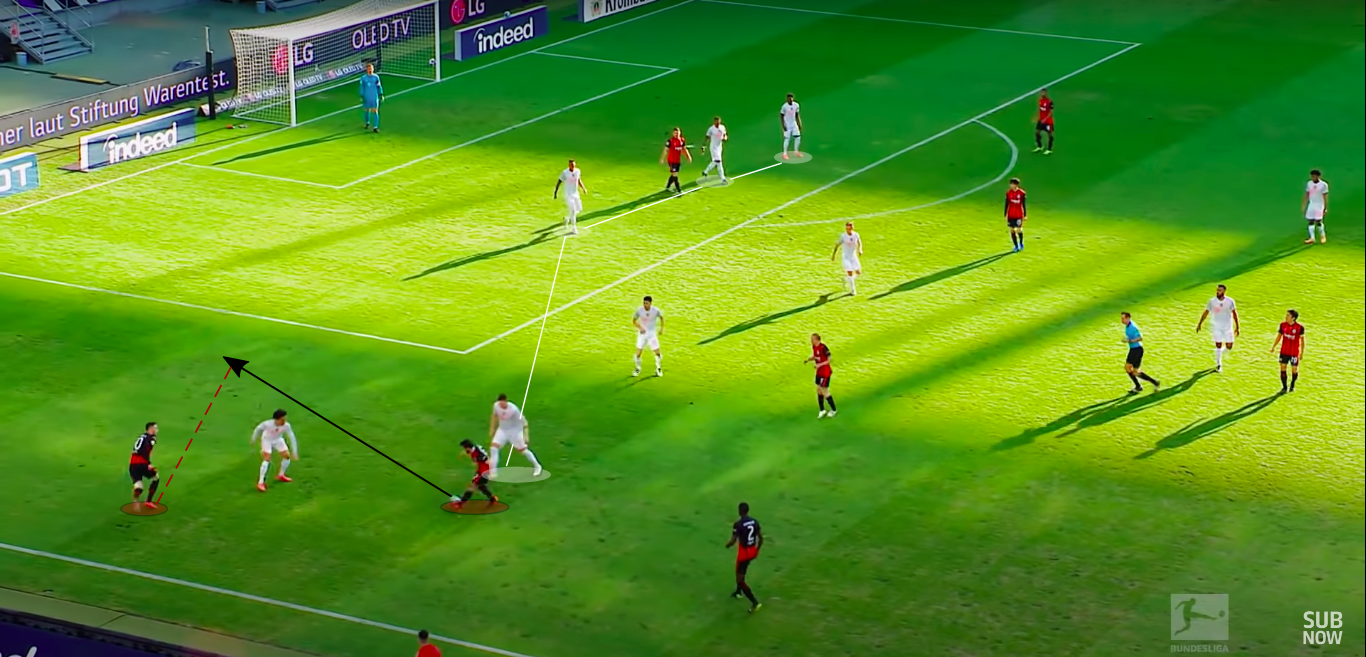 Kostić's pace also helps him get into positions where he can set goals up through cut-backs and balls across the face of goal, as seen in this example against Bayern Munich.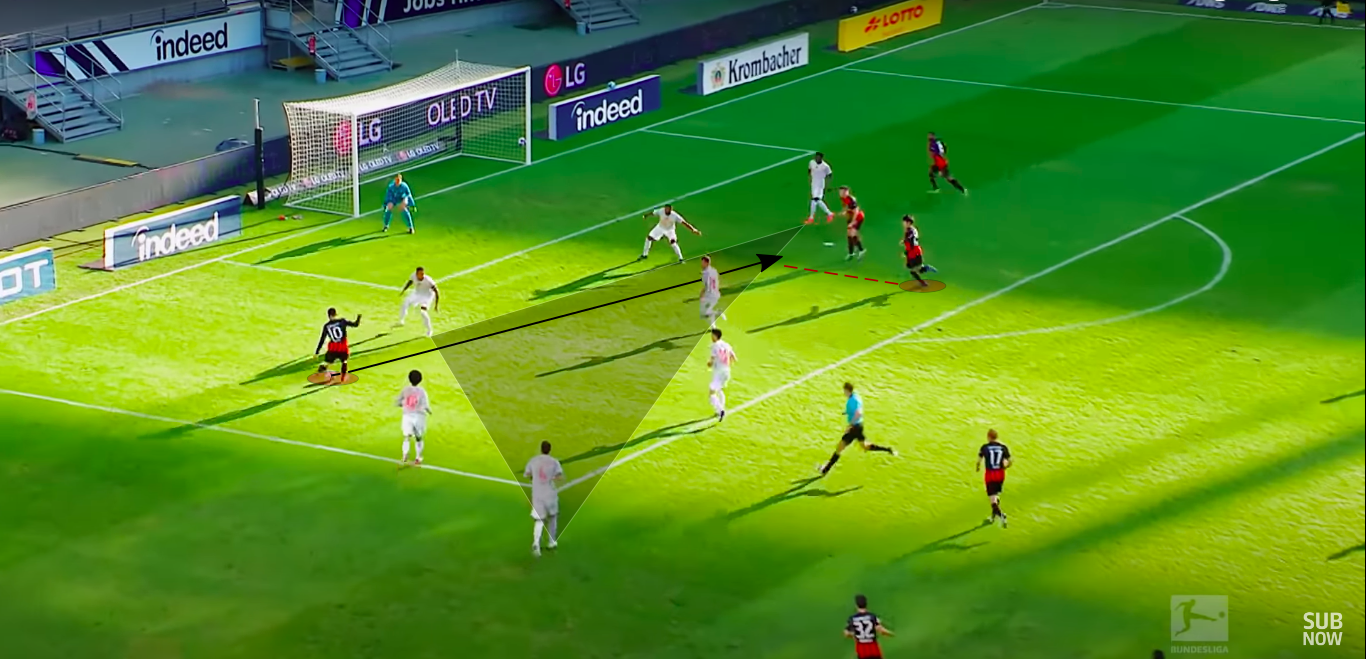 He spins in behind the opposition defence here with the help of Amin Younes, who plays a reverse pass into his path after dragging Niklas Süle out of position.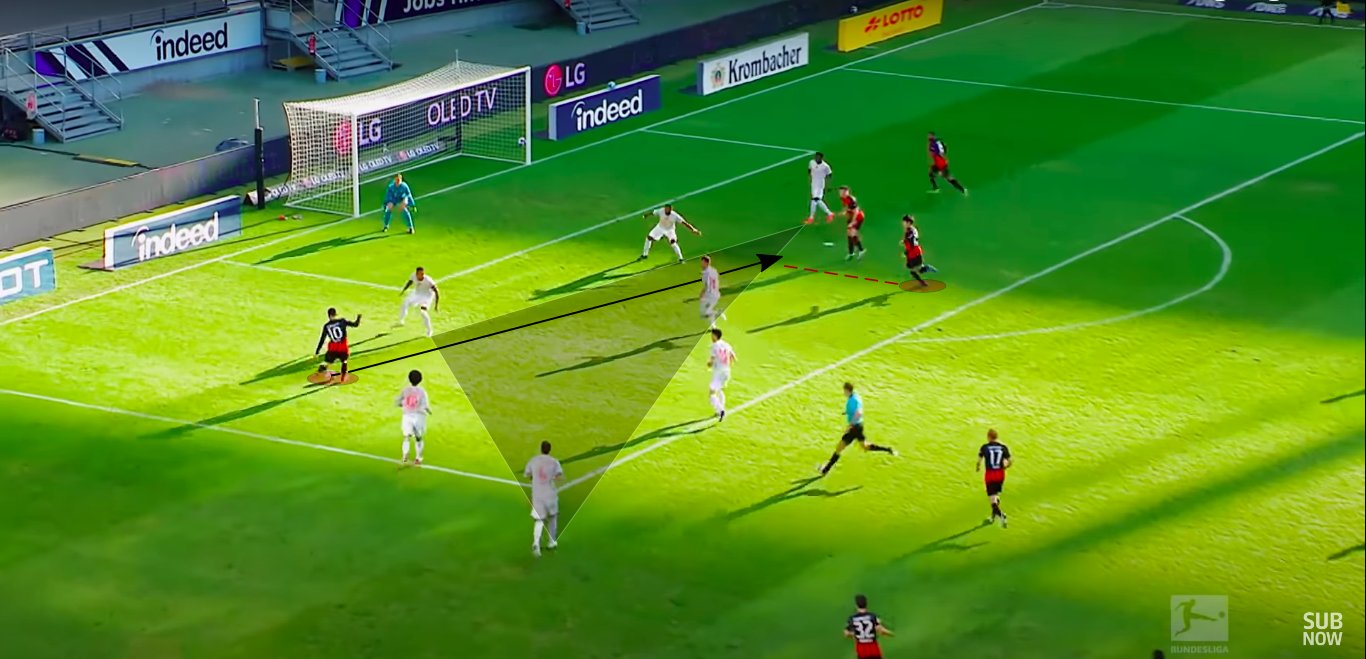 After taking a touch, Kostić sees a pocket of space opening up with Daichi Kamada attacking it, so he cuts the ball back towards the run of the Japanese attacking midfielder.
Kamada had to stretch to reach the ball, but he did enough to find the back of a half-empty net, finding a pocket of space between Jérôme Boateng and David Alaba and placing it into the right corner of the net. Eintracht added another goal before halftime via Younes and sealed a 2-1 victory against the defending champions at home.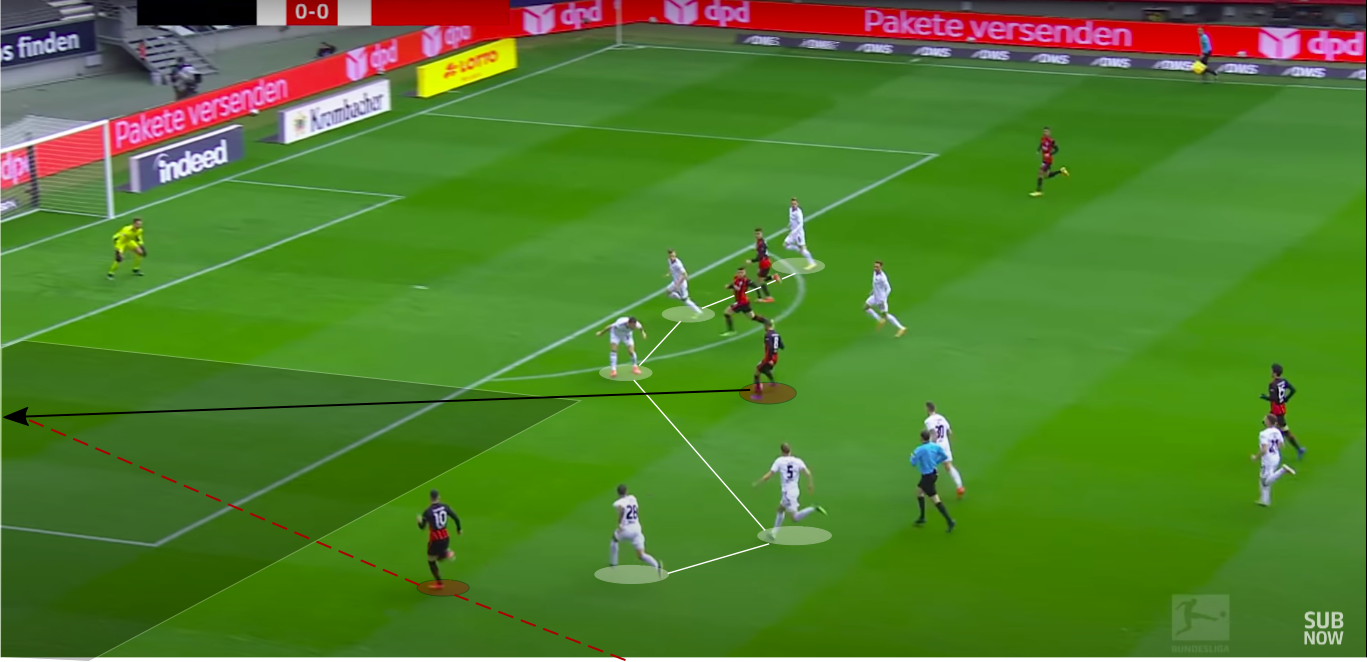 In this instance against Union Berlin, Kostić uses his pace to pull away from his man in transition. Djibril Sow notices his run and slips the ball to him in space on the left.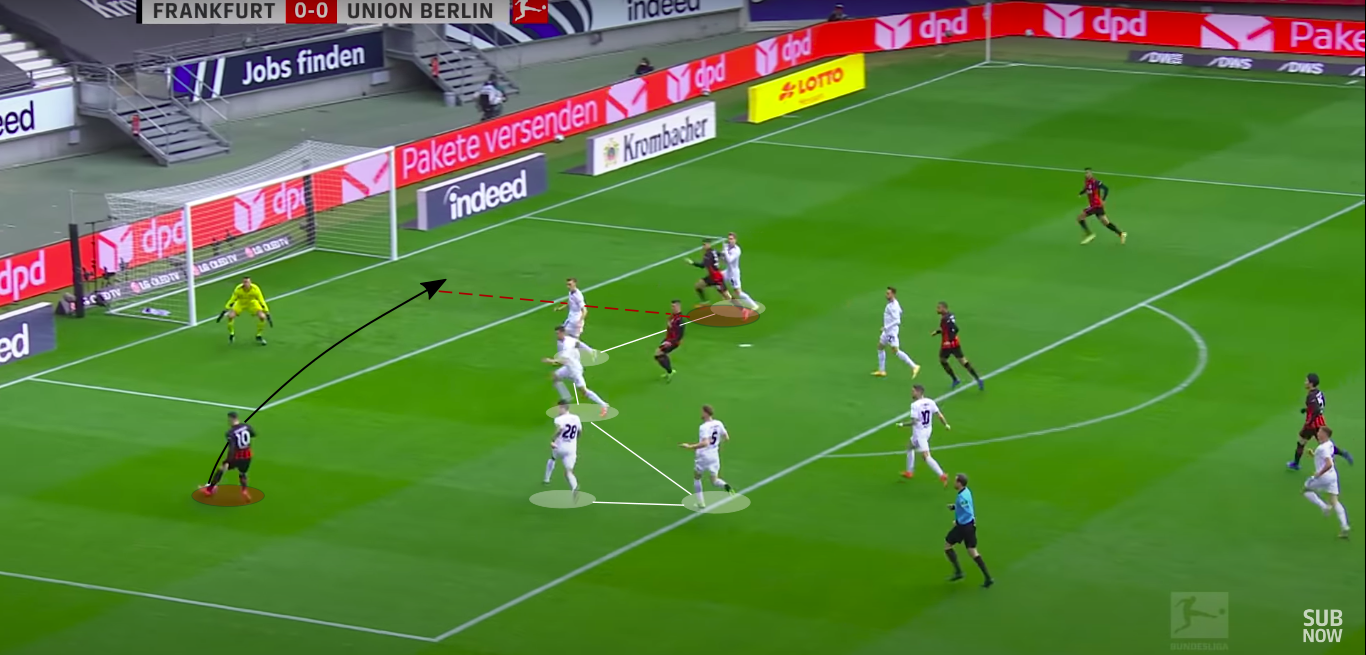 The Serbian international sees the space in behind the defence and decides to play the ball first-time across the face of goal. The pass was perfect, so André Silva simply could not miss. Eintracht would go on to win 5-3 with Kostić adding the third goal in the 39th minute.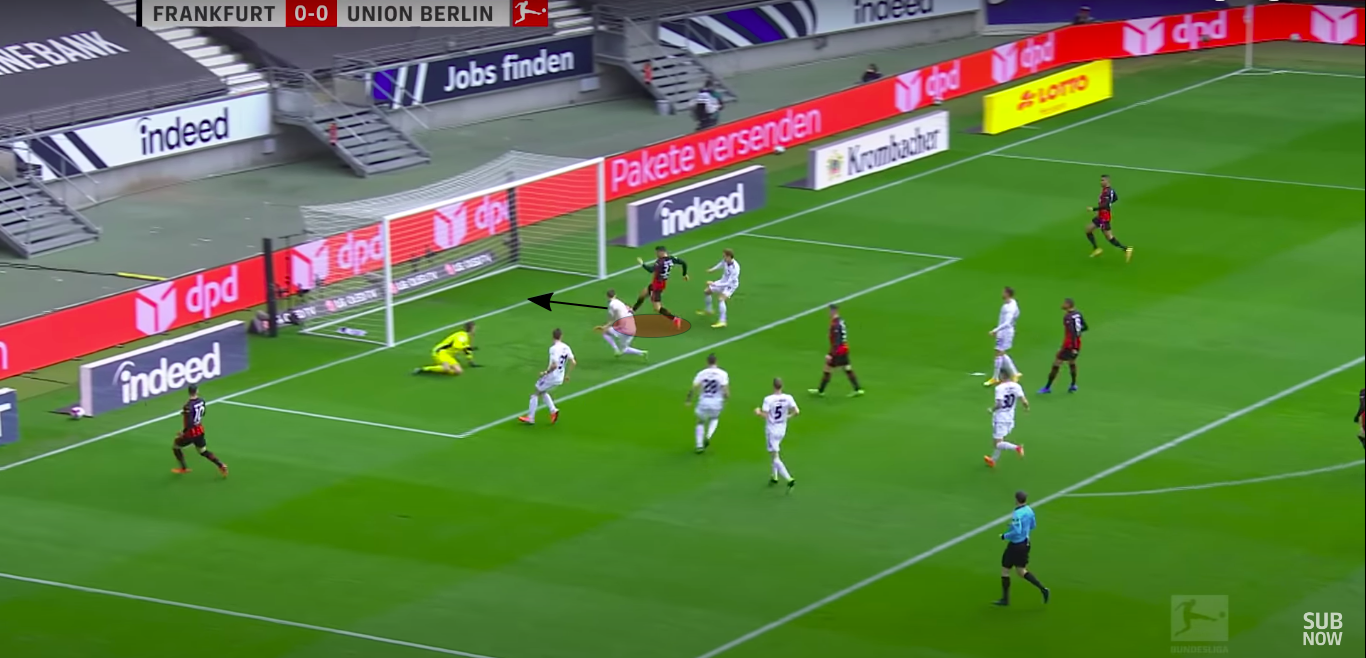 Set-Piece Taking
Filip Kostić's crossing is not just restricted to open play – he is quite handy in dead ball situations too. This scatter shows that although Kostić does not take too many set-pieces, he is one of the most efficient takers in the Bundesliga. His deliveries lead to a shot once in every 3.63 attempts on average – giving him the third-best SCA:set-pieces ratio in the league.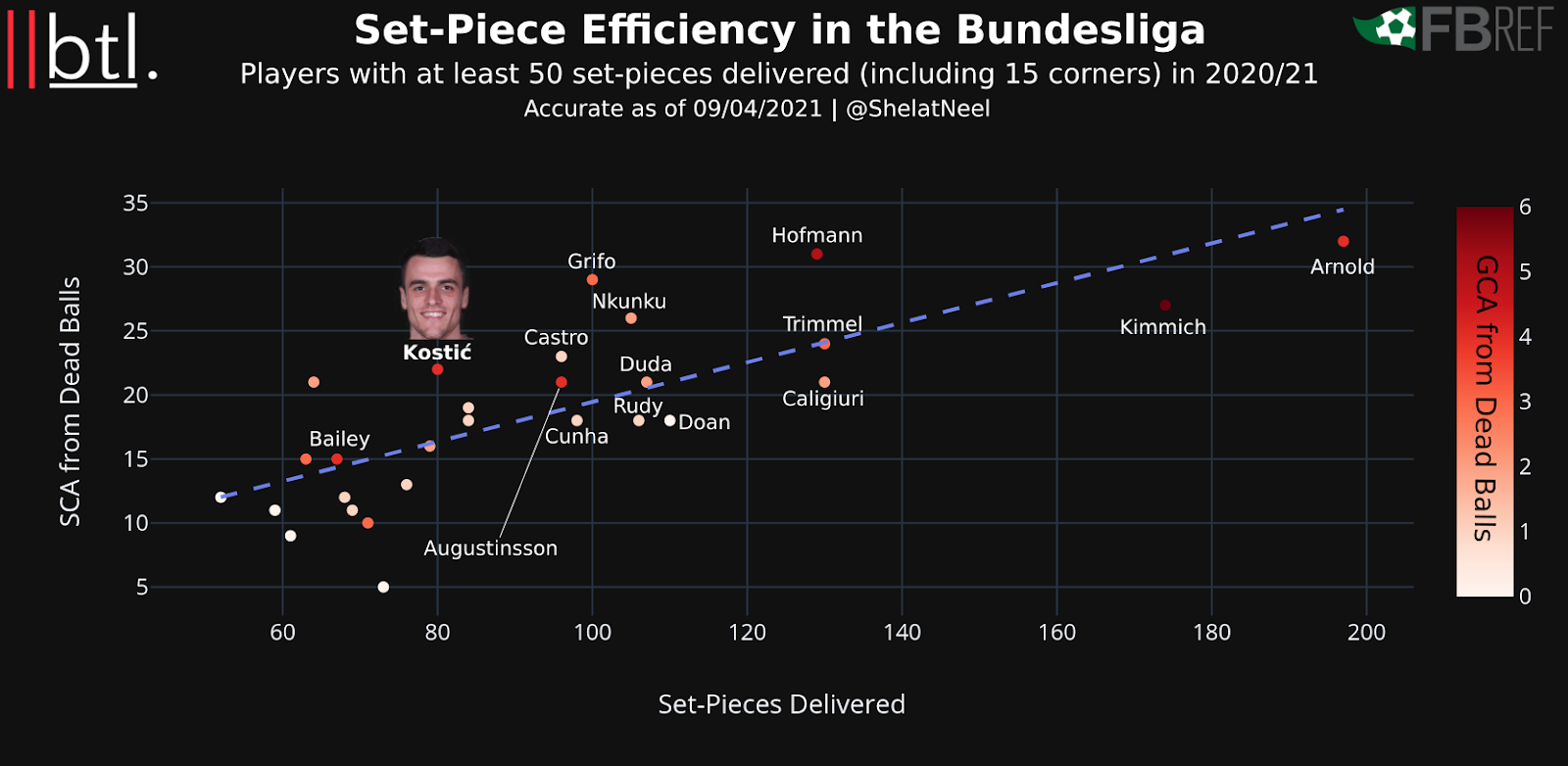 The Serbia international's efficiency translates into goals too, as his set-pieces lead to a goal once in every 20 attempts, which means he has the second-best average in the Bundesliga in this regard. He has a full array of deliveries in his locker, as seen in the below examples against Hoffenheim and Union Berlin.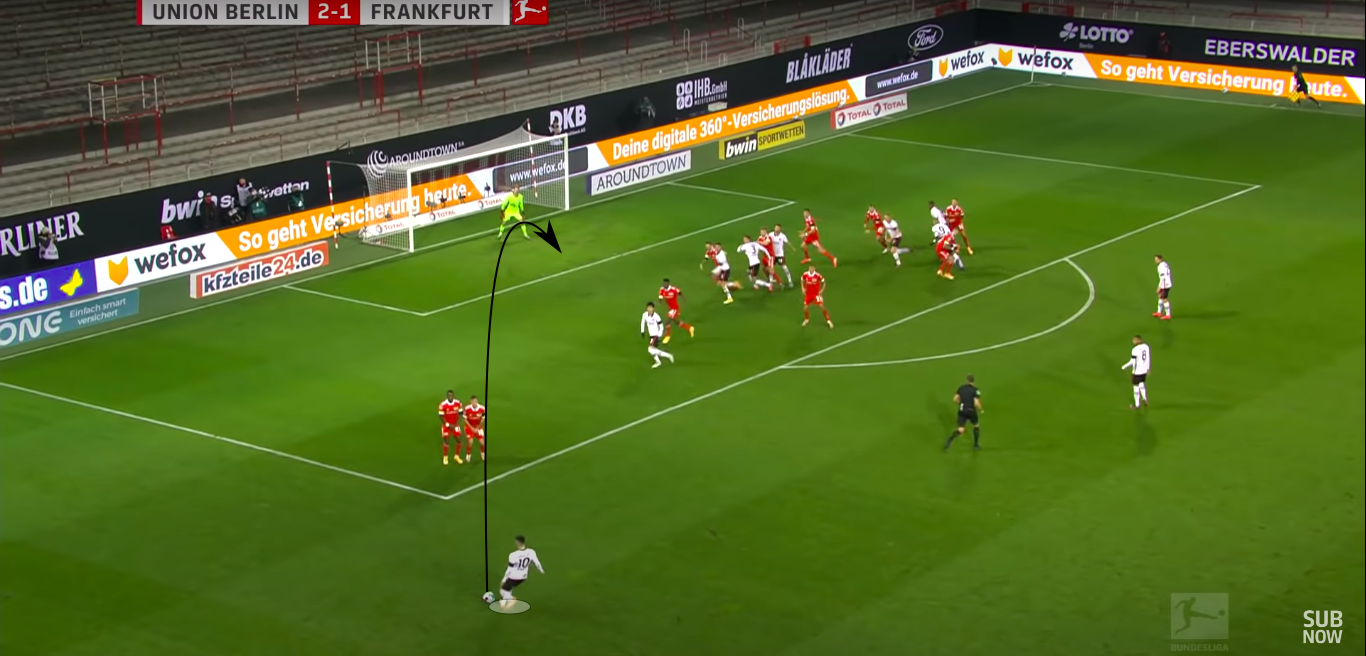 Kostić's very first Bundesliga assist of the 2020/21 season was a brilliant out-swinging free-kick. Union Berlin took an early 2-0 lead at home via goals from Robert Andrich and Max Kruse, but Eintracht quickly drew level via a first-half brace from Silva.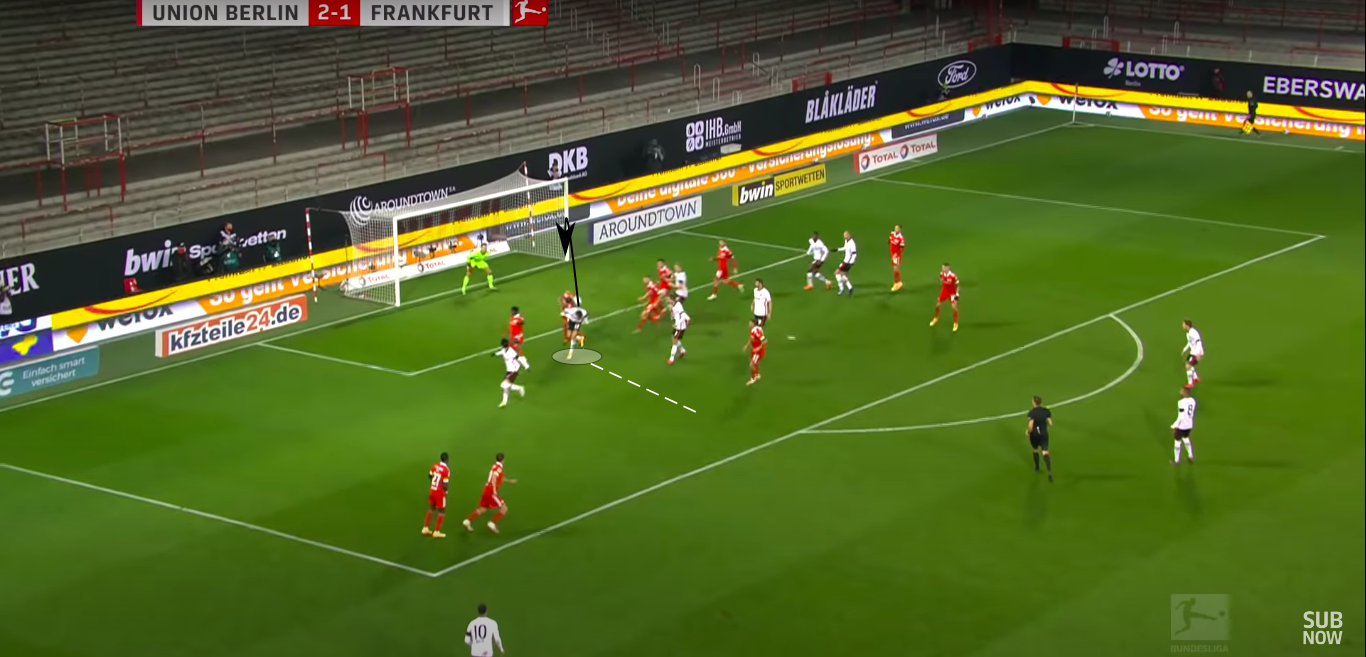 For the second goal, Kostić sent it into the near-post region, where André Silva knew what was coming and flicked on his header past Andreas Luthe and into the corner of the net. Eintracht would take the lead late on after Bas Dost's late goal, but they were forced to settle for a draw after Kruse quickly equalized in the 82nd minute.
Keeping a high line against Kostić's set-pieces is a massive risk, which is something that Hoffenheim learnt the hard way. The Serbian wing-back's outswingers can unlock any such defence, as they did here. Evan N'Dicka was the man who benefitted, but there were three other players who could have easily done so too; such was the nature of Kostić's supreme delivery. Eintracht quickly added a third goal via Silva to take a 3-1 victory at the Rhein-Neckar Arena.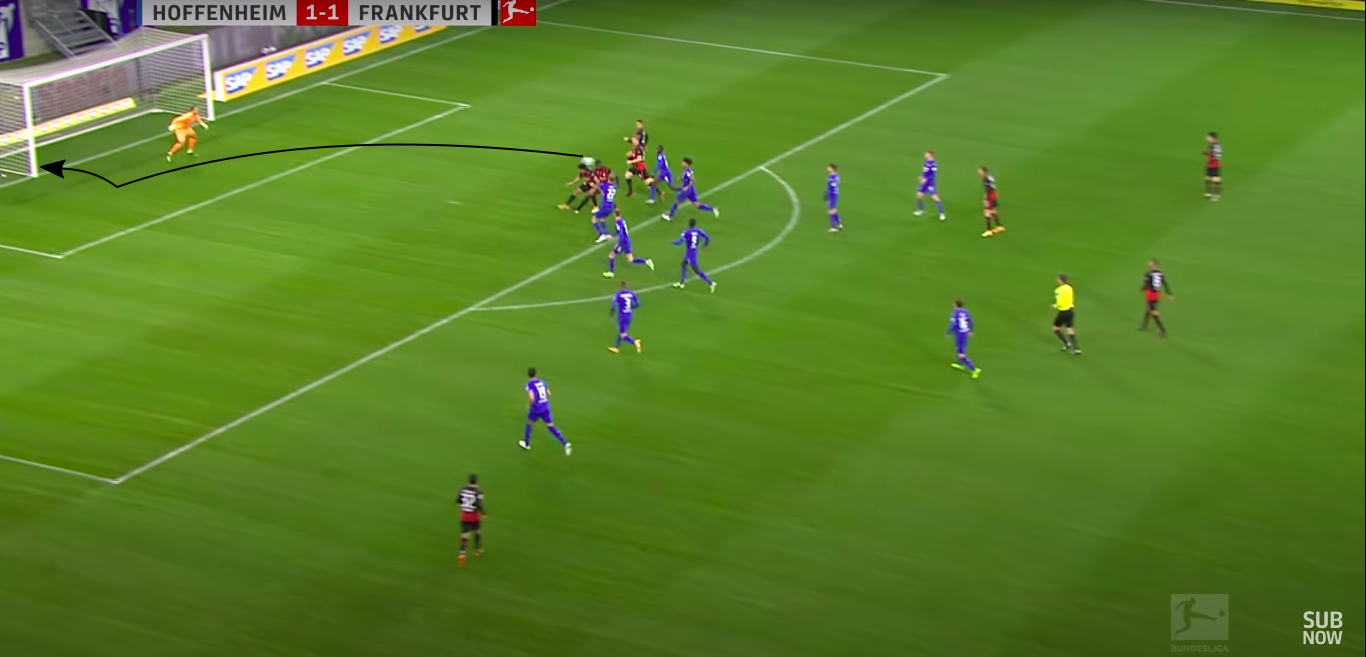 Conclusion
Although not a headline player, Filip Kostić probably is the most important performer in this brilliant Eintracht Frankfurt side. André Silva has deservedly received a lot of plaudits for his stellar performances which include 22 goals this season, but nearly a third of his exploits would not have been possible without Kostić.
The Serbian winger's current contract runs until the summer of 2023, meaning that other clubs may start developing an interest in him this summer – quite understandably so too – but rationally one would expect him to stay given Frankfurt's success (which could quite possibly bring Champions League football to the Waldstadion next season) and his integral role in it. In either case, it's about time that the footballing world starts giving Kostić the recognition he deserves.
By: Neel Shelat
Featured Image: @GabFoligno / Alexander Hassenstein / Getty Images
Stats courtesy WhoScored, Fbref and Bundesliga.