Florian Wirtz Is the Best Player You're Not Watching
On October 15, 2016, Kai Havertz became Bayer Leverkusen's youngest ever Bundesliga debutant at 17 years and 126 days old. Over the next three and a half years, Havertz would solidify his status as one of the biggest talents in Europe, leading Die Werkself to a fourth-place finish in 2018/19 before departing for Chelsea in the summer of 2020.
How do you replace a talent like Havertz, a player capable of churning out goalscoring chances in the blink of an eye, able to create danger in a midfield position or on the wing or as a false nine, and who knows the club like the back of his hand after spending the past decade in the club's youth ranks and first team. Simple: you find another one.
Having pocketed an initial club record fee of €80 million for Havertz plus €20 million in potential bonuses, Leverkusen spent a total of €31.5 million in transfer fees: bringing in Roma striker Patrik Schick to replace the departing Kevin Volland and signing 21-year-old Lennart Grill from third-tier side Kaiserslautern to replace the retiring Ramazan Özcan as backup goalkeeper.
They also brought Santiago Arias on loan from Atlético Madrid with an option to buy, but the Colombian right back would play just one match for them before suffering a leg break in a World Cup qualifier against Venezuela. They did not, however, sign an attacking midfielder, in a show of confidence for a teenage prospect who is already making a name for himself at BayArena: Florian Wirtz.
Born and raised in the Brauweiler district of Pulheim, North Rhine-Westphalia, Wirtz joined Köln's academy in 2010. He quickly progressed through the youth ranks, prompting local outlet Kölner Express to call him "the best midfielder to come through the club in 30 years.
Analyzing Bayer Leverkusen's Transfer Business in their First Summer Window Under Xabi Alonso
Wirtz earned interest from Bayern Munich, Borussia Dortmund, and Liverpool after leading Köln's U-17 side to the German Championship in 2019, but it was Leverkusen who won the race for him, paying a reported fee of €200,000 on January 31. After providing two goals and three assists in his first four matches for the U-17 side, Wirtz earned a call-up to Leverkusen's first match in three months following the stoppage of football.
It was here in the Weserstadion where Wirtz made his senior debut, starting on the right wing of Peter Bosz's 4-2-3-1 as Leverkusen prevailed with a 4-1 victory against Werder Bremen courtesy of a Havertz brace and goals from Mitchell Weiser and Kerem Demirbay. In doing so, Wirtz became the club's youngest ever debutant, surpassing Havertz's record by 110 days.
Three weeks after receiving his maiden call-up to the first team, Wirtz became the youngest goalscorer in Bundesliga history at 17 years and 34 days when he scored in a 4-2 loss against Bayern Munich. Whether coming off the bench or starting on the right wing, he quickly established himself as a key performer, although the season ended in disappointment as Leverkusen narrowly finished behind Borussia Mönchengladbach for the final Champions League spot.
Player Profile and Role
Following Havertz's departure, Wirtz has become one of the first names on Bosz's team sheet, primarily playing as an attacking midfielder rather than the wing. Standing 5'9" and weighing 152 lbs, Wirtz's lack of physicality and vertical leap has posed an issue when it comes to ground duels and aerial duels, but his individual talent more than makes up for it.
Similarly to Havertz, the majority of Wirtz's actions come within the right half space or zone 14, as seen below. He typically operates in an advanced midfield role, although he tends to drop in line with the single pivot to offer his center backs supporting passing options whenever Bosz opts for a 4-3-3. On the other hand, when playing in a 4-2-3-1, he almost exclusively plays in behind the midfield line to search for gaps to exploit.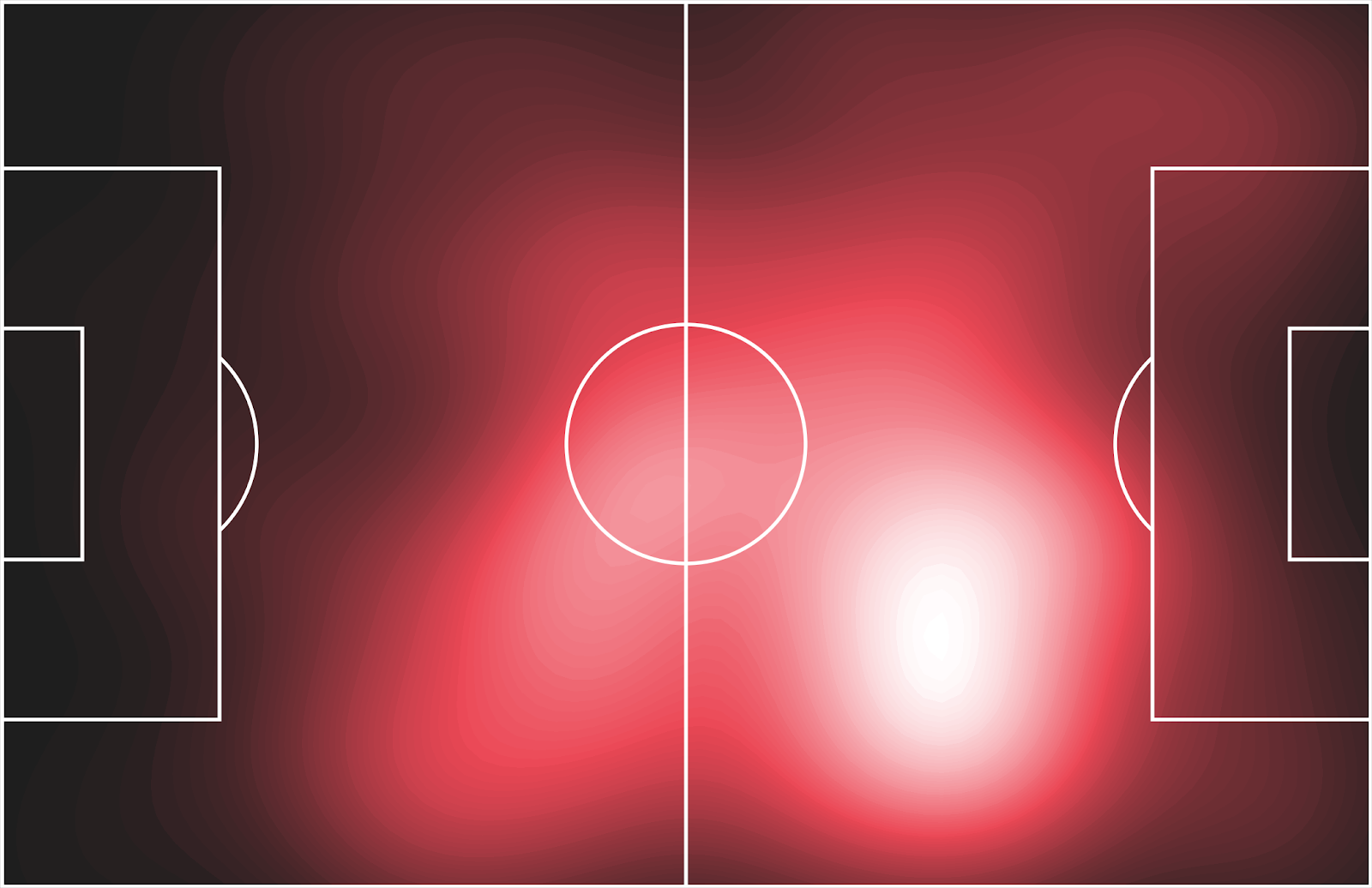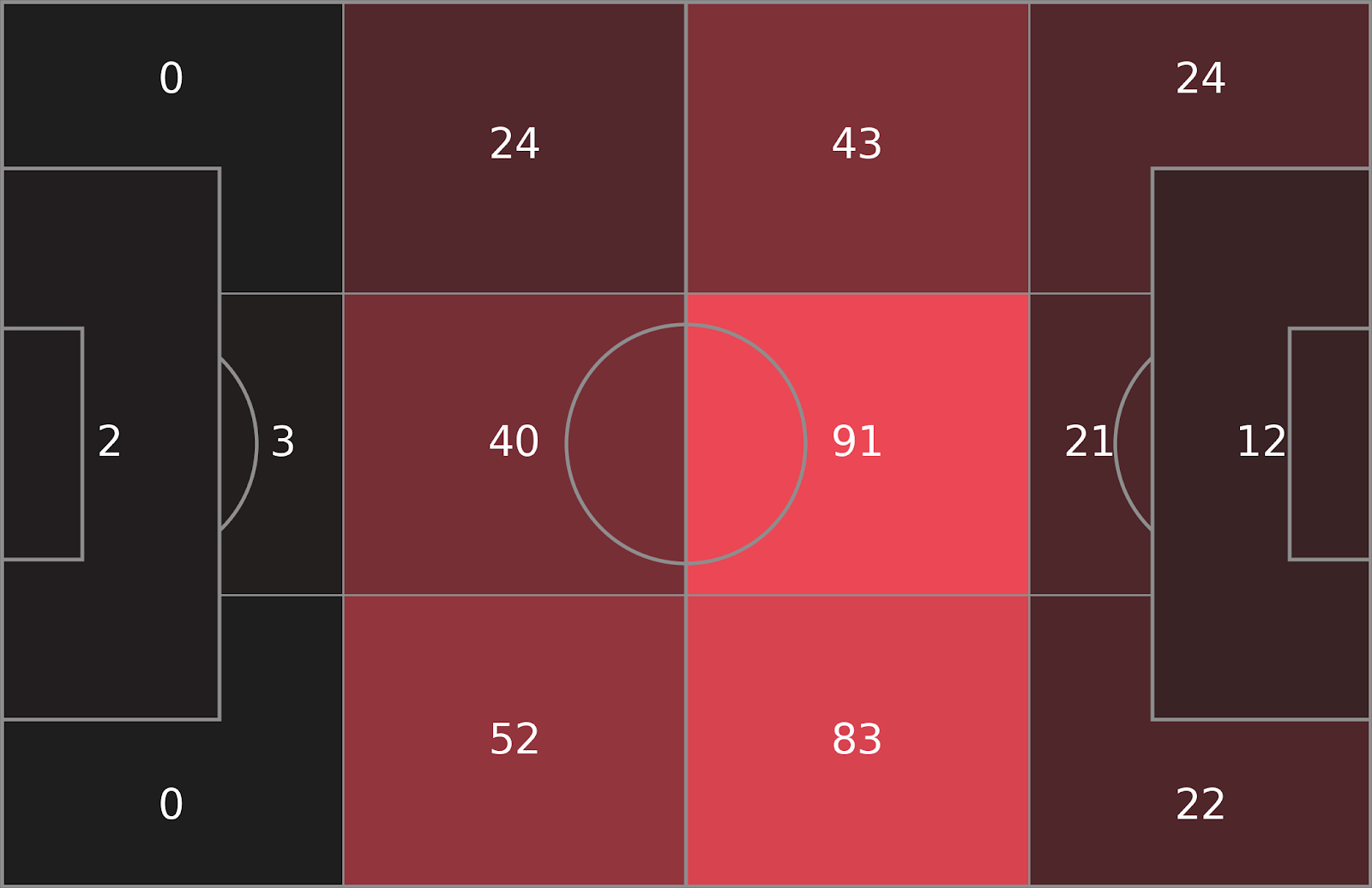 Photo: Twenty3 / Wyscout
Understanding of Space and Players Around Him
One of the things that makes Wirtz such a special attacking midfielder is his ability to identify where space is around him. The 17-year-old excels at calculating where the space will be based on the positioning of the midfielder in front of him in order to create a passing option forward. This gives him a huge advantage as the opposing defender will be forced to track Wirtz and the forward ahead of him at the same exact time.
In the below example against Hapoel Be'er Sheva, an opposing player moves toward Demirbay as they seek to prevent Leverkusen's double pivot from being free to receive the ball. Wirtz shifts towards his right as he advances towards Demirbay, creating a numerical overload in midfield and a passing option past four players.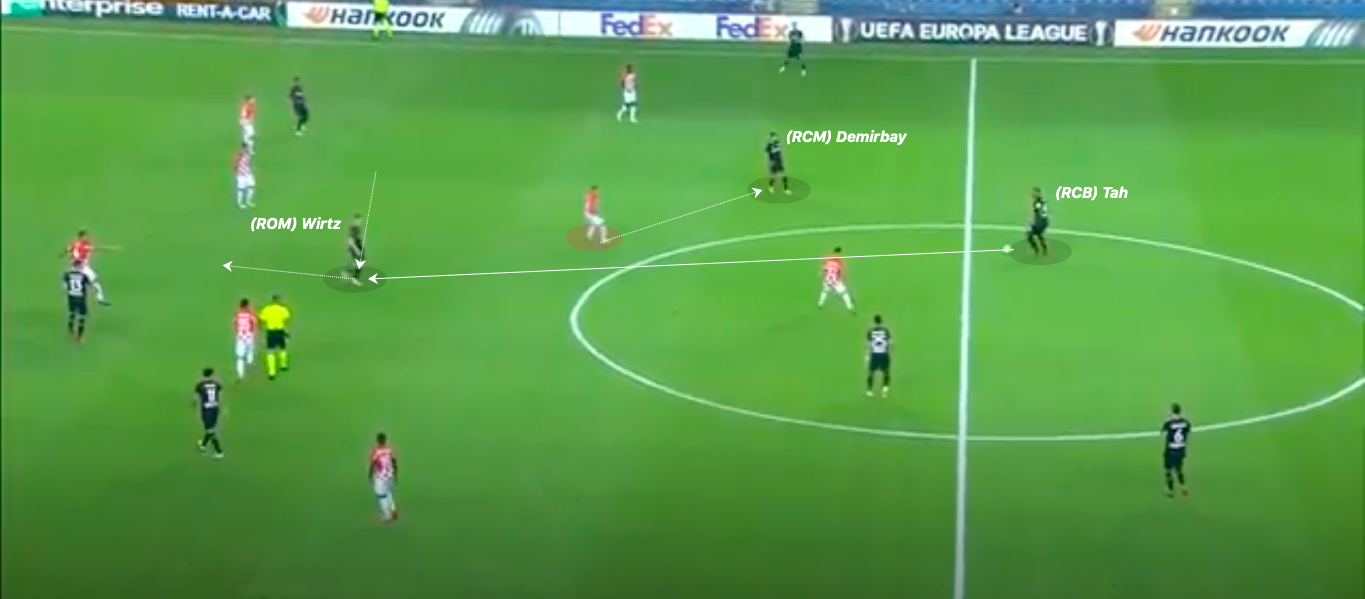 His ability to quickly process the runs of his teammates will become even more apparent as he develops chemistry with the likes of Moussa Diaby, Schick and Lucas Alario. In the below example against Borussia Mönnchengladbach, this speed of mind and tactical awareness is on display.
As Lars Bender carries the ball out of defense, Wirtz drags Christoph Kramer (highlighted in red) towards the right flank, whilst Diaby runs the other way. Kramer does not realize what's happening before it's too late, as he finds himself tasked with marking two players; Diaby is free to receive the ball in the right half space.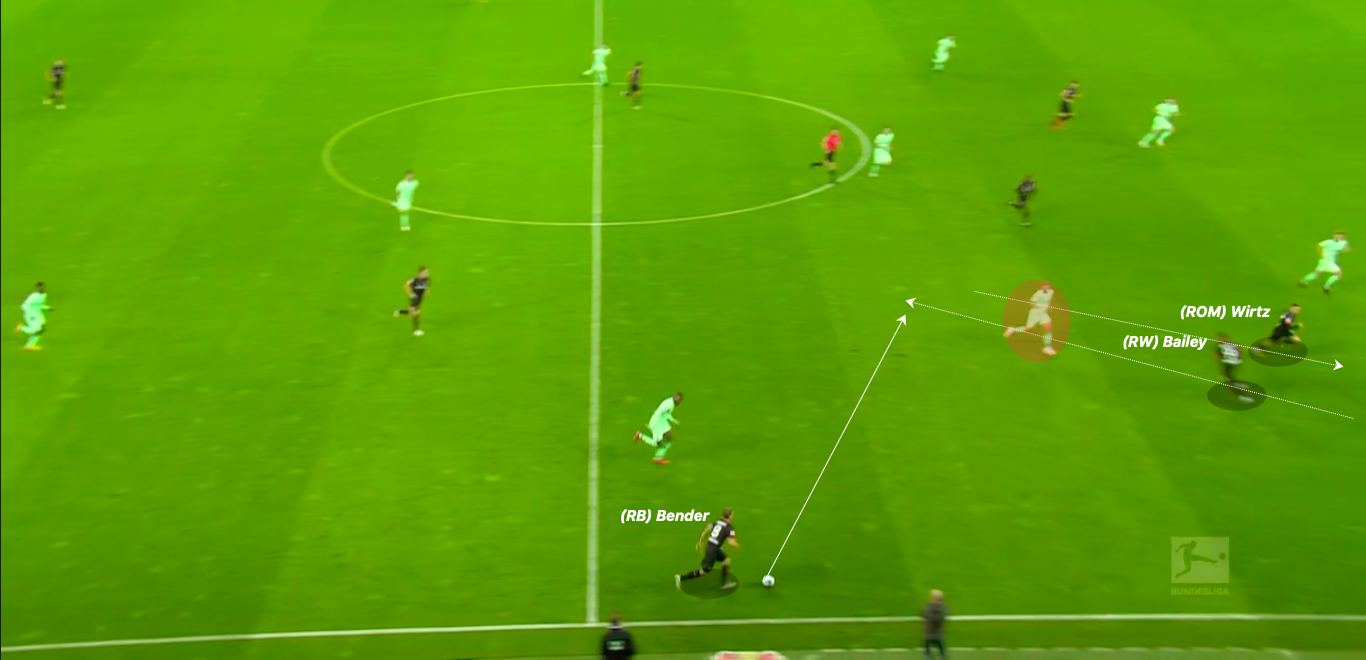 Unlike Havertz, Wirtz has not yet managed to combine his tactical awareness with a consistent goalscoring threat; Havertz recorded 4 goals and 6 assists in his first 24 Bundesliga appearances, whilst Wirtz has provided 1 goal and 4 assists in 15 appearances in Germany's top flight, in addition to 2 goals and 1 assist in the Europa League group stage thus far.
Nevertheless, Wirtz has compensated for his lack of end product with an impressive ability to make the correct runs in the final third and exploit dangerous areas. As Leverkusen right back Tin Jedvaj weighs up a passing option, Alario makes a diagonal run to drag the right wing-back, Or Dadya, with him. Wirtz makes a darting run to exploit the Israeli defender's blind-side and arrive at the far post, finding himself in a prime position to convert Jedvaj's cross.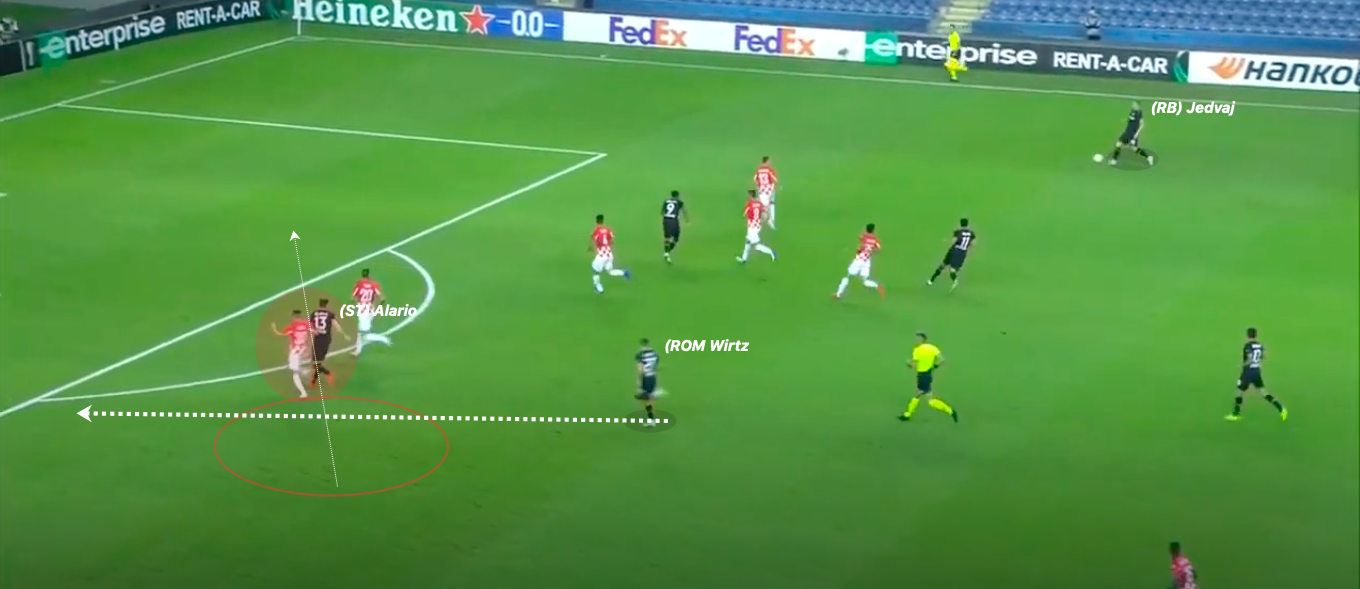 Playmaking Ability Beyond His Years
Havertz finished last season with an eye-popping 3.55 shot-creating actions per 90, only behind Thomas Müller and Jadon Sancho in Germany's top flight. After just six starts in the Bundesliga this season, Wirtz is currently averaging 3.15 shot-creating actions per 90, having provided assists against Stuttgart, Freiburg, Gladbach, and Arminia Bielefeld.
When looking into his passing actions in transition and against settled defenses, we can get a glimpse of how his technical quality, vision and composure translates into these impressive statistics. With his non-kicking foot alongside the ball and his kicking foot following through towards the target, he times and weighs the passes to perfection nearly at an elite level. Opposition defenders are never at peace when Wirtz is on the ball.
It's very common for younger players to make wrong decisions in attacking transitions, but Wirtz has the speed of mind and creativity to spot his teammates's runs and put the opposing defenders on the back-burner. He particularly loves to find outside forwards who are coming inside from the flanks and making runs in behind the opposing fullbacks. These instructions have become a staple of Bosz's forwards, as Wirtz continues to find the likes of Leon Bailey, Diaby and Nadiem Amiri in advanced areas.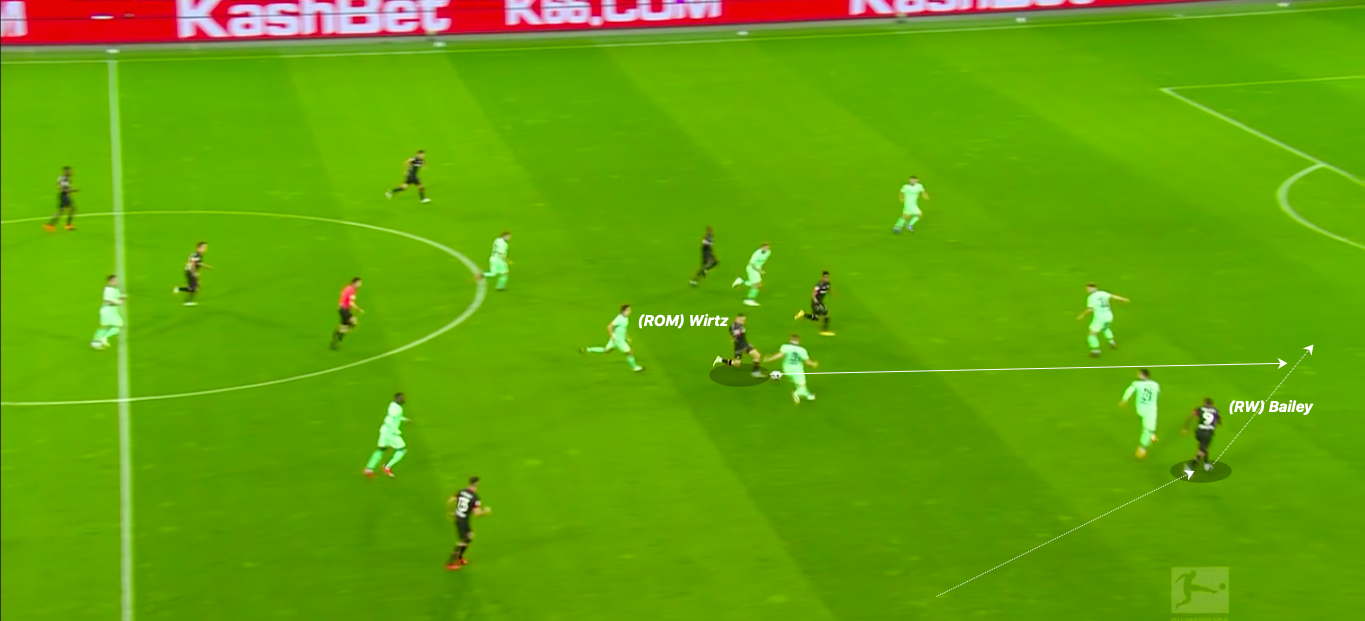 Another aspect of his game that makes Wirtz such a special talent is his composure under pressure. In the below example, Wirtz is surrounded by a sea of Freiburg players, with one player on his right aggressively closing him down.
Nevertheless, Wirtz remains unfazed; he already knows where he is going to play the ball. Whether receiving in a deeper area or in the final third, Wirtz's tactical intelligence and vision allow him to maneuver the opposing press and find his teammate in space with a pinpoint first-time ball.
Room for Improvement
As good as Wirtz is, there are still a few areas that the 17-year-old must work on in order to reach his world-class ceiling.
Accelerations off the dribble: When receiving on the turn, Wirtz has the chance to drive at the opposition defense but he fails to burst forward and get away from the opposition defenders, causing him to waste an attacking opportunity. This is a major issue for him especially in 1v1 situations against defenders; Wirtz has zero successful dribbles that led to a shot-creating chance.
Attacking depth: Whilst Wirtz's intelligent movement between the lines is one of his biggest assets, there are moments where he wastes the opportunity to attack space in wide areas. Specifically, he often fails to recognize the right moment to make a run in between the center back and fullback/wingback, and as a result, he does not take advantage of gaps in the defense as frequently as he should.
In the below image, Freiburg's back four is stretched apart and there is ample space for Wirtz to make a blindside run in between Christian Günter and Dominique Heintz. In doing so, he would provide Bailey with a quick passing option, attract the attention of the defenders, and create space for Alario and Diaby to exploit. Instead, he staggers his run and remains in his position, thus killing his team's momentum.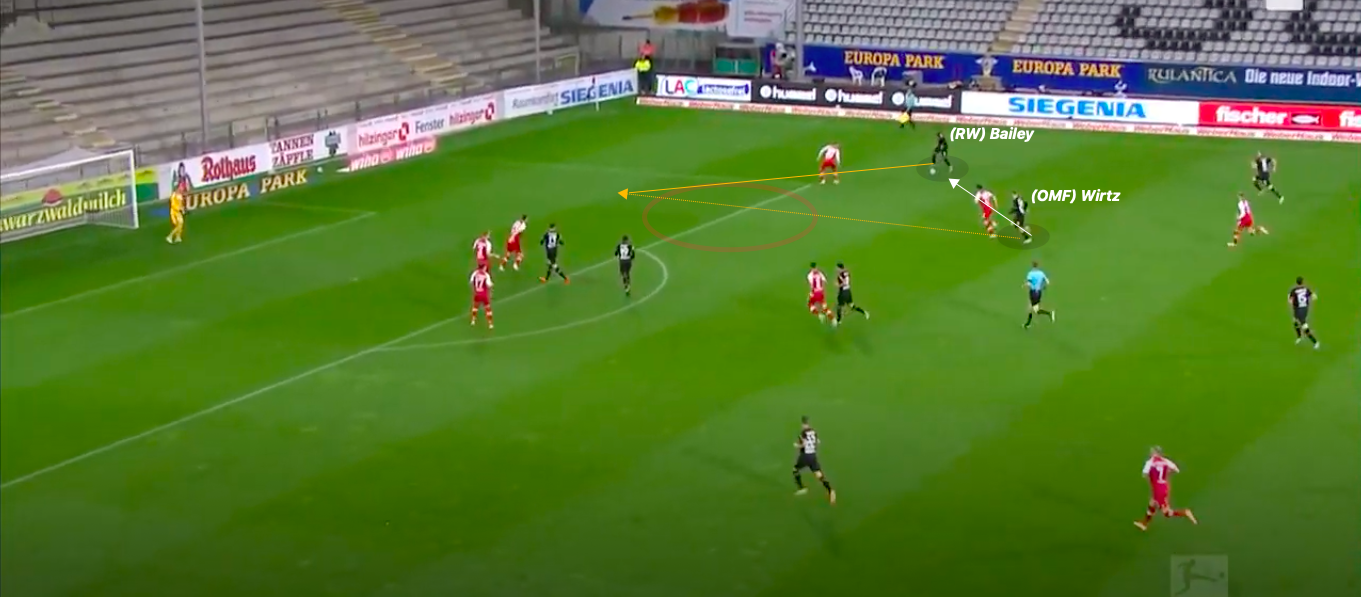 Conclusion
The 2019/20 season ended on a sour note for Bayer Leverkusen and its fanbase. After missing out on top four by two points, Leverkusen lost to Bayern Munich in the DFB-Pokal Final and were eliminated by Inter Milan in the quarterfinals stage of the UEFA Europa League. With Kai Havertz departing for Chelsea, the stage looked set for a regressive season at BayArena.
Instead, they currently find themselves third in the Bundesliga — three points behind league leaders Bayern Munich — and level on points with Slavia Prague in their Europa League group. Leverkusen's impressive start to the season cannot be explained without the emergence of Florian Wirtz. Less than one year after joining Leverkusen for €200,000, the 17-year-old is already establishing himself as one of the best talents in Germany and the potential heir to Havertz's throne.
By: Craig Moniz
Featured Image: @GabFoligno / picture alliance