Gabriel Jesus' Conversion Rate and the Foretelling of Fate
As a consequence to the sheer statistical significance that being the Premier League leaders at Christmas has historically proved, Arsenal fans have been given a substantial boost to their hopes of toppling Manchester City's crown. The Gunners' electric start puts them amongst illustrious company in the record books. They have become the eighth Premier League side to ever win 12 of their opening 14 games — each of the other seven sides went on to win the league title. 
Whilst this poses a good omen for Mikel Arteta's team, the fact that Arsenal have failed to win the title on the past five occasions they have been league leaders at Christmas, a run that stretches back to 1948, casts a dreary, hibernal shadow on Arsenal's ultimate ambition. 
A key aspect of Arsenal's recent rebuild and resurgence has been their savvy, prudent recruitment, as demonstrated by the acquisitions of Ben White, Martin Odegaard, Oleksandr Zinchenko, Aaron Ramsdale, etc. Crucially, the signing that has perhaps been microscopically analysed more than any other has been Gabriel Jesus, the 25-year-old Brazilian forward who secured a move from Pep Guardiola's Manchester City to North London in a £45 million move. 
Not only was he given the number 9 jersey and expected to lead the Gunners' frontline for the upcoming season, but the young striker also faced questions about his ambition as he left a City side where he had amassed eleven winners' medals, winning every domestic trophy in England, and departing for an Arsenal side who have finished outside the Champions League spots for six straight seasons. 
Quite simply, the fact that he was not getting enough game time mostly affected his decision to cut his time at the Etihad. Understandably, this is due to the number of top-quality attacking options, namely Riyad Mahrez, Phil Foden, Jack Grealish, Raheem Sterling, and Sergio Aguero during his time at City which meant the players had to be rotated and the second reason was his desire to play in his preferred/desired position as a 9 which didn't happen all the time at City when he was often deployed on the wings. 
First, let us examine the minutes Gabriel Jesus had at Manchester City in the five years he spent under Pep's stewardship. He played 236 matches racking up 14.236 minutes of game time. Considering that he was competing with 5-6 attacking players during the period, it can be concluded that this level of game time was a fairly reasonable amount, albeit just not enough for a player with the ambition of Jesus. 

When comparing his minutes with other attackers between 2018/2019 and 2021/2022, Jesus played a total of 183 matches, amassing 10.962 minutes, while Mahrez played 189 matches, amassing 12.077 minutes and Foden played 159 matches, amassing 9.435 minutes within that time frame. In comparison to Sterling over a five-year period dating back from the 2017/2018 to the 2021/2022 season, Jesus played 225 matches amassing 13.556 minutes while Raheem Sterling played 245 matches amassing 18.473 minutes.

As seen above, Jesus has occupied the number 9 position than any other position in the final third. He played as a Center Forward 186 times (78.8% of these matches) and since he made his move to Arsenal, he has played 18 matches, playing as a Center Forward in all those games.
Last season, Jesus almost featured on the right wing as much as he did as a number 9 and with the signing of Erling Haaland announced just before the end of the season, the writing was on the wall. Jesus would need to find a club where he could start week in, week out, and play in his favored central position. At 25 years old, he left the Etihad and headed for North London.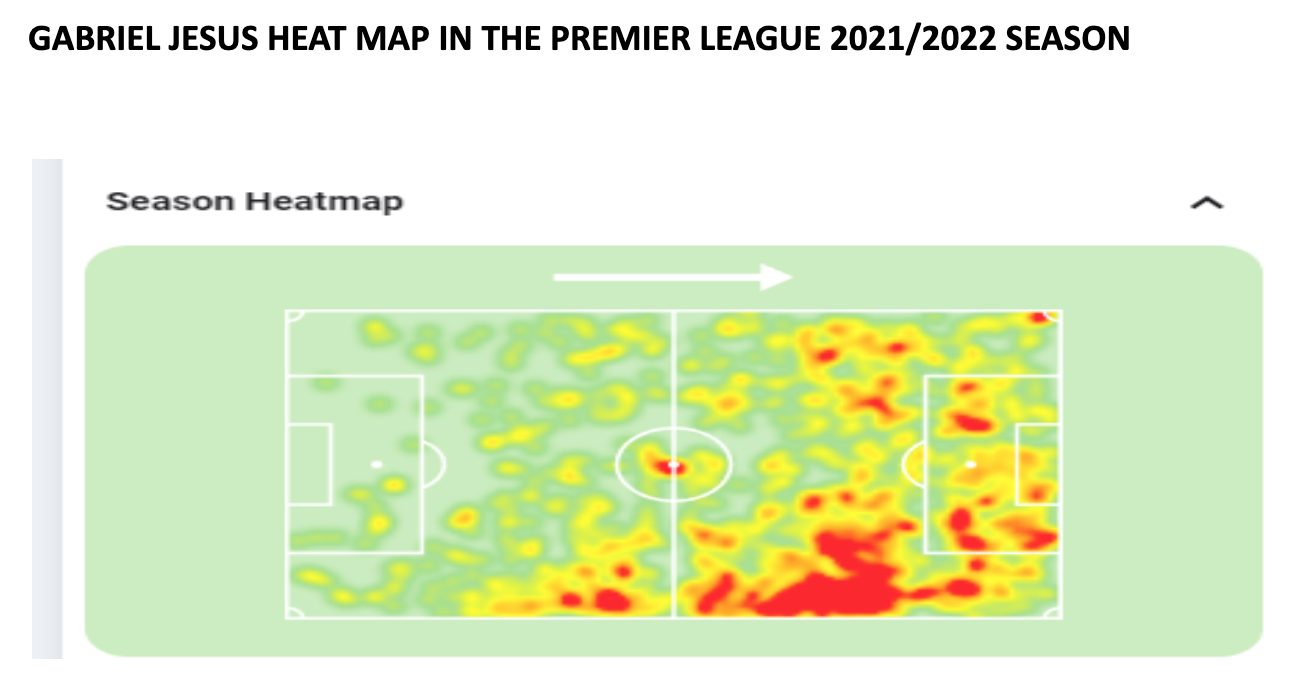 Jesus' Goal Conversion Rate
Gabriel Jesus has never been an elite finisher, hence why City elected to move on from him and sign a more proven goal scorer in Haaland, but he has nevertheless racked up impressive numbers at the Etihad. He did have two seasons where he scored 20+ goals in all competitions: the 2018/2019 season where he played 47 matches and scored 21 goals, and the 2019/2020 season where he played 53 matches and scored 23 goals.
In total, he scored 85 goals in 236 appearances which amounts to around one goal in every three games. Whilst this is fairly impressive for a young forward, he missed many chances in this stretch of time, so much so that this became a stick to beat Jesus with during his time at City and why, at times, Guardiola was seen to prefer a 'striker-less' system as opposed to accommodating Jesus. 

One of the drawbacks to his game is his finishing; missing more big chances than goals scored in his five full Premier League seasons is deeply disappointing for any number nine and the signing of Haaland is a certainly justified one as Pep deemed deploying Jesus on the wings on certain occasions was only logical when considering his modest goal return.
Rapid Adaptation to Life at Arsenal
Gabriel Jesus did not waste time in settling to life at Arsenal, scoring five goals in his first nine games and inciting a narrative whereby Guardiola was questioned for holding back Jesus' 'true' capabilities.  While the narrative for many was that Jesus was playing free of the shackles of Pep's rigid idea of how strikers should function in his system, the criticism of Guardiola can be easily refuted for the statistics shown above. Jesus was given plenty of minutes as a centre forward. Nevertheless, 67 big chances missed without the elite goals per game return, really do speak for themselves. 
After those first nine matches, Jesus would go on a barren spell in front of goal for the next nine matches and tops the charts on the negative end of big chances missed in the league with eleven, leading some to conclude that he may not be the elite finisher in disguise that people seemed to have believed for the first few weeks of his time at the Emirates. 
Despite the goal-scoring shortcomings, his overall play has been top-notch for the Gunners, leading the high press up front, his link-up play with Bukayo Saka, Gabriel Martinelli, and Martin Odegaard has been a joy to watch, and Arsenal has been producing some of their best attacking displays since the days of Arsene Wenger. Gabriel Jesus has racked up five assists in the Premier League this season, showing his creative side.  

Conclusion
With Arsenal top of the Premier League after 14 matches, five points ahead of the defending champions Manchester City with Jesus scoring five times and providing five assists. Whilst the existence of the haunting augury exists for Arsenal in regards to their record at being top at Christmas, they look the real deal under Mikel Arteta and they are exhibiting marked improvements during his tenure. In brief, the signing of Gabriel Jesus can be seen as a success, but we are still yet to witness the true vision of what led Edu and Mikel Arteta to bring the Brazilian to North London. 
By: Kayode Dave Ogunbameru / @DaveOgunbameru
Featured Image: @GabFoligno / Jacques Feeney / Offside