Gabriel Magalhães: One of the Few Bright Spots From Arsenal's Torrid Campaign
The centre back position at Arsenal has long been neglected and often shelved by attacking signings. Instead, Arsenal has consistently used stop-gap signings in an attempt to heal a major wound. And consequently, has frequently fallen short in the Premier League and Europa League due to individual defensive frailties and a lack of structure in key fixtures.
The drought of defensive quality seemingly clear to Arteta and Edu made it their mission to strengthen the spine of the team. The pair identified two players and successfully brought them in, long-standing target Thomas Partey and emerging Lille star, Gabriel Magalhães. The latter has since become a fundamental figure of the Arsenal defence, and despite the disappointing start to the season, has been a reason for Arsenal fans to remain hopeful.
The Brazilian has swiftly integrated himself into Arteta's first team, starting all but one Premier League match, and the 22-year-old is beginning to make a case as one of the signings of the summer. He has already cemented himself as the best Arsenal performer this season winning Arsenal Player of The Month three months in a row (out of three). This article analyses his impact on the Arsenal defence and how he can become the beating heart of Arsenal for years to come.
Ball-Playing Centre Back
Firstly, an attribute which is becoming more and more significant for the modern-day centre-half, the ability to control the ball, scan the pitch, identify a teammate and accurately deliver the ball to feet. Virgil Van Dijk, Connor Coady and Thiago Silva, to name few have risen in prominence in part due to their immaculate distribution capabilities. And likewise, Gabriel has shown he has excellent passing range and accuracy.
So far this season, Gabriel has completed more passes than any other Arsenal player, leading in both medium (15-30 yards) and long passing (30+ yards) categories for Arsenal, with majority of the play surging down the left-hand side. Moreover, in possession his calm, comfortable nature to drive with the ball has been a breath of fresh air. These attributes have helped Arsenal in playing out the back with greater assurance and success rather than the madcap moments which drew headlines last season.
Gabriel's solid passing has also shown to start attacks by zipping passes to midfielders in space and developing chances on goal. The series below shows just how quickly Gabriel can convert defence to attack with a single pass. Arsenal is down a goal to Aston Villa at this point, desperately searching for an equaliser.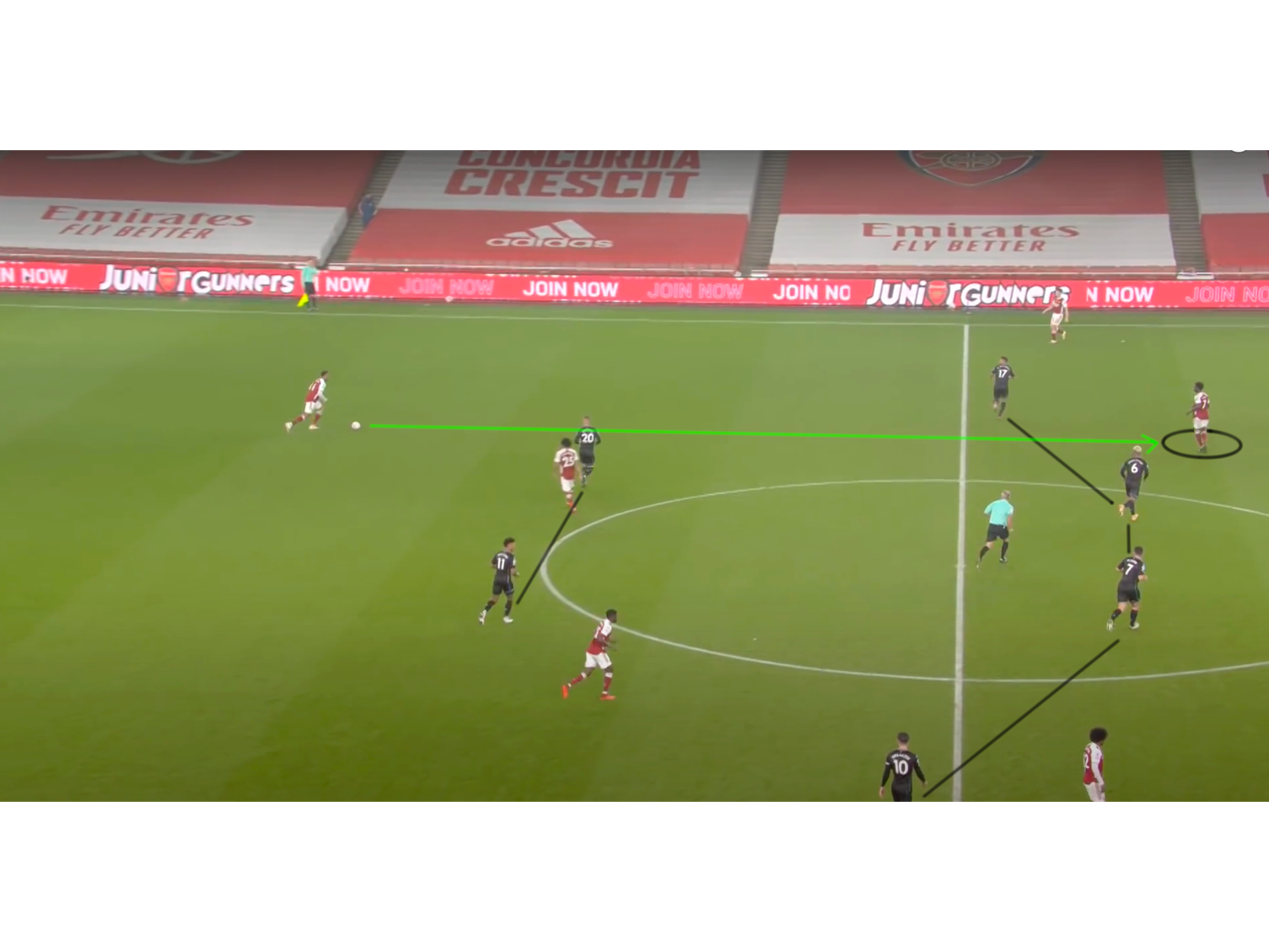 Gabriel recognises that Bukayo Saka in space. Meanwhile, Trézéguet (17) goes to prevent a pass to Kieran Tierney, and Douglas Luiz (6) fails to do the same with Saka allowing Gabriel to fire the pass, breaking the lines.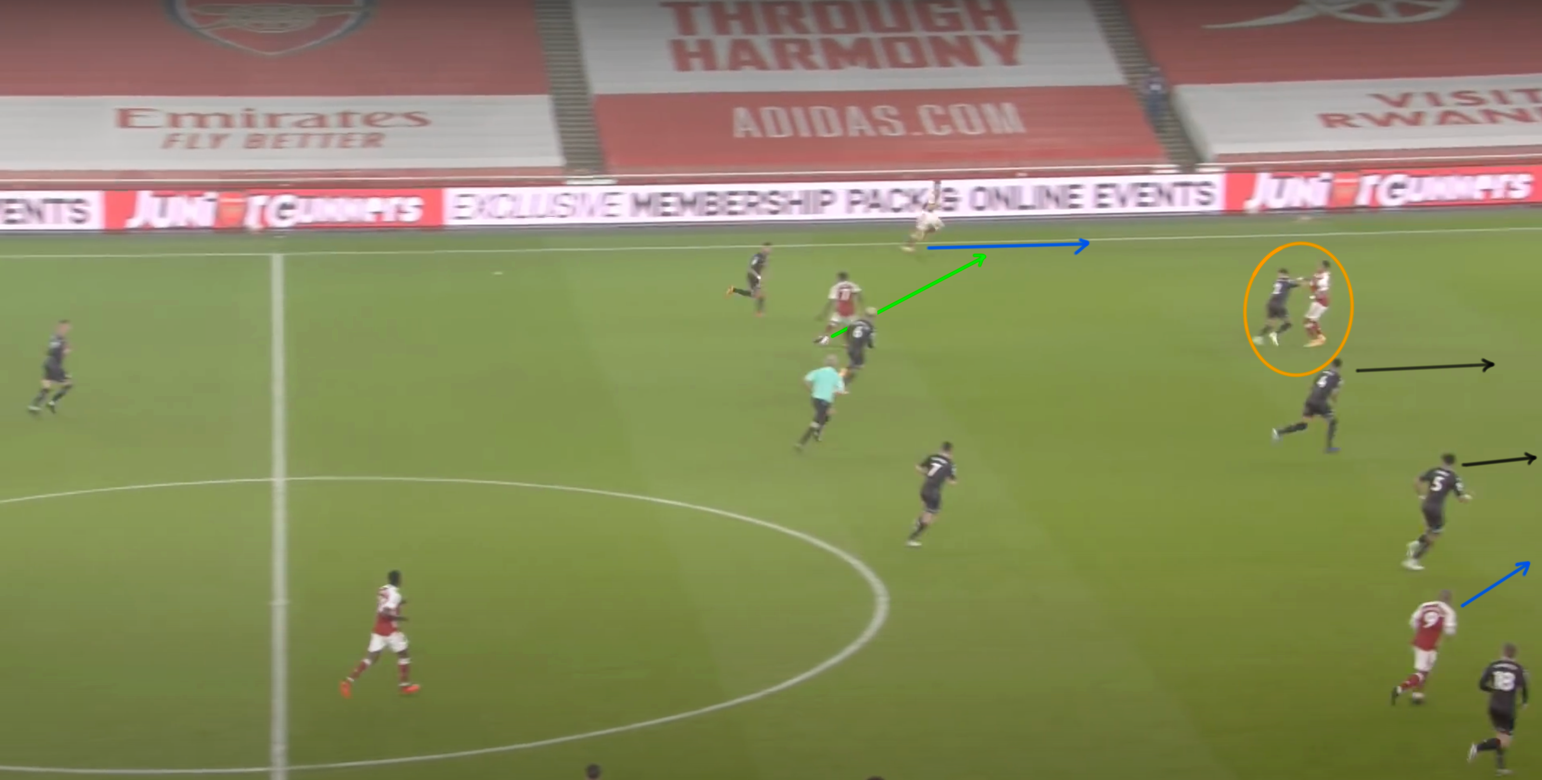 Trézéguet loses track of Tierney allowing Saka (7) to play a one-touch pass into feet. Pierre-Emerick Aubameyang does well to impede the recovery run from Matty Cash (orange) and immediately Aston Villa's defenders are having to run back to goal, something no defender feels comfortable doing. Alexandre Lacazette (9) already has a head start on left back Matt Targett (18) who fails to get goal side of the Frenchman.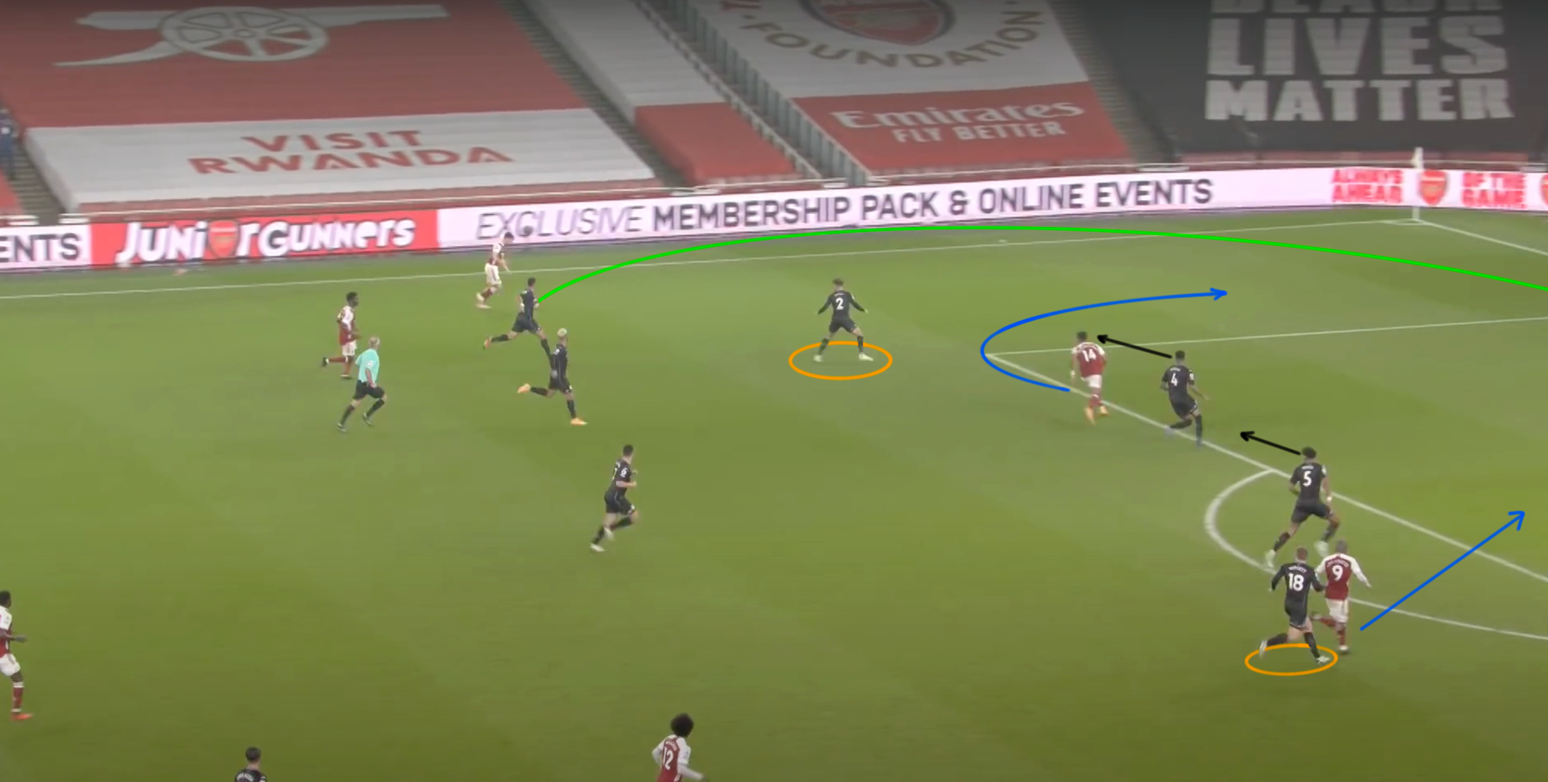 Cash (2) fails to close down Tierney not wanting to allow Aubameyang (14) in behind and consequently finds himself caught in two minds. Aubameyang starts to curve his run to stay onside and make another option for Tierney, drawing the attention of Ezri Konsa (4). Miscommunication between Tyrone Mings (5) and Targett (18) means Mings is unaware of the run made by Lacazette (9) in front of Targett. Tierney spots this and places a cross to Lacazette even Marcelo himself would be proud of.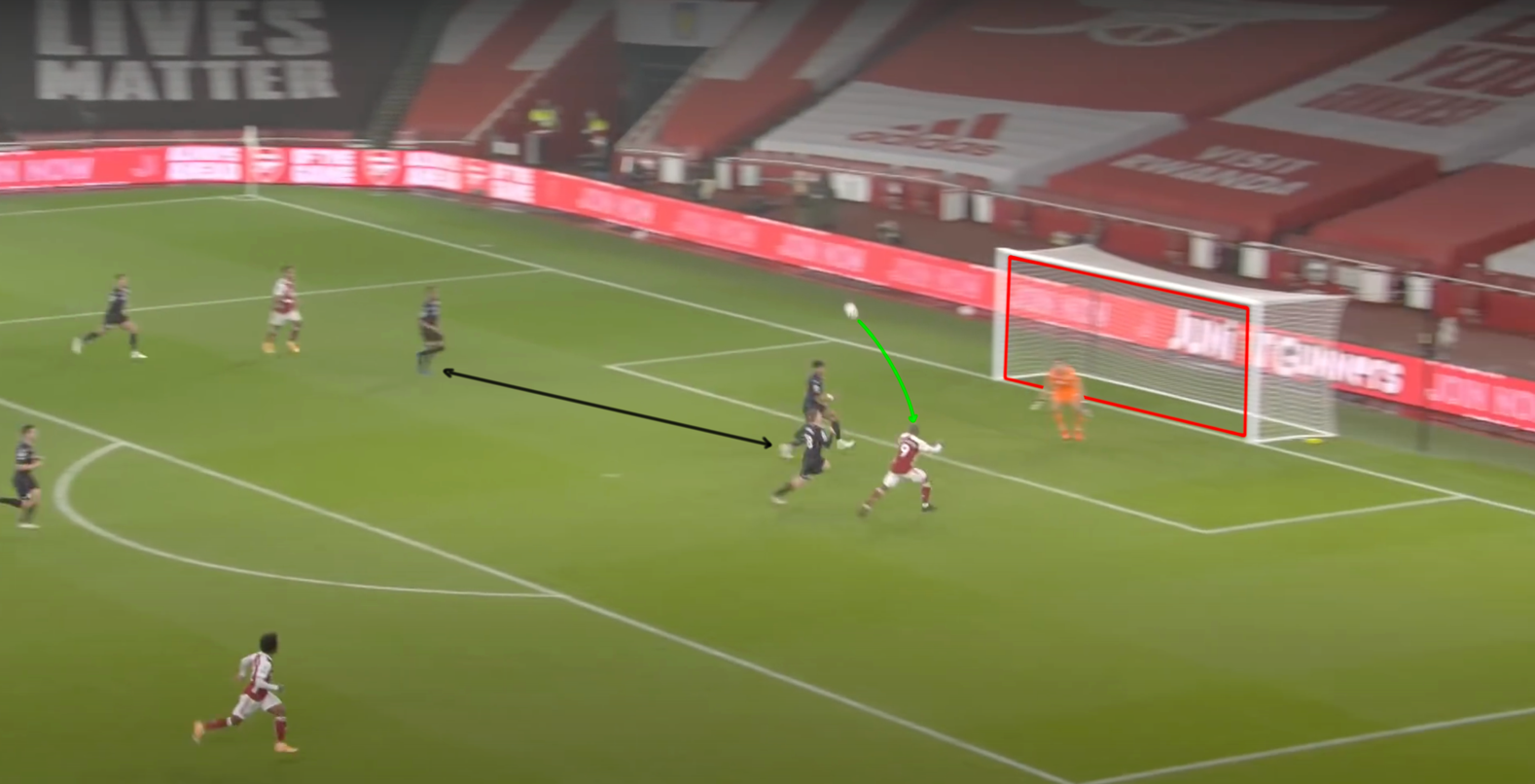 The centre-backs are split, the pass perfect, Lacazette (9) makes a great run in front of Targett, and the goal is looking very big.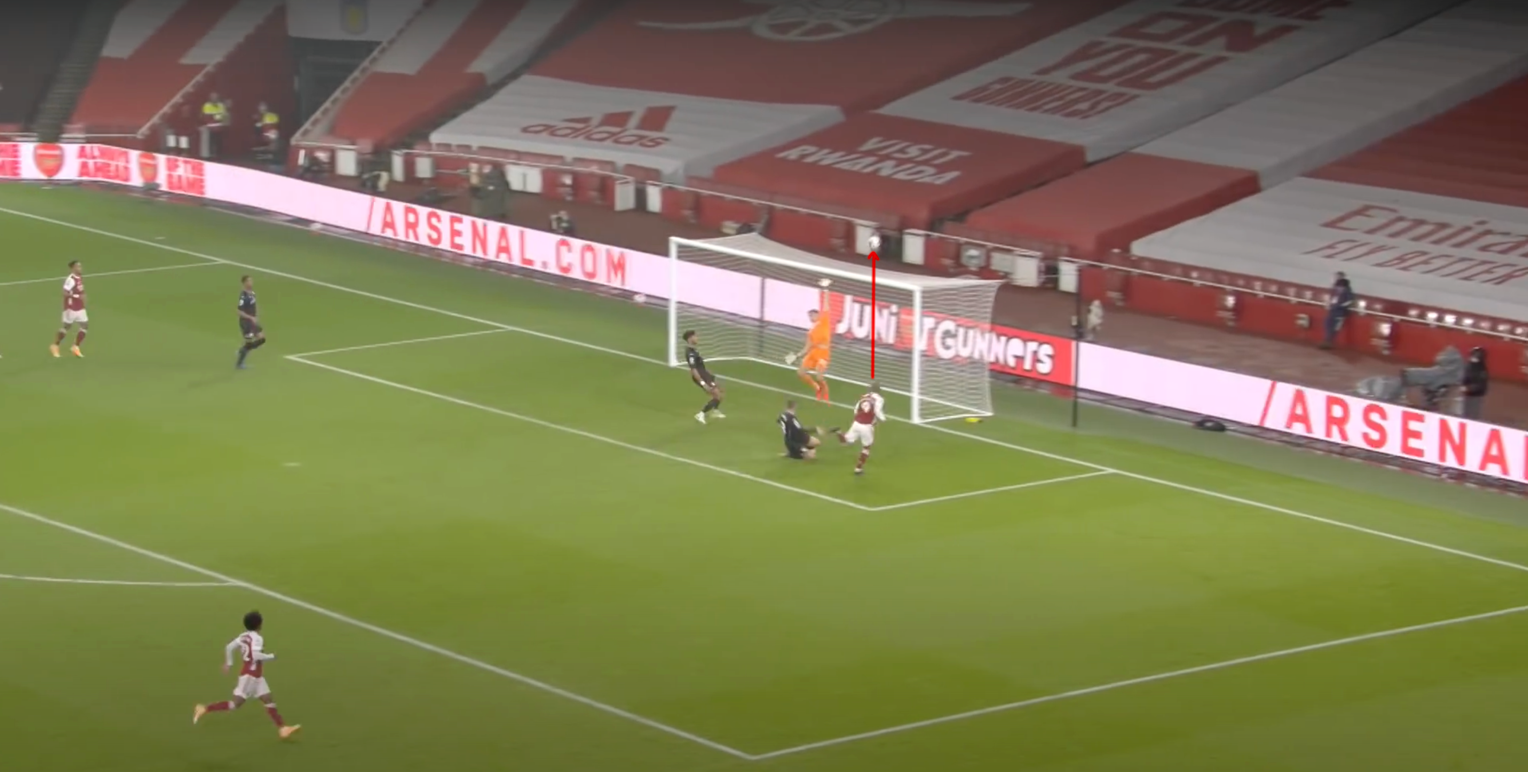 After all the excellent work in positioning, Lacazette fails to find the finish which would have drawn the Gunners level and perhaps turned the tide of the game. This is one example of how an accurate pass from Gabriel unlocked a myriad of attacking opportunities and a seemingly insignificant position on the pitch, turned into a goal-scoring threat, all in three passes.
Defensive Authority and Intelligence
Understandably, whilst the ball-playing attributes are becoming increasingly essential, the first and foremost job for a centre-back is to defend. Gabriel, in this aspect, has been even more impressive. Physically, he strikes an imposing figure at six-foot-three. As a result, Gabriel is not the type of defender to be easily outmuscled on the ground or in the air, which in the Premier League is imperative when taking on strikers such as Michail Antonio, Olivier Giroud and Chris Wood.
For a player of his size, Gabriel is very mobile too, now he may not win against some of the super speedsters, but he is more than capable of keeping pace in short bursts. His large frame and athleticism also enable him to make tackles which Shkodran Mustafi and co. have unsuccessfully attempted to make in previous years.
As a defender, Gabriel typically takes an aggressive approach to his defensive duties by pressing attackers backwards, offering them little time on the ball and his stature complements this style to perfection. A prime example of his defensive assertiveness was the game against Manchester United. Under explicit instruction to pressure Marcus Rashford and Mason Greenwood as much as possible pushing their backs to goal, Gabriel imposed his colossal size, forcing errors and keeping them from turning and facing the goal to significant effect.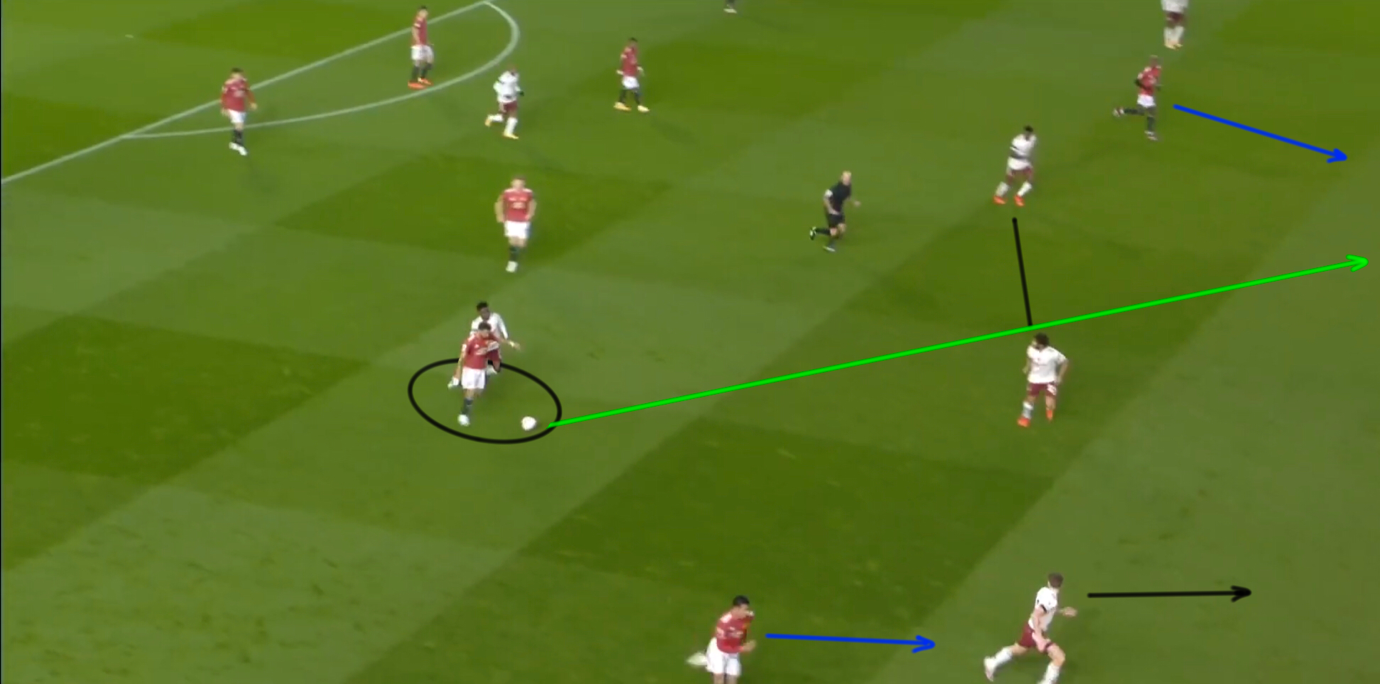 In a quick counterattack situation, Bruno Fernandes is past Saka and looking to play the ball between Thomas Partey and Mohammed Elneny into Rashford (not pictured). Greenwood is already sprinting to beat Tierney down the line, and Paul Pogba is also looking to make an option.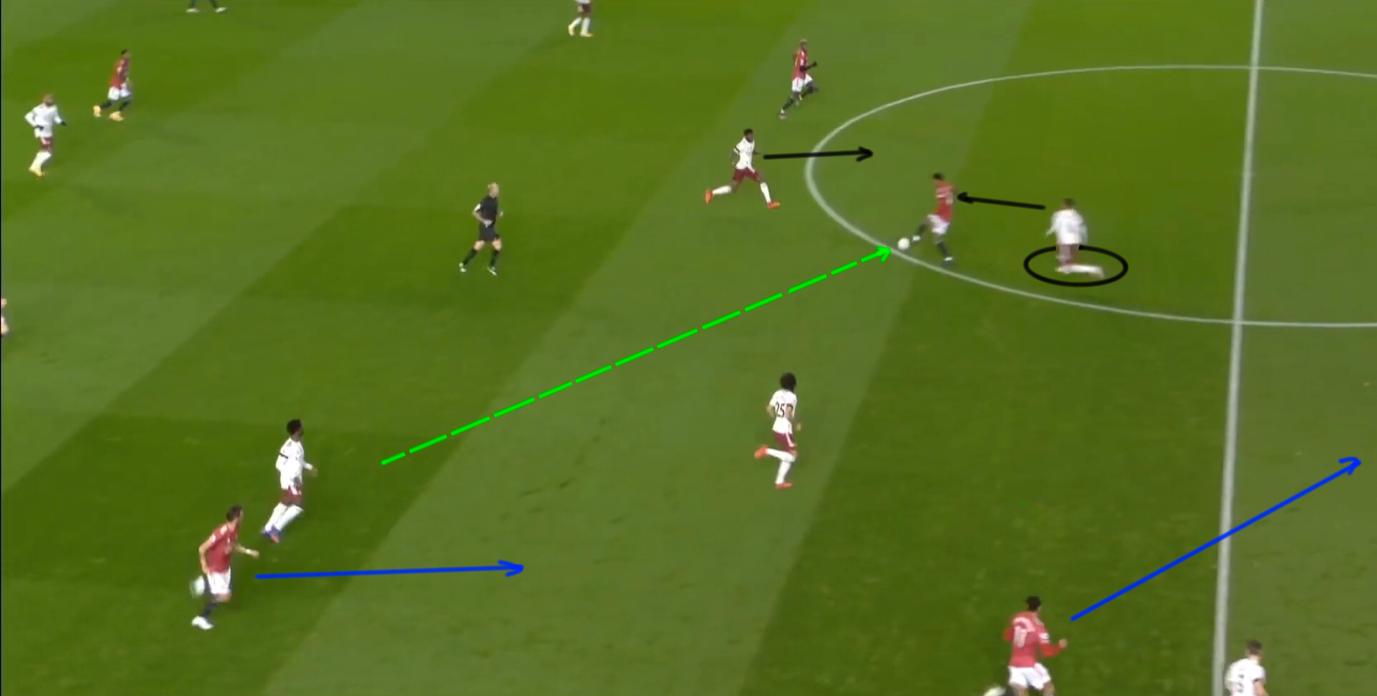 Rashford receives the ball, and if he plays the pass to Pogba, Manchester United pose a serious threat with Greenwood and Fernandes in support, however, he takes a touch which is all Gabriel needs to close him down.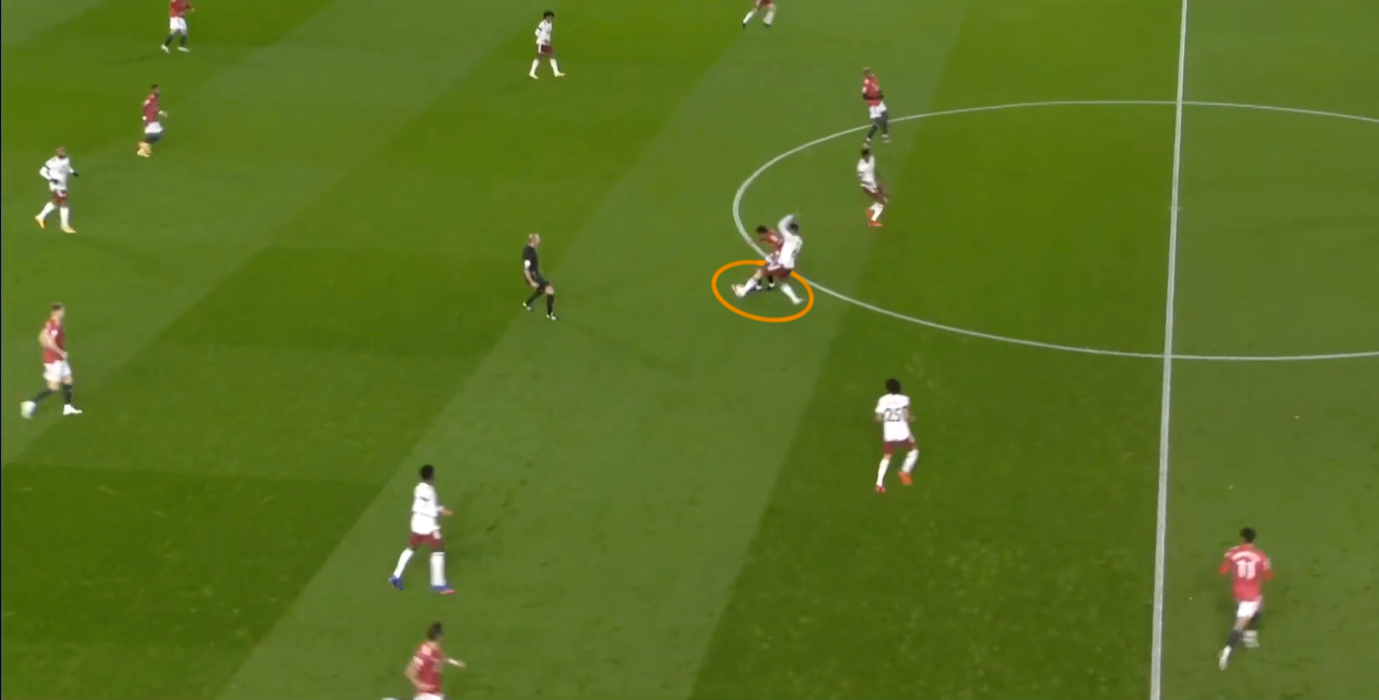 Now it's all about strength and who wants it more, which Gabriel wins, dispossessing the ball from Rashford.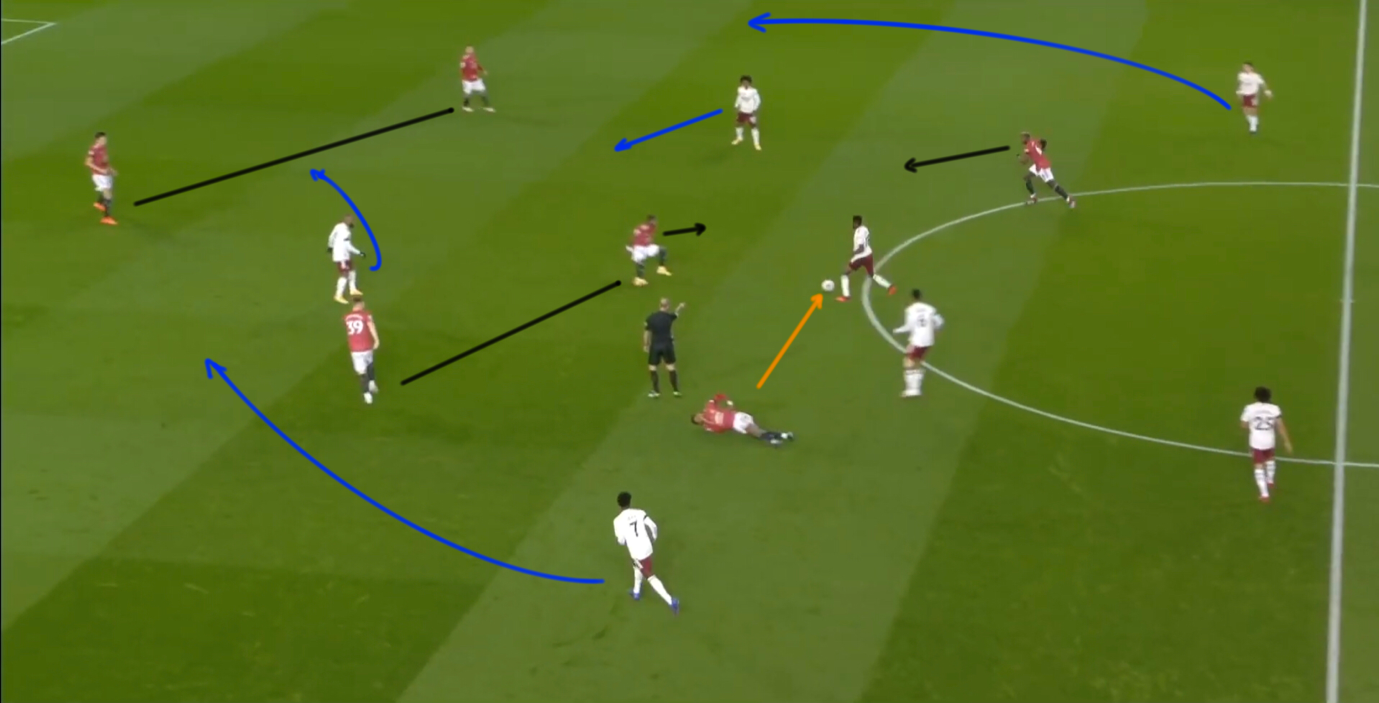 Since the ball is still in United's half Arsenal now have plenty of options to have their counter. Unfortunately, only Saka tries to proactively make a run with Lacazette, Willian and Bellerin offering little movement or urgency to attack and the chance fades forcing Arsenal to build from scratch.
Another advantage to Gabriel's build is his knack to blocking shots. Only one player in the entire Premier League (as of gameweek 12) has blocked more shots than Gabriel, that being Federico Fernández of Newcastle (FF-18 vs GM-14). Now whilst, this isn't the most desirable stat, it is always essential to make the job of scoring as hard as possible.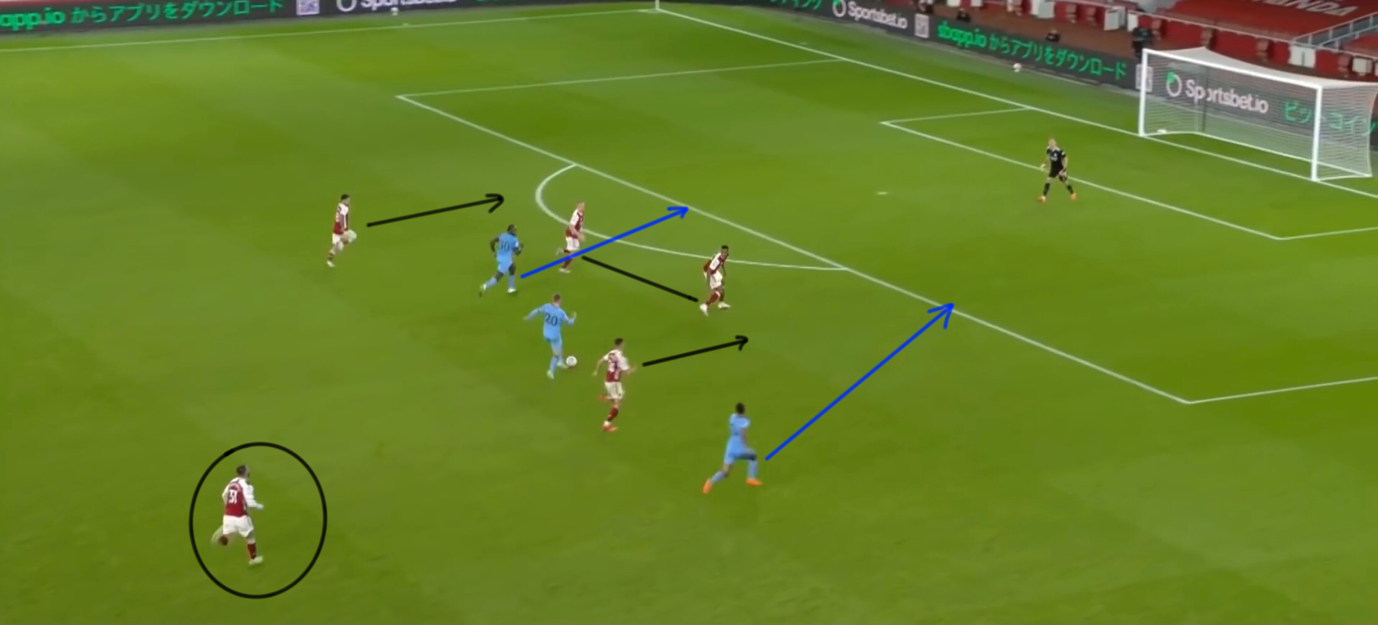 This time against West Ham, a team many considered would be close to relegation but have since gone on to pick up some points against plenty of strong sides. Here we have another counterattack situation, but deeper in Arsenal territory. Sead Kolašinac is out of position, Granit Xhaka is trying to keep up with Ryan Fredricks, Rob Holding and Dani Ceballos are tracking Antonio. Gabriel has to make a decision between closing down Jarrod Bowen (20) or going with Fredricks.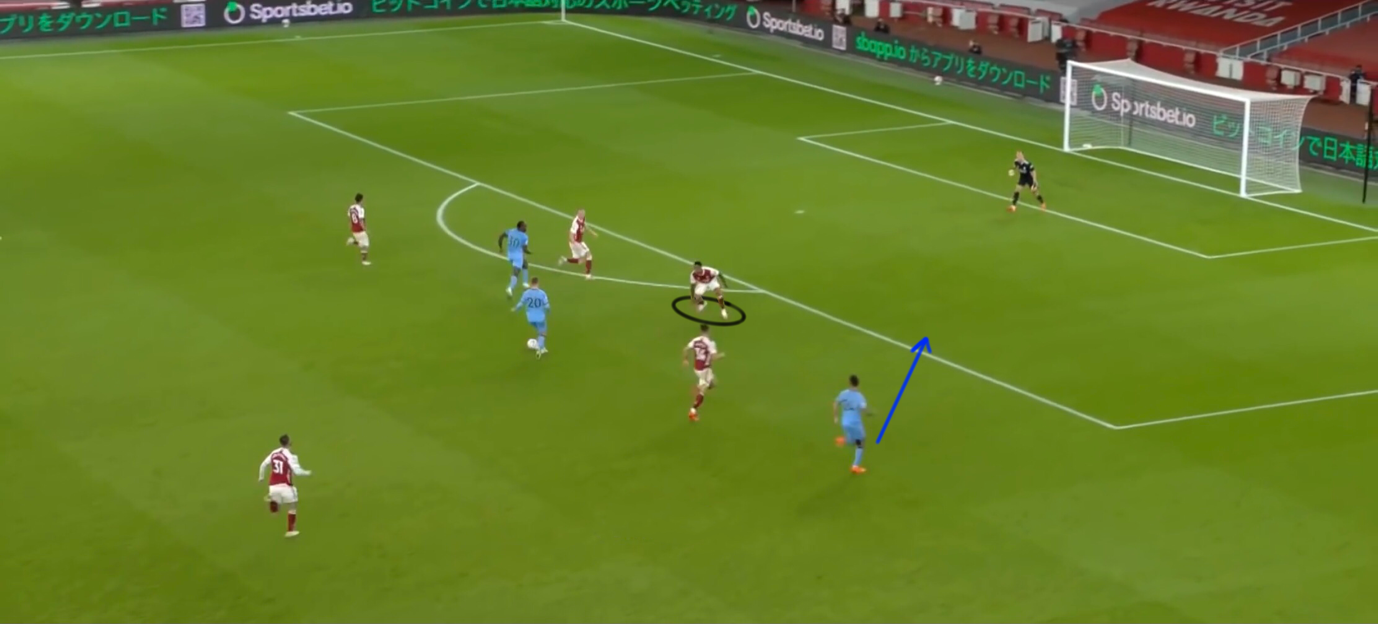 Gabriel keeps cool, as Bowen starts to move inside Gabriel mirrors his movement shifting his body to face the threat but not committing just yet forcing Bowen to make the decision.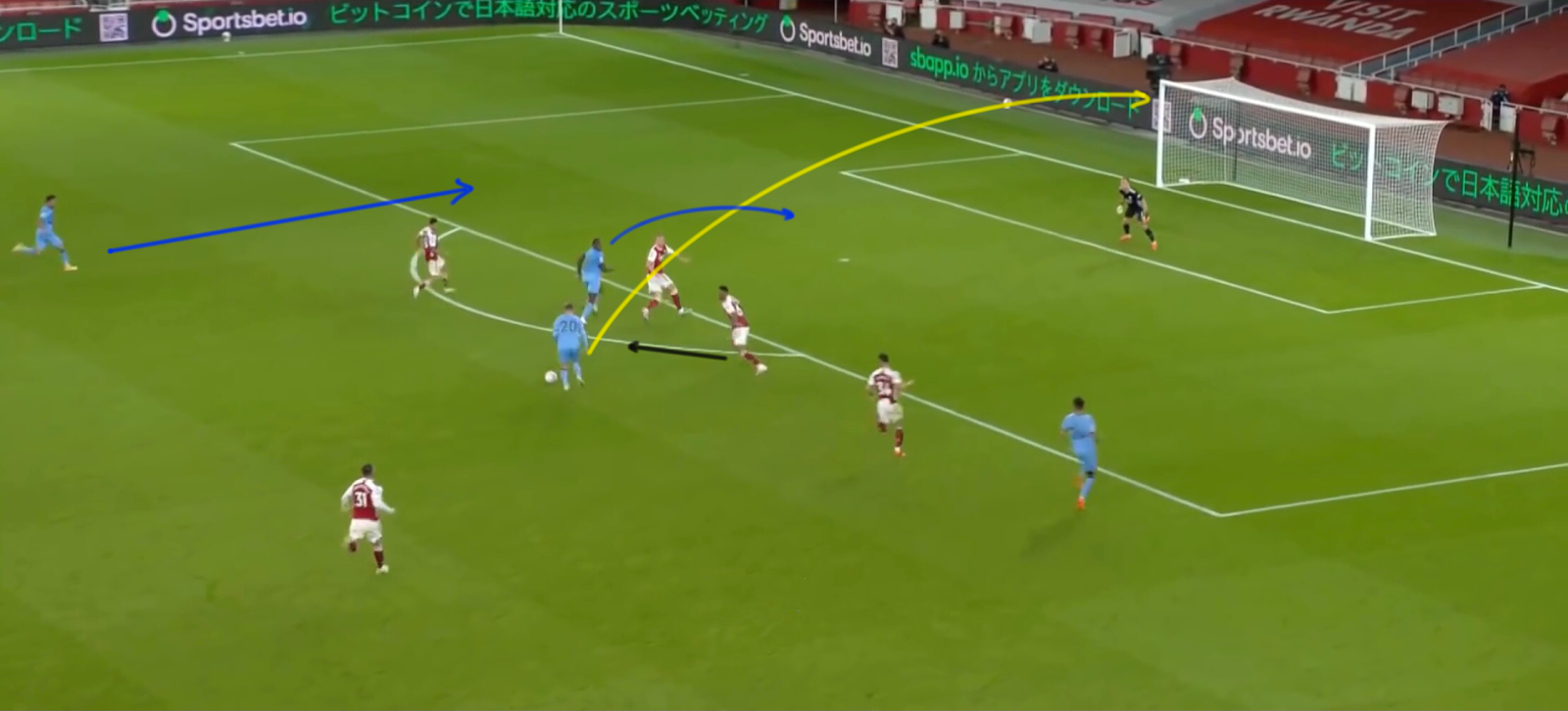 Soon enough, Bowen runs out of time and decides to shoot. Antonio recognises Bowen priming to shoot and heads towards the goal for potential a rebound. As Bowen sets, Gabriel acts, the distance between them still quite considerable. Luckily for Arsenal, Gabriel is able to use his large frame and quick reactions to lunge across and completely smother the shot eliminating any chance on goal.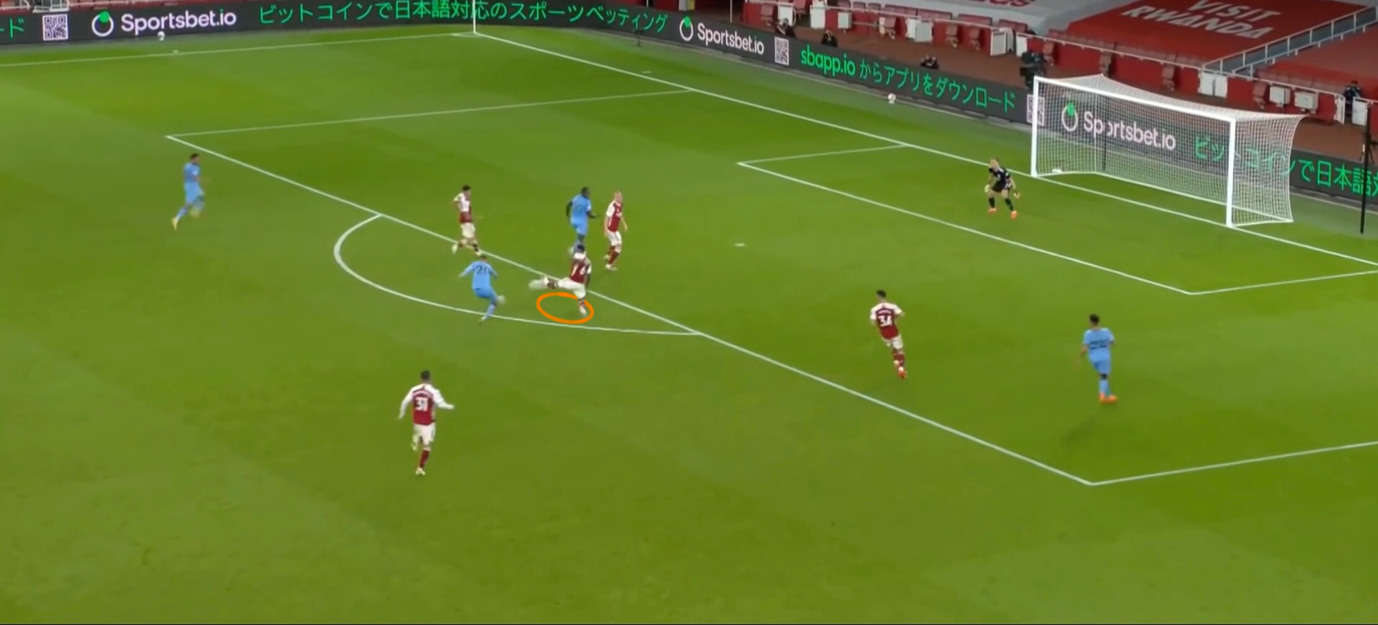 Not only is he defensively aware, but Gabriel also displays his intelligence in these situations. Being a defender is arguably the most demanding position in football, few can consistently keep a cool head and act (or not) on the assessment of a situation they find themselves in.
Too often in the past Arsenal defenders have lacked concentration or misjudged a situation, consequently making rash decisions which have come at a detriment to the team. Gabriel, in his young career, has already shown on numerous occasions he can execute quick and correct decisions. Whether that is staying on his feet, not falling for fake shots or trickery from attackers or when a last-ditch challenge and clearance is necessary, he can accomplish that too.
In the series below Arsenal are up against Manchester United late in the game with a big opportunity.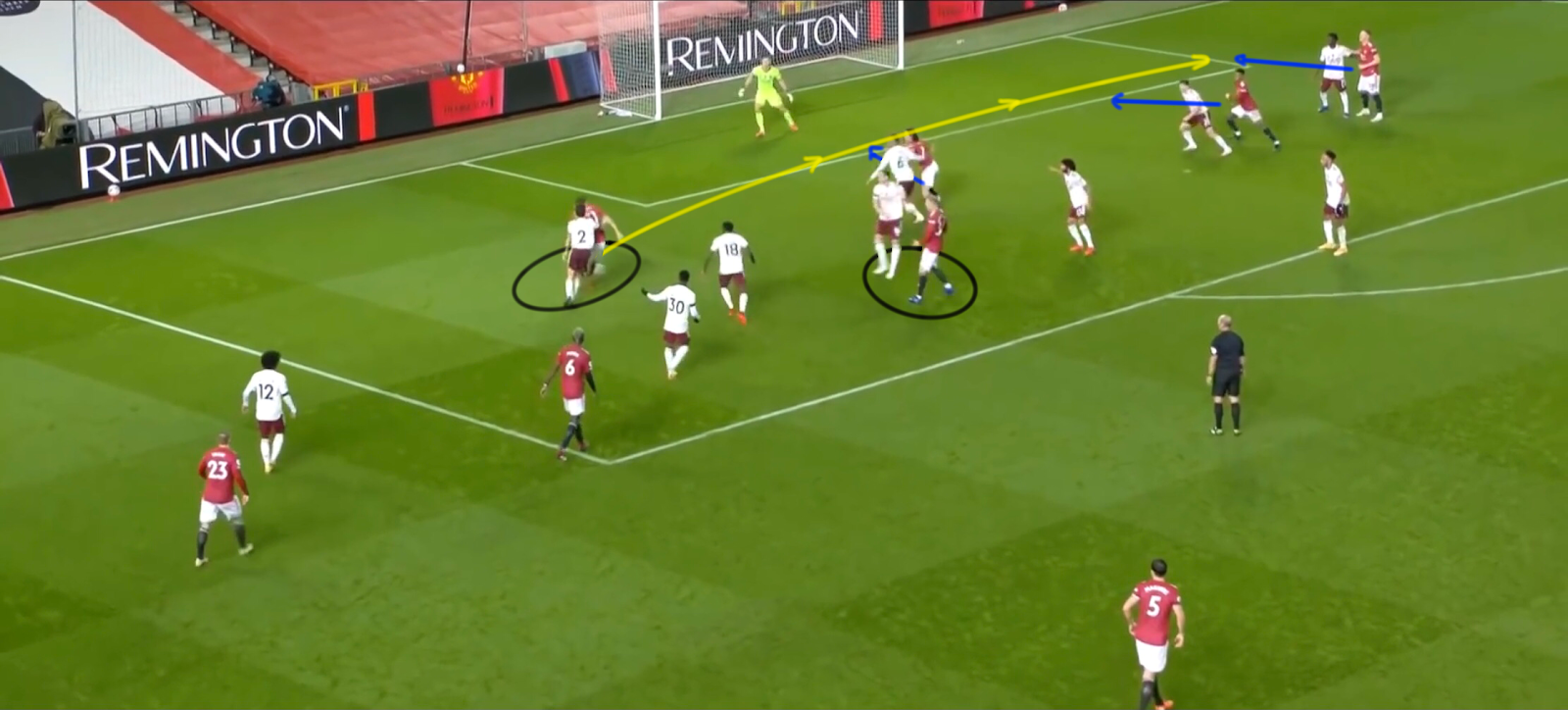 Rob Holding is caught out of position marking Donny van de Beek, Nemanja Matić is in front of Héctor Bellerín (2) in a commanding position with the opportunity to cross. Gabriel (6) is marking Edinson Cavani, Tierney on Rashford and Saka on Scott McTominay at the back post.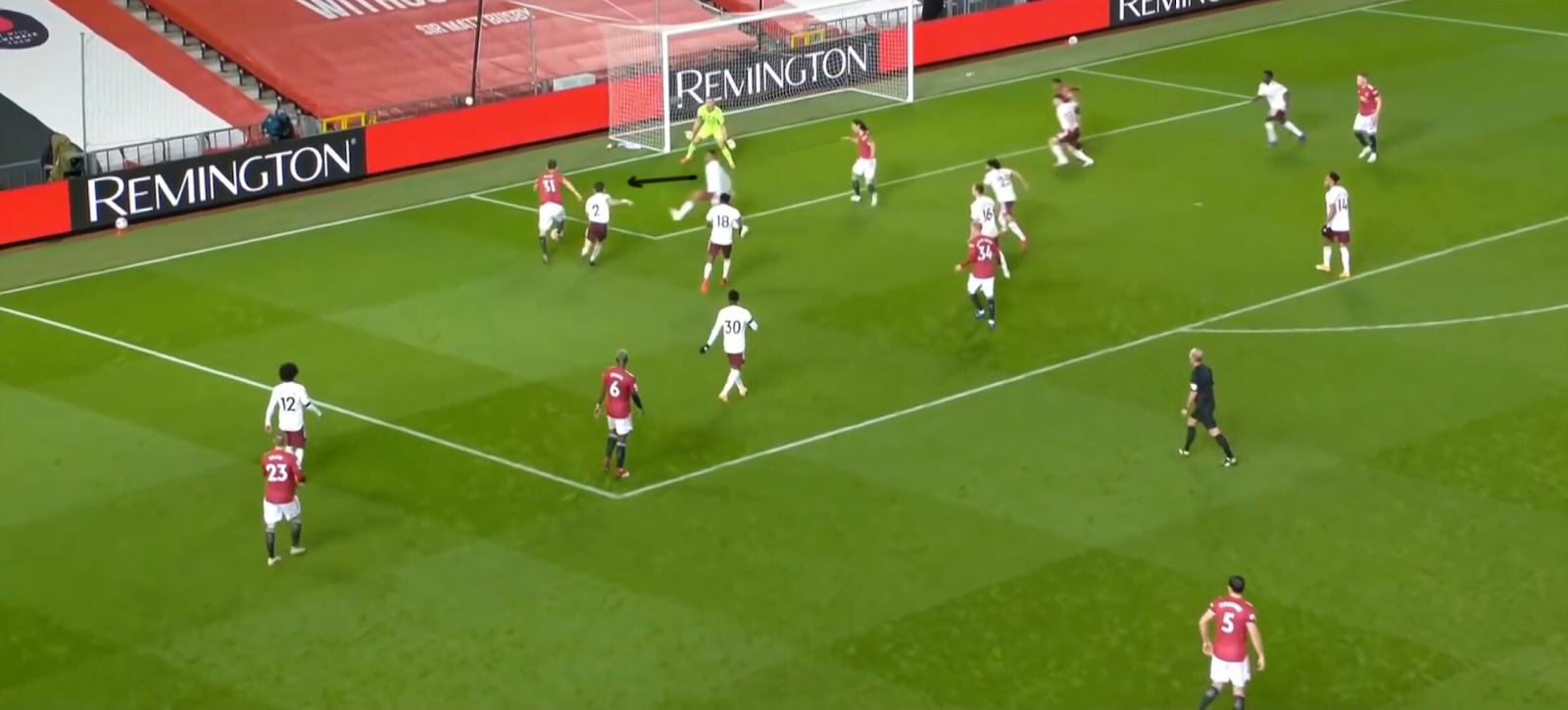 Gabriel decides to close down Matić (31) and prevent the cross from even happening rather than marking Cavani, noticing Bellerín is beaten. The need to act is crucial in preventing a nailed-on equaliser.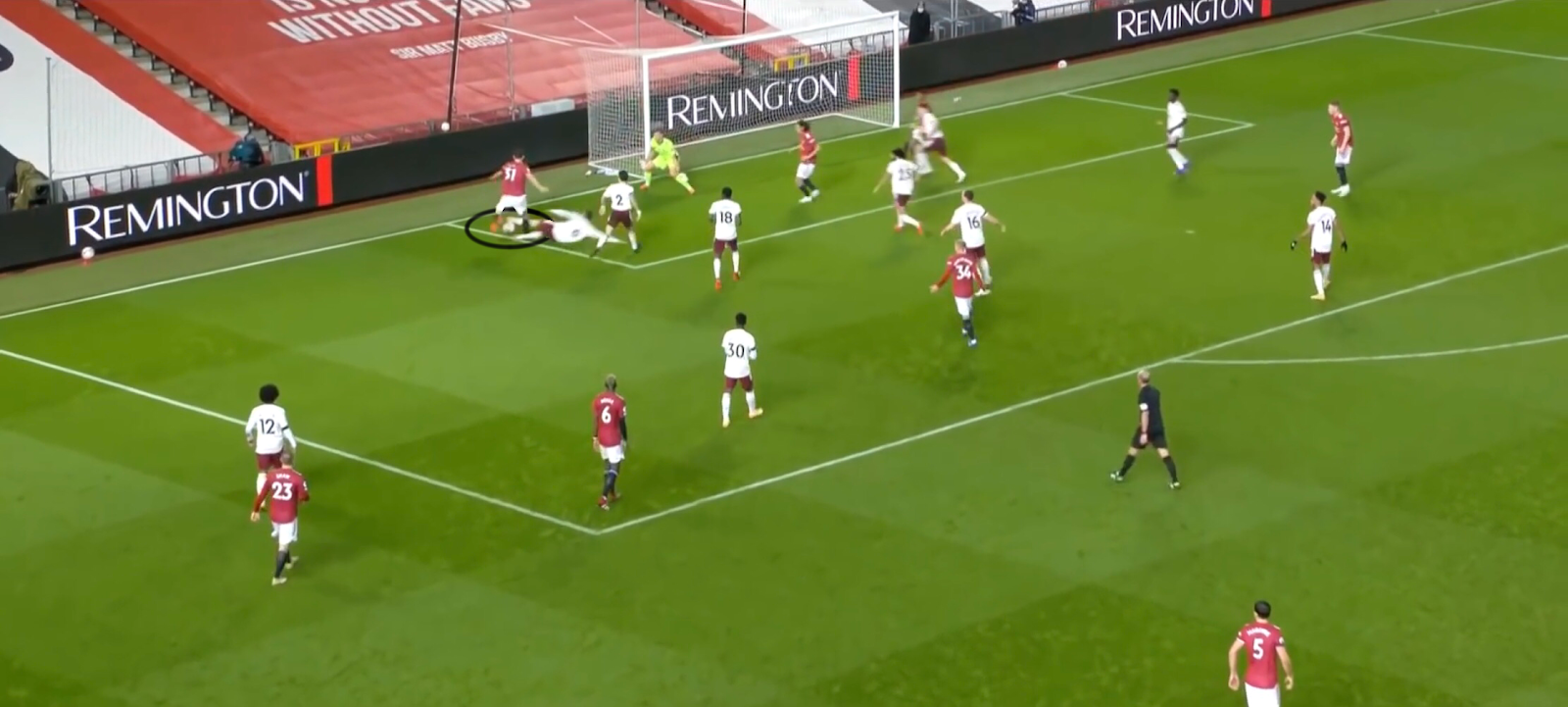 Gabriel successfully slide tackles the ball out of play in a last-ditch effort to stop an easy tap-in for Cavani and keep Arsenal in front. 
Aerial Prominence
Arsenal has been in desperate need for strong aerial presence. Last year they had the joint third-worst record at defending set-pieces, conceding 17. Arteta noticed this and addressed the issue by bringing in set-piece coach Andreas Georgeson formerly of Brentford. 
Championing the set-piece plan is Gabriel, who has excellent aerial ability in both defensive and attacking settings. In defence, they adopt a mix of zonal and man-marking. Gabriel is taking up a zone and attacking the cross wherever possible. And so far, 12 Gameweeks, it's working, Arsenal have only conceded from a set-piece once this season bettered by only West Ham with an unblemished defensive record.
Supplementary to all of Gabriel's defensive strengths is his ability to be a threat offensively from set-pieces. Despite inconsistent delivery, the Brazilian is already able to boast two goals, both towering headers with defenders scratching and tugging his shirt, doing everything in their power to stop him. But he's simply too strong, similar to an older sibling in a sibling rivalry. If Arsenal can consistently deliver the ball in dangerous areas, he could pick up some very important goals.
Conclusion
The early signs for Gabriel are extremely bright. However, it is crucial to remember that he is still incredibly young. Younger than Ben White, Robin Koch, Ezri Konsa and Max Kilman, to name a few. But fans see the physique, the appearances in Champions League, the current form and often forget just how young Gabriel is, expecting him to have an impact comparable to Van Dijk on Liverpool. So, it's important to remember that Gabriel is still in the development of his career and understand that there will be mistakes along the way as he continues to accumulate experience. 
The pressure in moving to an entirely new league, country and language alone is a massive step for any player never mind one as young as Gabriel. Thankfully, his cohort of countrymen and former Lille teammate Nicolas Pépé will have helped and continue to help in his adaptation to the novel surroundings. The role of David Luiz should not be downplayed either. Say what you want about his footballing abilities; none can question his intangible assets and wealth of knowledge from being a part of multiple title-winning locker rooms. 
Gabriel's raw potential is scarily good. Imposing, ball-playing, calm, quick-thinking centre-backs are not easy to find. Now it is up to him and Arsenal to achieve that potential and become the antidote to a problem which has continually caused the demise of recent Arsenal teams.
By: Toby Rathborne
Featured Image: @GabFoligno / David Price – Arsenal FC