How Ciro Immobile Became One of Europe's Most Deadly Strikers
In his four seasons at Lazio, Ciro Immobile has scored a breathtaking 118 goals in all competitions, marking him out as one of Europe's most elite forwards and proving that he has lived up to legendary Juventus defender Ciro Ferrara's early praise during his early years at the Old Lady. 
However, before his move to Rome in 2016, he struggled in Germany and Spain and looked set to void the hype that had surrounded him during his time in Italy.
Immobile grew up in Torre Annunziata, a commune within the City of Naples that lies at the feet of Mount Vesuvius. The volcano has twice destroyed Annunziata, mirroring the destruction that Immobile's parents's house endured as a result of his early indoor footballing antics.
Photo: OggiNotizie
By the age of five, the Italian had joined his hometown side, Torre Annunziata '88, only moving onto a bigger side in Sorrento Calcio at the age of 10 after failed trials at Empoli and Salernitara. His youth career in the Sorrentine Peninsula was marked by the 30 goals he scored in the 2007/08 campaign which earned him a move to Juventus' Primavera side at the age of 18.
From here, he staked his claim as one of the Bianconeri's top prospects, scoring five goals in their quest to Viareggio Cup success. It was here that Ferrara heaped praise on the young striker and Immobile was soon called up to the Old Lady's first team by then manager Claudio Ranieri. However, the Neapolitan only made the odd substitute appearance and was loaned out to recently relegated Siena in the summer of 2010 to gain first team experience.
In his six months in Tuscany, Immobile registered just 1 goal in 16 appearances, returning to Turin in January 2011 in dire need of a run of form. He was hence granted another loan move, this time for a year to Serie B side Pescara.
Together with Lorenzo Insigne and Marco Veratti, Immobile started to portray aspects of the player whom Ferrara had predicted, propelling the Delfini to promotion under the stewardship and tactical nous of Zdeněk Zeman. The Neapolitan spearheaded Zeman's fluid 4-3-3 system, scoring 28 goals and providing 6 assists in his 37 appearances at the Adriatico.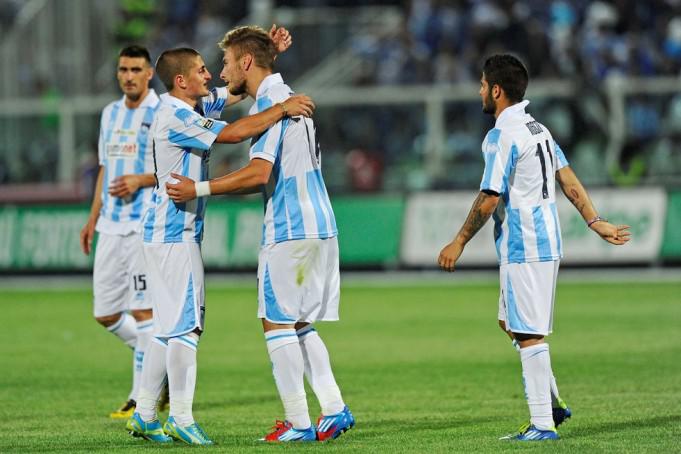 Photo: Pescara Sport 24
His excellent form prompted Genoa president Enrico Preziosi to pay €4 million for him in January 2012, with Immobile remaining at Pescara until the end of the season.
Immobile made the trip to Liguria for the 2012/13 Serie A campaign but both he and Genoa were relatively unimpressive that season, with Il Grifone only just avoiding relegation. Nevertheless, Juventus still saw some value in the striker and repurchased him for €2.75 million thanks to their 50% share in the co-ownership deal.
The ever-savvy Bianconeri then constructed a second co-ownership deal, selling Immobile to local rivals Torino for the same price (€2.75 million). This meant that by the 2013/14 season, the Neapolitan had already made a plethora of moves within Italy, many of which had been marked as unsuccessful. 
His time at the Stadio Olimpico was different however, and his utilisation by Gian Piero Ventura was based on how he had been used by Zeman for Pescara. For Siena, Genoa and Juventus, Immobile was seemingly isolated, unable to get on the ball and get shots off, but for Pescara, with the support of Insigne, Immobile had the presence around him to thrive (as seen this season for Lazio with the support of Felipe Caicedo and Luis Alberto).
As such, Ventura used Alessio Cerci as a complimentary attacker who combined with Immobile extremely effectively, with the pair combining for 35 goals and 15 assists. Immobile's 22 goals for the Granata saw him win the Capocannoniere ahead of Luca Toni, Carlos Tevez, Antonio Di Natale and Gonzalo Higuaín.
Photo: Getty
This prompted an €18 million move to Jürgen Klopp's Borussia Dortmund which Immobile saw as "the best solution for [him]" as he revealed in an interview with Corriere Dello Sport. "I will always be grateful to Juventus who brought me through and let me go when we had different needs." 
However, Immobile's career took another turn for the worse and he struggled to adapt to the German language and culture. After just a season in Rhine-Westphalia, the Italian was once more loaned out, this time to Sevilla after scoring 10 goals in 34 appearances.
He later opened up about his poor form, lamenting Dortmund's lack of support: "We received no help, neither me nor my family," he lashed out in an interview for El País. He went on to criticise Klopp in the same interview, suggesting that his level of preparation wasn't adequate; "We worked hard in pre-season, but not very much on weekdays, on a tactical level, we didn't work hard."
Under Unai Emery in Sevilla, the Neapolitan continued to struggle despite the Spanish giants opting to take up his €11 million purchase option in November 2015 after he had registered just appearances. He still didn't settle though, and his journeyman status was continued with a January loan move back to Torino.
Photo: Diario AS
If this loan move proved anything, it was that Immobile belonged in Italy and he enjoyed a positive run of form in his second spell for Il Toro, scoring 5 goals in 14 games. However, they chose not to purchase him come the end of the 2015/16 season, leaving his future up in the air.
He campaigned for a move to Napoli, the club he had supported as a child, but the Partenopei rejected him, choosing to purchase Arkadiusz Milik from Ajax instead. This paved the way for an £8 million move to Lazio, who were searching for a replacement for the retiring Miroslav Klose. As fate would have it, this would prove to be the move of his career.
Immobile signed for Lazio on 27th July 2016 and scored 26 times in his first season, 41 in his second, 19 in his third and 32 and counting in his fourth. He is comfortably Lazio's best player and is used by Simone Inzaghi as the main forward in a 3-5-2 formation.
His frightening form is due to the dedication he has shown on the training ground, as he has developed into one of the deadliest finishers in Europe. He boasts the ability to beat defenders one on one, receive passes in narrow spaces, and carve out finishes from the tightest of angles.
The Neapolitan is a willing runner and often latches onto through balls that are threaded into his path. He has the pace to beat the defender, and although his finishing ability wildly eclipses his pace in terms of his main strength, he is 'immobile' in name only.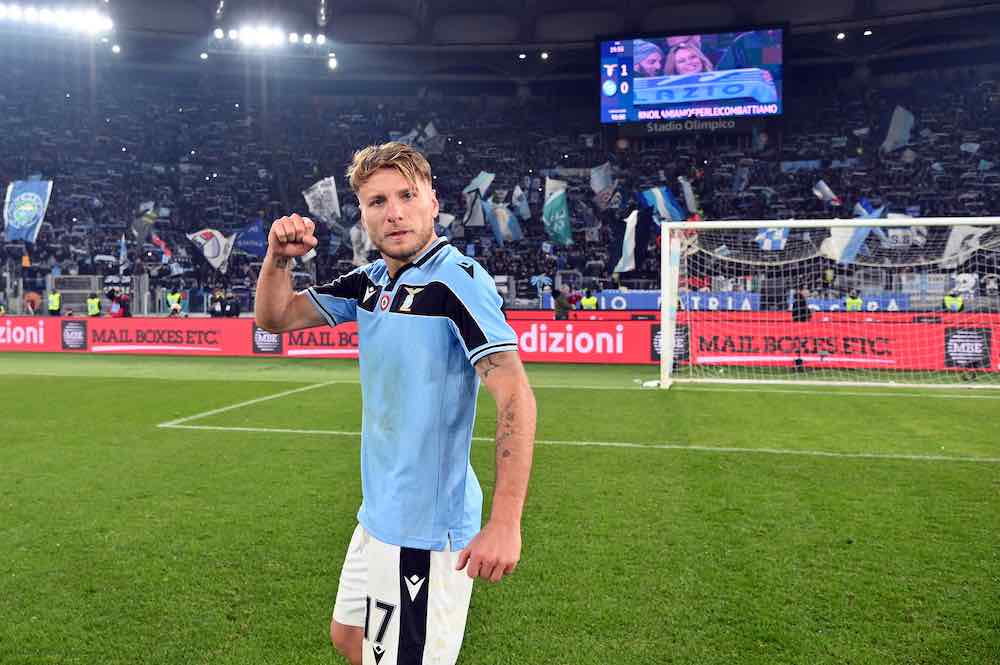 Photo: Marco Rosi / Getty
His vertical runs in behind the defence provide his deeper partner Luis Alberto with an effective target to aim for, and the Spaniard has recorded an outstanding 15 assists this season.
When it comes to passing, Immobile is always able to return Alberto's favour, his physical presence allows him to locate and play in pockets of space between the lines, giving him the freedom to construct passes that bring others into the game.
The number of goals that the Italian scores is enabled by his elite shot selection pattern. He doesn't take many shots from distance or poor angles in order to reduce his wastefulness, meaning he can bring others into the game more and fashion better opportunities while in the attacking third. 
His relationship with Inzaghi has also been pivotal for both his and Lazio's successes in the last few seasons, with their bond being described by his agent Marco Sommella as "special and irreplaceable."
"Ciro was lucky enough to find a manager ready to bet everything on him; as a result he gave his best. This has since become a winning combination."
Photo: LaPresse
In his time in Rome, Immobile has propelled Le Aquile to two 5th-places finishes, a slightly disappointing 8th-placed finish, a Coppa Italia win and two Supercoppa Italiana wins.
This season, the Biancocelesti have pushed Juventus for the Scudetto but currently sit in 4th place, 8 points adrift from the reigning champions Juventus after some disappointing post-lockdown results. However, Lazio's season has still been vastly successful and Immobile has been their shining star.
Italy is a country rooted in tradition and loyalty. Some of Italy's most legendary players stayed loyal to one club throughout their career to reach the top of their game: Paolo Maldini, Francesco Totti, Franco Baresi and Alessandro Del Piero all became world class at the clubs they loved.
Immobile, however, took the field for ten different teams in his first nine seasons as a professional, only finding his home at Rome's Stadio Olimpico at the age of 26 with Lazio. The tumultuous nature of his early beginnings only propelled him onwards though, and Immobile is now one of the best strikers in football.
By: George Grieve
Featured Image: @GabFoligno