How Donny Van de Beek Could Help Solve Manchester United's Aaron Wan-Bissaka Problem
Whisper it quietly, but Manchester United may have made a smart move in the transfer window. Donny van de Beek's arrival from Ajax is imminent, and while midfield isn't the most pressing need for United, this signing definitely helps.
In terms of his profile as a midfielder, Van de Beek is definitely different to the rest of the options Ole Gunnar Solskjaer has at his disposal. Bruno Fernandes has been deployed as a fairly traditional number 10, Nemanja Matić as a single pivot, Fred and Scott McTominay as defensive halves of a double pivot and Paul Pogba as a deeper-lying playmaker.
Van de Beek's main strength is his off-the-ball movement and his ability to find pockets of space, in an almost Thomas Müller-esque way. That is rare in today's game, let alone in the United squad. There are more than enough articles out there that profile him in greater detail, so the focus of this piece is on how he could help Solskjaer solve a specific problem Manchester United have: Aaron Wan-Bissaka.
The Issue 
Since the arrival of Bruno Fernandes, when United set up in their usual 4-2-3-1/4-3-3 shape, he, along with Pogba, is expected to control the middle of the park, with the bulk of the creative burden falling on Fernandes' shoulders.
Matić drops deep, between the centre-backs to provide defensive cover. Luke Shaw and Wan-Bissaka push up from their usual full-back positions as the wingers, Marcus Rashford and Mason Greenwood take up narrower advanced positions to support Anthony Martial up front.
Now, the problem that arises here is Wan-Bissaka's relative lack of creativity from the right flank means that opposition teams, especially ones who sit deep against United, are more than happy to allow him to receive the ball as they are not likely to be threatened. As a result, United are not able to create gaps to exploit in the centre, leaving them reliant on individual quality very often.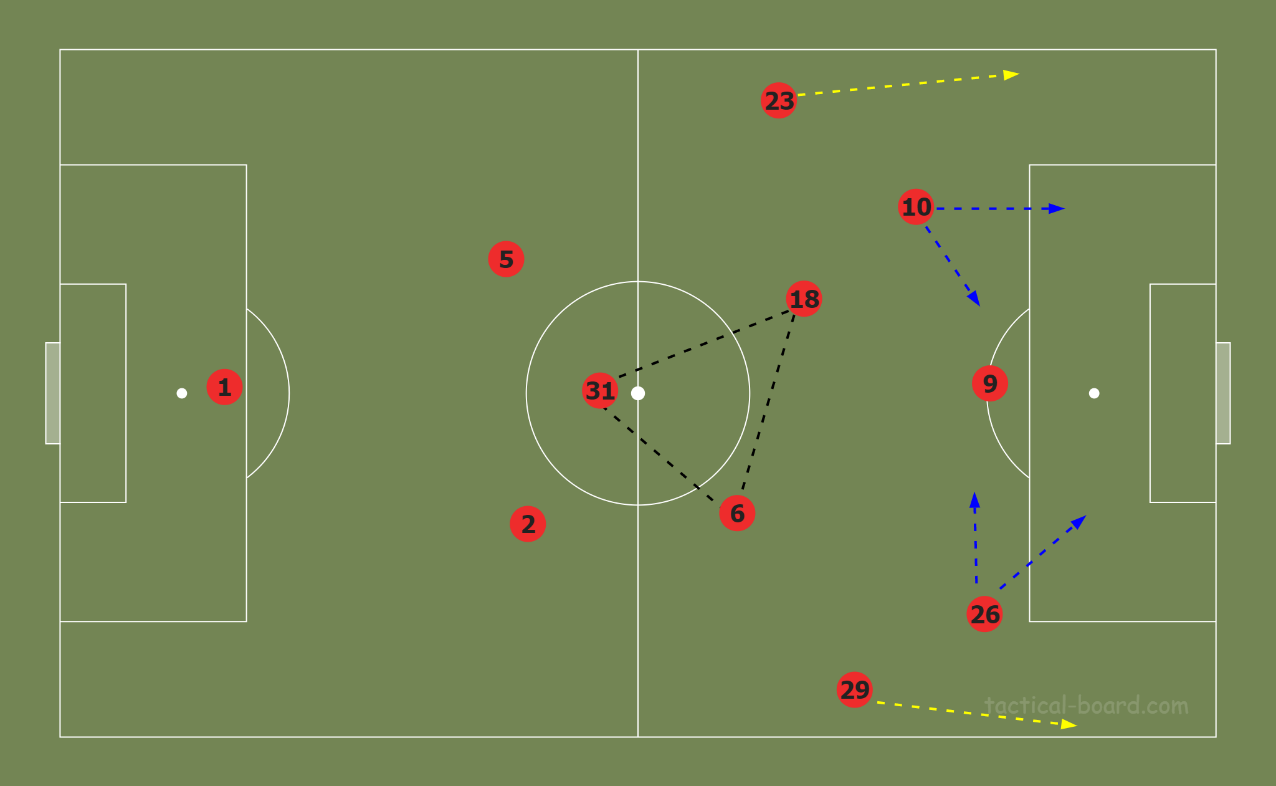 United's general attacking shape
The issue is only made worse by the fact that Greenwood provides next to no creativity ahead of Wan-Bissaka. This, coupled with United's quality on the opposite flank, means that there is a heavy left-sided bias to their attacking play, visualised below: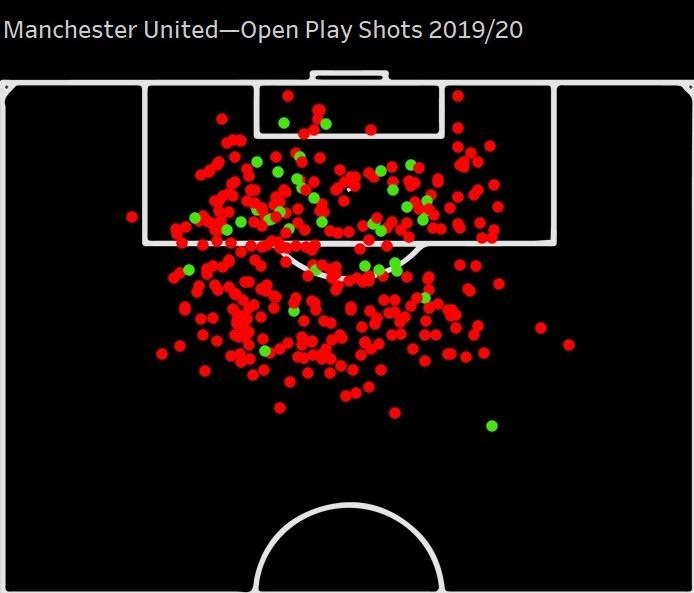 United's shot map for the season (goals in green)
Essentially, if opposition teams are able to defend the left side well, United can look toothless and unimaginative, which is one crucial reason why a right-winger is the need of the hour for them, but assuming they buy no one, they could look to go down the following road. 
How Van de Beek Holds the Key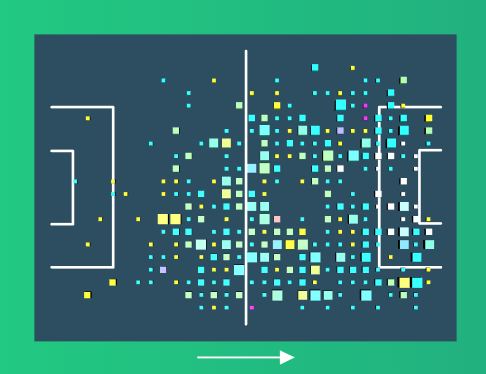 Van de Beek's touch map, courtesy of smarterscout.com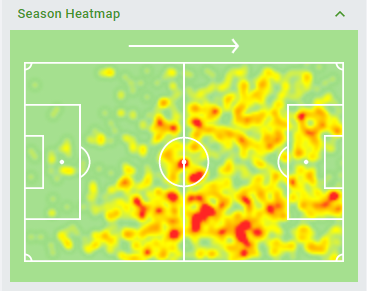 Van de Beek's season heat map from sofascore.com
As evident from the above images, Van de Beek mainly operates on the right of midfield, often taking up advanced positions in and around the opposition penalty area, often occupying the vertical half-spaces as well.
His bursting runs into the box from deep also make him a threat that opposition defences will need to keep an eye on. The type of player that he is lends itself quite neatly to a solution to this particular quandary, which does, however, require a bit of groundwork:
Bring Daniel James Back Into the Side
While Greenwood has captured the imaginations of United fans the world over with his goalscoring exploits, his aforementioned lack of chance-creating ability means that without a capable creator operating around his area of the pitch, United become very easy to stop. Besides, he is a striker and the number nine position does seem to be his long-term one.
James hasn't been exceptional, but his delivery from wide areas is good and his pace can always cause problems. Crucially, for this plan of action at least, he is willing to hug the touchline and stay wide, rather than drift inside. United could also carry this out were they to sign Jadon Sancho, given his ability to cause havoc whether out wide or when drifting inwards.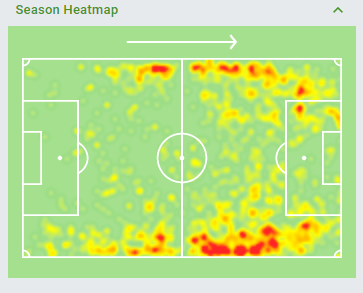 Daniel James' heat map, from sofascore.com
Deploy Asymmetric Fullbacks
This is fairly straightforward. Wan-Bissaka is not a good creator from wide and offers very little going forward. Just as Liverpool use Trent Alexander-Arnold as an almost purely offensive weapon, United could look to maximise Wan-Bissaka's excellent athleticism and ball recovery skills by playing him in a more defensive role while in possession.
Conversely, Luke Shaw could be encouraged to push forwards more often. The added security of Wan-Bissaka staying deeper could help United take advantage of one of their few genuine crossing threats from the left-hand side.
Similar to James on the right, Shaw's role would be to hold the width, in order to stretch the defence. The upshot of this entire process is that United could conceivably play all three of Paul Pogba, Bruno Fernandes and van de Beek in midfield, without sacrificing their defensive stability.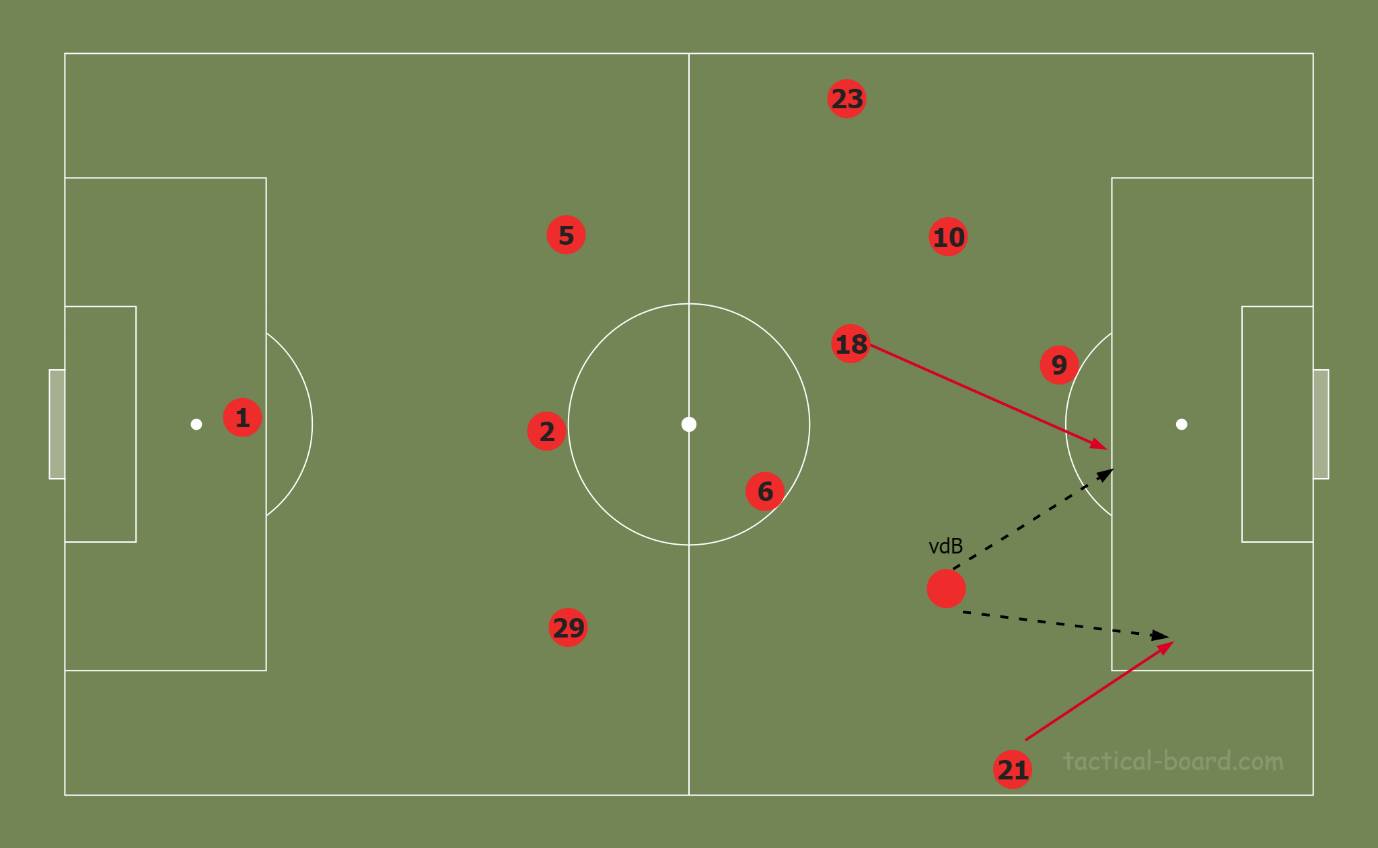 How United's attacking shape could look with Van de Beek
In terms of a change of shape, there isn't really any. But the change in personnel in key positions could make all the difference. Here, with Wan-Bissaka dropping to form a back three with the centre-backs (likely Victor Lindelöf and Maguire), it ensures that the defensive solidity is not affected by the absence of Matic from this line-up.
With two credible crossing threats staying wide on either side, in James and Shaw, opposition teams will now have to be wary of the wide players, which hasn't really been the case so far. 
Rashford, cutting in from the left, and Van de Beek pushing forward from midfield into the area previously occupied by Greenwood, ensures that there is always the danger of one of them breaking free in the box. With Fernandes roaming and Pogba dictating the play from deep, United will always have good central control and creation. 
This is by no means guaranteed to happen, nor is it a sure-fire plan. But in the event that United fail to sign a right-winger by the end of this window, Solskjaer will have to tweak his tactics to enable his team to break through stubborn, defiant backlines, and could be an interesting way to do it.
By: Rahul Iyer
Featured Image: @GabFoligno / BSR Agency