How James Ward-Prowse Has Become One of the Best Midfielders Outside the Top 6
Although James Ward-Prowse is probably best known for his world-class set piece taking ability, under manager Ralph Hasenhüttl, Southampton's skipper has gone from strength to strength, adopting a new role which epitomises the Austrians high octane style of play, and hence helping the Saints to challenge at the top of the league at this early stage, while he's firmly knocking on the door of an England starting spot himself.
The 26-year-old is arguably the Premier League's best dead ball specialist since David Beckham and clearly strikes fear into his opponent's when standing over a free kick from anywhere less than 40 yards. However, he has recently become much more than just a set piece specialist and since his debut for the Saints in 2011, the Englishman has been a key part of the Hampshire-based side's midfield despite a series of managerial departures, ventures into Europe and the upper echelons of the table as well as flirtations with relegation.
Branded 'The New Matt Le Tissier' by many, could Ward-Prowse go on to enjoy the glittering career of 'Le God' who epitomised the Southampton sides of the 1980s and 90s?
Surprisingly, Ward-Prowse's footballing education began at Portsmouth, Southampton's bitter rivals, at their School of excellence, where he was scouted at the age of 7 by Southampton's famous youth scouts. The one club man also grew up a die-hard fan of Pompey, and he had a season ticket at Fratton Park having grown up in Portsmouth.
Nonetheless, from the age of 8 onwards Ward-Prowse was fully focused on Southampton despite the historic rivalry between the two cities and their clubs. On the side of his youth development, the youngster played for the non-league club Havant and Waterlooville to toughen up and extend his play time.
He flourished for the Saints at every youth level before making his debut for the first team at the tender age of 16 against Crystal Palace in the League Cup, while he scored his first goal for the Saints in a 2-1 win over Coventry City in the 3rd round of the FA Cup.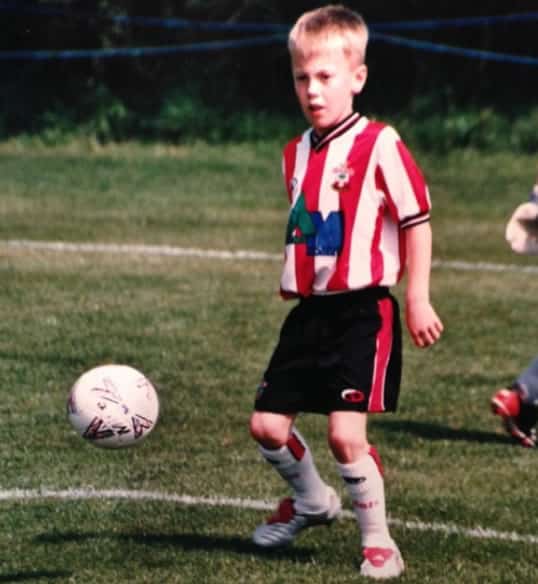 Photo: Instagram
However, the 16-year-old continued to develop in the youth side for the remainder of the 2011/12 season despite his ventures into the first team for cup ties, and the Saints were promoted from the Championship under Nigel Adkins. Somewhat surprisingly, the youngster underwent a baptism of fire as he started Southampton's opening Premier League game against Manchester City, meaning his Premier League debut, at 17, was against England's reigning champions.
He went on to make 15 appearances that season (most of which were from the bench) in the number 10 role and signed a new 5-year deal in the process while he won 'Scholar of the Season' over Luke Shaw to top off an inspiring introductory season on the South Coast. However, it was under Mauricio Pochettino where Ward-Prowse really started to flourish.
While many fans were shocked at the sacking of Adkins, who had brought the Hampshire side from the depths of League 1 to the Premier League in successive seasons, Nicola Cortese's replacement proved to be revolutionary and the Argentine propelled the Saints to 8th in the league in his first season despite at first being best known in the UK for giving a penalty away at the 2002 World Cup against England.
Ward-Prowse can't be seen as the key component of Pochettino's team, but he is certainly symbolic of his time there (as Harry Kane and Dele Alli are at Tottenham) as he represented the blooding in of youth that Pochettino championed and achieved during his time on the South Coast.
This was further reflected in the Argentine's use of Luke Shaw and Calum Chambers, and Ward Prowse appeared most weeks, often in differing roles, including right midfield, left midfield, attacking midfield and central midfield- showing his versatility was present from an early age.
However, while this was an advantage for the youngster when breaking into the team, in actual fact Ward-Prowse missed a trick in not nailing down a position, as later on in his career he was a victim of his own versatility, being moved out to right midfield under Mark Hughes when his best position was clearly in a central role.
Below is a team of the best U-22 players in the Premier League during the 2014/15 season. In Pochettino's final season, Ward-Prowse was impressive, racking up 7 assists in the league despite missing 10 games through injury, and his huge potential was displayed through his place in this team's midfield next to Phillipe Coutinho.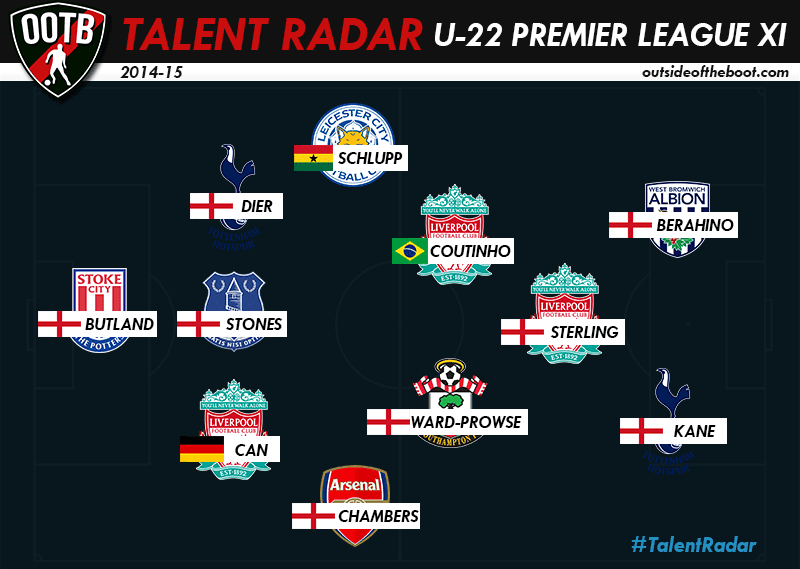 Photo: Outside of the Boot
By the 2015/16 season, Pochettino had been snapped up by Spurs and Southampton appointed the Dutch football legend Ronald Koeman as manager. That season, Ward-Prowse was used as a central midfielder for the majority of his 33 Premier League appearances and he racked up 8 assists in all competitions.
His consistent passing skill set and ability to link the midfield with the attack put him in the role of Saints' playmaker going into the 2016/17 season and his 5"8 frame and unique footballing brain is reflective of a Cesc Fàbregas or David Silva.
Like Pochettino, Koeman left for better things and the Dutchman joined Everton just after the end of the 2015/16 season after guiding the Saints to a 6th place finish. Claude Puel was his replacement and Ward-Prowse really started to nail down a starting spot during the Frenchman's time in Hampshire, becoming one of their key players due to the departures of Victor Wanyama, Sadio Mané and Graziano Pellè.
The midfielder went on to contribute 4 goals and 5 assists, his best tally yet, and he earned his first England call up in March 2017 as a result of his positive performances. The then 22-year-old impressed his manager on and off the field so much that, Puel even stated that he'd 'make the perfect son-in-law'. However, the Frenchman was sacked at the end of the season despite overseeing an impressive 8th place finish, continuing the managerial 'merry go round' on the South Coast.
His replacement was Mauricio Pellegrino, an Argentine who had no Premier League experience, and it showed as he was sacked in place of Mark Hughes by March 2018 after some shocking performances and Southampton went on to survive relegation by the skin of their teeth (after a late Manolo Gabbiadini winner against Swansea in the penultimate game of the season).
During this season defined by a relegation scrap, Ward-Prowse was shunted out to the right wing where he lacked pace and was relatively ineffective. It was the season, at 23 years old, that many expected him to really spring forward and become one of England's main talents, but he seemed to take a backwards step in terms of his development. 
Hughes' tenure continued into the 2018/19 season and Ward-Prowse paid a price for his incompetence. The Englishman was often benched at the start of the season and when he played, he continued to be utilised off the right wing. This led to him being written off by many fans who had previously idolised him under Pochettino, Koeman and Puel due to his academy status and hard work ethic sprinkled with his quality in the final third.
Luckily for Ward-Prowse, Hughes was replaced by Ralph Hasenhüttl in December 2018. A youthful, exciting manager, famous in Germany for his tactical nous at Ingolstadt and RB Leipzig, a positive appointment which strayed away from the infamous bottom-half English side reliance on the same bland British coaches.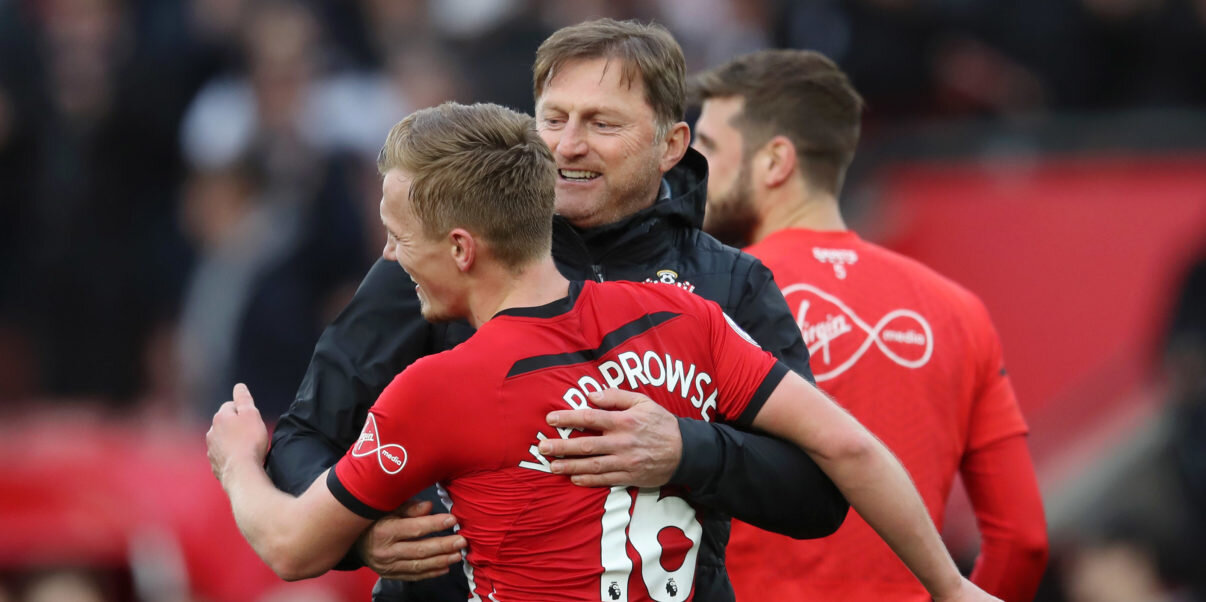 Photo: Christopher Lee / Getty Images
From early on into his reign, it has been reported that Hasenhüttl sat him down, laid out his plans for him as a key member of the team, praising his skill, talent and work ethic, but advised him to be more aggressive. A new model of Ward-Prowse Prowse was hence seen in a defeat to Manchester City, 3 games into Hasenhüttl's tenure and since then, he hasn't looked back, proving to be a totally different player in his preferred central midfield role with the former RB Leipzig man's guidance.
In the Austrian's two years in Hampshire, Ward-Prowse has racked up an impressive 16 goals as well as 6 assists while he adequately complements the Saints' pressing style of play and Danny Ings' impressive form while he is a defensive presence as well as a leader and of course, a deadly set-piece taker.
Where prior to Hasenhüttl's term, Ward-Prowse was probably best described as a skilful player, renowned for his aesthetically pleasing attributes, you could go as far to say that the Austrian has reinvented him, reverting the course of his downward spiralling career. Ward-Prowse himself highlighted this by stating that:
"He's saved my career. Before he came in, I wasn't really in the picture and I was a bit down in terms of confidence, but we had a meeting together and he was brutally honest with me and told me what he wanted, showing me clips of what he needed from me as one of his players."
The new role that he embodies still heavily involves his passing ability and creativity (seen through his goal and assist numbers) and over the past two seasons (2019/20 and 2020/21) he has completed the most number of passes in the Southampton side with 1,862 (the next highest is Jan Bednarek with 1,673) showing his importance in transition (while he also boasts an 84% pass accuracy).
However, what signifies his changing role the most are the number of successful defensive actions he has completed which this season are 10.54 p90, lower than only Oriol Romeu and Kyle Walker-Peters in the Southampton side, which compared to his 6.06 successful defensive actions p90 in the 2017/18 season, shows directly how his role has become more defensive, and hence more vital to the team under Hasenhüttl.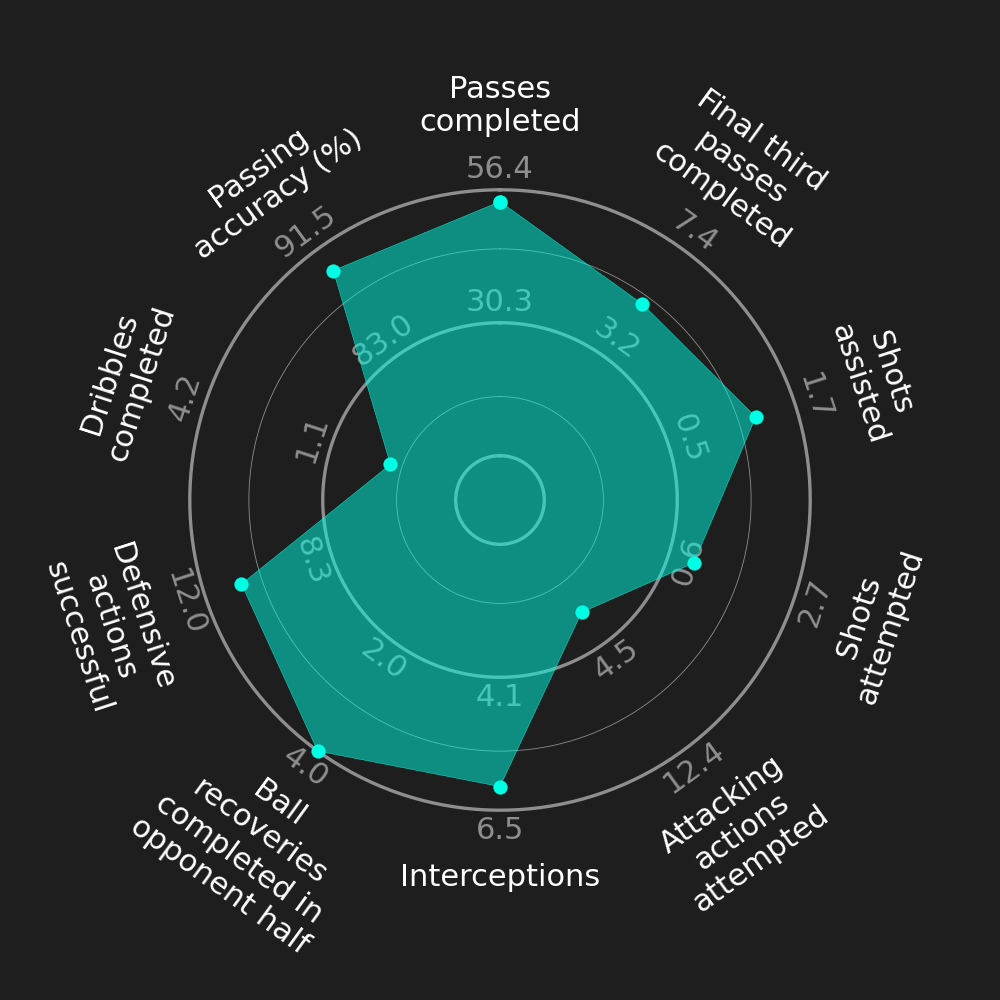 Photo: Twenty3 / Wyscout
This dynamic radar shows Ward-Prowse's 2020/21 stats p90 and perfectly demonstrates his incredible form at the start of this season as well as his new role under Hasenhüttl which has only been exacerbated (in terms of its emphasis on the defensive side of the game) since the departure of Pierre-Emile Højberg in the Summer who previously did a lot of the defensive work.
The radar is in the context of the rest of the Southampton team, showing that compared to his teammates, Ward-Prowse completes a high number of interceptions, ball recoveries in the opponent's half, passes and overall defensive actions, while his attacking actions, dribbles completed and shots attempted are lower showing the lack of attacking intent in his role.
This somewhat contradicts his high number of goal contributions this season, although as already stated, these mostly come from set pieces, but his ability in this sense is a weapon that Southampton use effectively time and time again meaning that Ward-Prowse has become a vital component of Southampton's defensive midfield, pressing style (shown by his high number of ball recoveries in the opponent's half) and attacking force.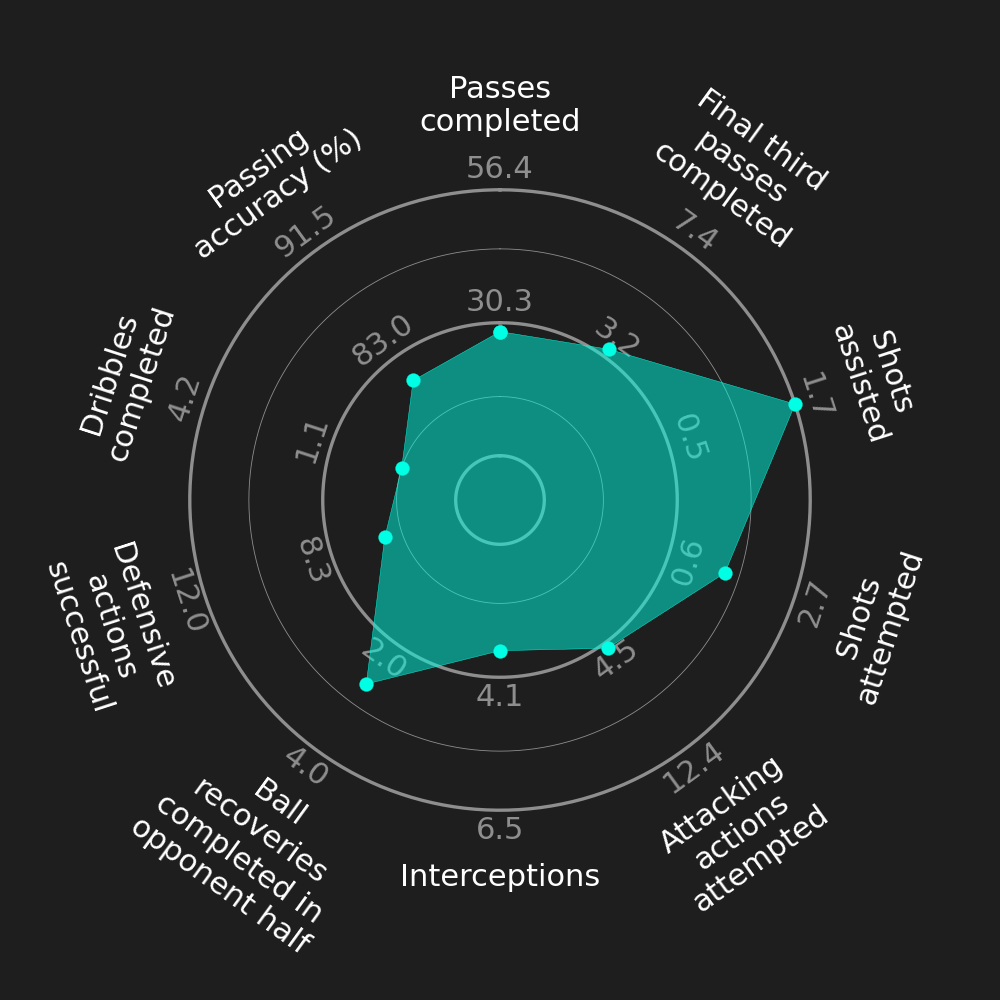 Photo: Twenty3 / Wyscout
Ward-Prowse's stats in the 2017/18 season under Pellegrino and Hughes can be used to show how he has improved as well as how his role has changed. It's clear from this radar that all his defensive actions are considerably lower than what they are now while the radar also tells us that despite his bad form, his shots assisted, shots attempted, and attacking actions attempted were all slightly higher than they are now showing once more that his game now accommodates more of a defensive emphasis, and this is largely down to Hasenhüttl.
At the beginning of the article, I questioned whether Ward-Prowse could be Southampton's modern day Le Tissier, however its clear from his new role in the heart of midfield, contributing to both the defence and attack, that he differs entirely from the Saints legend who roamed forward, wowing crowds with his attacking prowess, the definition of a luxury midfielder.
However, Ward-Prowse can have a similar influence on the side that Le Tissier had due to his status as a one-club man and the fact that he could realistically be there his whole career. He is also a strong leader, and was made captain by Hasenhüttl in the summer, while like Le Tissier, his game style accommodates moments of brilliance which have come to amaze the Saints faithful time and time again. 
The now 26-year-old is also pushing hard for an England starting place, with Gareth Southgate so far unable to find the right midfield combination from the likes of Declan Rice, Phil Foden, Jordan Henderson, Kalvin Phillips and Harry Winks; Ward-Prowse could prove to be the perfect man next to a defensively rigid player like Rice, replicating his solid partnership with Oriol Romeu at Southampton.
James Ward-Prowse's journey to becoming Southampton's star player looked easily achievable when he broke on to the scene as a teenager in Nigel Adkins' and Mauricio Pochettino's sides. However, the constant managerial changes culminating in Mark Hughes' tenure at the club proved to stifle the Portsmouth born player's potential and it has taken a rebranding of Ward-Prowse under the exciting Ralph Hasenhüttl to set his career back on track.
The Englishman now looks like a brilliant central midfielder who is key to Southampton's pressing style and good form, which sees them in 5th at the start of the 2020/21 Premier League campaign. Therefore, Ward-Prowse has comfortably become one of the best central midfielders outside the traditional 'Top 6' and it will be intriguing to see how the rest of his career pans out.
By: George Grieve
Featured Image: @GabFoligno / Naomi Baker – Getty Images