How Joe Willock Can Change Newcastle's Fortunes for the Better
Desperate for a creative boost to pull his side out of their relegation fight, Steve Bruce's Newcastle United tirelessly searched for an attacking midfielder in the waning days of the January transfer window. After missing out on Jesse Lingard to West Ham, the Toons turned their attention to Arsenal midfielder Joe Willock, with the 21-year-old joining on a loan until the end of the season.
Unlike Emile Smith-Rowe, Eddie Nketiah, and Reiss Nelson, all of whom played with him during their time at the Hale End academy as well as the Arsenal first team, Willock had not left Arsenal on loan since joining the club at four-and-a-half years old, but that changed on February 1. Willock's opportunities were furthered limited after the loan arrival of Martin Ødegaard from Real Madrid, and rather than hope for the rare appearance under Mikel Arteta, he decided to head north for St. James' Park.
The Magpies had been in free fall at the time of Willock's arrival with two wins in their last ten matches and a mounting animosity between Bruce and the fanbase. However, the Arsenal loanee made an instant impact at the club, scoring in the 16th minute in his debut match and leading Newcastle to a 3-2 victory over Southampton. However, with the club currently hovering above the relegation zone, they will need Willock to unlock his lofty potential on a consistent basis.
Positioning
Willock is a box-to-box midfielder, effective in attack and defence, he looks to drive on the ball making attacking runs into the box. Defensively, he plays strong and physical, fighting for every ball with determination. He has an attacking focus, pushing to get into positions to score and assist which has been severely lacking at Newcastle this season with midfielders Jeff Hendrick, Miguel Almirón and Jonjo Shelvey combining for a mere seven goals.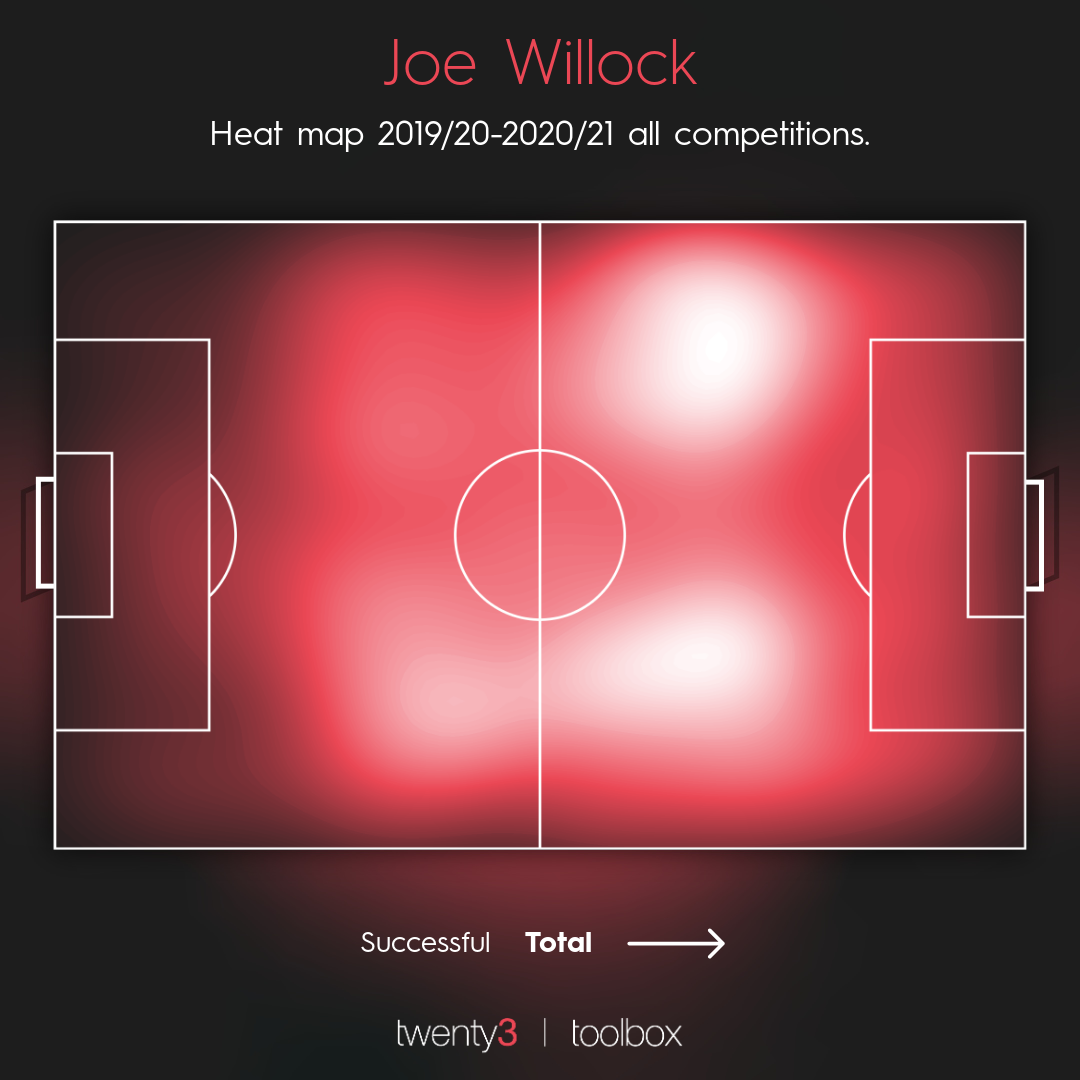 Photo: Twenty3/Wyscout
At the start of the season, Arteta gave Willock several opportunities at attacking midfield mainly due to the pressure Willock could generate on defences. His desire to press was precisely the kind of attacking forward which the manager liked, hence his 258 minutes in the role. However, as time went on as good as Willock was at pressing defenders his absence of a killer pass or dribbling in tight spaces saw him drop back into a more central role suiting his strengths better.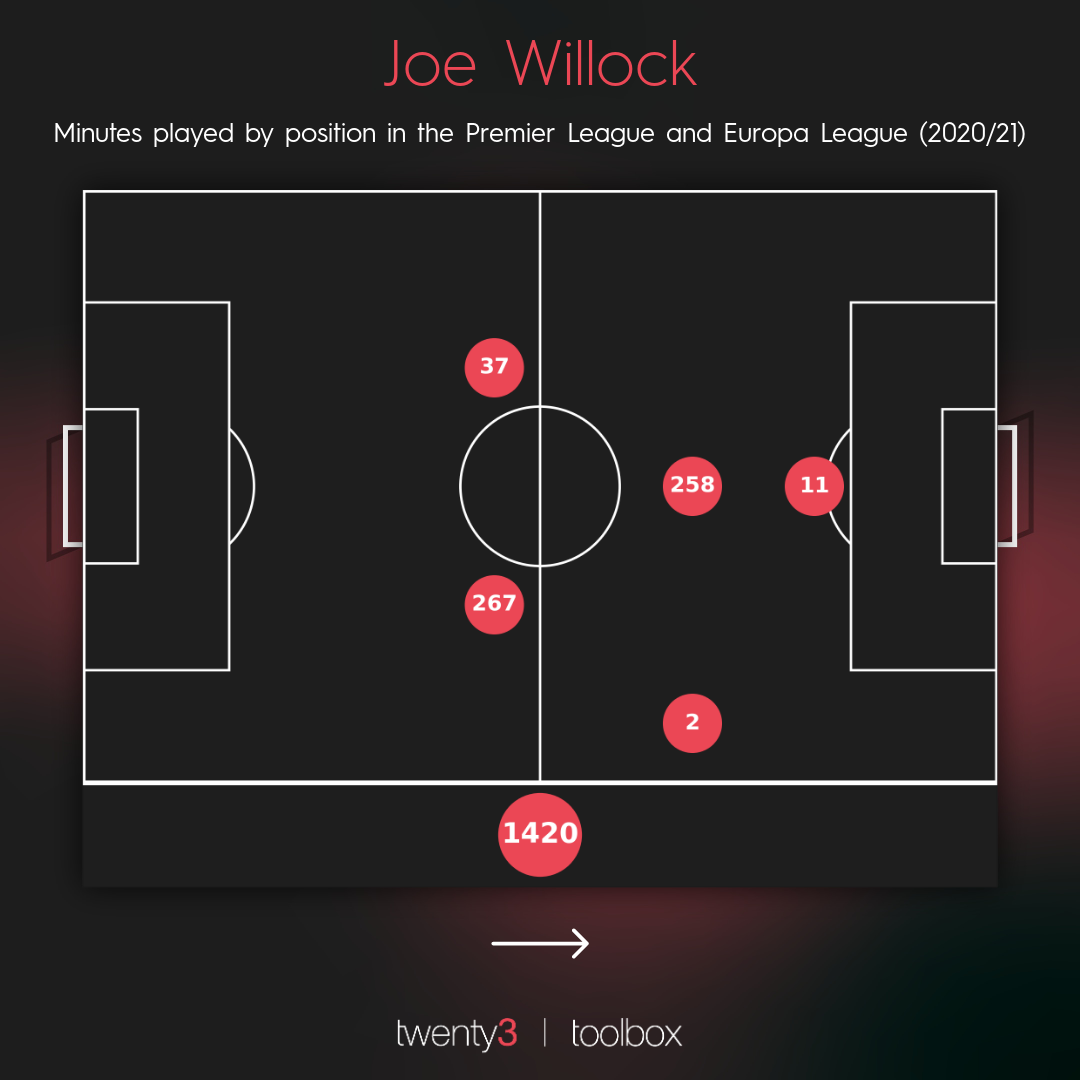 Photo: Twenty3/Wyscout
Attacking Presence
The most vaunted part of Willock's game is the ability to impose himself on the attacking front with powerful progressive runs and wicked-sharp shooting. His explosive athleticism and mobility give license to cruise forward making runs into the box beyond the striker. This season has shown his most productive start with three goals and three assists in 343 minutes of Europa League. 
In the following sequence from Arsenal's 4-1 victory against Molde, Willock shows his strength and stamina in a counter-attack situation whereby Arsenal capitalise on a poor corner and quickly move from defence to attack.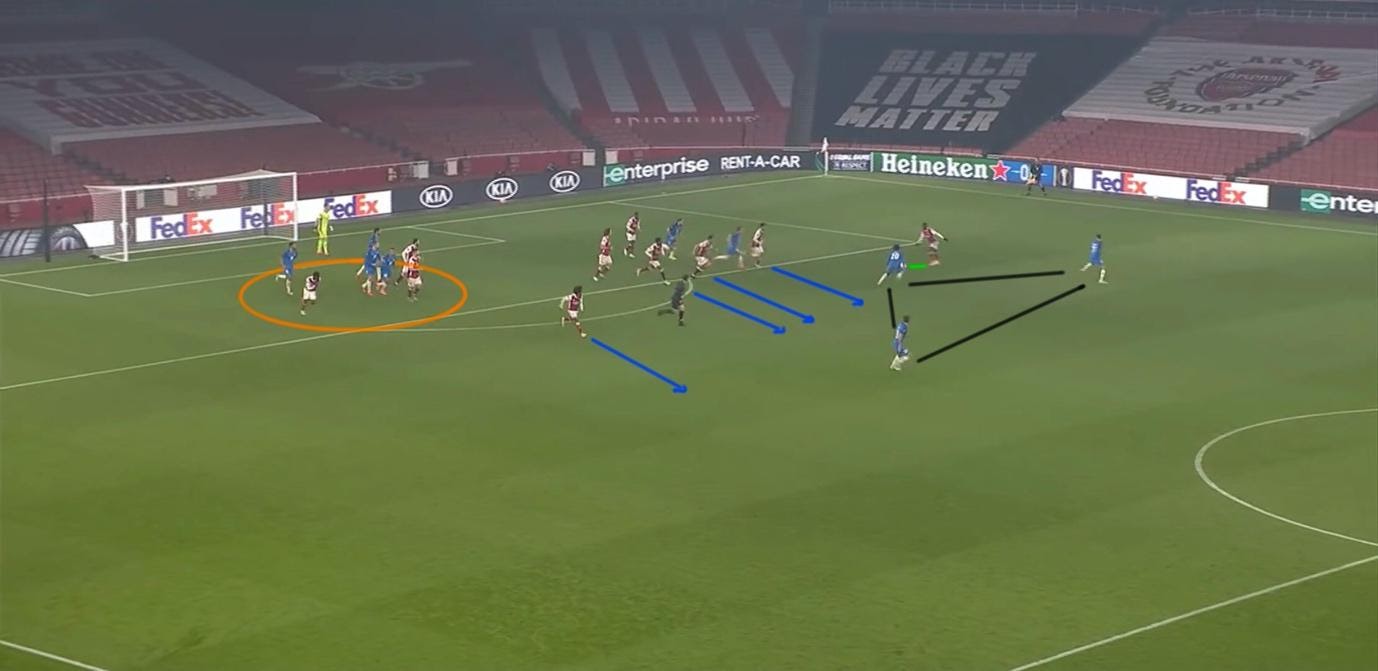 Nicolas Pépé (green line) picks up the ball following the clearance from a corner and Arsenal look to break into a counter-attack.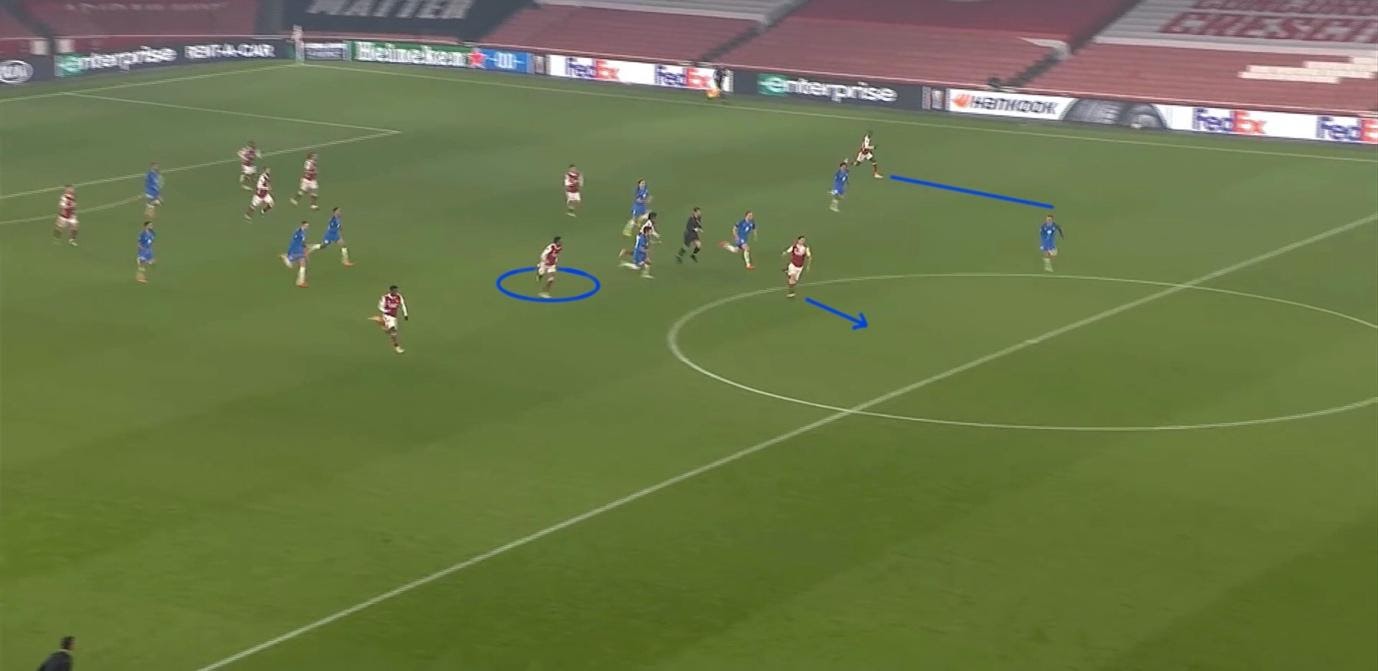 Pépé makes the pass to Granit Xhaka who has now travelled to the halfway line with Nketiah and Willock (circled in blue) on his right to support the Swiss.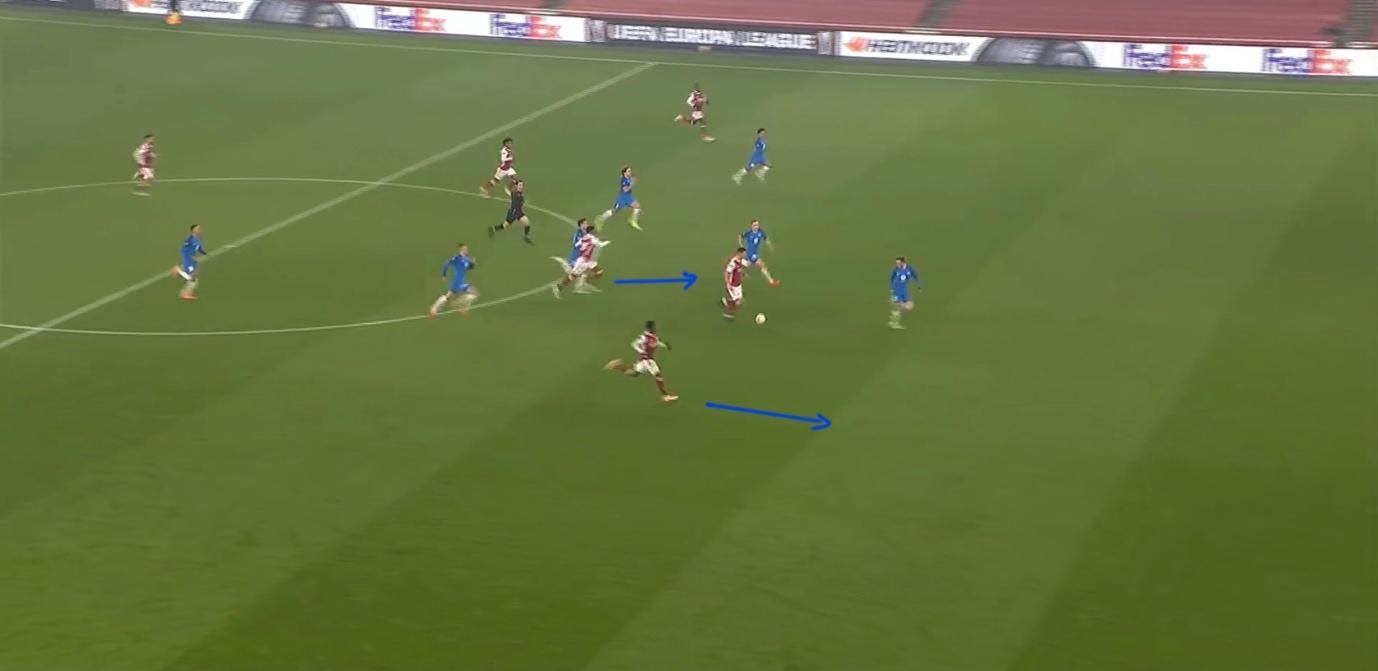 Xhaka plays it into Nketiah who has moved wide. Willock is trying to beat his man by cutting across.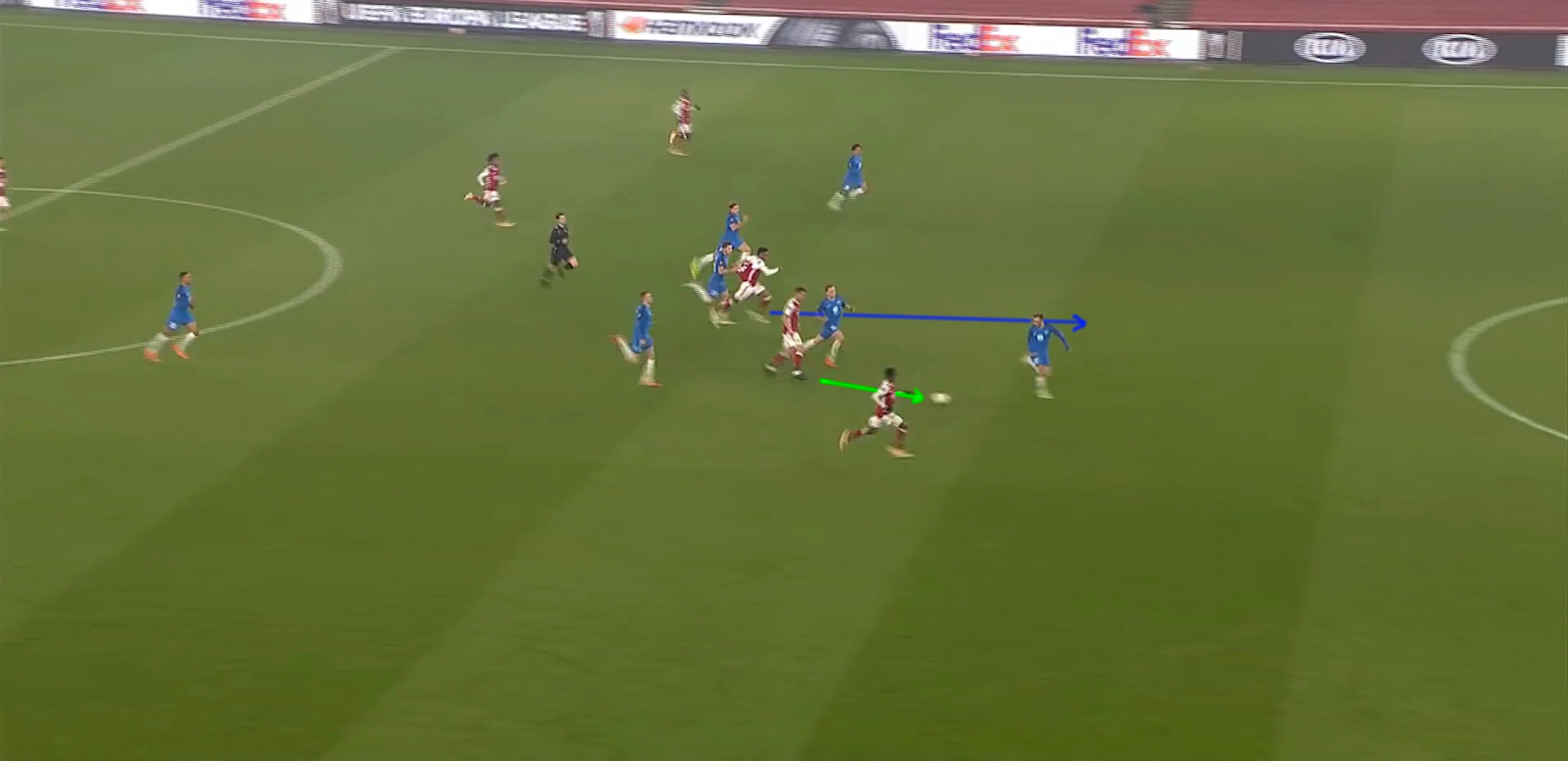 Initially, Willock passes his marker who has to tug on Willock's shirt to prevent him from pulling away.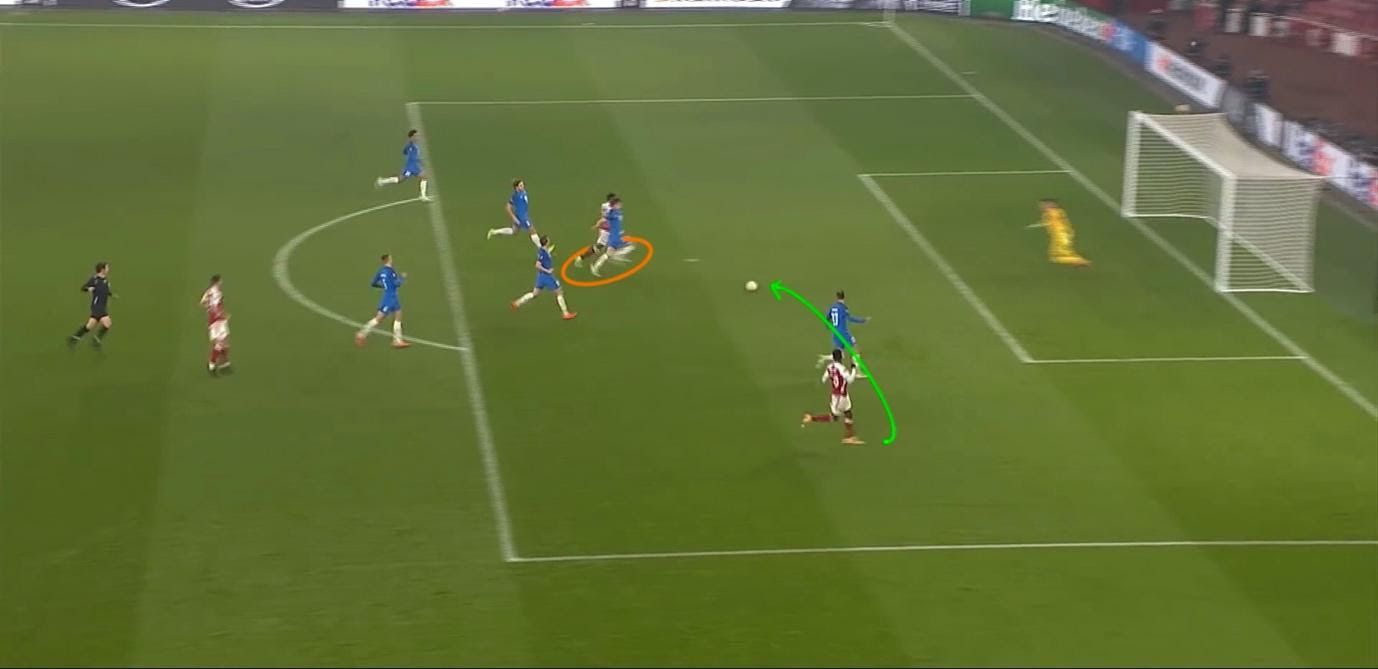 Rather than give up, Willock continues his chase as Nketiah slides a pass across his defender in the vicinity of Willock.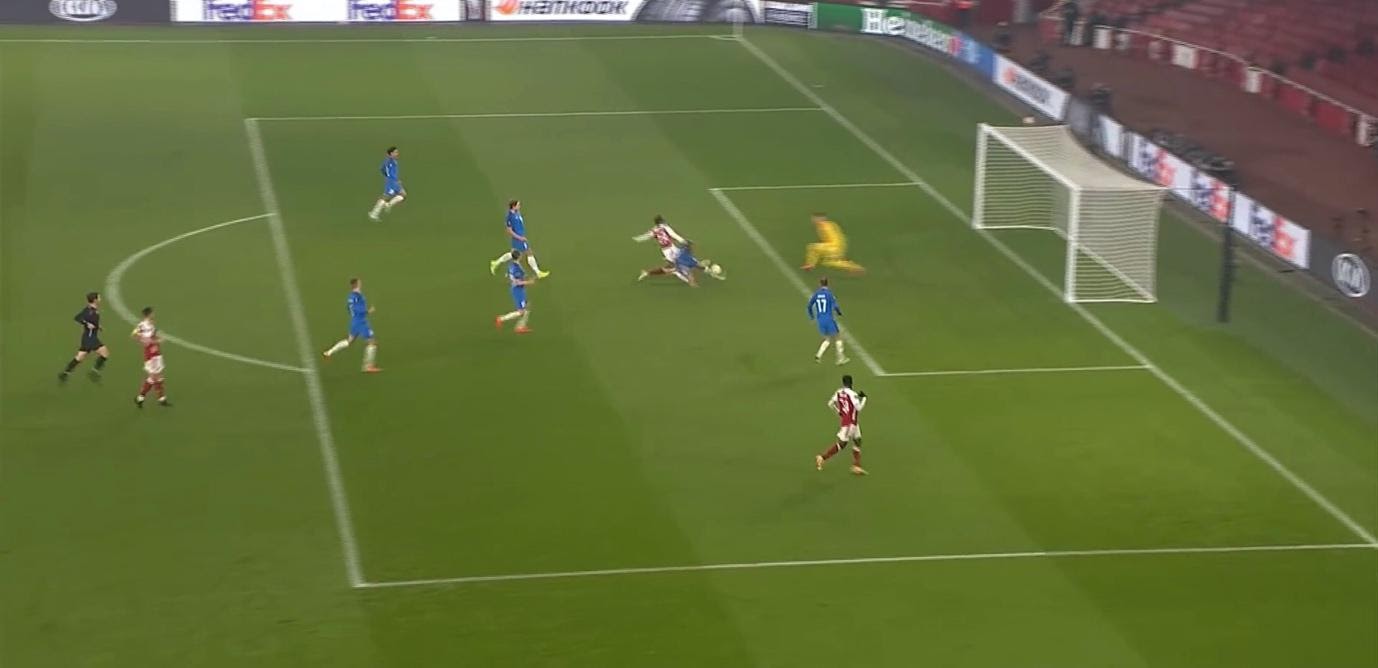 Willock shows his strength tussling with the defender to reach the cross to make any kind of contact. The ball is bundled past Molde goalkeeper Andreas Linde as Kristoffer Haugen takes the last touch to score an own goal and equalize before halftime.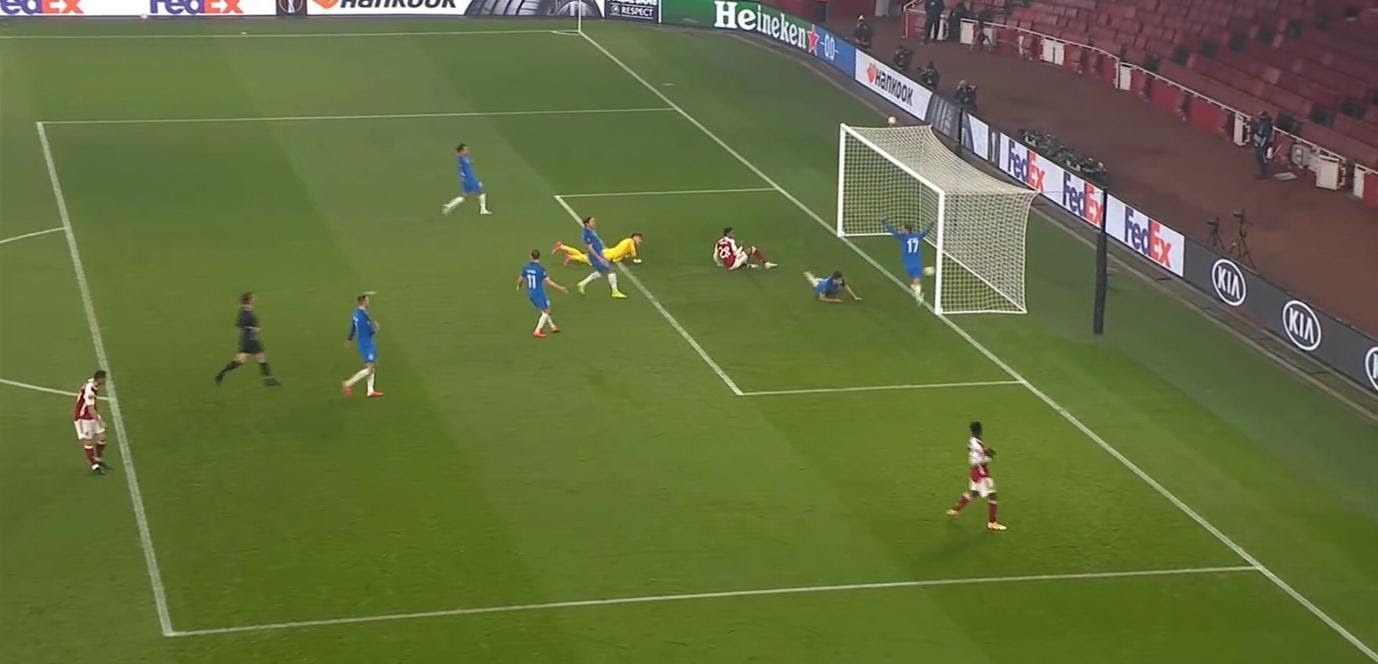 In addition to his physical prowess, Willock has continued to make an attacking impact with his finishing. The shot map below illustrates his desire to take on shots wherever possible with a poacher-esque ability to sense the ball in the box. The graphic also presents a difficulty scale in which Willock has managed to convert three shots which are considered to be hard to finish.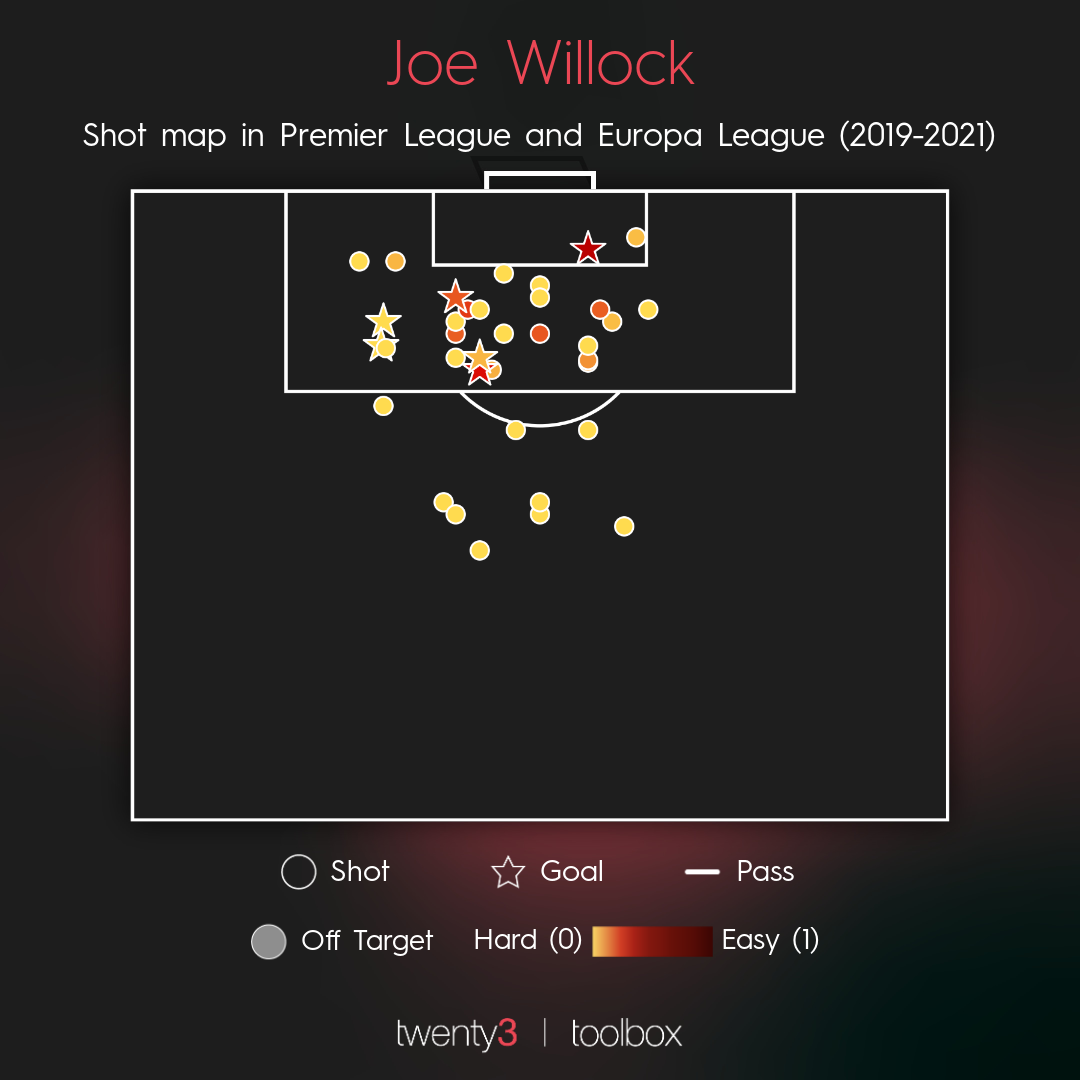 Photo: Twenty3/Wyscout
The sequence below shows an impressive goal in the Europa League against Dundalk.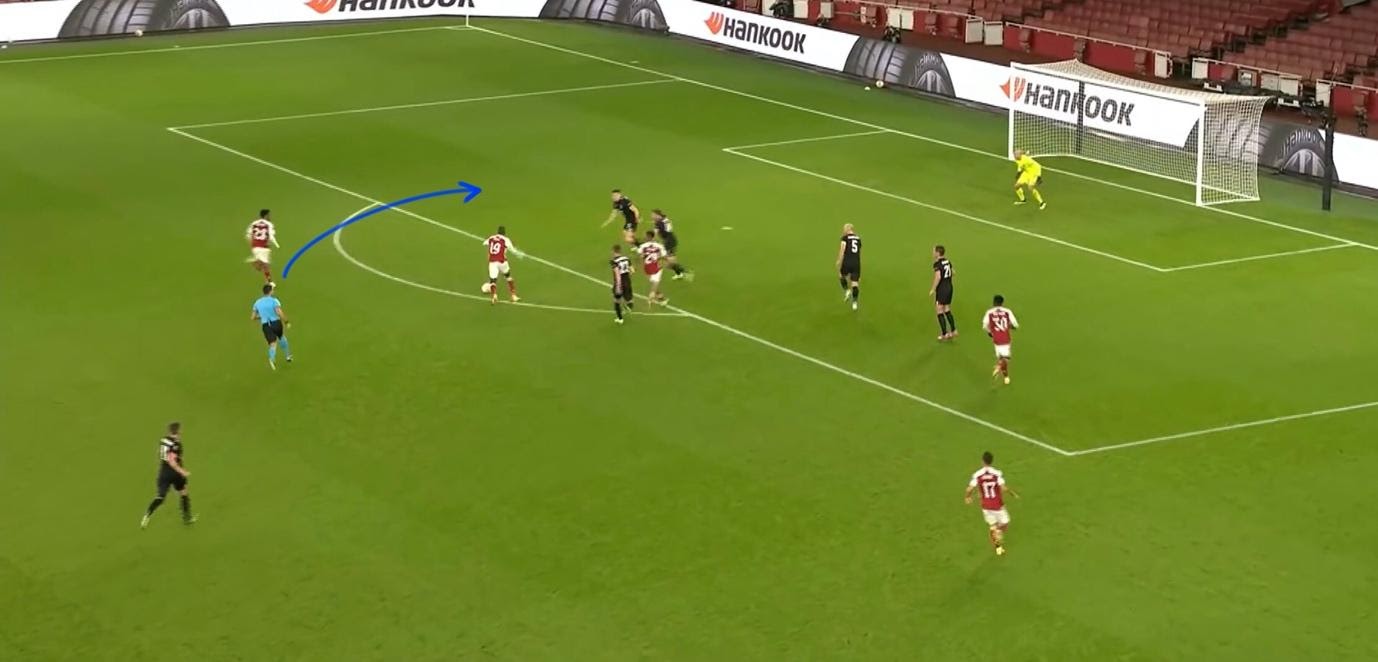 The sequence begins as Nketiah collects the ball on the right flank, hesitates, and plays a pass to Pépé on the edge of the box.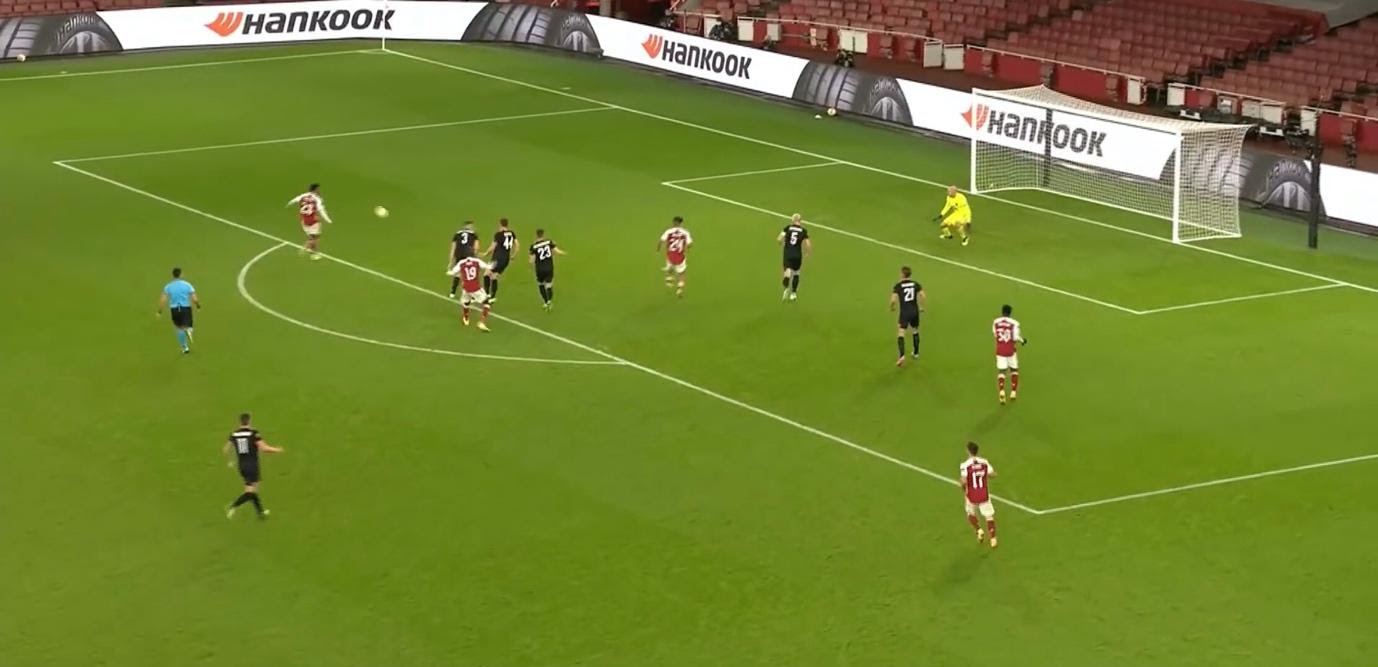 Despite the fact that Willock is making an incisive run to the left side of the box, the Ivorian winger decides to shoot, but his attempted shot is blocked and deflected into the path of Willock.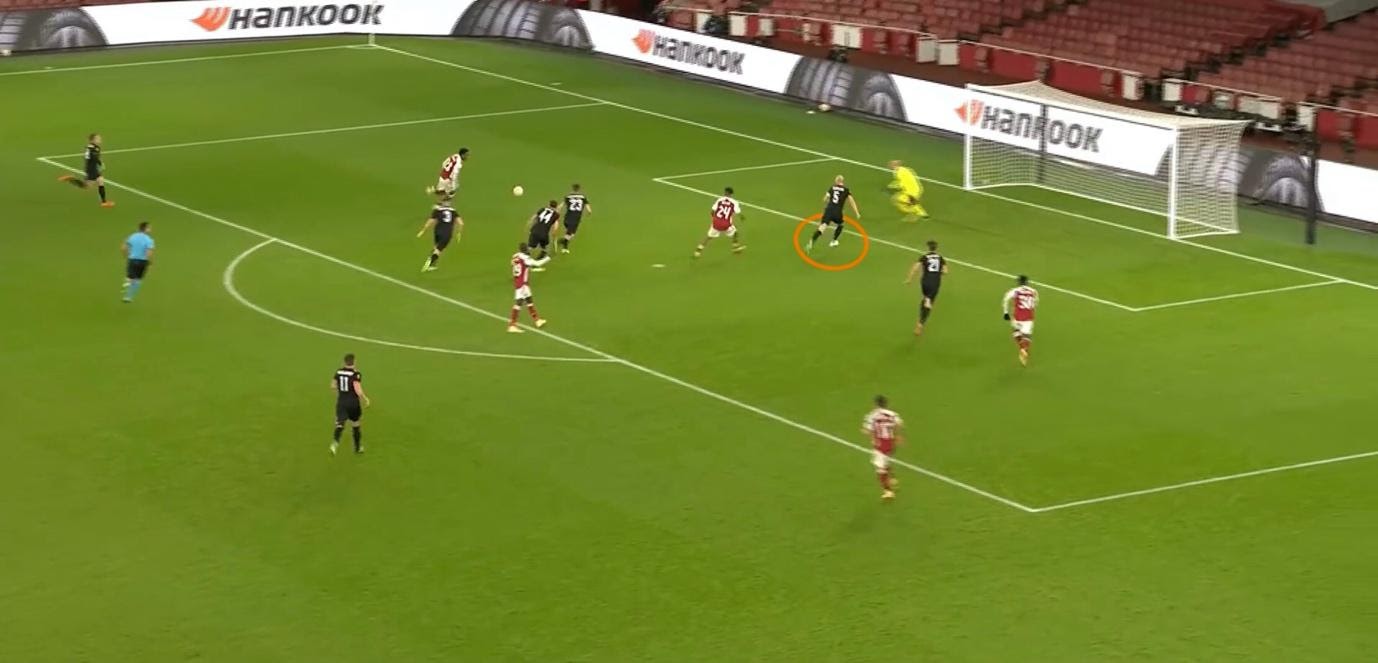 Willock takes the ball in his stride and shapes to shoot as the Dundalk defenders look to block the far post angle.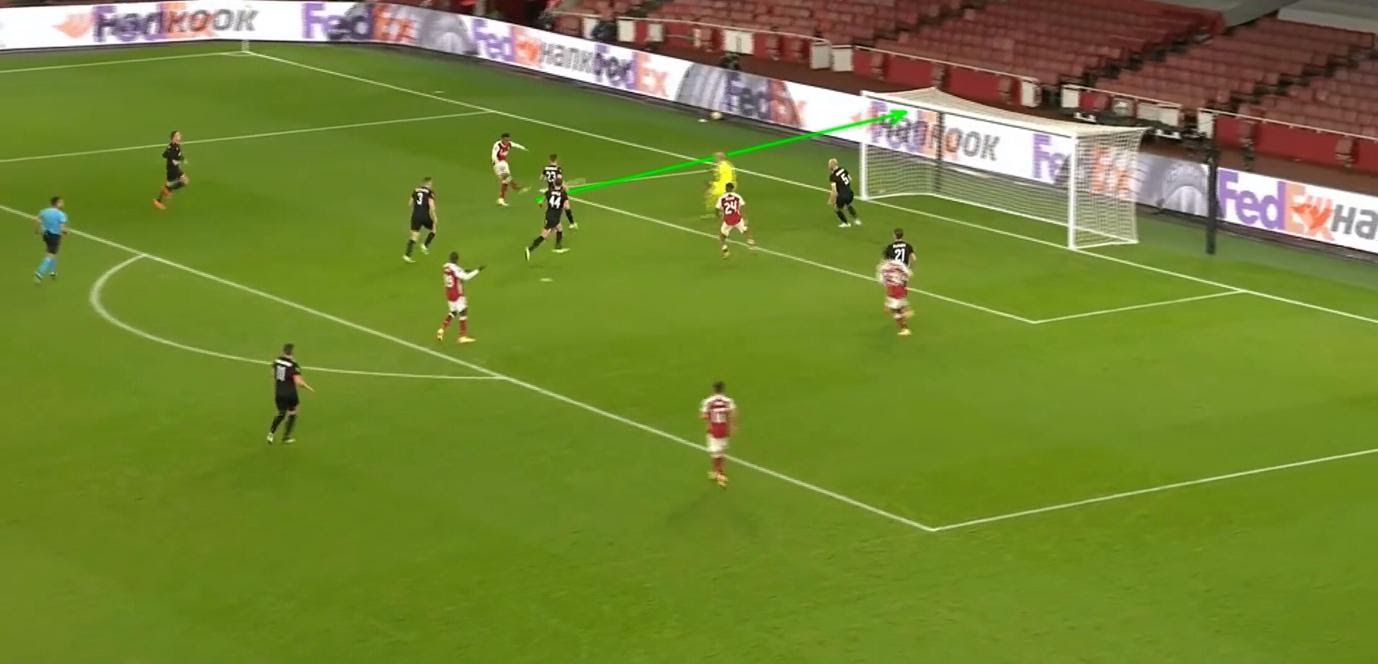 Willock is forced to shoot high into the net proving to be a difficult angle.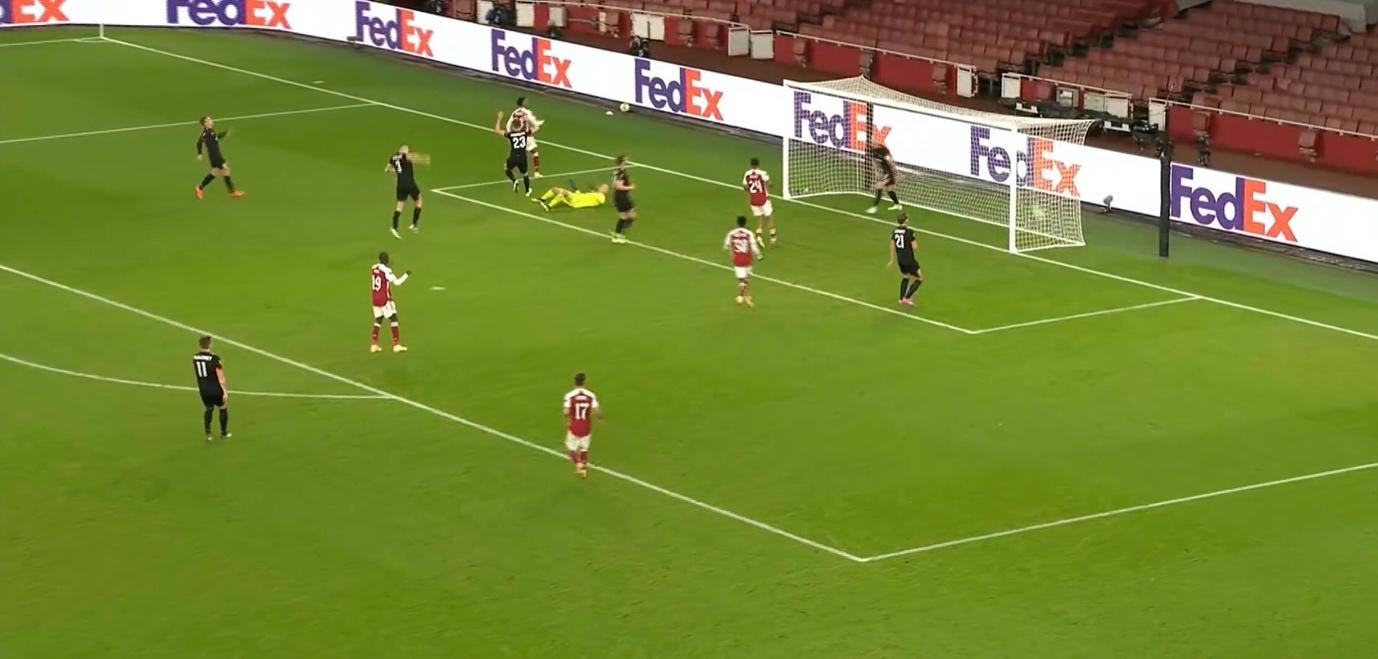 A strong shot ripples the roof of the net as the youngster takes the opportunity with confidence. Arsenal headed into the break with a 2-0 lead and would go on to seal the victory immediately after halftime with a goal from Pépé.
Improved Passing
Whilst Willock may not possess an eye for a pass like Mesut Özil, his delivery has improved in leaps and bounds, especially in the final third accumulating three assists this season. His pass map shows how the midfielder looks to make supporting runs for full-backs overloading wings giving an opportunity to cross. Meanwhile, his passes into the opposition's half are less penetrative and instead played to the wide teammates due to sides imposing a low-block when playing Arsenal.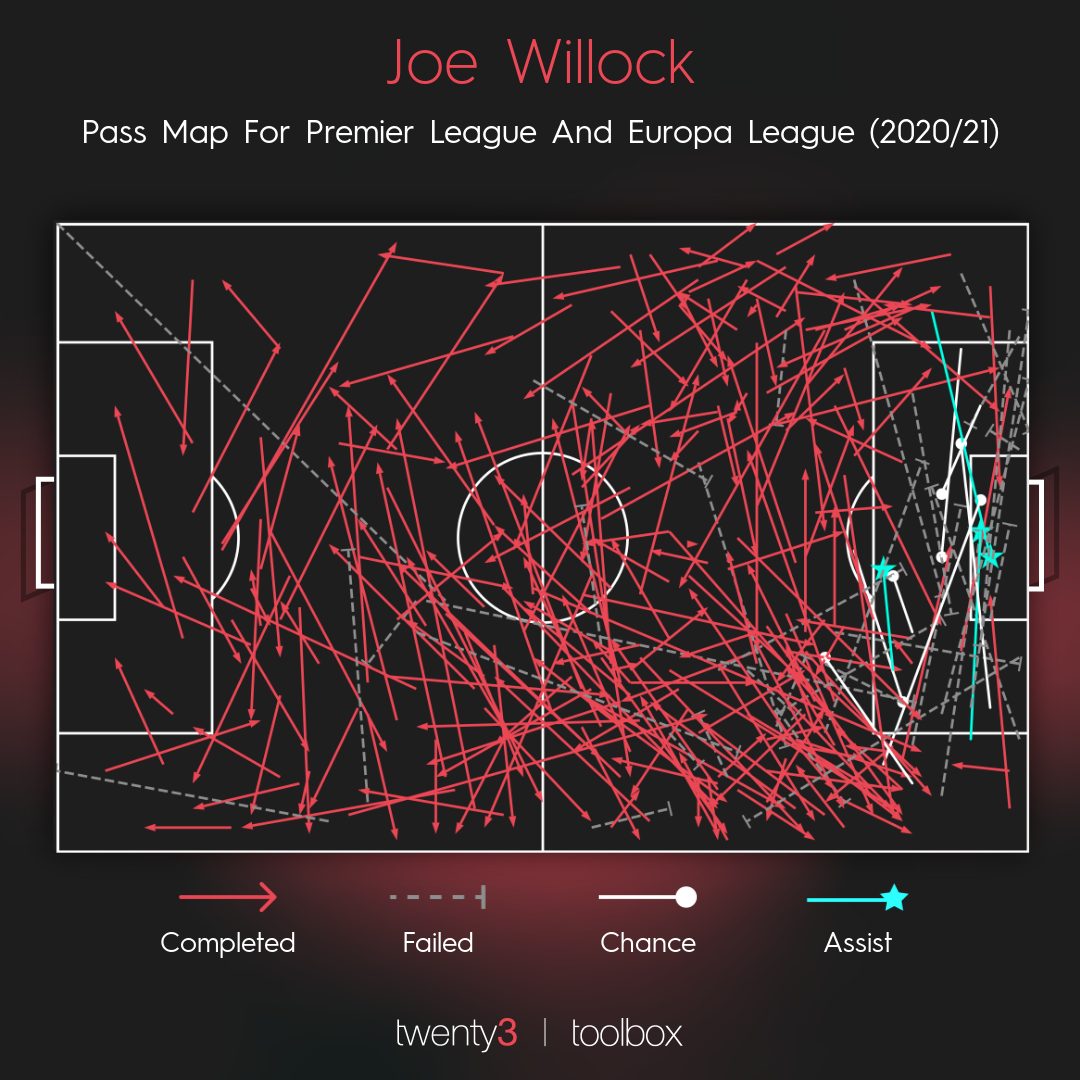 Photo: Twenty3/Wyscout
Similar to his pass map, Willock's shot assist map recognises his ability to get in crossing positions rather than the direct passes in a deep-lying midfielder role or the precise passes at the front of the penalty area usually played by a natural attacking midfielder.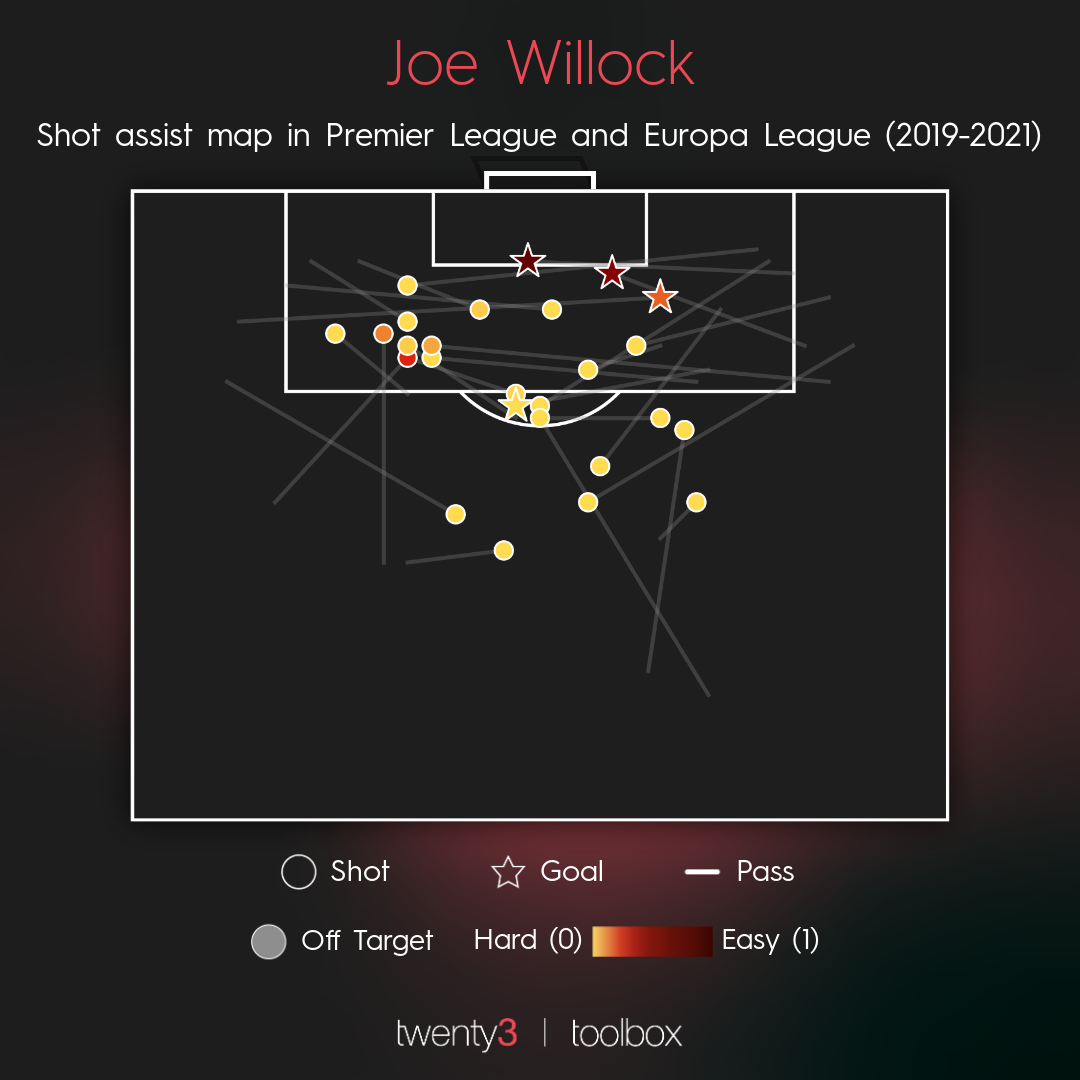 Photo: Twenty3/Wyscout
The sequence below shows his crossing ability with two assists in a standout performance against Molde. After winning the home fixture three weeks prior, Arsenal took a 3-0 victory in Norway thanks to a standout performance from Willock.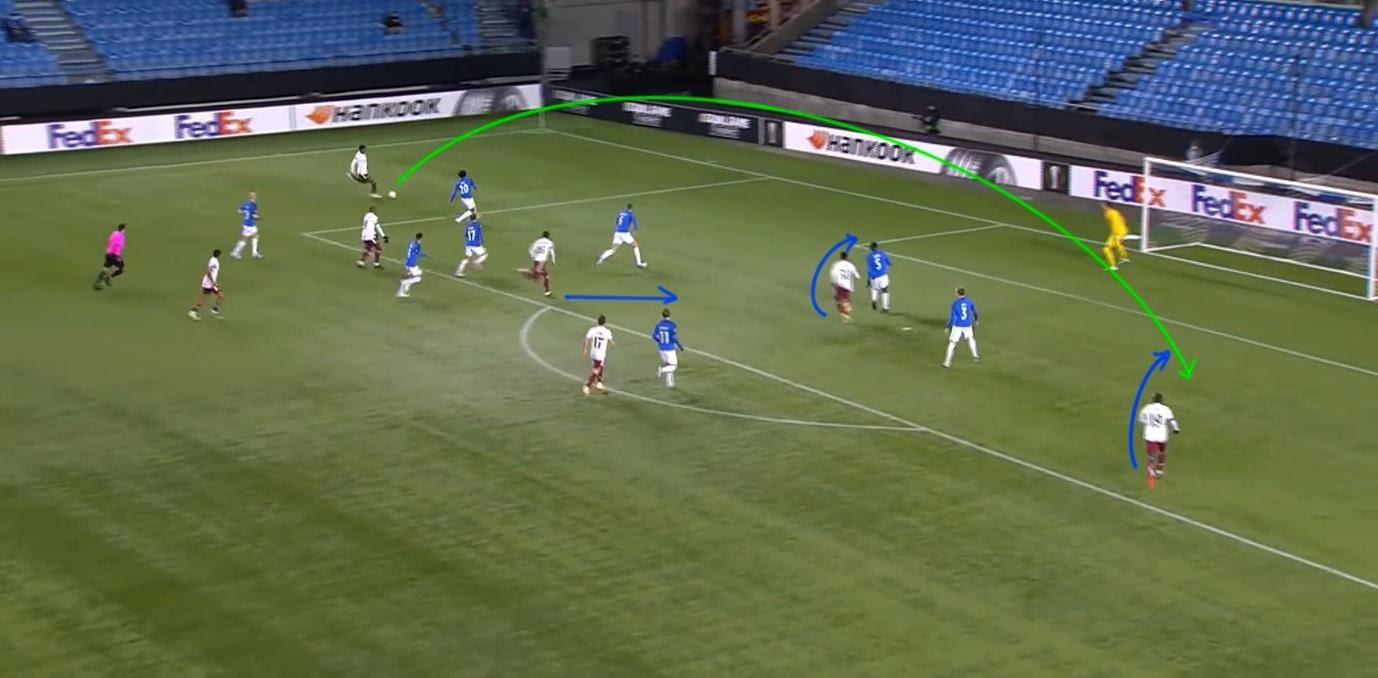 On the weaker foot, Willock looks to find the free man in Pépé who has lost his marker.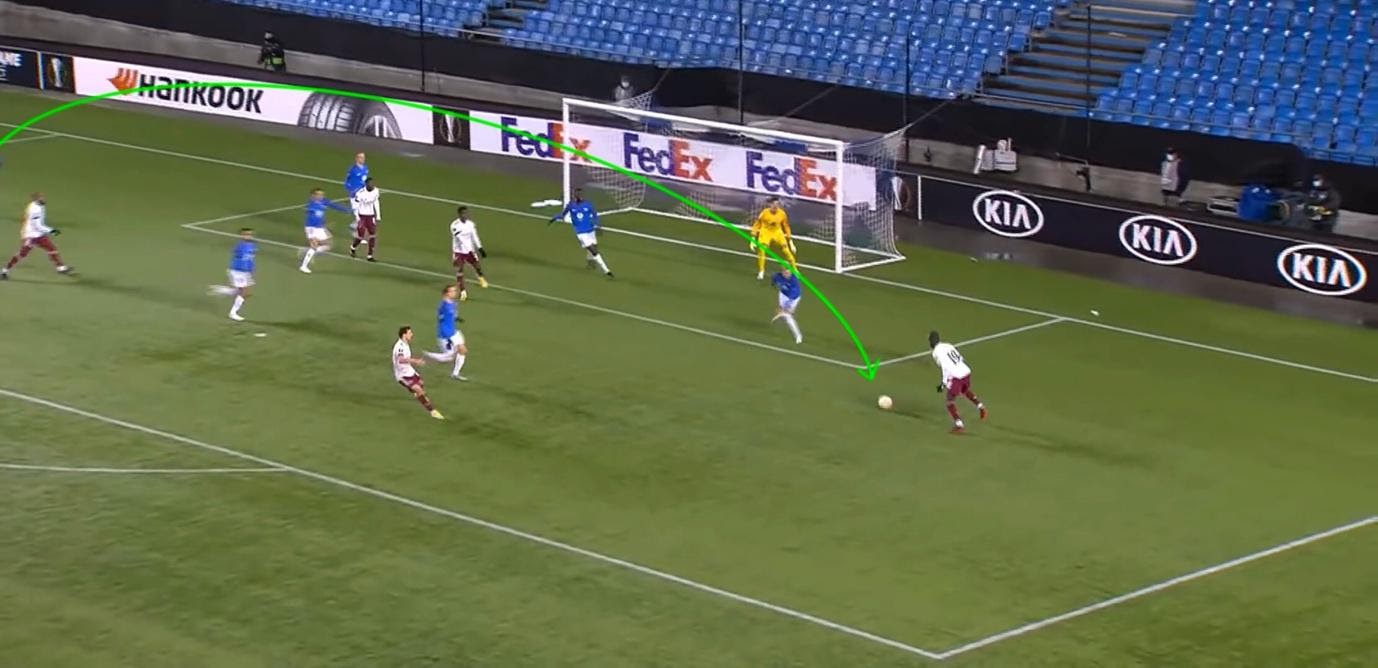 Pépé controls the cross well, setting himself to either pass to Nketiah or take on the shot.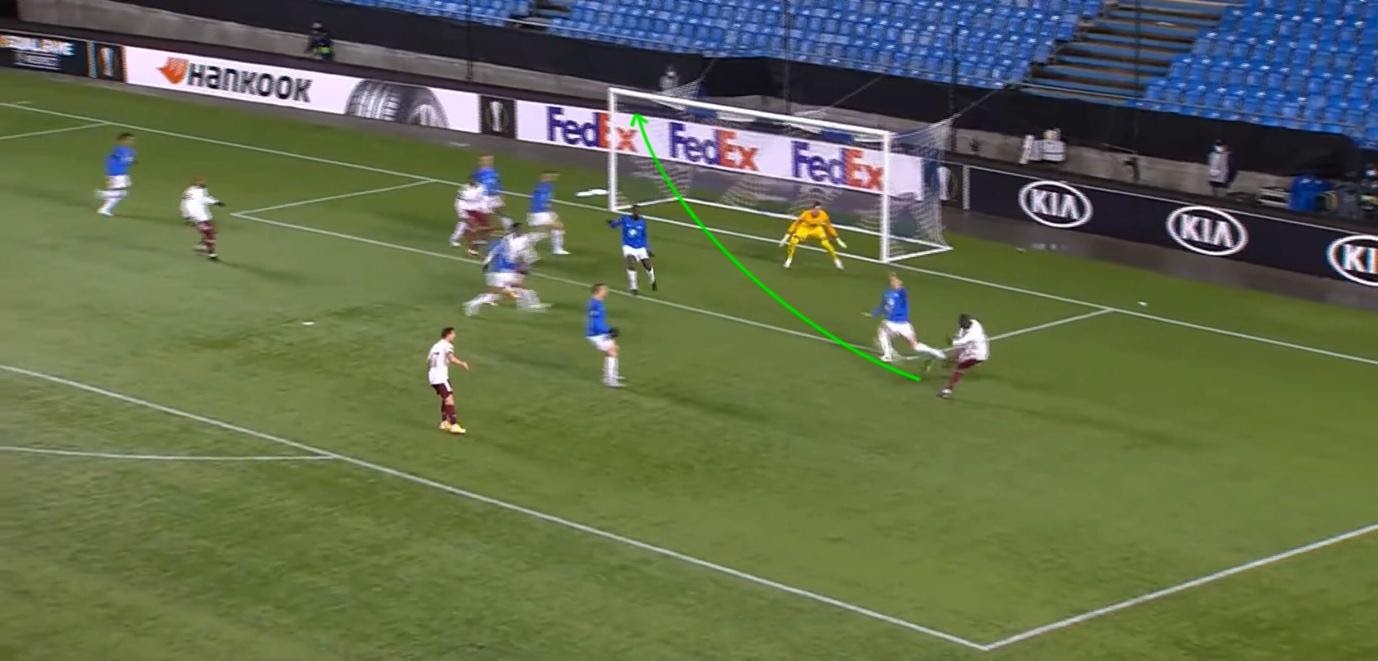 The angle is all too enticing for the Ivorian and he bends his shot into the top corner past Linde to open the scoring for Arsenal before halftime. Arsenal would go on to take a 3-0 victory via goals from Nelson and Folarin Balogun.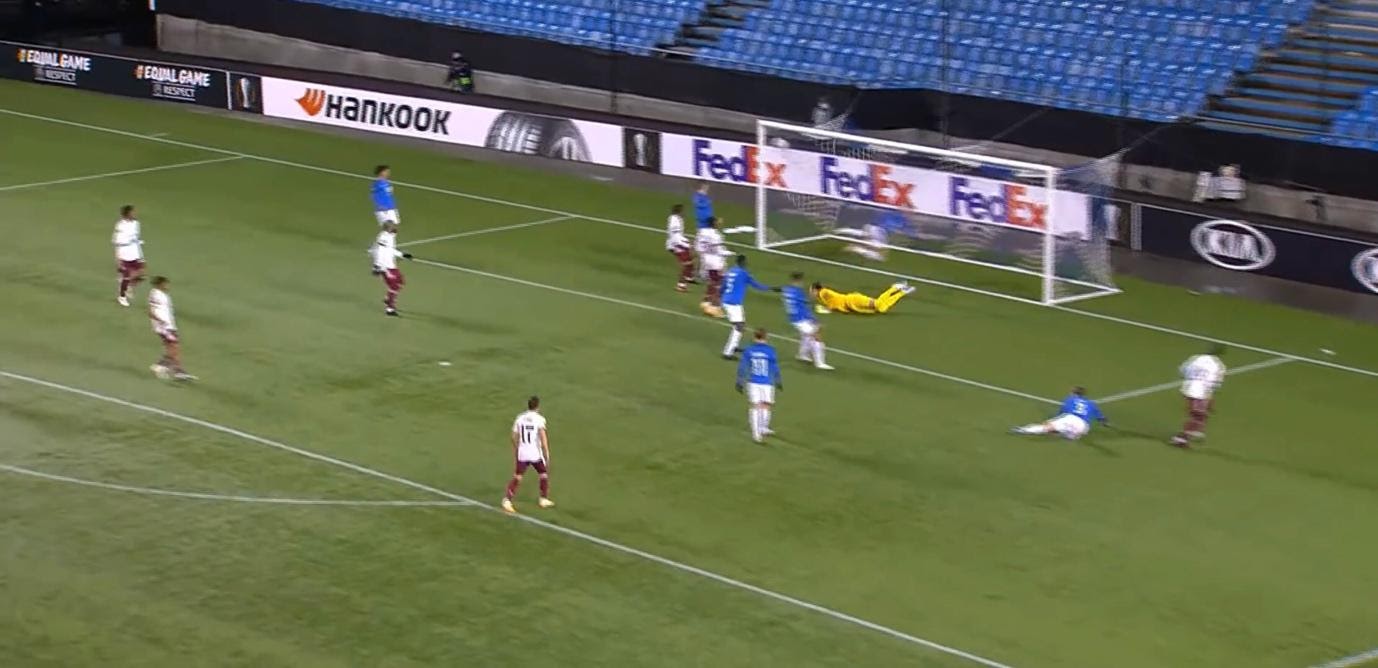 In the same match, Willock plays another pin-point accurate cross into Nelson for the second assist following a storming run, this time on the right side of the pitch.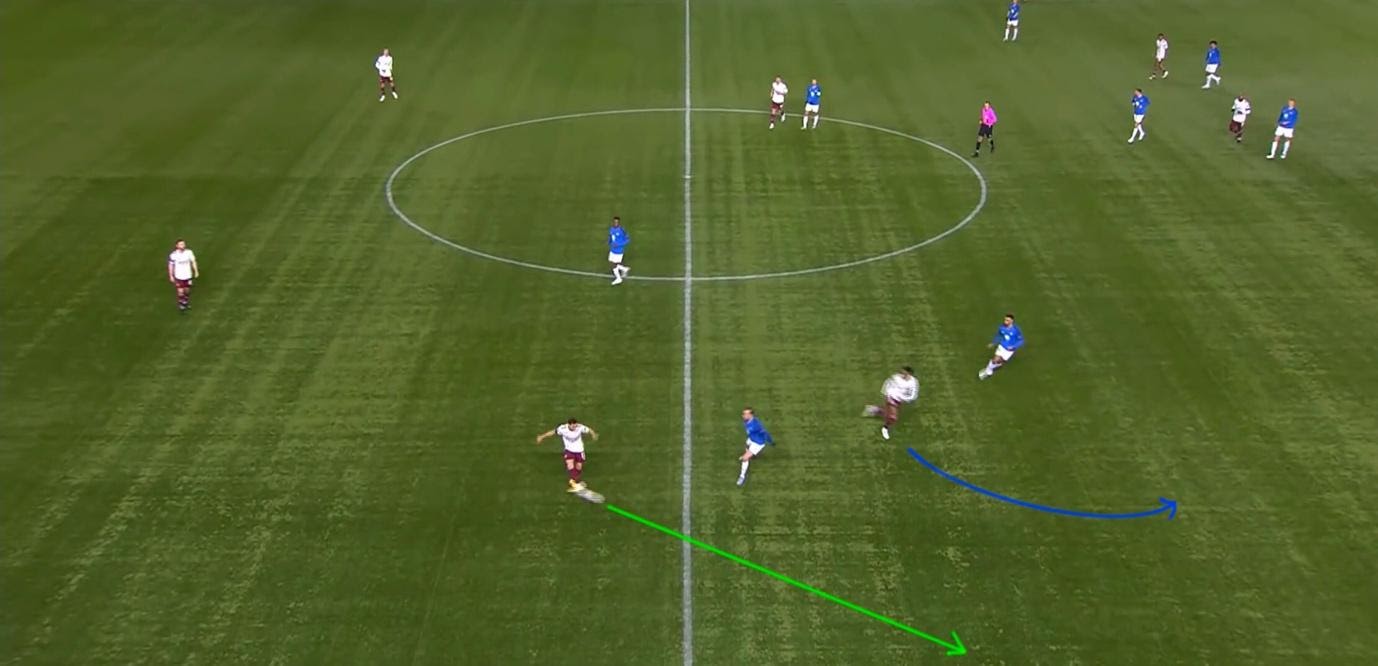 Cédric Soares plays to Pépé (not shown), Willock looks to make a supporting run with a swathe of green astro in-front of him.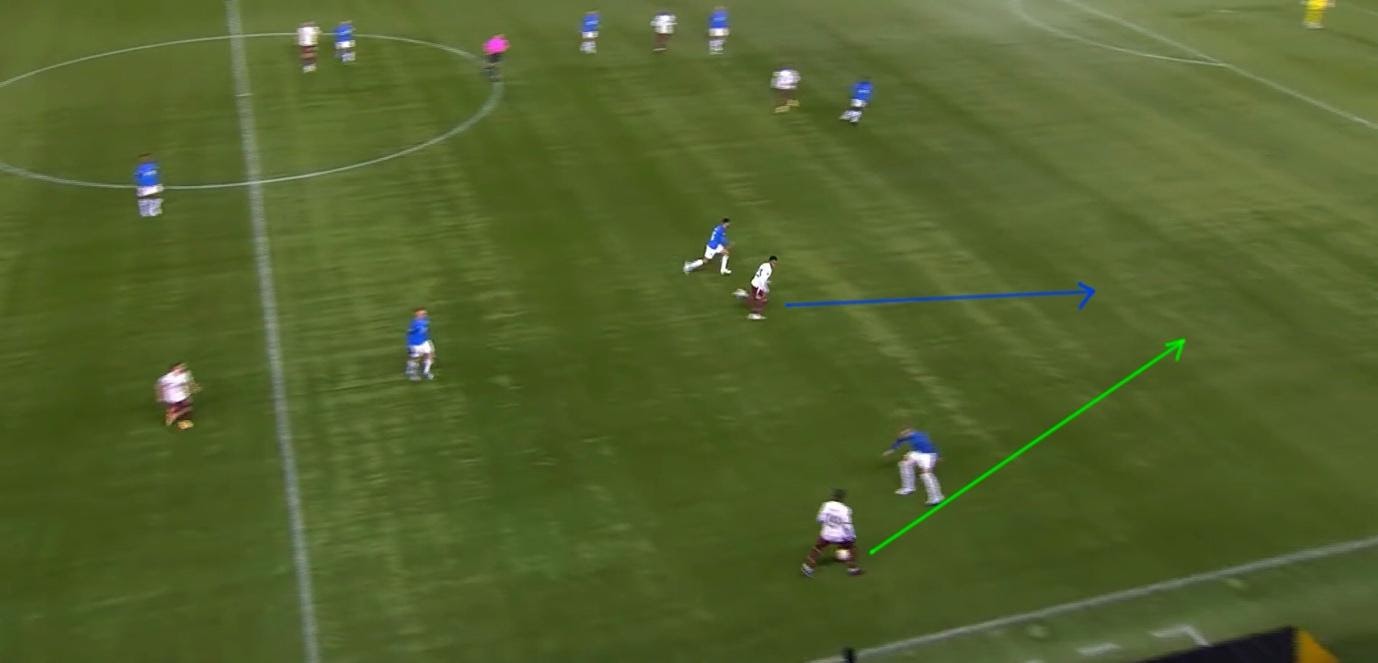 Pépé waits for Willock to gain ground before playing the pass.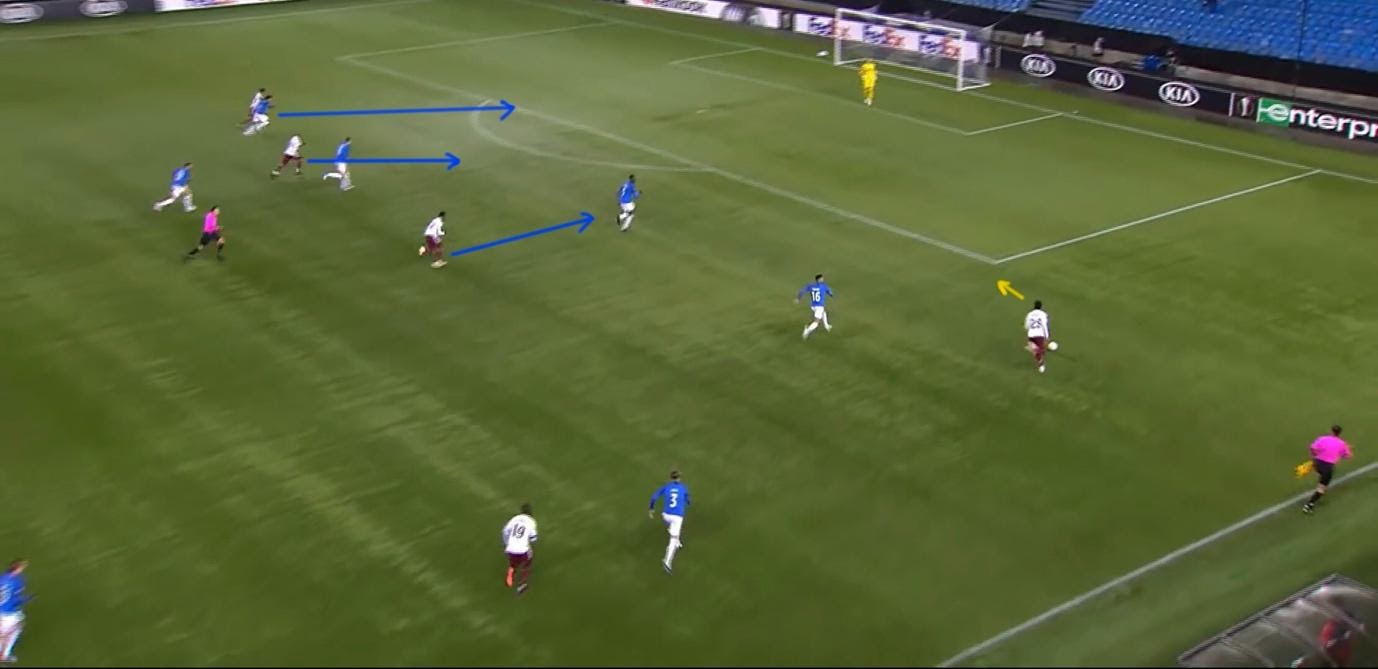 Now Willock has gained substantial ground on his marker due to his speed and he scans the field for his teammates running into the box.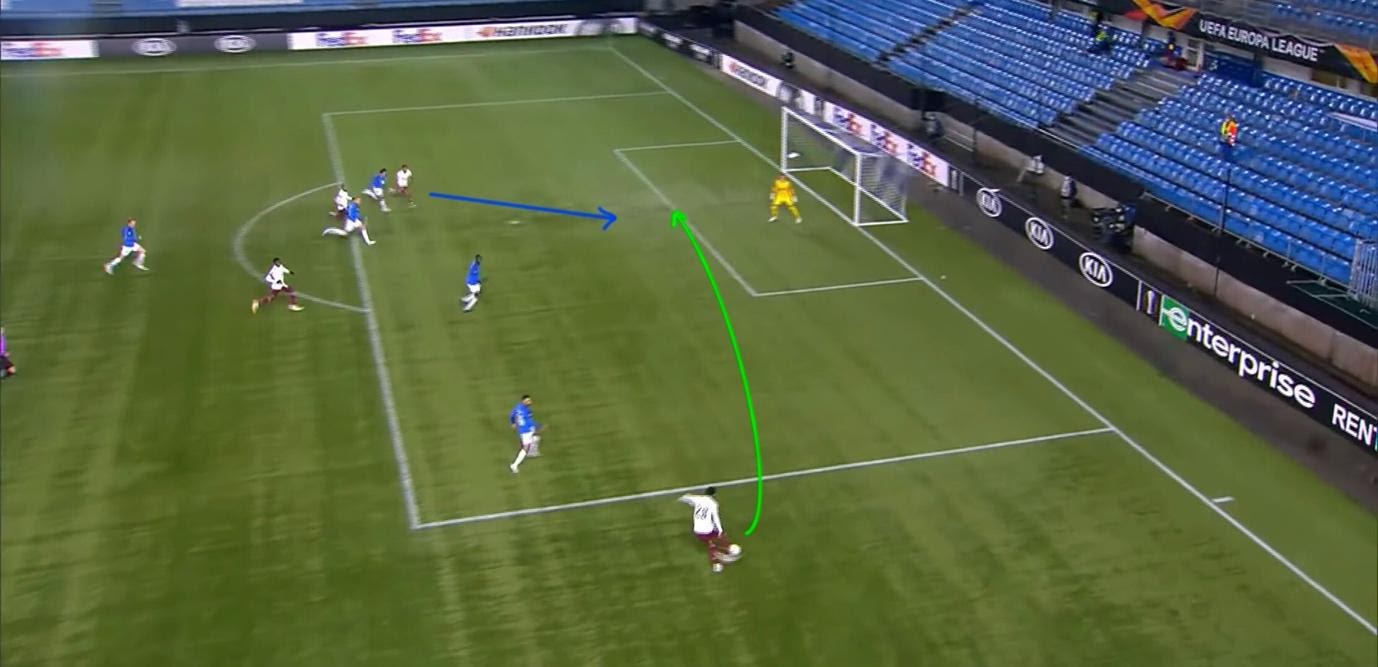 Willock notices Nelson ahead of his marker and looks to cross to him. It is crucial the pass has enough speed to beat the central defender and to allow Nelson to guide the shot past the keeper whilst making sure the keeper cannot intercept the cross.
The pass is perfect, giving Nelson a number of options to score from. Nelson clips it past the keeper for another Willock assist and a two-goal lead.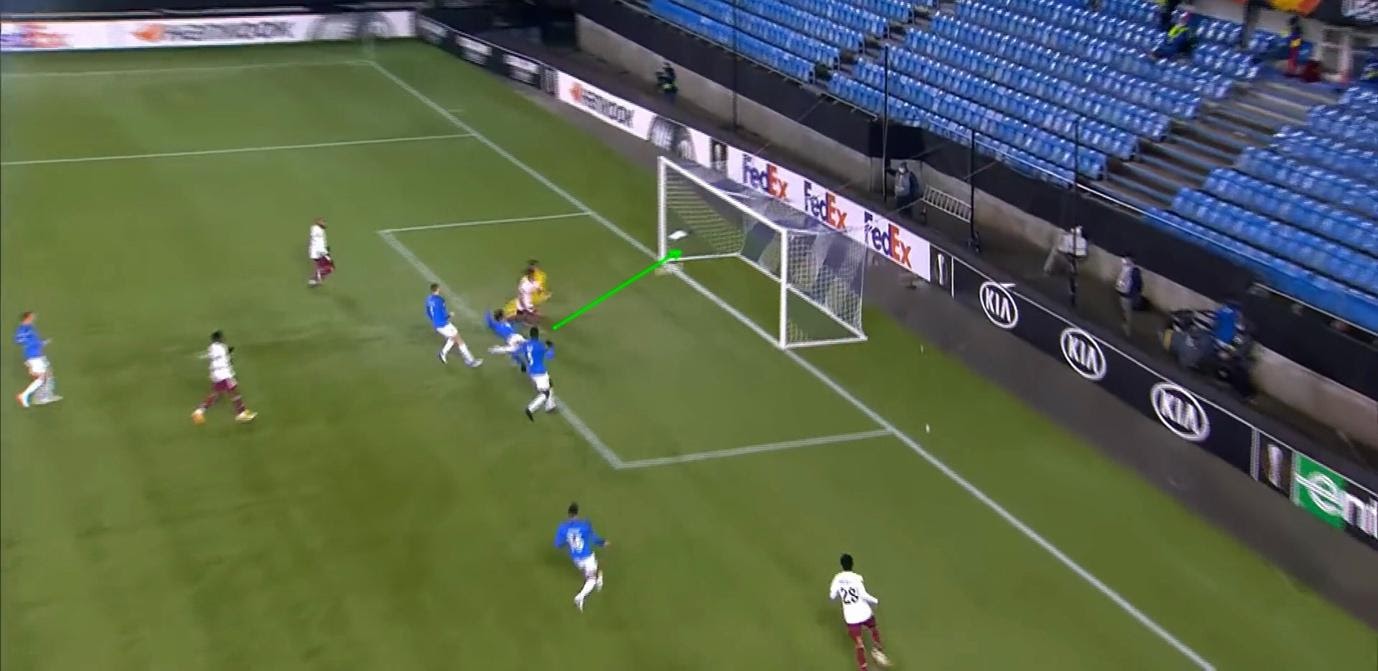 Defensive Attributes
Defensively, Willock has plenty to improve on as he can rely on his physical capabilities far too often and lacks concentration in key defensive periods of the game. However, under Arteta, a higher focus on defensive set-up has made the youngster more particular about pressing and increased his awareness when defending as a unit. 
Defence will be crucial during Willock's time at Newcastle as the side has averaged only 39.6% possession compared to Arsenal's 52.2% possession this season. Therefore, he is likely to experience defensive situations he will not have faced in an Arsenal shirt due to the ways in which teams approach the respective games. The graph below demonstrates his tremendous ability to cover open ground impacting the game at numerous defensive levels, deeper in his half and around the opposition's penalty area.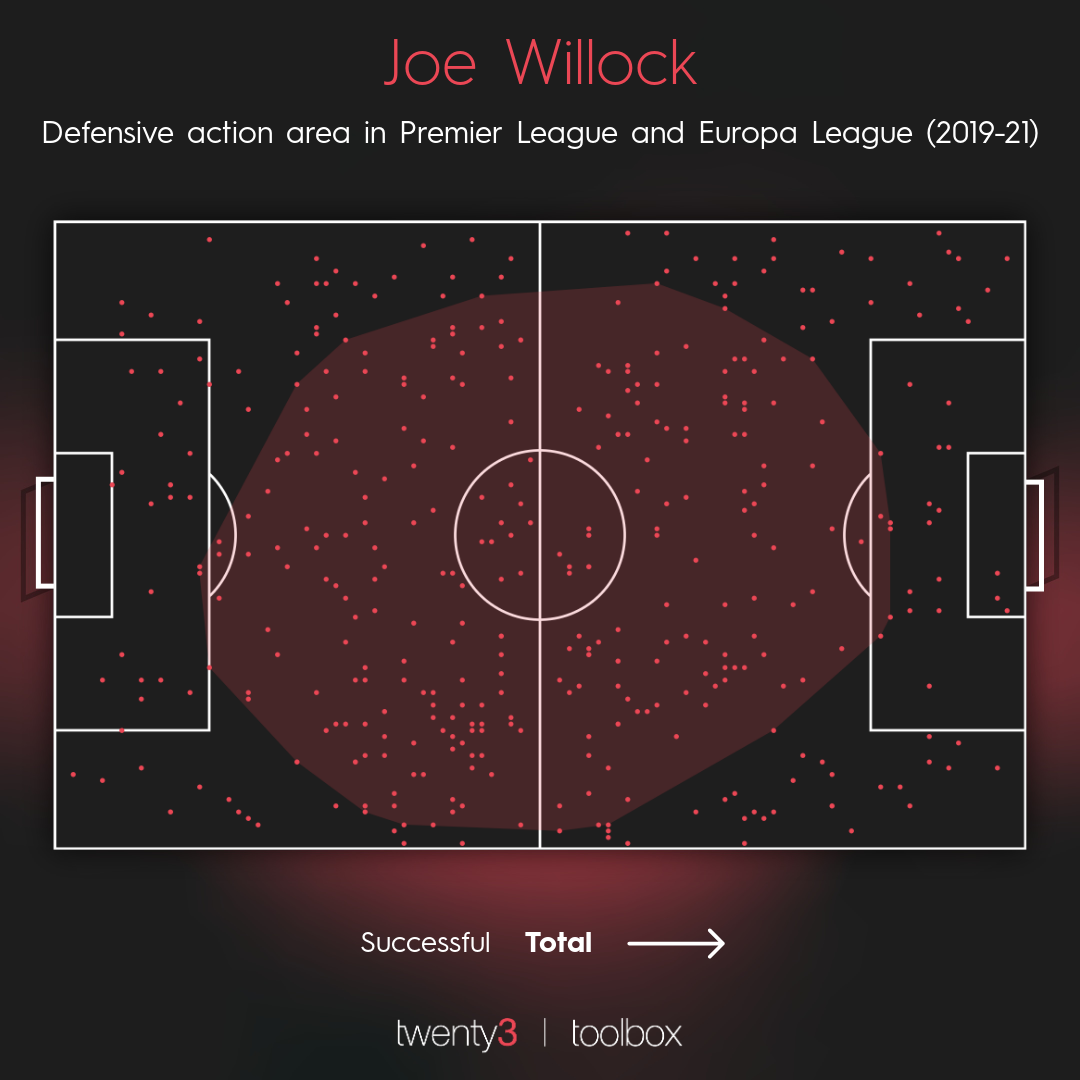 Photo: Twenty3/Wyscout
With the correct guidance and support around him, Willock has all the tools needed to evolve his defensive game to become an adept all-round midfielder.
Where Does Willock Fit at Newcastle?
The five games prior to Willock's arrival had seen Steve Bruce set his side up in a 4-3-1-2 formation with Callum Wilson leading the line and Miguel Almirón in the central attacking midfielder role. The midfield three behind has been Jonjo Shelvey, Jeff Hendrick and former Arsenal youth academy product Isaac Hayden.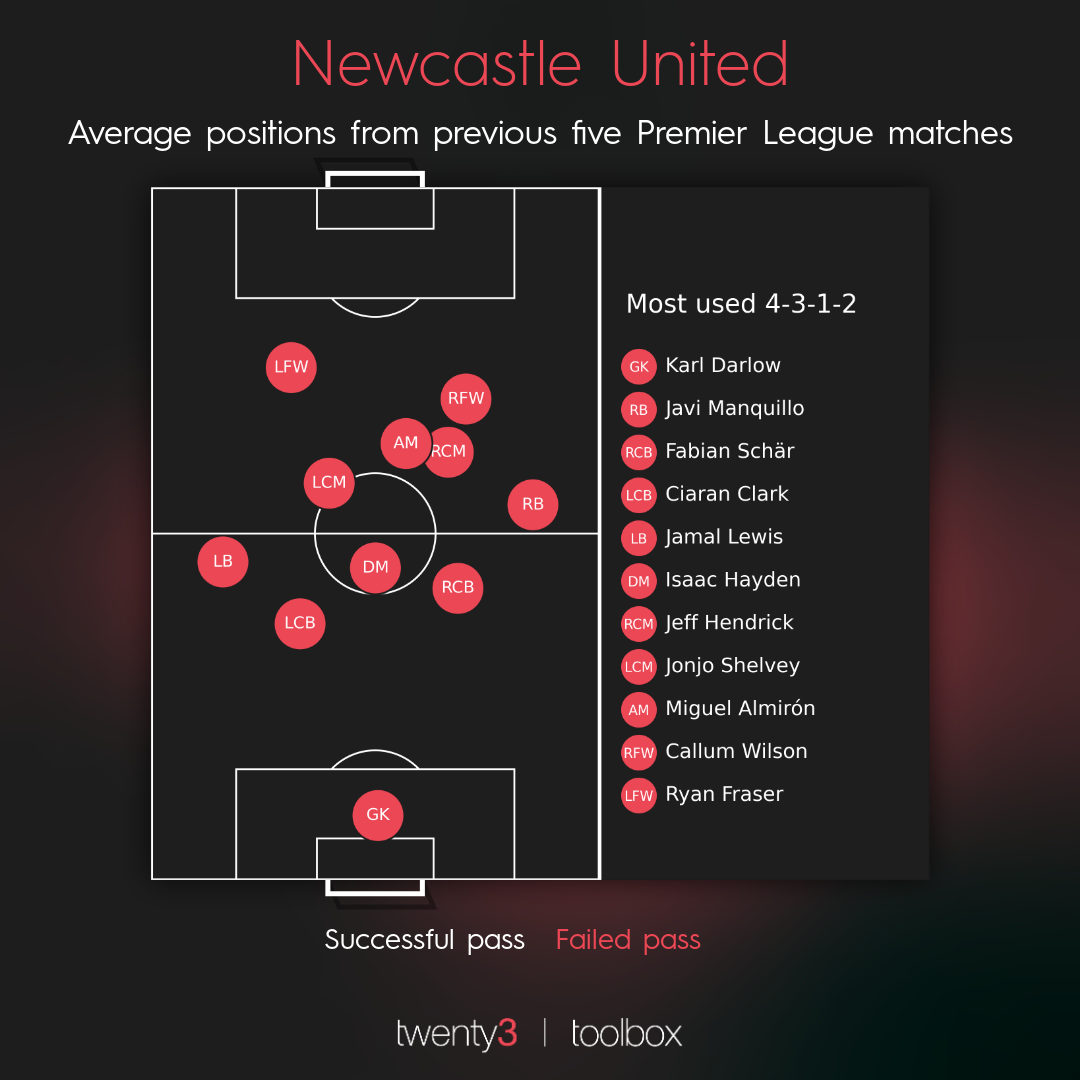 Photo: Twenty3/Wyscout
The introduction of Willock will likely see him involved in the midfield three as an attacking outlet to support the strikers. His attributes are most suited in a box-to-box role with the athletic ability to quickly transition defence to attack and vice-versa. Furthermore, the re-introduction of Allan Saint-Maximin will pose an additional wide-attacking threat to a currently tame Newcastle side.
Conclusion
Newcastle presents an exciting opportunity for Willock, his development in a novel environment will help the youngster to build experience and improve at a Premier League club. For Arsenal, it gives them an opportunity to assess Willock's potential whilst delivering a bigger picture perspective as to where Willock fits in their future plans.
Meanwhile, Newcastle receive an extremely raw prospect who can provide a dynamic and explosive difference from midfield adding versatility and grit to Steve Bruce's side. And if the loan proves to be successful for Willock and Newcastle, perhaps Arsenal will be tempted to sell their youngster in the summer with the players contract running out in 2023 and the Gunners looking to continue their rebuilding efforts at the club.
By: Toby Rathborne
Featured Image: @GabFoligno / Stu Forster – Getty Images