Iliman Ndiaye – One of the Most Exciting Players in the Championship Right Now
Iliman Ndiaye has been something of a bright spark for Sheffield United since he broke through into the first team in 2021. The 22-year-old enjoyed a productive season during the previous campaign, breaking through into the first team during a 6-2 victory against Peterborough where he grabbed two goals and an assist to ensure everyone at Bramall Lane was paying attention.
He ended the season with seven goals and two assists as Sheffield United fell to Nottingham Forest in the play-off semi-finals. Ndiaye has hit the ground running during the 2022/23 campaign, already scoring 9 goals and 2 assists in 20 appearances and making his senior debut for Senegal. 
Profile:
Name: Iliman Ndiaye
Age: 22 Years Old
Club: Sheffield United
Nationality: French / Senegalese 
Height: 180cm
Weight: 76kg
Foot: Right
Contract Expires: June 2024
The Bladesman has had his own unique journey to Bramall Lane, born in Rouen, France to Senegalese parents, Ndiaye started his career at Rouen Sapins FC before moving to Rouen. He then spent four years (2010-14) in the Marseille academy before signing with AS Dakar Sacré-Cœur in Senegal. In 2016, Ndiaye signed with Boreham Wood FC where he would stay until 2019 when Sheffield United came calling.
He would spend six months on loan at Hyde United to gain some first-team experience for the latter half of the 2019/20 season. The following season saw then-temporary manager Paul Heckingbottom grant Ndiaye his debut in a heavy 5-0 loss to Leicester City. Heckingbottom has been a key factor in Iliman Ndiaye's development, ensuring he enjoys plenty of minutes in the first team and as a result, the youngster has been flourishing.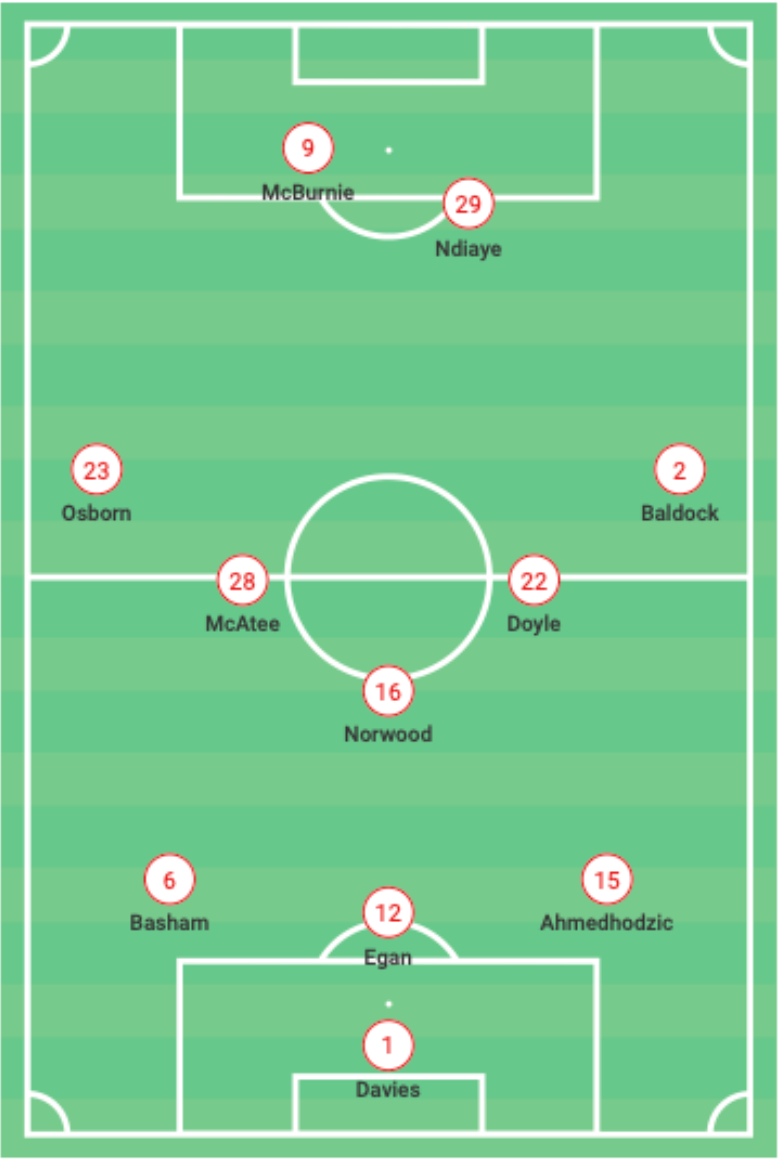 Heckingbottom traditionally uses the 3-5-2 formation that has become synonymous with Sheffield United since Chris Wilder's tenure. In this tactical formation, Ndiaye is usually deployed in the front two, frequently paired with Oli McBurnie. Ndiaye is afforded the freedom to drop back into midfield and play between the lines whilst McBurnie ensures there is always a presence high up the field for Sheffield United.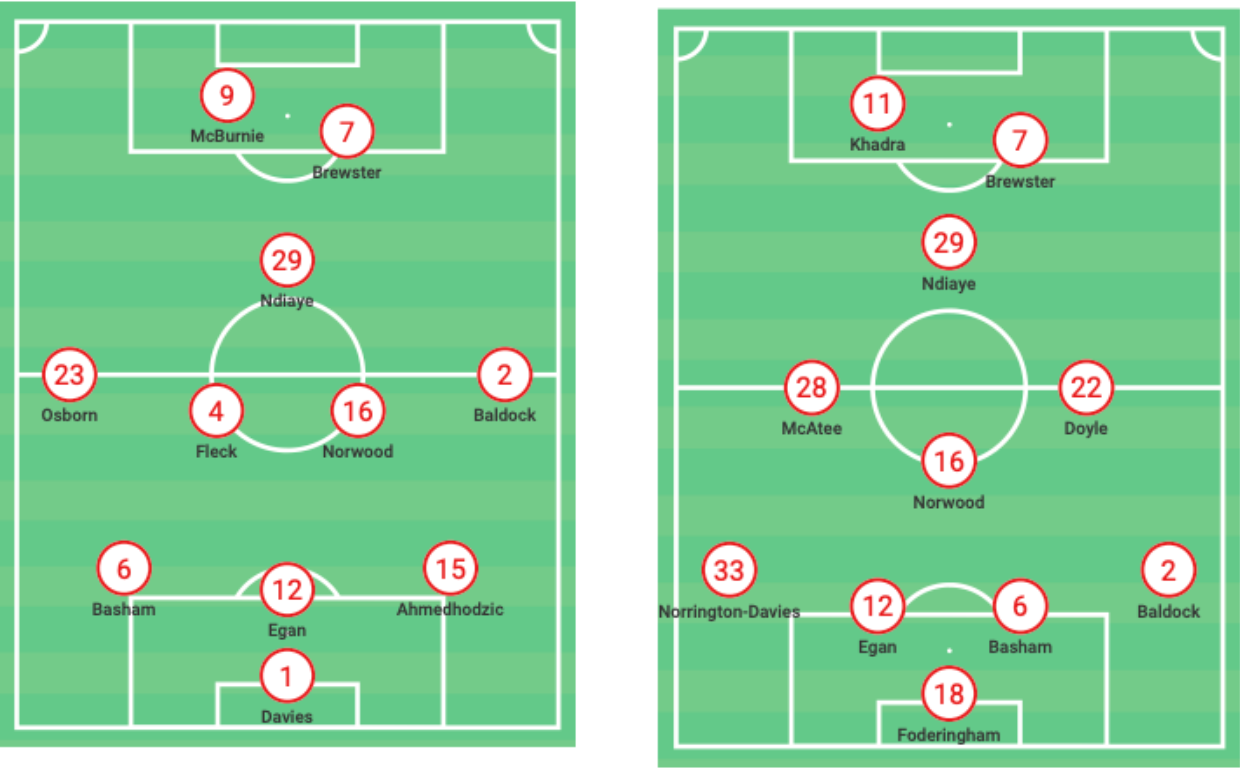 Ndiaye also offers great flexibility as he is able to play as a traditional number 10 which is something Heckingbottom seeks to exploit when the Blades switch to a 3-4-1-2 or a 4-3-1-2 formation. 
As mentioned above the Senegal international has hit seven goals so far this season for Sheffield United. He has achieved this from an xG of 7.3, whilst there are many metrics that go into measuring a forward's efficiency, from this we can see that Ndiaye essentially does score the goals that he is expected to, based upon how 'good' the goalscoring opportunity is.
Compared to fellow Championship he is performing above average in this metric, alongside the likes of Teemu Pukki and Ben Brereton-Diaz who are established goal scorers at this level.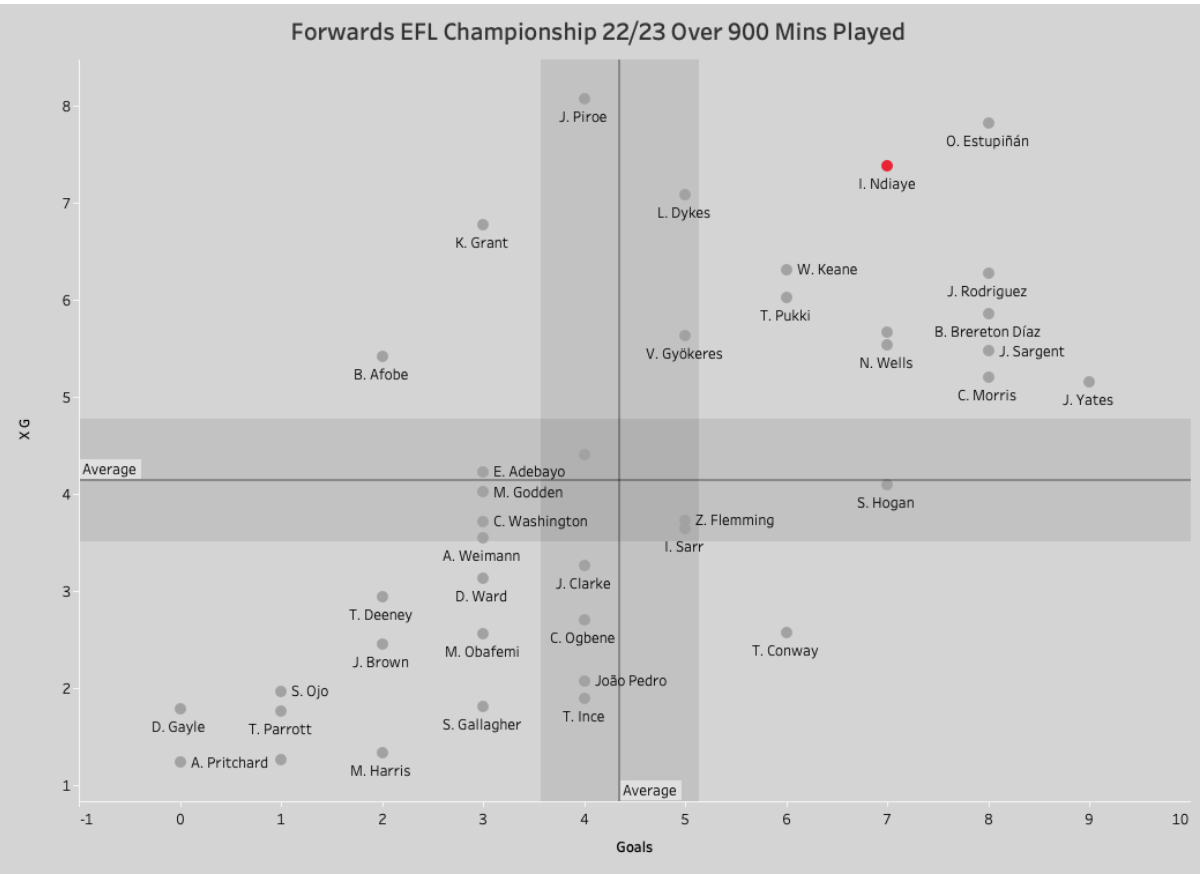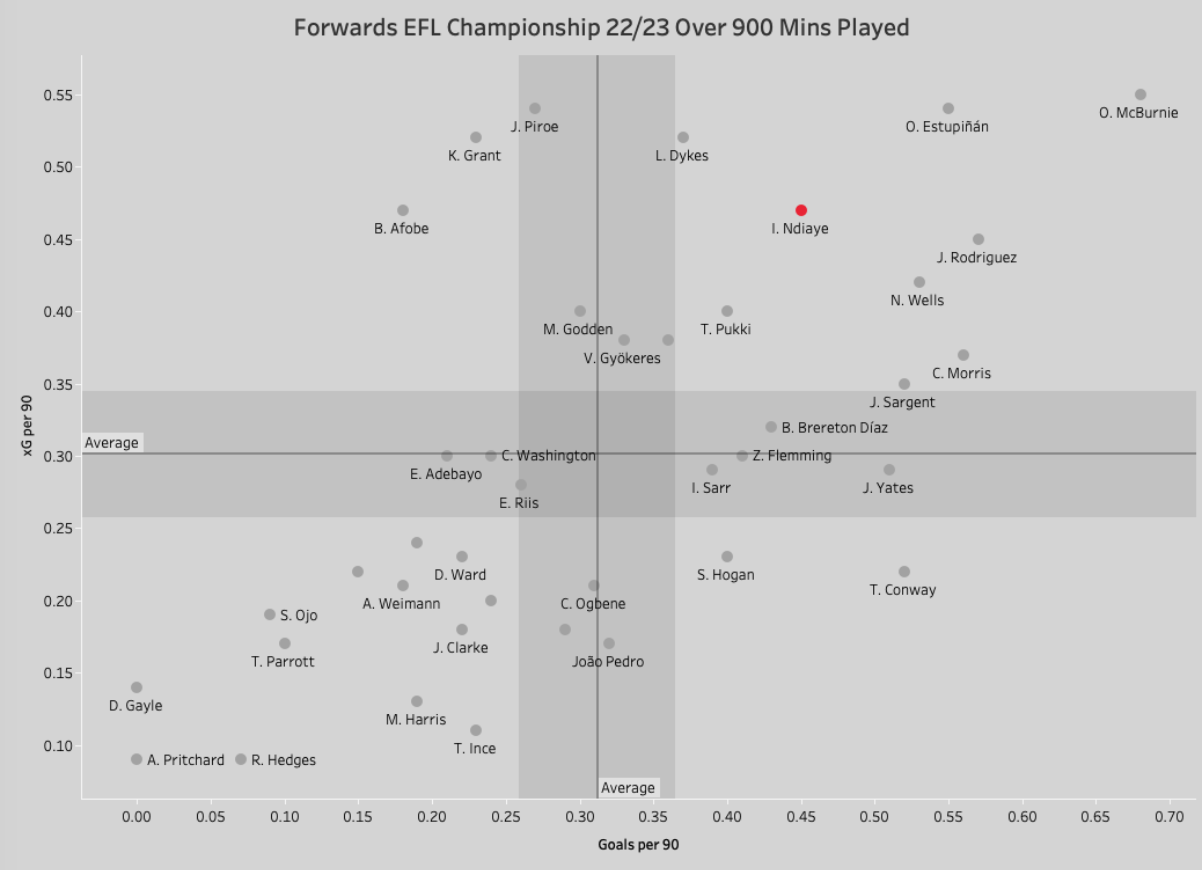 Iliman Ndiaye offers a fantastic attacking threat for Sheffield United as he possesses a fantastic work ethic, willing to chase down every ball and constantly making off-the-ball movements to provide an outlet in attack. He frequently demonstrates great upper body strength when shielding the ball from defenders, he also shows great balance and agility, able to travel at speed with the ball to progress the play up the pitch as quickly as possible.
Ndiaye's willingness to enter into duels has seen him win 58% of his defensive duels and 33% of his attacking duels, both of which are above average compared to fellow Championship forwards. He has also won the ball back in the opposition half 78 times this season enabling United to quickly counterattack.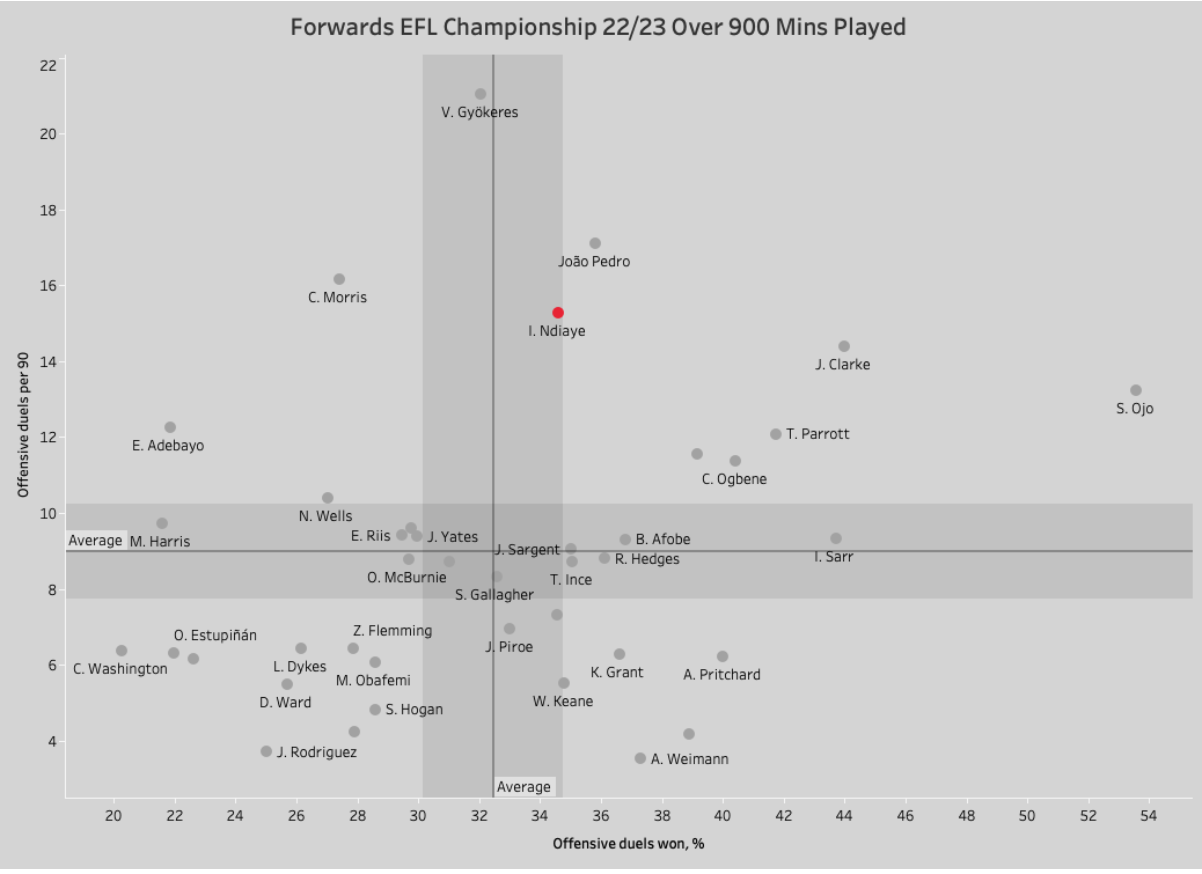 Another of Ndiaye's talents is his ability to dribble with the ball, he is always keen to run into space and will often end up creating space for teammates. He possesses the kind of dribbling ability that excited the crowd as he is more than happy to take on defenders 1v1 and will happily back himself to travel up the pitch with the ball to launch the attack.
The Sheffield United forward averages a 68.8% success rate from his dribbling attempts this season which shows he is often reliable when carrying the ball. When traveling upfield with the ball he is able to shift the ball away from defenders quickly and possesses quick feet to ensure that the opposition don't have time to put in a tackle.
He also averages 1.6 progressive runs per 90 which leads to an average of over 3.5 touches in the opponent's penalty area per 90 which again places him above average this season.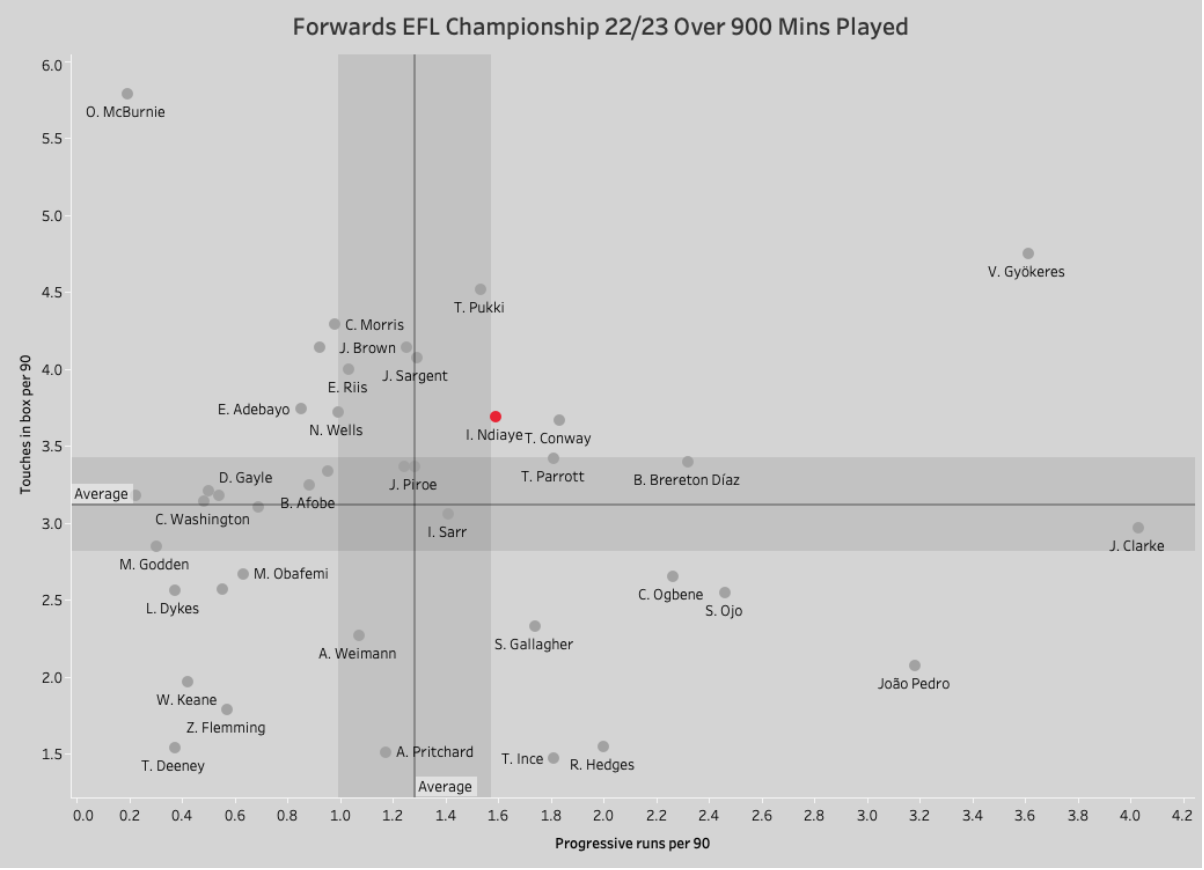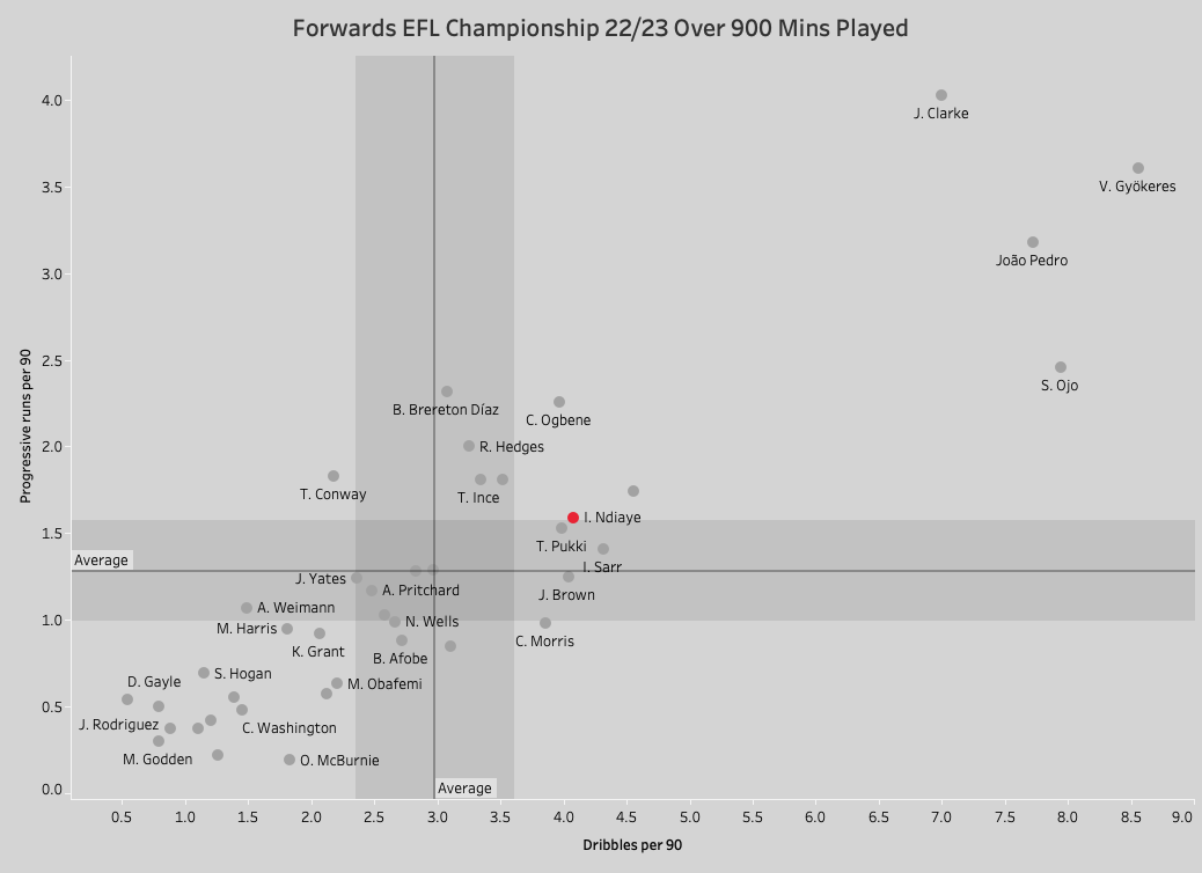 The 22-year-old is also a reliable passer of the ball with an 83% accuracy rate so far this season, this is great for his teammates as it means not only can he travel with the ball, he is also able to pick out a pass to those who arrive in support.
Ndiaye demonstrates great link-up play, frequently dropping deeper and pick up the ball and then threading passes through into the penalty area – in this metric he has a 54% accuracy rating so far this campaign. Ndiaye has zero assists to his name this season which is an area he could look to improve in the future.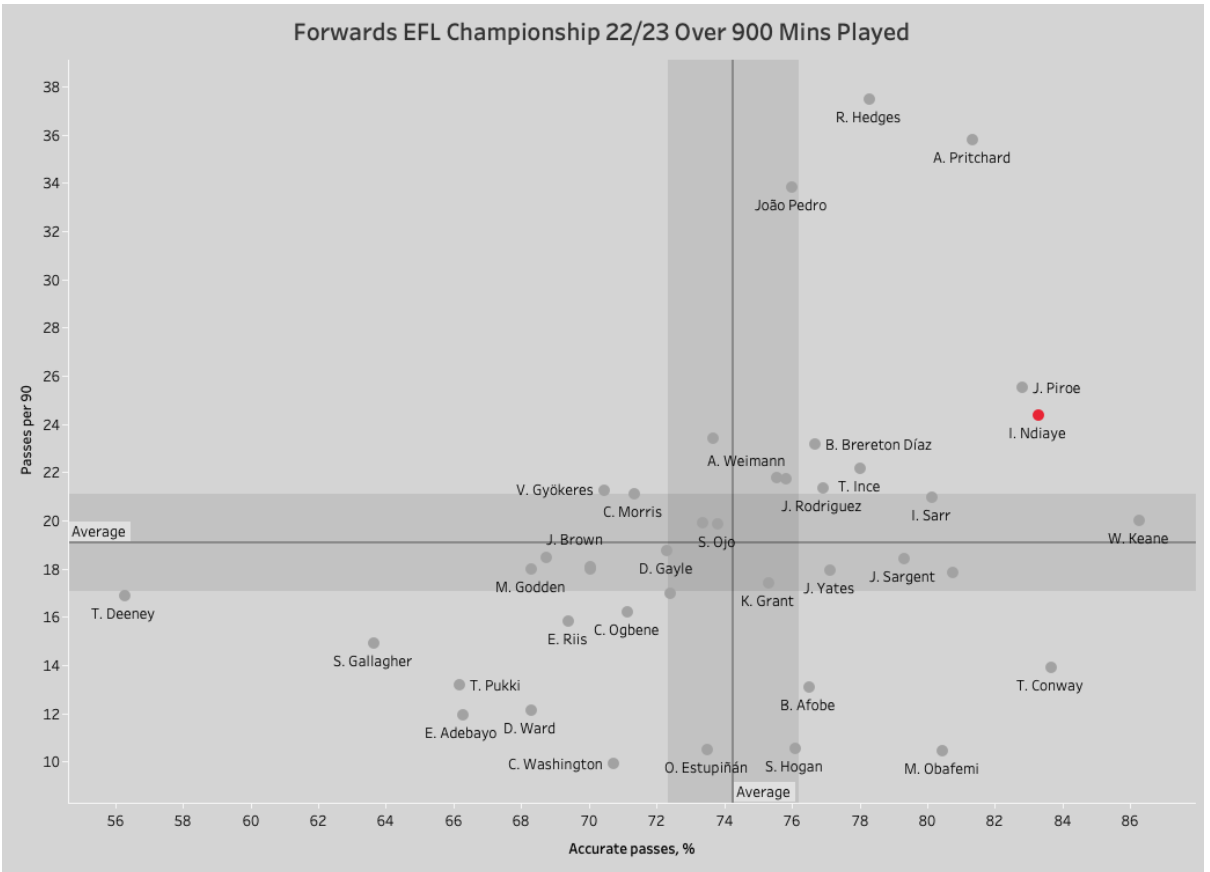 Overall, Iliman Ndiaye has plenty of attacking qualities that have been beneficial to Sheffield United over the last two seasons. He shows a great attitude and work rate which has seen him become a fan favourite at Bramall Lane. Whilst there are areas of his game that he could improve, Iliman Ndiaye has plenty of attacking qualities that make him one of the most exciting players in the Championship right now.
By: Bethany Limb / @bethlimb
Featured Image: @GabFoligno / James Gill – Danehouse – Getty Images