Jarrod Bowen: West Ham's Attacking Talisman
Joining West Ham from Championship side Hull City in 2020, Jarrod Bowen has certainly taken not only the Premier League, but the entire world by storm, gathering 25 G+A in just 42 matches and becoming an integral part of West Ham's top 4 charge this season.
With him attracting the interest of many top clubs in Europe, let's see what makes the 25-year old Englishman so special…
Style of Play
Bowen is a left footed, inverted right winger, who mostly operates in the half-spaces, making it hard to mark him. He is quite technical, direct, mobile and has a good eye for goal. Although he isn't much of a high volume passer, his passes are mostly very threatening, most of them originating from the half-spaces.
He has quite good anticipation, knowing when to attack space and make runs and is very useful in transitions due to his lethalness in front of goal. 
Analysis
Bowen has scored 14 and assisted 11 times in 42 matches this season, numbers which are quite good for a winger.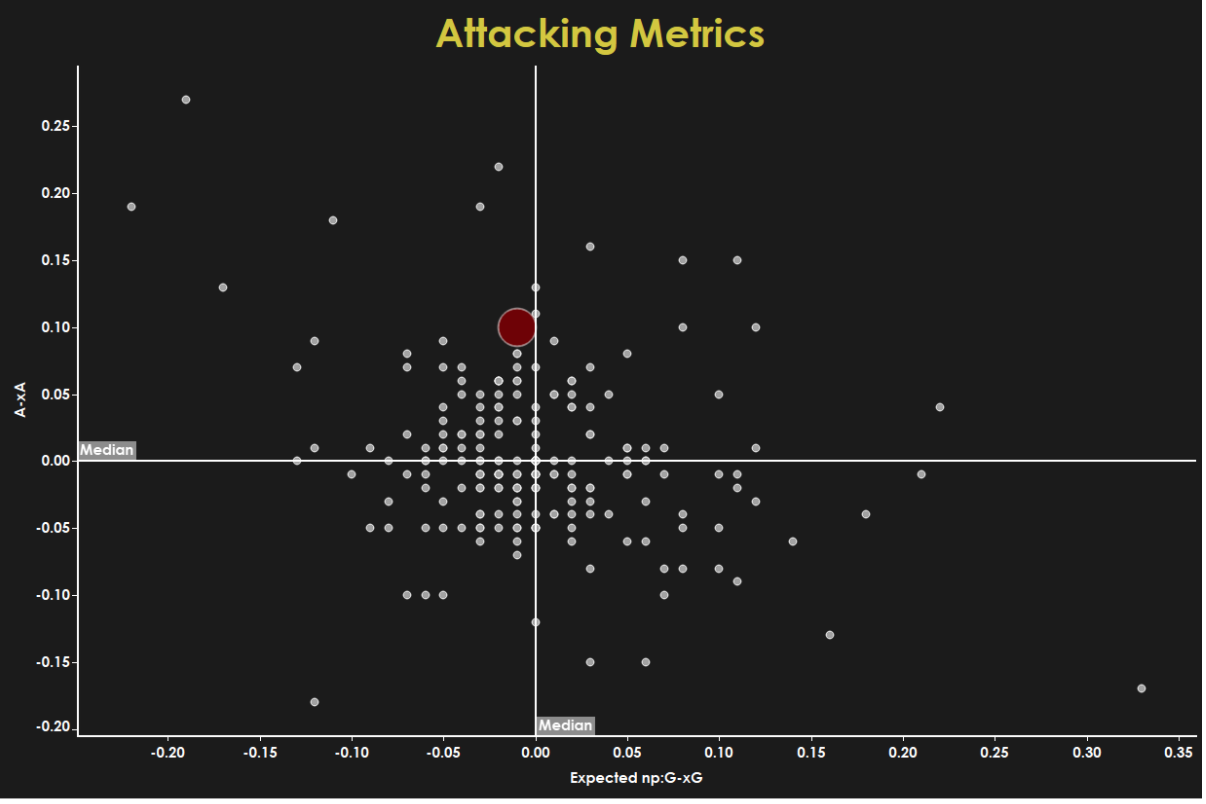 However, as we can see he is actually underperforming his goals by a little, signifying even higher output abilities, and something that is sustainable over the long run.
He mostly starts from the right wing and then inverts into the half spaces to receive the ball. This makes him quite difficult to mark, because him being between the defenders confuses the defenders. From the half-spaces, he is free to either carry the ball to score, make runs or even pass to teammates.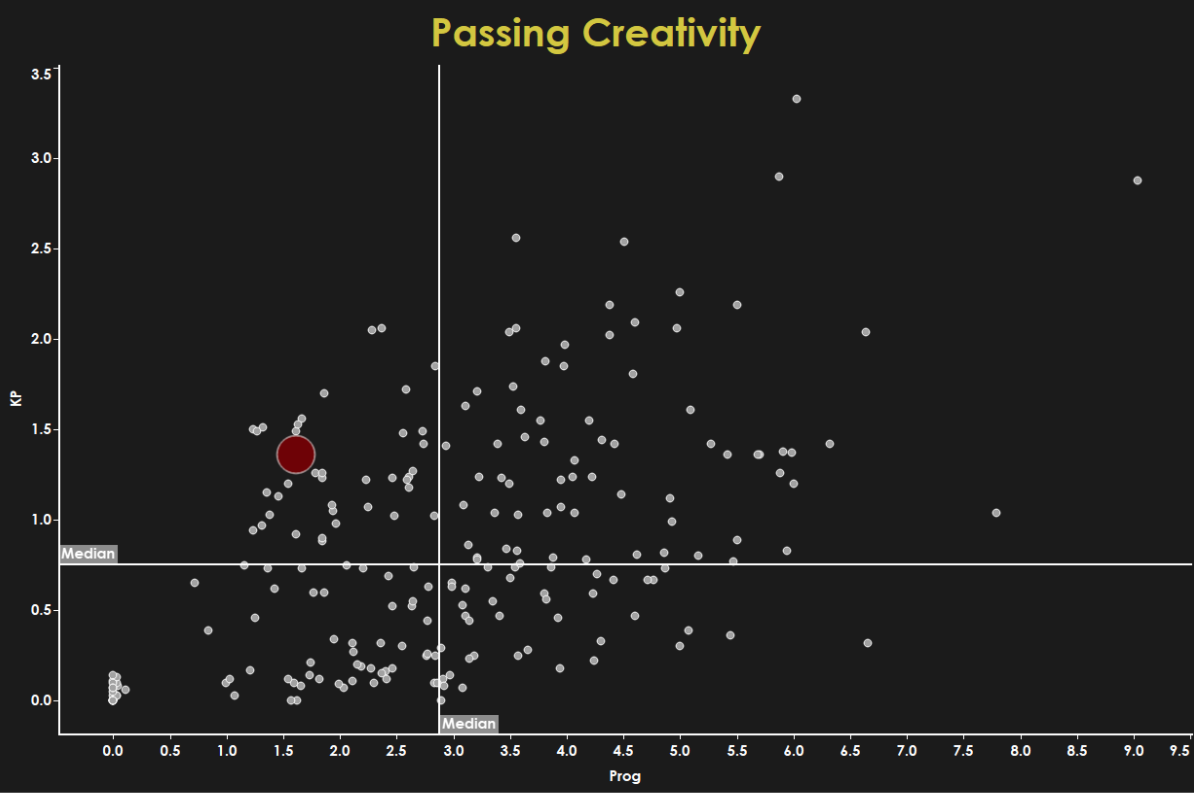 While he isn't anything close to an exceptional passer, or doesn't have very good vision and doesn't even make much passes, most of his passes are quite useful in generating chances, which is, again, due to his positioning in the half-spaces. Averaging about 1.4 Key Passes per match, his passing is certainly enough. In all fairness, he is a very intelligent player, knowing when to pick up passes.
Above, you can see an example of what I was talking about, as Bowen manages to play a pass through the defense, from the half-spaces, to the player, who goes on to score.
He is also very adept at anticipating passes and making runs into dangerous areas, often an outlet for his team.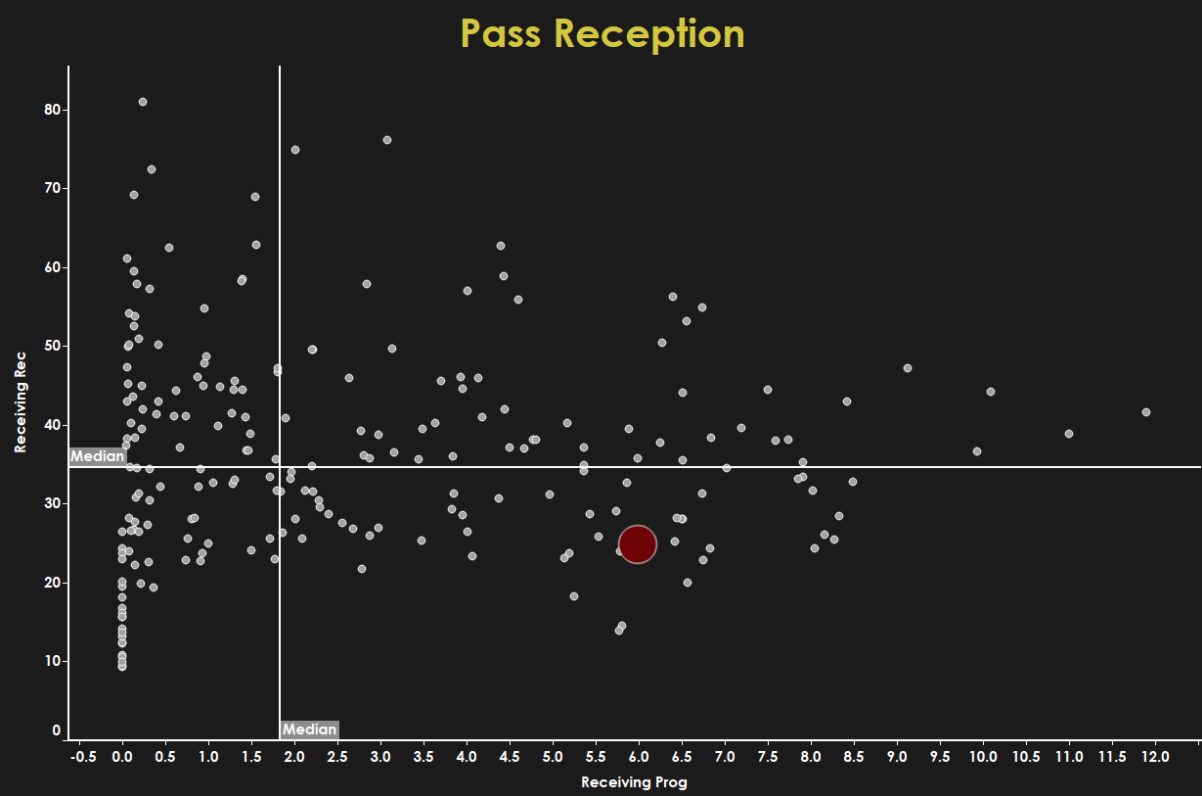 As you can see from the visual, he isn't as involved in play, but is an outlet for the team's progressive passes, signaling ability to make runs and get behind balls.
Above is an example for his goal vs Leicester City, where he makes an incisive run to get behind the ball played from the defense, and successfully finishing it.
Yet another example where he recognizes the space, anticipates the pass being played and attacks the space to get himself a goalscoring opportunity.
Talking about his shots, he is quite a high volume shooter, taking shots of quite high quality.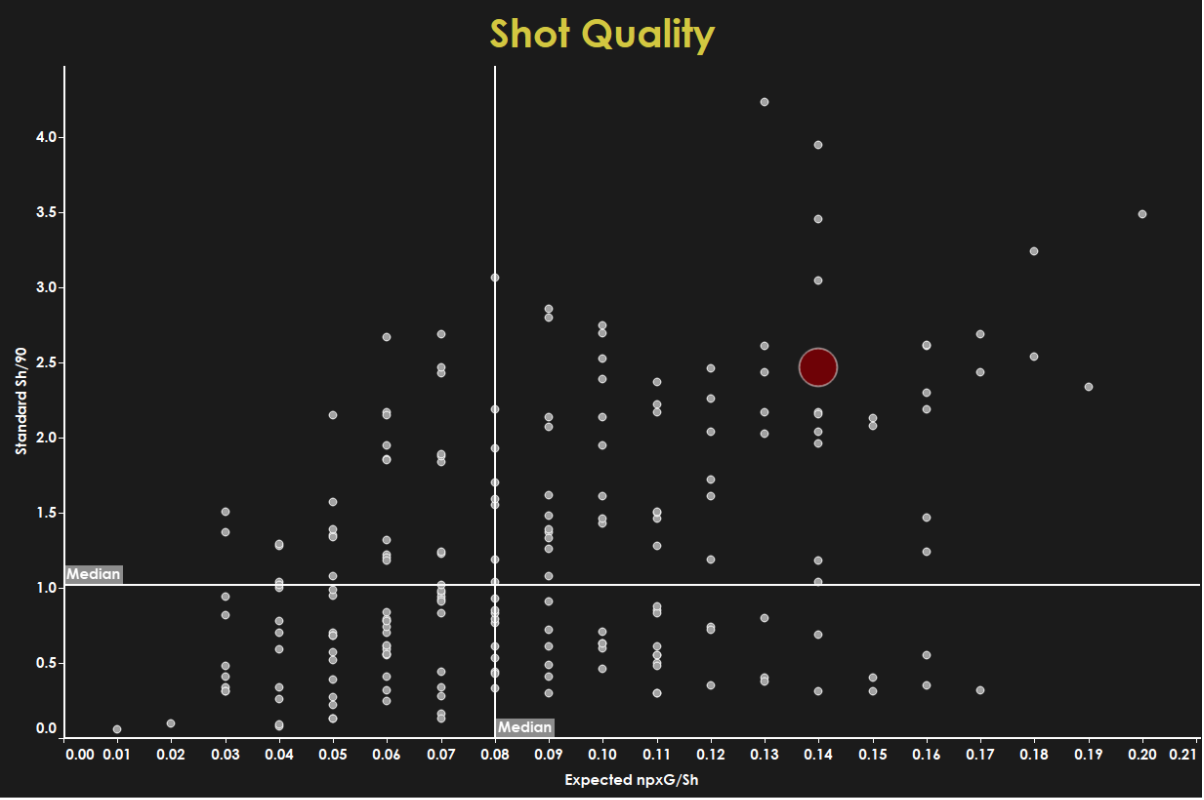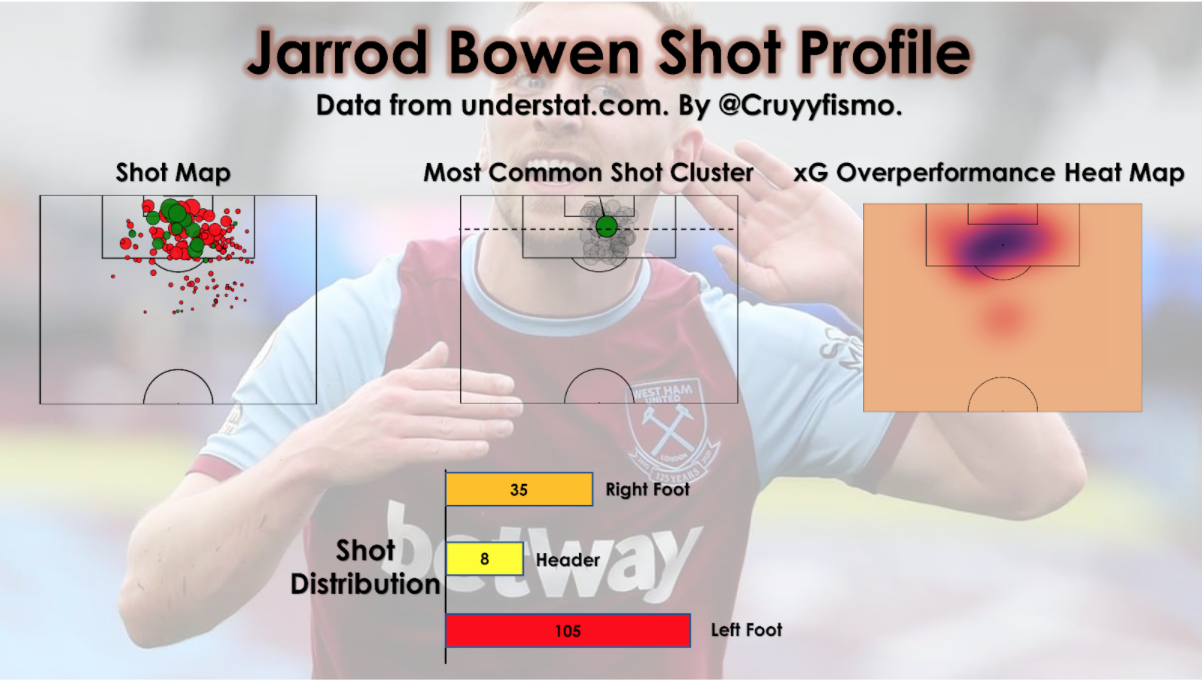 Even though a right winger conventionally, we can see him taking a lot of shots from central areas, signifying an ability to get into goal scoring areas.
Needless to say, his anticipation and runs paired with his shot taking abilities are what make him a cut above the rest.
Here, as you can see, he is initially present in the right half-space. He then starts making the  run, on the blindside of the defender, before slowing down and calmly slotting it home. Even though a winger, he does seem to have a lot of qualities corresponding to strikers, natural goalscoring instinct being one of them.
He is also very useful in transitions, timing his runs perfectly and managing to finish it calmly in front of goal. You can see how he changes his run in accordance to the pass, anticipating it. His in-game intelligence certainly helps in situations like this.
While he isn't much of a holdup player in transitions, he is more often used as a runner or a progressive outlet to get behind passes. His pace certainly helps in that too, paired with the ability to use it correctly.
In this goal against Wolves, you can again see a transition-based situation. Recognizing the space in front of him and anticipating a pass, he increases his pace to get into space, receive the ball and score. Very much striker-like abilities. 
It is due to his poaching abilities that he can also be played as a central striker when needed. Many a times have we seen him acquire a central position when there's overload on the left side of the pitch.  However, as a winger he can also go wide with the ball, and make use of crosses or balls in the box. He also tends to cut inside when wide and take his chances at a shot. 
But in the modern game, scoring goals isn't enough as attackers are meant to do more than just attacking. They're also required to defend.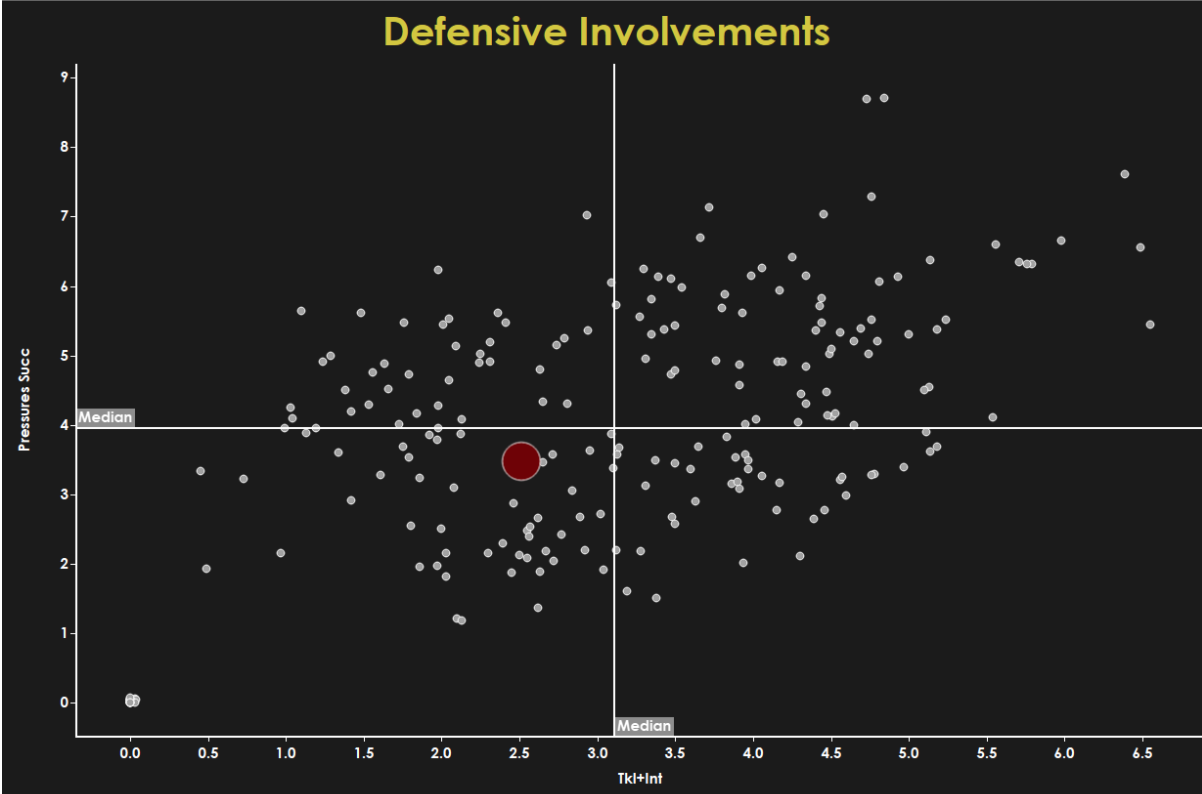 While I wouldn't say that he is a very hard-working player who helps out his team a lot, it wouldn't be fair to say that he doesn't help at all. His defensive involvements are more or less good, and would suit a team which doesn't require him to be too much defensively proactive, much like West Ham. 
Conclusion
In conclusion, the 25-year old Englishman is certainly one to look out for in the future. While I would like him to integrate some assistive movement in his game, he is more of a direct player looking to score goals for the team. It's clear that he works better in a counter-attacking side like West Ham as opposed to a more possession-oriented team which would  require him to contribute passing wise, but he is nevertheless very good at what he does – scoring goals, getting assists, making runs in behind the defense.
A sure bet to play for the English national team if he keeps going at this pace, he could also get a move to an even bigger club sometime soon, with Liverpool reportedly being interested. With his potential, I'd bet on him to become one of the best players in his position in the world soon, only if he's played in the correct way.
By: @Cruyyffismo
Featured Image: @GabFoligno / Rob Newell – CameraSport