Jayson Molumby: Once Ball-Winner, Now Ball-Shepherd for West Bromwich Albion
Brave, resilient, industrious. Not many players possess such uncoachable assets, let alone at the age of only 18. Those were the attributes that encouraged Chris Hughton to hand Jayson Molumby his Brighton and Hove Albion debut back in 2017, where he played 90 minutes in a Carabao Cup second-round victory over Barnet.
The midfielder proved to be a bright spark amidst the Seagulls' ranks and awaiting a first-team opportunity. But five years and three loan spells later, Molumby finds himself in the midst of another breakthrough season this time at West Bromwich Albion.
Born in Capoquin and beginning his footballing career at Railway Athletic, Molumby showed promise from an early age with his determination and hard-working ethos.
"I think I compare to the Roy Keane, Scott Brown type of player, just working hard for the team. That's the type of player I want to be" – Jayson Molumby speaking to BTL's Zach Lowy.
He joined Brighton in 2015 as a 15-year-old and became a part of a new structure within the club that involved progressing different types of younger players into their ranks. Molumby became a staple of the Seagulls' youth outfits and struck a good partnership with fellow Irishman Dessie Hutchinson, who now is a professional hurling player back in his hometown of Waterford.
After impressing for Ireland's youth ranks and Brighton's under-23 side, the midfielder earnt himself a Championship loan spell with Millwall. This would prove to be a true learning curve for the youngster who adjusted well to the Lions' playing style and became hardened by the 'rough and tumble' nature of the second tier.
He impressed those at the Den so much that two years on, they made a club record bid for Molumby in a ploy to tempt him back to London. Gaining international recognition along the way, the midfielder was called up for his country for the first time in August 2020 and has since racked up 14 appearances for Ireland.
A subsequent loan followed at Preston North End where he didn't manage to make a huge impact. This was mainly due to being played in a more advanced role, as the Irishman was used as a number 10, and somewhat relied upon for creativity.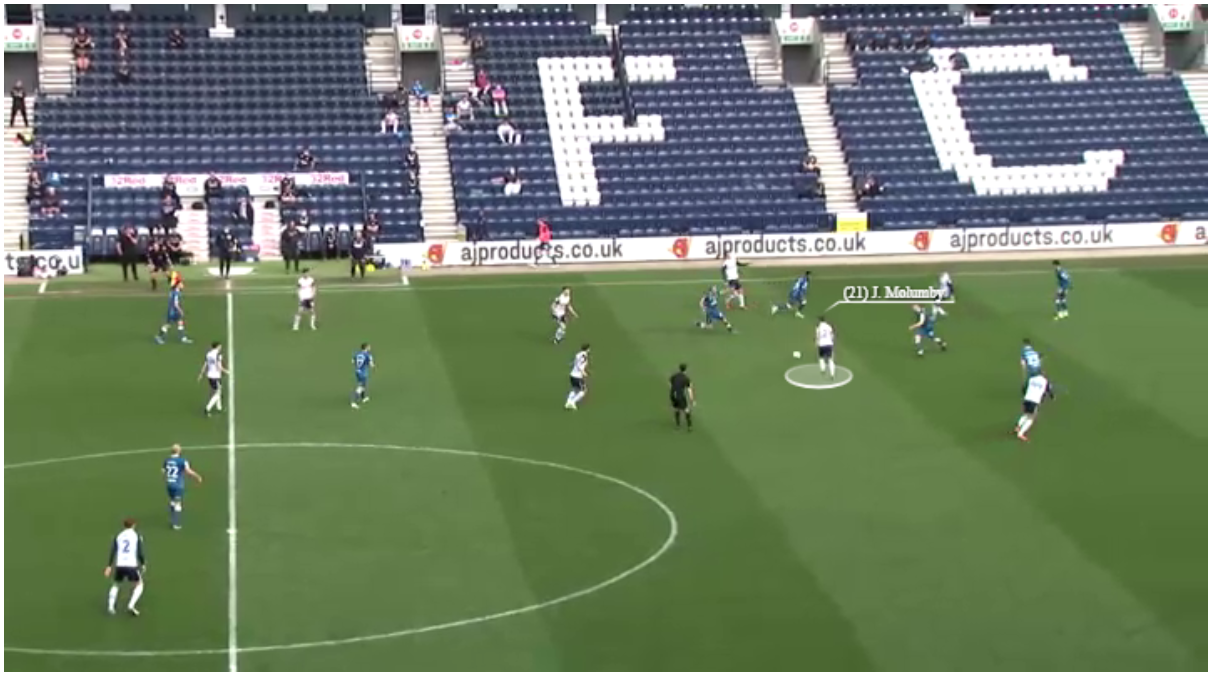 Jayson Molumby sits as the furthest forward of the three centre-midfielders
Previously given the ball-winning baton in midfield, but now encouraged to create and break the opposition rather than probe them – it was a position in which Molumby struggled. The Irishman left Deepdale with only a single assist to his name and in need of a new opportunity to flourish.
Then came West Brom, who were preparing to implement Valerien Ismael's high-energy style of play. It was a system that could prove to be perfect for Molumby, who worked with ease at such an intensity and was often seen towards the top of the distance covered charts in whichever side he would play in.
Ismael would play a 3-4-3 with two central midfielders who would be expected to provide threats in both boxes. For the first nine league games of the campaign, Ismael didn't differ from the midfield pairing of Alex Mowatt, who captained his Barnsley side alongside club captain Jake Livermore.
Molumby was forced to wait for his league debut, but then quickly found himself sprung into the limelight as Albion made a promising start to the campaign. Mowatt would miss a fixture against Birmingham City and then the following one against Bristol City due to a toe injury, which meant the Irishman was given the chance to step in from the start.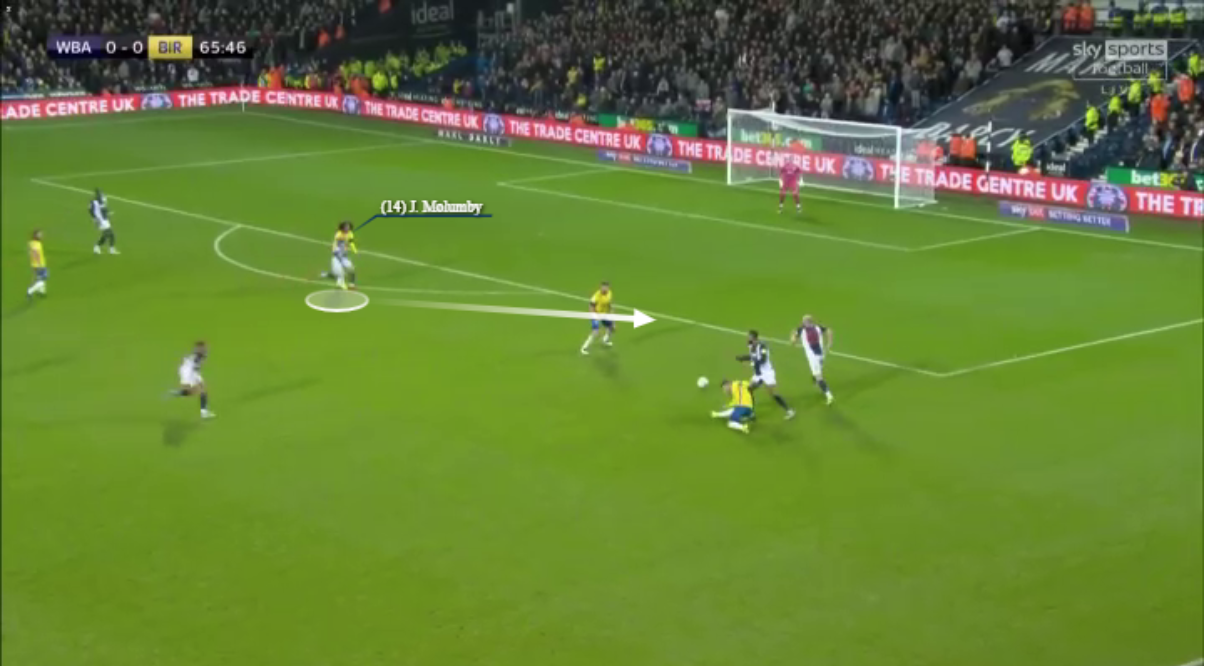 Molumby shows excellent awareness to cover space behind the defensive line
Although not in a possession-heavy side by any means, Molumby showed tidiness on the ball, particularly in the 3-0 win over Bristol City where he linked up with veteran Robert Snodgrass in midfield.
He adapted well to playing in a double pivot role when playing alongside the former Hull City, Norwich City and West Ham United man and was encouraged to spray the ball wide more often as the emphasis was placed upon him to progress the ball forwards along with the main focus – the wing-back.
As Molumby began his Albion career he was very much seen as a terrier-like midfielder, used simply for winning the ball. There was also a glimpse of a lack of discipline during his first season at The Hawthorns, picking up 10 yellows and one red and some would say this paints the canvas of a player keen to win the ball, which is fair but some of the bookings collected were completely unnecessary.
Under Ismael, each of the midfielders were required to do a similar job in an almost robotic fashion, so the developments in his on-the-ball ability came later on in the campaign. Steve Bruce's appointment meant that Albion would attempt to play the ball along the floor more often, a system that Molumby wasn't immediately considered to play in.
Once again suspension meant he was able to prod his way back into the starting eleven under the new boss, and despite poor form at the beginning of the new boss' tenure, the Irishman grabbed his first Baggies goal. His late arrival into the box resulted in a wayward shot into the bottom corner, but it was the sort of attack-minded movement that Albion were yet to see from Molumby.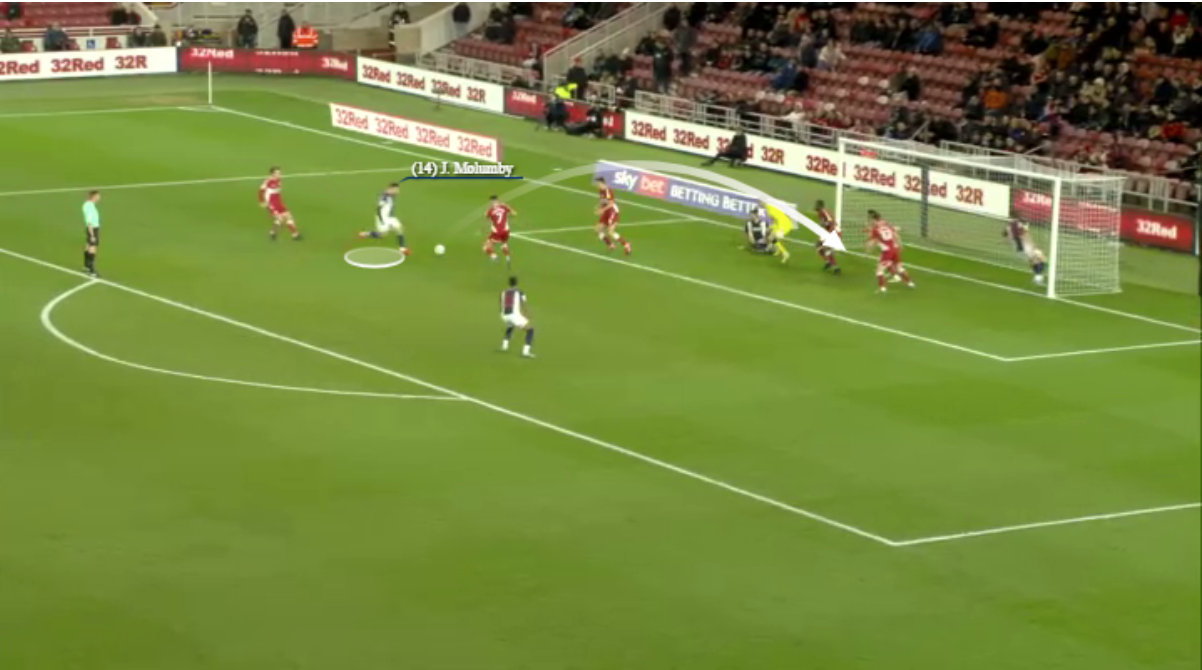 Molumby finds space just outside of the six-yard box
His hike in form would come as Albion's play-off chances were dwindling towards the end of the season, as he was given the opportunity to start as Mowatt's season ended early due to injury. The ball progression once questioned became a smaller worry as Albion began to play a more possession-heavy style, finishing their final two games with 53% and 65% of the possession respectively.
During this period, Baggies fans saw a different side to Molumby, contrasting to the erratic, ball-winning nature previously seen. He showed calmness and security in possession, of course with the slight leg up of playing weakened opposition in Reading and Barnsley. Molumby completed 73 total passes against the latter, nearly three times as many as he managed during his full debut against Swansea City (23).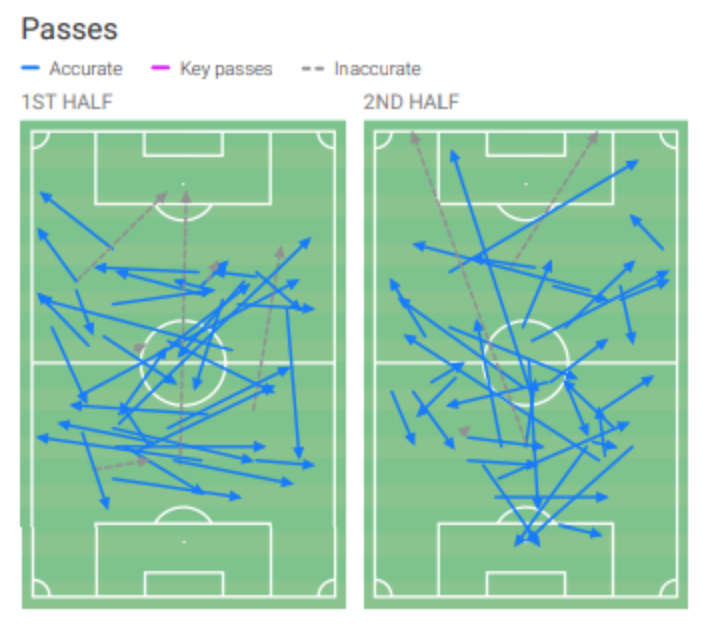 Molumby produced an all-action passing performance against Barnsley
Occasionally questioned by fans about his ability to progress the ball forwards, he produced 12 passes into the final third during the final day victory over the Tykes – at an accuracy rate of 83%. And the 'new Molumby' has continued into the current campaign, with much improved performances against Middlesbrough and Watford in the opening two games of the Championship campaign.
His loan spell turned permanent thanks to a clause in his temporary contract that required Albion to buy him based on appearances made. The fee is believed to be around £900k, and after those first two games, Baggies fans that initially doubted him are now beginning to warm to the Irishman.
Steve Bruce's change in style from Ismael's clearly suits Molumby much better, with him looking calmer and a real safe option in possession. But his all-action nature still remains and is epitomised by his pre-assist for John Swift's goal on the opening goal.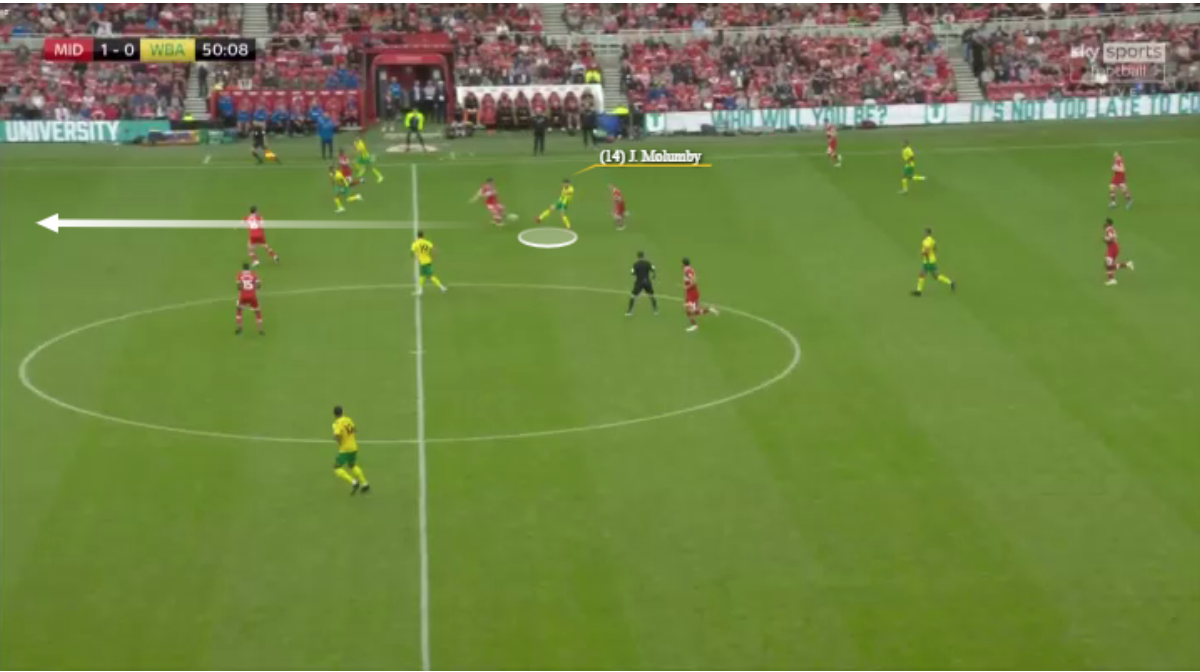 A spell of high-pressure sees him win the ball from Riley McGree and using the outside of his boot, finds Jed Wallace with a cute through ball. The winger then squares to Swift who side-foots home – a perfect example of the midfielder's inventiveness. Similarly, a slipped ball through against the Hornets the following week paints a great picture of Molumby's improving passing ability.
His close control means he keeps the ball away from the midfield pairing of Watford's, and slides the ball down the blind side of the defence to Karlan Grant who doesn't quite make the most of the opportunity. Whilst building on his uncoachable assets, Molumby has become a more than useful option at the base of Albion's midfield.
When paired with new signing Okay Yokuslu, the 23-year-old can add good balance in the midfield and with continuous guidance, will link defence and attack with ease. His mentality is perfect, and the Irishman can go from strength to strength with the right guidance towards improving some of his technical abilities – but he's showing all the right signs.
By Louis Bent / @louisbent_
Featured Image: @GabFoligno /  Adam Fradgley / West Brom
All data and analysis via WYSCOUT