Jeremy Sarmiento: Analyzing West Brom's Ecuadorian Recruit
West Bromwich Albion recently signed right-footed Brighton forward Jeremy Sarmiento on a one-year loan deal. He played 12 matches for Brighton last season and would likely be a first-team regular for them in the coming season if not for persistent injury problems. He featured in all of Ecuador's matches at the 2022 Qatar World Cup.
Physical Profile
He's 5"10 and his mesomorph body type allows him to increase or decrease body mass easily. This could make the physical issues he has, such as struggling with contact from behind, easier to solve. He possesses lightning pace and has the agility to shift inside quickly. He's able to ride challenges well, which contributes to his excellence in tight spaces. He can move his body quickly and uses body feints and fast feet to wrongfoot the opposition. 
In the last two seasons, he has suffered a knee, metatarsal, and two hamstring injuries which will be a major worry for West Brom who have had issues signing players with injury problems recently. His most recent injury saw him miss 14 matches and may play on his mind when approaching duels.
Mental and Tactical Profile
Sarmiento is an intense presser when there is a realistic chance of winning the ball back. He looks to approach players from a blind spot and knick the ball before they can react. He tracks back and looks to make tackles when the ball is on his side of the pitch but can be slow to react to switches of play due to his tendency to walk once play moves past him high up the pitch.
He's often too aggressive and gives cheap fouls away. He doesn't seem to be able to slow down and plays at maximum intensity when play is near him. He isn't a patient defender which could be a problem in matches where West Brom spend a lot of time defending their own box. His tendency to jump into tackles could cost them goals and needs to be coached out of his game.

Sarmiento defending 1 on 1 in a Carabao Cup match vs Arsenal
Sarmiento looked comfortable when asked to defend one on one in wide areas which is important, as West Brom manager, Carlos Corberan asks his wingers to drop into the last line of defence and form a back five at times. As well as this he has attempted to manipulate opposition passing angles with his body whilst pressing under Brighton manager, Roberto De Zerbi which shows a willingness to learn.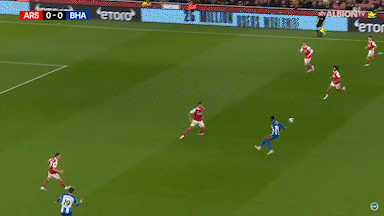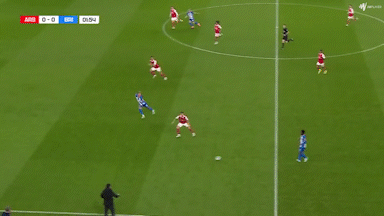 From the left wing, he likes to receive the ball wide and cut inside to shoot or pass to a teammate in the box. On the opposite flank, he prefers to receive in the half-space where he can go on the outside of the defender and cross or commit defenders by dribbling inside. 
The 21-year-old forward is willing to run in behind defences and is good at finding space to move into. Despite this, he can struggle in congested areas where he is asked to escape a defender with movement. He often runs directly behind a defender where I feel, he should be running wide to receive a through ball. This is less of a problem in deep left positions where he runs inside the opposing fullback.
He never gives up on a ball. Whether that be chasing an overhit through ball or chasing a defender after losing the ball himself. He's a fullback's worst nightmare as he constantly tries to make something happen. He tires defenders with his constant running with and without the ball which makes him a dangerous option off the bench.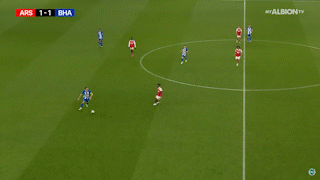 Sarmiento assisting Karou Mitoma's goal against Arsenal
His ability to improvise in possession is outstanding. He thinks quickly and creates opportunities in seemingly impossible situations with bits of skill and link-up play.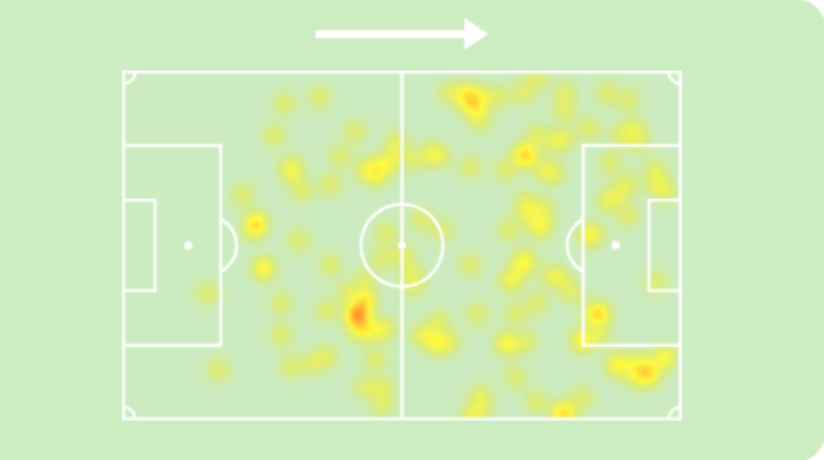 Sarmiento's 2022/23 Premier League heat map [SofaScore]
He is comfortable with the ball in all phases which is important under Corberan and De Zerbi as they both rely on players being able to interchange with one another but his tendency to play fast makes him a poor fit for deeper central positions. His scanning seems to be limited to glances over the shoulder as he receives the ball but this is something that will improve with age and appropriate coaching.
His vision isn't great and he often misses opportunities to play teammates in on goal with simple passes into space. He doesn't seem to like passing the ball until he's near the box or he thinks he's going to receive it back quickly. 
Technical Attributes
It's very rare for him to use his weaker left foot when dribbling but he does use it to shoot or pass the ball. In wide areas, he uses tricks and quick feet to wrongfoot defenders and create space to pass into the box. In deeper central zones he uses body feints to beat the press and he's capable of dribbling through bodies by showing little bits of the ball to the defenders before accelerating past them. His presence on the pitch draws in defenders and in turn creates space for his teammates. He's excellent at creating separation to perform his final action.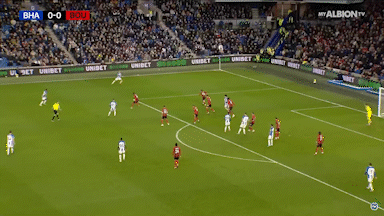 His delivery from deep wide and half-space positions is excellent because he can cross with varied techniques. He can clip, whip and loop crosses.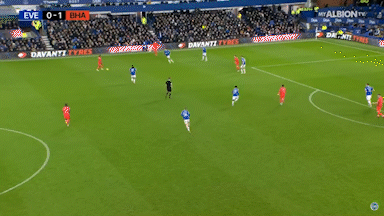 He's also competent at getting to the line and playing a cutback on either foot. His shooting inside the box isn't great and he often snatches at shots but this may be due to him being desperate to score his first senior goal. Despite this, he can be a threat from distance and I'd expect him to score a few from range with the extra time you are given on the ball in the EFL Championship.
Sarmiento's first touch is loose when moving towards his own goal. He also doesn't position his body well to receive the ball in these zones, but this may be down to De Zerbi asking him to bait the press in by playing backwards. Under De Zerbi, he showed glimpses of being able to bait defenders in and pass into the space they leave. He can play passes around the corner on the outside of his boot.
He's strong at running with the ball into space and he moves fluidly which allows him to commit defenders when doing so. The ex England youth international often underhits his final pass from central areas which can lead to it forcing his teammate to re-angle his body or be intercepted. He hasn't shown himself to be a good long passer but his crossing ability indicates that it's something he'd be able to do if required.
West Brom's Perspective
This is a good signing for West Brom. His ability to play across the front line is invaluable but he'll mostly play on the left. He instantly becomes the club's best forward but his injury record is a worry. He won't be ready straight away but it shouldn't take him long to adapt as both Albion teams played similar systems last season.
Sarmiento came off the bench in the Baggies' first two matches, a 2-1 loss to Blackburn Rovers and a 2-1 loss to Stoke City in the FA Cup. He'll be looking to make the most of his minutes as they face off against Swansea, Leeds and Middlesbrough before kicking off September with a home match against Huddersfield Town, and he'll be looking to provide creativity, flair and unpredictability for a West Brom side that was sorely lacking in that department last season.
By: Rickylee Griffiths / @rickyleegriffi2
Featured Image: @GabFoligno / NurPhoto