Joachim Andersen: The Danish Defender at the Heart of Crystal Palace's Defence
Danish defender Joachim Andersen has been ever present for Crystal Palace since arriving at Selhurst Park in the summer of 2021. Andersen spent time in the youth systems of F.C. København, Midtjylland and FC Twente, making his senior debut in 2013 at the latter.
The Dane moved to Sampdoria during the summer of 2017 where he would spend two years before moving to Olympique Lyonnais. After a season with OL, he secured a loan to Fulham where his performances at the heart of central defence impressed Patrick Viera who persuaded Palace to shell out €17,500,000 to secure his signature.
Profile:
Name: Joachim Andersen
Age: 26 Years Old
Club: Crystal Palace
Nationality: Danish
Height: 192cm
Weight: 87kg
Preferred Foot: Right
Contract Expires: June 2026
Viera typically sends his team out in a 4-3-3 formation with Andersen playing in a centre back pairing alongside Marc Guehi, the Dane has become a key part of the Crystal Palace team during the last two seasons. He uses his 192cm height to his advantage by frequently winning the aerial duels he enters.
Data from Wyscout shows that when compared with fellow Centre Backs who have played over 900 minutes this season, Joachim Andersen has won 70% of his aerial duels which shows he is reliable and consistent in the aerial battle. He is able to read the play well and possesses a good jumping reach to ensure he is able to beat his opponent in the air.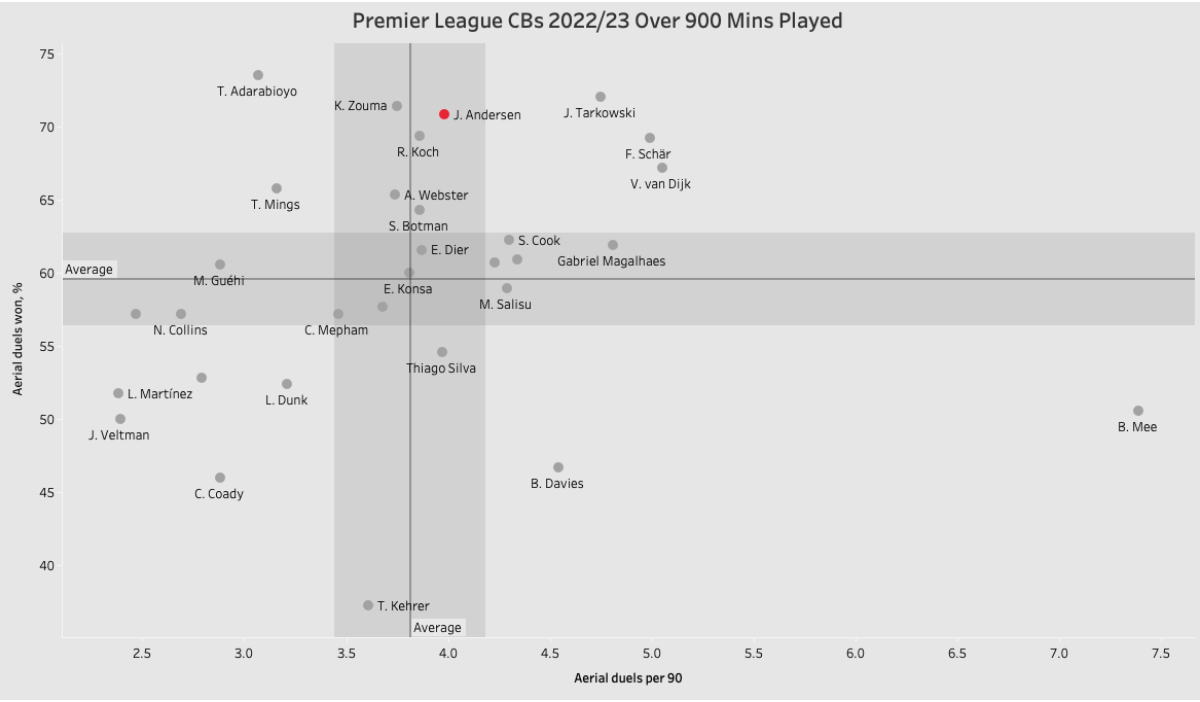 Andersen also has won 66% of his defensive duels this season. His height of course makes him an imposing figure for opponents; however, he can be found lacking in defensive duels on occasion as he will sometimes follow the player he is marking which leaves gaps to be exploited in the Palace back line.
He can also sometimes mark his opponent too tightly which enables them to turn away from him and be able to run towards the Palace penalty area. Of course, these are things that can and most likely will be improved on the training pitch, at 26 whilst no longer a youngster, Andersen has time to develop his overall defensive ability. He also enters into 3.15 loose ball duels per 90 which show he is always alert and never walks away from a duel to regain possession for his team.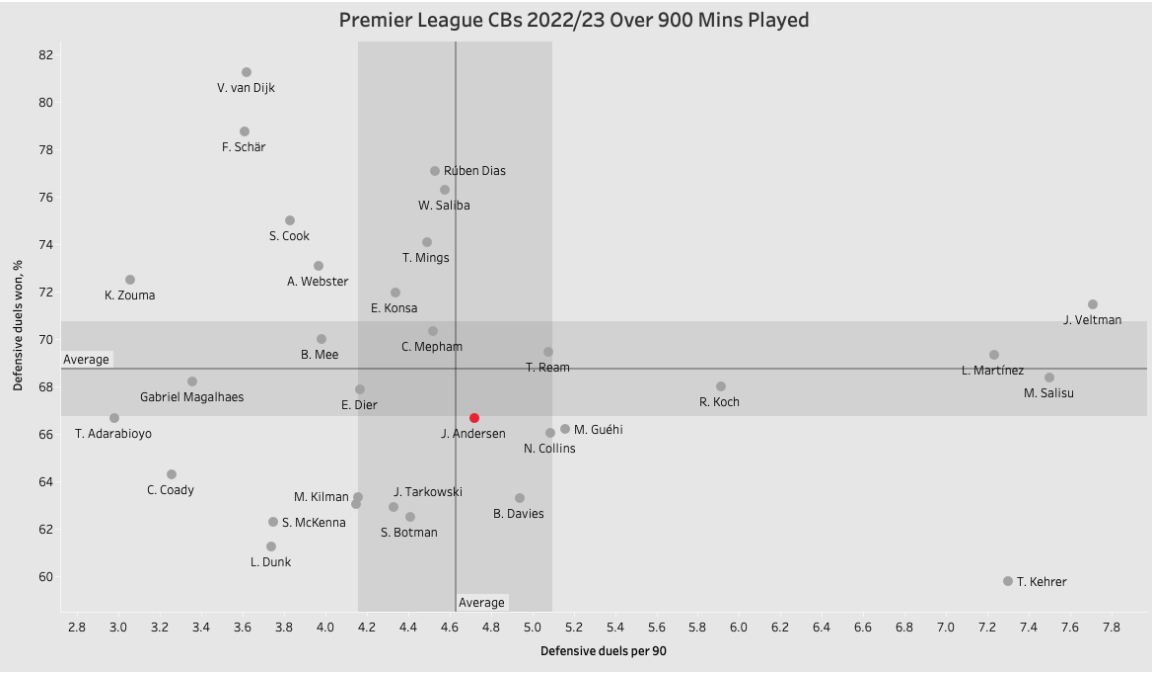 An area where Joachim Andersen's defensive abilities shine through is his ability to read the play in front of him. The Dane averages 8.2 interceptions per 90 which is the most of any defender in this sample set (CBs with over 900 mins played). He is an intelligent defender in this way as he does not rush in with a tackle but often looks to cut the pass out before it reaches the attacker(s).
Andersen is often able to make quick decisions and shows good anticipation when making interceptions at the heart of the Palace defence. He also averages 0.41 sliding tackles per 90 (0.51 PAdj), for this metric he has a success rate of 20% which is certainly an area that could be improved upon, however, often as a defender if a sliding tackle is required then the play has usually progressed, and a tackle is considered a last resort which may go some way to explaining the lack of success.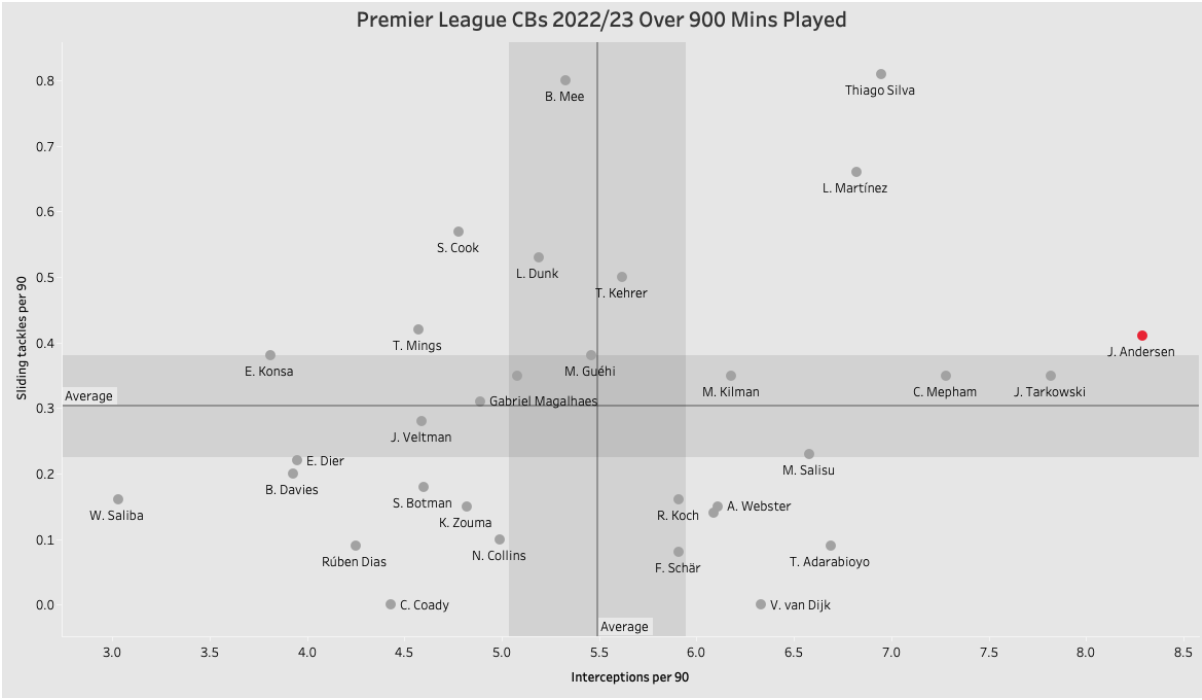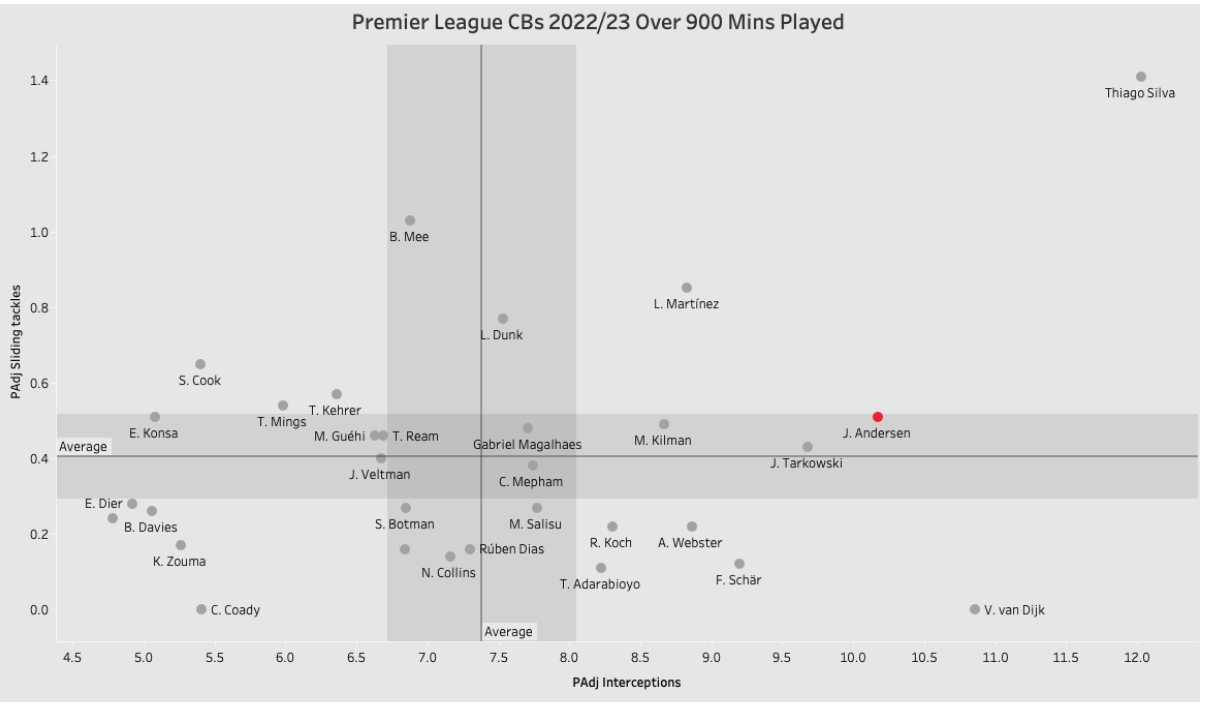 The modern centre back is not only expected to be able to provide defensive solidity but also, he/she is required to possess good passing ability in order to launch a counterattack or simply aid the transition from the defensive to the attacking phase of play.
This is another area where Joachim Andersen shines, he averages 9.7 long passes per 90 (the most within our data set) as Crystal Palace often look to exploit the pace of Michael Olise, Wilfried Zaha and Eberechi Eze when launching counterattacks.
His long-range passes have a success rate of 58% this season, of course he is attempting more long-range passes than fellow centre backs which suggests he will have a lower success rate yet 58% still places Andersen above average in this metric. 
Andersen does however average an 85% accuracy rating from his passing overall which is still a very good rating although not on par with the ultimate ball playing defenders such as Ruben Dias and Thiago Silva. The Danish defender provides significantly to his team's attacking transitions making 11.9 progressive passes per 90.
A progressive pass is a forward pass that attempts to significantly advance the play towards the opponent's goal. In this respect, Andersen has made himself a very useful attacking outlet for Palace this season as his willingness to play passes which break through the opponents' lines invites attackers to make forward runs which of course increases the likelihood of a goalscoring opportunity being created.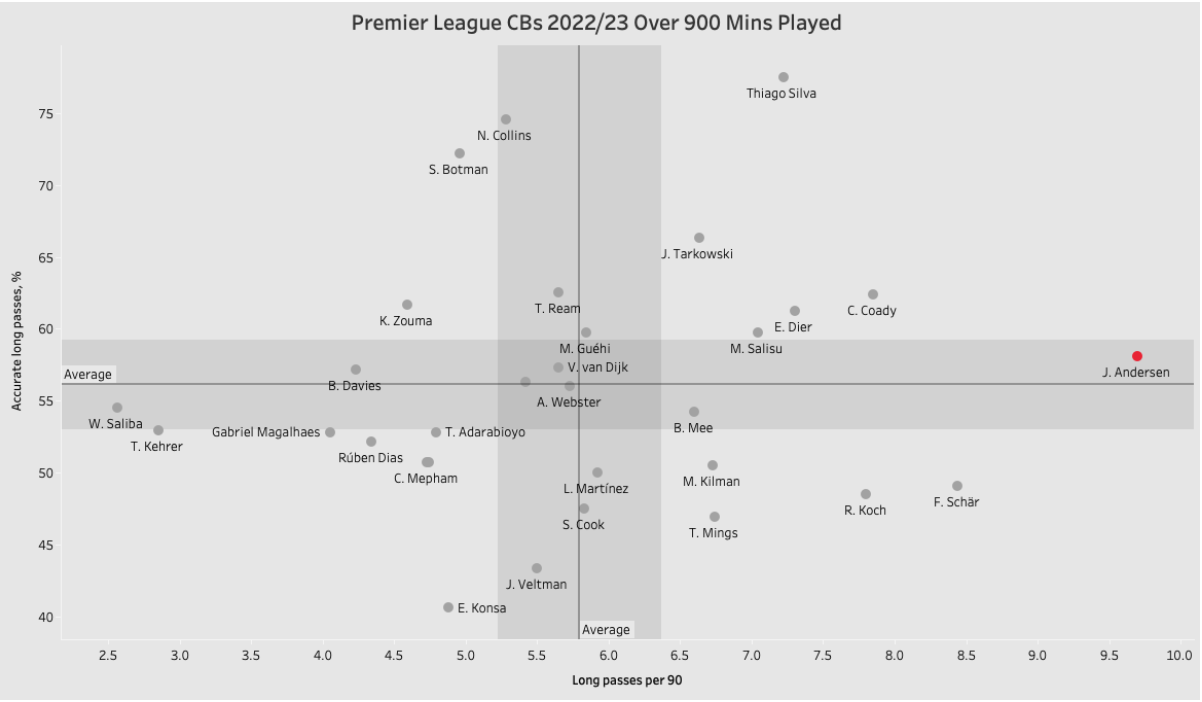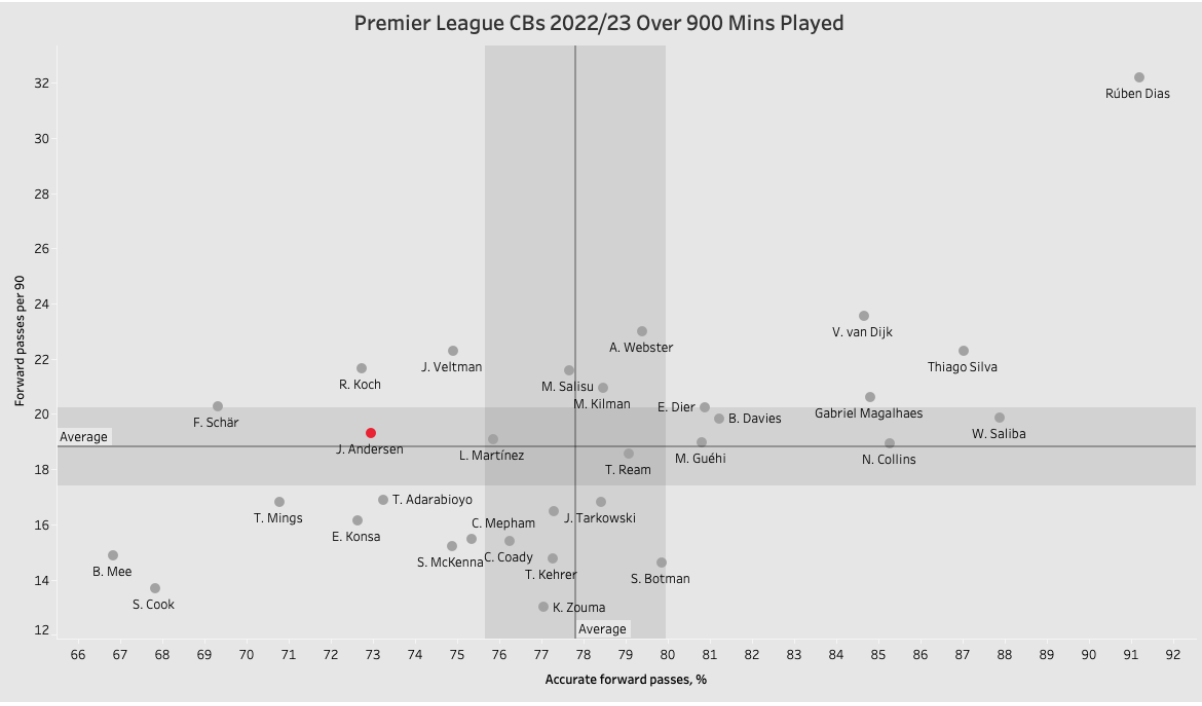 Overall Joachim Andersen looks to have been a very sound addition to the Crystal Palace team. He is an intelligent player who possesses the ability to read the game well to make interceptions and clearances for his team. He is also very good in the air as well as being an imposing figure with his physicality and leadership skills.
Andersen is very good on the ball which makes him very useful not only in defensive situations, but his passing range has proved to be integral in Palace's attacking play under Patrick Viera. It's safe to say that if the Dane continues his rich vein of form at Selhurst Park, it won't be long before a big club comes knocking on the door for him.
By: Bethany Limb / @bethlimb
Featured Image: @GabFoligno / Sebastian Frej / MB Media / Getty Images