Keira Walsh – England's Pass Master
Sarina Wiegman successfully guided England to the European Championship title this summer. The Lionesses filled the country with infectious joy and passion due to the free-flowing and joyous football that was on display. The attacking players have been receiving all the plaudits, especially Beth Mead who won the Golden Boot and Player of the Tournament.
Of course, Alessia Russo and Chloe Kelly are hitting the headlines due to their historic goals, Russo's delightful backheel against Sweden and Kelly scruffily buddling the ball over the line to seal the win for England in extra time against Germany.
The double pivot of Keira Walsh and Georgia Stanway was key for the Lionesses and has been largely underappreciated, this article will focus on Walsh and how her incredible passing ability meant that she was the beating heart of the team.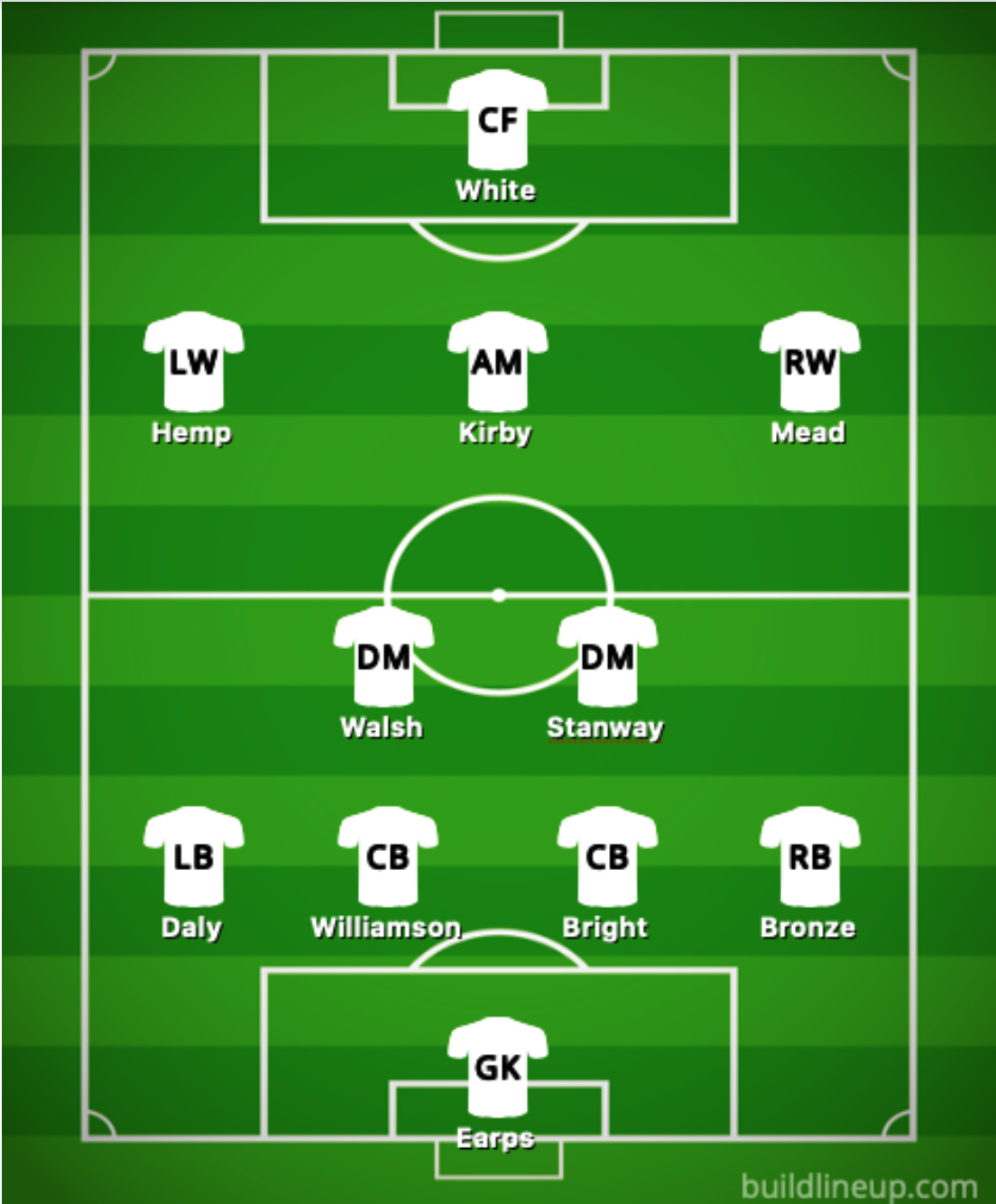 Under Wiegman, England fielded the same starting eleven throughout the tournament with Walsh and Stanway acting as the double pivot in the middle. The two have a fantastic understanding as they have spent seven years at Manchester City together, Stanway has recently moved to pastures new having signed for Bayern Munich. In Wiegman's team, Keira Walsh is the one who is charged with holding her position and acting as a playmaker whereas Stanway is more akin to a box-to-box midfielder. 
Data Analysis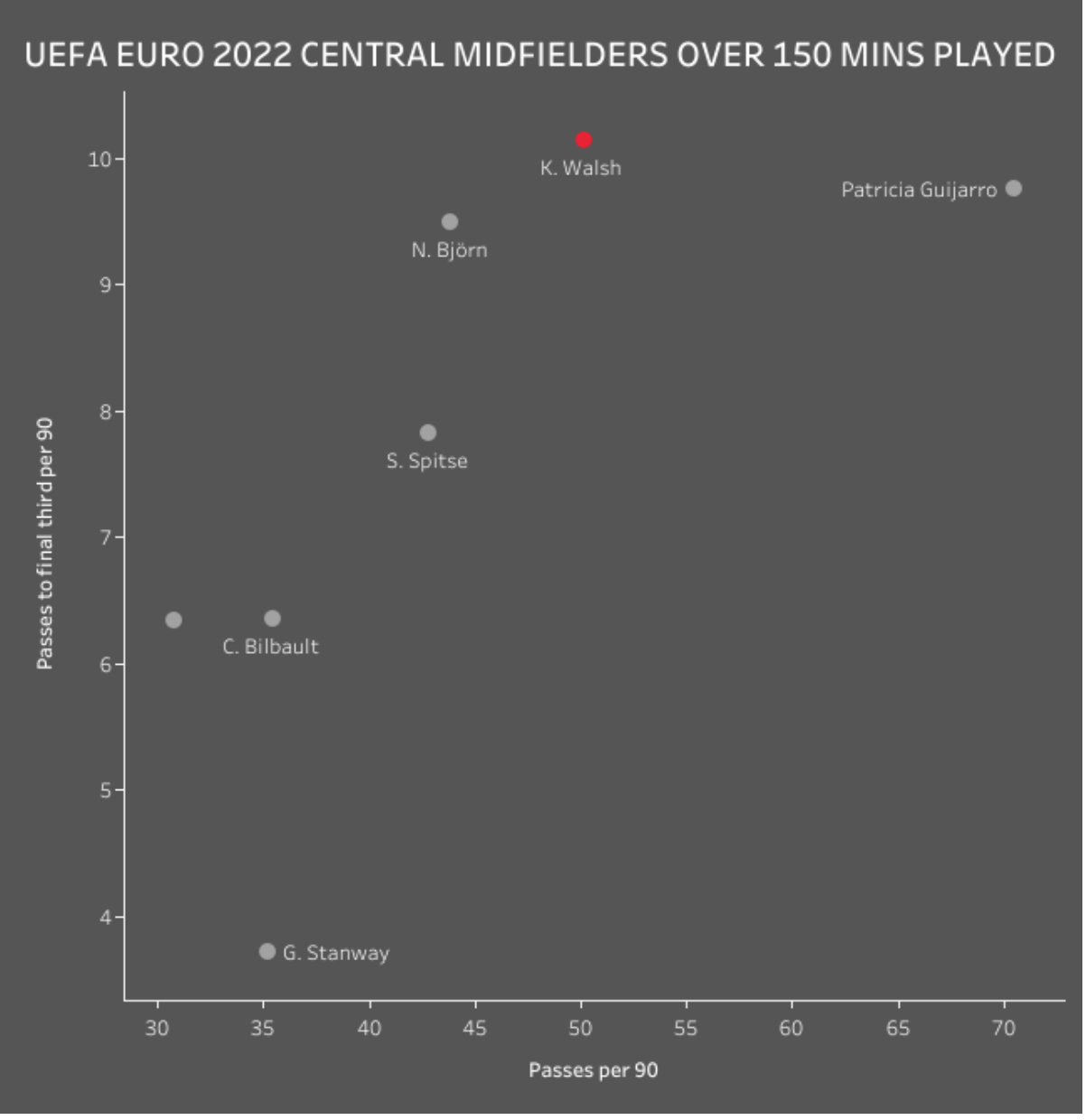 Looking at data from the Euro 2022 tournament, Walsh's passing prowess is very easy to see. She averaged 50 passes per 90, second only to Spain's Patricia Guijarro (Patri). She averaged over ten passes to the final third per 90 which demonstrates how key she was for England with her ability to pass through the lines and bring the forward players into the game.
Walsh was really at the heart of England's transitional game, her phenomenal vision coupled with her ability to play inch-perfect passes meant that she was able to switch the play from defence to attack in a split second.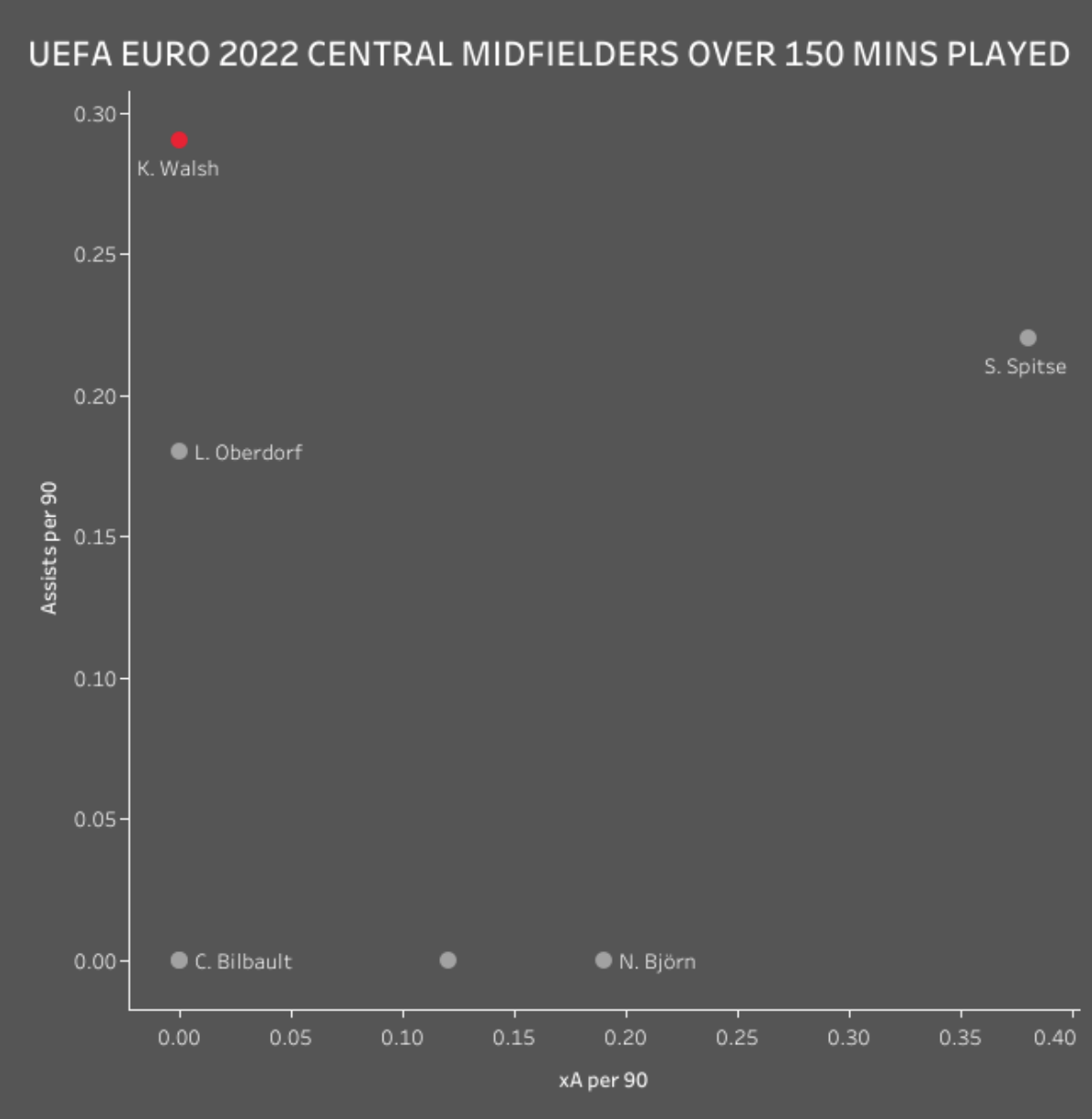 Walsh outperformed her expected assists per 90, as she averaged 0.29 assists per 90. Her defence-splitting pass in the final which sent Ella Toone through on goal was undoubtedly one of the best passes of the tournament. Whilst many of per passes were not classed as key passes, she was integral in progressing the play. England's transition game would not have been as effective without Keira Walsh on the pitch.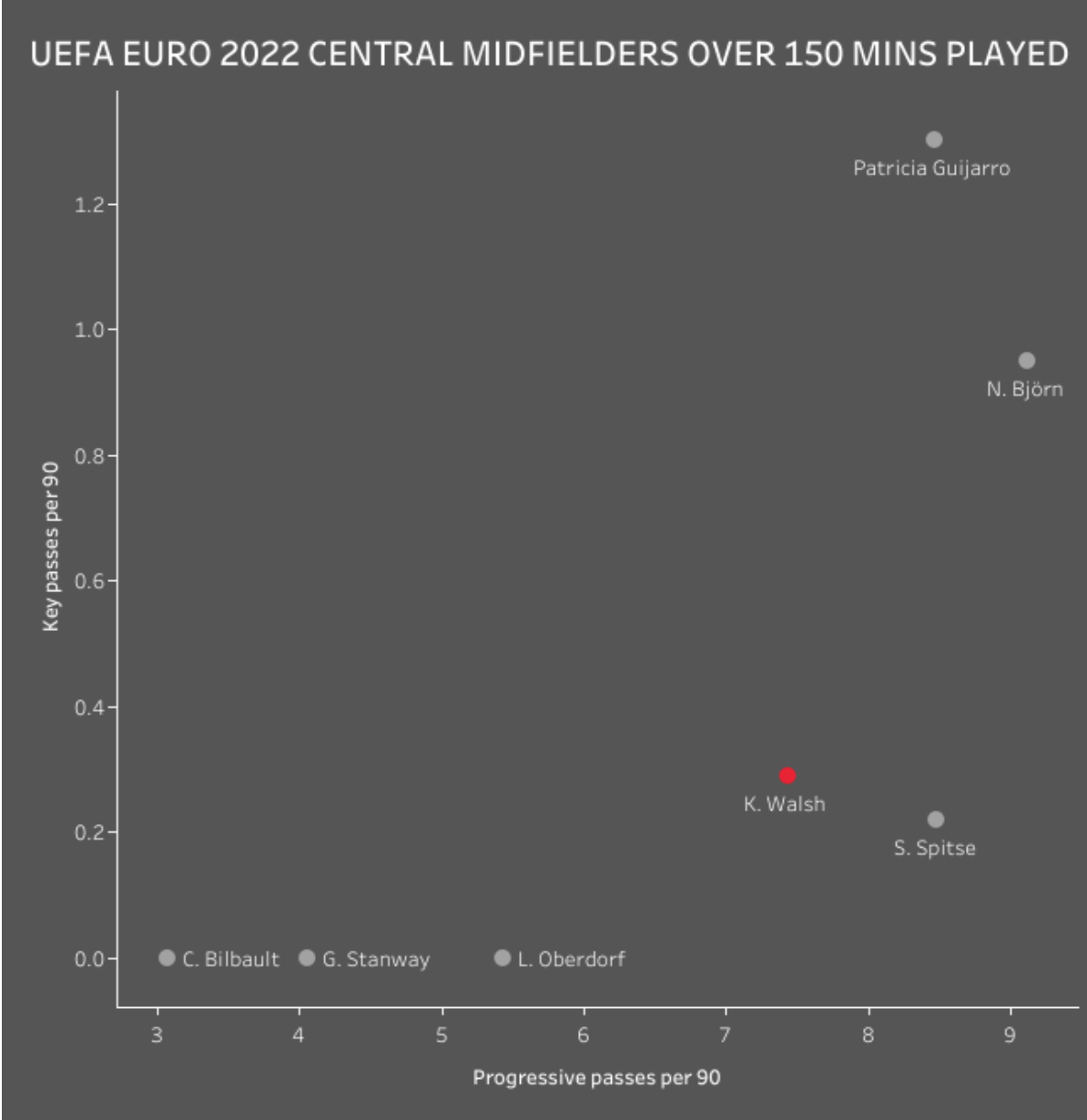 When talking about Keira Walsh it's impossible not to mention her accuracy when passing the ball. Throughout the Euros she registered the highest pass accuracy of 88%, this was key to ensuring that the England attacks were effective as her teammates could rely on her to pick them out. 
In-game Analysis
Of course, we have to look at THAT assist for Ella Toone in the Euro final against Germany. Walsh had been very tightly marked for most of the game, she had clearly been highlighted as a player that Germany needed to prevent from being allowed even the slightest space.
Whether it was the earlier than expected arrivals of Alessia Russo and Ella Toone into the action (as they are totally different players than those they replaced – Ellen White and Fran Kirby) but the Germans seemed to suffer a lapse in concentration, only for a minute but that was enough.
The Man City midfielder receives the ball between the lines and knowing she has time and space which she hadn't been afforded before during the game, she is constantly looking up and scanning. It is worth noting that Alessia Russo had dropped back into her own half on the right wing which allowed Ella Toone to make that devastating run forward.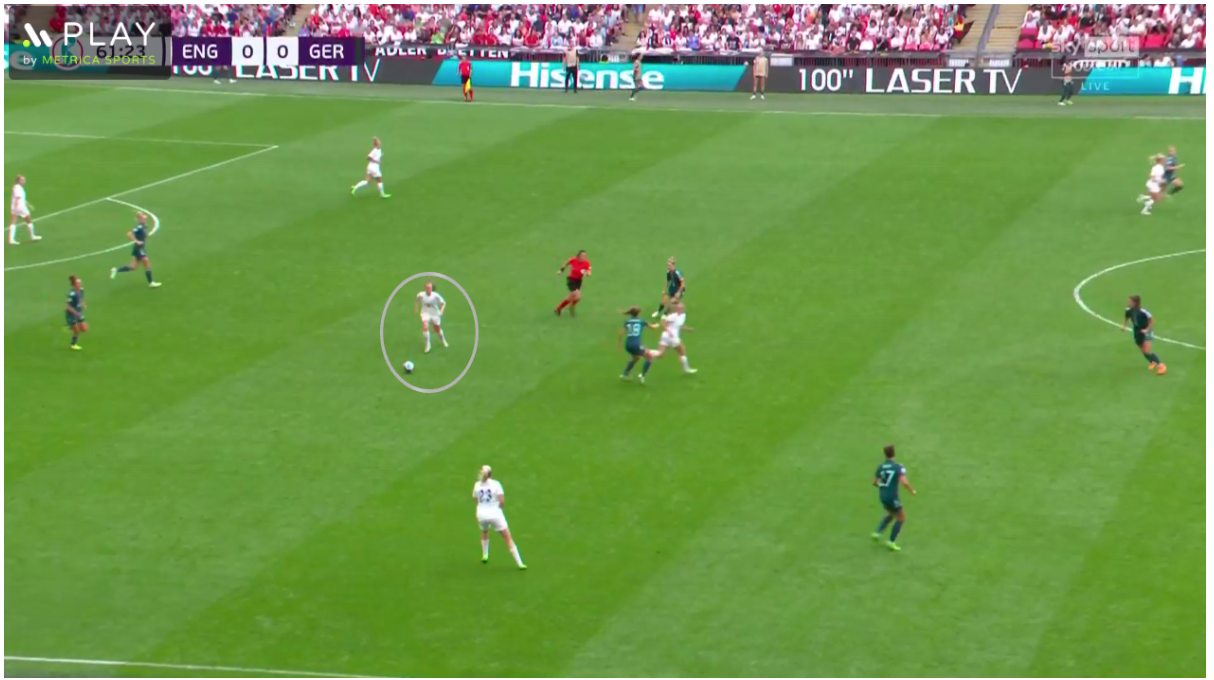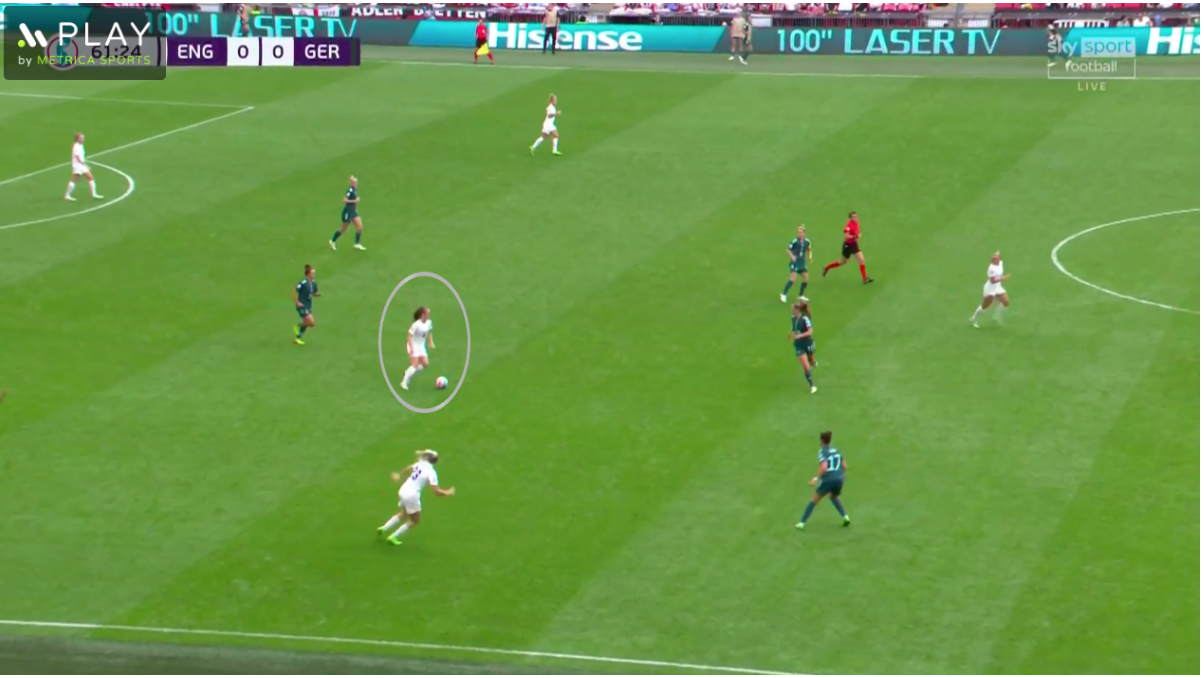 As she sees Toone making a blistering run forward, Walsh plays an inch-perfect pass that goes straight through the middle of the two German central defenders. This gave Ella Toone the opportunity to run into the penalty area and end up one on one with the keeper, who she very nonchalantly chipped to send Wembley into raptures.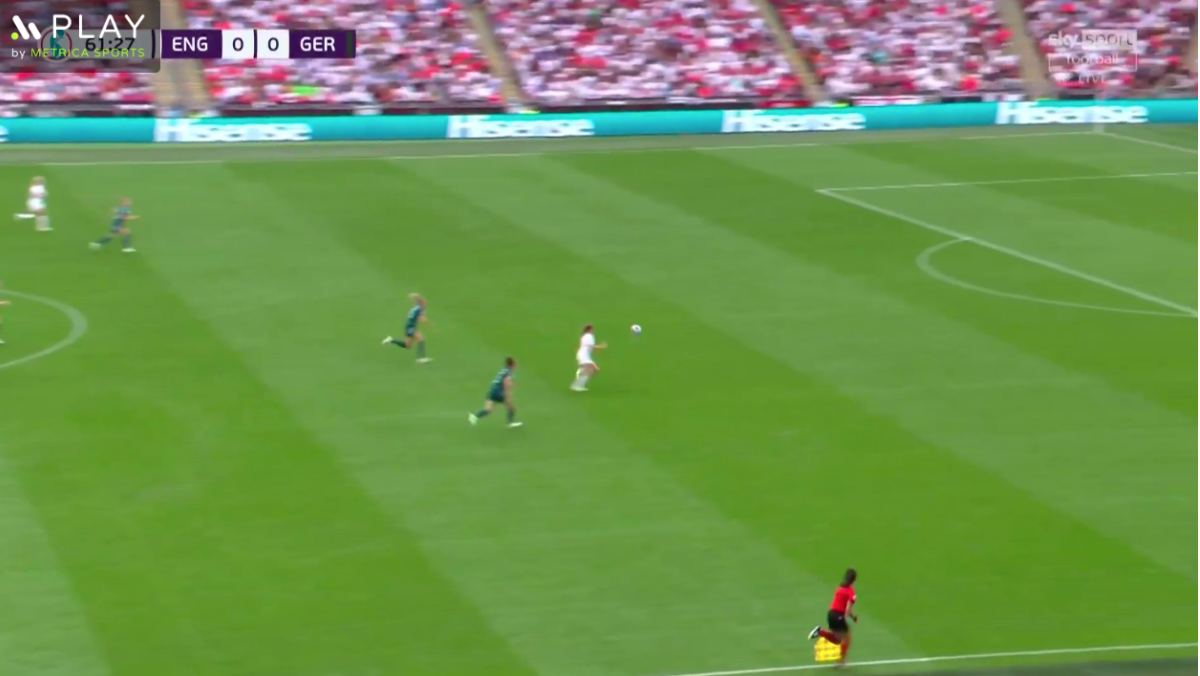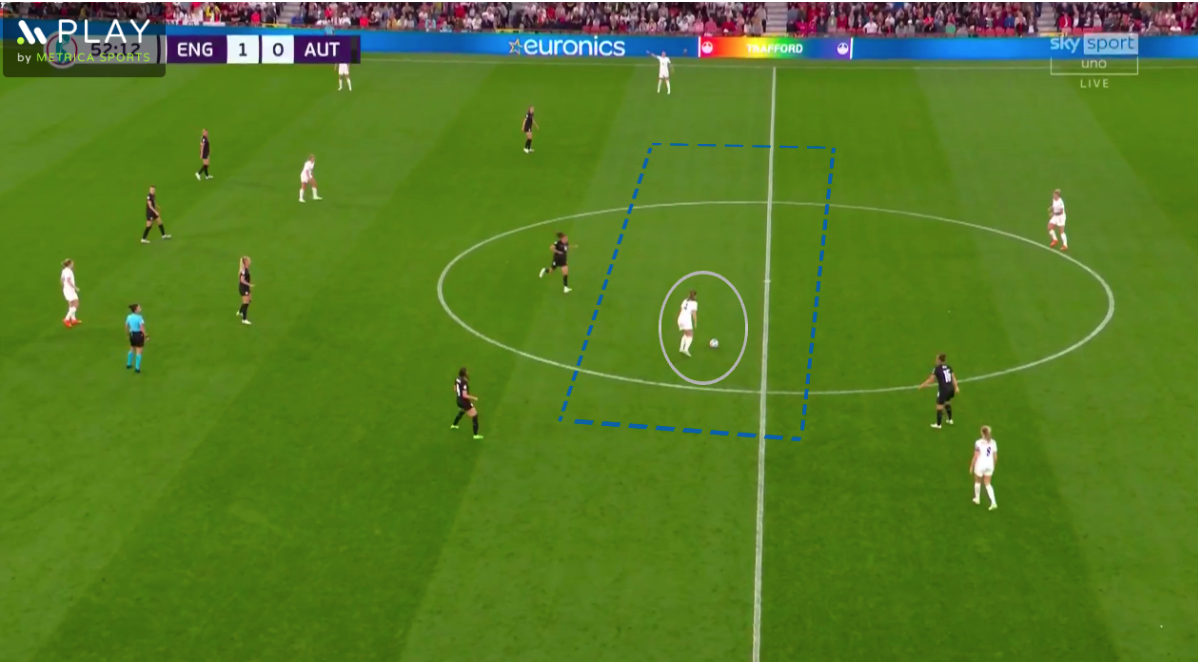 Another example can be found in the opening game of the European Championships when England faced Austria. Walsh was afforded an incredible amount of time and space which gave her plenty of opportunities to spray passes out to the right wing for Beth Mead and Lucy Bronze. There is certainly an argument to say that if you allow Keira Walsh that amount of space, she will take advantage of that. 
In the below images, Walsh picks up the ball and as Austria did not engage in a high pressing game, she was allowed to make one of her trademark sweeping passes out to the right. The easier pass would be to Lucy Bronze, but Walsh has exceptional vision and supreme confidence in her own abilities, she knows Beth Mead will be making a run down the right flank. Walsh is able to angle a pass so accurately that it lands exactly where Mead wants it and England have transitioned from inside their own half to the Austrian final third in a split second.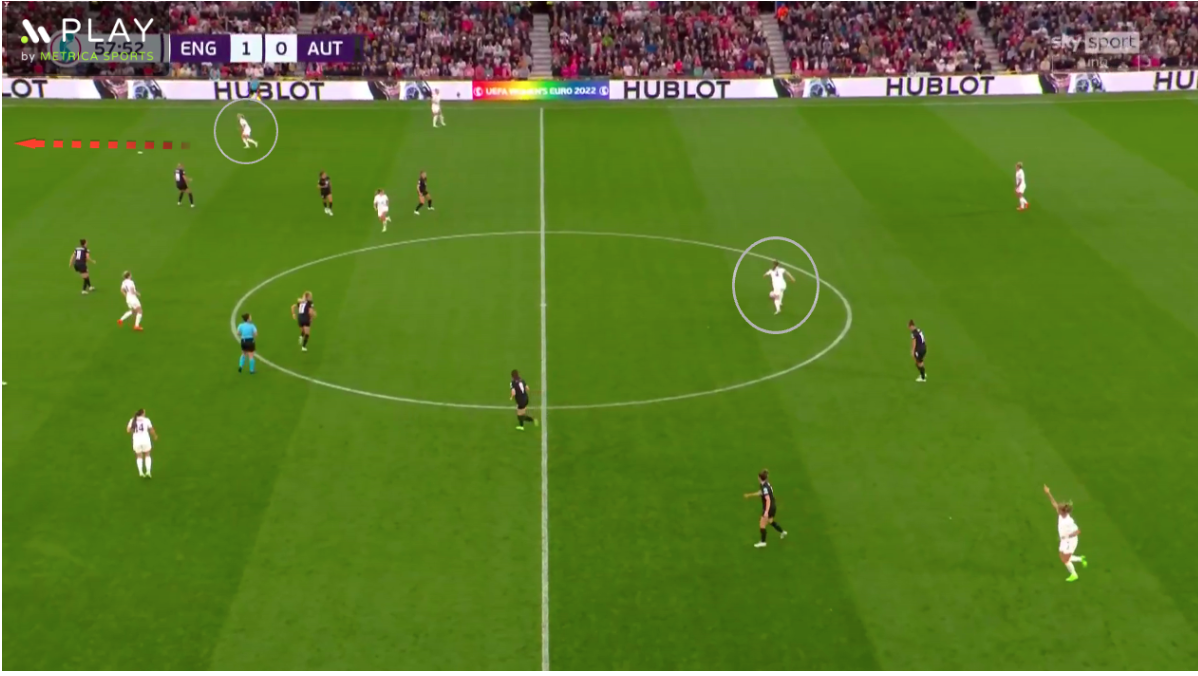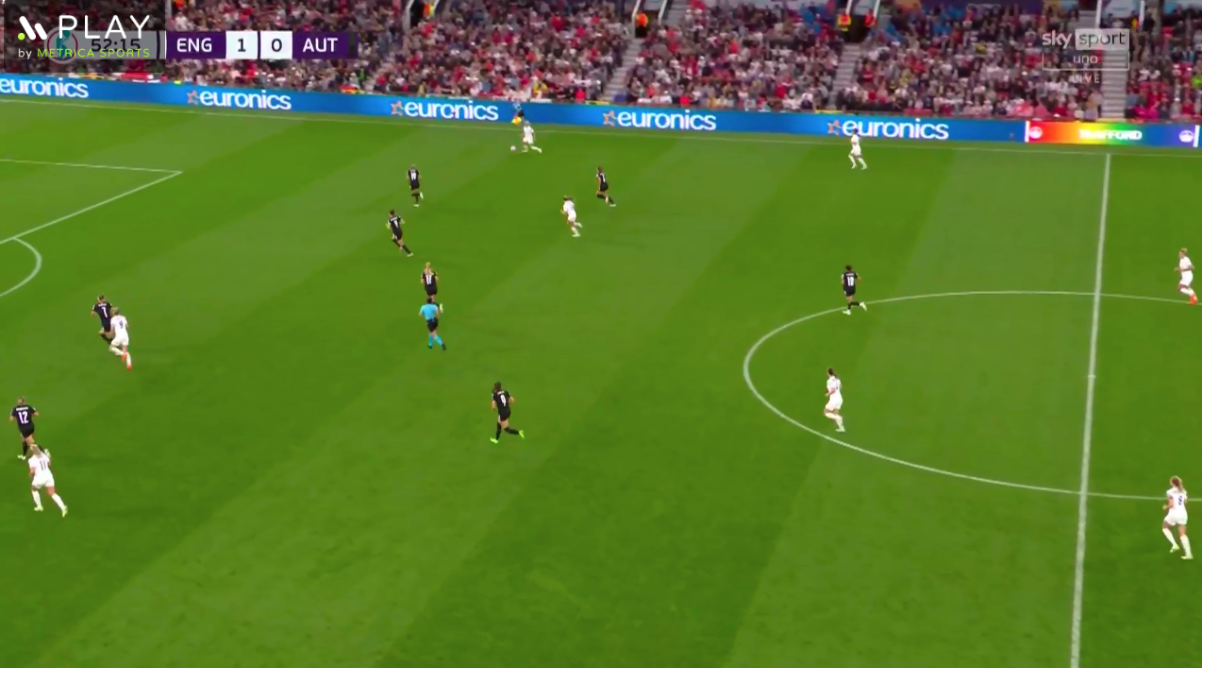 England were the best team during the Euros, they played some wonderful football, and many players stood out. Millie Bright and Leah Williamson proved themselves to be some of the best defenders in Europe, Mary Earps really became the commanding goalkeeper she had threatened to be for a while as the faith shown by Wiegman gave her the confidence boost she needed.
Beth Mead led the way with goals and assists, but Keira Walsh is the heartbeat of the England team — she really makes everything about this England team tick. At 25 years old, she has a fantastic future ahead of her and no doubt will be key to Sarina Wiegman and England going into the World Cup next year. Pay attention to one of the most exciting and talented players in women's football because Keira Walsh is only going to get better.
By: Bethany Limb / @bethlimb
Featured Image: @GabFoligno / Sarah Stier – UEFA