Kelvin John: Tanzania's Teen Wonder
Kelvin John was born on 10 June 2003 in the Tanzanian city of Morgoro, which lies at the base of the famous Uluguru Mountains. John rose to prominence at 14 years of age when he played for Tanzania at the 2018 Under 17 CECAFA Championship held in Burundi. Later in the same year he played for his country's under 17 team in the 2019 Under-17 African Cup of Nations (AFCON) Central and East Africa Zone qualifying tournament. They finished third at the tournament. 
Subsequently, at the 2019 Under 17 AFCON, hosted by Tanzania, they finished bottom of their group. Despite the disappointing finish of Tanzania at the 2019 Under-17 AFCON, John was a standout performer and received a call up to the senior men's team as a result. He made his debut as a second half substitute versus Kenya in a second-round match of the 2020 African Nations Championship (CHAN) qualifiers on 28 July 2019. At 16 years of age, he became one of the youngest players to have appeared for Tanzania's senior men's team. 
2019 finished in the perfect way for John as he starred for Tanzania's Under-20 team at the 2019 Under 20 CECAFA Championship. The six goals he scored propelled them to the final, which they won 1-0 against Kenya. His exploits earned him the top goalscorer and Most Valuable Player awards.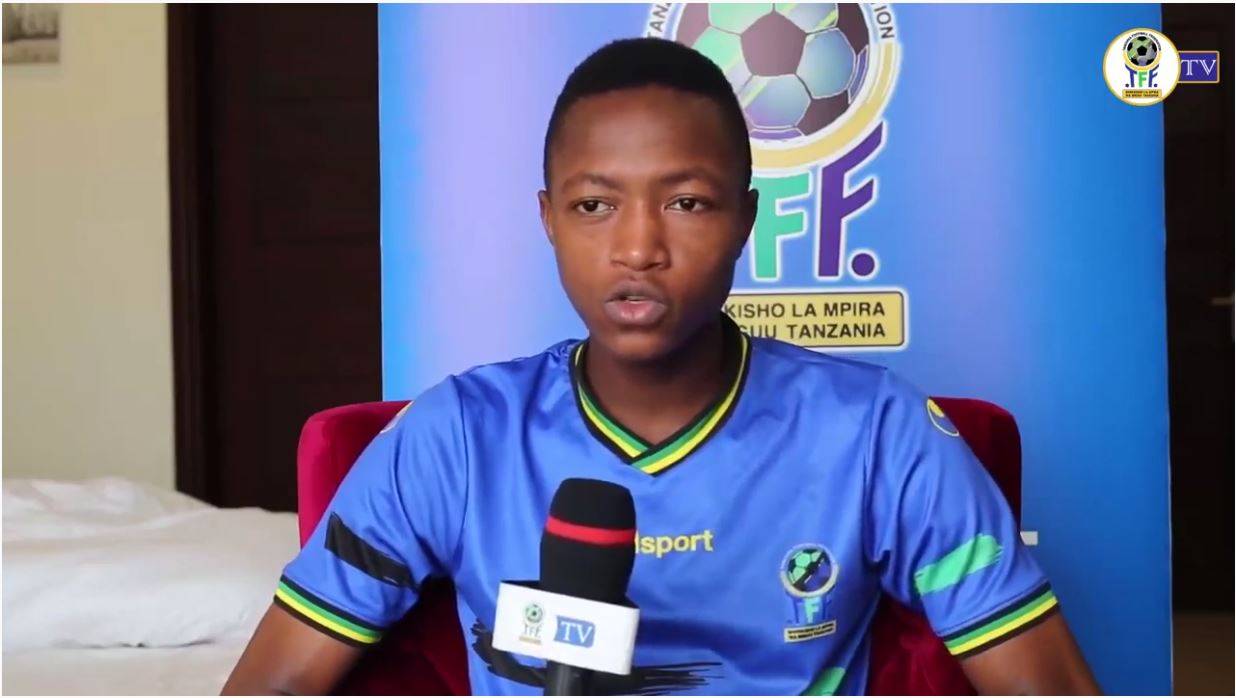 Photo: Tanzania Football Federation
John currently plays academy football for Brooke House Football Academy based in Leicestershire, England as he is not yet eligible under FIFA rules to join a professional club outside of his homeland. He joined the academy in 2019 and will remain there until he turns 18 in June 2021 at which point, he will be free to join any club. 
Position, Attributes and Style of Play
John is a right-footed player who primarily plays a centre-forward and has occupied this position for his country at under-17 and under-20 level. He is usually played as a lone striker in a 4-3-3 formation. Although he can also play as a left-winger in the same formation. 
In this centre-forward role, it appears that John is expected to be the complete centre-forward when his team have possession. This means helping link-up the attacking play, making runs in behind defenders, holding the ball up, competing for balls in the air as well as creating chances and scoring goals. Out of possession there did not appear to be defensive responsibilities placed upon him. 
For a 17-year-old John has good physical capabilities. He is 1.79m and could easily grow to above 1.82m over the next few years. Despite being one of the youngest players during the 2018 Under-17 CECAFA Championship, 2018 Under 17 AFCON qualifiers, 2019 Under-17 AFCON and the 2019 Under-20 CECAFA Championship he was able to cope physically.
He was not regularly outmuscled by opponents in duels and was able to use his strength more often than not to hold off opponents pressuring him. Alongside his decent height and strength, he has magnificent speed and acceleration. This allows him to burst past defenders and outsprint them, in and out of possession.
Likewise, his excellent coordination and agility enable him to change direction quickly and unpredictably with and without the ball. He also has a good vertical leap which makes him a handful for opponents when competing for incoming high balls whether that be from goal-kicks, corners, free-kicks or long-balls. Together these physical attributes make him a difficult proposition for defenders to handle.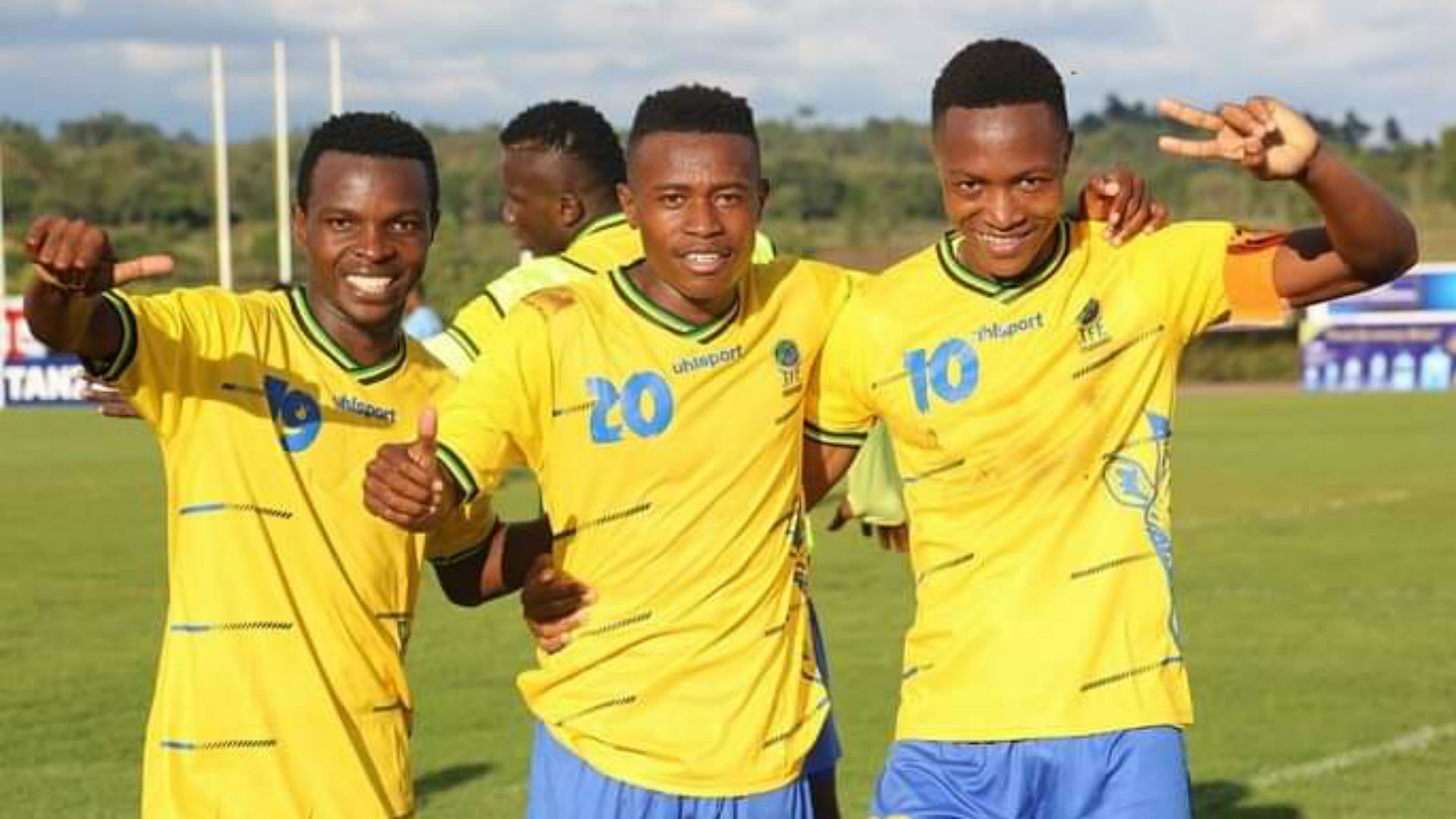 Photo: Tanzania Football Federation
As a lone centre-forward, John is effective at occupying the whole defensive line. He does this by making consistently clever and subtle runs into the channels between the centre-backs and wing backs to offer a forward passing option. This drags the centre-backs into wider areas where they do not want to be and where he can get the better of them in 1v1 situations, whilst also creating more space centrally for teammates to exploit.
Additionally, he makes intelligent runs behind the opposition's defenders which stretches the play vertically and creates opportunities for his teammates to play more direct forward passes for him to run on to. These runs make him harder to mark for defenders as he is constantly appearing in different areas across the forward line to receive the ball. 
The clever off-the-ball runs John makes into wider areas not only provide a passing option for his teammates in the final third, they also allow him to receive the ball in wider areas and face defenders 1v1 with more time and space. In wide areas with time and space he is dangerous because of his physical gifts combined with his direct dribbling style.
When he receives the ball, he is quick to turn and drive at defenders. This forces them to commit and engage with him or retreat towards their goal. He is competent in both situations as he is comfortable attempting to dribble past defenders using his agility, skill and quick feet or if they back off firing a shot at goal or trying to play an incisive pass to a teammate.
Against Uganda and Sudan in the Quarter-Final and Semi-Final of the 2019 Under-20 CECAFA Championship, he notably made runs out to the left channel or flank to receive the ball. When he received the ball in wider areas with some time and space, he would cut infield, drive towards goal, commit defenders, use his speed, balance and skill to evade their tackles and take a powerful shot with his right foot from outside the box.
He scored a goal against Uganda in the 2019 Under-20 CECAFA Championship Quarter Final late in the match when he picked the ball up slightly left of centre in the middle third of the pitch. He cut infield and skipped past a couple of opposition challenges and then fired a wicked right footed shot from outside the box into the bottom corner to seal a 4-1 win for Tanzania. 
John's close control is evident when he carries the ball over longer distances and manipulates the ball in tight congested spaces. Over long distances he uses a variety of delicate touches, tricks and feints to change direction or evade a tackle and then utilises heavier touches to speed away from an opponent.
He does all this while maintaining both balance and possession despite challenges and pressure from opponents. This was evident in the Under-17 World Cup matches, particularly against Nigeria, when he played as the main counter-attacking threat for Tanzania.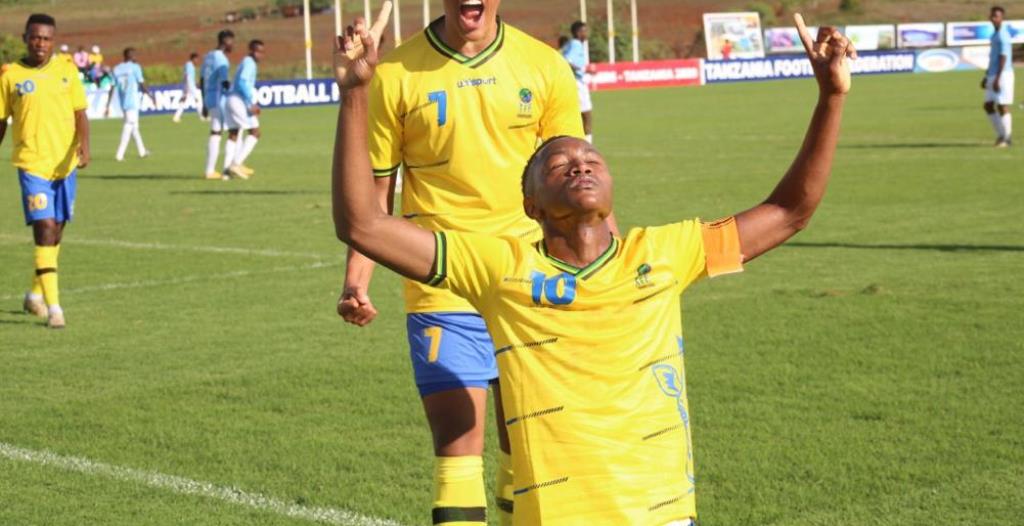 Photo: Habarileo
In tight crowded areas especially in the box, John will use careful, calculated touches to offset defenders and bait them into making mistimed, misjudged tackles. This helps him to evade challenges and or/create enough space between himself and the nearest defender to attempt a shot at goal, a pass or cross for a teammate. He is excellent at cleverly taking a slightly heavy touch inside the box to lure a defender into making a challenge.
Just as they extend their leg to try and win the ball from him, he reaches the ball first to knock the ball slightly past them which then creates enough space and time to shoot at goal or create a chance for a teammate. In the games reviewed he did not win any penalties using this two-touch action, but it is inevitable in the future that he will win a multitude of penalties doing this. There are simply too many rash, over-eager defenders who will fall for this bit of trickery. 
John incorporates unpredictable pieces of skill like Cruyff turns, dummies, chops and fakes to confuse, trouble and beat defenders in 1v1 situations inside and outside the box. To perform these types of actions, especially, inside the box where there is less space and time and more pressure highlights his balance, quick-thinking, confidence and composure.
Most strikingly, he likes to fake a shot when faced with an opponent in or around the box to try and deceive them into thinking he is going to shoot. Resulting in the opponent diving in to block what they think will be a shot. Instead of shooting he will take a touch in the opposite direction of the diving block which creates space for him to then take more touches and/or shoot, cross or pass.
This worked to devastating effect against Burundi in the 2019 Under- 17 AFCON Central and East Africa Zone qualifying tournament. He faked a shot on the right-hand side of the box and the defender attempted to block what they thought would be a shot. Instead, he shifted the ball on to his left foot away from the defender, crossed the ball and his teammate knocked the ball into the goal. 
John displays good link-up play as a centre-forward. He makes runs into the channels and out wide to offer a passing option but also stays centrally at other times to receive the ball with his back to goal and lay it off to teammates. Added to that, he can exchange intricate passes and creating goalscoring opportunities for teammates.
An example of this was the chance he created against Burundi at the 2019 Under-17 AFCON Central and East Africa Zone qualifying tournament. He received the ball on the left wing in a counter-attacking situation. He cut infield, faked to pass, took another touch and as his teammate made a run in behind the central defenders, he opened his body as if he was going to spray the ball out to the right flank but instead played a beautiful disguised pass in-between the two defenders into the path of his teammate who had made the run in behind them.
The goal showed his creativity, invention and vision. He is also content to drop off from his position as the focal point of the attack and receive the ball in midfield areas and initiate attacks with forward dribbles and passes. 
To be a world-class centre-forward you must be composed and clinical in 1v1 situations. John has shown both traits. He rarely misses 1v1 opportunities demonstrating his calm and clinical nature in front of goal. An example of his composed finishing was the goal he scored against Rwanda's Under-17's in the 2019 Under-17 AFCON Central and East Africa Zone qualifying tournament.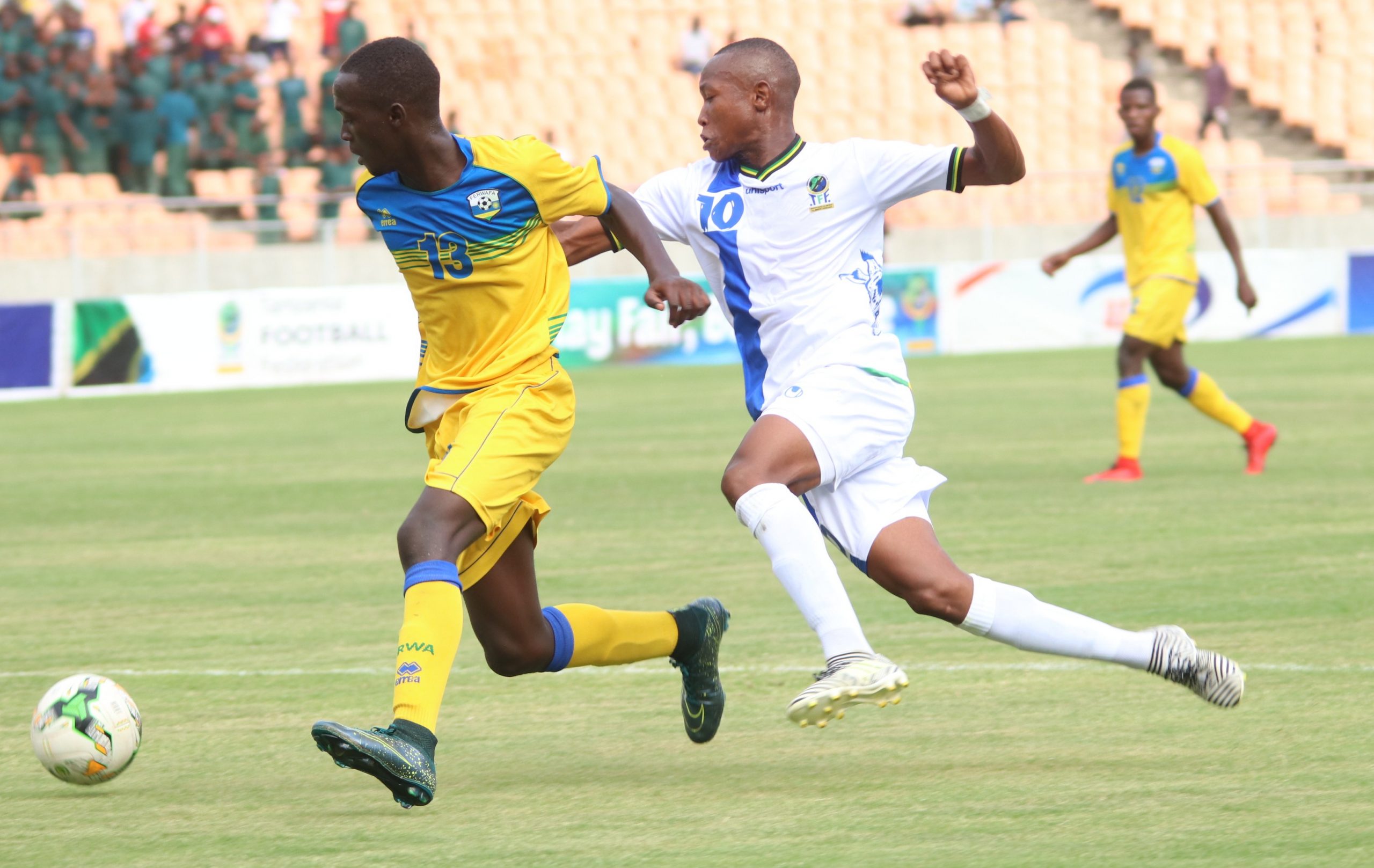 Photo: KT Press
He made a run in behind the defence and received the through ball. As the goalkeeper closed him down, he faked to shoot with his right foot and the keeper dived to react to what they thought was an incoming shot from him. Once the keeper dived, he quickly maneuvered the ball towards the goal by cutting inside past the goalkeeper and slotting the ball into the empty net.
In terms of his finishing technique in 1v1 situations he can score a diversity of strikes with either foot depending on the situation. He conjured up an impudent dink over an onrushing goalkeeper, smashed the ball with frightening power past goalkeepers as well as placing finessed shots into the corners of the net.
John does not have any obvious weaknesses to his game. Although, it should be noted that when his team does not have possession his work rate and intensity off the ball is not as good as it should be. He makes a few attempts every game to press, harry and disrupt opponents when they have possession. However, he can usually be seen walking around or standing in a central position when the opposition have the ball.
These two aspects of his game will need to be worked on as he gets older. With greater demands likely to be placed on him at his next few clubs, from managers who expect their attackers to contribute defensively, the intensity and work rate he displays in closing down opponents will need to increase. If they do not increase, he will probably not be selected to play very often. 
Long-term Potential
John has demonstrated his ability in multiple youth international tournaments over the last few years for Tanzania. Having watched him closely over a number of matches in different competitions he has the potential to be a world-class striker and represent one of Europe's most prestigious clubs. 
Potential Future Clubs
Once John turns 18 in June 2021 he will depart from the Brooke House Football Academy. The next step he takes in his young footballing career is vital. He must join a club who will nurture and develop his talent and provide him with plenty of first-team opportunities.
Let's take a look at two clubs who would be ideal for John's next move:
1. Stuttgart
Stuttgart gained promotion back to the Bundesliga for this season (2020/2021). They are looking to finish outside the relegation zone and if possible, finish around mid-table. That will not be easy for them. Whether they stay up which is looking likely after their sold start that sees them currently in 8th place or if they are relegated, they will need to buy wisely next summer to be competitive in either division. 
Stuttgart's squad is quite unbalanced. They have seven centre-backs, three left-backs, yet only two centre-forwards. They need to address this attacking imbalance over the next couple of windows. One centre-forward they should sign to provide quality and depth to their squad is John. His key attributes would provide a nice contrast to that of their starting striker Sasa Kalajdzic.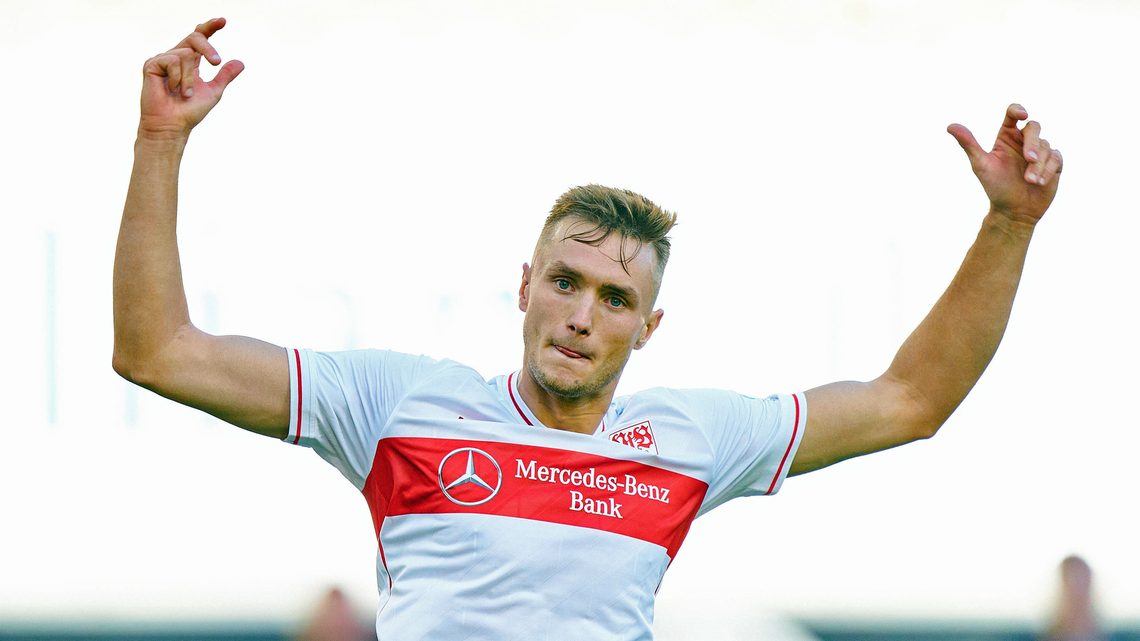 Photo: imago images / ActionPictures
John is a mobile, skilful, rapid and clinical striker who can float across the front line and create a chance out of nothing whereas Kalajdzic is more of a static, target man, who holds up the ball, lays it off or flicks it on, runs into the box and looks to get on the end of crosses. Having both of them would give the manager greater tactical flexibility depending on his game plan for each opponent.
Furthermore, John should be an attractive option for them because he only turns 18 next summer and would be available as a free agent because he currently plays for Brooke House Academy, and not an official club. Therefore, they would be signing a player with a high ceiling and potential resale value for nothing. 
Joining Stuttgart would be a great move for John. They have a young squad with an average age of 24. This shows they give plenty of opportunities to talented youngsters. John falls into that category and with them only having two established centre-forwards he would probably receive opportunities off the bench early on.
If he could show his potential in those substitute appearances, with the qualities he possesses it should not take him more than 12 months to become a regular first-team player. It would be unlikely for him to have this type of opportunity at many other clubs in Europe's top five leagues.
2. Celta Vigo
Celta Vigo are a well-established La Liga side. They have played in Spain's tog flight for several years, after their promotion in 2012. Since then they have had inconsistent spell in the top-flight. Some seasons finishing in the top 10 and others flirting with relegation. Overall, as a club they are well-run and have a good infrastructure for future success.
Their squad lacks depth, but they do have good starting options in most areas of the pitch. One area where they need to strengthen over the next few transfer windows is in the centre-forward position. At the moment they have 33-year-old captain and talisman Iago Aspas as their main goal-getter alongside the capable Santi Mina who can play up front or on the wings. Besides those two they do not have any centre-forward options in their first-team squad.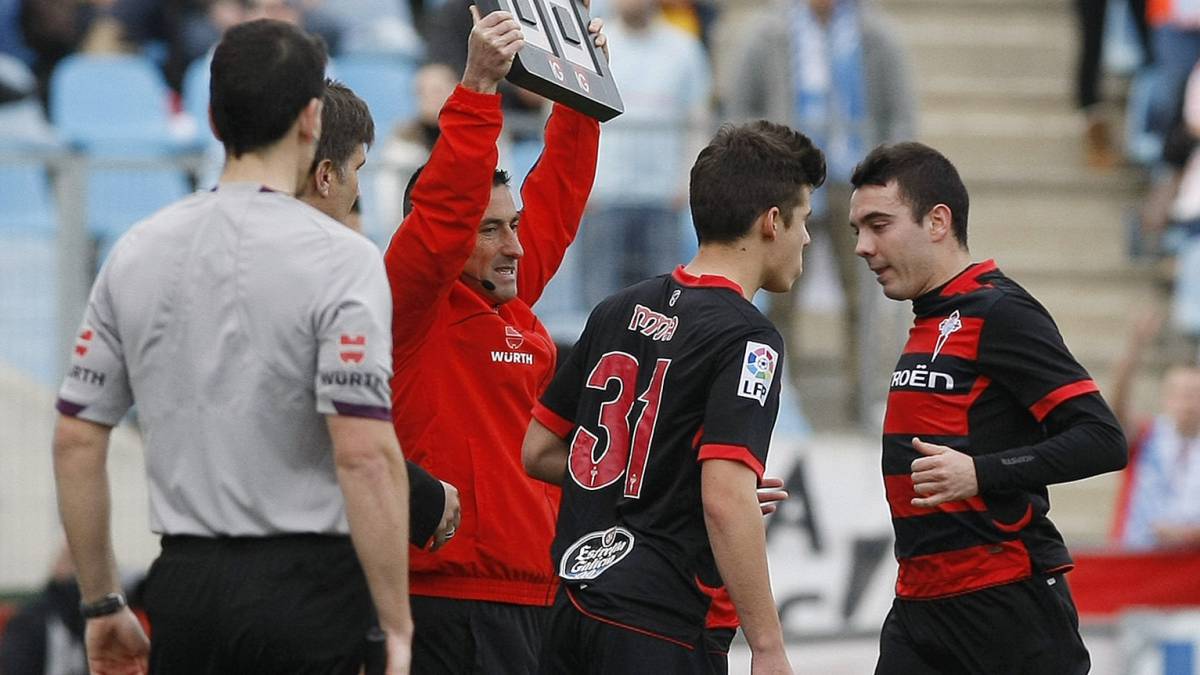 Photo: Javier Gandul / Diario AS
With Aspas aging and Mina more of a wide man than a natural centre-forward they should consider signing John as the long-term successor to Aspas. He would offer a tremendous amount to their forward line. Physically he is more threatening than both of them. He is taller and has a more imposing frame too. This means he can hold the ball up with his back to goal more effectively than they can and can pose greater problems for opposition defences from crosses and aerial balls.
He is also more dynamic, more explosive and far quicker than they are which makes him a greater danger to opposition defences from through-balls and balls over the top. Additionally, his goal-scoring instincts and finishing ability would be an upgrade on Aspas who has been converted from a winger to a centre-forward and Mina who is more comfortable in wider areas than in goalscoring situations.
Of course, he may not be ready to start straight away as he would only be 18 if they signed him next summer. Although, he could certainly contribute off the bench in his first season or two and then become their main centre-forward by the time he is 20. It would be a bold move for John to leave the Brooke House Academy and join Celta Vigo when he turns 18 next summer but it would be a strategic move.
He would be moving to Spain, a country where he has never lived before and does not speak the language. However, they are a club who have a great youth development system with many young players getting first team opportunities especially in recent years like Brais Méndez and Fran Beltrán. Alongside this, he would likely get a decent amount of first-team opportunities as a striker due to their lack of depth in this position and the qualities he has which distinguish him from the other centre-forward options they have.
Further, Celta Vigo have some good midfield creators like Méndez, Denis Suárez, Nolito and Emre Mor who would have the ability to create chances for John as well as see his clever runs and find him with accurate passes. This is important because, although John is hugely effective in a counter-attacking team as shown in his performances at the 2019 Under-17 AFCON, he looks even better playing in a more possession oriented team like his Under-20 Tanzanian team at the 2019 Under-20 CECAFA Championship where he can be more involved in the game.
As such, having players who can retain possession and find him with passes that enable him to contribute to the build-up play means he can further improve this area of his game and develop into a more well-rounded and complete striker.
If he joined a different club who do not have those types of creative players and instead rely only on counter-attacking football he would probably develop into a one dimensional counter-attacking striker who then lacks the ability to effect games when opponents employ tactical systems to negate that style. In turn preventing him from reaching the limits of his world-class potential.
By: Daniel Ajuh
Featured Image: @GabFoligno / Kawowo Sports