Leah Williamson: The Ultimate Ball-Playing Defender for Club and Country
Leah Williamson has spent the summer living out her childhood dream of captaining her country at a home European Championships. After leading England to a berth in the Women's Euros Final, she will be looking to win the first-ever major trophy in the history of the Lionesses.
Williamson was born and raised in Milton Keynes, joining the Rushden & Diamonds Centre of Excellence at the age of six and then being scouted by Arsenal at the age of nine.
She is a versatile player who is adept at playing in central midfield as well as defence, known for her brilliant passing range and prominent leadership qualities, this article will delve into why Leah Williamson has become indispensable for both club and country.
England Kicks Off UEFA Women's Euro 2022 With 1-0 Win Over Austria
Williamson made her Arsenal debut in 2014 as a 17-year-old, coming on as an 81st-minute substitute for club legend Rachel Yankey in a UEFA Champions League quarter-final against Birmingham City. Since then, she has gone on to become a pivotal player for her club, helping the North Londoners to the FA WSL title in 2018/19 and the FA Cup in 2013/14 and 2015/16.
Williamson has represented England at all youth levels since 2010 and went on to make her senior debut in 2017 in a World Cup qualifier against Russia. In 2021 Sarina Wiegman named Williamson permanent England captain, cementing her place in English football history.
Arsenal finished the 2021/22 season in second place, losing out on the title to London rivals Chelsea by a single point, after a title race that went down to the wire. Jonas Eidevall's team were the most defensively solid and potent team in attack in the WSL, conceding only ten goals and scoring 65. Let's investigate Leah Williamson's impact throughout the season.
Data Analysis 
Using data from Wyscout, comparing centre backs in the WSL with over 900 mins played during the 21/22 campaign.
According to Wyscout, Eidevall primarily utilised 4-4-2 and 4-2-3-1 formations at Arsenal during the 2021/22 season. With Leah Williamson occupying the right centre back role, partnered mostly by Lotte Wubben-Moy.
During Sarina Wiegman's tenure in charge of the England National Team, Williamson has played as both a midfielder, partnering best friend Keira Walsh in a double pivot and as a central defender where she has been playing as the left-sided centre back alongside Millie Bright. It is the latter position where Williamson has been playing throughout the Euros.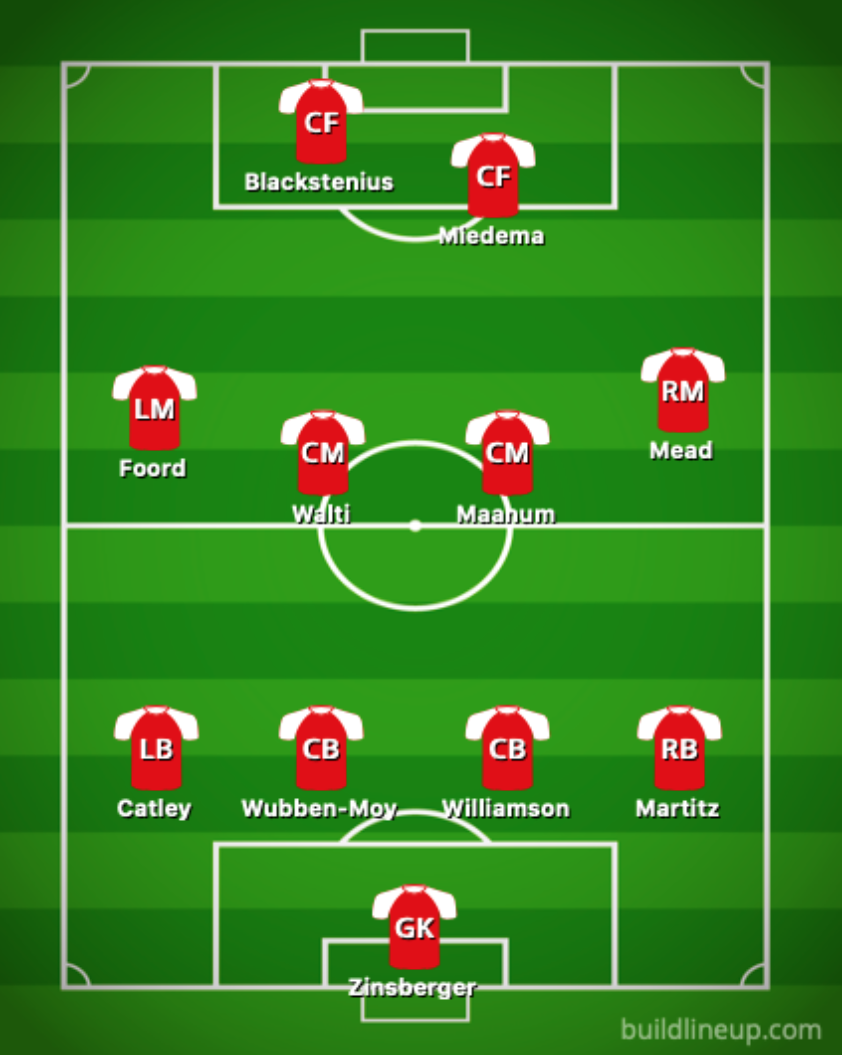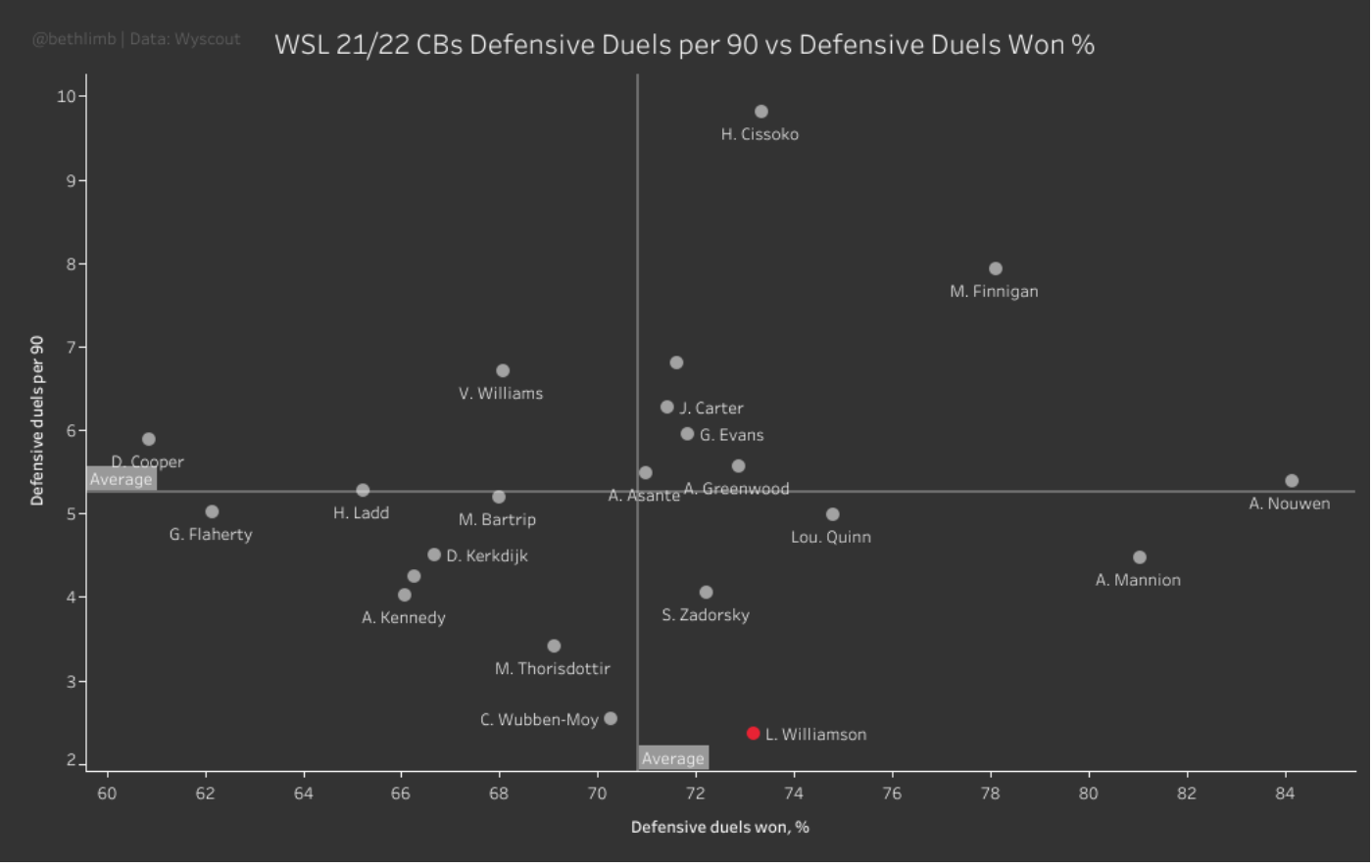 Looking at the number of defensive duels engaged in by centre backs in the Women's Super League, the Arsenal defender does not actually compete in that many duels per 90. This ties in with Arsenal being a team that seeks to attack and be on the front foot constantly, meaning Leah Williamson engages in 2.3 defensive duels per 90.
However, she does win 73% of those duels which places her above average in this metric. This shows that the Milton Keynes native can be relied upon to maintain the high levels of concentration required when playing at the highest level. There is an argument to say that Williamson could improve on her strength which would give her more of a physical edge when battling for possession.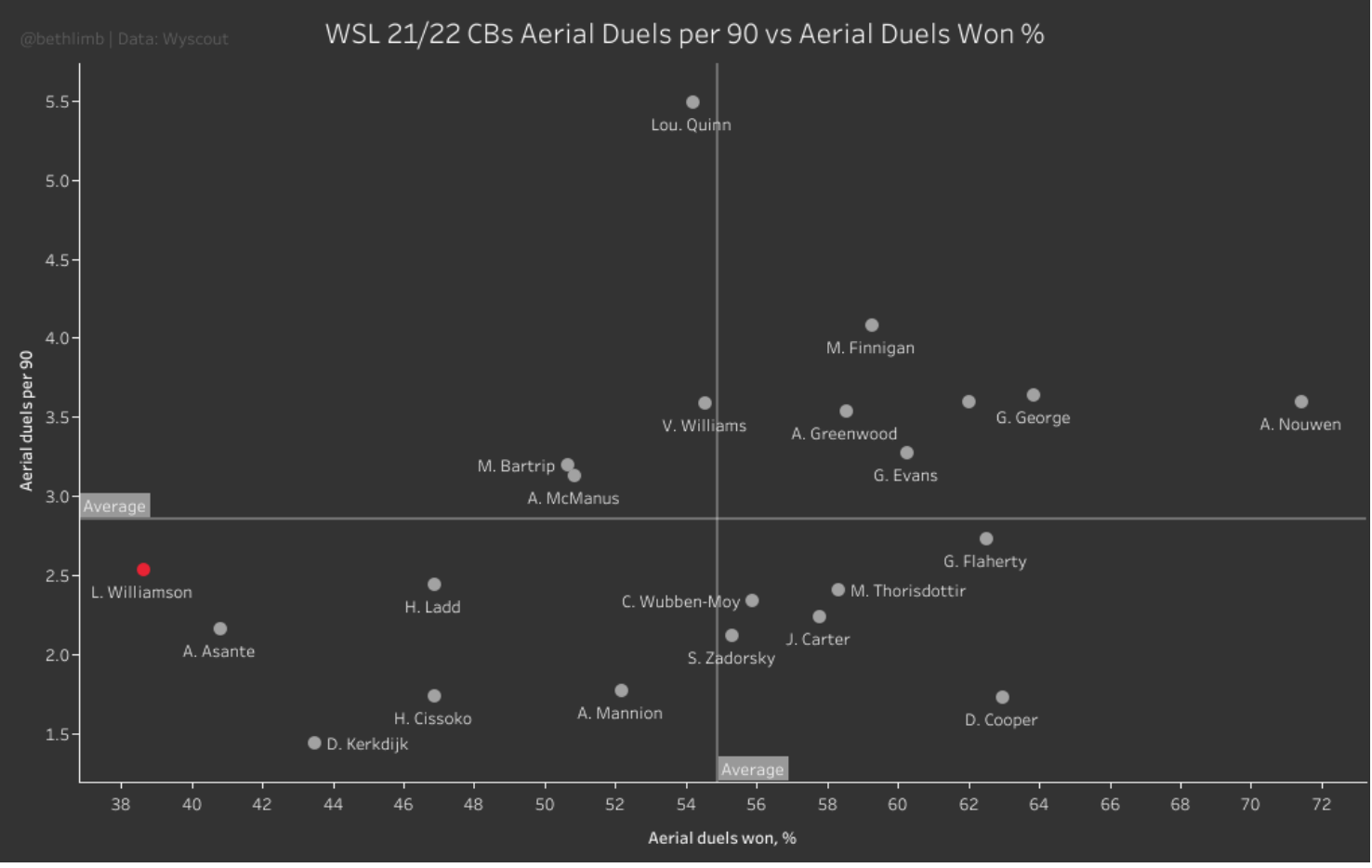 Aerially Williamson performs at a below-average level, she engages in approximately 2.5 aerial duels per 90, winning only 38% of those. That is the lowest win percentage in the WSL during the 2021/22 season.
Whilst Arsenal are a very attack-minded side and it is expected that their defence will engage in fewer than average duels both on the ground and in the air, there is certainly an argument to say that this is an area of Leah Williamson's game where improvements could be made.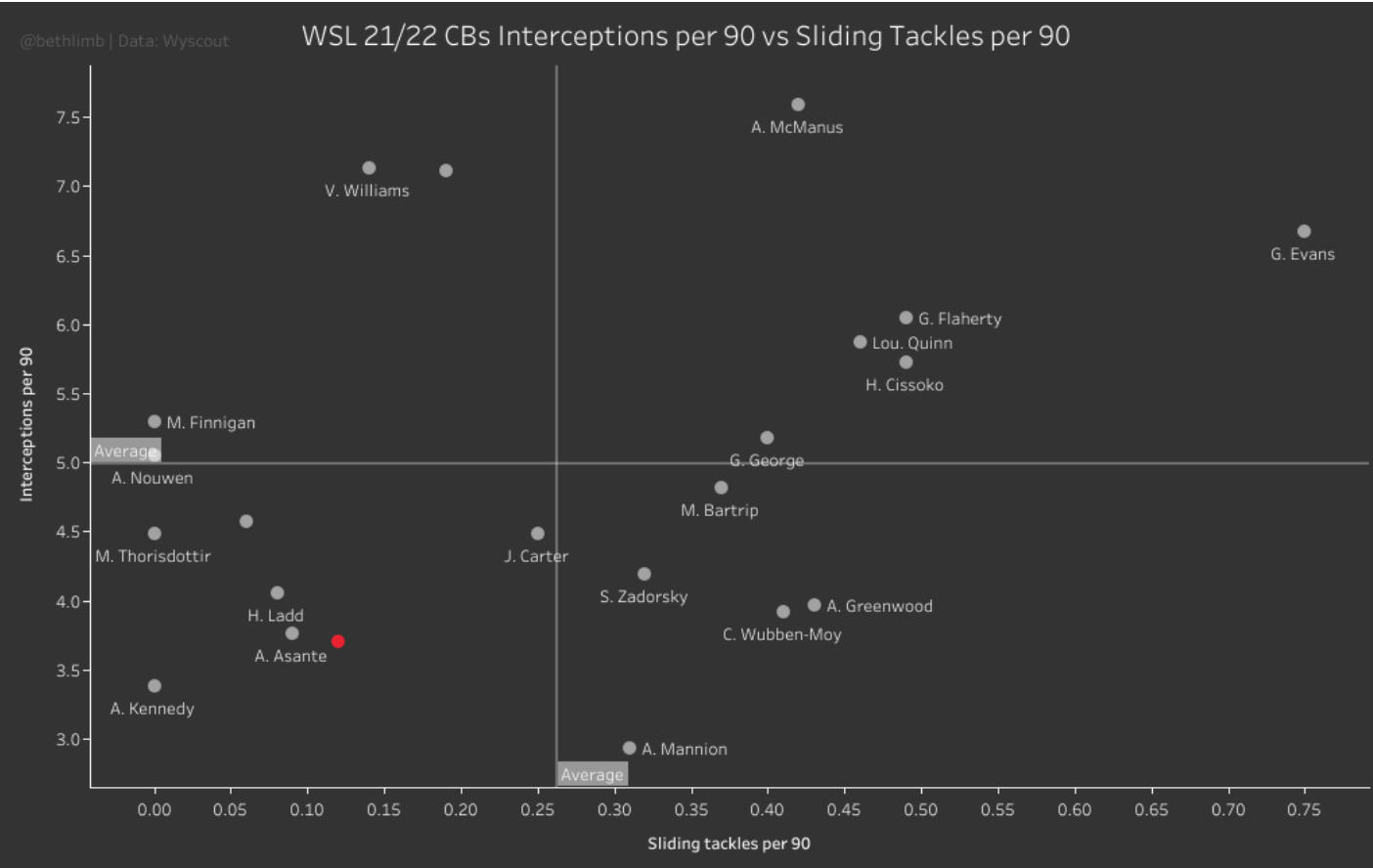 Taking a closer look at some more defensive metrics, in this case, interceptions per 90 and sliding tackles per 90 the stats follow the same trend as above. Williamson can be found in the below-average area of the visual.
Once again it is important to stress that these results are expected as Arsenal do not actually do that much defending during their games which means that Leah Williamson and co are not expected to be completing a high number of defensive actions per 90 minutes.
With an average of 3.7 interceptions per 90 compared to 0.12 tackles, we can glean that the Arsenal defender is an intelligent defender who is able to read the game well to be proactive and intercept the play rather than being reactive and forced into committing tackles in order to try and prevent the opposition from progressing their attacks.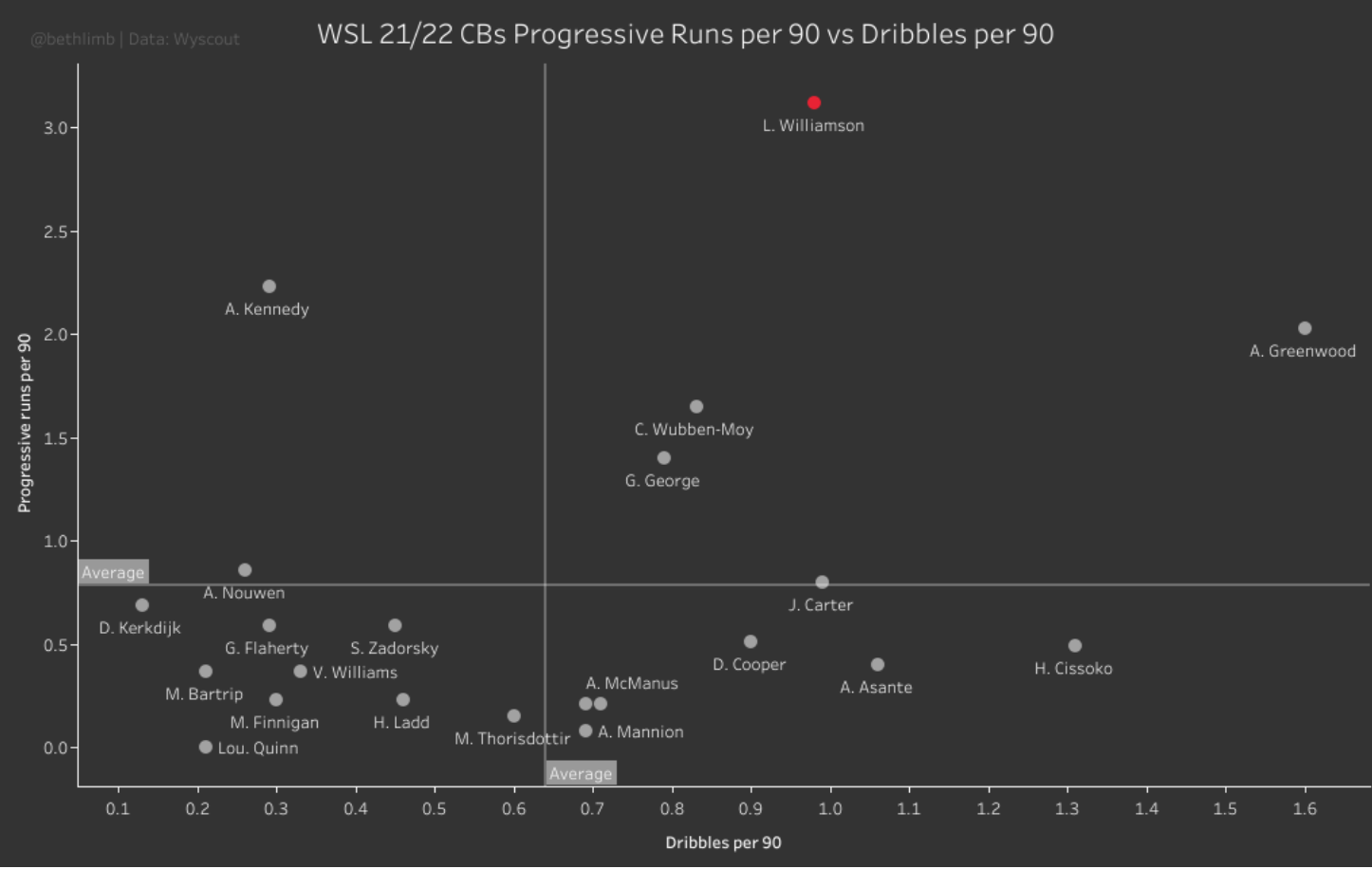 Ball progression is where Williamson really stands out compared to her peers, no doubt her experience as a midfielder proves to be extremely useful in this department.
The England skipper is very comfortable on the ball and made 3.1 progressive runs per 90 minutes during the 2021/22 season, this is the most of any central defender in the WSL. She can be relied upon to swiftly move the ball, completing 0.98 dribbles per 90 which places her in the top five for this metric. 
Moving on to look at Williamson's progressive passes, she really stands out as she completes the second highest number of progressive passes in the league per 90. Aiding her team's cause with 16.2 progressive passes per 90 is a clear demonstration of how good of a ball-playing defender Leah Williamson is.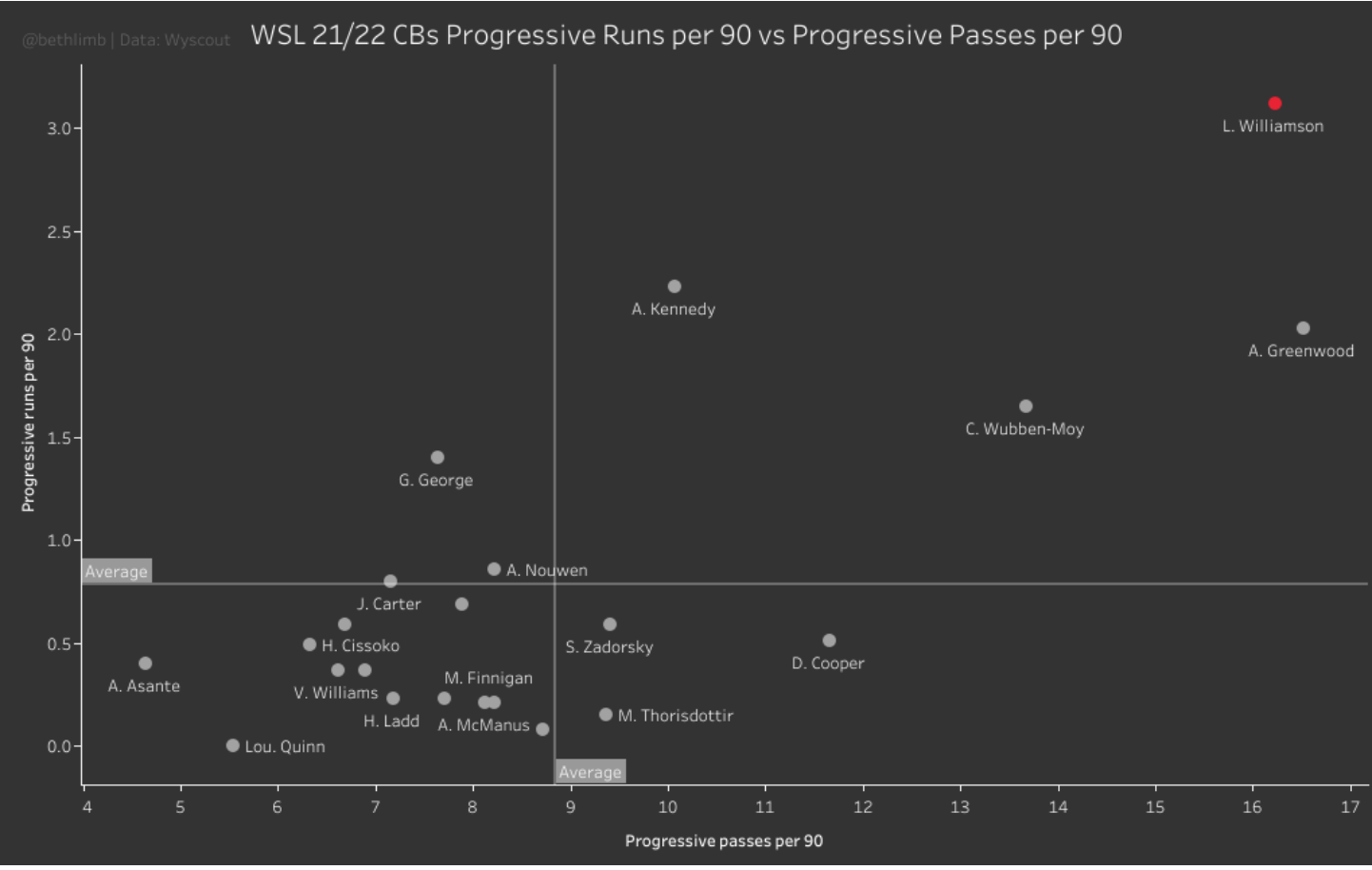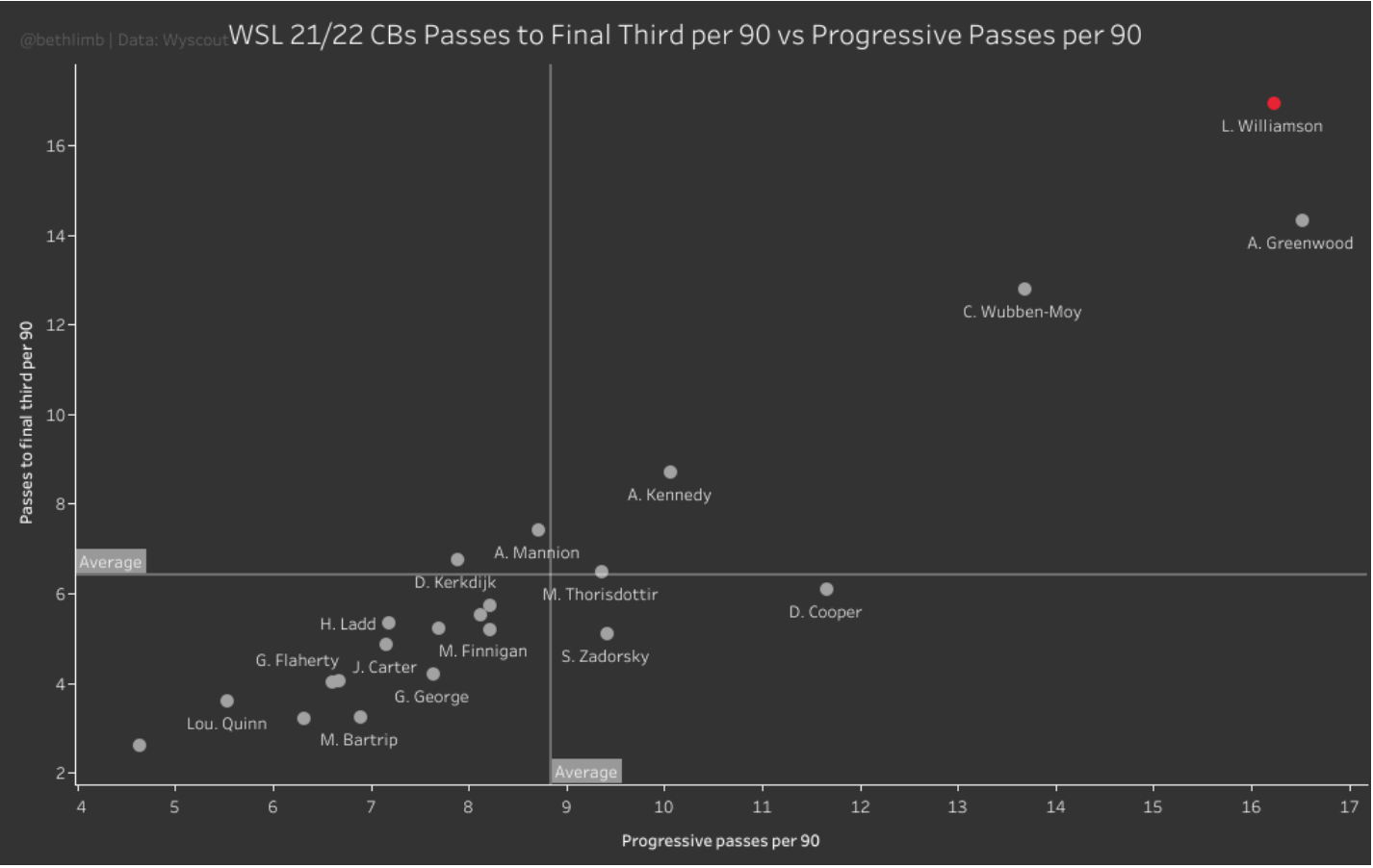 Those progressive passes also translate into the final third as she executes 16.93 passes to the final third per 90. This is by far the highest number in the WSL, she is closely followed by Man City defender Alex Greenwood and her fellow Arsenal centre back Lotte Wubben-Moy.
Out of the aforementioned 16.93 passes to the final third per 90, Williamson is accurate in 71% of them, with 2.2 passes going to the opposition penalty area. These stats demonstrate why Leah is a fantastic ball-playing defender and has been imperative at the heart of Arsenal's defence under Jonas Eidevall's tenure.
In-Game Analysis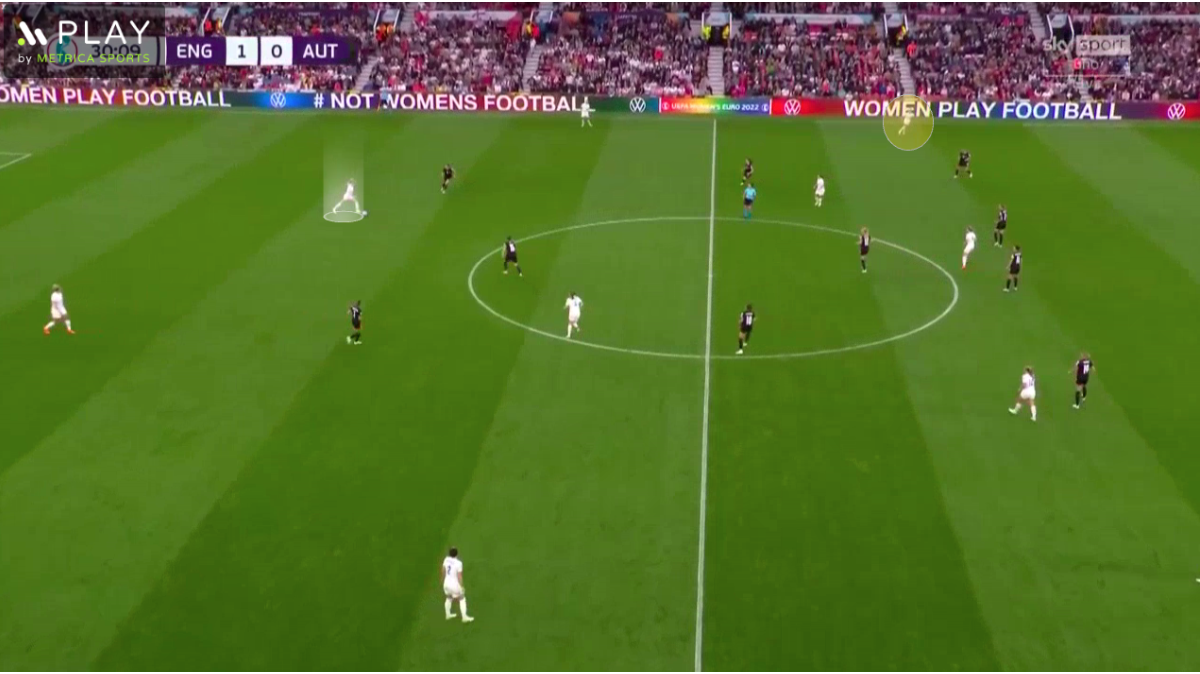 In the above and below images, Williamson's delightful passing range is on display as she is comfortable receiving the ball, taking a touch, and looking up to see where her teammates are, and assessing who the best passing option is. It is in this scenario that she is the epitome of a modern-day ball-playing centre back.
In the above image, playing for England in the opening game of Euro 2022, Williamson is able to see Lauren Hemp in space on the left wing and pick her out with an inch-perfect pass.
Whilst in the images below, Leah Williamson firstly shows incredible vision to see the Arsenal forward making a run in behind the opposition defence. She then puts that phenomenal passing range to good use once again and plays a defence-splitting pass which lands her with an assist as her teammate coolly slots the ball into the net.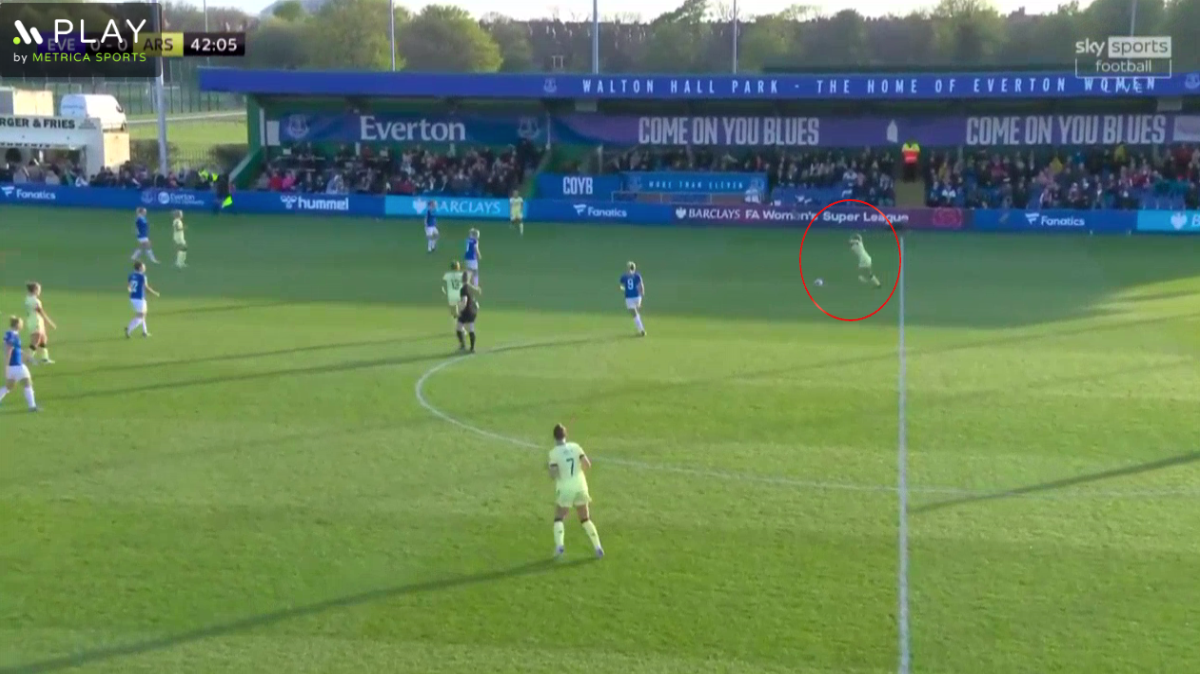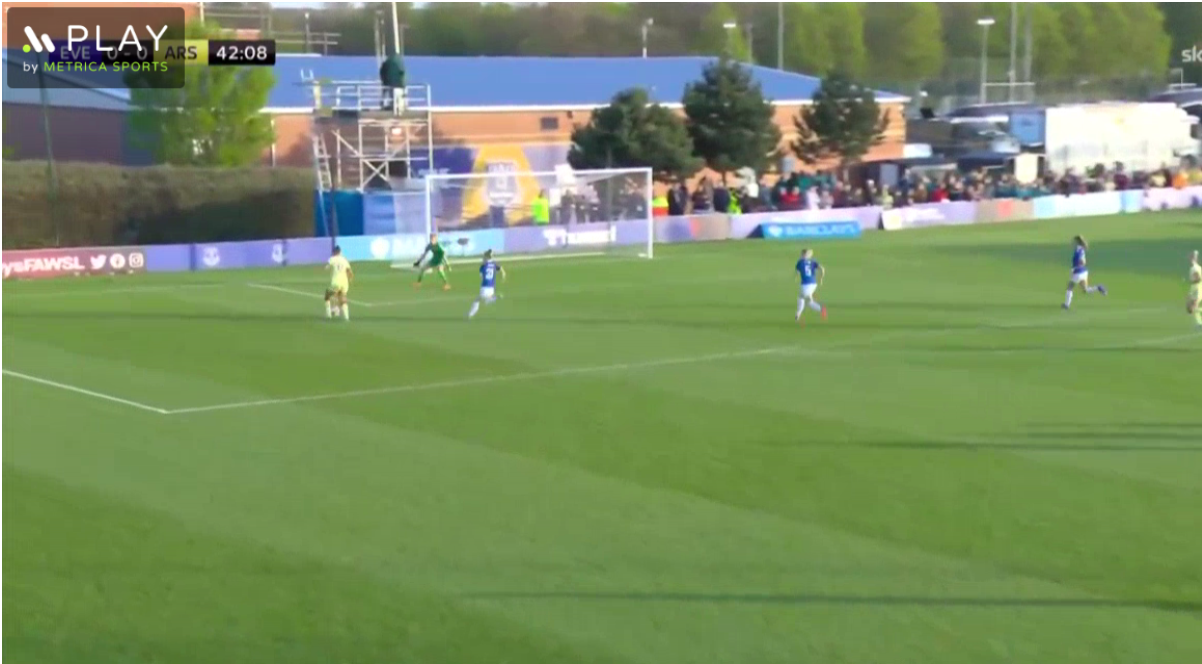 In the below images, the 25-year-old's defensive prowess is on show, Arsenal are tracking back as Wolfsburg are on the counterattack.
Williamson showcases her ability to read the play as she realises the most likely recipient of the ball is the player behind her. She quickly adjusts her body position and is able to step in to make the interception, nullifying the Wolfsburg counter.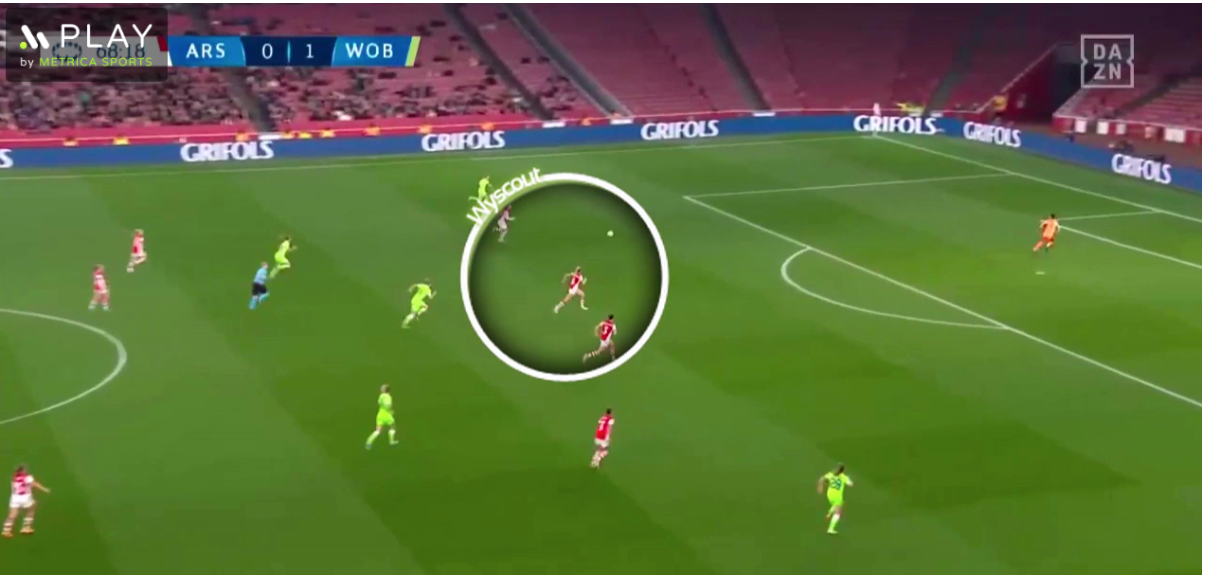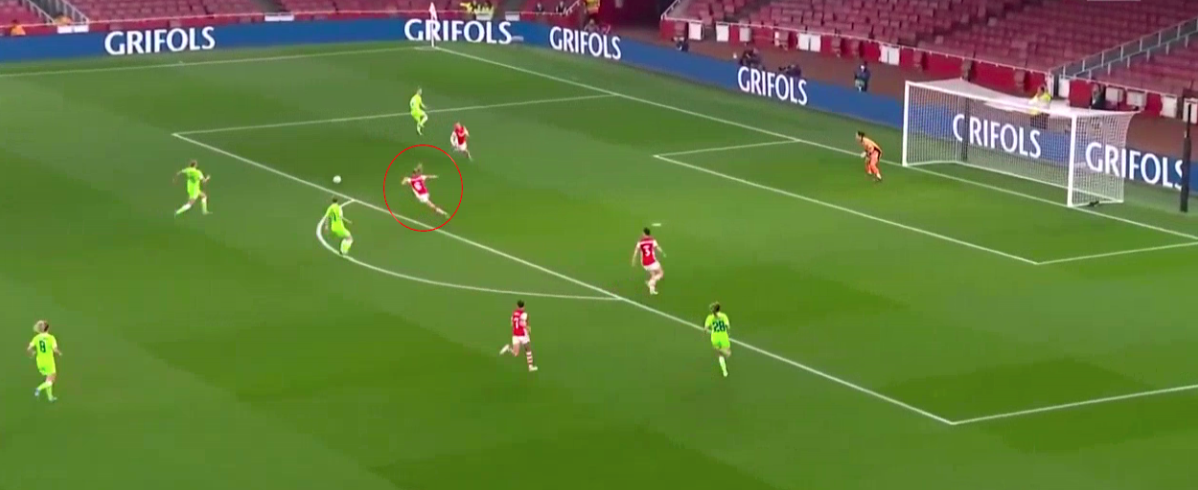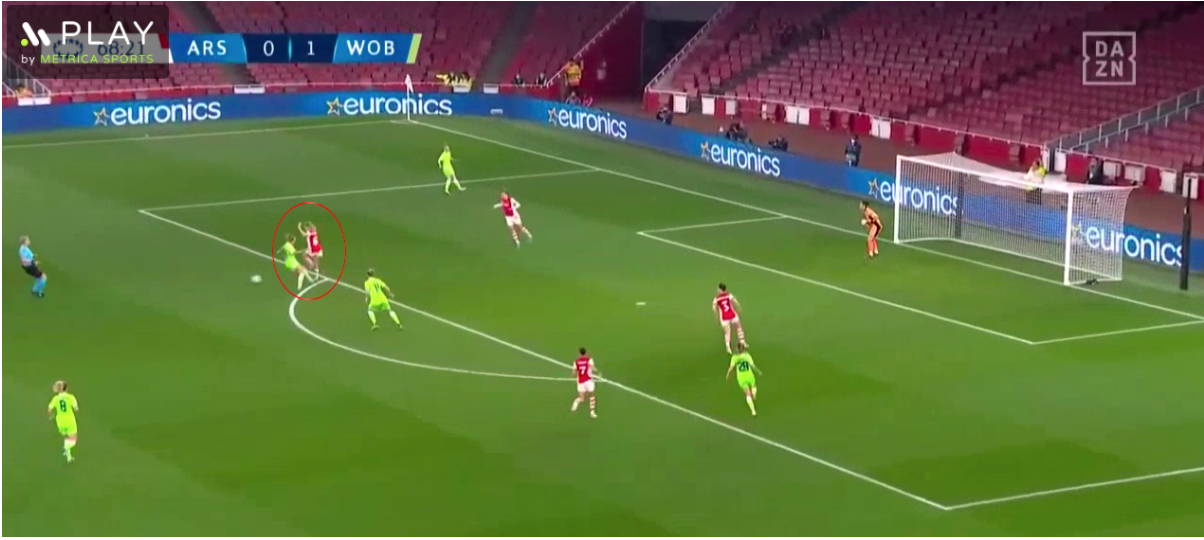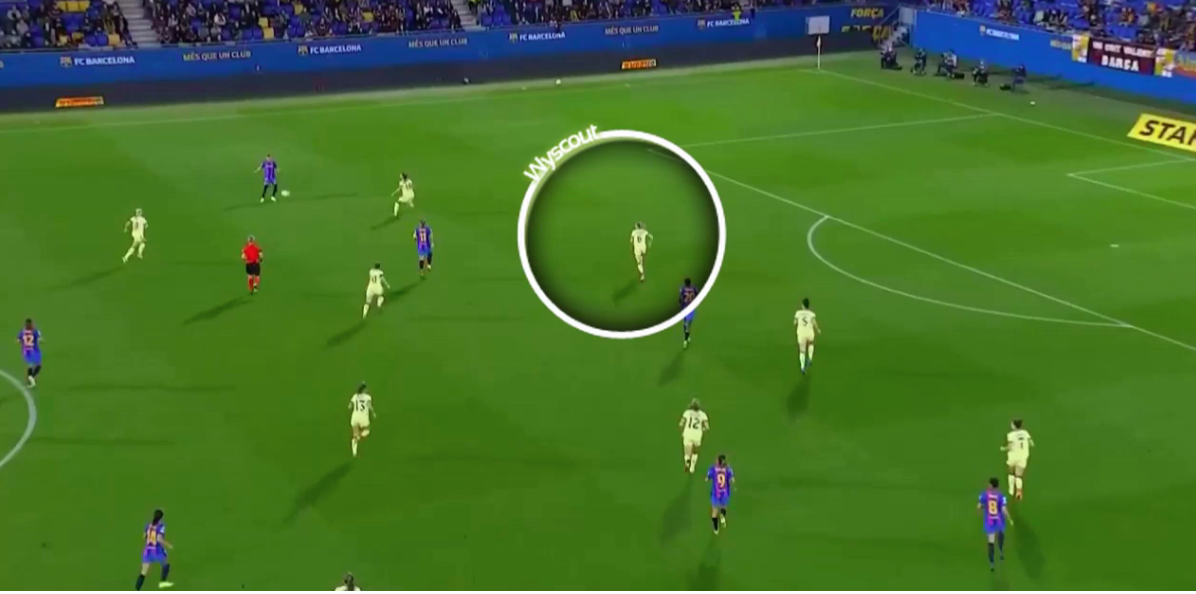 In the above image, she can see that her Arsenal right back has gone over in an attempt to close down the ball. Williamson then moves over herself, to close the space down and ensure she is on hand to make any interceptions required. She displays great anticipation and the time spent in midfield has undoubtedly aided her reading of the game. 
Speaking of Leah's time as a midfielder, as mentioned previously, she has played there recently for England whilst Sarina Wiegman was testing out who her strongest eleven would be going into the Euros. The images below are a prime example of how she is able to play a perfect first-time pass which splits the defence and allows England to move into the opposition area.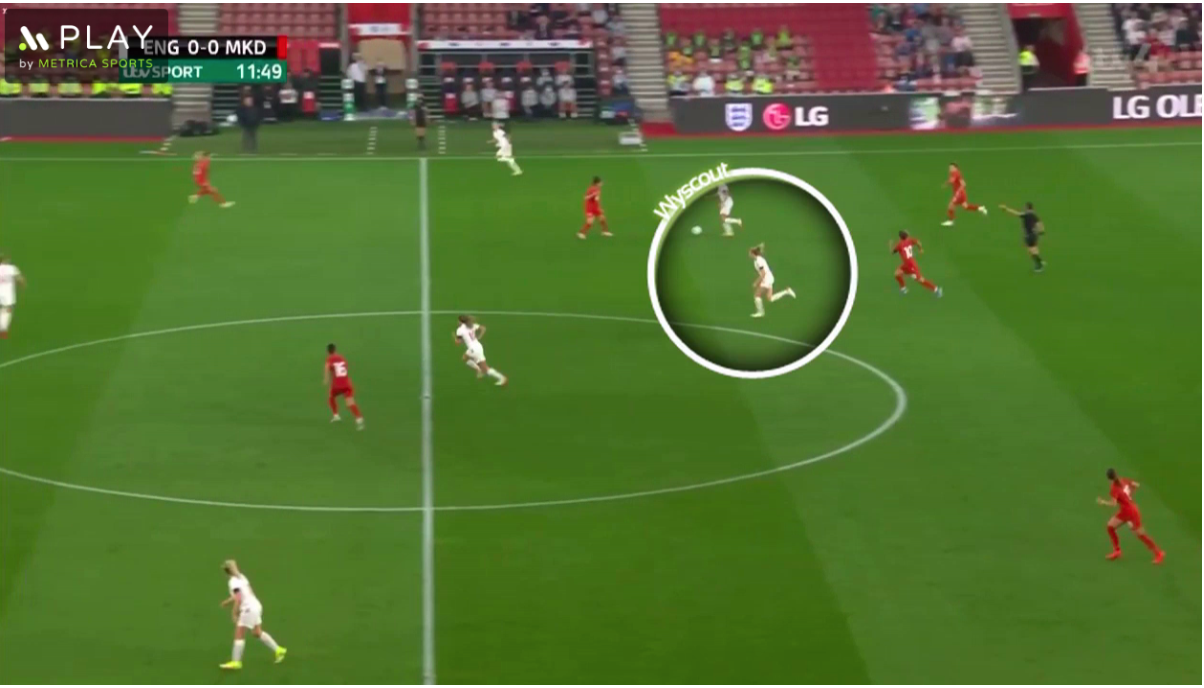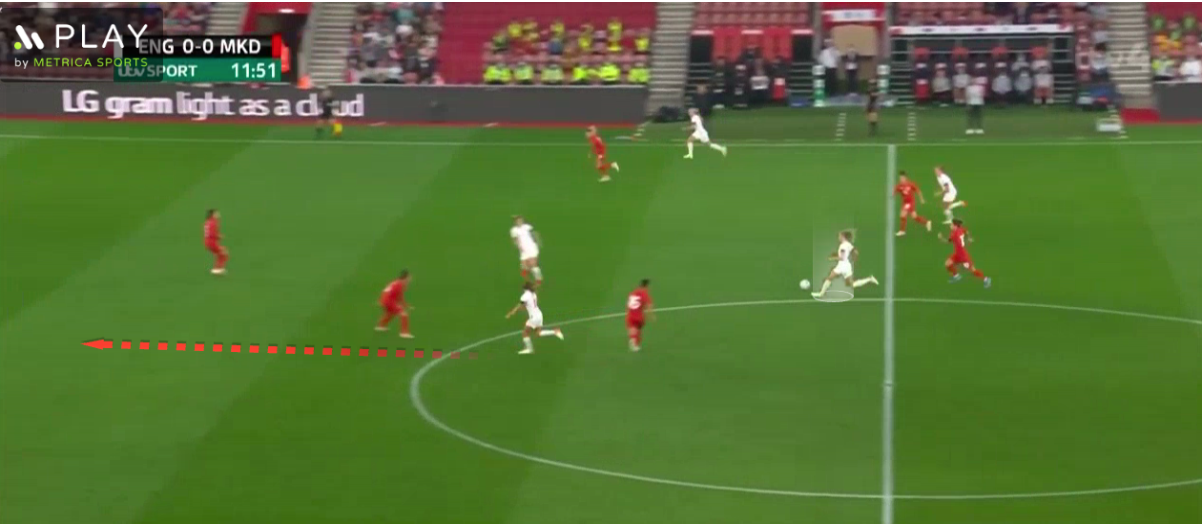 The video below is a compilation of highlights of Leah Williamson's game which demonstrates many of the points made in this article and shows how good of an all-round footballer she is. 
Leah Williamson is a prime example of why England have been such a threat at these Euros, even from central defence she proves to be an attacking threat, possessing a passing range that can cause chaos for opponents, a vision that allows her to play pinpoint passes whilst always being reliable and calm under pressure.
She has had a steady rise to the top, playing alongside legends such as Kelly Smith and Alex Scott has no doubt enhanced the leadership qualities that have seen her become England captain. She is without question one of the best footballers in England. At 25 years old she has the world at her feet and will likely go on to be considered one of the greats for both club and country. 
By: Bethany Limb / @bethlimb
Featured Image: @GabFoligno / Naomi Baker / Getty Images