Lena Oberdorf – The Young Midfielder Who Is Key For Club and Country
Few players have lit up a tournament the way Lena Oberdorf shone in Euro 2022. The 20-year-old announced herself on the world stage with her exemplary performances which were really at the heart of Germany's dominating displays.
She won the Young Player of the Tournament award as well as a multitude of fans with her willingness to do what could be considered the dirty work and marshal Germany's midfield, winning the ball back and using her expansive passing range to kick start the attacks. This article will take a closer look at Oberdorf's performances for Wolfsburg in the 2021/22 season and how they propelled her to become such a key player for her country at such a young age. 
Biography:
Name: Lena Oberdorf
Age: 20 Years 
Club: VFL Wolfsburg
Nationality: Germany
Position: Defensive Midfield / Central Midfield
Contract Expires: 30/06/2025
Data & Video Analysis – comparing Lena Oberdorf to Frauen Bundesliga defensive & central midfielders with over 900 mins played in 2021/22 (all data from Wyscout).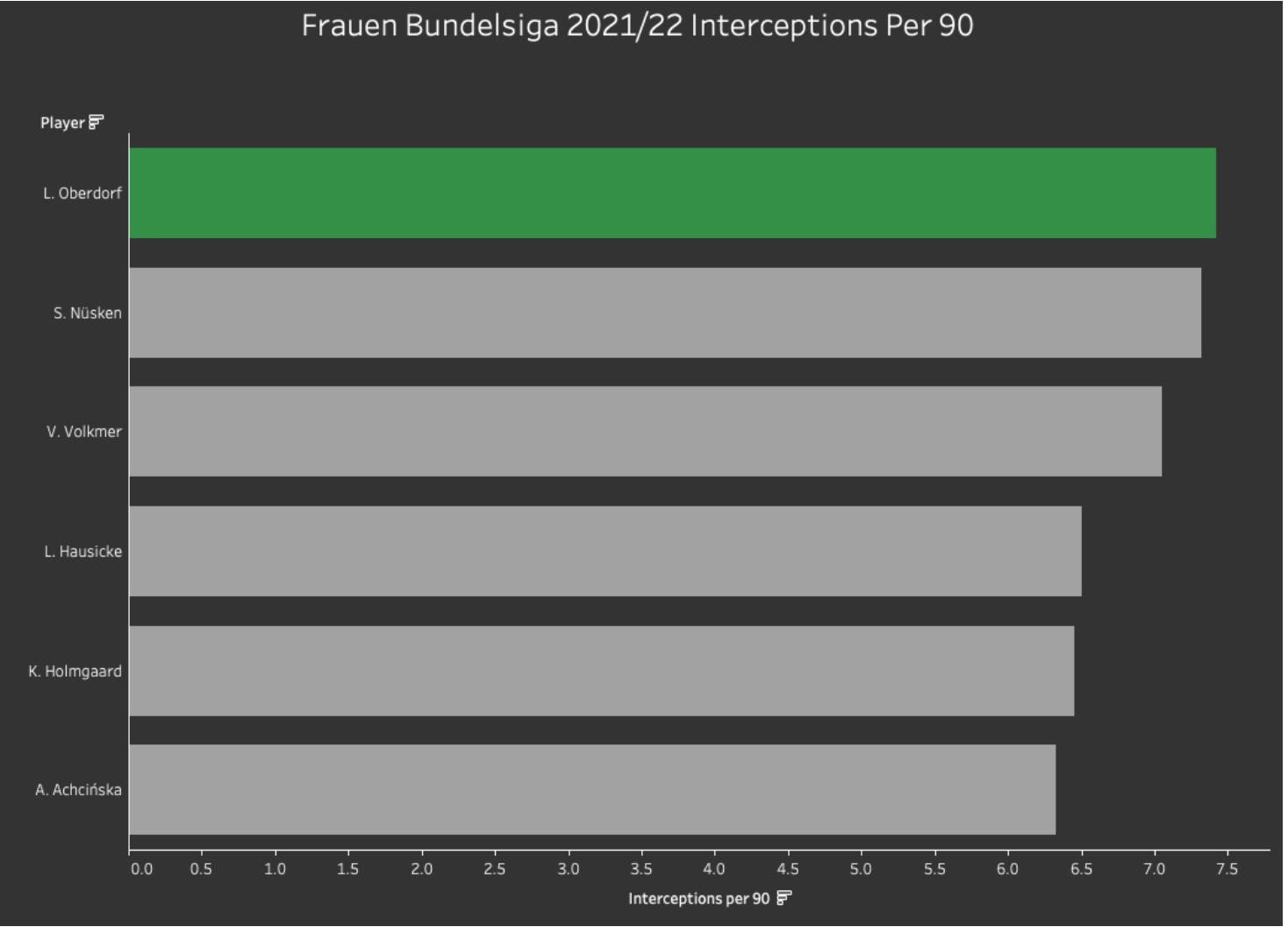 A key part of Oberdorf's game is her ability to read the play and step in to make key interceptions which often halt the opposition in their tracks. She ranks the highest for interceptions made per 90 with 7.4. This is a prime example of her intelligence as a footballer, she often gets herself in the right position to intercept passes in a calm and controlled manner. With that being said, Oberdorf is more than happy to engage in a tackle as demonstrated in the scatterplot below. She is physically strong and fast which enables her to bully her opponents off the ball.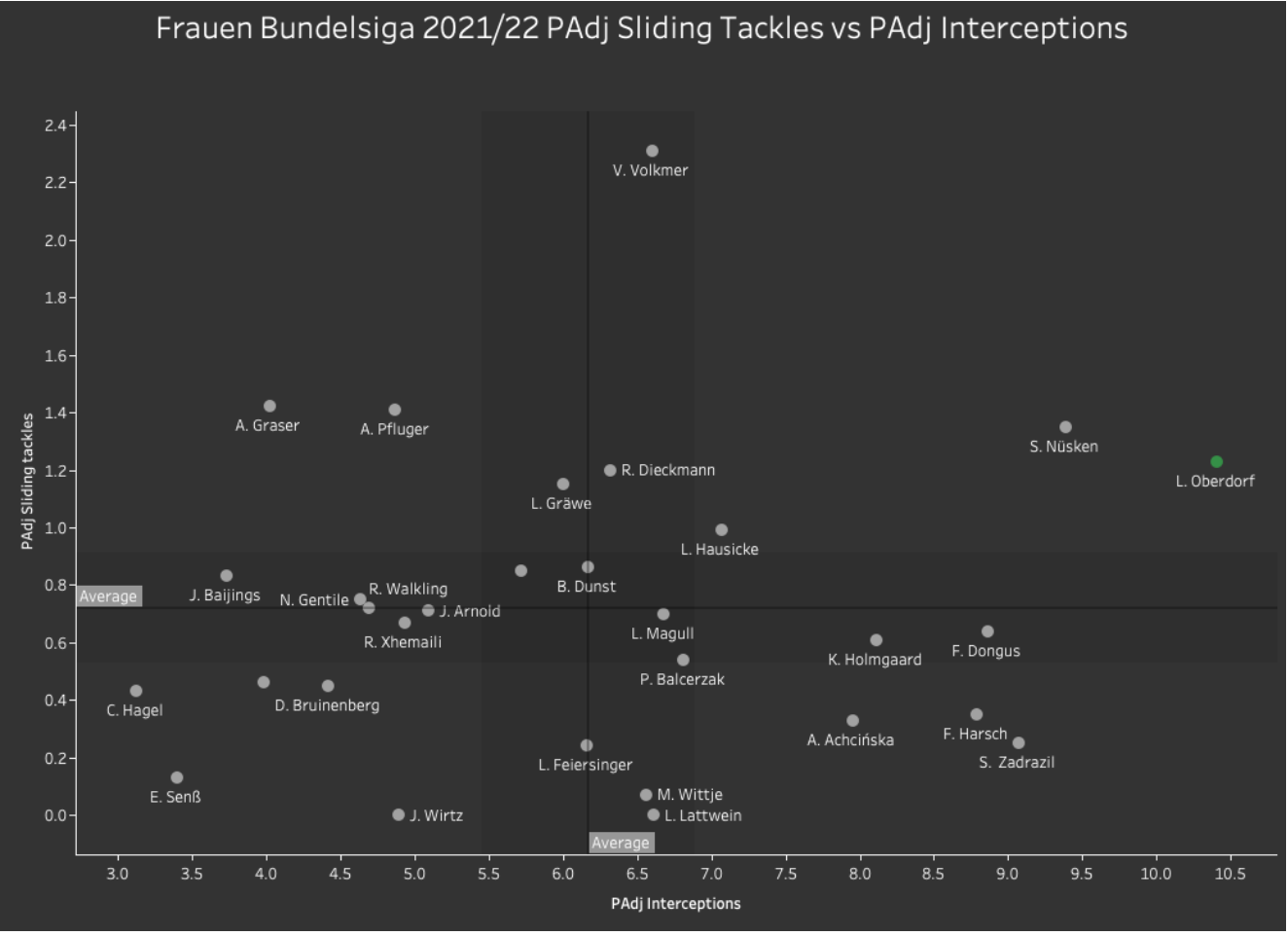 The Wolfsburg midfielder's strength is highlighted by her win percentage of duels, she ranks highest out of the sample set of fellow central and defensive midfielders in the Frauen Bundesliga. Her willingness to not only engage but also excel in the physical aspects of the game are what really stood out watching Oberdorf during the Euro 2022 competition. She was a huge part of ensuring Germany's gegenpressing was effective as she traveled all over the pitch blocking off passing lanes and dueling with the opponents.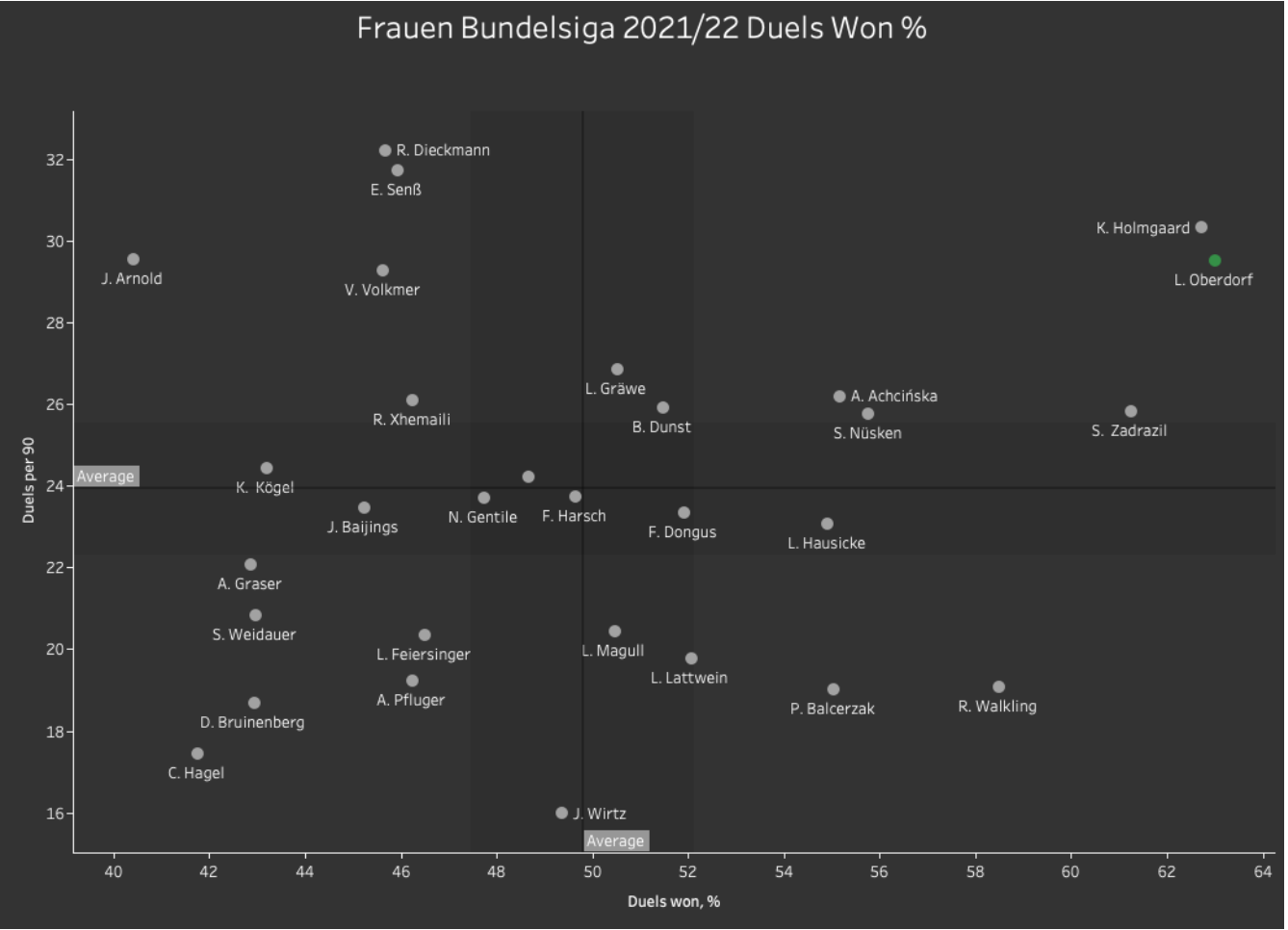 Oberdorf wins approximately 63% of all the duels she enters. According to Wyscout, she won 75% of defensive duels during the 2021/22 season which demonstrates how vital she was to Wolfsburg, she offers significant protection to the defensive line and as she is an incredibly athletic player, she is able to swiftly press opponents and battle for possession.
She also averages 14.43 ball recovers in her own half and over 16 in the opposition half which shows her ability to win the ball back high up the pitch to maintain the attack and prevent an opposition counterattack. Oberdorf's superb ability in defensive duels for both club and country can be seen in the video above.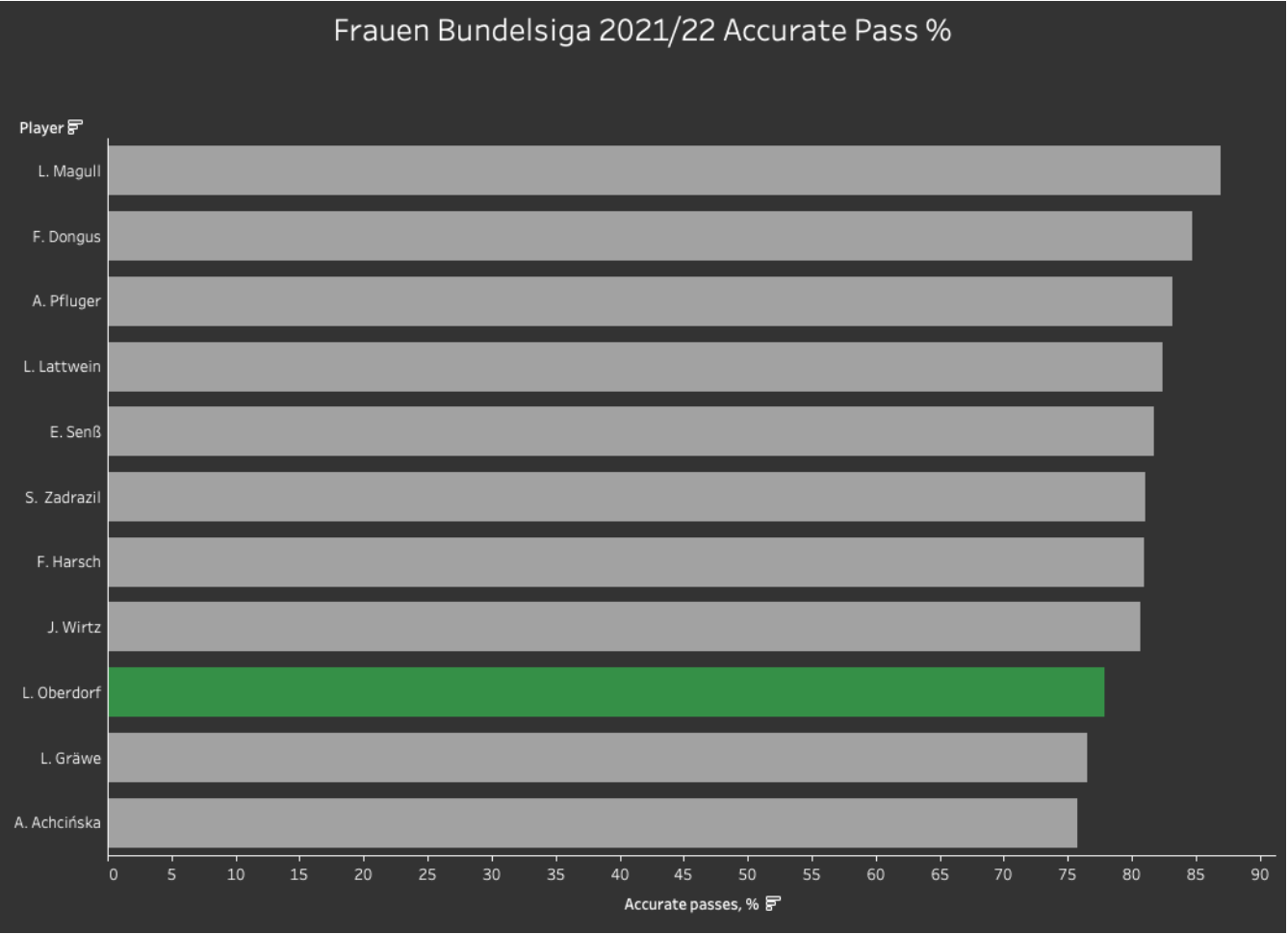 Another key part of Oberdorf's game is her phenomenal passing range, she is very comfortable playing long-range passes that kick start the attack but also shows great aptitude to know when she needs to play it short to maintain possession for the team. She shows great intelligence and willingness to take on responsibility despite her youthfulness as she is able to use her passing ability to dictate the tempo of the game.
Oberdorf ranks highest amongst her peers in terms of forward passes, this shows how integral she is for Wolfsburg in an attacking sense. She is always scanning the pitch, looking for the forward pass which could break through the opposition lines. Oberdorf's passing ability for both club and country can be seen in the video above.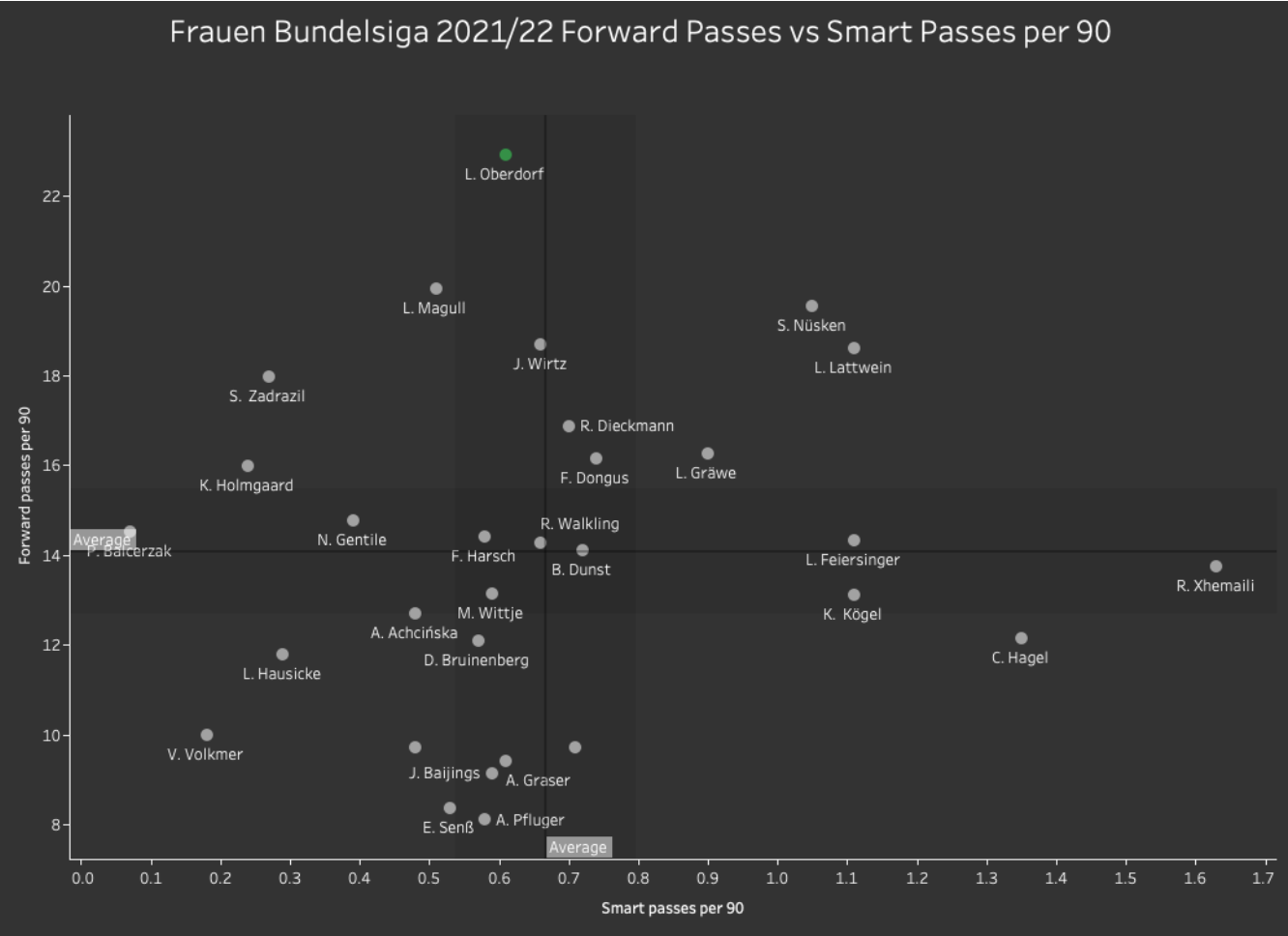 Oberdorf ranks highest in terms of the number of progressive passes made per 90. Averaging over 10 per 90 she is key to Wolfsburg's transition game, as she is always looking to move the ball into the final third. She is comfortable using either foot which enables her to stay calm when under pressure and carefully pick a pass to a teammate.
Lena Oberdorf does not offer much in the way of creativity as she averages an xA of 0.01 per 90, however, this is not why she is on the pitch. She averages 11.93 passes to the final third per 90 which shows that she is often involved in the attacking phase as she is usually the one who is playing the passes to the attackers.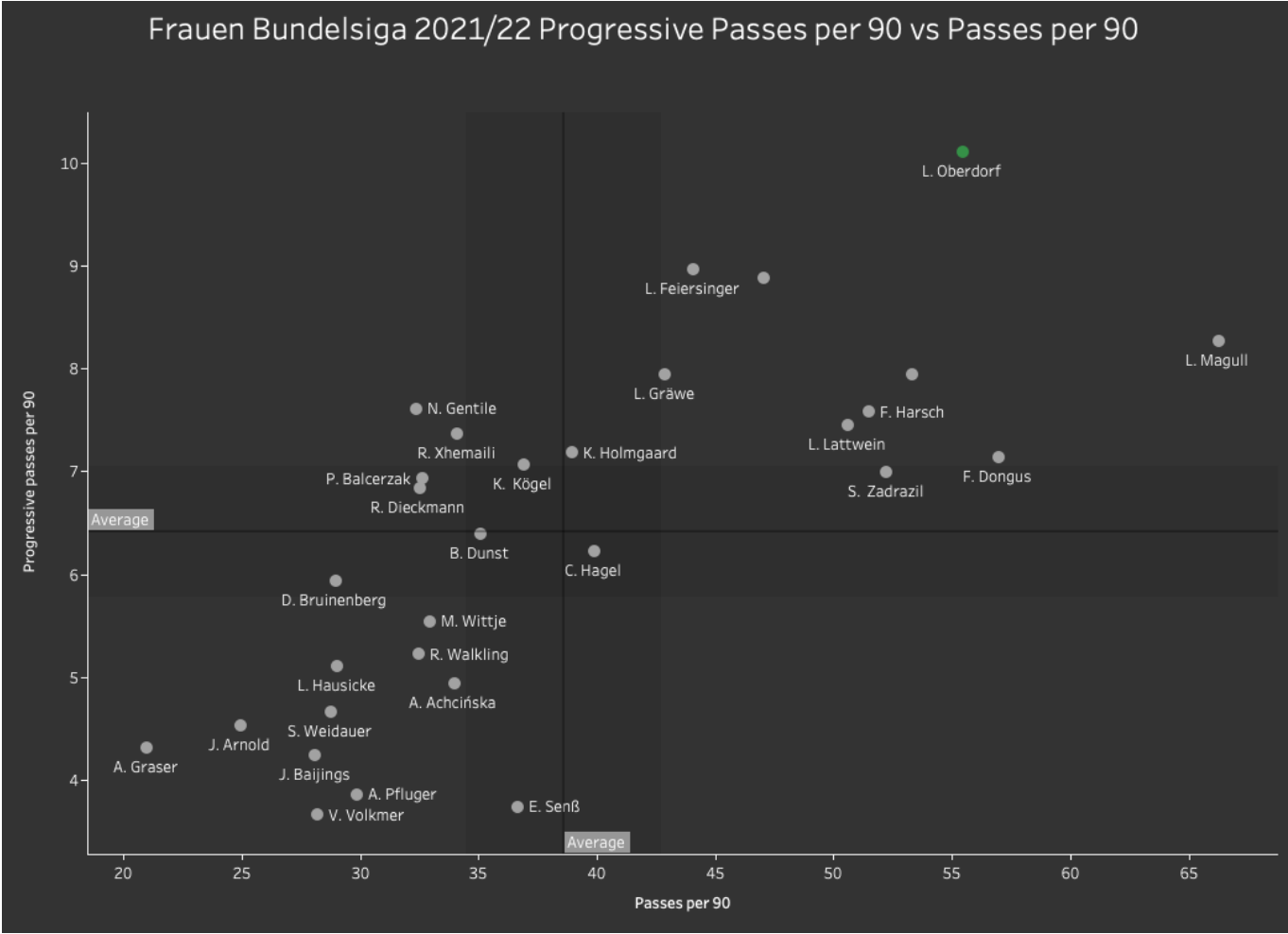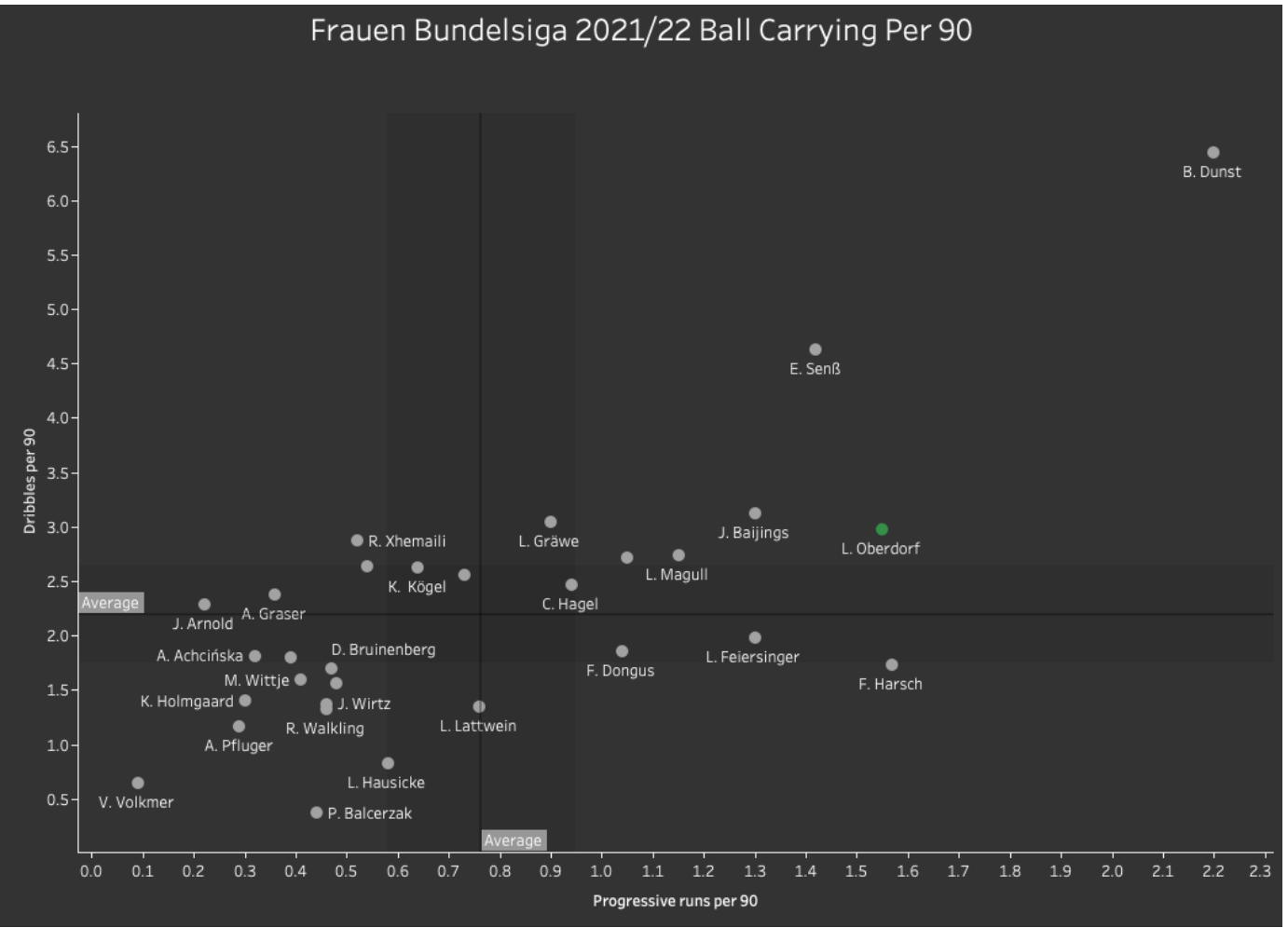 Whilst the young German is not the most prolific in terms of ball carrying, she still scores highly in both dribbles and progressive runs per 90. This goes to show that she is not just a physical player, she possesses great technical abilities that have seen her establish herself as a key player for both club and country.
She is very reliable in possession rarely making errors. She shows great calmness, this is very useful when the opposition press is in full flow as she is able to either pick a pass or dribble her way out of the press. 
At 20 years old, Lena Oberdorf has a long time ahead of her, already established at the heart of the German and Wolfsburg midfield, she will likely be there for some time to come. She has ensured that she is one of the first names on the team sheet for both club and country. Wolfsburg will be looking to re-establish itself as one of the top European sides and she could be key to that, whilst the German national team have a tremendous young player to build around.
With the World Cup taking place next year, Germany will be considered amongst the favourites and with Lena Oberdorf they have one of the best young players in the game who is capable of controlling games and not only ensuring the famous German press is effective but also able to play line breaking passes to bring her teammates into play. She is already a fantastic player, one of the best of her generation and her work ethic and intelligence mean that she is only going to get better. 
By: Bethany Limb / @Bethlimb
Featured Image: @GabFoligno / Marc Atkins / Getty Images