Leon Goretzka: The All-Action Pressing Machine
FC Bayern extended their gap atop the Bundesliga to 7 points over the weekend, beating RB Leipzig in a match that will surely see the 9th consecutive Meisterschale remain in Bavaria. In a tight affair that hung in the balance until the very end, it was a goal from one of Bayern's most reliable performers which ultimately made the difference: Leon Goretzka.
A player who less than 18 months ago was rumored to be on the chopping block has now flourished into an integral figure at FCB. Though his trophy cabinet speaks of a seasoned veteran, at just 26 years old Leon Goretzka has yet to enter his prime and continues to develop each season despite already performing at the absolute pinnacle of club football.
In this piece we take a deep dive into the Bochum native, looking at what makes him such a crucial figure for Bayern Munich's renewed title aspirations, and Jogi Löw's hopes of a successful farewell at this summer's European Championships.
Out of Possession
Whilst most player analysis' would start with a central midfielder's skill set in possession, the real talent of Goretzka lies in his work against the ball, initiating Bayern's efficient pressing scheme which proved key in winning their first European treble since 2013.
Whilst Goretzka is a decent 1v1 defender, making 2.50 tackles per 90 which land him in the 66th percentile for midfielders in the top five leagues, his true strengths lie in his capacity to intercept and sniff out danger. Always on the front foot, Goretzka's ability to latch onto opposition passes in the opponent's half means Bayern are able to quickly capitalize on a disorganized defense and set their rapid wingers into action with a quick through ball.
Of all central midfielders playing for a club in the top half of the Bundesliga, only Sebastian Rode makes more interceptions per 90 than Leon Goretzka, showing just how integral the German international is to instigating the now-famous Hansi Flick pressing scheme. Furthermore, Goretzka's 47 interceptions this season are far and away the most of an FCB player, with second-best Joshua Kimmich trailing his midfield colleague by a staggering 15. Goretzka's ability to read opposition passes and instigate transition moments is entirely unique in the Bayern side and a tool that few players can offer at such an elite level.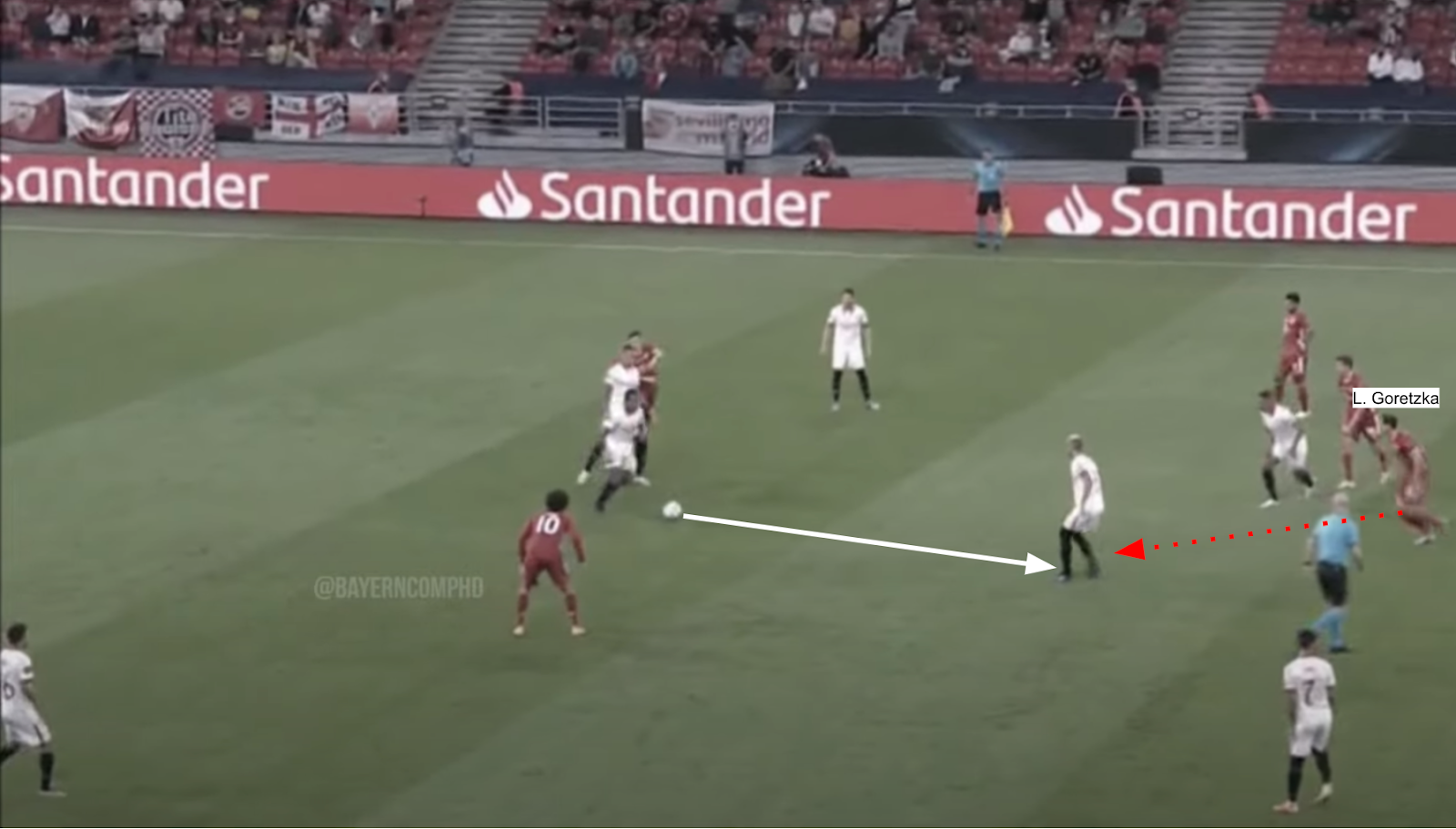 Goretzka, sensing that Jules Koundé will play his pass to Ivan Rakitić, is already on the move and ready to pounce.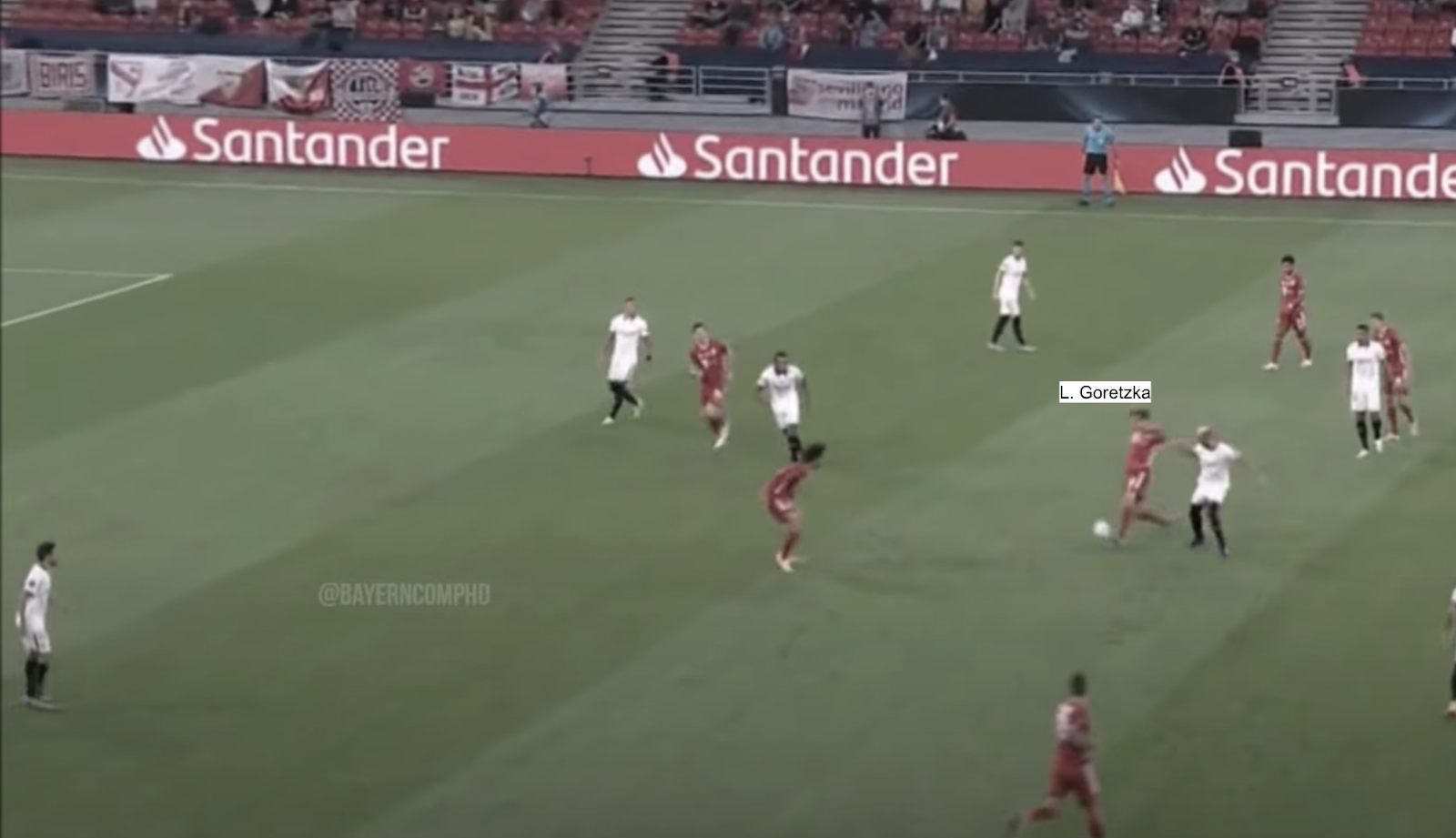 Goretzka gets a foot in, and now Bayern have possession deep in the opposition's half.
With more and more sides transitioning to a system that relies on quick transition moments, finding pressing outliers like Leon Goretzka is imperative for success. Without Goretzka's front-footed defending, Bayern's forwards would not be afforded nearly as many opportunities to exploit unorganized defenses, a foundation of the Bavarian's success over the past 18 months.
In Possession
Goretzka's interceptions and reading of the game are clearly his best attributes, however, one does not start for the reigning European Champions without the requisite technical ability on the ball. He is relatively safe in build-up phases, playing fewer line-breaking passes than his Spanish predecessor Thiago, and playing less of a foundational role in build-up phases compared to Kimmich.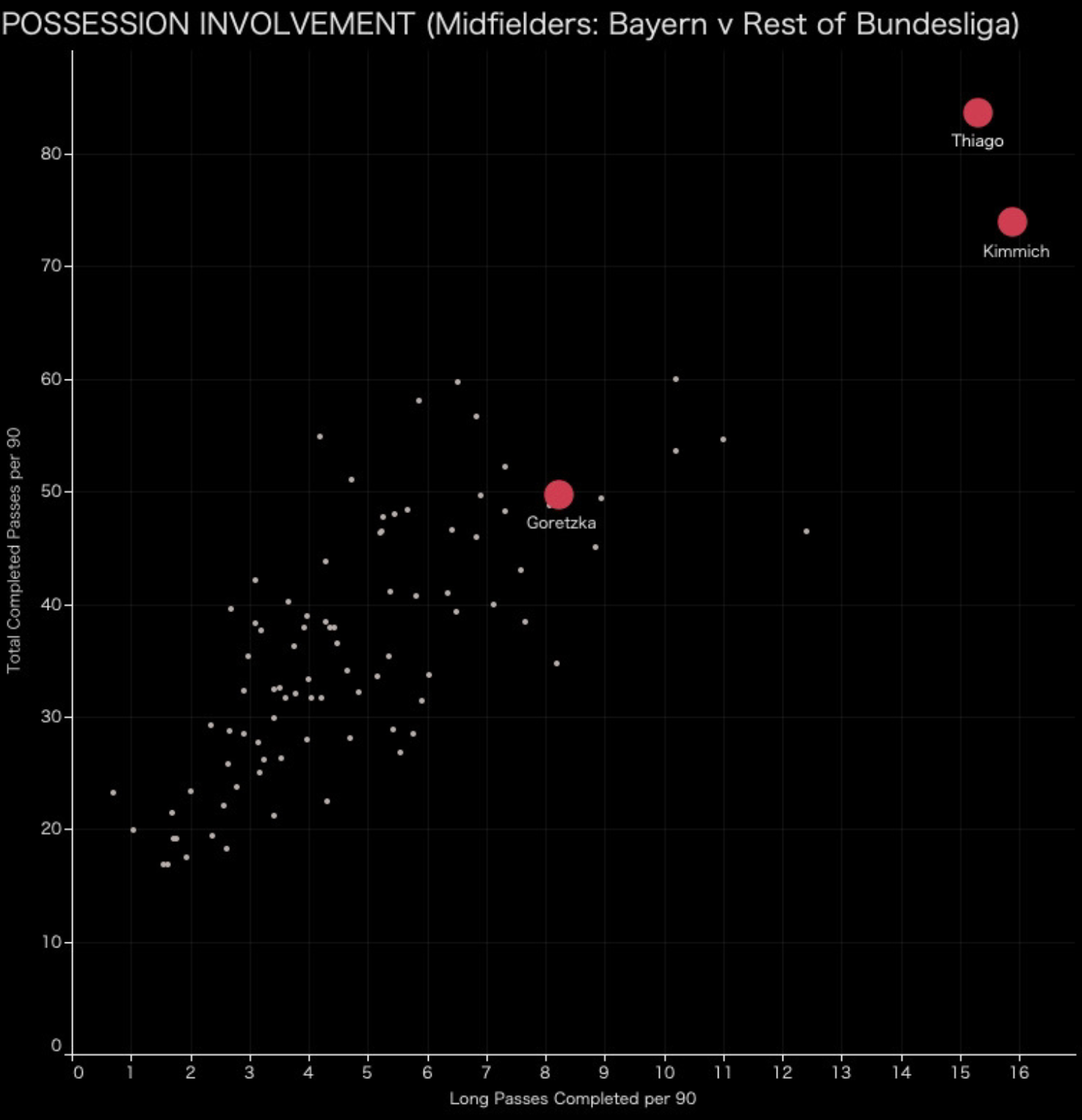 Whilst Thiago (2019-20), and Joshua Kimmich (2020-21) are by far the most involved Bundesliga midfielders in possession, Goretzka (2020-21) is very much in the average, failing to stand out like his Spanish and German teammates.  [@TomQuartly ]
Rather, Goretzka looks for possession further up the pitch, often forming a double 8 alongside 'Der Raumdeuter' Thomas Müller. There, Goretzka is able to pick up possession in pockets behind the opposition midfield, looking to turn and either commit an opposition defender, or slip in one of Bayern's attackers.
The 26-year old's actions are sharp and precise, not looking to hold onto possession and commit opposition pressure like Thiago does, but instead, provide quick link play to help Bayern bridge the gap to their attacking players who are capable of dazzling in the final third.
Goretzka's job is far from done when his teammate receives possession though, remaining in the attacking movement instead of slipping back into a defensive pivot alongside Kimmich. While this is largely done to offer an option for cutbacks, it also means Goretzka is right on-site to win back possession if Bayern's attack breaks down.
Whilst his decisions in possession are dominated by efficiency and speed, when Goretzka gets a sight of the goal he is a huge threat. Already this season Goretzka has registered 8 goals and 9 assists in all competitions, a testament to his ability to continue his runs into the box, or let fly from long range. His record at the international level is even more impressive, where he has registered 13 goals and 4 assists in 31 appearances, a direct goal contribution for the DFB Elf every 119 minutes.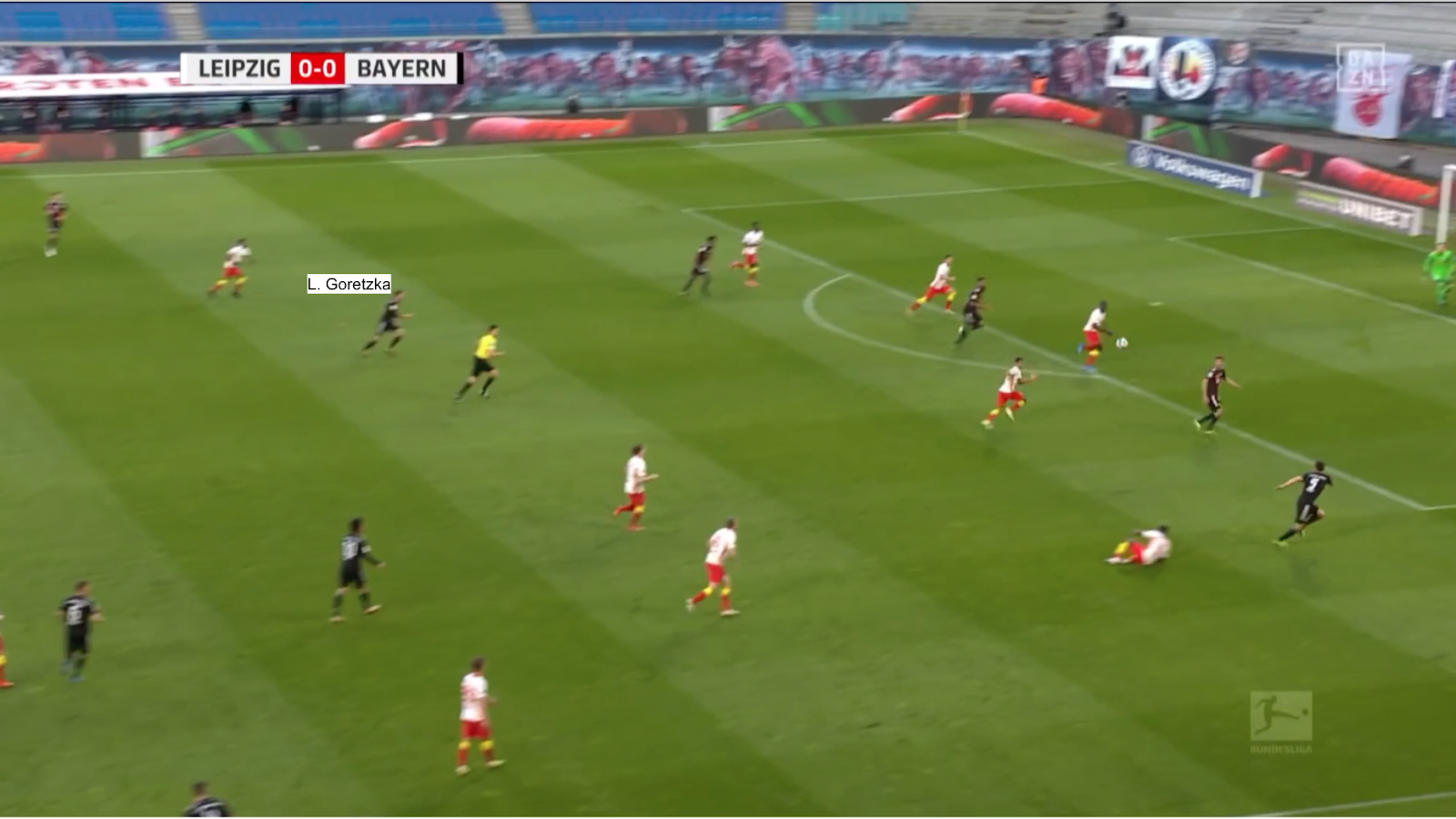 Goretzka most recently showed his goal-scoring prowess in Bayern's victory over Leipzig. Kimmich plays a long ball over top to Müller. Sensing that an opportunity for a cutback or rebound may present itself, Goretzka begins his movement towards goal in an unmarked pocket of the Leipzig defense.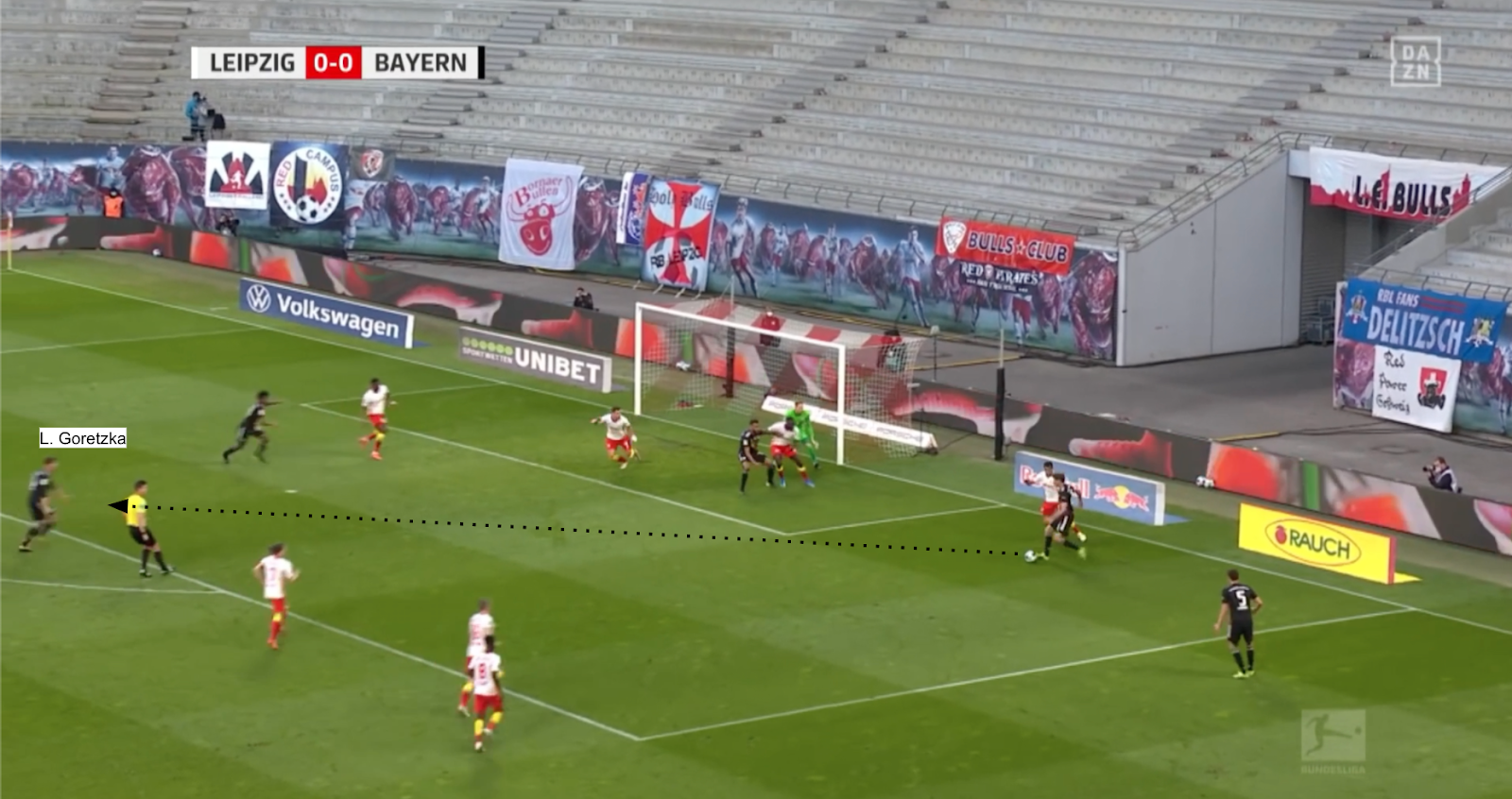 When Müller does ultimately look for a cutback, Goretzka is well-placed to fire home and put Bayern in front.
Leon Goretzka's first 3 seasons at Bayern have been more than eventful, winning just about every trophy imaginable, and blossoming into a player few envisioned when he arrived on a free transfer from Schalke in 2018. Whilst his first 18 months were marked by dips in form, and lengthy spells on the treatment table, since the arrival of Hansi Flick, Goretzka's career has been on a sharp ascendancy, earning the individual plaudits which have long eluded him at Bayern.
For Goretzka, the next big obstacle will be the European Championships this summer, a chance for redemption after the collective disaster in Russia 3 years ago. The opportunity to celebrate a major title with his nation is one of the few successes which still eludes FC Bayern's midfield engine and one which could finally cement Goretzka's status as one of the finest midfielders on the continent. 
By: Adam Khan
Featured Image: @GabFoligno / Andreas Gebert – AFP