Loïs Openda: A Shinning Light for Belgian and French Football
Talk of a global short shortage of goal-getters may well have been exaggerated if one dares to bask in the aura of a young striker making a name for himself in Ligue 1. Belgian Loïs Openda sent a shockwave through French football when scored and assisted another helping high-flying RC Lens to vanquish the behemoths of PSG at the turn of the year.
It felt like a power shift was happening before our eyes whilst a star was being born in parallel, since that faithful night, Lens have remained undefeated staying on the coattails of Christophe Galtier's charges. The 22-year-old full of bullish bravado has been a cornerstone of Franck Haise's relentless march up the table to the lofty heights of second place.
Lens are stalking the top of Ligue 1 with menace, inspired by a manager who is adept at maximising the talent at his disposal.  In essence, Openda could not be in more fertile grounds to grow and learn his trade, Haise has taken this club from the labyrinth of Ligue 2 to the higher echelons of French football in just two years.
Often underestimated but no longer underappreciated, Lens are one of the most astutely run clubs in Europe, not just France. When young Arnaut Kalimuendo departed for pastures new last summer after banging 12 goals last season in a very successful loan spell, wily Lens identified and annotated Openda to be his replacement. 
Full of pace and fresh off a season in the Dutch Eredivisie where he left friend and foe alike, gape-jawed at his magnificence after amassing 18 goals in 33 Eredivisie games, Openda cost just €10m, half of what Rennes paid to steal Kalimuendo away from Haise.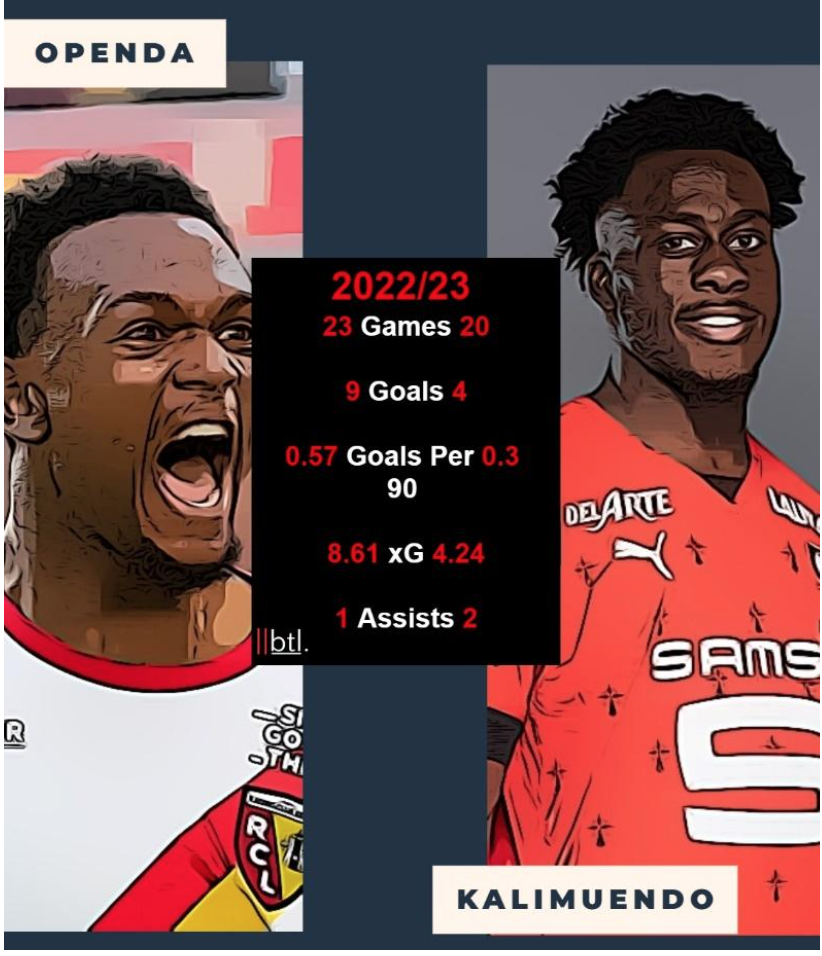 So far, the Openda acquisition appears to be another bit of shrewd transfer business no matter what happens for the rest of the season, the Belgian's arrival has ensured Lens, as they always do absorb player departures unscathed. Openda and fellow countryman Everton's Amadou Onana are the striking new names entering the fore for the Red Devils. 
The 'Golden Generation' may be over for Belgian football but in Openda that may well have unearthed another diamond. It took Openda just three games to find his stride in Ligue 1, helping his new employers with a goal when Lens mauled Monaco away from home 4-1 back in August, that goal heralded a run where he scored in four consecutive Ligue 1 games.
As with all youngsters, goals come in spurts, as they adapt to the rigours of a new league and home, Openda is no different when it comes to his acclimatisation in the North of France. He has gone games without impacting the scoreboard, but leeway can be given when you consider Haise has also utilised him as an impact substitute at times.
The hotshot has already smashed home a hat-trick when he bludgeoned home all three goals during a 3-0 routing of Toulouse back in October. What made his individual performance even more aesthetically pleasing was the fact the Belgian was only introduced onto the field in the 56th minute. 
Since returning to Ligue 1 in 2020, Lens have finished 7th in back-to-back years and emerged as one of the most entertaining teams in France under Franck Haise.

Today, we're taking a look at the players behind the resurgence of Les Sang et Or.

BTL presents: Under The Lens.

— Breaking The Lines (@BTLvid) July 3, 2022
His early season form in France, was too hard to ignore for Belgium and they whisked him away on their World Cup voyage to Qatar albeit as a bit of a wildcard. The World Cup experience was flirting on catastrophic for Belgian football but alas the experience for Openda would have only made the youngster hungry for more.
Surrounded by the embrace of seasoned established names and on the receiving end of mentorship from then Belgian assistant coach Thierry Henry would have provided the youngster with ample food for thought.  The Qatar expedition must have done him good because the goal that got everyone talking about him, was on his return to France against PSG in early January.
Not only did he help himself to a goal against the Parisians he also had the guile to produce a nonchalant back-healed assist as Lens roared to a 3-1 victory, cementing themselves in the eyes of many as genuine title contenders. Lens have very much embraced their status and taken an us-against-the-world mentality when it comes to dealing with the established order in Ligue 1.
It wasn't always this way for the youngster, his meteoric rise has had its challenges, cast aside in many ways by his parent Club Brugge and banished to Vitesse for a two-year-loan in Holland, many youngsters could have folded. Instead, Openda banged 29 goals during his fruitful spell in Dutch football, he made perfect use of the loan to revive himself.
Dry patches will come in the medium to short-term for this growing power, his thunderous start in French football though beckons the imagination to ponder what more could be in store for Openda when his skills further mature. The second half of the season for Lens and Openda could be reminiscent of a fairytale if they continue running amok with their highly elegant and effective 3-5-2 formation. 
 By: Liam Scahill / @LiamScahill
Featured Image: @GabFoligno / Sylvain Lefevre / Getty Images