Lucas Moura's Path to Tottenham and His Importance to the Lilywhites
If Lucas Rodrigues Moura da Silva did nothing else in his Tottenham Hotspur career except for that Champions League semifinal hat-trick in Amsterdam vs Ajax, he would still be considered a legend by the Spurs faithful. Thankfully for Lucas and the Tottenham community, the Brazilian has incessantly proven his value to the team, even (or especially) when his quality is doubted by others. 
Born on 13 August 1992 in the São Paulo municipality of Brazil, Lucas joined a lower-division local team, Clube Atletico Juvéntus at 7 years old. Lucas was born into a sporty family; his parents were big fans of football and desired to make Lucas a pro footballer, hence his early entrance into youth football. His natural talent and strength despite his size ensured he eventually progressed to the youth setup of one of the best clubs in Brazil, Corinthians at 10 years old. Fellow big club and regional side, São Paulo, was Moura's next destination at the age of 13, and it was O Clube da Fé that gave the tricky attacker his opportunity in the senior team.
Having made a name for himself at youth level with mesmerizing dribbles and rapid acceleration, Lucas was brought into the first team by interim boss Milton Cruz for the 2009/10 season at 17-years old. During his 3 seasons of regular football in the Campeonato Brasileiro, Lucas registered 34 goal involvements (19 goals, 15 assists according to Transfermarkt) across 74 Brasileiro appearances for São Paulo; which culminated in a call-up to the Brazil senior team and 10 senior caps in 2011 alone.
By the time Moura had gotten accustomed to the men's game, he was attracting interest from prestigious clubs such as Manchester United – who came close to signing him under Alex Ferguson – and Paris Saint-Germain, who won the race for the Brazilian's signature for about 43 million euros.  Whilst he never fulfilled his wunderkind potential at PSG (Lucas was often said to be just as talented as Neymar), Lucas' time in Paris often feels underappreciated. In his 4 full seasons with Les Parisiens, Moura never had less than 10 league goal involvements to his name at the end of each.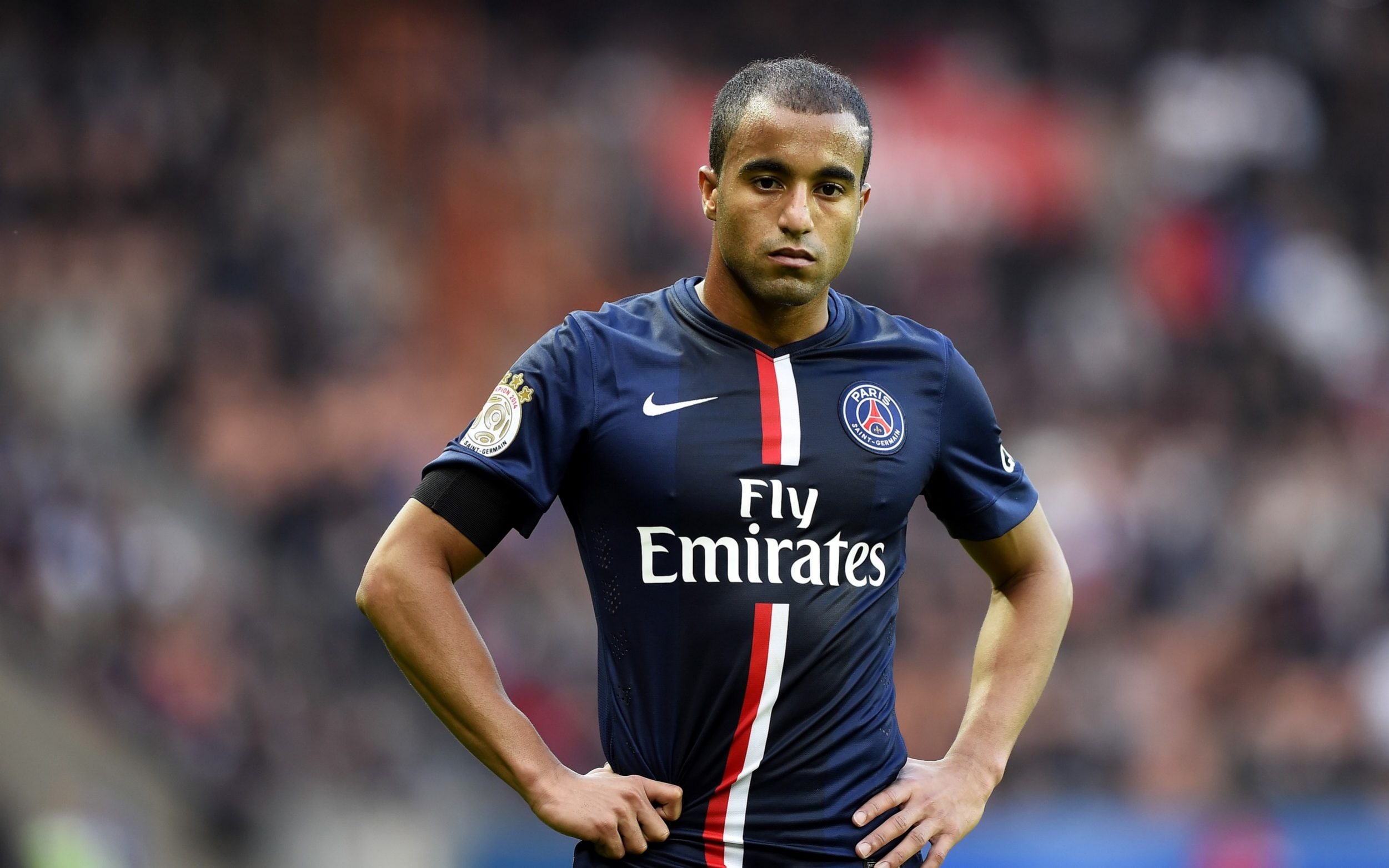 Photo: AFP
However, this final product failed to guarantee his spot in the starting eleven ahead of new signings Kylian Mbappé and Neymar in 2017/18. With no 2017/18 starts in all competitions by January 2018, PSG were willing to sell Lucas. With Manchester United under Lucas' future boss José Mourinho interested, the then-25-year-old instead opted to join Mauricio Pochettino at Tottenham. This article aims to analyze how Lucas has been used during his time at Tottenham:
Style of Play
During his 3 seasons of regular football in the Campeonato Brasileiro, The forward played in a variety of roles for his hometown team, usually being deployed as a right-winger or shadow striker. São Paulo, with over 5 managerial changes in this 3-year span, never had a consistent shape. Mostly playing in 3-5-2, 4-4-2 and 4-5-1 formations at such a young age, Lucas learnt to be adaptable across the attacking line. He even played as a #10 for São Paulo on occasion, hence why he has been so comfortable in that role for parts of 2020/21 for Tottenham. 
Lucas is a forward whose direct dribbling in addition to fantastic close control makes him a nightmare for opposition defenders in either tight spaces or open field. The Brazillian often combines his silky skill with frightening acceleration to progress the ball forward for his team, with a few players sure to be left in his wake. These progressive carries also ensure Lucas is fouled quite often as the opposition attempt to stop him in any possible way; handing his team multiple opportunities to create opportunities through set-pieces.
Defensively, Lucas is an attacker loved by most coaches due to his hard work and dedication for the team. When not using his pace to drive his team forward and frighten defenders; the diminutive forward is usually pressing high up the pitch in an attempt to force mistakes from the opposition and win the ball back in transition. This tends to works quite well (Harry Kane's goal vs Crystal Palace) or (Lucas' goal vs Man United) and has led to quite a few goals scored for Spurs.
The Brazilian's pace is well regarded, yet Lucas' general physicality often goes under the radar. His leap is impressive for someone who is 5 feet 8 inches, and his heading ability is on par with that of a typical #9. This athleticism makes it so Lucas can contribute in both boxes, either clearing the ball from his team's near post or converting a goal in the opposition net via the same position a la West Ham at home in '20/21. Moura's strength is also quite underrated.
The forward draws defenders in and can use his frame to shield the ball if necessary. This robustness in addition to his natural speed makes Lucas hard to stop when running at intensity, with his low center of gravity allowing him to turn and change direction quickly.
Most important of all his attributes is Lucas becoming a big game player in recent years. From scoring those goals vs Ajax to regularly netting vs the top sides in the English Premier League, Lucas has illustrated his mentality and courage on multiple occasions for Tottenham. His poacher's instinct also tends to reveal itself in these games, most likely developed from playing Shadow Striker for São Paulo in his younger years.
Consistency is something Moura has struggled with in his European career, with hypnotizing displays one week being replaced by aimless dribbles and sloppy passes the next. This often frustrates fans and coaches who recognize the amount of talent available to Lucas. At times, he lacks awareness of what's happening around him or where his teammates are.
This then leads him to run into cul-de-sacs of multiple opposition defenders, losing the ball in the process. He can pick out a man with passing, but his passing accuracy has always left a lot to be desired as seen below in his time at Tottenham. His pass completion only cracked 80% with very few minutes, with the data indicating Lucas isn't one to keep the ball moving and in control for his team, according to FBref.com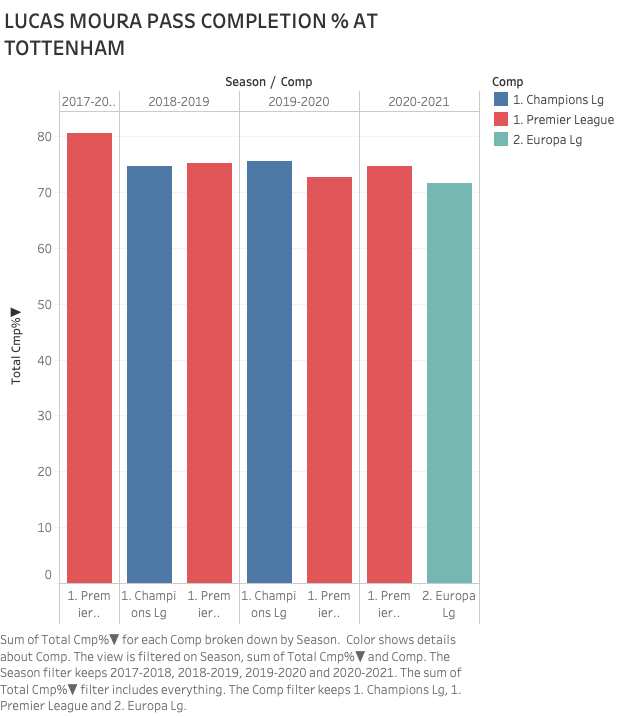 Lucas has always contributed his fair share with regards to goal involvements, yet has never stood out as either a prolific goalscorer or an elite creator. He's capable of doing either or both at any given moment, yet neither has been done regularly enough for such a label to stick. The Brazillian attacker who is blessed with physique, speed and skill has certainly improved over time, and his career can't be ridiculed in any form. Yet, it could be argued that Lucas never fully reached his potential.
His Role for Tottenham Under Pochettino
Under Mauricio Pochettino, Lucas was used sparsely initially as he arrived midway through '17/18 and had to become accustomed to the demanding, pressing style of the Argentine tactician. The Brazillian only started 5 games for Tottenham, with 2 of those coming in the EPL. When Lucas did play, he was used on either wing in his first half-season in England and allowed to move deeper or infield when the same-side fullback pushed higher up the pitch.
Lucas would either move into zone 11 to get hold of the ball and drive forward; or move in the channels between defenders in order to receive a pass and attempt to score a goal. The former is illustrated below, as the orange spots indicate where most of his activity took place (zones 11, 12 and 14). Lucas could also maintain his width if deemed necessary, such as when the fullbacks tucked infield.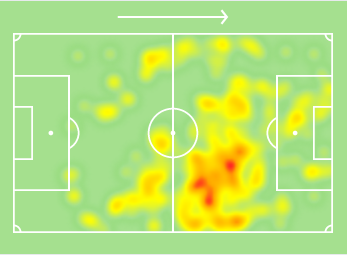 Lucas Moura's 2017/18 FA Cup heatmap (60% of starts came in the cup) [SofaScore]
Lucas' first goal for Spurs illustrated some of these elements. As seen below, the Brazilian, on the left side having swapped flanks with Heung-min Son, dropped deeper to receive the ball as LB Danny Rose pushed high past the halfway line.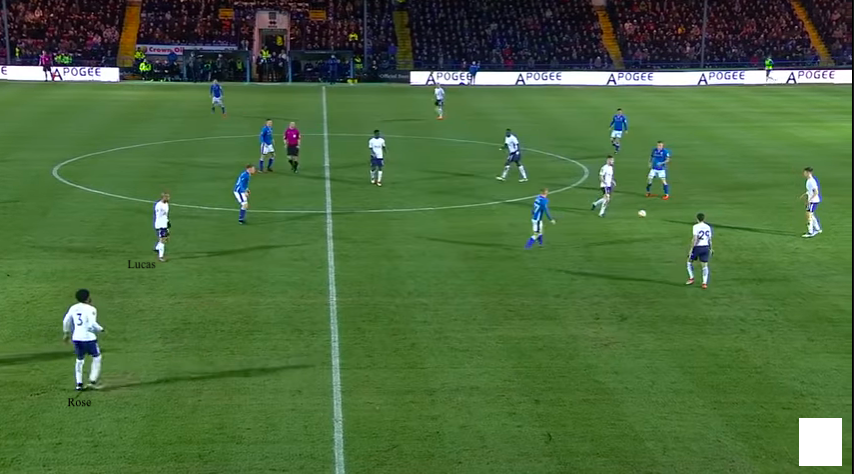 After receiving and progressing the ball with a pass forward to break the Rochdale midfield line, Lucas continues his run into the channel between defenders, noticing the gap between Rochdale RCB and RWB due to Rose being so high up the pitch. This results in a goal.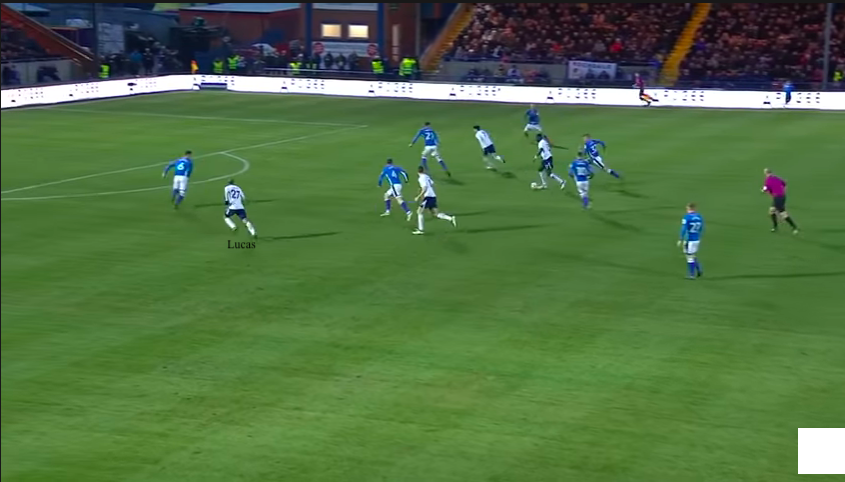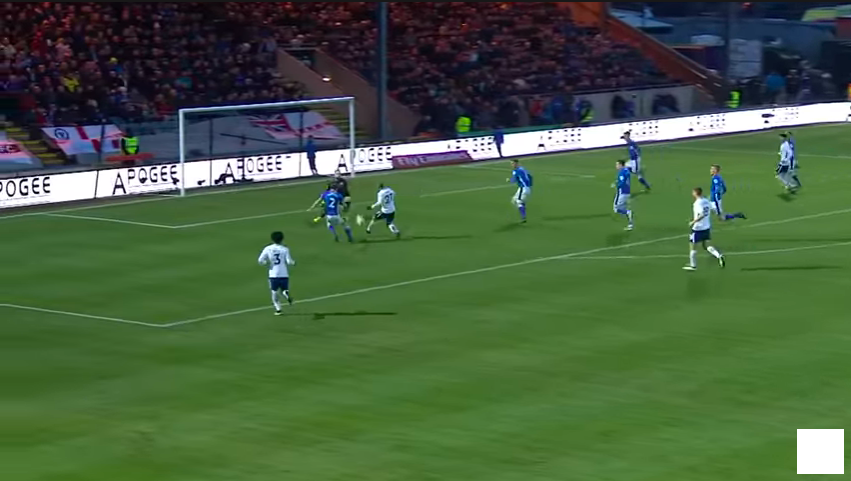 Having survived Pochettino's fabled rigorous preseason, Lucas began the 2018/19 season as one of the first names on the team sheet, starting the first 5 EPL games.  At this point, the Argentine coach began to feel comfortable using the Brazilian in various ways; either playing him on the wings, alongside Kane in a two-man strike partnership or even as a lone striker if Kane was rested or injured.
Tottenham under Pochettino at the time tinkered with 4-man and 3-man backlines with a diamond midfield in front of the defence. This meant 40% of Lucas' game time in 2018/19 came in a striker role for Tottenham, illustrating his changing role.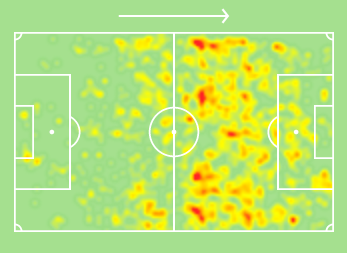 Lucas Moura 2018/19 EPL heatmap. More touches in the box, activity on flanks as he still played LW/RW [SofaScore]
The Brazillian was now tasked with making runs into the penalty area on a regular basis, getting on the end of crosses and harrying opposition defenses into making mistakes close to their own goal. He ranked 5th in Tottenham's '18/19 EPL squad for touches in the opposition box, with 5.42 per90.  Amongst the Spurs attackers to play 1000+ league minutes, Lucas ranked 3rd for tackles per 90 as well, with 1.4 tackles per90.
Playing as a shadow striker akin to his early days in Brazil, Lucas would position himself according to Kane's movements i.e. dropping between the lines when Kane made a run in behind, in case the gap widened between opp. midfield and defence, this led to his 1st goal vs Manchester United in August 2018 as seen below. He would also ghost into the box as a winger, when the same-side fullback ventured forward.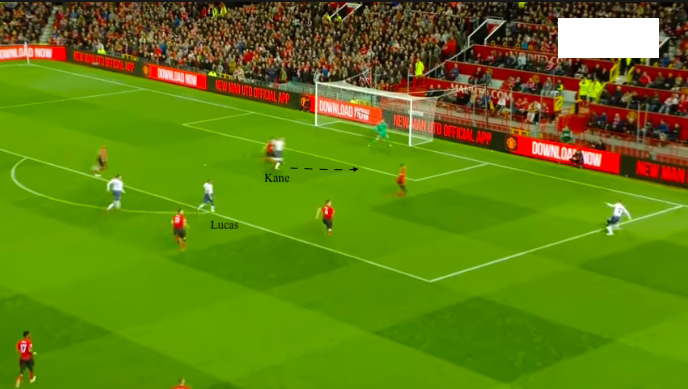 Lucas was imperious for Tottenham from the start of this season till Pochettino's unfortunate sacking in November 2020, with 11 goal involvements in the UCL and against the EPL top 6 in this period. Ranking in the top 5 in the '18/19 Spurs squad for dribbles attempted and completed (3.52 per90 had him 2nd, whilst 1.86 successful led to 4th place in the squad), his changing roles for the team didn't take away his inherent qualities. Lucas was improving as a player; however, he could still go months without a goal involvement after periods of good form. 
Arguably Lucas' best season at Tottenham ended with 15 goals in 37 starts in all competitions, with the pick of the bunch being those 3 goals against Ajax whilst playing as the sole #9 with Harry Kane injured. Whether he should've started the UCL final will always be up for debate, but Lucas' form and work ethic up until then certainly warranted a chance to do so. However, 2019/20 coincided with poor form Tottenham carried over from the last season, as well as less certainty over Lucas' place in the team.
The forward only started 4 of Tottenham's first 12 EPL games before Poch got the boot after 6 EPL wins in Spurs' last 24 games. Whilst the Argentine was in charge, he continued to use Lucas fluidly; either as a winger in his favored 4-2-3-1 formation, an inside forward in a 3-4-3 or a 2-man strike partnership in a 4-4-2 diamond. His lack of consistency in the team only brought about 3 goal involvements before the change in manager though; and certainly coincided with Tottenham's poor form.
Role for Tottenham Under Mourinho
José Mourinho replaced Pochettino a few hours after the Argentine was given his marching orders; and this appointment brought expectations of a change in playing style for the team, from a more intense and forward-thinking side to a more consolidated, counterattacking one. This has occurred, and is illustrated in the PPDA of Tottenham between 2016/17 and 2018/19 averaging 8.13 Passes per defensive actions (how many passes the opposition team was allowed before Spurs attempted to win the ball back via duels, tackles interceptions or fouls.)
This put them in the top 3 for pressing in the EPL in each of those seasons. In 2020/21, Mourinho's first full season, Tottenham have dropped to 10th in EPL PPDA, with 11.68 passes per defensive action, according to Understat. Moura himself in '20/21 is still tasked with pressing opposition players and forcing mistakes, but it often seems as if he presses individually with the team either not on the same page or not given similar instructions.
This tactic has still borne fruit for Spurs though, and has led to a few goals this season i.e. Bale's 1st goal against Palace. It also means he ranks top for Tottenham attackers in terms of tackles and tackles won (2.15 tackles per game at 64% success)Positionally, Lucas was primarily played on the flanks during Mourinho's half-season of '19/20, but also deputized as the #9 10 times between December 2019 and March 2020 due to Kane's hamstring injury then.
Playing in a 4-3-3, 4-2-3-1 or a 3-5-2, whilst on the flanks, Moura was allowed fluidity in positioning when on the ball, along with the other attackers. He could often be seen in central areas when Kane found himself wide (seen below), or on the other flank after swapping with Son.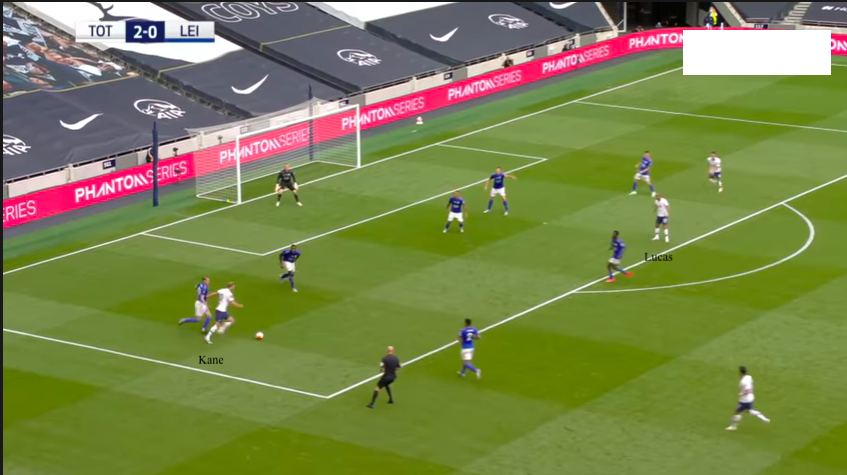 As a sole #9, Lucas played as a poacher, searching for excessive space between defenders to convert a goal-scoring opportunity when not in between the opposition post and two center-backs. In a two with Son in the 3-5-2, one of the pair would drop deep to link play whilst the other would stay on the shoulder of the opposition defensive line as seen vs Middlesbrough in the FA Cup.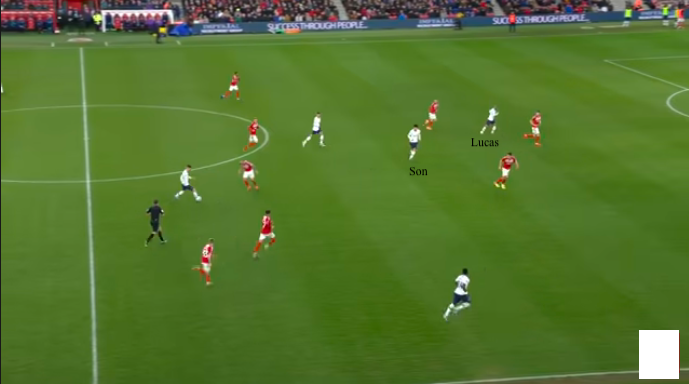 Lucas seemingly earned his manager's trust in '19/20 and vice versa, with Lucas' 9 goal involvements with Jose coming in 30 starts from a possible 34 games. As opposed to 4 starts in 12 and 3 goal involvements under Pochettino that season, Lucas was evidently thriving under the new boss.
In the current season, Mourinho initially played Moura as a proper winger until the 2nd half of the season. Moura's positional change to the #10 first occurred in the 2-0 home win vs West Brom; this positioning at #10 usually comes about when Erik Lamela plays on the right side but also occurs with Gareth Bale on that flank. Lamela and Moura usually swap positions when they see fit, with Lamela's tendency to cut onto his stronger left foot meaning Lucas usually covers the right side as he is right-footed.
However, when Moura remains central, he often drops into central areas in zones 5 and 8 where can commence the counter-attack. The forward usually uses his still-present pace and acceleration to carry the ball forward for his team (ranked 3rd in Tottenham for progressive carries p90, with 6.15) when Tottenham have dropped deep as illustrated in their 2-0 victory against West Bromwich Albion on February 7.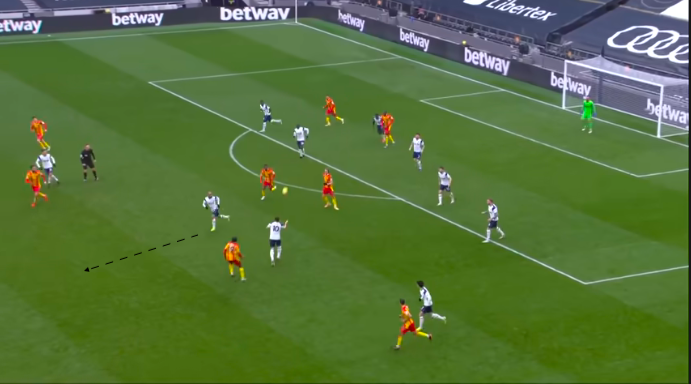 Kane opened the scoring shortly after the break, and four minutes later, he was the instigator of the second goal. Pierre-Emile Højbjerg does well to clear a tepid cross from Romaine Sawyers, heading it out of danger and into the path of the English forward, who chests the ball towards an onrushing Moura.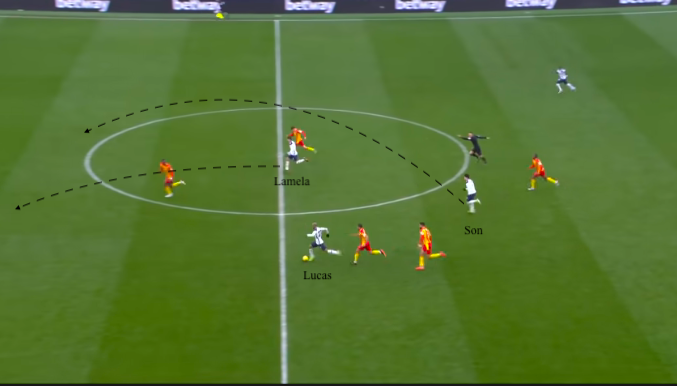 The Brazilian breezes past Lee Peltier and Kyle Bartley with his raw speed, as Son and Lamela's runs stretch apart West Brom's retreating defense. He cuts inside as he approaches the edge of the box and slides in the pass to Son, who places it past Sam Johnstone in epic fashion.
Lucas' run from zone 5 to the opposition penalty box took ~7 seconds, which just further illustrates his importance to the current Spurs team. Mourinho clearly sees the attacker as an avenue through which his team can transition as quickly as possible from defence to offence.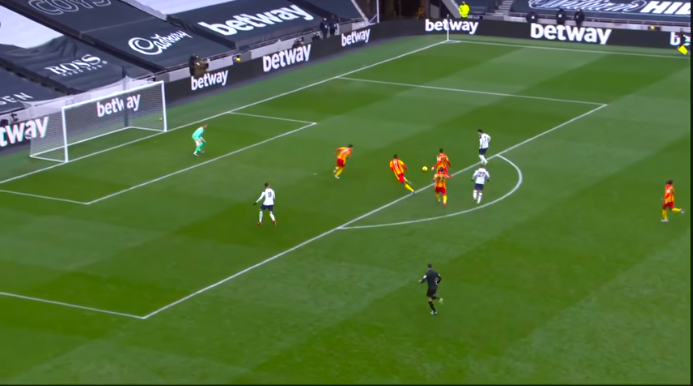 The Brazillian doesn't always drop so deep though; he can often be seen going beyond Kane when the striker instead comes deep to get the ball. This usually puts the opposition defence in a dilemma if Kane is being man-marked, as this means Lucas will inevitably find gaps in the defence if one of the centre-backs stays tight to the England international.
For Kane's first goal in Spurs' 4-1 win against Crystal Palace on March 7, Lucas' run pushes the Palace line backwards and creates space for Son between the lines. Kane, deeper in zone 14, could've passed to Son to score but went for the goal himself instead to make it 3-1.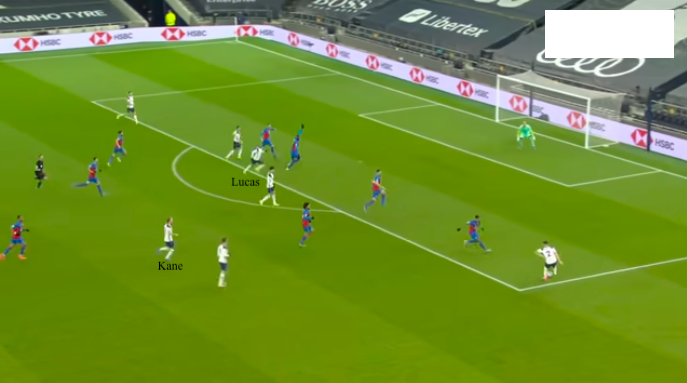 Christian Benteke's goal shortly before halftime saw Tottenham take a slim 2-1 lead coming out of the break following Gareth Bale's early brace, but they padded the scoreline in the 52nd minute via a goal from Kane, who once again engineered the attacking move with a pass to Moura, who quickly shuffled it off to his South Korean teammate. Son quickly found Bale, who turned around and played a pass to Matt Doherty on the edge of the box.
Whilst Sergio Reguilón, Son and Højbjerg waited for passes in and around the box, Lucas was making a run in between Gary Cahill and Cheikhou Kouyaté with the sole intention of unsettling the defense. Doherty opted for the easy pass to Kane, who launched his first-time shot from zone 14 all the way past Vicente Guaita into the top left corner of the net. Kane would later tap in the fourth and final goal from close range, capping off an excellent combination play between Son and Lamela.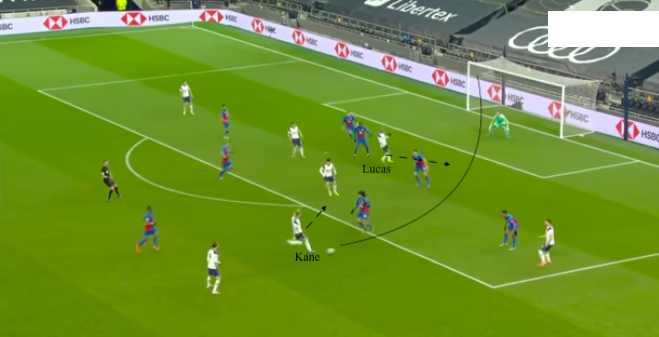 Lucas also aids his team in terms of drawing fouls and killing the momentum of the game when necessary. As he is more central now, he often has more space to run into after beating a man or receiving the ball between the lines than he would on the wing. As he is hard to stop when in full tilt, opposition players do whatever is necessary to stop his progression. Hence, Lucas is easily the most fouled player in the Spurs team, with 3.08 fouls per90, almost 1 whole foul more than the second most fouled, Tanguy Ndombélé (2.49). 
When he can't be stopped, this draws in defenders and opens up space for other players as illustrated in Son's goal vs WBA above. Lucas is so integral to this Tottenham team's attack and defence; he also drops just behind the opposition midfield line when possible in order to receive a line-breaking pass and carry the ball forward at pace. He is a player adored by his coach and team, but seems to always be somewhat underappreciated by fans who still see him as a failed wonderkid.
Conclusion
With Lucas Moura turning 29 in August, Tottenham and Daniel Levy have a decision to make regarding his future. His contract doesn't expire until 2024 according to Transfermarkt , so the urgency for a decision isn't present. If José Mourinho leads Tottenham into the 2021/22 season, it's fair to assume that Lucas will not leave this summer as the Portuguese coach clearly sees Moura as part of his plans. 16 goal involvements from 25 starts this season is certainly nothing to dismiss and illustrates the Brazillian still has much to give to the Lilywhites.
If Mourinho continues to play him in the #10 role, it will surely be exciting to see Lucas continue to evolve his game as he gets older and wiser. He had played there for his hometown club so it certainly isn't completely new to him, but it has given him a new lease of life just as Tottenham fans began to question his quality. Moura is no stranger to doubts though, and his mentality will ensure he continues to dispel them.
By: Aanu Omorodion
Featured Image: @GabFoligno / Clive Rose – Getty Images