Luis Sinisterra: The Colombian Winger with the World at His Feet
Name: Luis Sinisterra
Age: 22 years
Club: Feyenoord
Nationality: Colombian
Position: Winger
Preferred Foot: Right
The Colombian winger is enjoying his best season in terms of goal scoring for Arne Slot's Feyenoord. As he begins to make a name for himself, many T5 clubs are beginning to sit up and take notice of the 22 year old. Using data from various sources such as Wyscout, Instat and Soccerment this article will look at where he excels and the areas where the young winger could improve his game. 
Sinisterra is a tricky customer who operates primarily on the left wing, cutting inside onto his favoured right foot as shown by his heat map. He very often receives the ball just inside the opponent's half and then drives into space to push his team forward.
His speed, dribbling ability (successful in 60.2% of his dribbles this season) and quick feet mean that his teammates often utilise him as a ball carrier.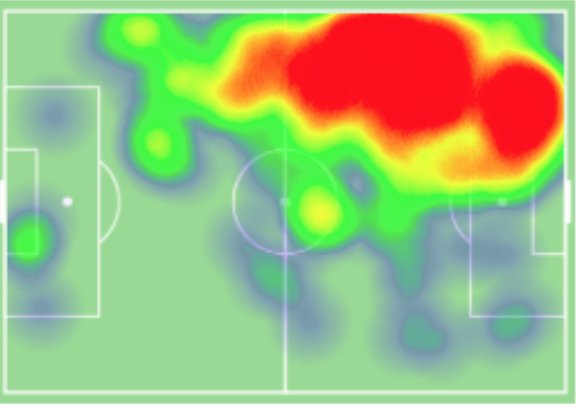 The winger has been at the heart of everything good for Feyenoord this season, with 24 goals and 13 assists at the time of writing. His improvement under Arne Slot has been exceptional and his creative output has become fundamental to the team.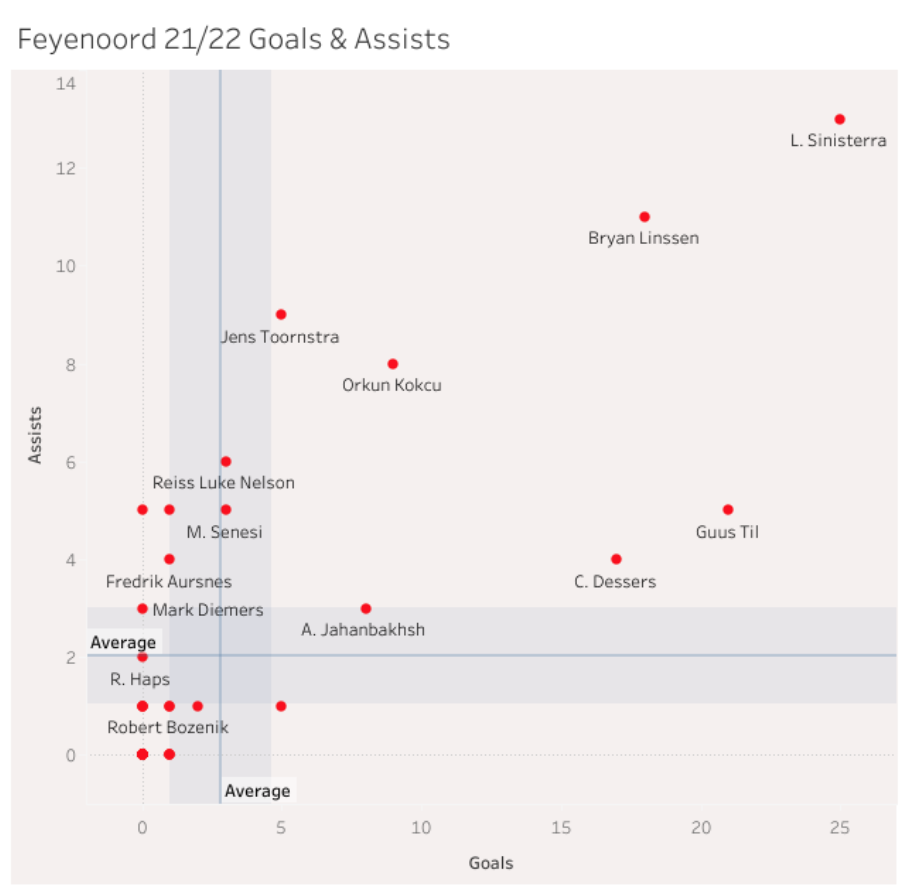 Sinisterra leads Feyenoord's assist charts this season; his passing has been remarkably accurate this campaign, so it is hardly surprising that the majority of his assists are via the medium of through passes.
In terms of crossing, this is where the Colombian could improve, with only a 35% rate of accurate crosses this season and very often not crafting a single accurate cross in some games.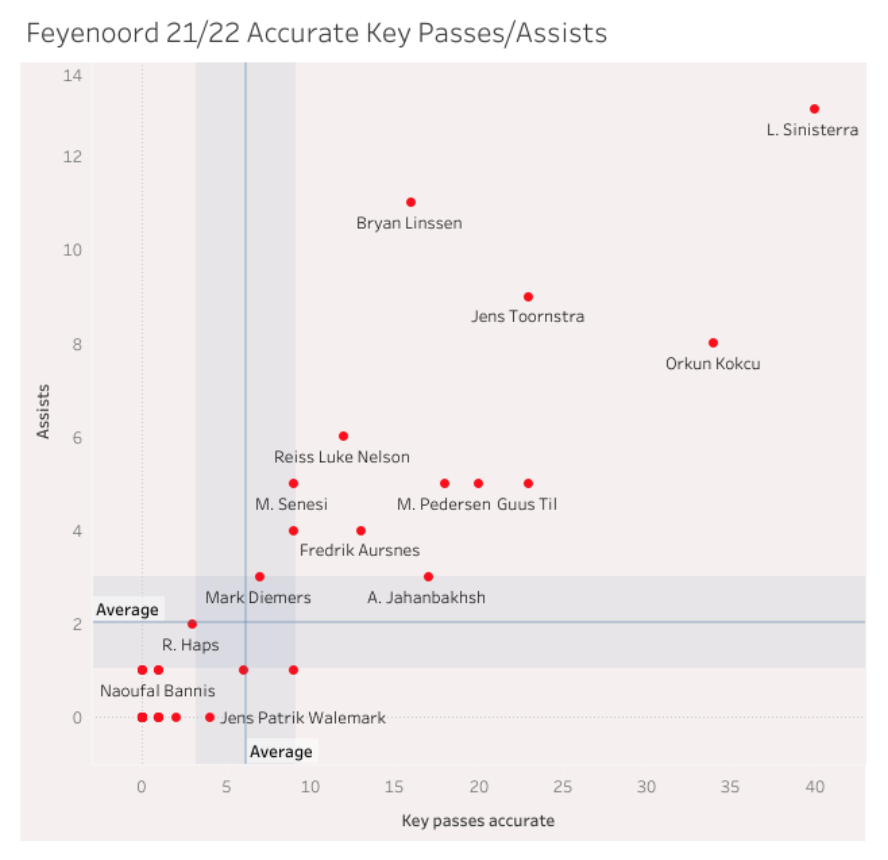 According to Soccerment, Sinisterra has better dribbling, heading and overall attacking ability than Ajax winger Antony and the two are mostly even in terms of defensive ability and passing.
This must be part of the appeal to clubs who are looking at signing the four-time Colombian international. Transfermarkt states that Antony has a current market value of £31m while Sinisterra's is just over £16m, the latter is arguably the better deal when comparing the stats.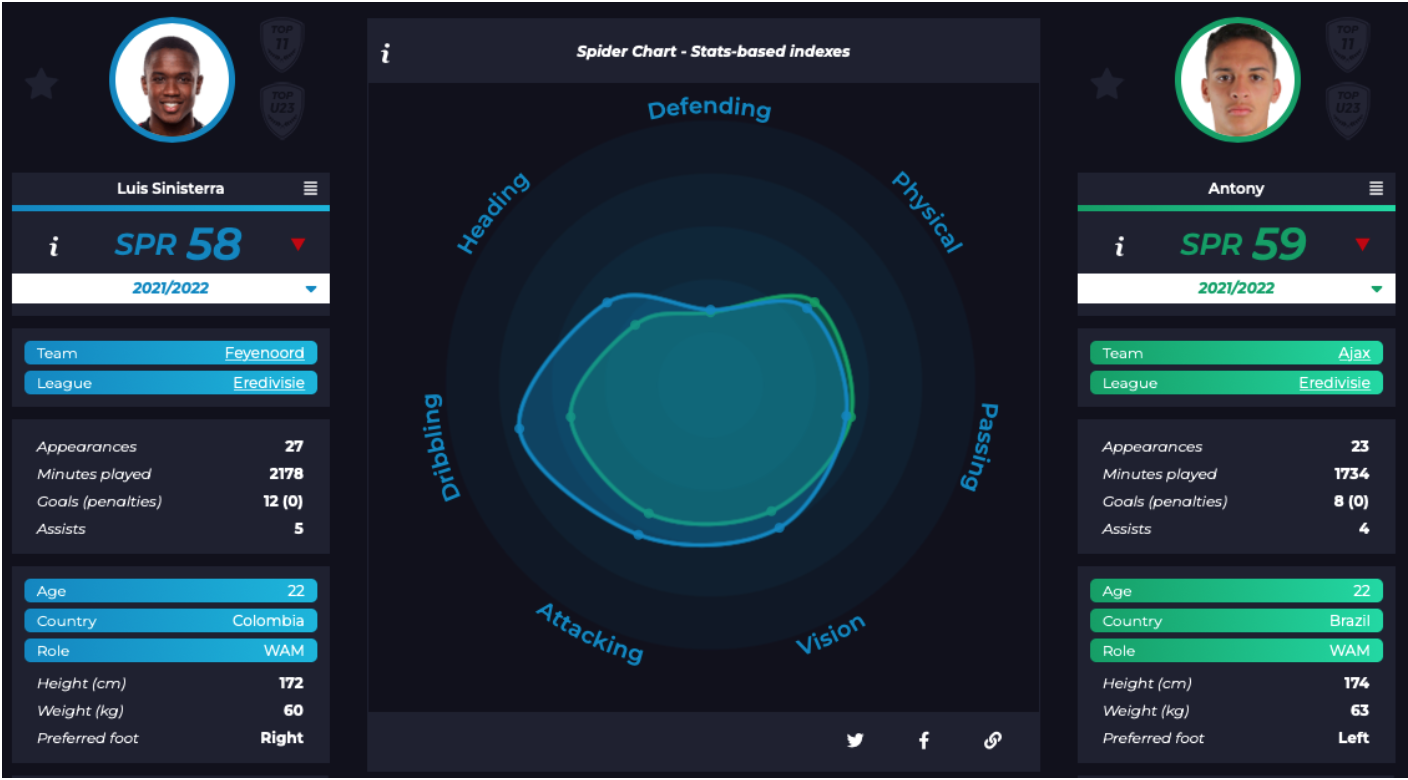 It would be wrong to not acknowledge the defensive work of Luis Sinisterra, what has become especially noticeable under Arne Slot, with 119 interceptions made this season he has good anticipation and is able to break up the play. This is accompanied by a 59% success rate in his tackles – data from Instat.
This demonstrates a good attitude and desire on the pitch with some tenacious defensive work for his team. This kind of mindset will be another key factor in making the teams from T5 leagues sit up and take notice.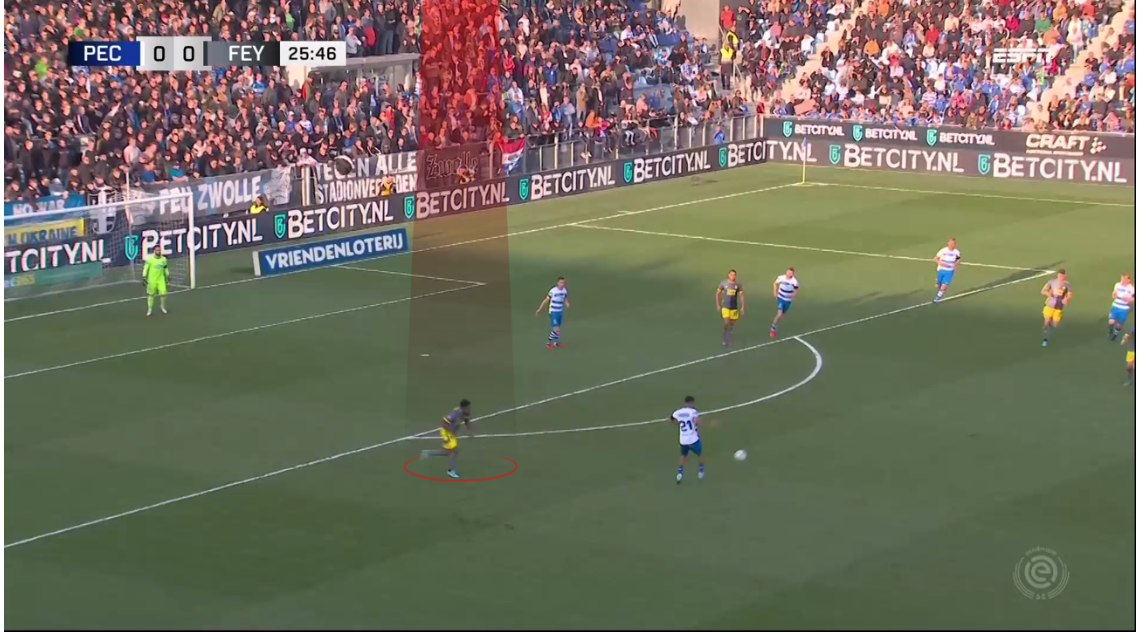 The above image is a good example of Sinisterra's defensive work, the opponent is yet to intercept the ball and he has completely changed direction and his charging the defender down in order to try and regain possession. He then hassles the defender and wins the ball back high up the pitch so his team can launch another attack.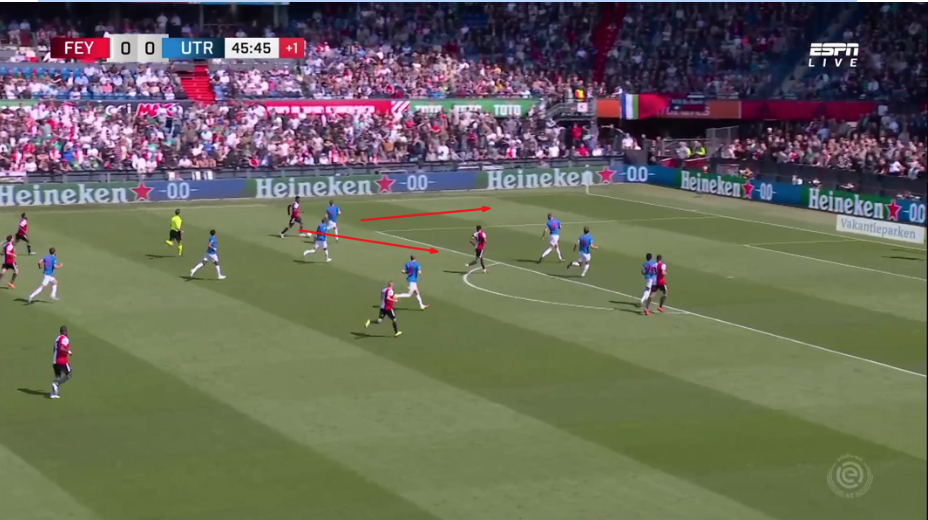 The above image is a good demonstration of his desire to constantly cut inside, he has space to run into down the line however he opts to cut inside onto his right foot. In this case that proved to be the wrong decision as the sheer number of players meant that Sinisterra lost possession.
There is a risk that his play could become very predictable, making it easy for defenders to know how to stop him so making a few more runs down the line would alleviate this and could lead to some more crossing opportunities for his team.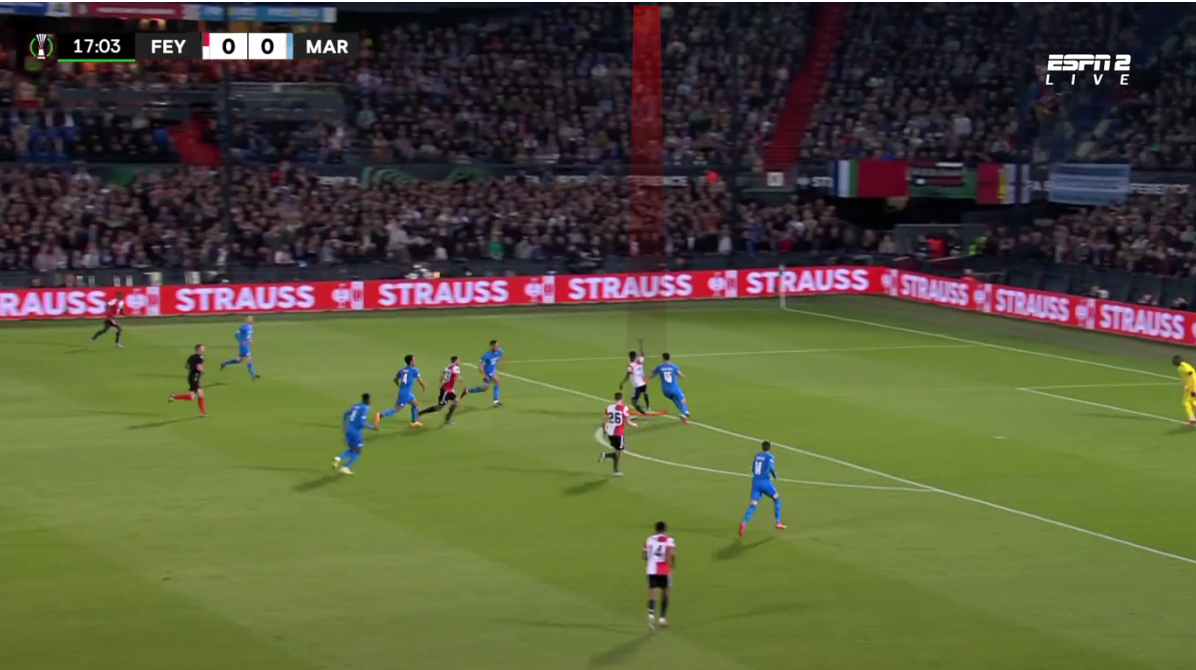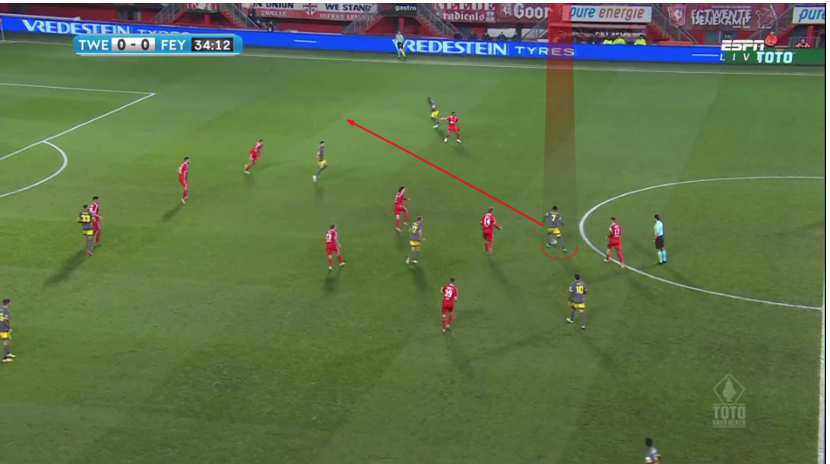 However, there are plenty of instances where Sinisterra acting as an inside forward pays dividends, such as the image above. He sits narrow, receives the ball, turns, and holds it up then executes a pass into the on-running Dessers, who scores. 
Here is another example of him acting as a playmaker in the centre of the pitch. He has good awareness and vision and is shaping up to play in the right winger.

Sinisterra is enjoying his best season in terms of goal output; the above images display where on the pitch his goals are being converted from. A high percentage from inside the penalty area, most towards the left side as expected.
His zone shot map shows that he is very eager to shoot from central areas, with most shots being in zone 14 yet looking at the goal image, few of these shots are converted into goals.
With 24 goals from an xG of 13.4 the explosive winger is really exceeding expectations this season, his average of 3.81 progressive runs per game this season has proven essential in providing an attacking outlet for Feyenoord. 
Overall, the Feyenoord winger has excelled himself in this campaign, as well as hitting new heights with his level of creativity, his explosive pace, confidence, and work rate mean he has become a vital part of the team under Arne Slot, therefore it is no surprise that he is being linked with a move away from the Eredivisie.
At only 22 years old there is plenty of time for improvement in his game but for now it certainly seems as though Luis Sinisterra really does have the world at his feet.
By: @fmbeth94
Featured Image: @GabFoligno / ANP / Getty Images