Lutsharel Geertruida: Feyenoord's Dutch International Linked With Barcelona and Leipzig
Lutsharel Geertruida is a 22-year-old defender from Rotterdam, Netherlands. Spotted by local rivals Sparta, Geertruida developed in Sparta's academy, before switching to Feyenoord at youth level. He progressed through the age groups, playing for the u19s before making his full first-team debut at 19, during the 19/20 season.
He has made ~20 league starts in the last three seasons, starting 29 of 34 league games in Feyenoord's 22/23 title-winning campaign. Geertruida was initially used as a right back this season (19 games) but played a key role as a centre back (17 games) following an injury to Gernot Trauner. He also saw minutes on the right side of a double pivot.
Geertruida's positional flexibility not only helps the manager's selection but allows Feyenoord to mix up possession phases as he can move and operate in a variety of areas. In Feyenoord's 4-2-3-1/4-3-3 system, the right back, right CB, right DM triangle is key for escaping pressure. Geertruida's ability to play all three of these roles allows him to rotate comfortably with his teammates while having the tactical empathy that comes from playing their roles.
Here we see two instances of Geertruida's broad positional knowledge coming through. In the first, he is positioned as the RCB in a back three while in possession. Seeing the space open on the edge of the box, he moves inside his man to exploit the space. In the second instance, he finds himself around the opponent's box centrally.
While he would typically be outside the box, on the right side during the possession phase, he comfortably creates the space his teammate can exploit, while isolating his marker in a pocket inside the box. This spatial awareness is rare in a centre back, but allows him to play in central midfield or wide as a fullback without hampering his team's creativity.
With the fluidity of modern formations, players able to play complementary roles are becoming highly valued. Possession-based sides are commonly using a wide back three in possession, allowing the wide CBs to control possession. They are becoming the most important players in the possession phase.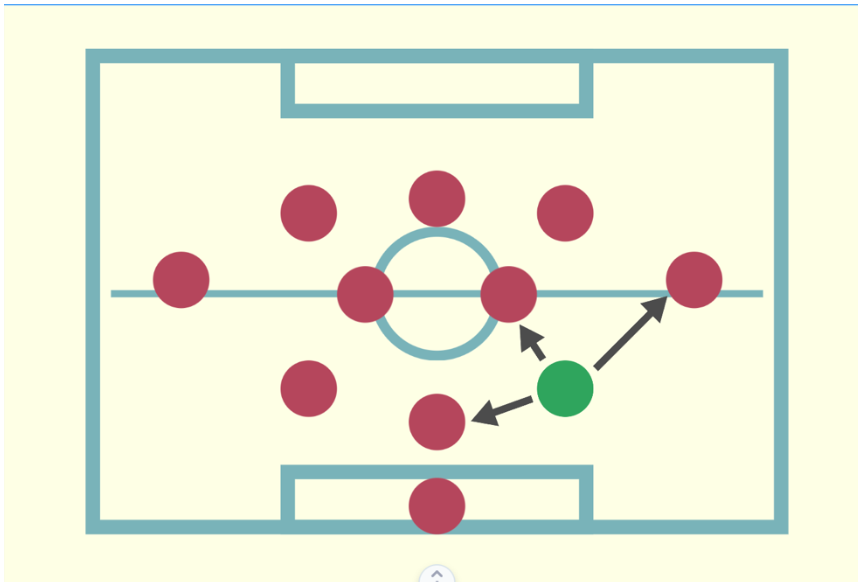 Having the skill set for CB, RB and DM perfectly enables Geertruida to play this role at top-level sides, where the abilities required for every position are called for in every game. He even featured recently for the Dutch national side in a defensive midfield-style half-back role.  
Moreover, Geertruida has elite-level composure and ball control for a possession-based defender. He uses his body well to shield the ball, allowing him to execute low-risk turns to evade pressing attackers. This shielding is the key differentiator between press evasion and offensive take-ons. Although players attempt to beat the defender in both cases, the incentives of the move largely differ.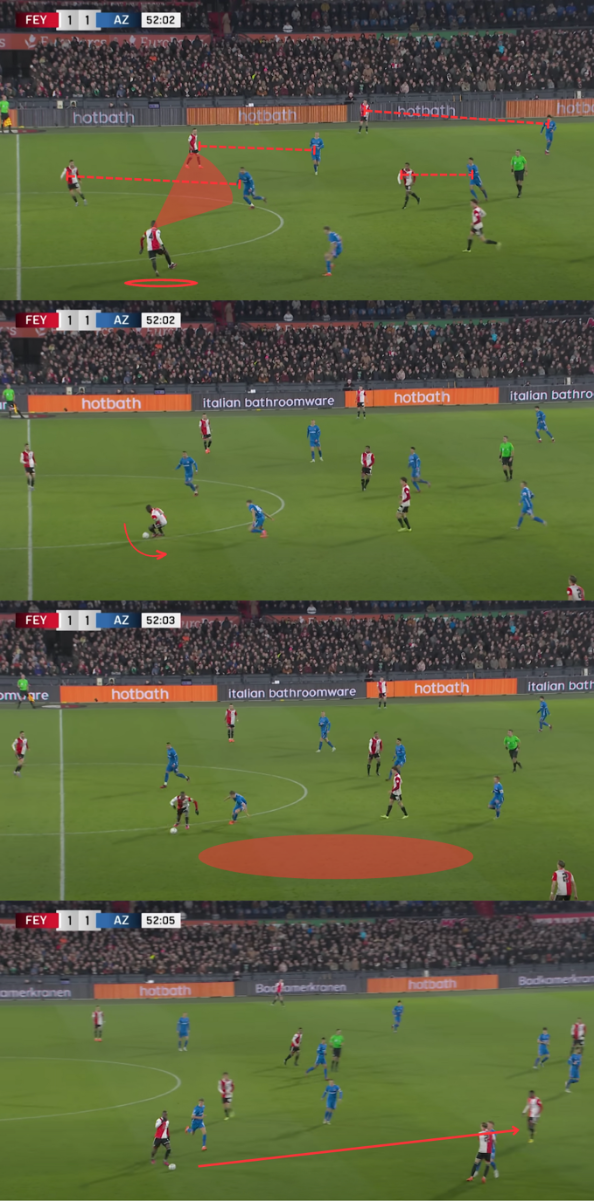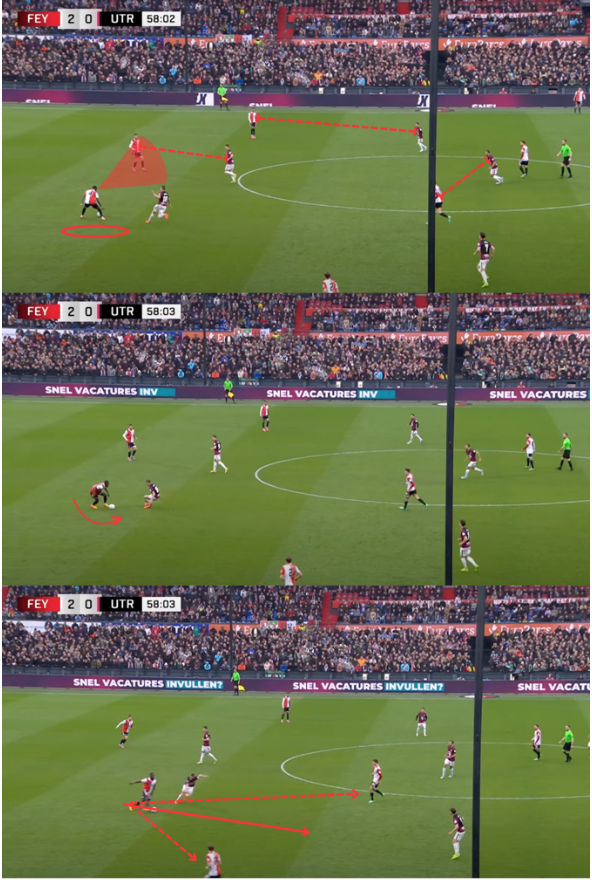 Geertruida scans, noticing he does not have available passing options he evades the press using tight ball control and acceleration, maintaining distance between the ball and the pressing man. This ability in your defensive line acts as a 'fail-safe' for your team's possession structure. When the opponent has pressed in an effective way, or your side have not rotated to create separation, a slippery defender can relieve pressure with their ball carrying.  
While Geertruida is very secure in possession, one issue with his ability to play this possession phase role is that his passing range is limited. While a quick glance at his stats will show you high pass completion and progressive passes, a deeper look shows some clear weaknesses.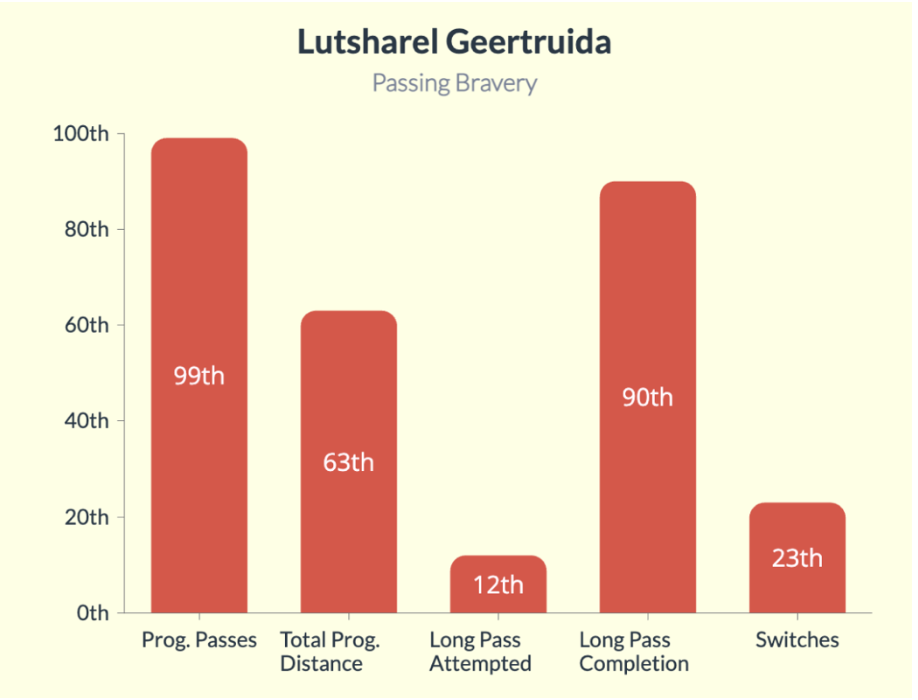 (all stats in per 90 form)
First, we see he ranks in the 99th percentile for progressive passes, yet his progressive distance is mediocre. Playing for Eredivisie champions and possession-heavy side Feyenoord, he should naturally be in the top 20~ percentiles. This indicates that while by definition he plays a lot of 'progressive' passes, actually, he plays a lot of very slightly progressive passes.
Perhaps rather than playing incisive passes into his midfielders, he plays safe passes out towards the wingers.
Similar players Jurrien Timber and David Hancko rank in the 99th percentile for progressive passes, like Geertruida, yet they rank 93rd and 95th for total progressive distance. This implies they play tricker, more effective passes which aid their team more. 
Secondly, we see that despite having high long pass completion, Geertruida plays very few long passes or switches. He is too passive in possession and reluctant to play direct long passes to exploit space. In his role as an RCB in possession, Geertruida has the ball most often when Feyenoord do not have space around the box, so are maintaining possession. Because of this, a player in this role must be able to switch the ball effectively.
Switching is used to exploit space quickly and shift the opponent's structure, to create gaps. It is vital for breaking down defences but requires a direct and accurate pass. Pep Guardiola's system at City exploits the efficacy of switching, using a far-side attacking midfielder to distract the fullback, allowing the winger to receive and use possession.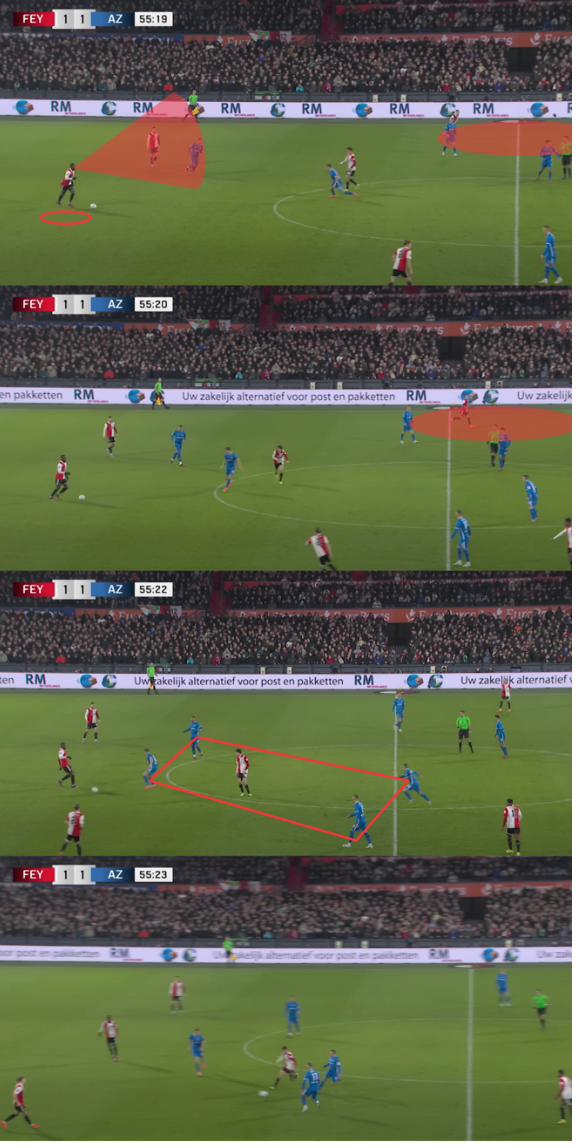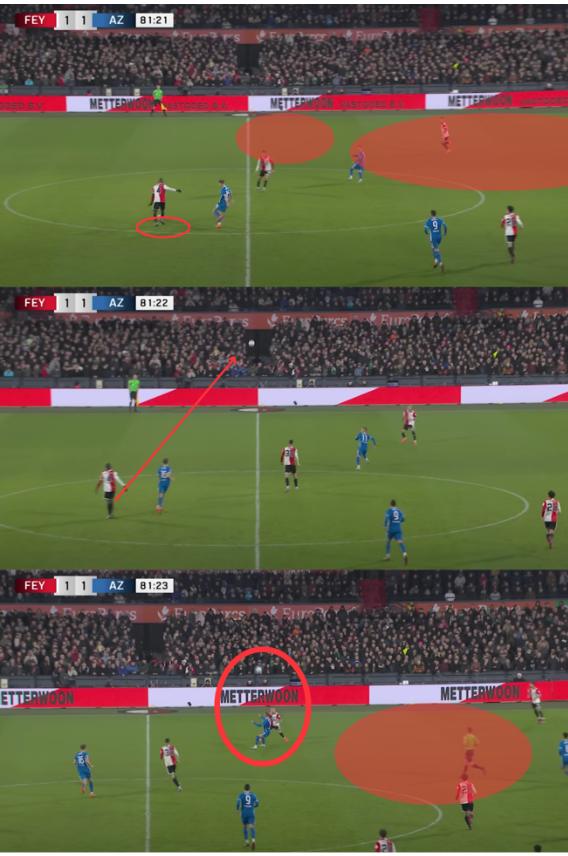 Here are two instances where Geertruida's lack of confidence in his long passing results in a loss of possession. Despite seeing the left-side full back in space, he is visibly reluctant to play the pass, eventually opting for the 'easier' short ball which leaves his teammate in trouble. In the second image, Geertruida attempts a switch across the backline with little speed or conviction, turning a calm possession phase into his fullback challenging for a 50/50 header. 
This passing ability is so important for the role Geertruida can play, as this player has the space and view required to play cross-field switches, escaping pressure and breaking down the opponent. Additionally, as a player in the defensive midfield role, he is tasked with converting possession into dangerous territory: it is their role to feed the difficult passes into technical attackers in and around zone 14. 
Despite his limited vision when progressing through the opponent's defensive lines, Geertruida's crossing is strong. When used wide as a right back, his final ball selection and execution are both solid, identifying the space and providing the pass.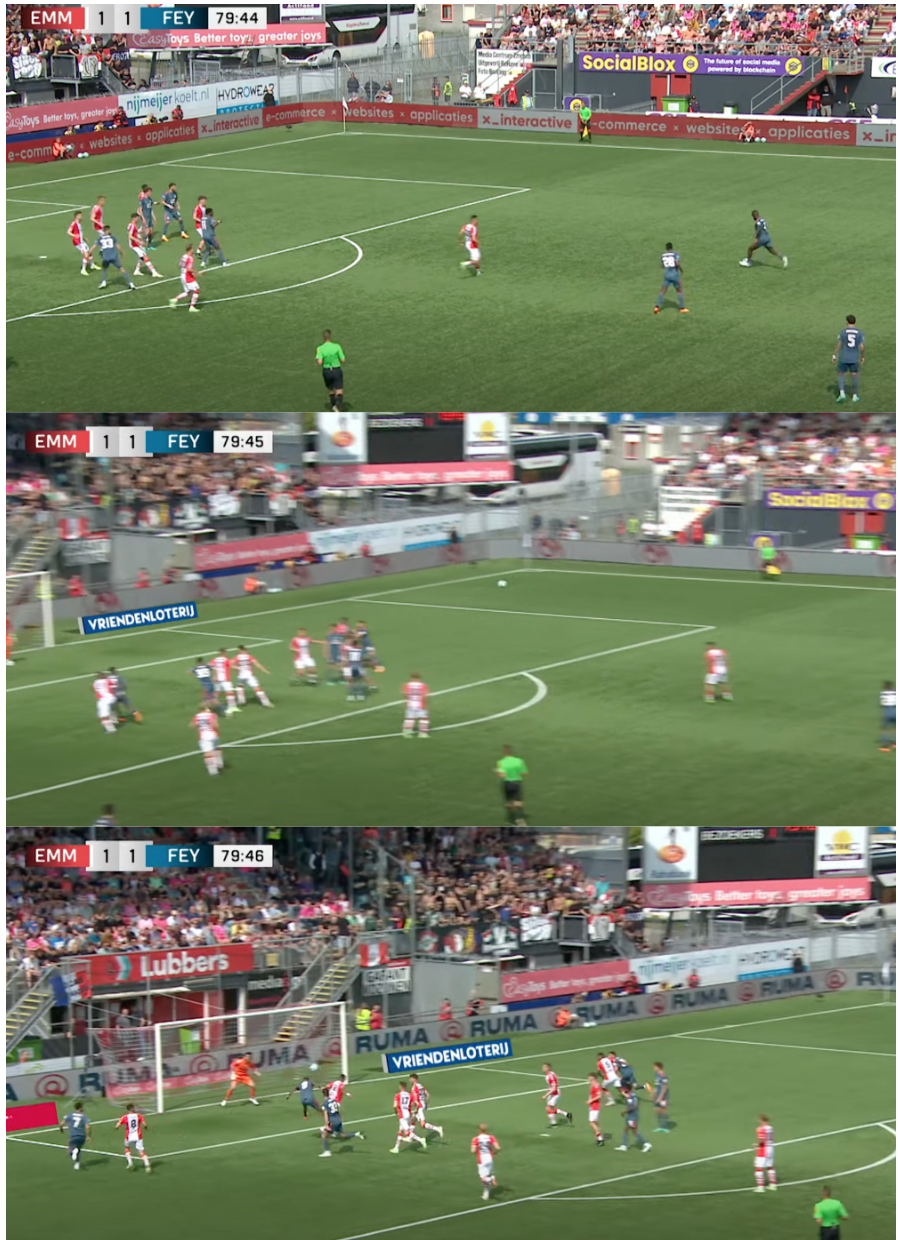 Defensively, Geertruida is interesting. From watching his games, it's clear he is a talented tackler, timing his challenges well, staying strong and going to ground effectively. However, a second feature also stands out, he is far too passive in his own third. When we look at the stats, this sentiment is mirrored.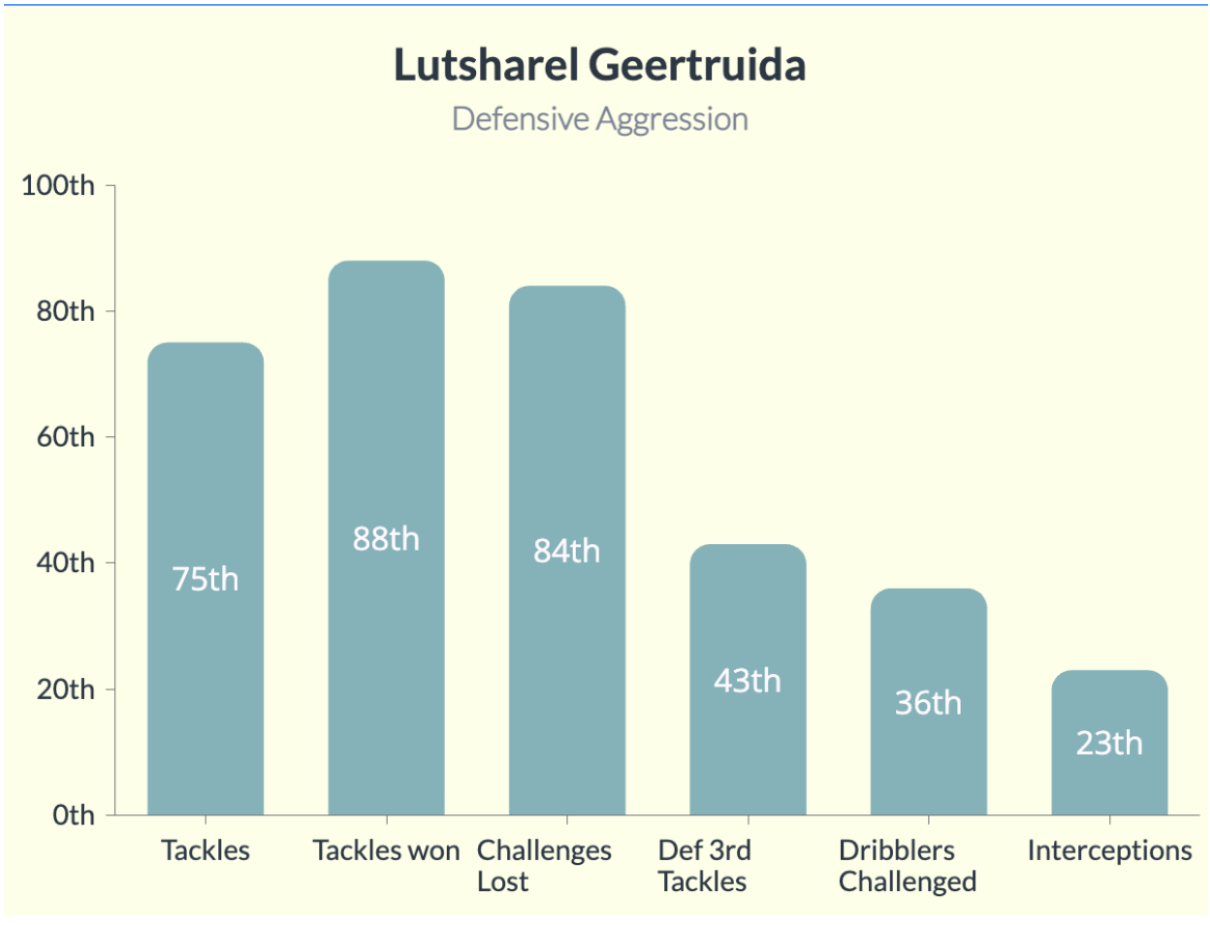 His tackling quality is good, he very rarely fouls or gets booked – just one league booking all season. His volume of tackles is strong too, he can be proactive and use his physical attributes to step in front of the opponent and win the ball in the middle third.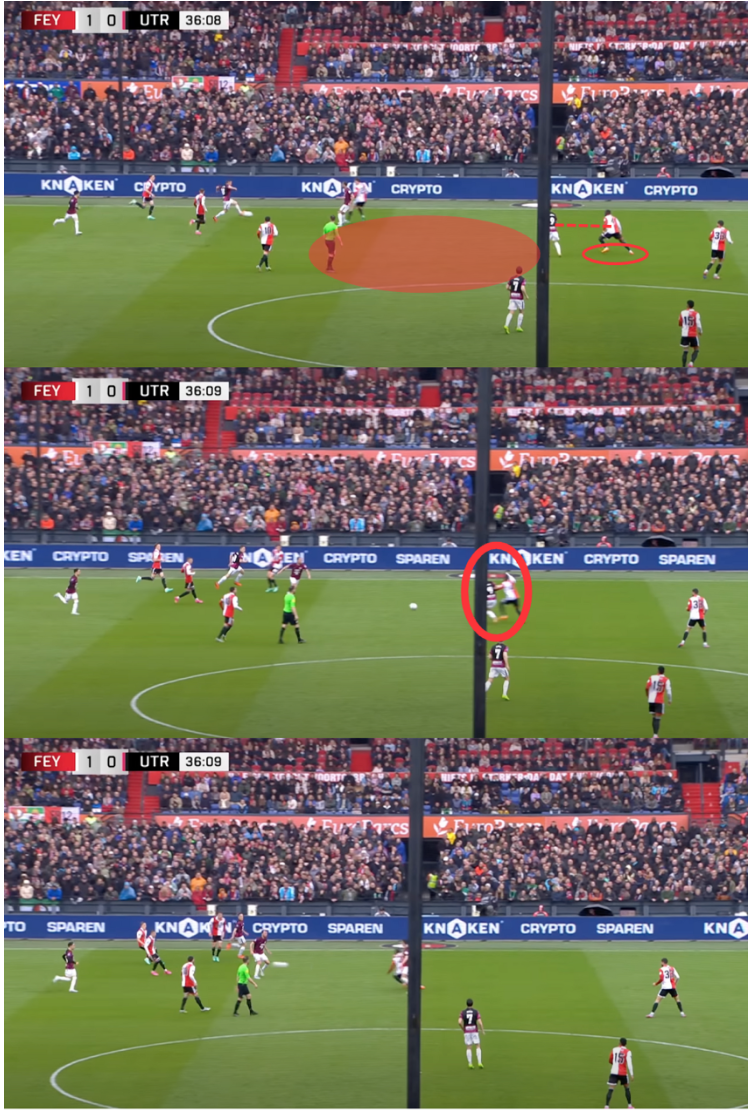 His defensive third tackles are low. This is heavily influenced by Feyenoord's high line, leading to Geertruida initiating challenges in the middle third. However, it is also due to his reluctance to challenge in and around his own box. His low dribblers tackled stat is indicative of his preference to jockey and cover rather than instigate challenges.
Combined with low interceptions, despite playing higher than most centre backs, he is clearly not the most active defender. In the two instances below, his reluctance to challenge combined with poor body position allows the opposing winger to create a dangerous chance.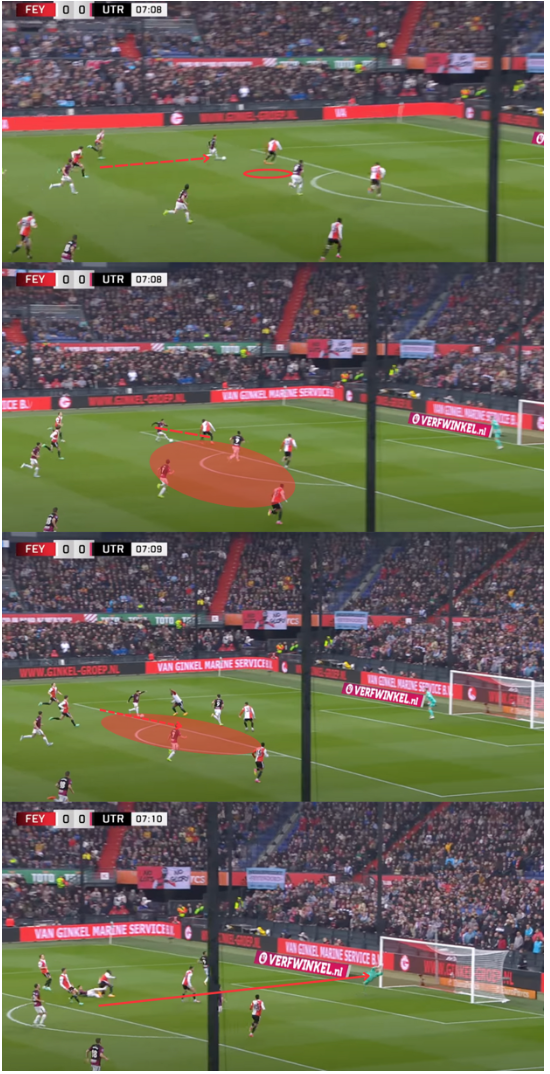 He half-heartedly attempts to show the wingers down the line but leaves too much space between himself and the opponent. Geertruida does not instigate the duel and is not tight enough to react when the opponent acts, allowing the winger to move/pass inside to the danger zone. Again, we see in and around his own box, Geertruida is too passive.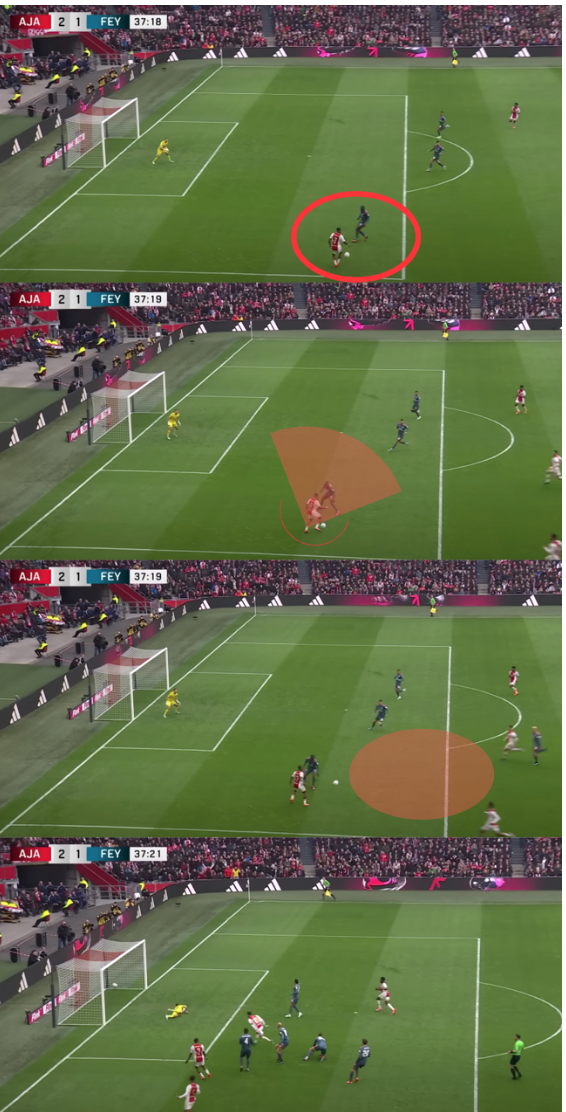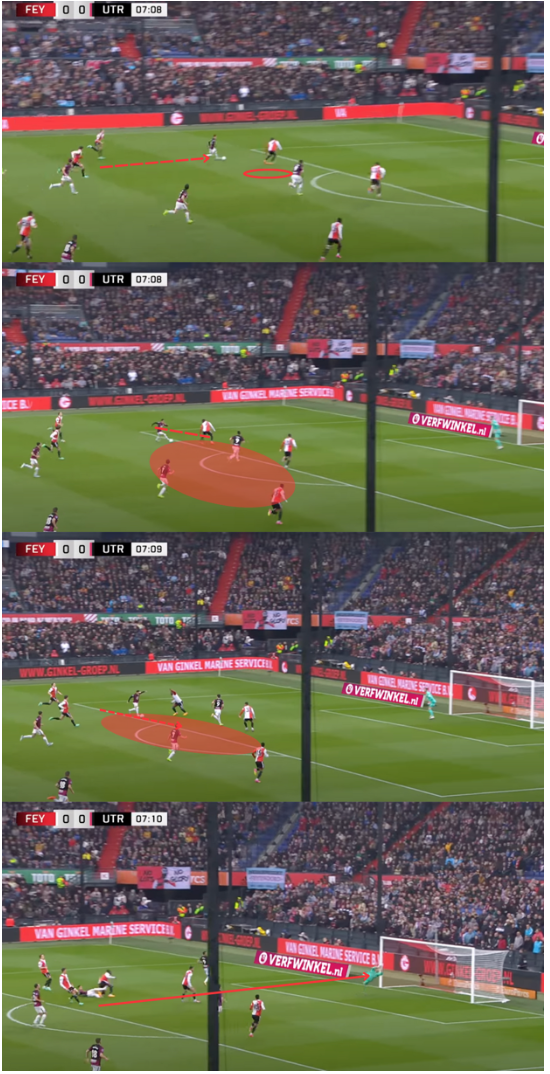 In the first image, he is slow to close down the shot despite being in the best position to do so. Feyenoord have enough men around him covering, yet he doesn't close the shot. In the second instance, Feyenoord again have the numbers to diffuse the cross, yet Geertruida allows his man so much space around the penalty spot.
Once the ball falls to Mohammed Kudus, the distance between himself and Geertruida is so big that he gets a clear shot ~10 yards out. In another instance vs Utrecht, we see his initial reluctance to win the loose ball, despite having the physical attributes to win duels against most forwards.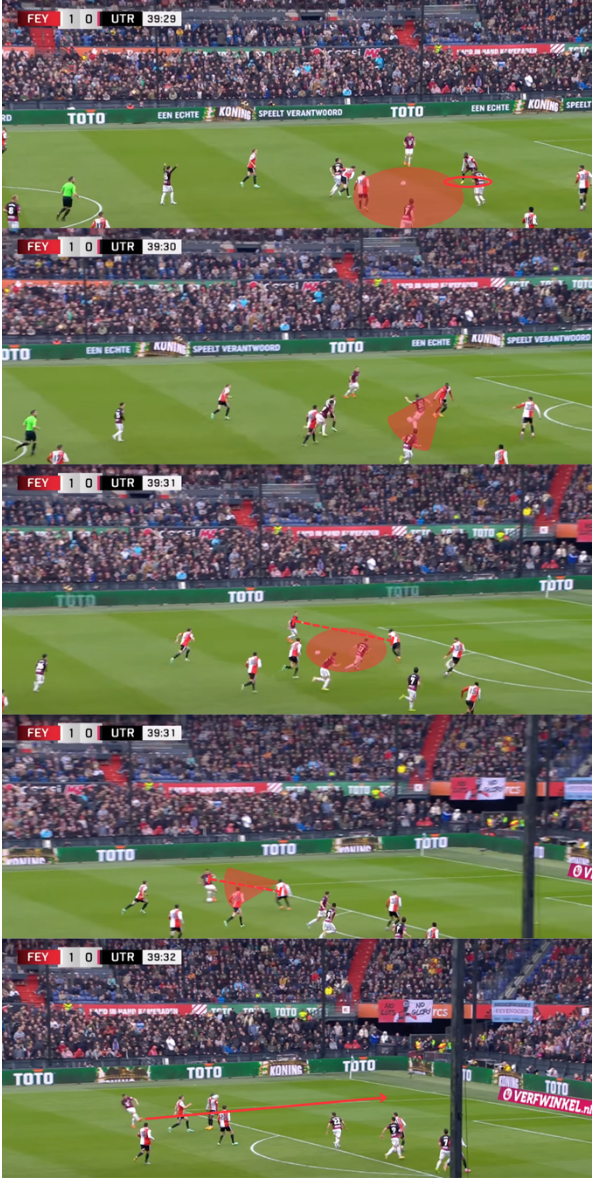 Then, once the ball is played wide to his opponent, he does not close down the cross, allowing the winger to produce a comfortable pass. Geertruida must use his acceleration to close down the gap between himself and his man, either blocking the ball or reducing the cross quality by applying pressure. 
Here, in a game vs Vitesse, his initial positioning is really poor, allowing the striker goal side which forces his near-side fullback to come narrow. Once the ball is played to the near-side winger, Geertruida does not recover to cut off the pass into the middle, despite having the recovery speed to do so. By the time the striker gets the ball, Geertruida is not even in reaching distance of his man.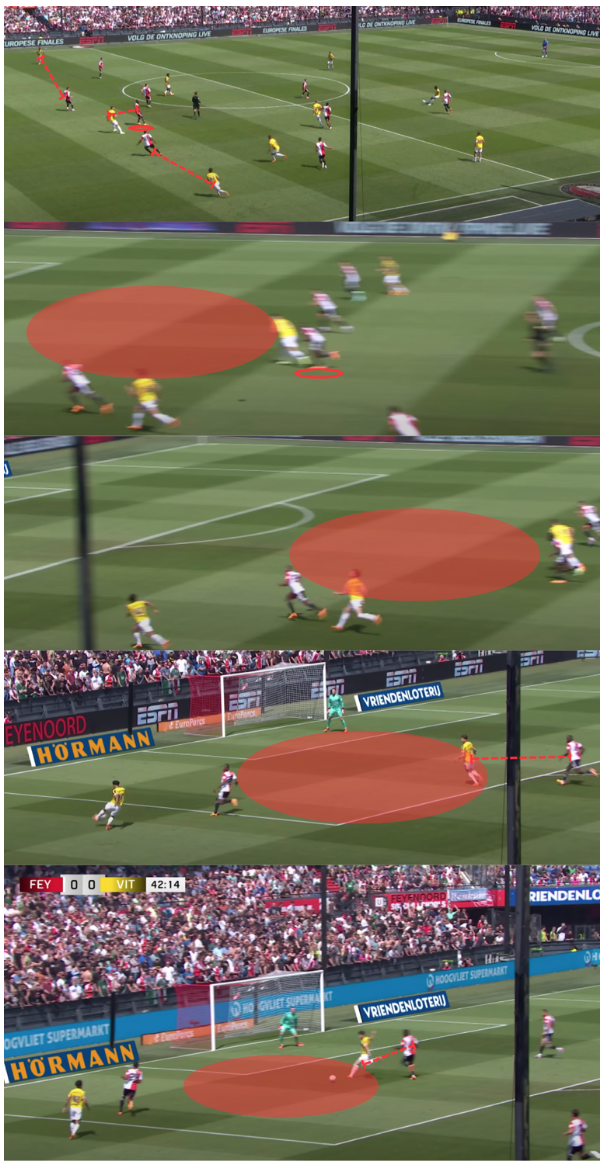 This reluctance to challenge allows larger target strikers to link attacking play, as Geertruida allows them to control the situation.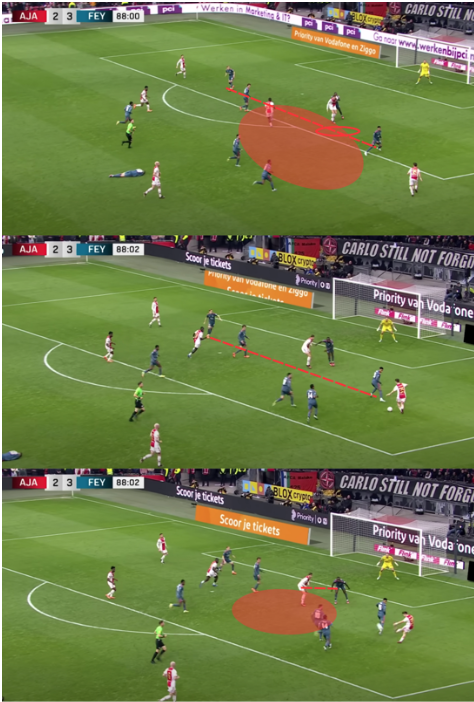 Against Ajax, Geertruida's opposing striker forces him back behind his own defensive line. This excellent no.9 play creates space on the edge of the box for teammates to exploit. Then, as the cross comes in, the striker creates separation between himself and Geertruida, to facilitate a shot should the ball come his way. In the second image, Geertruida's man drops off into midfield to act as a direct out ball. Geetruida is clearly too far from his man, allowing Go Ahead Eagles to transition from defence into the final third with just one pass. 
An issue with using tackle success rate to judge a player is that the fewer tackles a player attempts, the easier average tackle difficulty will be. What I mean is, if a player decides to tackle primarily based on the chance of success, then they will attempt more 'favourable' challenges than unfavourable ones. Thus, a player attempting few tackles will have a greater proportion of 'favourable' tackles. 
By avoiding difficult duels, tackle success rate increases, defenders appear to be better tacklers – clearly counterintuitive and harmful for scouting. Geertruida is not attempting the difficult, high-jeopardy tackles/blocks/interceptions, which are most impactful on a team's success. Physically, Geertruida has everything you could ask for in a CB or RB. At 6'0, weighing 76kg, Geertruida has a lean-muscular build ideal for powerful movements. His recovery speed is excellent and combined with his upper body strength he can ease opponents off the ball in 1-v-1 situations.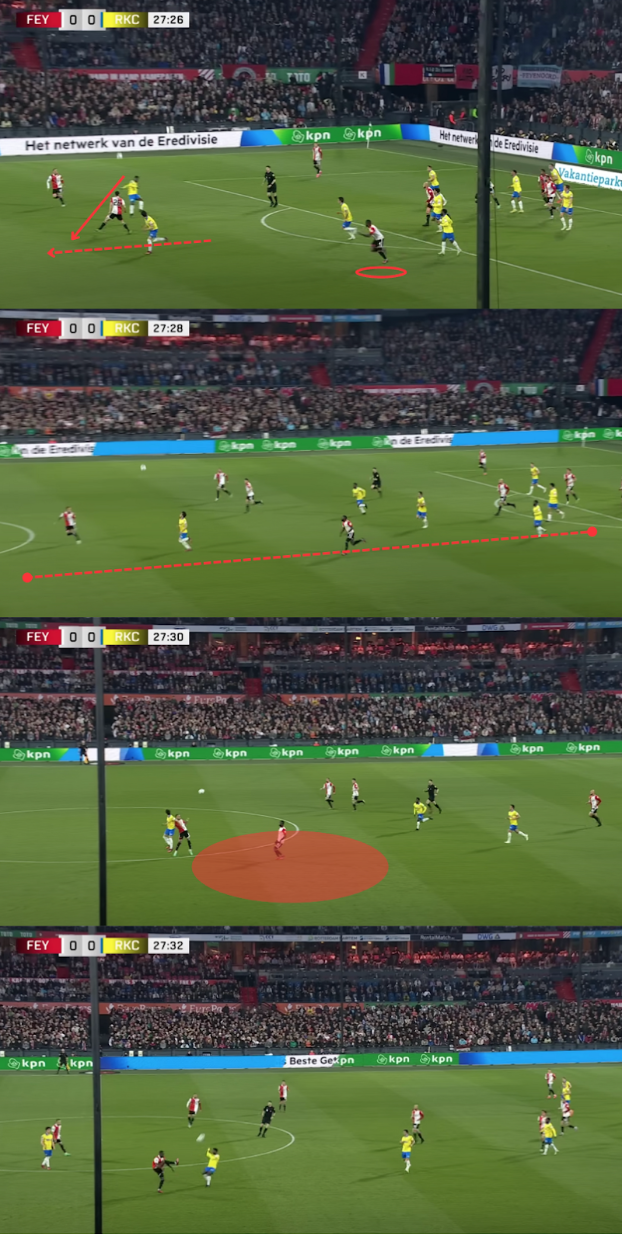 As he naturally prefers to cover rather than engage, his physical attributes compliment this play style, but may require a CB partner who can aggress the forward. Aerially, he could still improve. Despite having a decent build and powerful jump, his position and orientation on crosses are weak.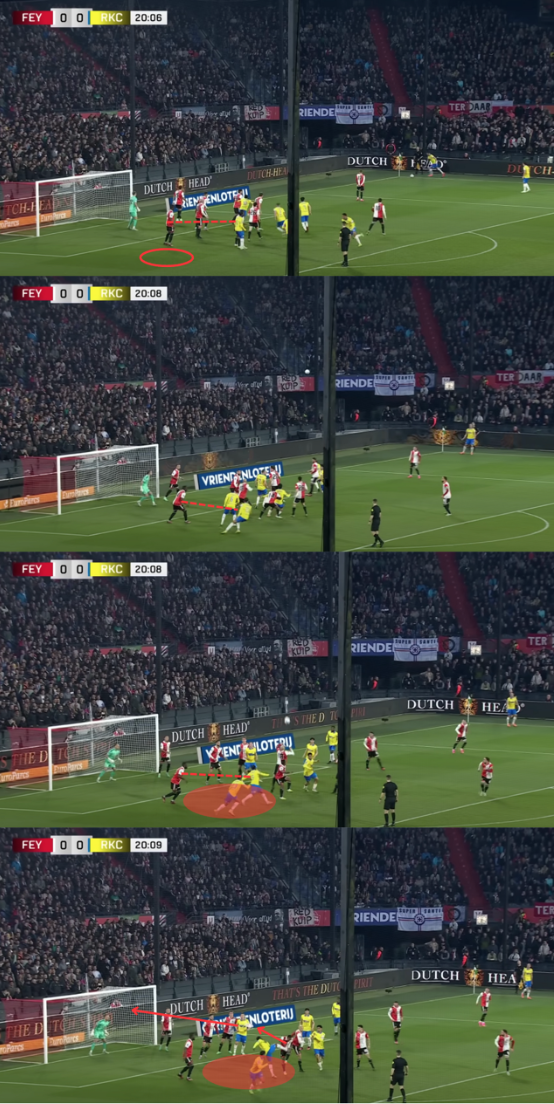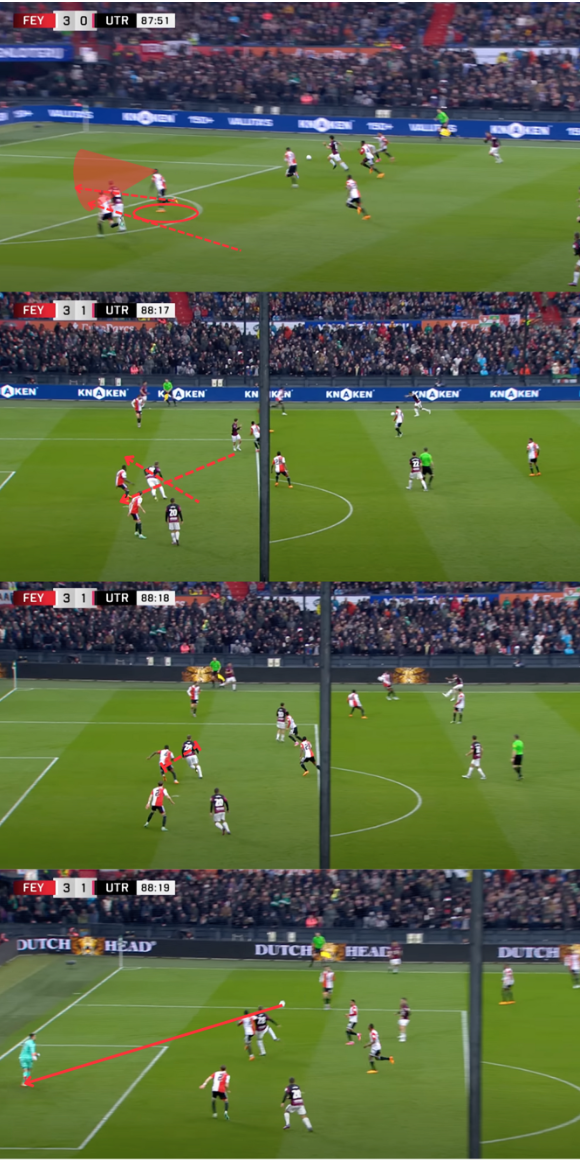 Despite playing against wingers a lot this season, his aerial duel success rate ranks in only the 45th percentile, compared to other centre backs. Wingers are generally smaller and less capable in the air, so his game time at fullback should improve his aerial success relative to centre backs. 
His engagement in aerial duels is worryingly low, winning just 0.7 per game compared to 1.2 and 2.5 of teammates David Hancko and Gernot Trauner. Again, this weakness can be reduced by using Geertruida primarily as the covering CB, but it urges target forwards to attach themselves to him, and benefit from his weak points. 
Geertruida is a very talented possession-based defensive player, whose positional knowledge suits the way many top teams are choosing to play. He can be relied upon as a defensive anchor due to his press resistance and security in possession, combined with his covering ability. His experience playing for Eredivisie champions Feyenoord will enable him to fit into high-level systems within Europe's top 5 Leagues. 
However, he still needs to develop some areas of his game to become an elite talent. His passing abilities are good enough to regulate possession, but his vision and passing range are both lacking for a defender stepping into midfield.
Defensively, he has the physique and tackling technique to be a really dominant defender. But right now he is not an assertive defender, he is too reluctant to initiate physical duels even when he is predisposed to win them. Opponents are allowed into dangerous spaces purely through Geertruida's inaction, rather than any mistiming or weakness of tackles. He can be a liability in the defensive phase, despite making well-timed slide tackles or excellent recovery runs during defensive transitions. 
Having already lost club captain Orkun Kokcu to Benfica, Lutsharel Geertruida looks set to become the next Feyenoord player to make a step up this summer, with Barcelona, Leipzig and Newcastle seemingly interested. Similar players Jurrien Timber and Goncalo Inacio are being targeted by top sides, but Geertruida may offer a cheaper alternative. He could undoubtedly be a valuable role player for a top Champions League side, with the potential to become a starter if the right pieces are around him. 
By: @FootballEcon_
Featured Image: @GabFoligno / BSR Agency / Getty Images