Made in Morocco, Flourishing in France; Is London Calling For Nayef Aguerd?
As the transfer rumours continue to swirl, one that appears to have legs is that of Moroccan centre back Nayef Aguerd being constantly linked to a move to the Premier League. David Moyes' West Ham team are considered to be the team most likely to land Aguerd's signature. This article will look at the sought-after centre back's career thus far and use data from Wyscout to see how well he would perform should he make the transfer to the London Stadium.
Biography:
Name: Nayef Aguerd
DOB: 30/03/1996 (26)
Height: 188cm
Nationality: Moroccan
Position: Centre-Back
Team: Stade Rennais
Preferred Foot: Left
Born in Kenitra, North-West Morocco, Nayef Aguerd attended the Mohammed VI Football Academy, the national academy. Founded in 2009, the academy is funded by the King with the intention of ensuring the development of Morocco's best footballing talents.
In 2014 he signed for FUS Rabat where he stayed for four years before signing for Ligue 1 side Dijon. After two seasons with Dijon, Aguerd was snapped up by Rennes for approximately €4 million in 2020. Rennes are renowned for developing young talent as the footballing world as witnessed with the likes of Camavinga, Terrier and Jeremy Doku. It's fair to say that Aguerd is no different, as he has developed a multitude of skills since signing for the club.
When comparing Aguerd to fellow centre backs from the top five leagues in Europe, he performs reasonably well. His ability in possession stands out and demonstrates that he fits the bill as a modern ball playing defender.
He possesses a good passing range which makes him a key part of Rennes' build up play. His stats show that he is very effective playing in a team that presses and plays on the front foot, as he is keen to make progressive actions.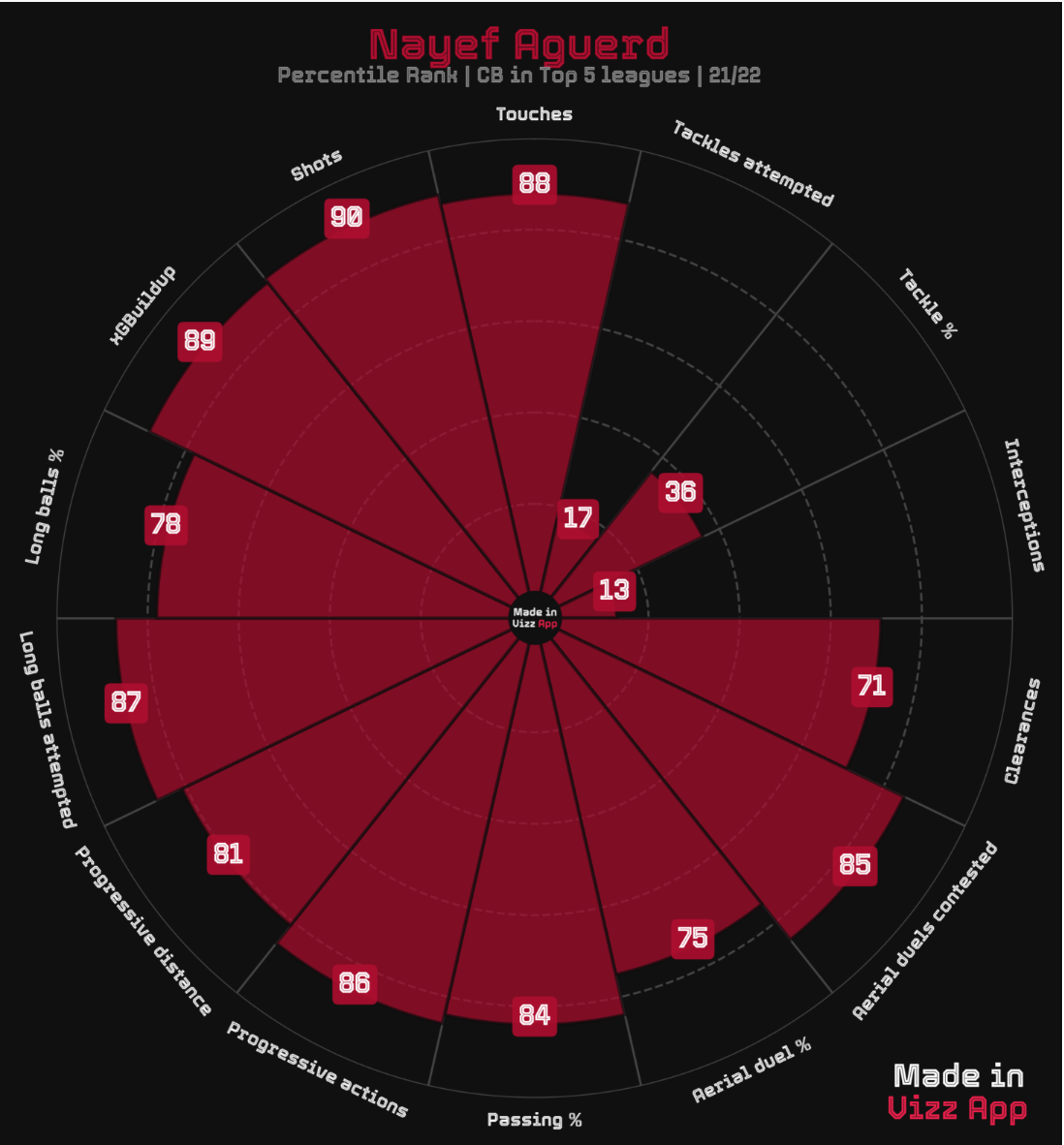 Nayef Aguerd Traits:
Left-footed

Likes to sit in the left half-spaces

Plays vertical passes

Comfortable on the ball at his feet

Great anticipation

Likes to carry the ball forward from defence
What the Statistics Say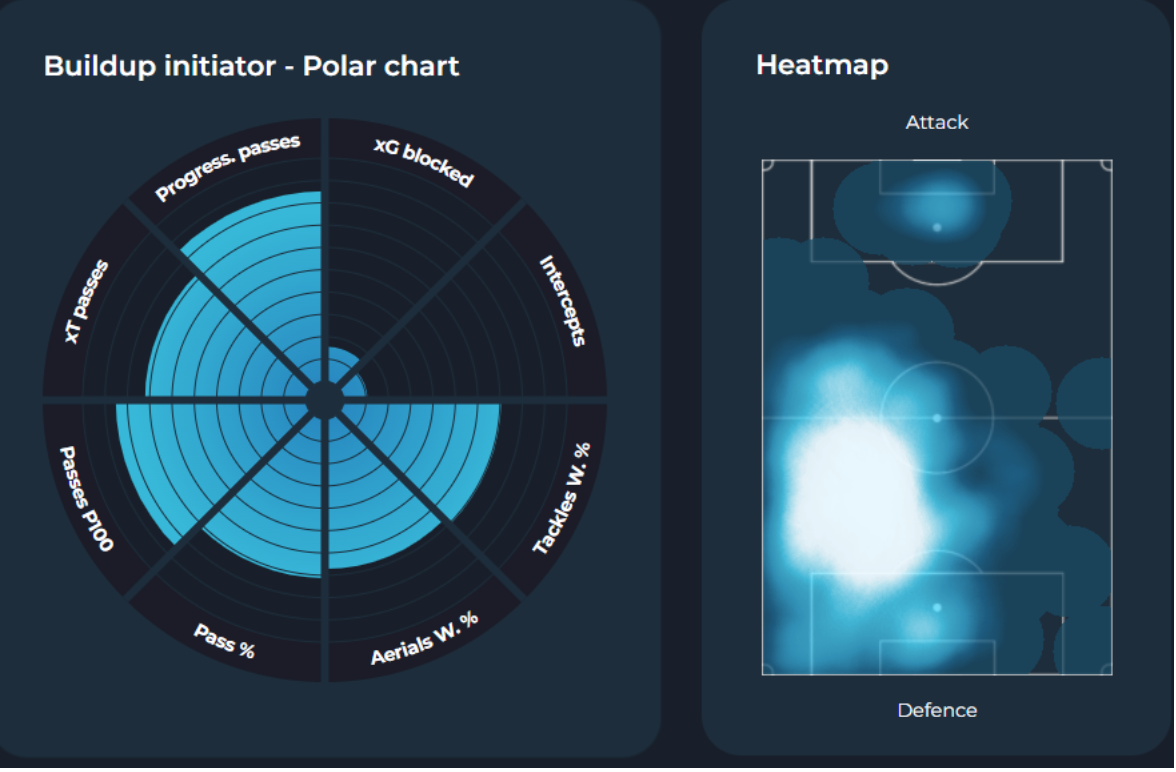 Firstly, looking at his heat map, it becomes very apparent that he occupies the half-spaces a lot. This demonstrates he has an excellent reading of the game and is comfortable defending in both central and wide spaces.
According to the data we can see below, it appears that Aguerd loves an aerial duel, he is ranked one of the highest in the league overall not just for attempting aerial duels but for also winning them. So not only is the Moroccan good with the ball at his feet, but he can also use his height to his advantage when required.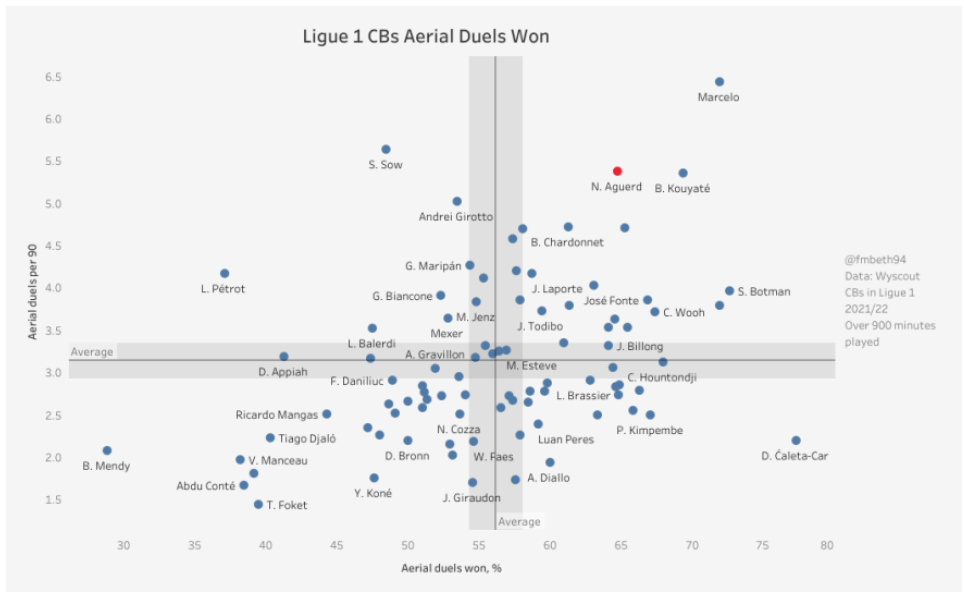 Another element of Aguerd's game is that he possesses an impressive passing range. As we can see detailed in the below graphic, the defender is making a high percentage of progressive passes.
In the modern game, defenders need to be comfortable with the ball and play progressive passes to effectively begin the attacking phase of play when building up from the back. This shows that he has a good level of composure and appears to have impressive vision which will be a very appealing trait to many clubs.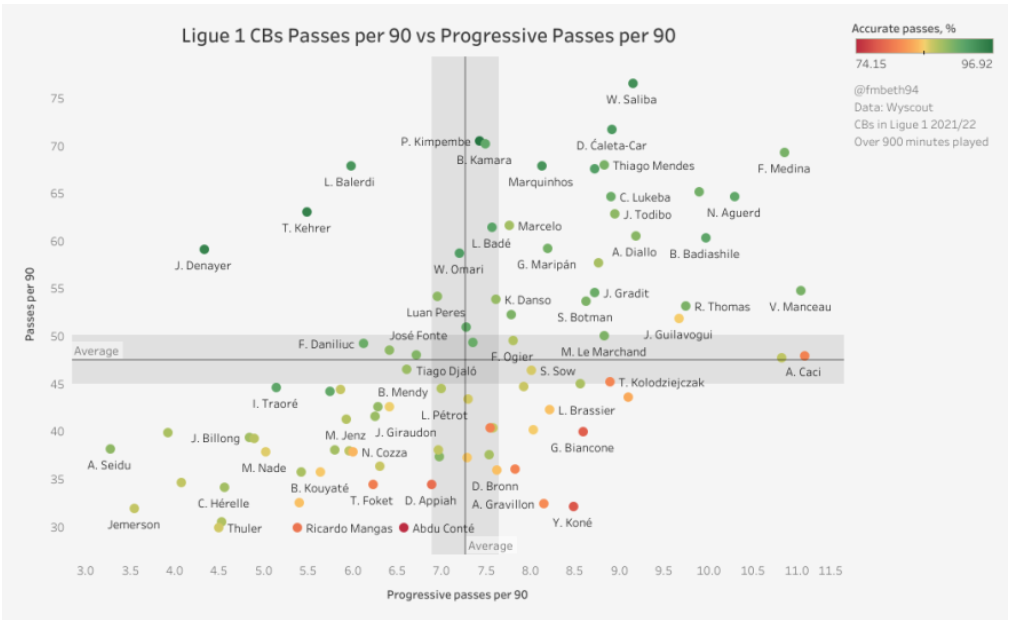 Just to elaborate on the passing breakdown for the defender, the below graphic displays the range of passing (short/medium/long) per 90. From what we can gather, Aguerd is a player who likes to mix up his range of passing which is a great trait to have for a centre half.
For instance, if he is bringing the ball up the field, he can either lay off simple nice passes, or he has the ability and range to go long which in turn, could split the opposition defence and offer an attacking opportunity to be created. He has a very high pass accuracy which further supports that he is very comfortable in possession and not a risk for his team.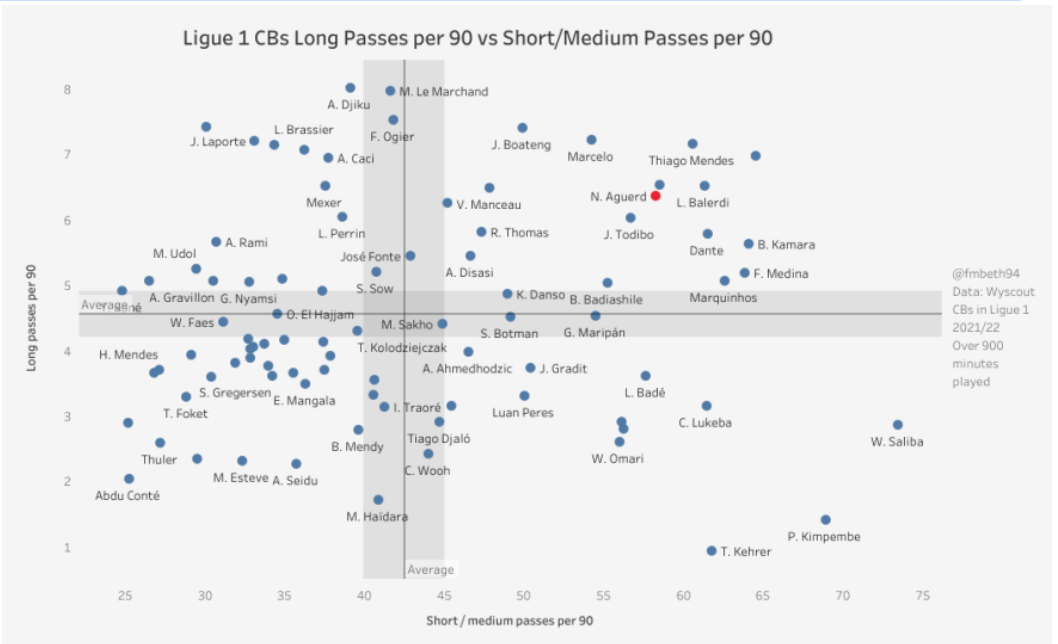 The below graphic may not appear to be a strength, but it actually is. This is because Aguerd is a typical ball-playing defender as he likes to carry the ball out of defence. However, it appears he is not making risky progressive runs or dribbles which may leave a gap at the back for his side. This would appear that the centre half is disciplined and is not playing it risky.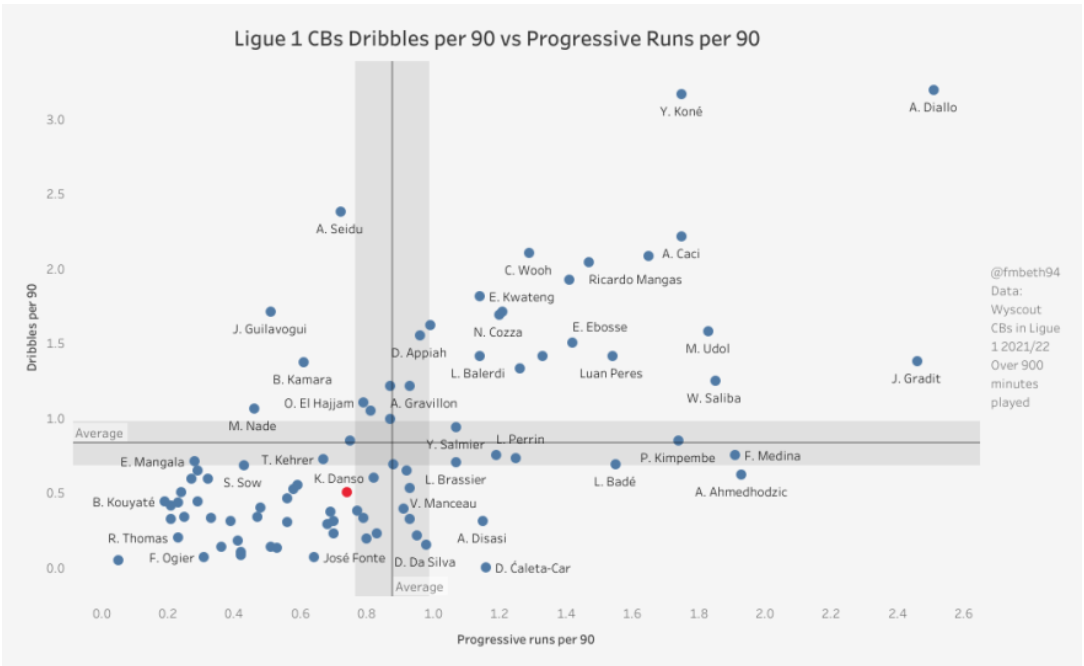 The data shows another interesting aspect of Aguerd's game, before we continue, it is important to remember that all these statistics are all relative to how the team is playing overall.
The fact that the Moroccan centre back is recording higher interceptions than sliding tackles demonstrates that he shows great anticipation and is able to read the game in order to interrupt the play rather than reacting too late and being forced into a tackle.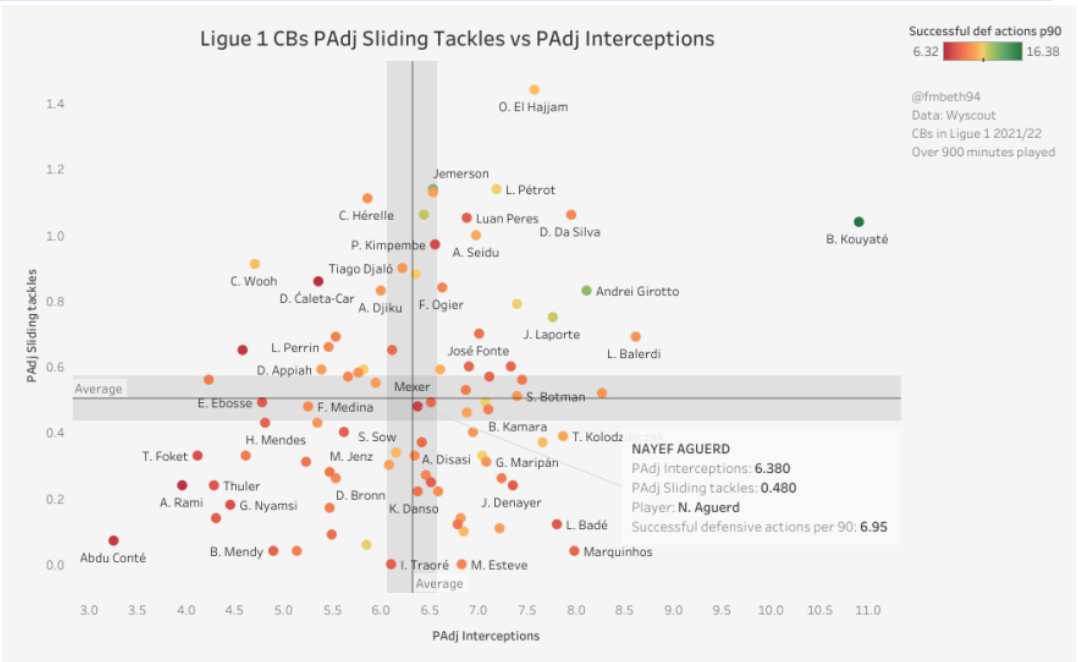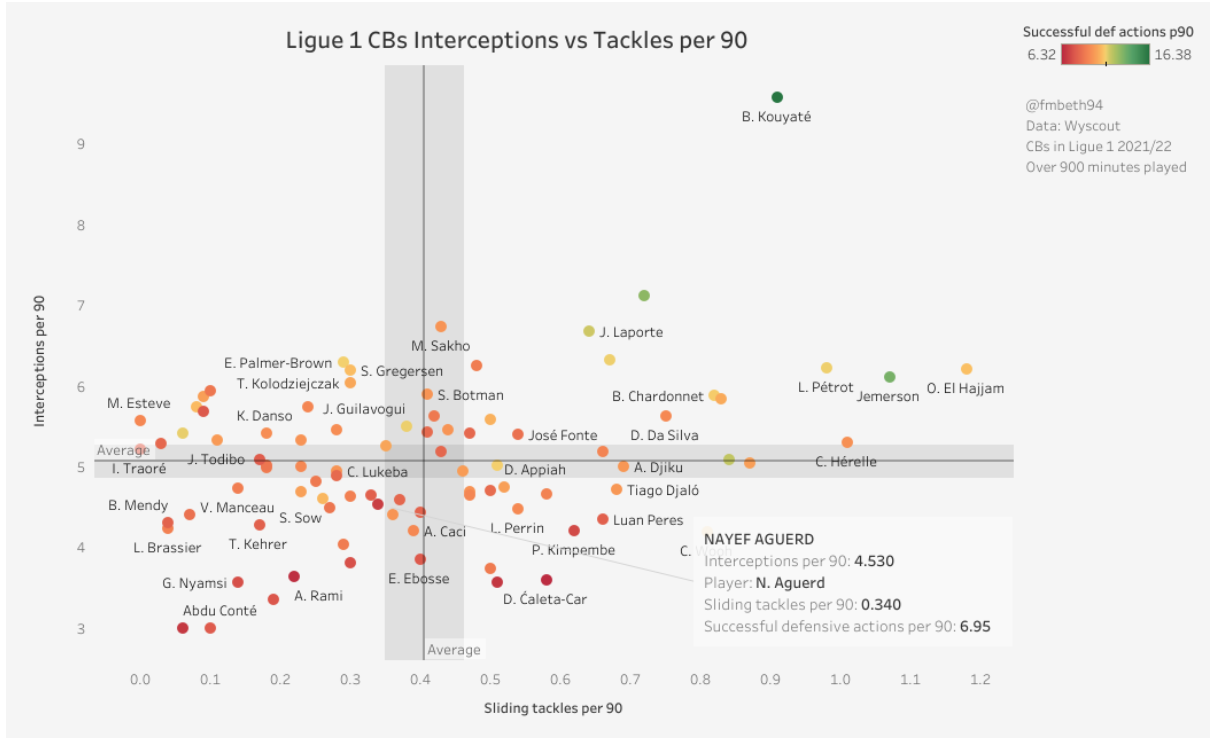 As mentioned previously, Aguerd is not shy of engaging in a duel, he does this very well as he does not commit a high number of fouls which could potentially cost his team. Again, this makes him a very progressive defender and less of a risk on the pitch.
How Would Nayef Aguerd Fit in at West Ham?
So, we already know that Nayef is an extremely competent defender in the French League but how would he perform in the Premier League? More specifically, how would he fit in should the speculated move to West Ham become reality?
The graphic below shows how Nayef compares to other centre backs in the league in terms of duels won. At first glance, it may seem that Nayef slots in as an 'average' player according to the data. However, it is incredibly important to note that this data is not an exact science as there are major differences in the standards of the Premier League and Ligue 1.
The purpose of this data viz is to simply highlight that Aguerd *could* feasibly be a good signing for a Premier League side. If we look at where Nayef slots in, he is placed with the likes of Rudiger & Dias who had very good seasons with their respective clubs.
Now, we see Ayling & Colins at the top of the chart in terms of duels per game, both these players were with clubs that struggled last season and were more prone to being under attack for the majority of the games, rather than the likes of Rudiger & Dias whose teams did most of the attacking. Therefore, it is no real surprise that players from lower down the league are statistically going to take part in more duels over the 90.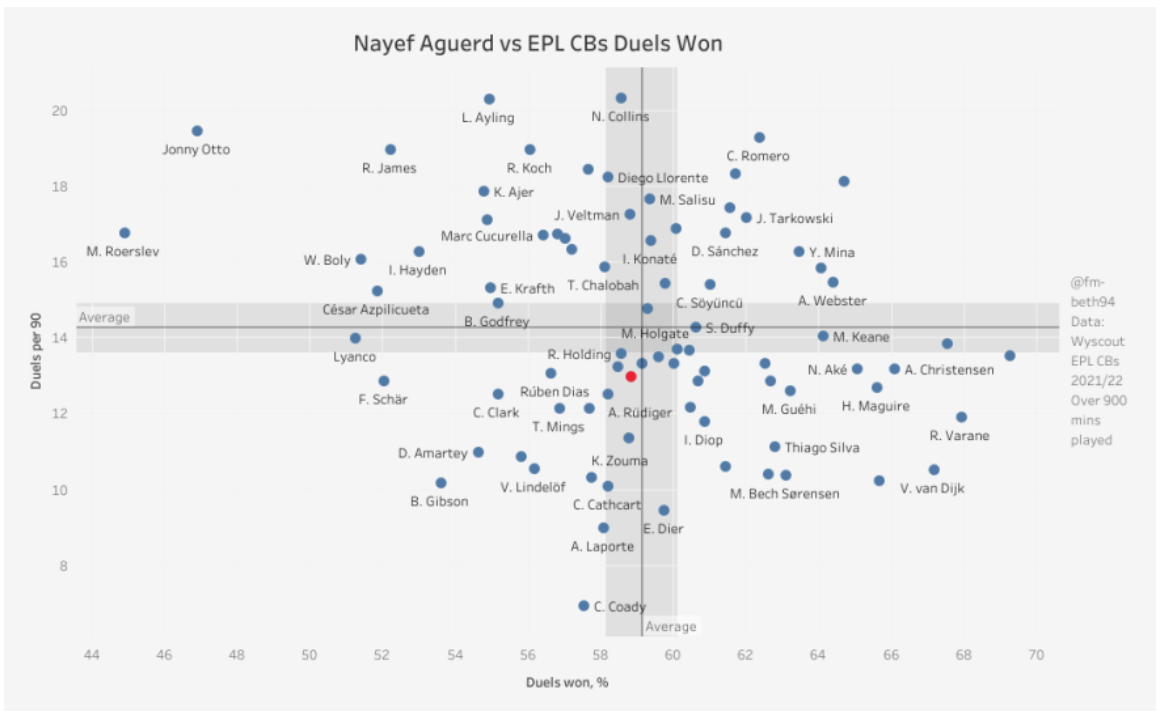 Next, we compare how Aguerd fares in terms of passes per 90 vs the other centre back in the EPL. The Moroccan stood out well in France with these stats and does again here.
As mentioned previously, he does tend to make more passes and a wide range of them compared to the rest in his league. According to the stats, he does slot in again amongst some of the best ball players in the league and not too far away from the highly experienced Silva, who is very comfortable on the ball.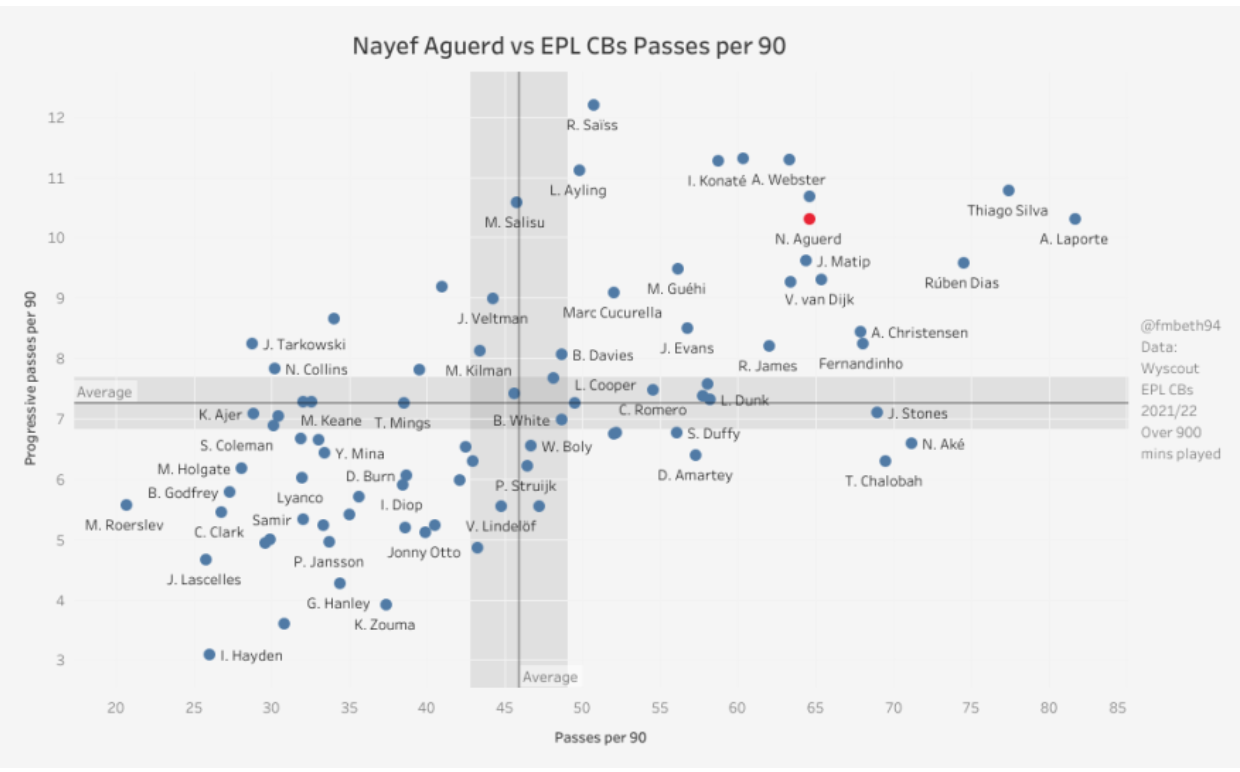 Nayef vs West Ham's Central Defensive Options
Nayef Aguerd is linked with a move to West Ham so why not compare him to the current central defenders in the team? From this high-level graphic, we can see that statistically, Nayef seems more than capable of slotting into the team as he matches similarly and ranks higher in terms of progressive passing.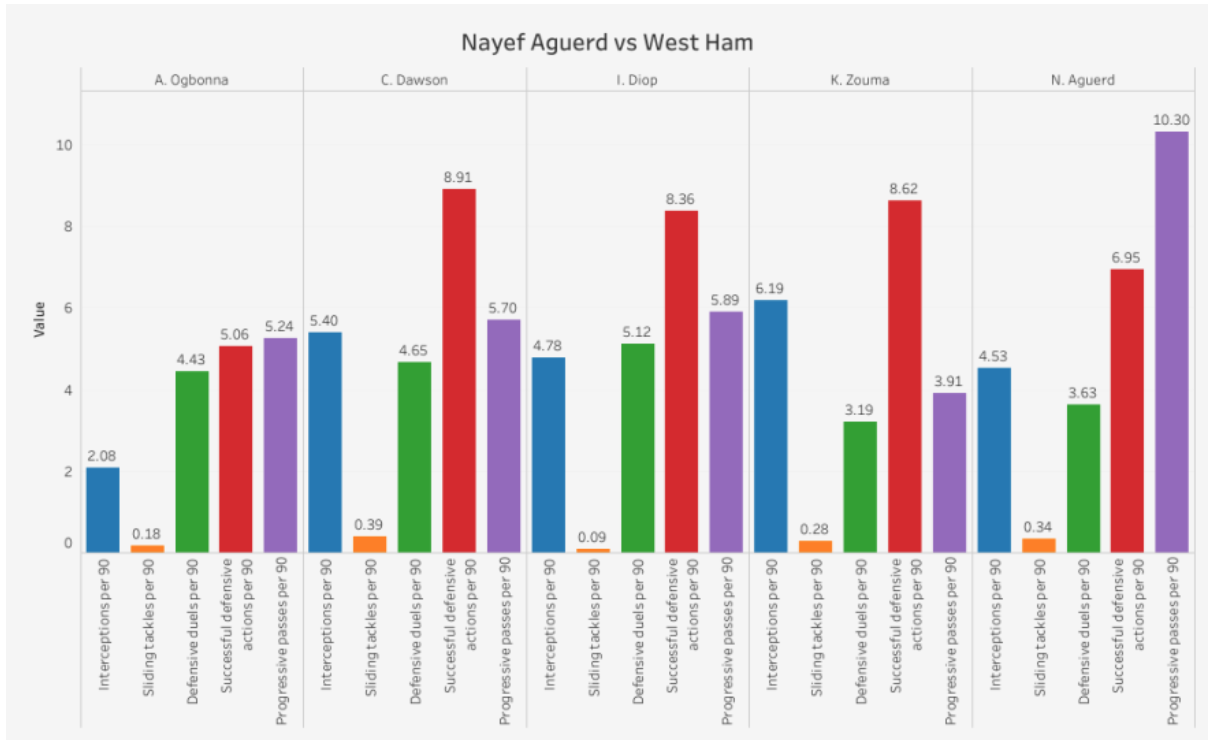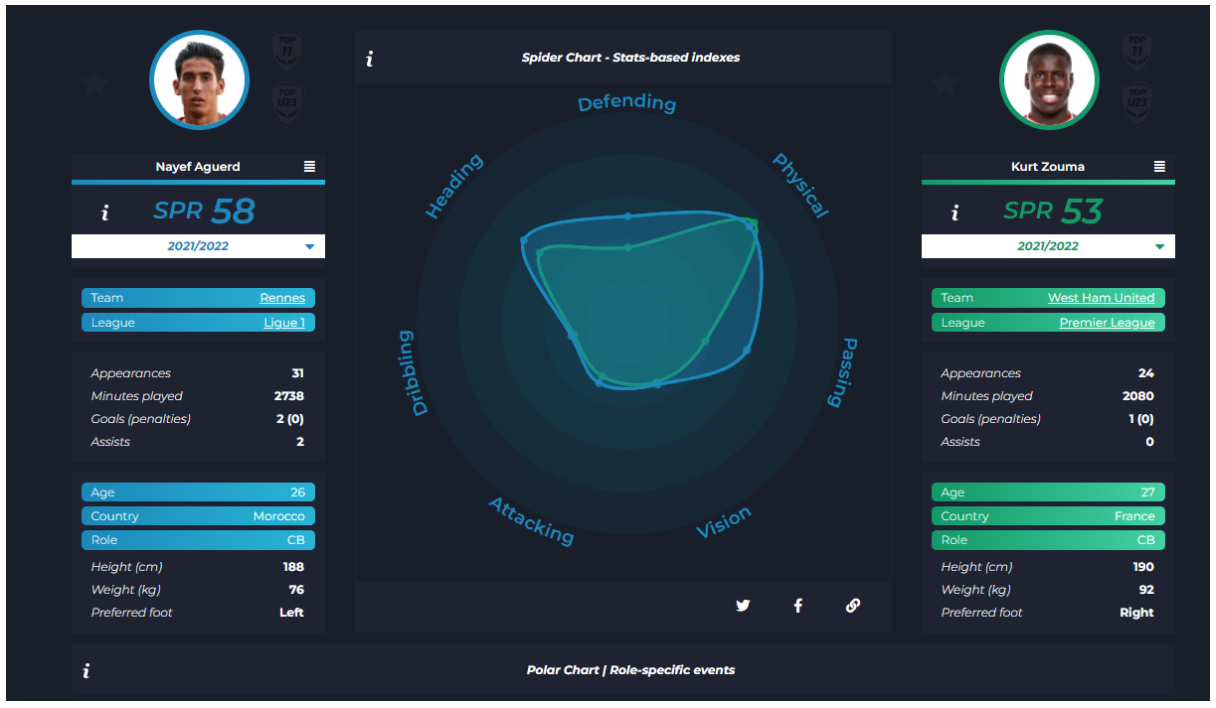 Having said that, West Ham are not currently a team that are renowned for playing the ball out of defence as demonstrated below, their current crop of centre backs rarely play progressive passes. It is possible that the pursuit of Aguerd could indicate that Moyes intends to make tactical changes to the way West Ham play over the forthcoming months.
Conclusion
From what we can see, Nayef Aguerd is clearly a talented centre back and has proved that he could do a good job in the Premier League. In terms of a potential move to West Ham, whether it will be a success will highly likely depend on how Moyes wants to operate next season.
A move to East London is certainly one option but with Aguerd's ability, there are potentially going to be many suitors for him. Nayef Aguerd has all the qualities of a modern centre back and it won't be long before we see him at the very top level.  
By: Bethany Limb / @fmbeth94 & Dhillon Gill / @FMGEGEN
Featured Image: @GabFoligno / Matthew Ashton – AMA / Getty Images