Malang Sarr: Is the 21-Year-Old French Defender Ready for Frank Lampard's Chelsea?
After the conclusion of a 15-year spell with his hometown club of OGC Nice on the 1st of July 2020, 21-year-old Malang Sarr has become one of the most sought after and desirable free agents on the market this summer. With a plethora of major European teams chasing him to acquire his services for the foreseeable future, including Bundesliga pair Bayer Leverkusen and Schalke, Sarr instead joined Chelsea on a 5-year contract, although it is speculated that he will be loaned out for the 2020/21 season.
Having made over 100 senior appearances previously for the French side, does Malang Sarr have the right skillset and experience to become a success at Stamford Bridge, or will he simply be the latest addition to Chelsea's loan army?
Who is Malang Sarr?
Born in the neighbourhood of Les Moulins in the southern French city of Nice, Sarr joined the city's biggest football club at the age of just six after impressing upon a trial. Impressive from an early age, the central defender rose through the ranks with Nice, and by the time he had turned 17, he had already been introduced to the first team squad at the Allianz Riviera.
His debut came in a French Ligue 1 match in August 2016 against Rennes and despite his young age, Sarr excelled on his debut. His all-round solid performance was topped off when he rose above the defense to head home a Jean-Michael Seri free kick, scoring the winning goal in the 60th minute. In doing so, he became the second-youngest player to ever score on his Ligue 1 debut.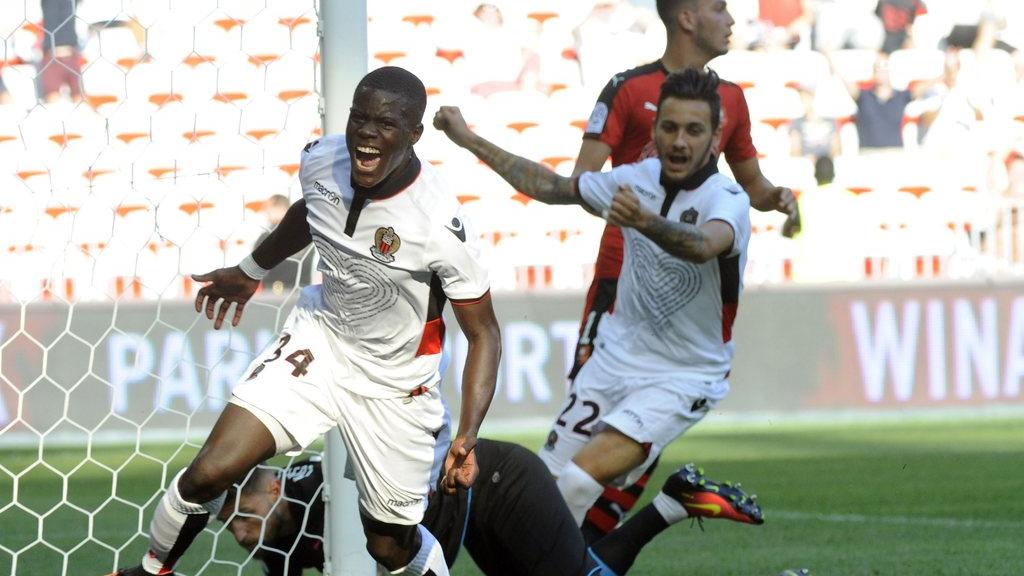 Photo: Franck Pennant / AFP
In early November of the same year, he signed his first professional contract. Sarr would go on to make 32 appearances across all competitions in his debut season, 4 of which came in the Europa League where Nice stuttered out in the group stages despite the best efforts of forwards Mario Balotelli and Alassane Pléa.
Sarr's contributions during his debut season helped his hometown club to a third-place finish under the tutelage of now-Dortmund boss Lucien Favre. His partnership at the back with veteran Dante paved the way for Nice to their best finish in since 1976, earning him a call-up to France's U-18 squad, which he accepted despite Senegal, the birth country of his parents, registering their interest in cap-tying the player.
Big things were expected of Sarr going into the 2017/18 season, especially with Nice returning to the Europa League group stage after being eliminated in the Champions League play-off round by Maurizio Sarri's Napoli. However, Sarr took a step back in his development, suffering a disappointing start to the campaign that saw him lose his place in Favre's team.
Due to the loan signing of Marlon from Barcelona, Sarr was shifted from his natural place in the center of defense to the left back position. As a result, Nice lost all four matches that Sarr appeared in at the beginning of the season. Despite his speed down the flanks, his poor positioning and decision-making led to him being exposed him in critical matches, and after a 4-2 loss at home to Marseille in early October, Sarr failed to feature for Les Aiglons for six straight Ligue 1 matches. 
His break came again in mid-December when an accumulation of injuries and fatigue from Nice's Europa League campaign led to his inclusion in the starting XI away at Nantes. Starting alongside Marlon at left centre back, Sarr put in a particularly robust performance against Nantes forward Emiliano Sala, as Nice won 2-1.
Over his side's next 18 Ligue 1 matches, Sarr would make 15 appearances at centre back to further consolidate his place in Favre's team. In February 2018, the then 18-year-old defender was named as the world's fifth-most promising U-20 footballer by the CIES Football Observatory. Sarr also won a call-up to France's U-21 squad for the first time in his career.
Once again, the 2018/19 Ligue 1 season would get off to a rocky start on a personal level for Sarr, who played just one minute of action in Nice's opening three matches under new manager Patrick Vieira, but his fortunes soon changed for the better.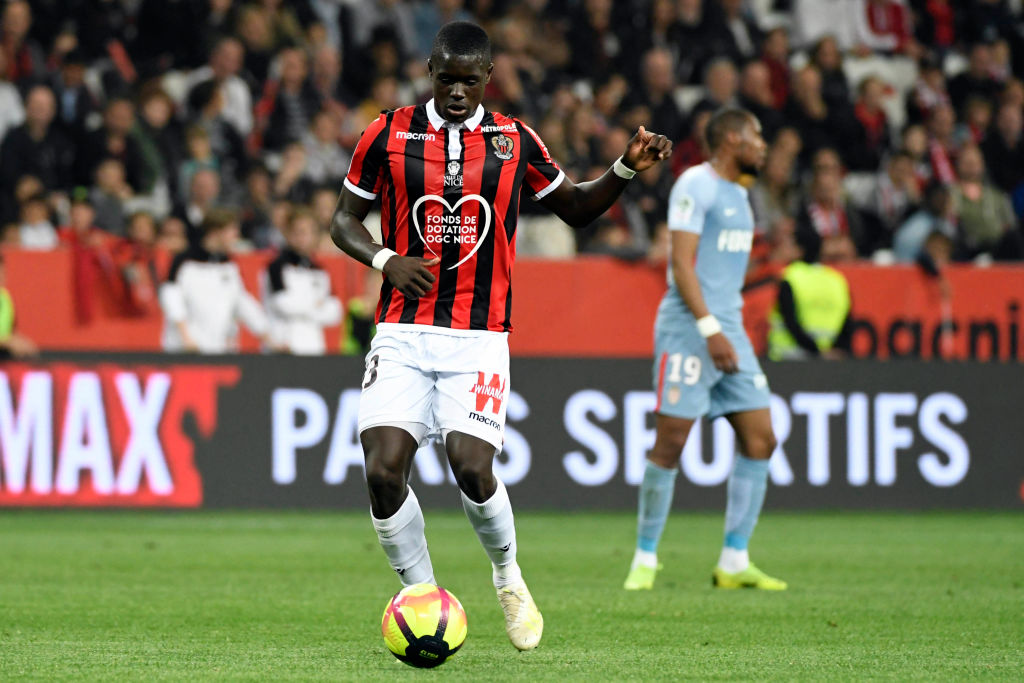 Photo: Pascal Della Zuana/Icon Sport via Getty Images
Selected to play in a back three away at Lyon, Sarr took his chance and contributed to his side's clean sheet in an impressive 1-0 win. He only missed one Ligue 1 match throughout the rest of the season, constantly switching back and forth between centre back and left back as Vieira shuffled his troops. Sarr's crowning moment came in Nice's penultimate match of the season against Saint-Étienne, when he was selected to captain his boyhood side for the first time. 
However, in what has proven to be his final season with Nice, Sarr has been constantly in and out of Viera's squad selections, causing him to reject a contract extension and seek greener pastures. He has been frequently shifted from left back to center back, playing just 58% of all available minutes, and as a result, his performances have regressed over the past 12 months.
Favoured Role and Best Attributes
Over the past campaign, Sarr has been asked to play a variety of positions and roles by Vieira, highlighting the French youngster's adaptability and versatility. With Vieira switching between two main formations, a 4-1-4-1 and a 3-4-3, Sarr was tasked with playing in the left wing-back and left centre back positions across the season, making seven appearances at full back and 12 in the heart of the defence.
It only takes a brief viewing of his individual highlights over the past few seasons to see that he's much more comfortable operating as a centre half. Granted, lapses in concentration have been spotted on occasion during his young career to date, but his natural pace and acceleration make him difficult to beat when targeted in a one-on-one situation.
His speed and agility help him to cover ground quickly and put him in a position to assist his the left back when said player is isolated up the pitch. His impressive mobility puts him in a position to intercept opposition attacks, with Sarr averaging 2.62 successful interceptions per 90 minutes last season in Ligue 1.
Especially in a formation with three central defenders, Sarr excels at pressing the opponents as high up the pitch as possible and often sticks closely to opposition strikers to isolate them in one-on-one situations, often advancing off his defensive line to break up attacks and regain possession.
This can prove risky when playing in a back four, as Sarr can often wander from his position, leaving passing lanes open for the opposition and exposing his defensive partner on the counter.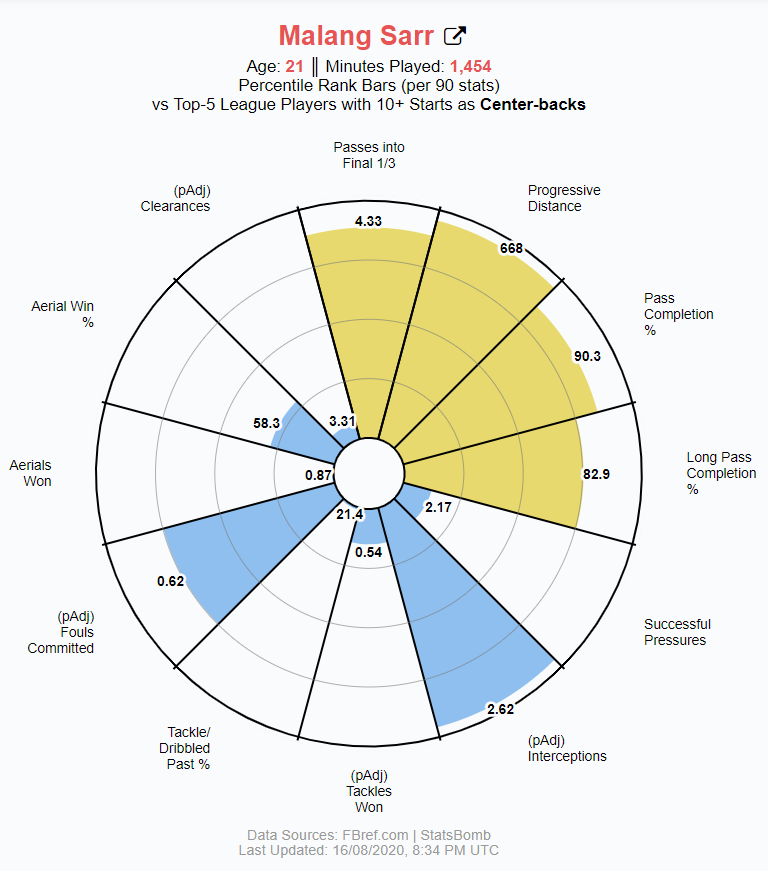 At 21 years of age, Sarr has made a name for himself as a ball-playing center back, perhaps a defender who is better on the ball than off it. With an excellent first touch, Sarr is not adverse to patiently keeping the ball in order to draw in the press, before using his superb passing range to pick out a teammate in an advanced position.
With a pass completion rate of 90.3% in Ligue 1 last year, it's clear to see that Sarr is very comfortable and confident when on the ball, a skill that is crucial for any top Premier League defender. He tends to carry the ball down the left-hand side of the opposition's midfield in order to create space, before rifling an accurate pass into one of his attackers or wide men.
Furthermore, with a long pass completion rate of 82.9%, Sarr also enjoys switching the play to the opposite side of the field to quickly expose the opposition on the counter. Reports suggest that these are the areas of Sarr's play which caused Lampard to push for his signing.
Weaknesses
For all the upsides in his game, Sarr demonstrates one glaring weakness: aerial ability. With an aerial duel win percentage of just 58.3% in Ligue 1 during the 2019/20 season, Sarr could struggle against the likes of Raúl Jiménez and Pierre-Emerick Aubameyang. His lack of aerial authority can leave him at a disadvantage, especially at set pieces, and with the overall physicality of the English top flight, this is a weakness that opponents will look to expose in the future.
Chelsea could limit the damage by playing a more physically imposing centre half next to him, but first, Sarr will need to beat out the likes of Andreas Christensen, Antonio Rüdiger, Kurt Zouma, Fikayo Tomori and Thiago Silva for a starting spot, the latter of whom looks poised to join on a free transfer in the coming days.
Tomori, who has been linked with a loan move to Rennes, is just 13 months older than Sarr, yet looks much more composed in defensive areas than Sarr. The Englishman boasts a successful aerial duel rate of 65%, and averages 8.6 clearances per 90 minutes in contrast to Sarr's 3.3, with the majority of those clearances coming after aerial duels.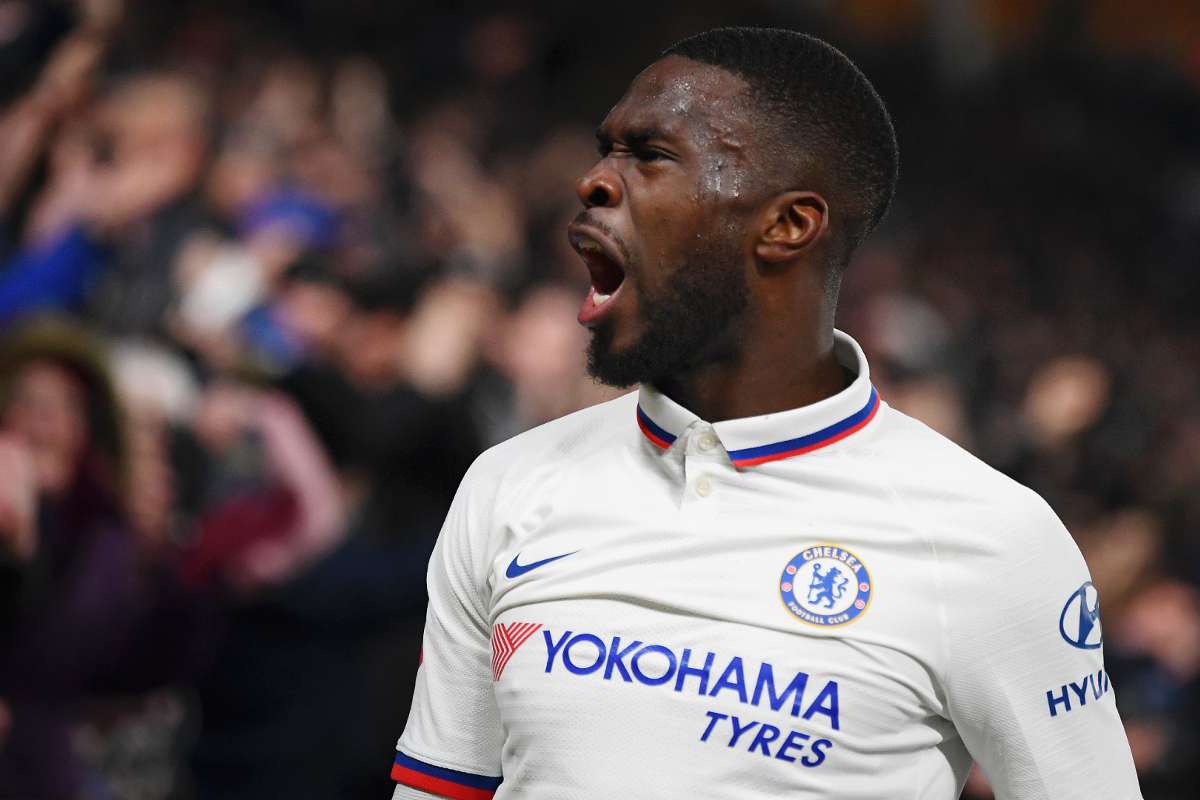 Photo: Getty Images
On the other hand, Sarr has often exhibited a lack of urgency when needing to clear the ball from the defensive area, sometimes opting to try and play the ball out of the back when time doesn't allow. 
If reports are to be believed, Chelsea will send Sarr out on loan to a Serie A or Bundesliga side after completing the free transfer, with Schalke and Bayer Leverkusen being linked as potential destinations. Wherever he plies his trade next season, the Chelsea leadership should see to it that he is partnered with an experienced veteran in defense.
It's no coincidence that his best performances for Nice came when playing alongside Brazilian defender Dante, who is 15 years his senior. A steady, reliable old hand in defense would allow Sarr to go forward with more creative license, whilst compensating for the France U-21 center back's shaky positioning.
As things stand, it appears that Chelsea's center back options next season will be Rüdiger, Silva, Zouma, and Christensen, with Tomori, Sarr and Marc Guehi being loaned out. It will be a tall task for Sarr to break into Lampard's squad, but if he can take advantage of his prospective loan spell and polish the weaknesses in his game, he'll be able to get back on track from a successful career — whether that's at Stamford Bridge or elsewhere.
By: Nathan Evans
Featured Image: @GabFoligno / Pascal Della Zuana/ Icon Sport via Getty Images