Malcolm Ebiowei – The Tricky Winger Awaiting His Premier League Wings
His short and sharp rise into Derby County's first team means that Malcolm Ebiowei is now a sought after prospect. Now available on a free transfer after the expiration of his one-year deal with the Rams, Ebiowei has attracted interest from the likes of Crystal Palace and Manchester United. A rangy winger with raw pace and a relentless dribbling attitude, the 18-year-old is waiting to take the next step up after a promising start to his professional career.
Ebiowei began his youth career at Arsenal, and after showing good signs early on, by the age of 15 had already enticed a three-way tussle for his national allegiance. His country of birth, the Netherlands along with England and Nigeria all wanted the winger to pledge himself to their respective nations.
He made appearances for the Dutch under-15's side before making a debut in England's youth set-up whilst also playing up an age groups with Arsenal's under-18 side, and showed all the early signs of dribbling prowess.
Ebiowei was a shining star in a pre-season trip to Germany for the Bundesliga cup, bagging a goal during the opening game against Bayern Munich. Cutting inside from the left, he drew two defenders in order to quickly tap the ball past them in parallel to the 18-yard-box before unleashing a drilled shot into the bottom right corner of the goal.
Occasionally playing as a number 10 during his time in Arsenal's academy allowing his line-breaking ability to shine through, Ebiowei almost dabbled in a third nation as Nigeria came calling and offered him the chance to play in a training camp just before the under-17 FIFA World Cup in 2019.
After Returning to the Premier League, How Can Scott Parker's Cherries Beat the Drop?
However, he was advised not to partake, and to focus on his club career – something of which the picture would change for Ebiowei soon. The winger moved north of the border to Scotland after the Gunners opted against giving him a scholarship, reportedly surrounded by attitude issues despite bags of potential.
Trials at West Ham United followed along with interest from the likes of Manchester City and Everton, but instead Ebiowei headed to Glasgow to progress his career with Rangers. He represented their under-18's and B-team during his time with the 'Gers, opting to take on a new challenge under the stewardship of Steven Gerrard.
Bagging two goal contributions on his debut, Ebiowei slipped through Chris McKee and slotted a penalty away in a 6-2 battering of Aberdeen. However, he opted to swap one Premier League legend-turned-manager, for another – moving back to England to play for Derby County under Wayne Rooney.
Signing a year-long contract, Ebiowei was thought to simply kickstart his development with the Rams, playing mainly for their prized PL2 outfit. But instead, as 2022 began and with Rooney's squad threadbare, the winger was thrust into the first team limelight, making his debut in a 3-1 win over Hull City.
"He has got an enormous amount of ability, he is brave, he will take the ball, he is not afraid to take players on, to get tackled, to make mistakes. So he has got a really bright future." – Wayne Rooney on Ebiowei.
His first touches on a professional pitch are a stark reminder of what the 18-year-old can do with the ball at his feet.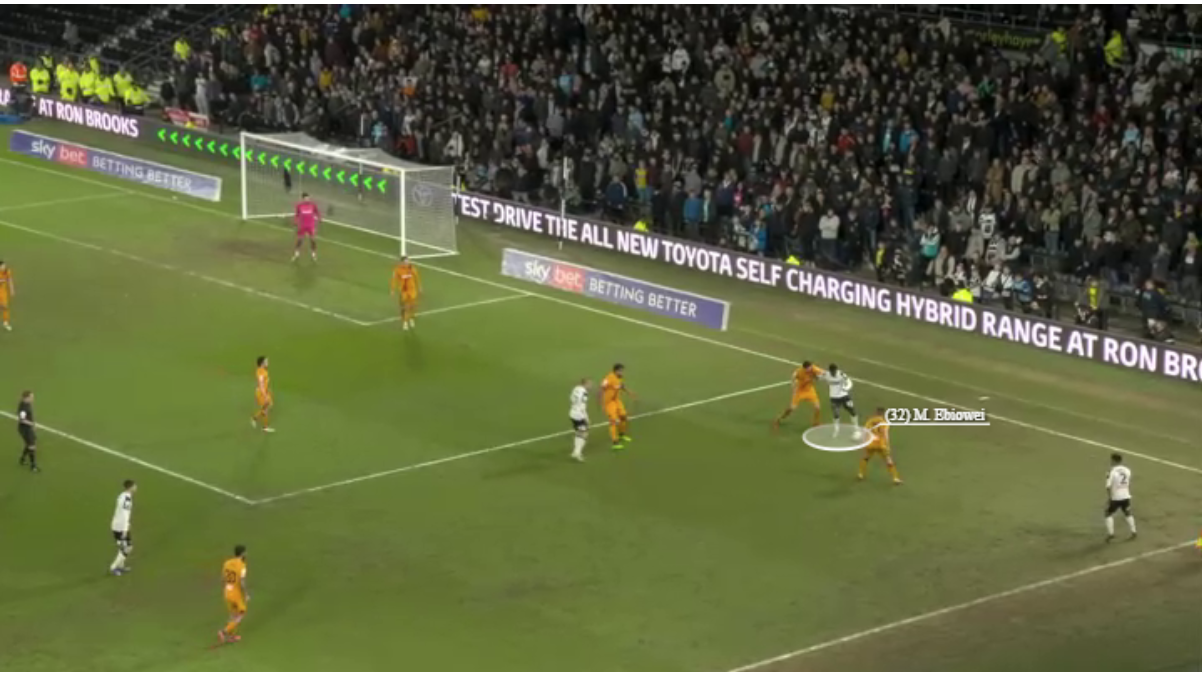 A throw-in from Nathan Byrne went straight to the feet of Ebiowei, with the impetus of seeing the game out, the winger puts distance between the ball and Jacob Greaves, and holds it up efficiently. But a touch with the outside of his left boot flicks the ball past Greaves and opens up the space in the tight channel along the byline.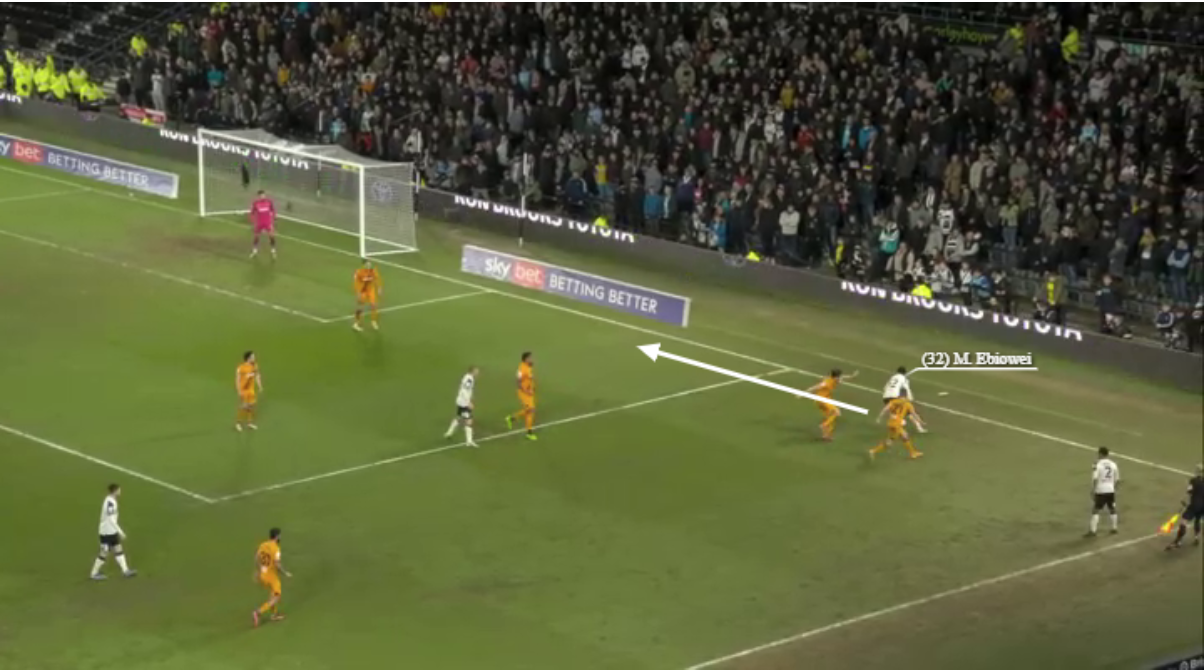 A burst of pace saw him breeze past the defender, and the crowd stood up to applaud the youngster. This proved to be a prime example of Ebiowei's quick thinking in pressurised situations, whilst keeping his ideals simple and to the point.
The winger continued to show these glimmers of promise as the season progressed and was drip fed into Championship life, with substitute appearances coming slowly but the minutes growing exponentially. His first start came against fellow relegation side Barnsley where his Rams side won 2-0 thanks to a Ravel Morrison brace.
But Ebiowei almost helped Morrison to another after only 11 minutes, chopping inside and landing a floated cross towards the former United prospect, only to be cleared in the nick of time by a Tykes defender.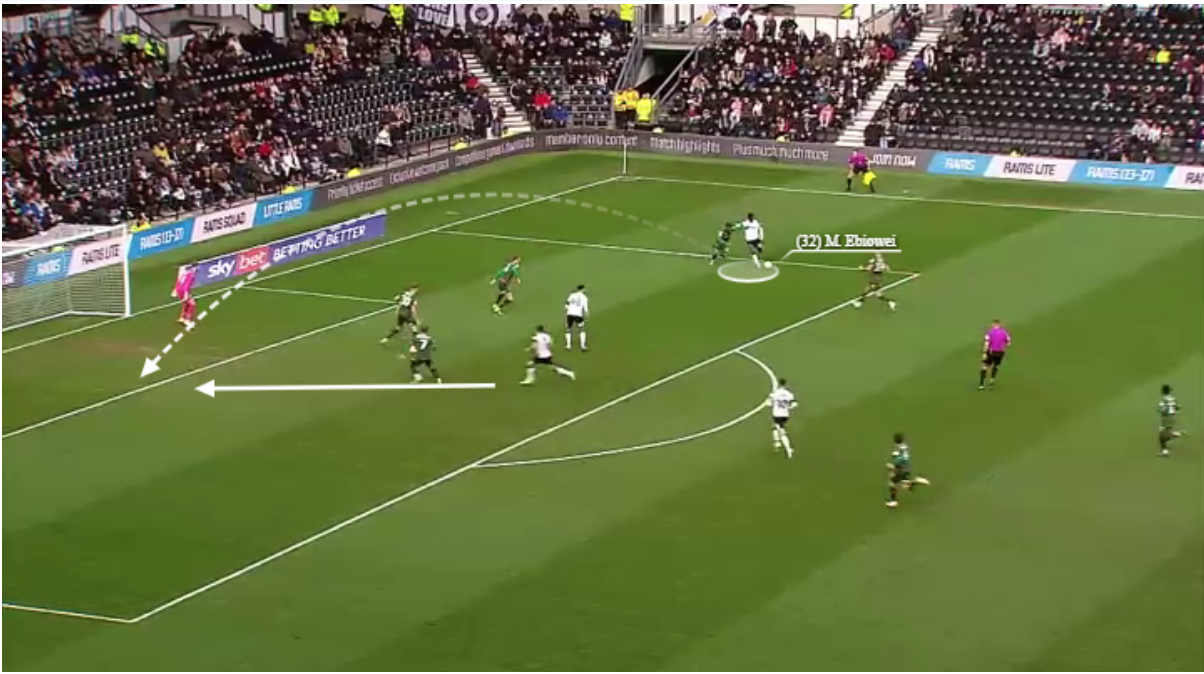 However, it was his performance against Coventry City that set the top-flight's eyes firmly towards the winger and a showing that Rooney lauded praise towards. For young attackers, it can be difficult to generate consistency over a full 90 minutes and more often than not are substituted on or off in games.
But in the stalemate with the Sky Blues, he added dazzle and became Derby's main creative threat. Ebiowei completed eight out of his 15 dribbles in the draw and added four passes into the penalty area – providing the progressive winger play needed in Rooney's side.
"I thought he was excellent all game, the best player on the pitch, it was one of the best performances I have seen from a young player, consistently for 90 minutes, in a long time." – Rooney on Ebiowei post Coventry match.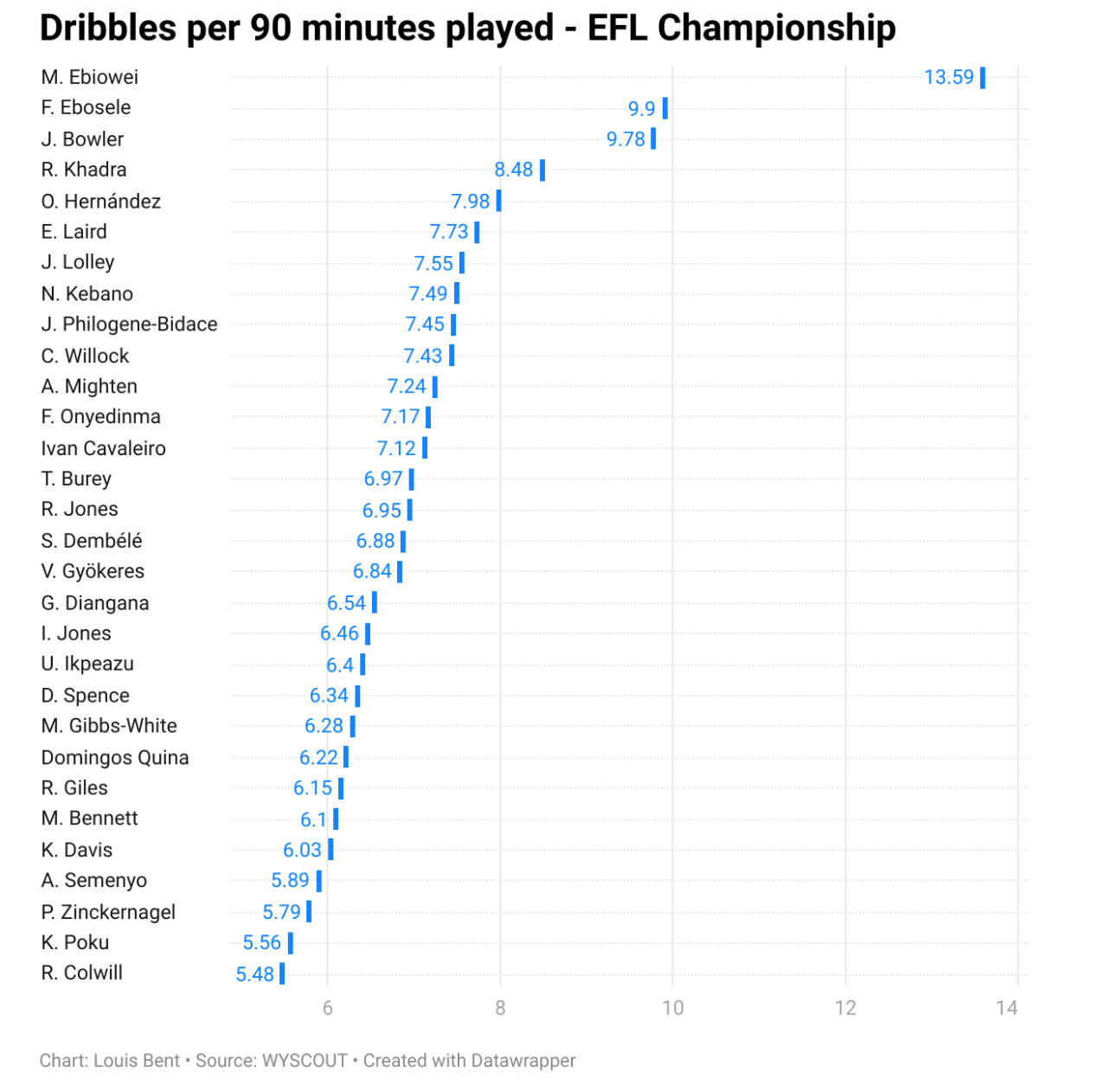 His dribbling prowess proved to be his most useful asset, however, a particular trait emerged in order to make it more effective. Ebiowei's love of enticing opponents in with a drag, but in turn quickly shifting the ball past their trailing leg caused huge difficulty for defenders.
A perfect example came against Swansea City, where the winger was faced with midfielder Matt Grimes, instead of immediately trying to knock the ball past him, he rolled the ball back into his control to invite the tackle from Grimes.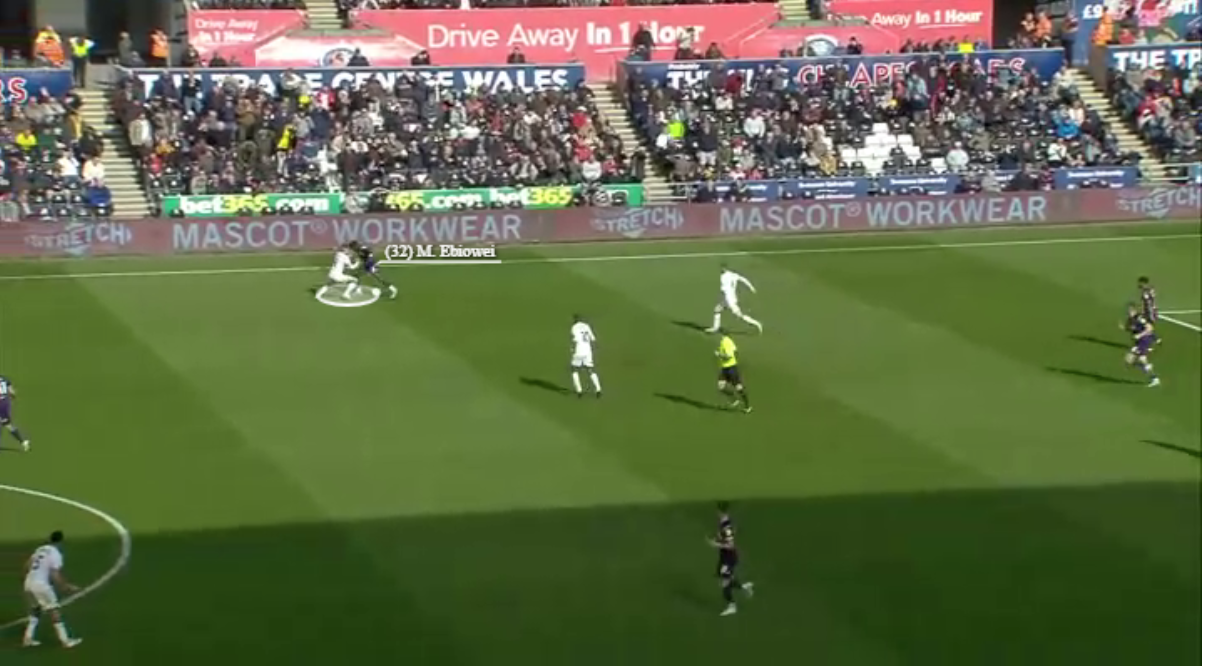 Then as the tackle came in, Ebiowei diverted the ball onto his right foot and ran the ball down the touchline. In the end, the Swans midfielder had no choice but to bring down the 18-year-old.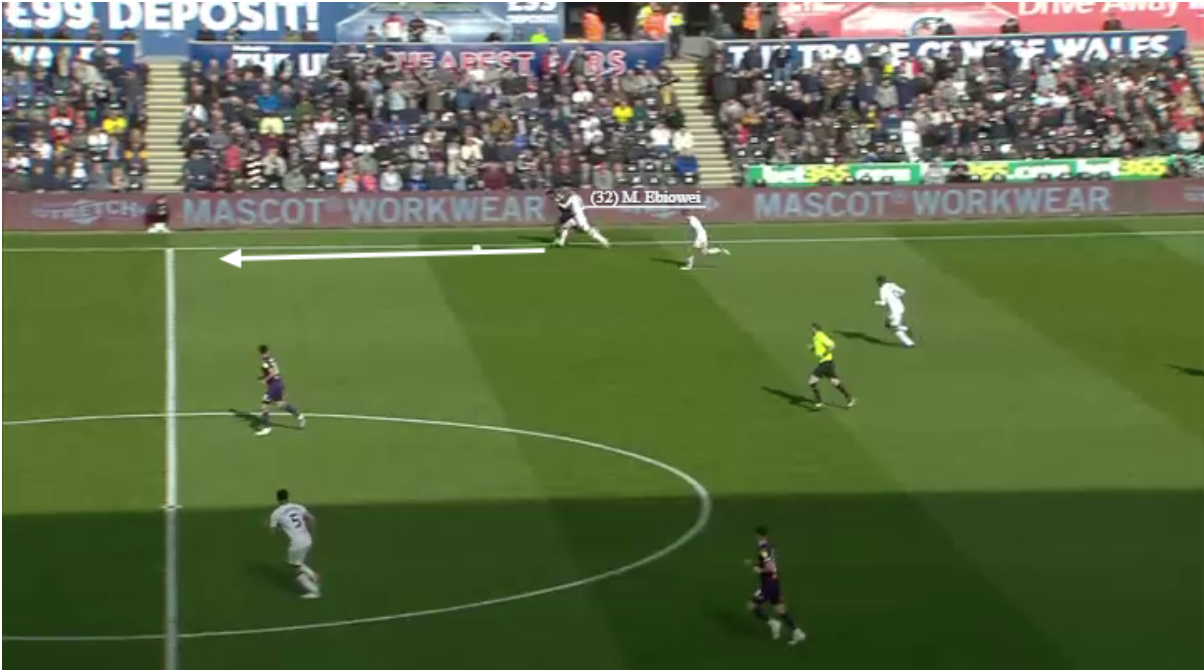 Ebiowei's dribbling matches up with some of the most prolific dribblers in Europe's top five leagues. Although his attacking output doesn't quite align with the most efficient, the Derby man is a relentless dribbler and prides himself on dashing down the line at almost every opportunity.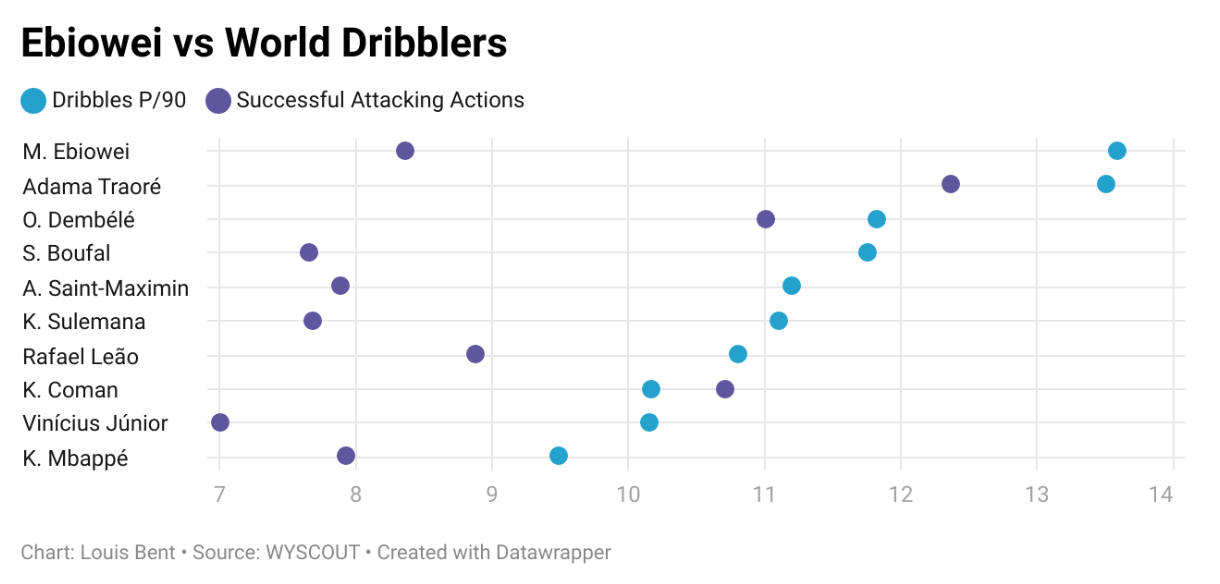 It will be interesting to see whether Ebiowei gets his Premier League move, whether that will happen this summer remains to be seen, but the signs of ability are all there and ready to be developed.
By Louis Bent / @louisbent_
Data and Analysis via WYSCOUT