Malo Gusto: Analyzing Chelsea's Incoming French Right Back
The Olympique Lyonnais academy is renowned for producing brilliant technical players such as Nabil Fekir, Anthony Martial and the current Ballon d'Or holder, Karim Benzema. Now, it appears as though the French club have struck gold once more with an academy graduate; this time, a right-back by the name of Malo Gusto. The 19-year-old has already emerged as a key part of the setup at Lyon and has begun to attract interest from some of Europe's heavyweights, most notably Chelsea FC.
With the Blues eager to find an alternative to the increasingly injury-prone Reece James, Chelsea have signed Gusto for €35 million rising to €40 million with add-ons, with the teenager remaining at Lyon until the end of the year before joining Chelsea in the summer on a contract through 2030. But what exactly are the attributes that Malo Gusto possesses that make him such a highly-rated and sought-after prospect at such a young age?
Much like many modern full-backs, Malo Gusto is primarily an attack-minded player. Much of his value is earned from having the ball at his feet and manipulating opposition defences. He's a fantastic progressive passer of the ball. More often than not, he's looking ahead for penetrative passes between the lines to unlock opposition blocks.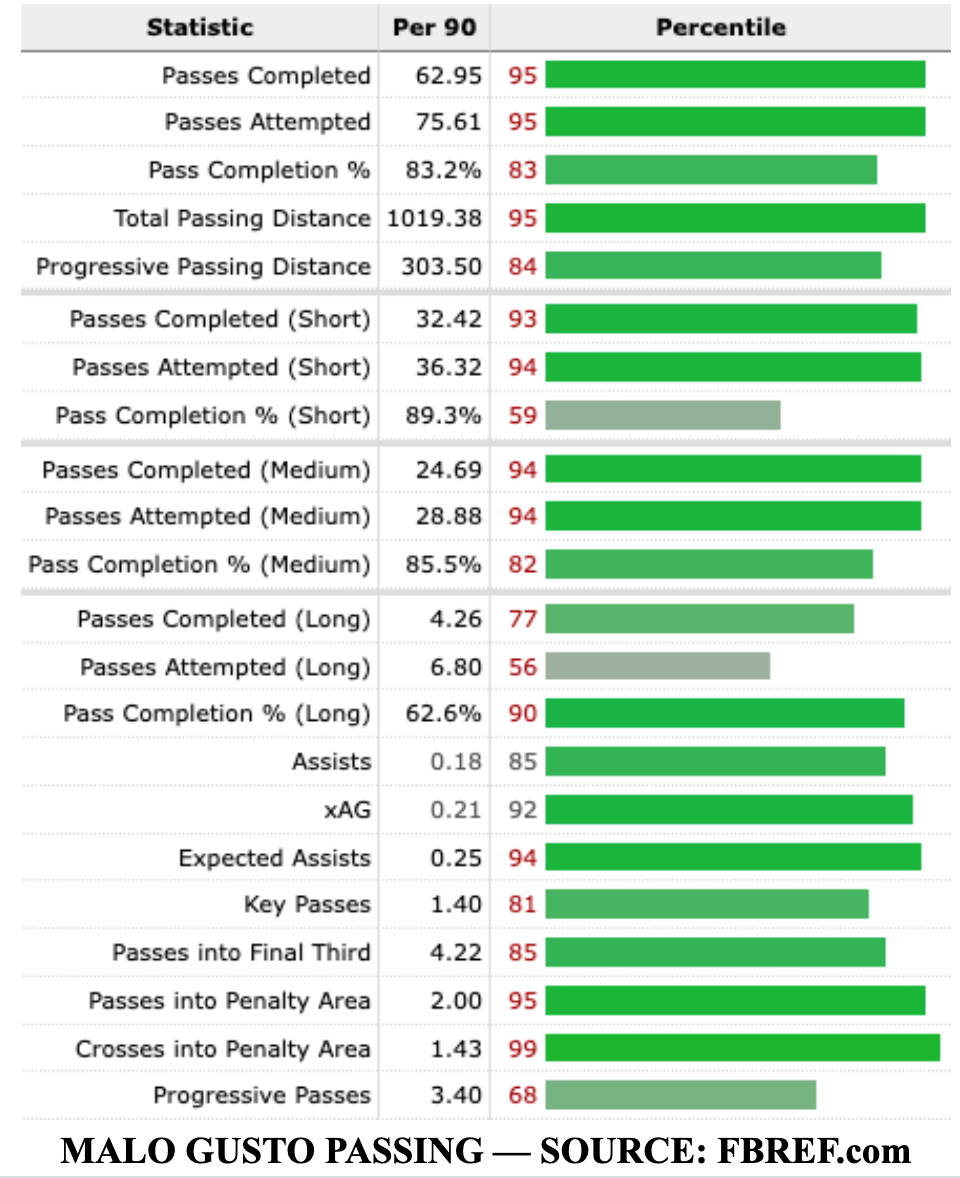 He often dribbles into central zones and makes decisions from there, whether that be choosing to carry or pass the ball. As a former midfielder during his earlier years in the youth academy, it makes sense that Gusto has an inclination towards moving inside, as certain tendencies are difficult to outgrow.
The young Frenchman is a willing and dangerous crosser of the ball. He can whip balls in as both an aggressive overlapping full-back (as is his preference) or from the half-spaces as an underlapping full-back. I don't use the word "whip" lightly, as Gusto really delivers his crosses with plenty of curve and velocity.
He's particularly dangerous with his whipped crosses from deep, where defenders are often retreating to face their own goal, making it harder to read the trajectory of the crosses and deal with them adequately. That said, he could still improve on the accuracy of his crosses, as partially reflected by his single Ligue 1 assist this season and his 5 club assists in all competitions last season. His willingness to cross the ball and his quality ball-striking should allow him to improve in this respect, especially at his young age.
Just as impressive as Malo Gusto's passing is his technical quality with the ball. He's relied upon heavily to be involved in attacking sequences and possesses the footballing ability to do so at a high level. He has tremendous technical security, especially when tightly marked and when operating in the half-spaces.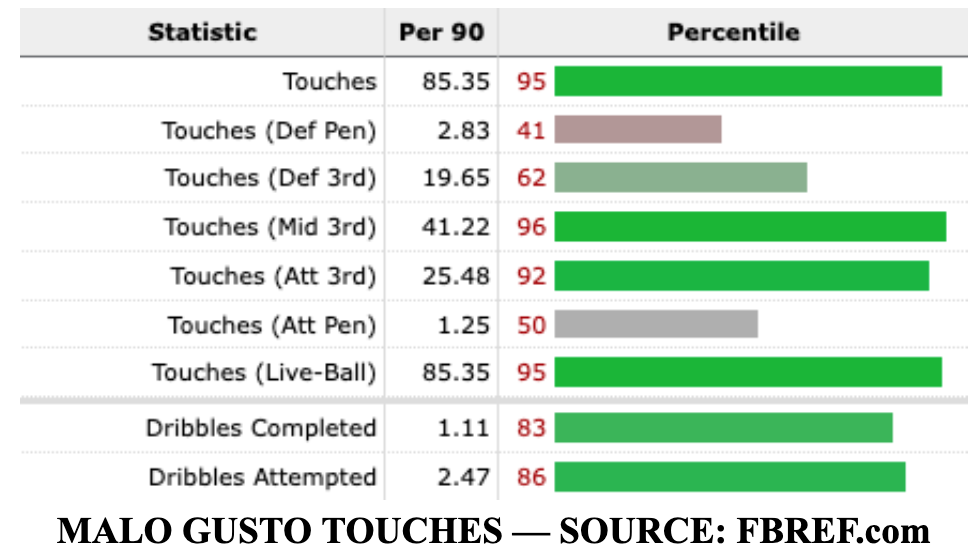 Gusto's technical security is precisely why he's entrusted with so many touches, especially in advanced areas. Ranking above the 90th percentile in touches, touches in the middle and attacking thirds, and live-ball touches is truly remarkable. These statistics are compared with other full-backs in Europe's big 5 leagues and they show how the Isère-raised youngster flourishes amongst his positional peers at the highest level of football.
As also indicated by the statistics, Malo Gusto is a fantastic dribbler from full-back. Ranking in the 86th and 83rd percentiles in dribbles attempted and dribbles completed respectively, Gusto is more than happy to carry the ball forward and take on opposition defenders. This is one of the principal ways in which he enters advanced areas in order to provide passes or crosses to teammates.
With space ahead of him, he's prepared to carry the ball considerable distances and attempt dribbles where necessary as he prioritises affecting the game in the most advanced zones. He uses his deceptive strength and balance to maintain possession under pressure before finding a pass or racing away from his opponent.
Although there is much to be said of Gusto's offensive acumen, he is admittedly weaker on the defensive end. He has a habit of losing concentration off the ball and subsequently ending up badly positioned to defend opposition attacks. That said, he is very quick, especially when accelerating from a standing position, so he can often make recovery plays and tackles, somewhat akin to Aaron Wan-Bissaka. Also similarly to Wan-Bissaka, Gusto is often inclined to make sliding tackles.
Whilst this does help him reach opponents who may otherwise be difficult to tackle due to distance, it also makes him more susceptible to falling behind a play and leaving his fellow defenders exposed. Regardless, he's a tenacious tackler and, when positioned correctly, can make strong and confident tackles, but his positioning and focus are certainly concerns.
Needless to say, Gusto would likely operate best in a system where his team dominates possession and territory, leaving the Frenchman to do less defensive work, instead focusing on his offensive gifts. Whilst he is far away from reaching his prime at 19 years old, he'll provide healthy competition for the injury-prone Reece James, whilst also acting as an immediate upgrade on the aging César Azpilicueta.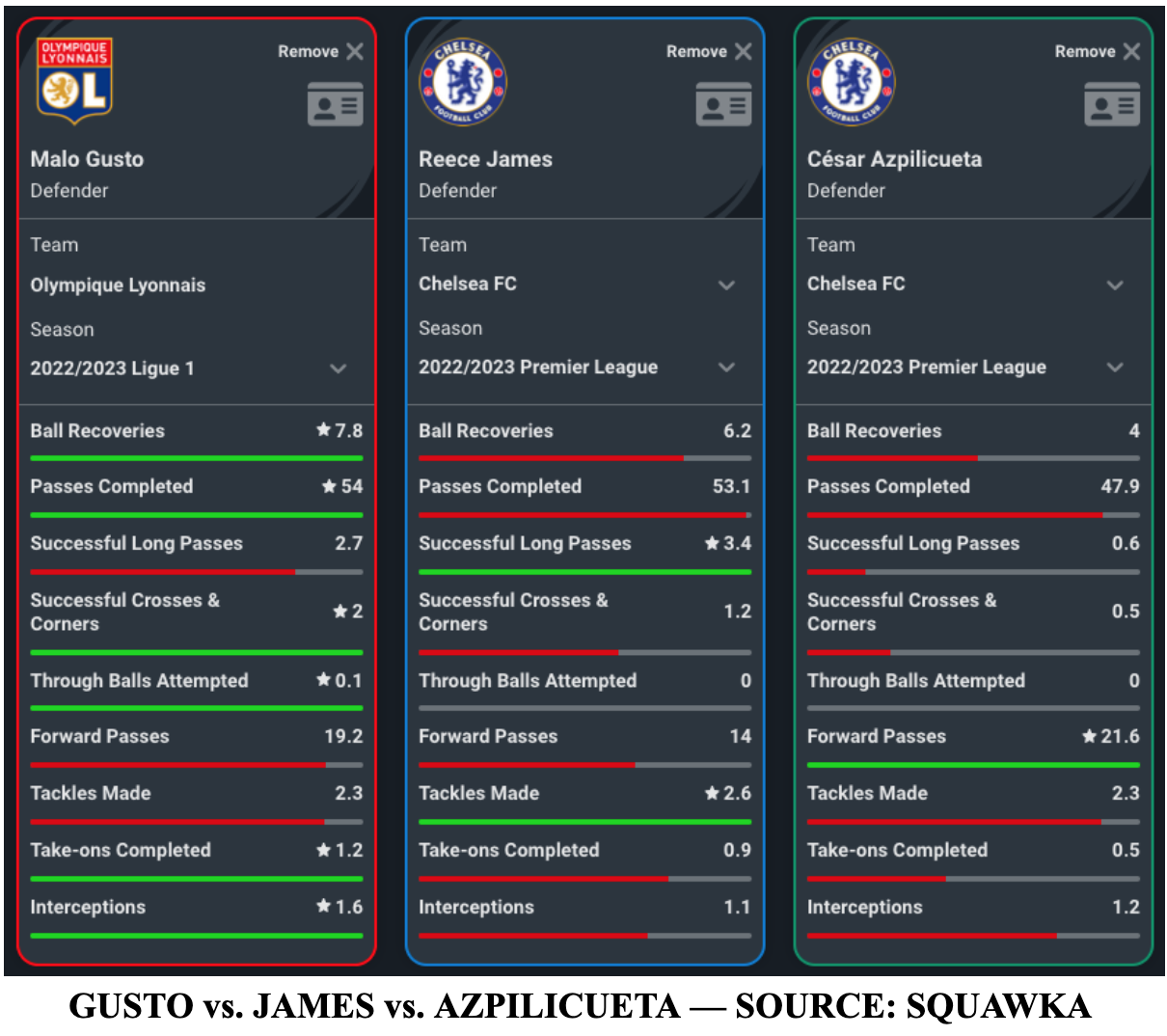 Gusto thrives in a number of important statistical categories when compared to Chelsea's current right-back options. Although this is a fairly small sample size, taken just halfway through the current season, especially with Reece James having missed a number of games through injury, it is still evident that the Olympique Lyonnais man will play a major role with the London giants, should the reported move materialise. He's still only a teenager, so his best years are almost certainly still ahead of him, but I think it's safe to say that Malo Gusto has already proven that he belongs at the absolute highest level.
By: Lebohang Mwamuka / @lebzygold
Featured Image: @GabFoligno / Chelsea FC