Manuel Ugarte – The Art of Central Solidity
A nation driven by a fighting spirit, inspired to put their lives on the line for victory. None do it like Uruguay. The national psyche of 'Garra Charrúa' portrays Uruguay as the perennial underdog in a near-impossible fight against others, seeking to achieve the impossible, a concept taken from the nation's stoic resistance to defend their territory against the bigger and more powerful Spanish forces.
"Garras" means claws, and "Charrúa" refers to the indigenous people who lived in the territory that is now Uruguay, hence the moniker 'Claw of the Charrúa.' It is a nickname given to the Uruguayan national football team, inspired by the fierce and warrior-like nature of the Charrúa people. Having put up a resilient albeit unsuccessful fight against Spanish invaders, this tribe was known for their courage, strength, and tenacity, all of which are qualities that are often associated with Uruguayan football.
This nickname has become a symbol of the team's fighting spirit and never-say-die attitude, both on and off the pitch, and it has become synonymous with several of the nation's up-and-coming footballers, including Sporting CP's 21-year-old central midfielder Manuel Ugarte.
Born on April 11, 2001, in Montevideo, Uruguay, Ugarte started his development at local club City Park before moving to Fénix, making his professional debut at 15 years and 233 days and becoming the youngest player in the 21st century to play professionally in Uruguay's top-flight. Ugarte left for Portugal at 19 years of age and quickly became a regular in midfield for Famalicão, who went from hovering above the relegation zone to fighting for Europe.
In an exclusive BTL interview, Diego Forlán chats with @ZachLowy about his time at Manchester United, how Darwin Núñez could fit at Old Trafford, his post-playing career, and more.

Watch the full interview on our YouTube channel: https://t.co/s6dq1Gh7st pic.twitter.com/TygOJQpjbv

— Breaking The Lines (@BTLvid) April 25, 2022
Ugarte would last just seven months at Famalicão before heading to Sporting in the summer of 2021, with the Uruguayan quickly staking a claim to a starting spot and filling in for the injured João Palhinha, racking up 25 league appearances. Following the departures of Palhinha and Matheus Nunes, Ugarte has emerged as a vital cog in the center of the pitch for Rúben Amorim's side this season and made a case for himself as one of the finest midfielders in Portugal.
The 21-year-old midfielder has shown great potential since joining the club, impressing fans and critics alike with his technical skills, work rate, and versatility on the pitch. Ugarte is generally deployed as a holding midfielder and is highly aggressive and tenacious. He also has a great technical ability to thrive in all phases of the pitch.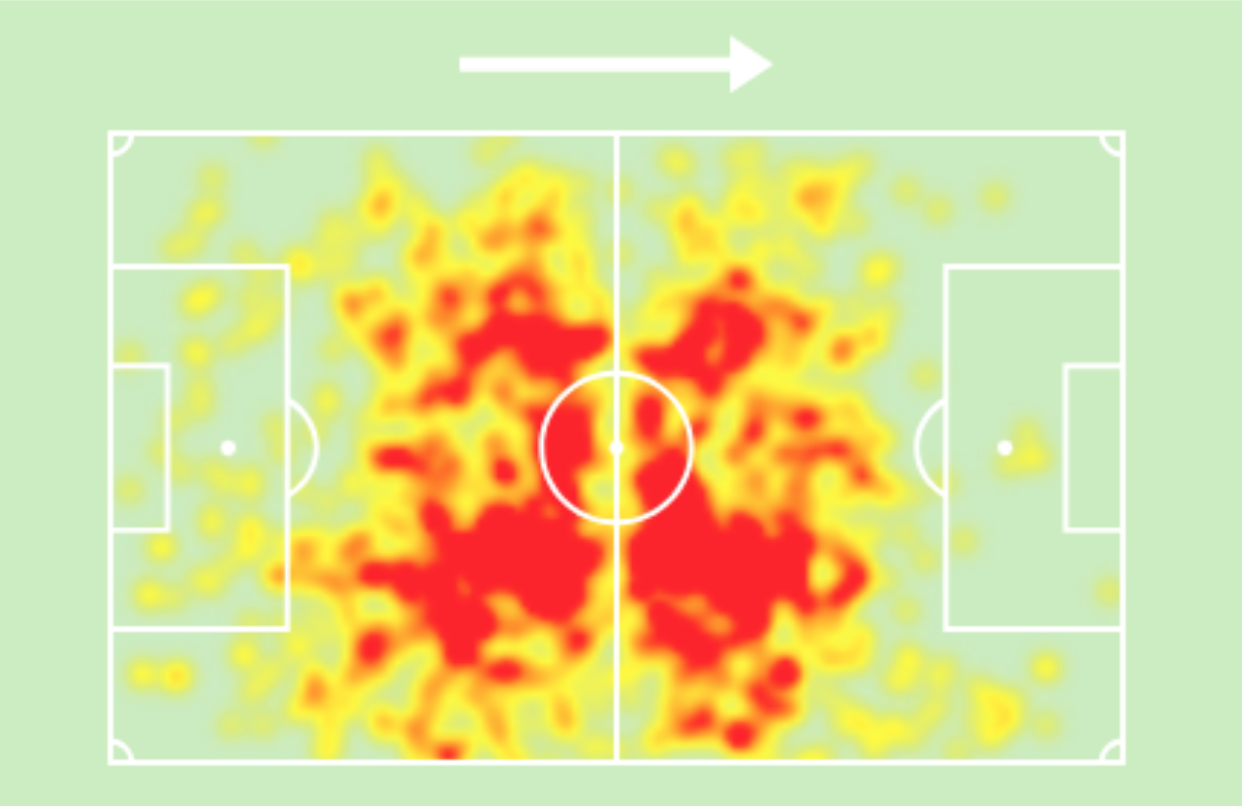 This heatmap from SofaScore shows how all action the midfielder really is. A player to get around the pitch driven with a big engine. Defensively, Ugarte is making a very big name for himself. As for any Uruguayan midfielder, such as 'Federico Valverde', or 'Rodrigo Bentancur', ask them if they love tackling and more than likely their faces will light up. Manuel Ugarte is certainly no different.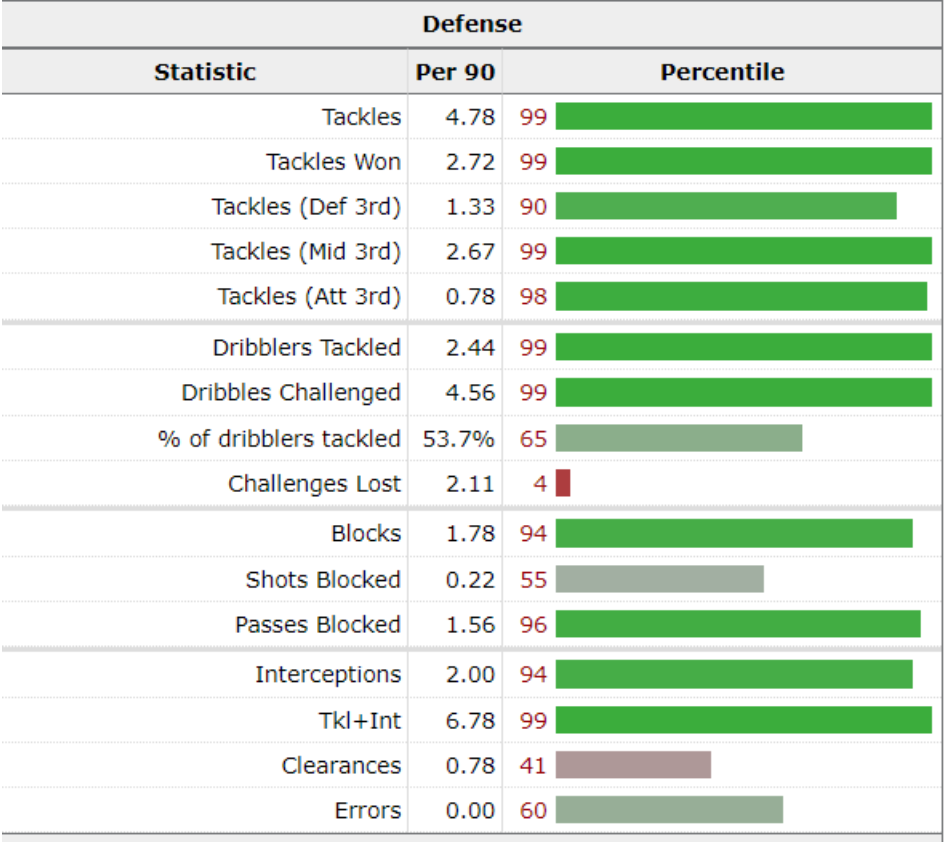 This is an extract from his defensive stats for the 22-23 Primeira Liga season. As we can see Ugarte is a defensive monster not afraid to stick his leg in a challenge and win the ball. Ugarte wins more tackles than anyone in the league and also ranks the highest for tackling any dribblers. This makes him a vital asset to have in the middle of the pitch as a 6 or even as an 8. He doesn't go to ground a lot and usually will fend off a player with a shoulder nudge. Ugarte only goes to ground when necessary.
Ugarte is helped by his big engine. When watching him, you will see the willingness and tenacity to get back and make a challenge or recover the ball, even if he is nowhere near the player at first. A likeness to this type of resilient running and tackling is N'Golo Kante. He will recover if his team is at risk of suffering a quick transition, and also aggressively press any opposing player, in order to win the ball back and sustain pressure in the middle or final third of the pitch.
These stats also show his ability to press higher up the pitch and win the ball if needed. This is a brilliant addition to have in a central area when a coach wants his team to pin the opposition back and create a physical or numerical superiority if instructed to do so. As we can see, he is a player who is not bothered to get involved in duels, wherever they are on the pitch.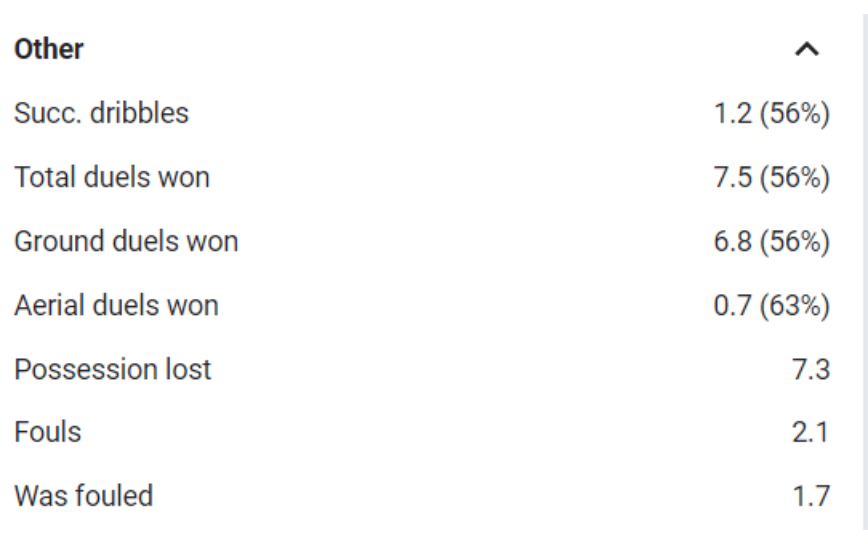 This snippet from SofaScore shows his willingness to get involved, and not be afraid to ride challenges when they come. Ugarte wins more than half his duels, a number which is extraordinary when considering how many he challenges for per 90. 
Manuel Ugarte vs. Arsenal:

– 82 touches
– 52 of 59 passes completed
– 8 passes into the final third
– 4 successful dribbles
– 8 tackles
– 4 fouls
– 10 ball recoveries
– 13 duels won

An industrious performance from Ugarte to help Sporting past the Premier League leaders… pic.twitter.com/YBMlEtLJwz

— Warriors of Uruguay (@UruguayanHeroes) March 17, 2023
In the recent Europa League match against Arsenal, we saw how incredibly aware he is of recycling the play and helping hold his team's defensive structure. He also completed the most dribbles on the pitch. These stats are over 118 minutes as he got sent off for a very reckless sliding challenge on Arsenal's Bukayo Saka, something which comes with such a personality.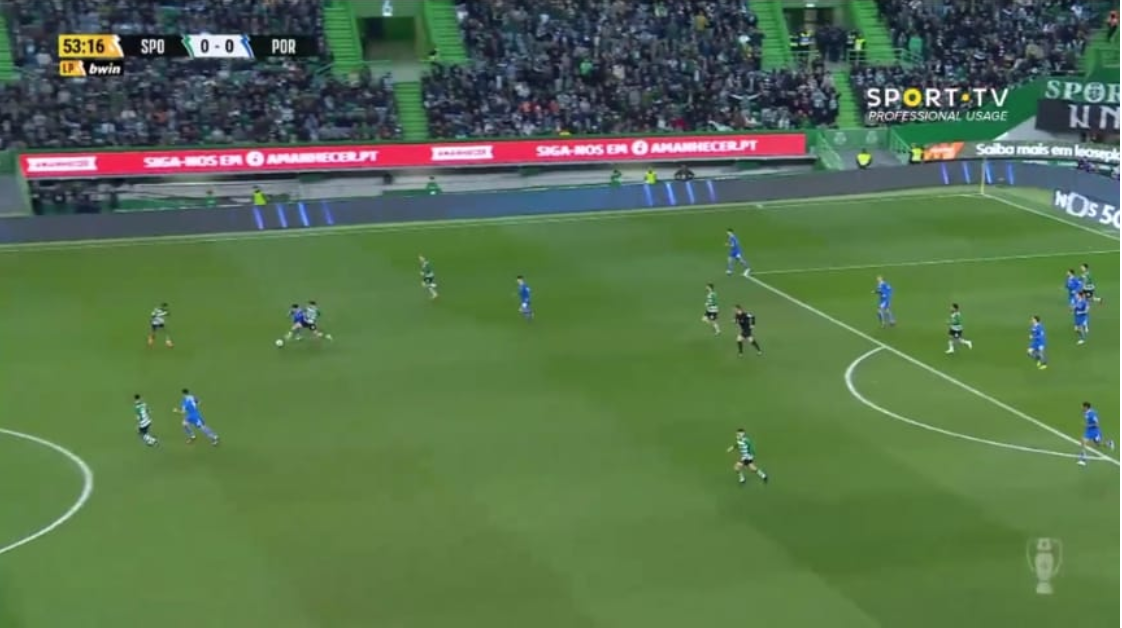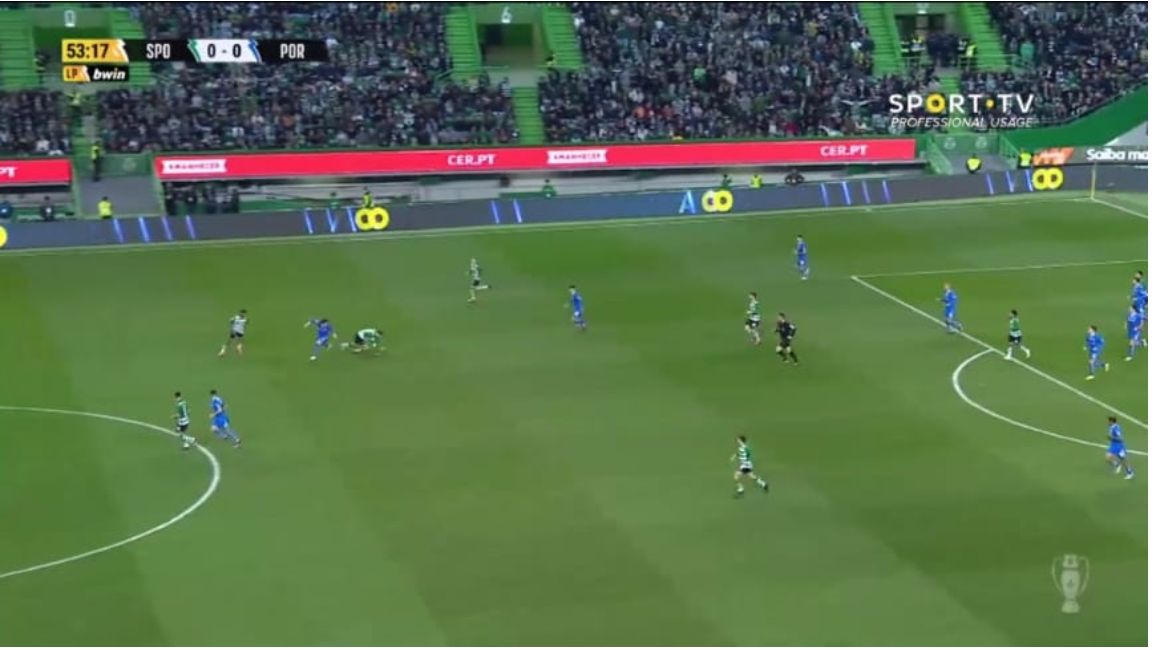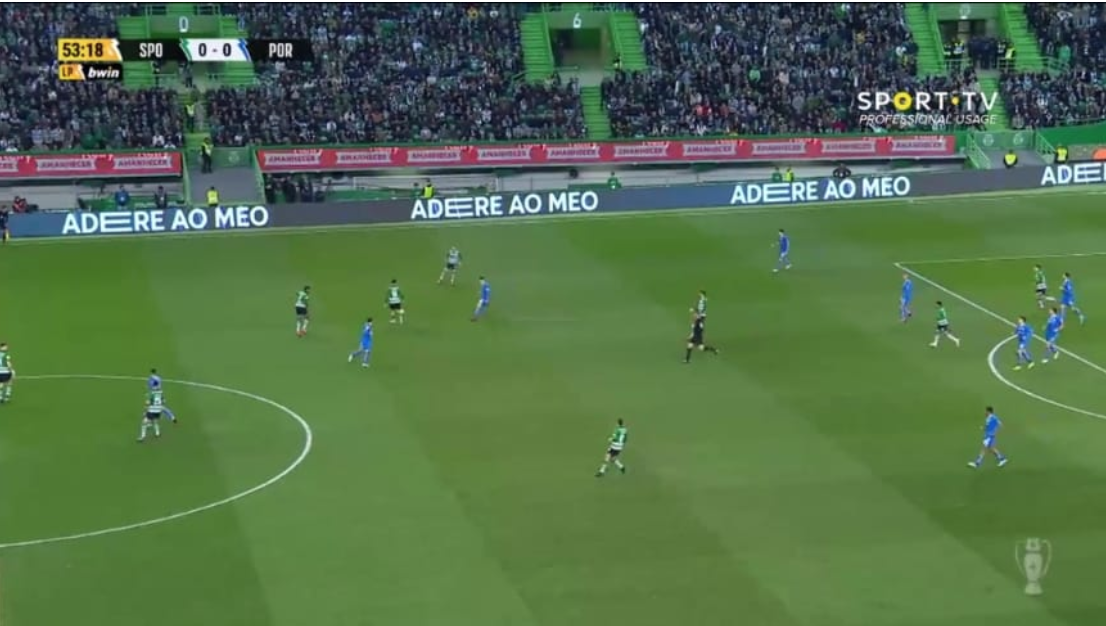 (Images from @EverydayUnited2 on Twitter)
These graphics show his ability to stop quick transitions and safely recycle the ball. This sequence of play highlights how important his defensive attributes are to a team that wants to sustain attacks while holding a high line.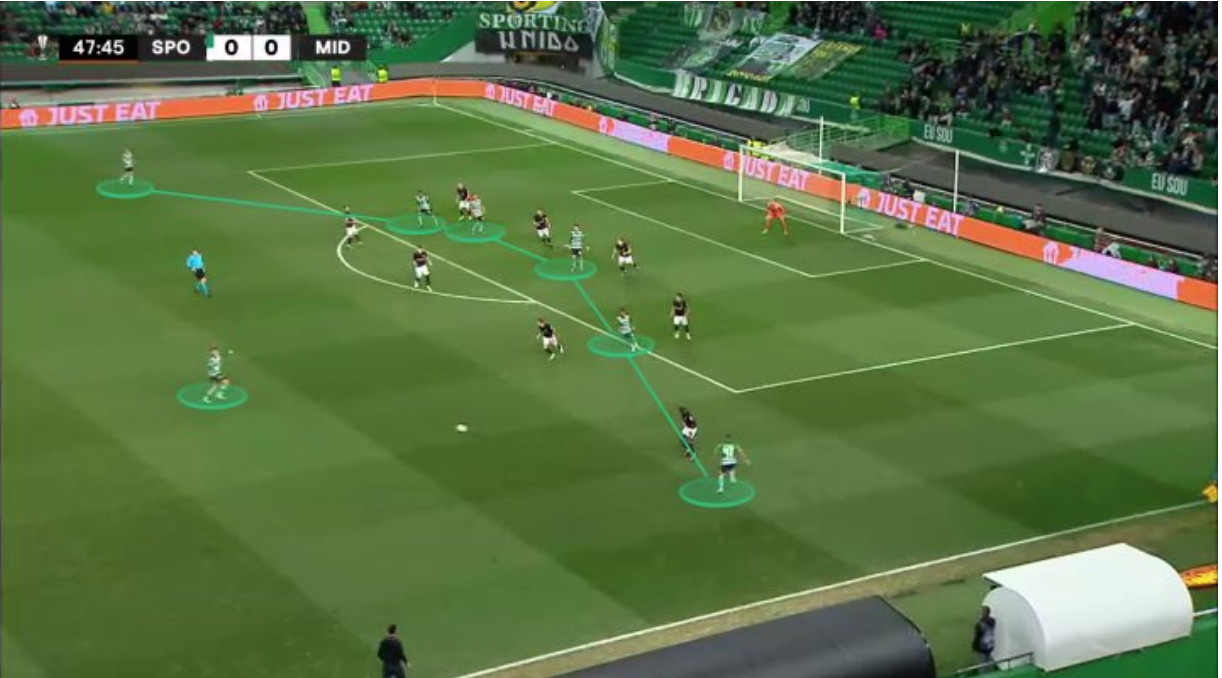 Again, we see his importance and the reliance set on him by the coach. In this sequence, Sporting are attacking using a 3-1-6 structure, the '1' being Ugarte himself. This is because he is trusted in winning the ball back if it is lost, stopping transitions, making recoveries if the ball went behind, and also retaining the ball when in possession.
Manuel Ugarte's defensive attributes as shown, make it effective for a coach to deploy him as a single defensive midfielder as he has the ability to cover a lot of ground. This allows other players to push forward into more attacking zones and worry less about the defensive cover, something which Jordan Henderson did well for Trent-Alexander Arnold in previous years.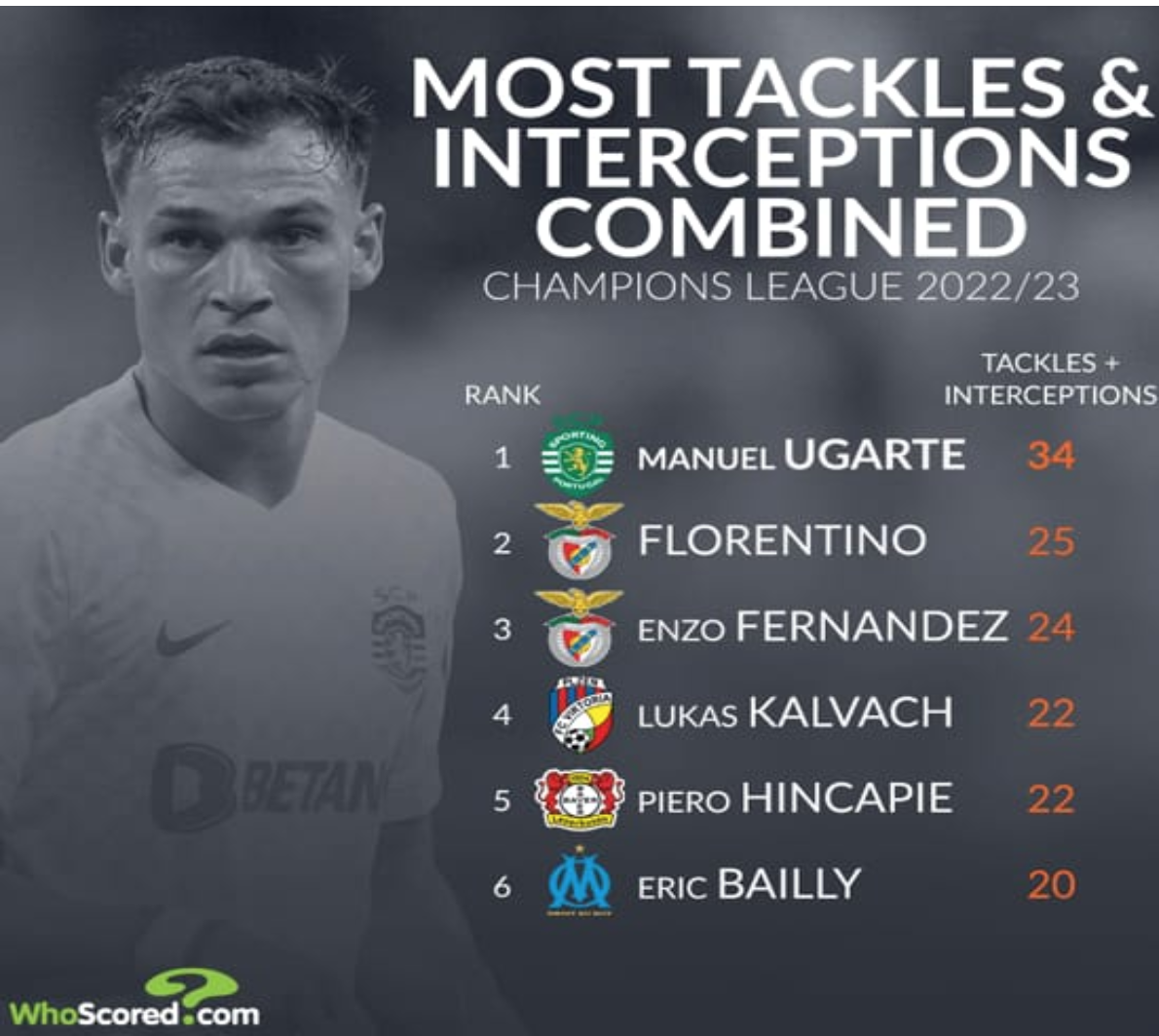 Stats from the end of the Champions League Group Stage [WhoScored]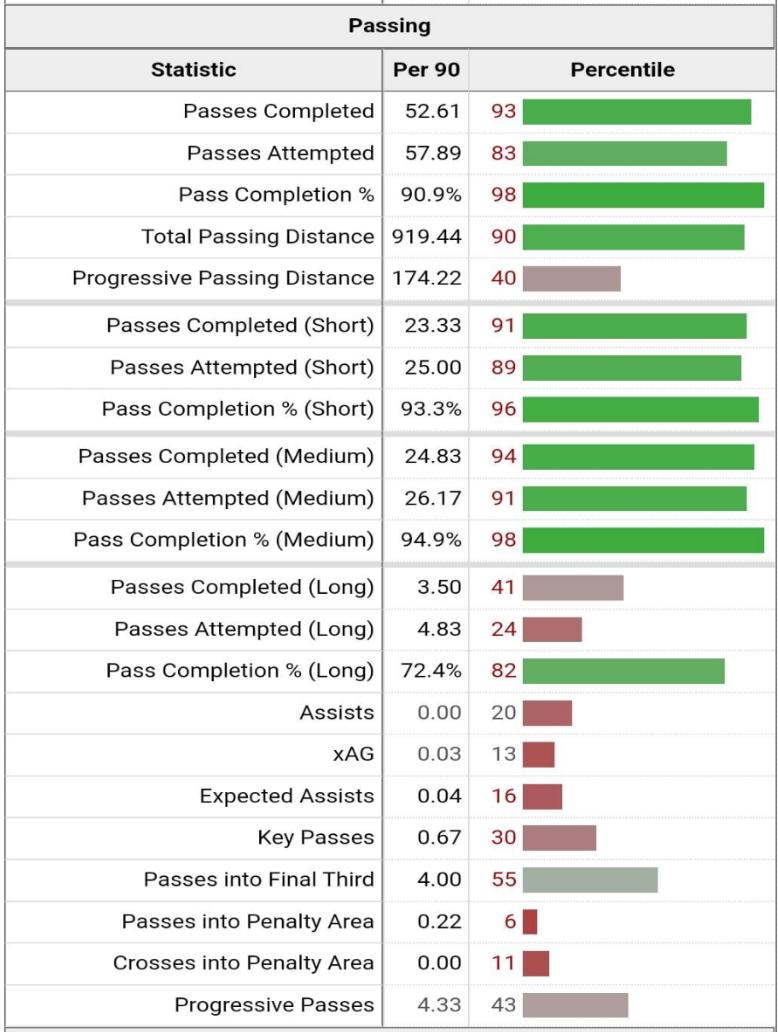 Now onto passing. These statistics show how tidy Ugarte is at recycling the ball and not forcing the play. He is average at progressing the ball with his passing, and the distance traveled with his passes. This is an area he could improve on. However, as this isn't one of his strengths, he is not tasked with doing this.
The short and medium-passing statistics show how good he is at recycling the play. Again, very valuable for a high-pressure system, in order to not make the match like a game of 'Ping Pong'. Recycling the play is a valuable attribute and at 21 years old, Ugarte is one of the best at it, which shows composure and maturity.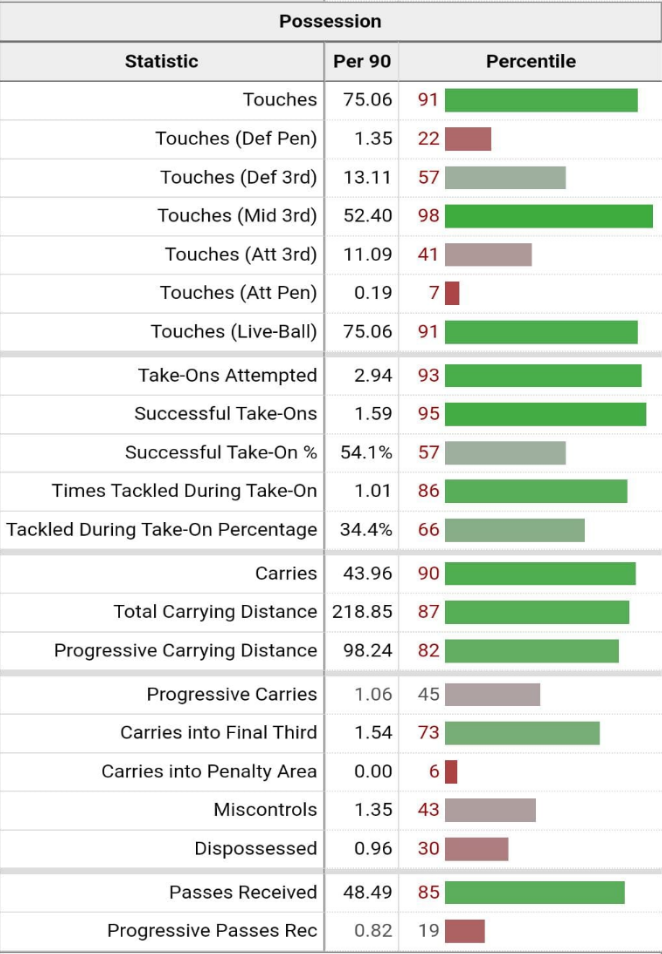 Ugarte isn't necessarily an elite progressive passer, however, his progressive carrying certainly is. This is because of his athleticism and quick feet, matched with bulk loads of stamina and strength. As we can see, Ugarte takes a lot of touches as Sporting trust him on the ball. This again shows his ability to retain possession. Most of these touches are in the middle third of the pitch. An area where a team needs to assert dominance, otherwise they will lose control of the game.
Ugarte is a fabulous carrier. He drives forward at rapid speed and also enjoys carrying into the final third. He is more successful more than half the time and only gets tackled 34% of the time. This shows more than half of his take-ons are successful. 
Ball security coupled with dribbling and carrying dynamism, allows Sporting CP to get up the pitch and into the final 3rd without relying on elite passing to break the lines. This helps when the opposition are well-drilled and manages to close down all available passing lanes.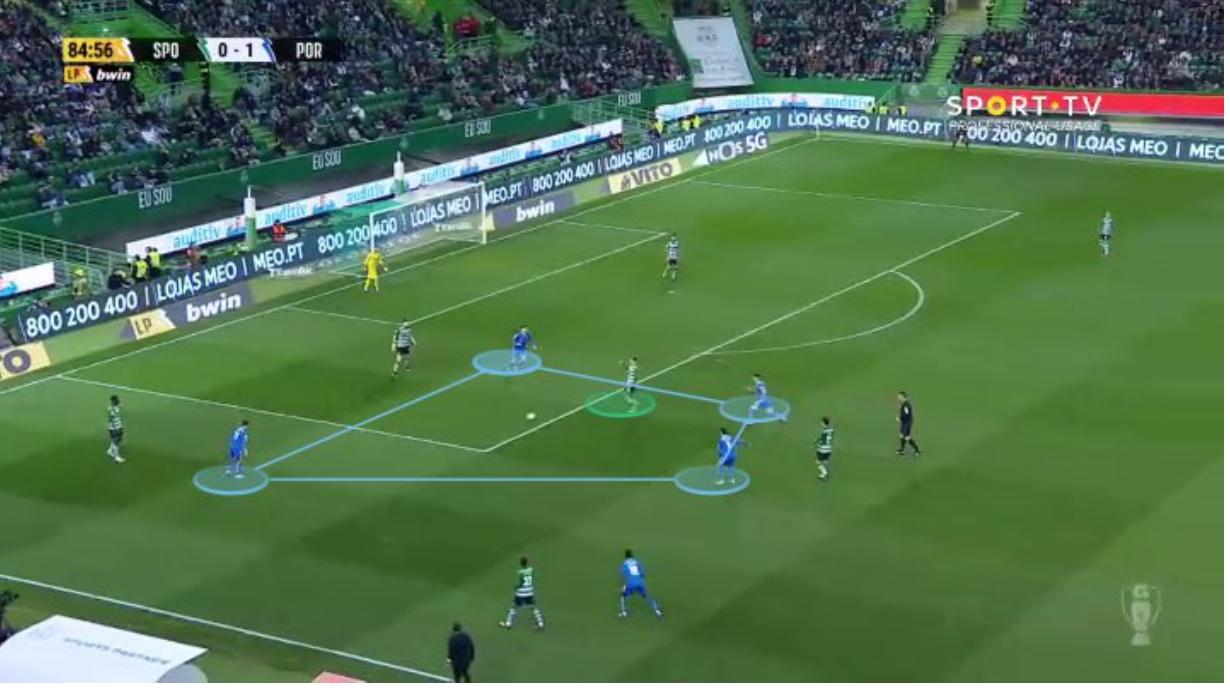 Image from @EverydayUnited2 on Twitter
Everything said above, is shown in this graphic. All the lanes are blocked, and a pass would be intercepted. Ugarte shows tremendous dribbling ability and awareness to evade the pressure and carry the ball forward. This is incredibly useful for a coach who wants their central midfielders to drop deep and receive the ball under pressure.
Ugarte's recent performance against Arsenal shows his well-rounded game, and highlights the importance of an all-action midfielder. In this match, he tackled well, recycled the ball to a very good standard, and showed how well he can turn and effectively evade pressure against one of the best teams in the world.
Going forward, Manuel Ugarte's development will be exciting to watch. The Primeira Liga has graced our eyes recently, with very talented players. This man is no different. He can be deployed as a single defensive midfielder or as a box-to-box machine.
Chelsea need a defensive partner for Enzo Fernandez, Manchester United suffer tremendously when Casemiro is unavailable, and Jurgen Klopp is looking up in dismay as goals leak from a cracked spine. Fear no more. This Uruguayan is all-action and no-nonsense, and with a release clause of €60 million, it seems only a matter of time before he follows the footsteps of Bruno Fernandes, Ruben Dias, Luis Diaz and more and becomes the latest player to trade the Primeira Liga for the Premier League.
By: @ftblhassan
Featured Image: @GabFoligno / MB Media – Getty Images