MK Dons and Scott Twine: A Club and a Player Ready for the Next Step
Milton Keynes Dons are a club that have a very controversial history, the town of Milton Keynes was established in 1967 and for several years following there were rumours that a football league club would relocate there.
Football fans voiced their discontent with this idea however Wimbledon then owner Ron Noades was concerned with the poor facilities available at Wimbledon and planned to merge his club with Milton Keynes City however, he soon abandoned the idea. 
In 1997 music producer Pete Winkleman and a consortium put forward the idea of a retail complex in Milton Keynes which included a Football League standard stadium. The consortium went on to approach Luton, Wimbledon, Crystal Palace, QPR and Barnet as they believed an established Football League relocating would bring significant revenue to the area. 
Then Wimbledon chairman Charles Koppel declared that the club was interested in this idea, stating that it was necessary to prevent the club from going out of business. On 2nd August 2001, Koppel announced that Wimbledon would be relocating to Milton Keynes, much to the fans' dismay.
The Football League initially refused permission however, after an appeal they relented and agreed to the proposed relocation. The years that followed were very much a rollercoaster for the newly formed MK Dons as the image below shows: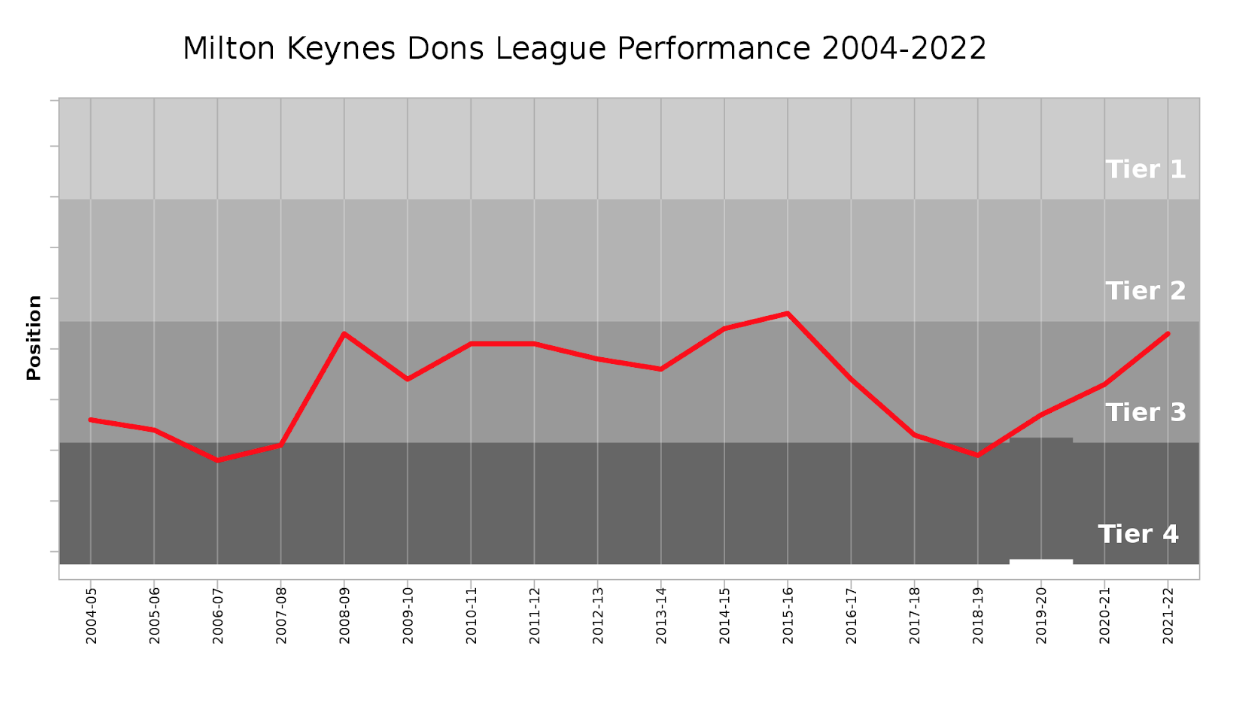 Since 2021 Liam Manning has been the Head Coach at Stadium MK, the 36-year-old has received much praise from fans and peers alike for the stability and consistency he has implemented. Manning mostly opts for a 3-4-3 formation (source Wyscout):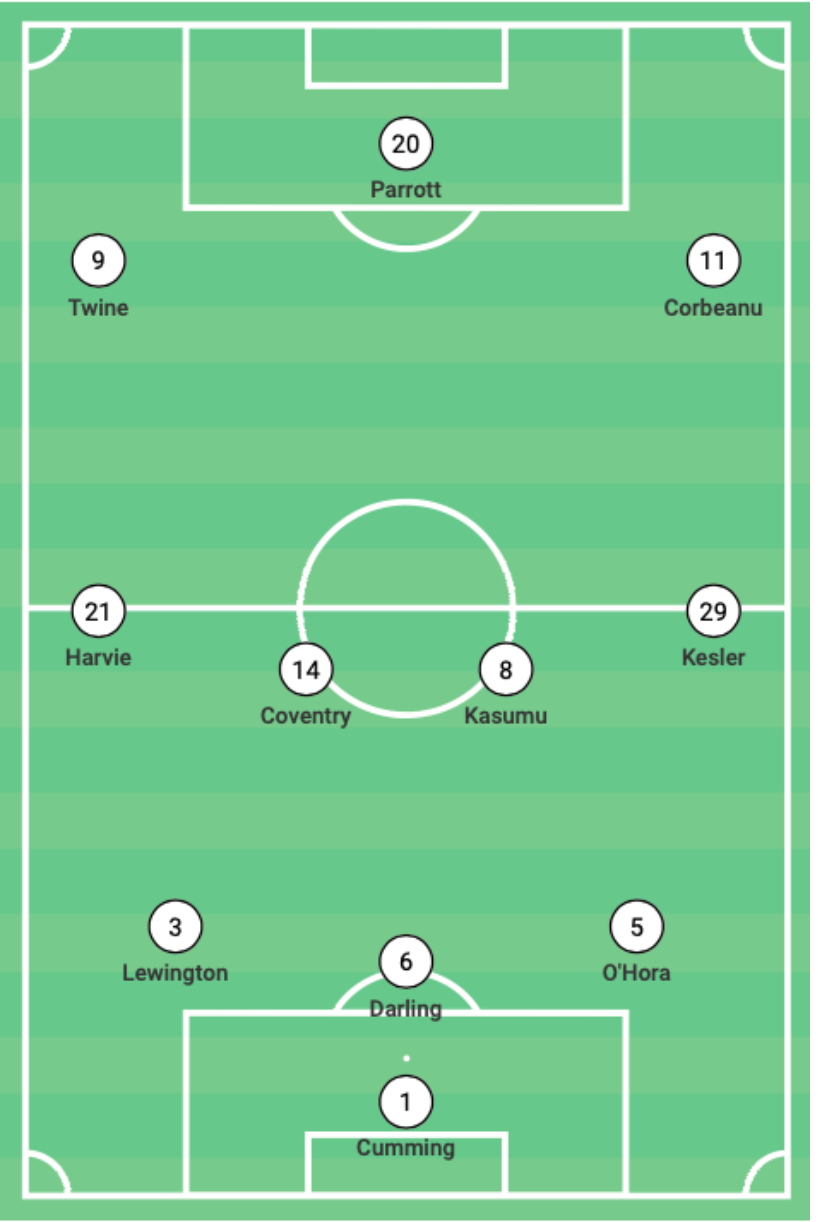 The double pivot in central midfield offers great security in terms of providing a shield for the back three, Conor Coventry provided great passing abilities since joining in January, averaging an 86% pass accuracy per 90.
Manning likes his team to play out from the back which invites the opposition to put pressure on them, in turn leaving spaces that can be exploited with astute passing and intelligent off-the-ball movement.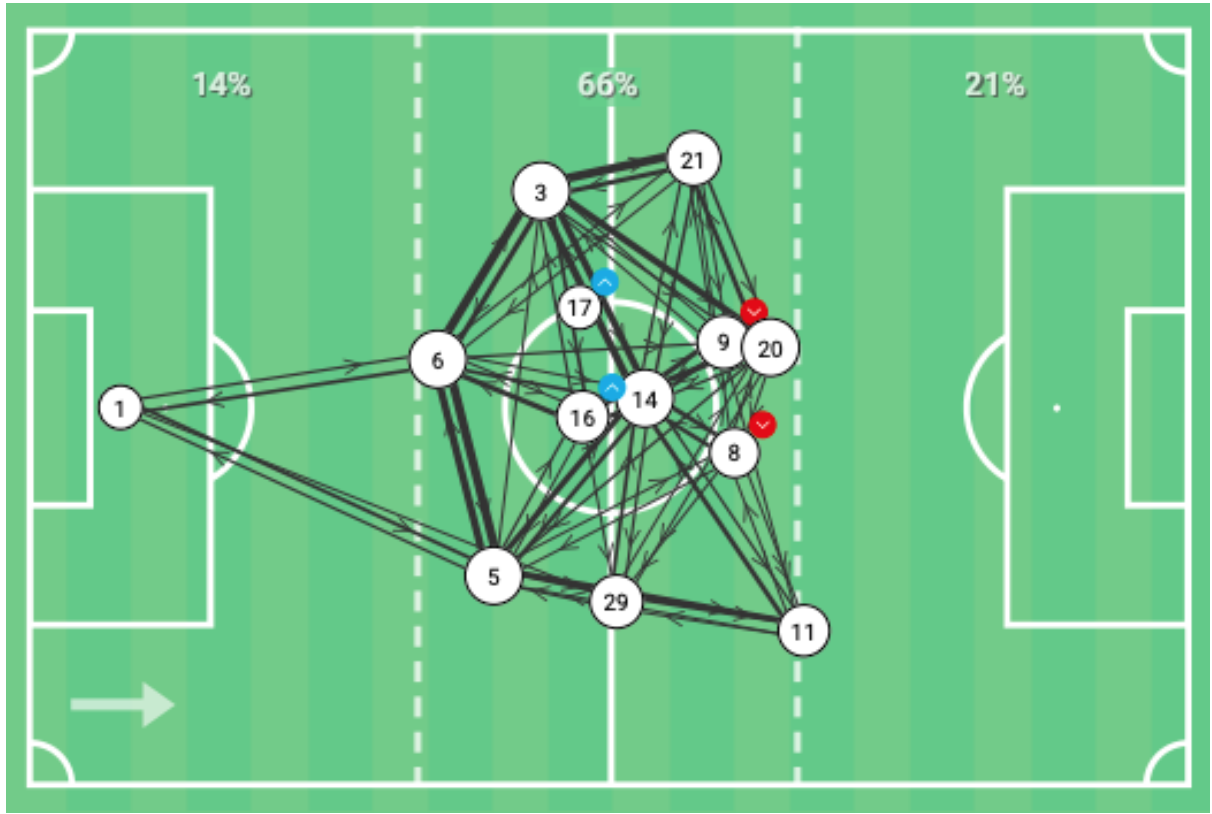 Here is MK Dons' passing network from their 2-0 victory over Morecambe (source Wyscout), the centre backs push high up which allows the wide players to provide shorter passing options to retain possession.
Scott Twine (#9) drifts in to almost act as a second striker which leaves space on the left wing for Harvie to run down the wing.  Another element of pushing higher up is the ability to engage in a press when the ball has been lost, to recover possession as quickly as possible as seen in the images below: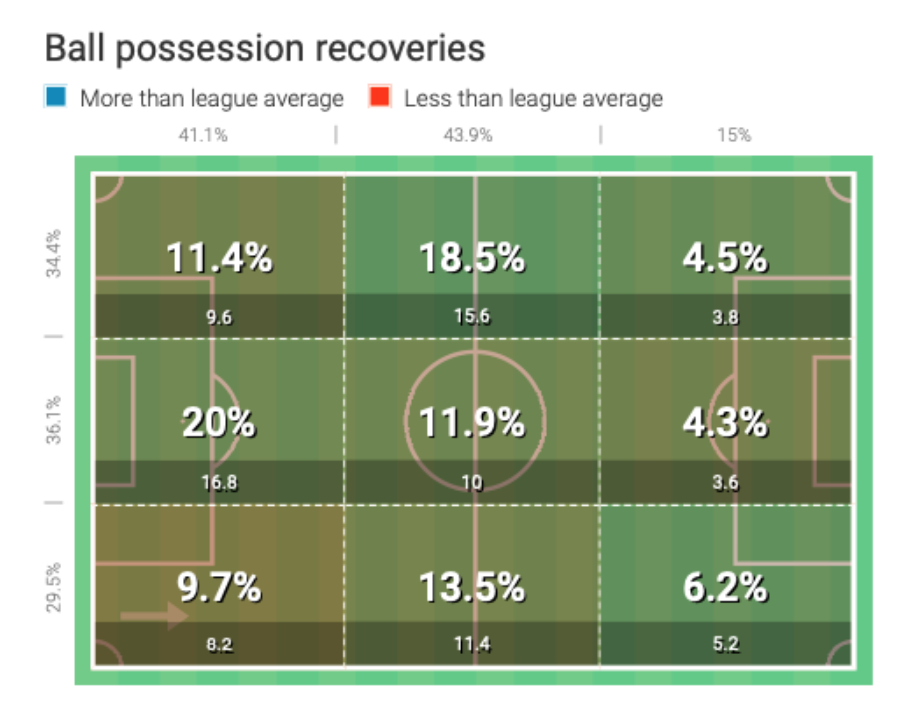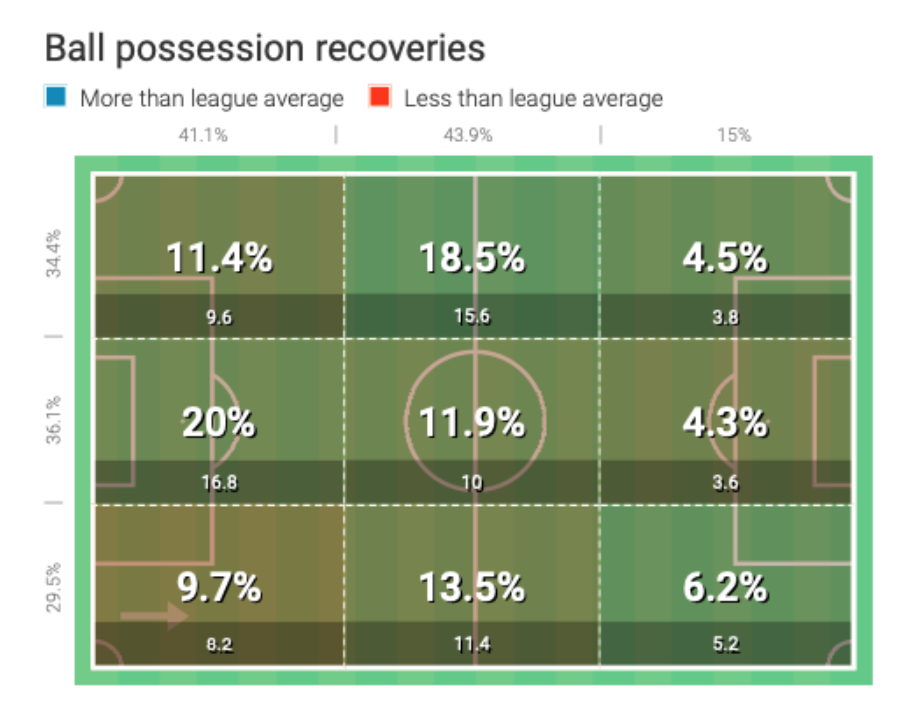 MK Dons have demonstrated great attacking aptitude this season, from an open play xG of 45.7 they have scored 57 goals and from a set piece xG of 10.3 they have scored 18 goals. They have the highest average sequence time in the league of 10.08 seconds demonstrating Manning's preference for possession-based football.
They average 3.71 passes per sequence, again the highest in the league which has led to 531 open play sequences consisting of over 10 passes which in turn has allowed MK Dons to create 113 build up attacks.  With a PPDA of 13.2, Manning's team have forced 278 high turnovers this season, 37 of them ending in a shot, 7 of them ending in a goal which is the second highest in the league.
This clearly demonstrates that MK Dons have found an incredibly effective way of playing based on retaining possession and playing short passes during build up play. However, when possession is lost, they press instantaneously to win the ball back and prevent their opponents from launching a counterattack.
There have been a few standout players for MK Dons this season, Conor Coventry, Troy Parrot, and Theo Corbeanu have all have good loan spells.
Ex Chelsea man Josh McEachran has enjoyed regular game time and Harry Darling has been ever-present in defence. Nevertheless, the standout performer has been Scott Twine. The 22-year-old has thrived under Manning's coaching and has shown great development with his performances on the pitch. Let's take a deeper look at MK Dons' attacking talisman.
Name: Scott Edward Twine
Age: 14 July 1999 / 22 Years
Height: 1.74m
Weight: 69kg
Strong Foot: Right
Position: Midfield/Attacking Midfield/Forward
Club: MK Dons
Scott Twine has lit up League One this season with MK Dons, unfortunately Twine and The Dons couldn't quite make it to the second tier this time around, losing in the play-offs to Wycombe Wanderers. This analysis will show key aspects of Twine's style of play and showcase why he is ready for the championship. Plus, there might just be a Championship side he would suit perfectly. 
A Brief History
Twine started his career at hometown club Swindon Town where he went on to make 50 appearances, scoring 8 goals. As a young player he was loaned to non-league side Chippenham before having a spell in Ireland with Waterford FC.
Twine went on loan yet again to Newport County before joining MK Dons on a free transfer. With MK Dons this season, he has surprised many fans and opposition with his output this season as he scored

20

goals and assisted with

13

for his colleagues.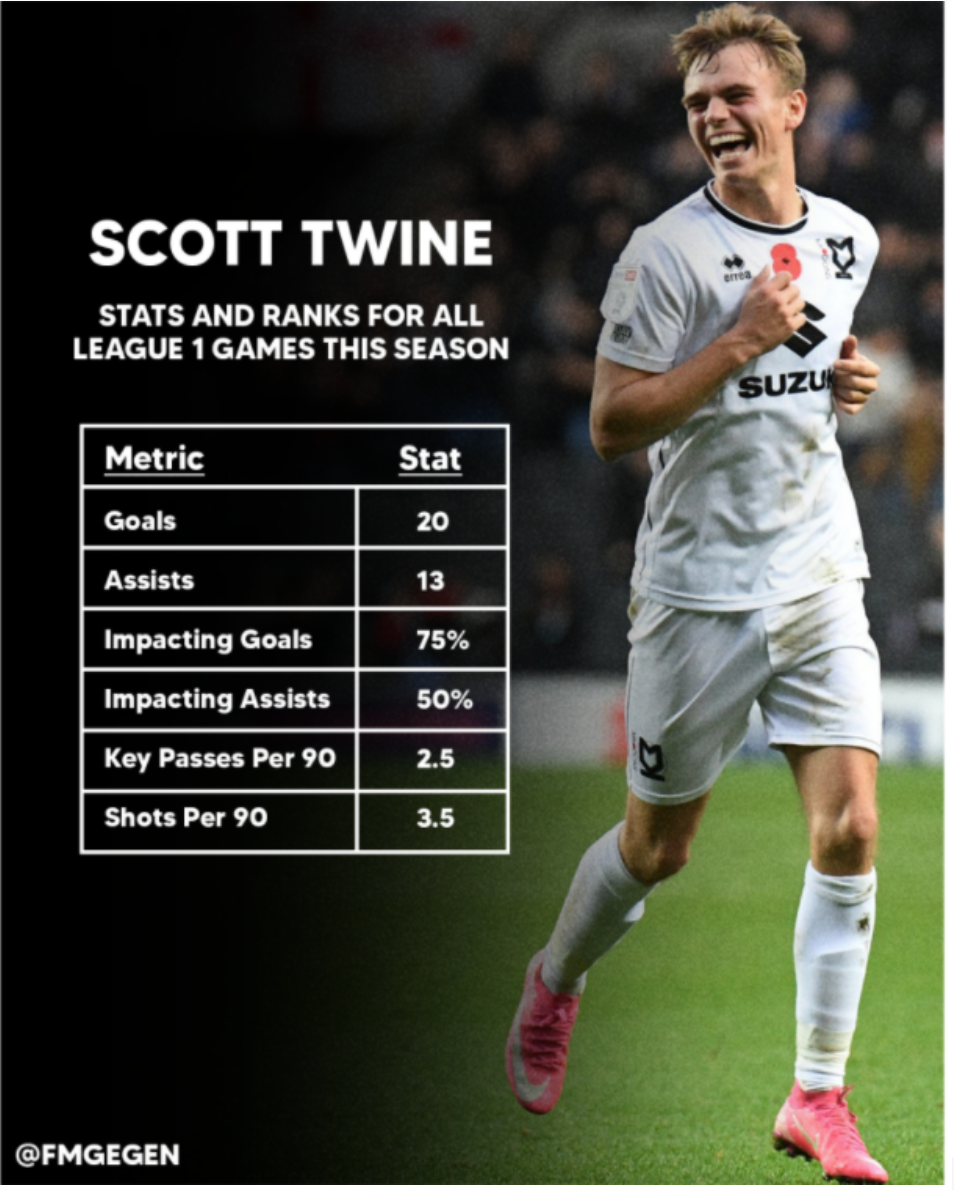 Player Traits:
Likes shots from a distance 

Effective from set-pieces

Splitting passes through to the forward line

Likes to take on the defender 

Gets fouled often 
The Englishman is known mainly as an attacking midfielder, although can play as a striker or a wide attacking player. As we can see Twine played more games as a left side forward where he contributed the most however, he is very effective by playing behind the striker.
The data would suggest Twine would be good in a variety of formations, MK Dons mostly played a 3-4-3 this season which seemed to be perfect for him but he could also perform well in a 4-3-3 or 4-2-3-1.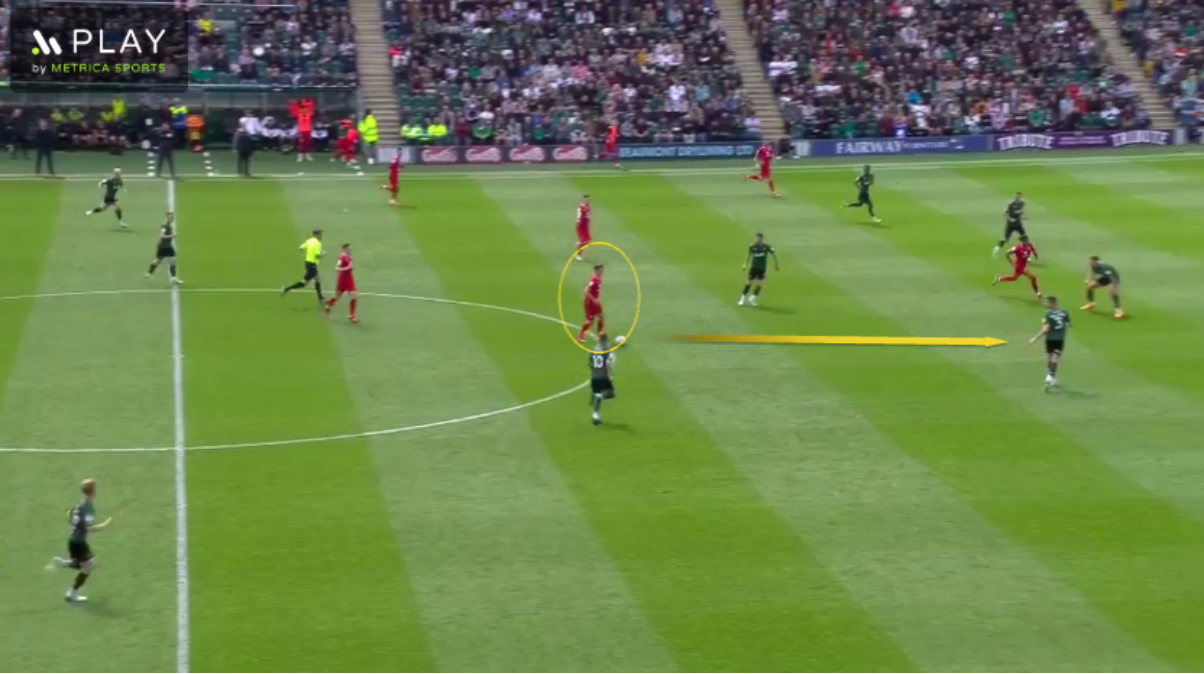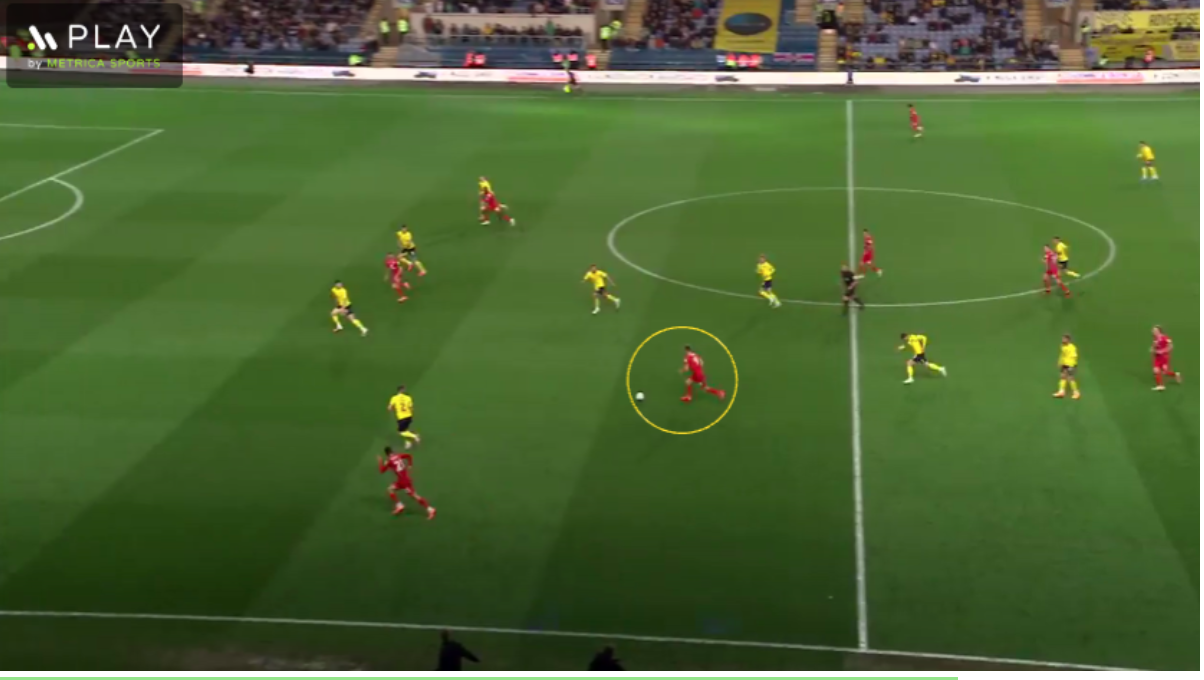 The images below demonstrate Twine's playmaking skills, he has great vision and is always scanning the pitch looking for teammates who are making progressive runs in the final third. He possesses the ability to play defensive splitting passes hence why he has played 79 through passes this season.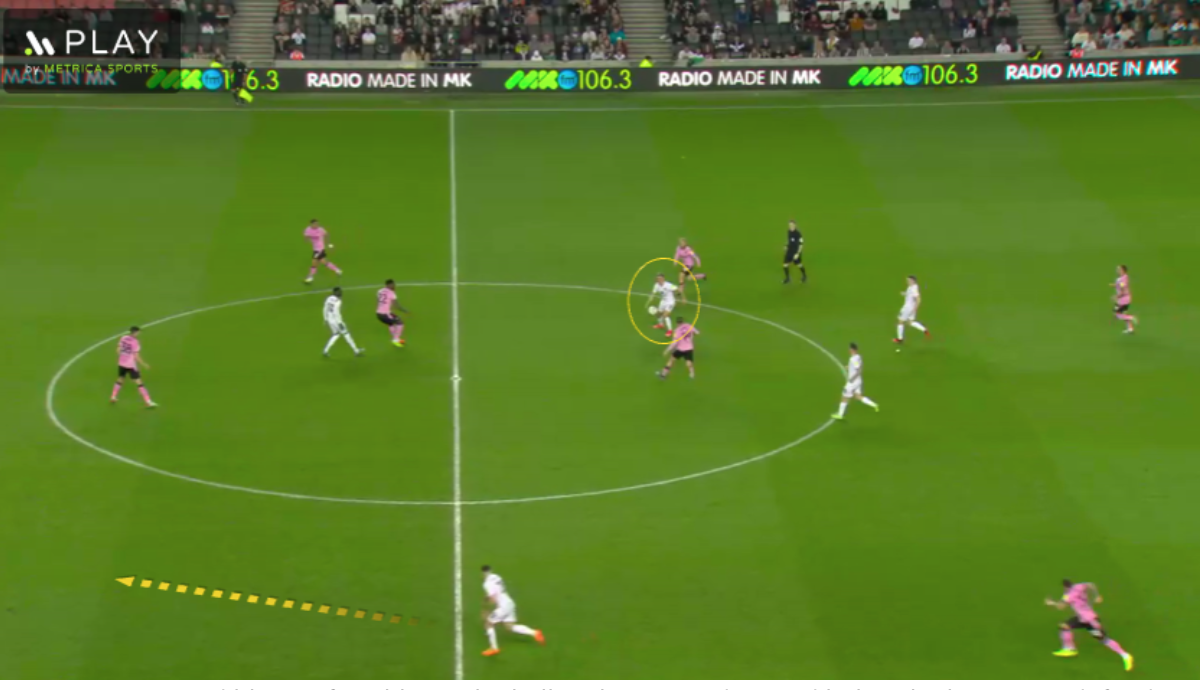 Twine is incredibly comfortable on the ball in the image depicted below, he beats two defenders and then takes on another three which ends with the opposition having to commit a foul in order to stop him.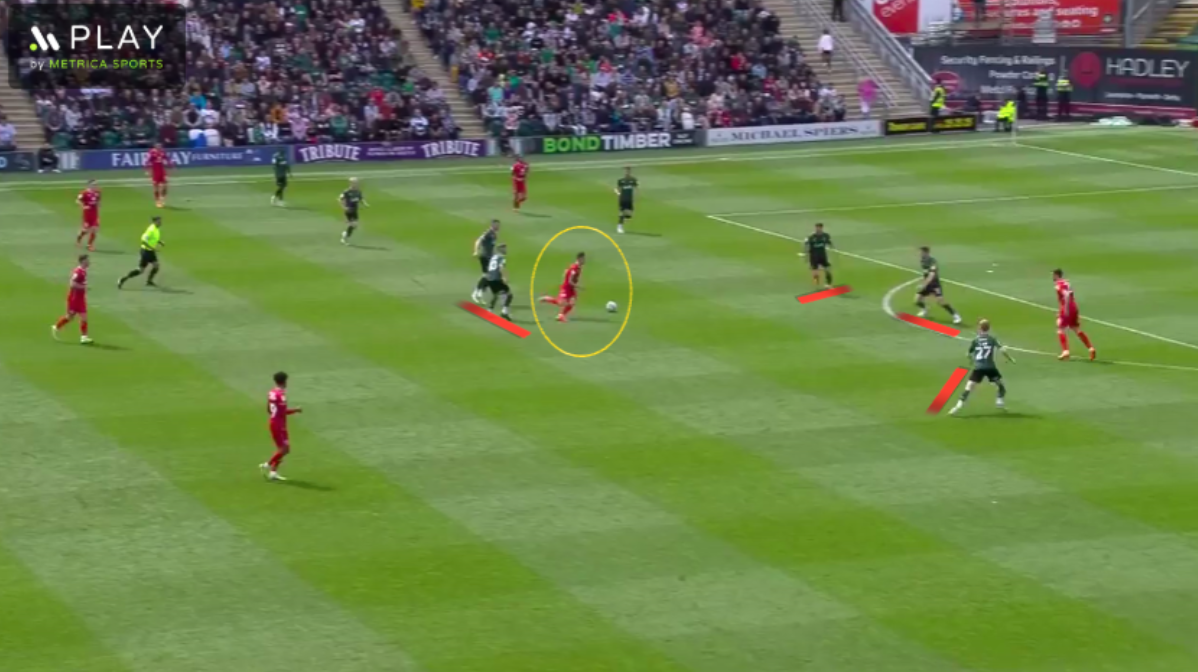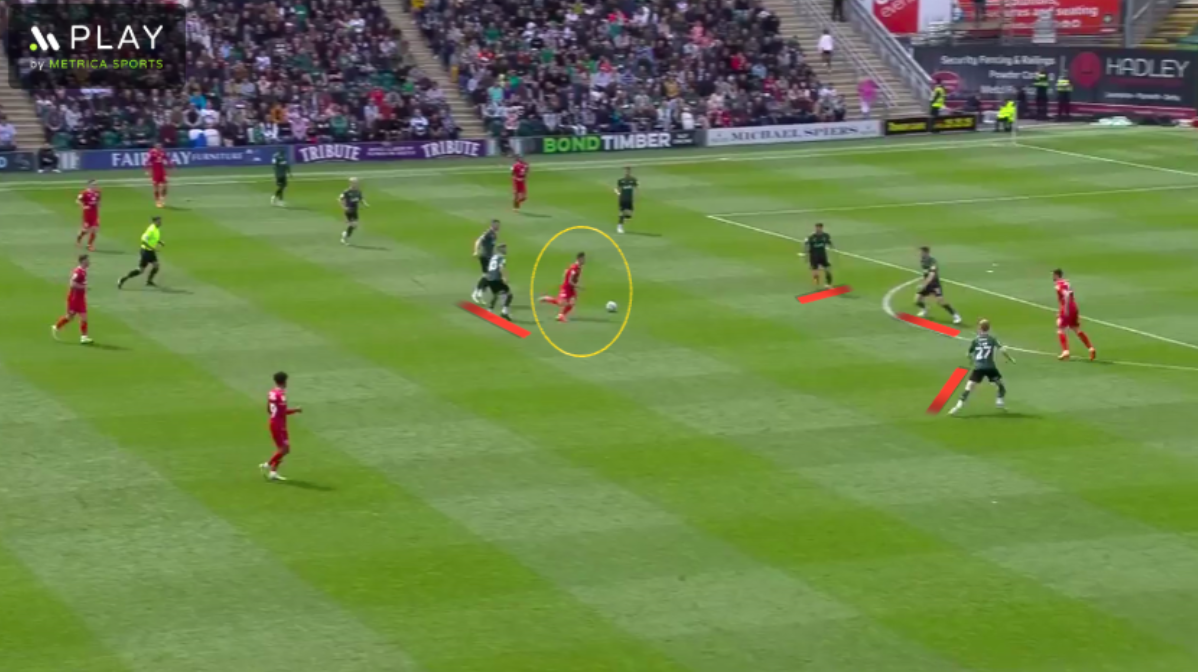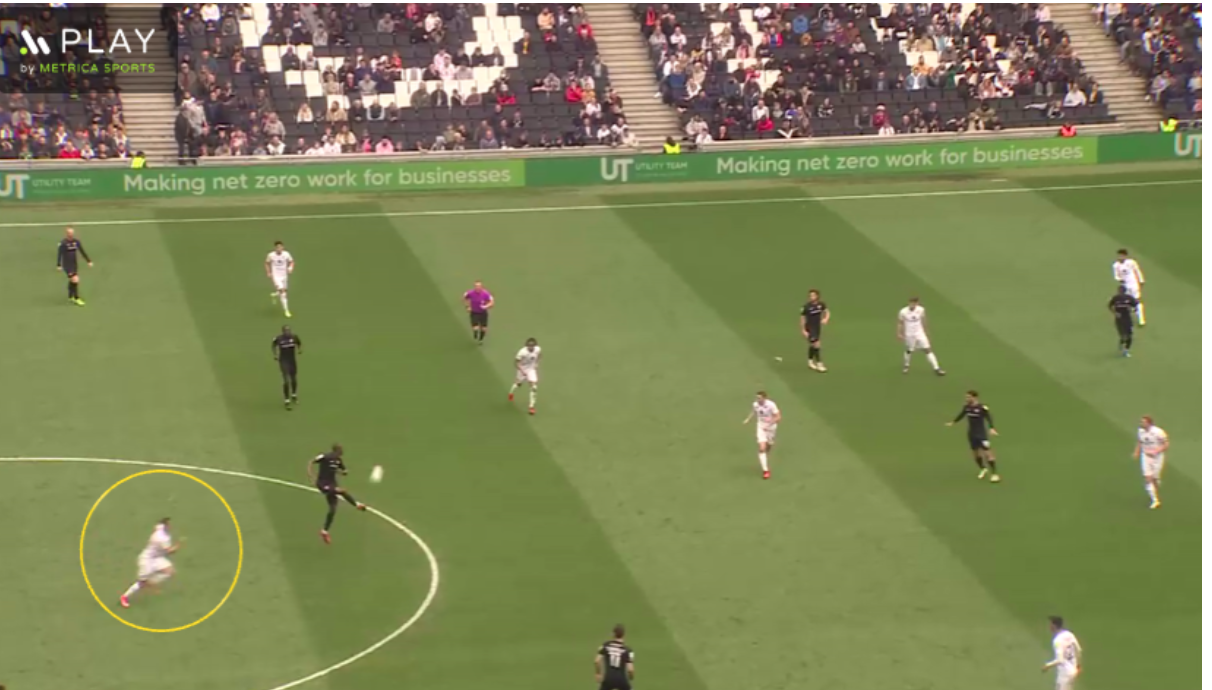 The images show how eager Twine is to press and regain possession for his team, he tracks back into his own half to put pressure on the opposition which pays dividends as he wins the ball back.
This kind of tenacity demonstrates why Twine is such a good player, he has a fabulous amount of ability on the ball as well as good vision and ability to read the play. However, his work ethic is also incredibly high and it is this willingness to help out defensively which has aided MK Dons in their push for promotion this season.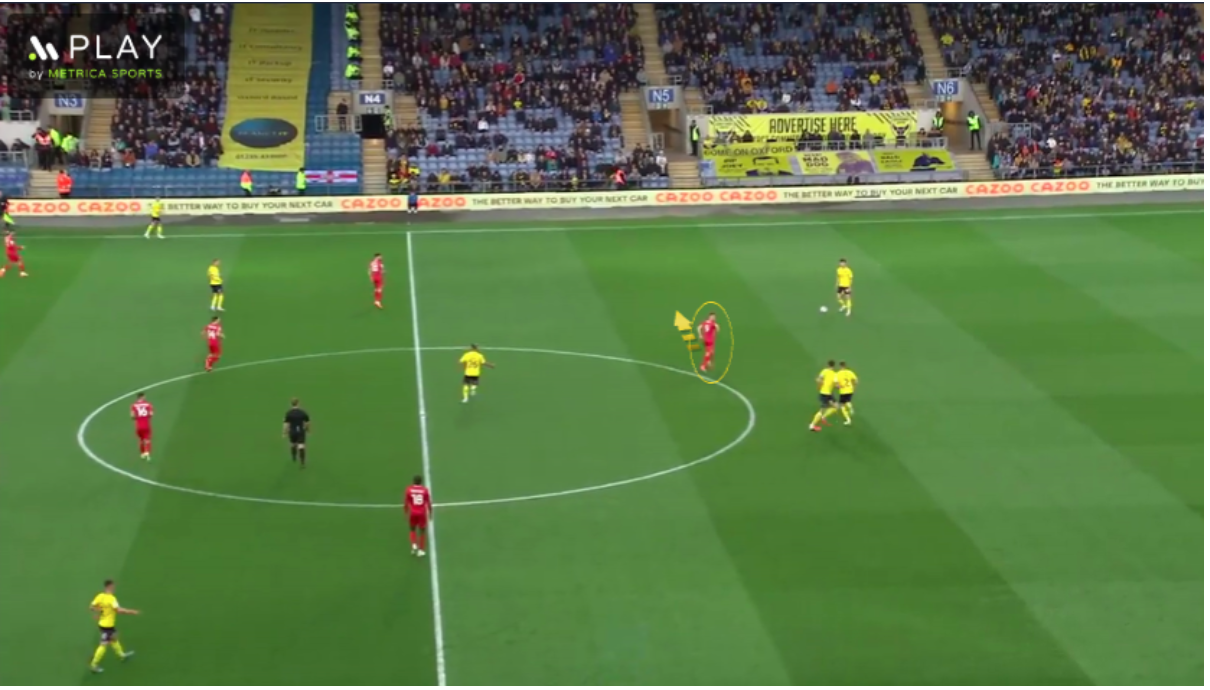 Here, that excellent anticipation is on show as he is quickly able to read the pass that his opponent will play and change his body shape in order to win the ball back and spring a counterattack. 
Scott Twine has been one of the best performers in League One this season, he has scored 20 goals from an xG of 13.65, he is very confident in his abilities as he averages 3.13 shots per 90 minutes. He has played 4.63 progressive passes per 90 this season, which has been a key factor in MK Dons' attacking efficiency.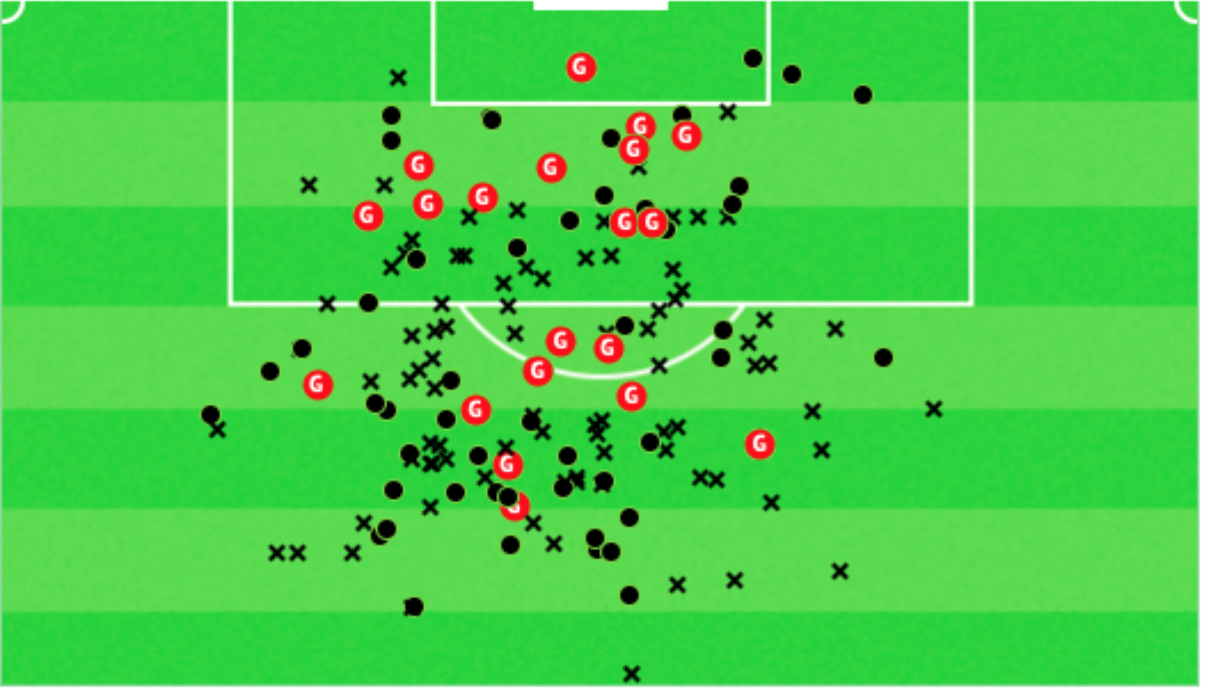 The above images from InStat show where on the pitch Twine scored his goals from, he has scored mostly from inside the penalty area, however he has scored a number of goals from outside the area. He is known for his free-kick abilities and MK Dons have used that to their advantage this season. The Swindon native is comfortable shooting from zone 14 and further afield demonstrating confidence in his own abilities.
What is the Ideal Club For Twine?
So, with the player's contribution this season and MK Dons missing out on the chance to get promoted, Scott Twine will likely become a player in demand this summer. The Dons found themselves a bargain by bringing in the young player on a free and could make a profit as he looks to be able to command six-figure fee. 
We can potentially name nearly every side in the Championship that would like a player with the skillset Twine possess. Teams like Cardiff, Birmingham, West Brom who are lacking in the goal-scoring department and then there are teams like Notthingham Forest, if they do not go up this season could snap him, as they are already admirers of the young player and the likes of Brennan Johnson could be moving on from The City Ground. 
However, there is one team in particular where Twine would slot in extremely well; Sheffield United, a team who missed out narrowly on going to Wembley and will want to bounce back next season and hunt for promotion. 
The key reason for selecting the Blades is due to the fact that Morgan Gibbs-White's loan will expire and most likely Wolves will involve him in their first team in the Premier League next season. This leaves a big gap in Sheffield United's side as Gibbs-White has been a key player this season, hitting the net 15 times and laying on 12 goals for his teammates.
His creativity will be incredibly difficult to replace, however in Twine it appears that the Blades could have a ready made replacement. In additon, the formation favoured by United boss Paul Heckingbottom (3-5-2) is similar to how MK are set up currently setting up, which is a ideal for this player. He is comfortable pressing as demonstarted above which is a key part of how Sheffield United like to play and his ability from set piece situations will also appeal to potential suitors. 
Let's now back up the case for Scott a little more by reviewing a comparison between the two players, of course, they play in different leagues which does play a factor with the quality of opposition in the championship: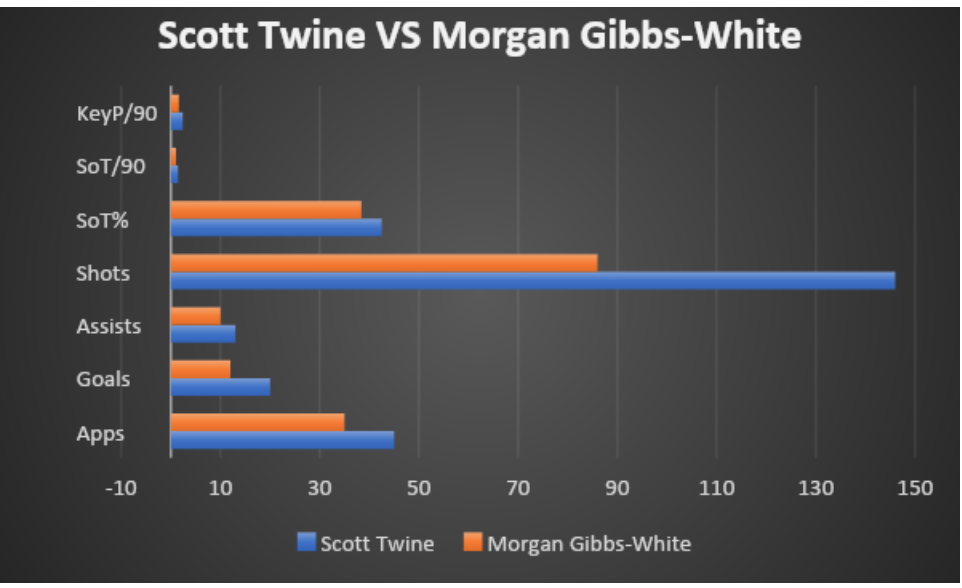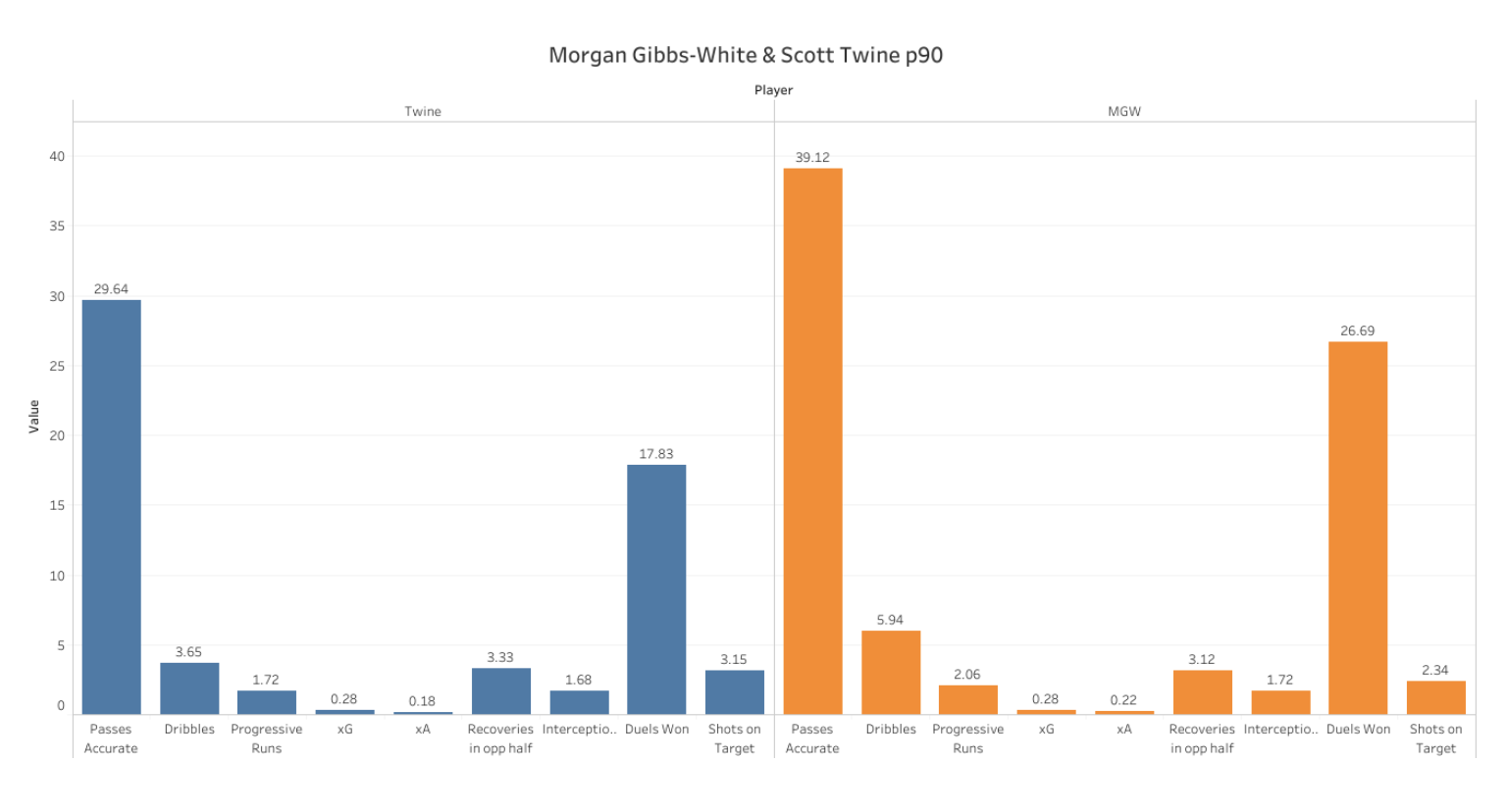 Again, appreciating that the level of the leagues is different however, if Twine was to be around higher quality players and coaches, you would expect that he will flourish and improve within a team with a greater ability while lining up alongside experienced players such as Billy Sharp and Sander Berge would no doubt be an excellent learning experience for the MK man.  
MK Dons would love to keep hold of their man; however, his ability speaks for itself, and many Championship teams are taking notice of him. If he doesn't make the move this summer, it will only be a matter of time before Scott Twine graces the Championship as he has immense quality and will only get better in the future.
By Dhillon Gill / @FMGEGEN & Bethany Limb / @fmbeth94
Featured Image: @GabFoligno / Pete Norton – Getty Images