Nicolas Jackson: Chelsea's Incoming Senegalese Striker
Senegal have been mass-producing some of the most promising forwards in the world. Ismaila Sarr of Watford, Krepin Diatta of Monaco, Illiman Ndiaye of Sheffield United and Sadio Mane of Liverpool to name a few. However, one forward who has burst out onto the scene, namely in the second half of the 2022/23 season, is Villarreal's Nicolas Jackson. Born in Banjul, The Gambia, but raised in Ziguinchor, Senegal, Jackson made the move to Europe in 2019, spending the 2020/21 season on loan at Mirandés before breaking through at the first-team level for the Yellow Submarine in 2022/23. Not only has the 21-year-old recorded 8 goals in the last 8 games of the season, but he is also close to signing a multiyear contract with Chelsea FC, becoming the first signing of the Mauricio Pochettino era.
Naturally, this did lead to a myriad of Didier Drogba comparisons, and although he does hold very similar strides and positioning, is a unique player with very clear attacking instincts. Only arriving in Europe from 2022 Senegalese Premier League champions Casa Sports in 2019, Jackson first started out in Villarreal B, where he really showed his true potential.
He registered 7 assists before the COVID break according to Harold Monteiro Macedo of footballtalentscout.net, which ultimately helped his team secure the Grupo VII de División de Honor. After a failed loan at Mirandes due to injury problems, and more great performances in Juvenil-A of Villarreal, he was promoted to train with the senior team in the 2021/22 season, making his debut vs Real Betis. 
One of the main features of Jackson's style that makes him less of an old-fashioned number 9 and more of a modern one, is his ability to come and receive deep and his impressive link-up play that enables him to create chances.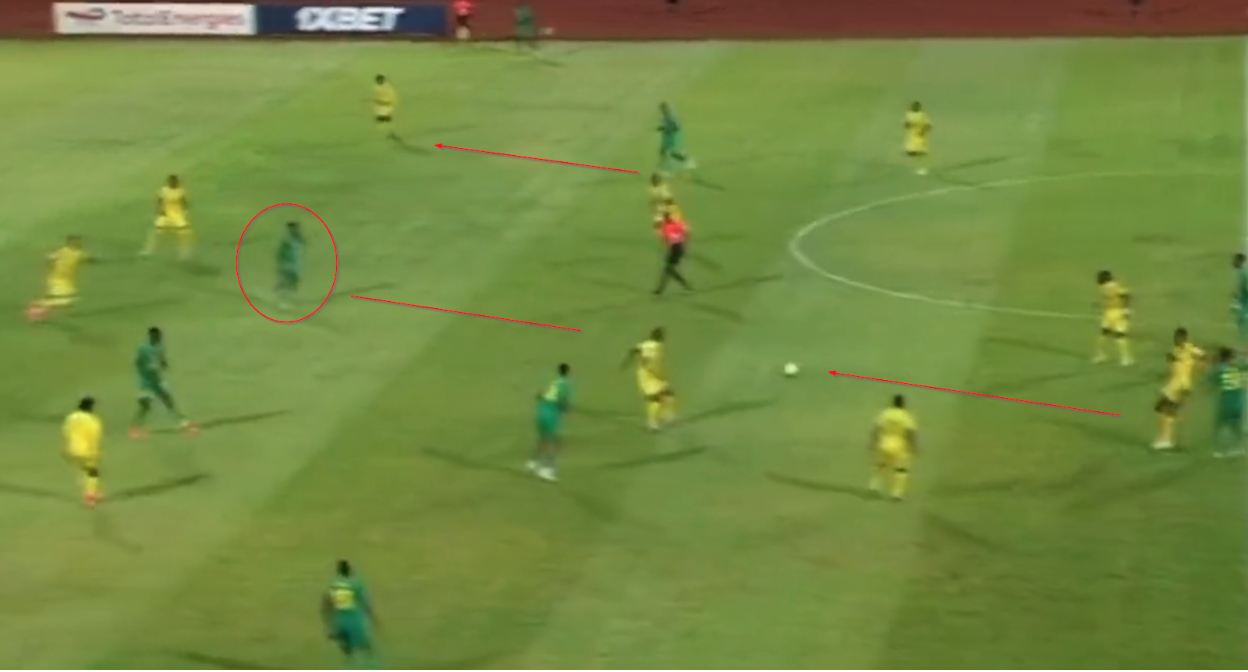 As seen above, he comes short to receive the ball, which allows high-paced, attacking forwards, in this case, Krepin Diatta and Ismaila Sarr on either side to make runs in behind using pure pace and composure. Helped by his immense turn ability, his link-up play is quite impressive.  He is able to remain composed using his skill and physique to play a wonderfully weighted through ball into the path of the oncoming Yeremy Pino, who unfortunately was not able to finish.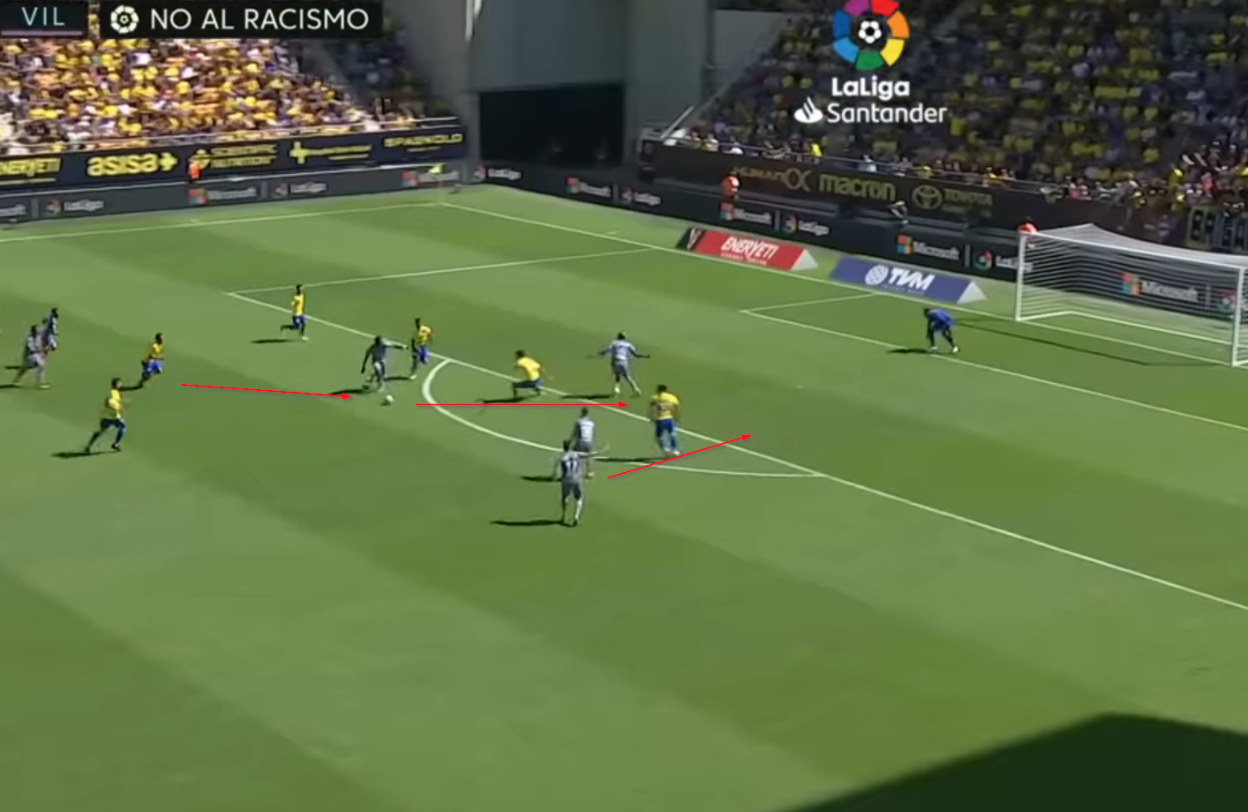 And for the sake of the Didier Drogba comparisons, here is Drogba performing a carbon copy of the same move, coming in from the left and finding overlapping runs of Tiago and Arjen Robben to create a chance against Manchester United in 2004.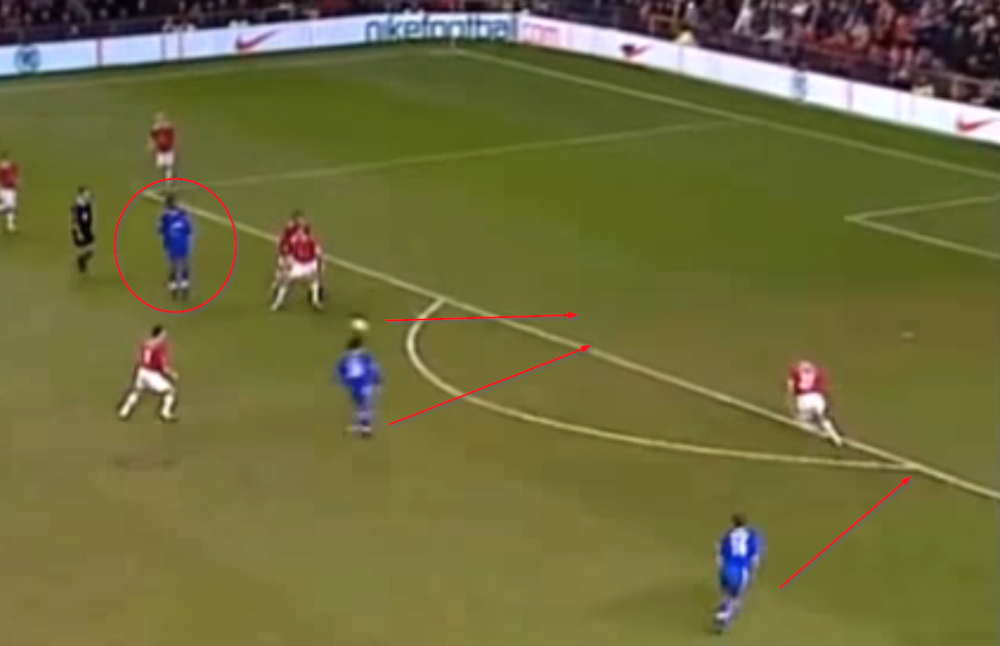 Jackson also holds an incredible instinct for his attacking positioning and sense of anticipation. He is most dangerous when Villarreal are either on the counterattack or holding possession of the ball around the opposition's 6-yard box. Shown below is a direct example of this. As Villarreal were swinging the ball and holding constant possession around Athletic Bilbao's box, Jackson here, is initially between two Bilbao defenders. 
However, as the receiving Alex Baena prepares to wind up a shot, he anticipates that there a deflection or a rebound from the parry of the goalkeeper, naturally, as this phase in football, the attacking phase, is the most volatile and unpredictable for the opposition defense.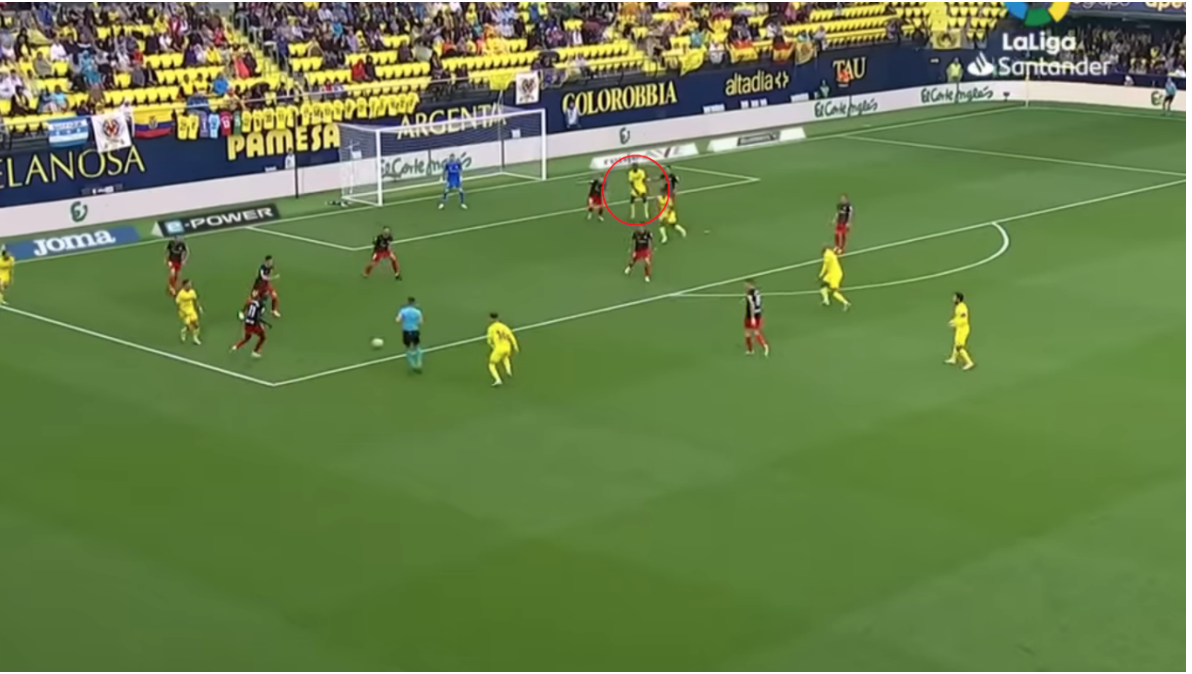 Albeit luckily, Alex Baena's shot is deflected which opens up a truly wonderful chance for Jackson to score.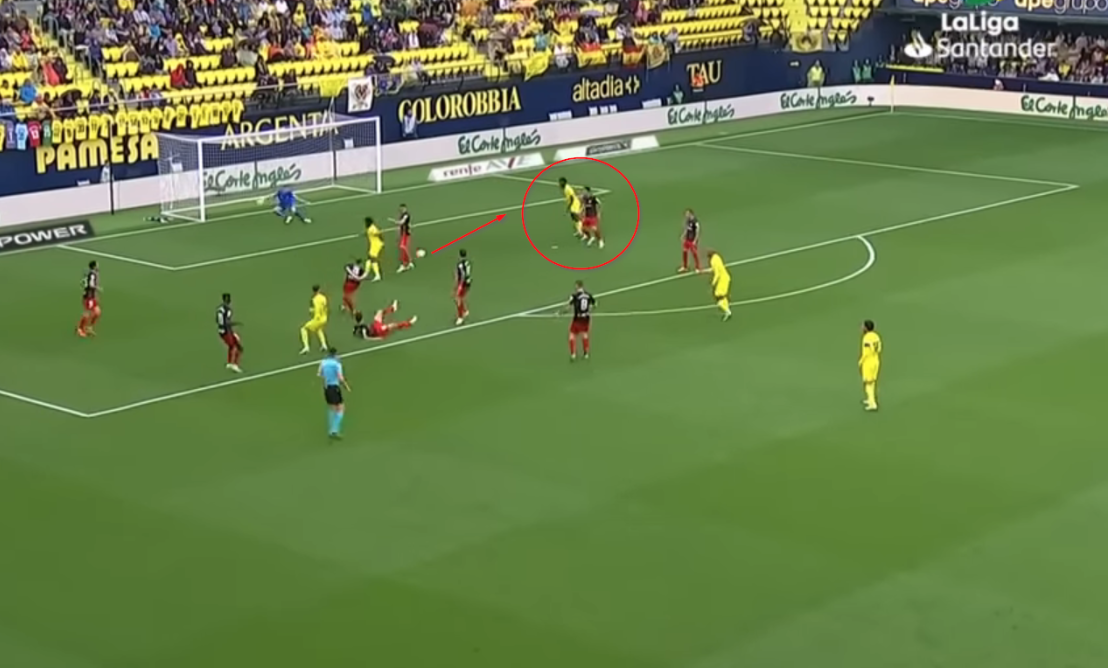 This not only shows Jackson's natural attacking sense and anticipation, but also shows his instinct to finish when the ball is approaching him spontaneously. Another example is shown here, where Jackson is on the right of Alex Baena making an overlapping run, piercing a hole into the Bilbao defense.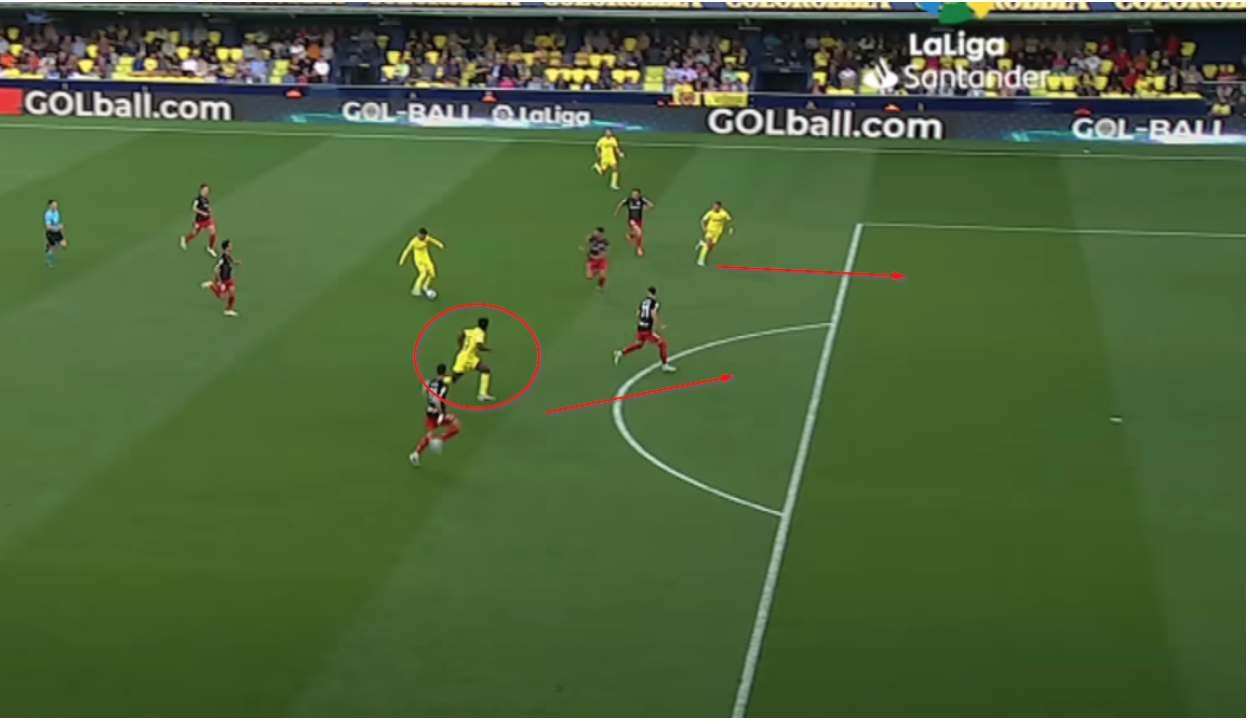 Here, Baena chooses the right option passing to the completely free and overlapping run of Yeremy Pino. As Pino receives, the goalkeeper closes him down and saves his attempted shot. However, with his run held back in a true sense of anticipation, as the ball is parried from the keeper's hand, Jackson presents himself with a brilliant chance to score his second of the game. Yes, although the two goals he scored were results of deflections, it was also a result of his very high sense of anticipation and attacking positioning. He anticipates that there could be a rebound, but also positions himself in between the two Bilbao defenders keeping him free to score.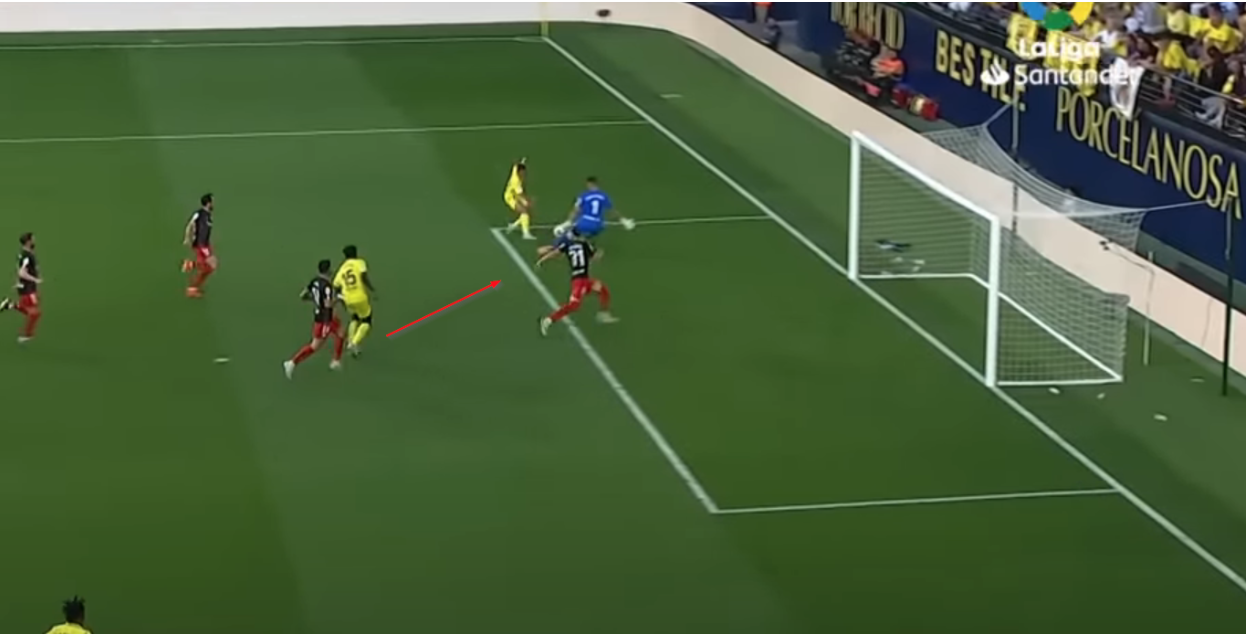 He has been fielded as a left winger, an advanced number 10, which aids to his link-up play, and a striker. However, his most prolific time at Villareal did come in the number 9 position. He has the best shot conversion rate of any player in La Liga this season with a minimum of six goals scored (29.3% – 12 goals) according to Opta, making him a clear attack-minded number 9 with a true sense of what it means to be a poacher of goals.
The more he develops, the more complete of a forward he will become, there is no doubt. However, if he does move, with their history of treating youngsters to random loan moves, and with their new rejuvenation to building a project for the future in a similar style to Real Madrid, it is up to Chelsea and Pochettino to utilize him and develop him to becoming a complete forward. 
It has been a monumental campaign for Nicolas Jackson. Jackson, who turned 22 last week, scored his first league goal on August 13, 2022, opening the scoring in their 3-0 win at Valladolid before earning promotion to the first-team squad alongside Alex Baena shortly after. He made his international debut for Senegal in Qatar, replacing Krepin Diatta in their World Cup opener against the Netherlands.
He looked set to join Bournemouth in January for £22.5 million only for the move to collapse when he failed his medical due to hamstring issues, but he would nevertheless register 12 goals and 4 assists in 26 league appearances as Villarreal finished fifth under Quique Setien, guaranteeing Europa League football for next season. Today, he looks set to leave Spain after four years and head to London, where he'll have the mission of filling Kai Havertz's void up top and emerging as the starting center forward for Mauricio Pochettino's Chelsea.
By: @aabousen99
Featured Image: Quality Sport Images / Getty Images