Orel Mangala: What Can the Belgian Midfielder Provide Nottingham Forest?
Newly promoted Nottingham Forest have enjoyed a summer spending spree, and one of their new recruits is former Stuttgart man Orel Mangala. This article will look into what the Belgian international will bring to Forest's midfield.
Mangala has been an incredibly sought-after midfielder for a while, before signing with Nottingham Forest he was touted as Patrick Viera's ideal replacement for the outgoing Conor Gallagher at Selhurst Park and West Ham manager David Moyes is reportedly an admirer. 
Below is a video report from Wyscout showing the key elements of Mangala's game and what type of things Nottingham Forest fans can expect to see from their new signing.
Biography
Name: Orel Mangala
Age: 24 Years Old
Position: Central Midfield
Nationality: Belgian / DR Congo
Height / Weight: 178cm / 82kg
Preferred Foot: Right
The rest of this article will look at the statistics and data from the 2021/22 Bundesliga season where Orel Mangala was a key player for Stuttgart. The midfield partnership of Mangala and Wataru Endo garnered much praise, with the latter being the more defensively minded of the two which allowed Mangala to make runs into the box and use his very good dribbling ability to provide adequate ball progression into the final third.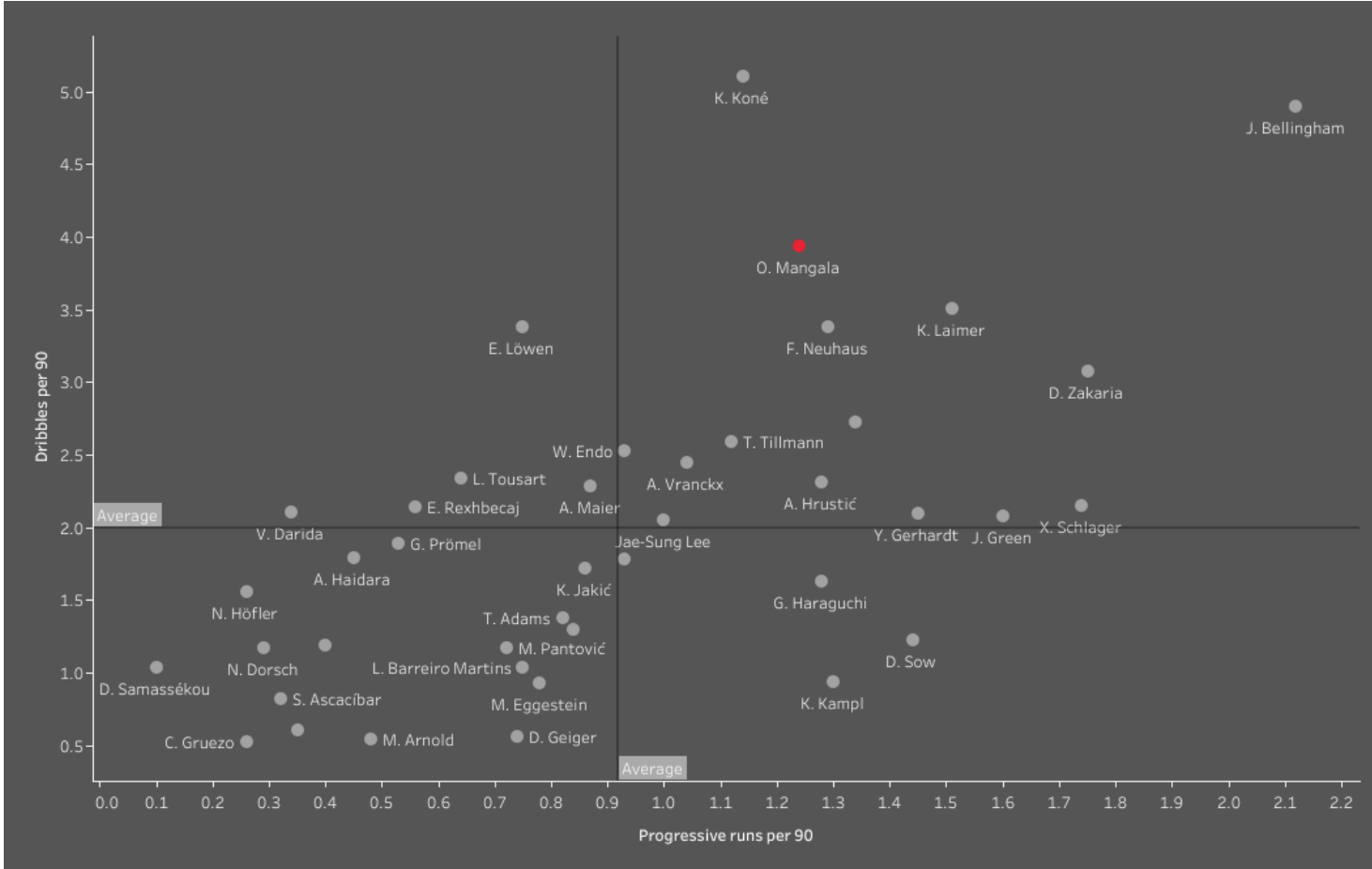 Mangala put the creative freedom afforded to him by Endo's willingness to shoulder the defensive responsibilities to good use. During the 2021/22 campaign, he averaged 1.2 progressive runs per 90 and 3.9 dribbles per 90 which demonstrates that he is more than happy to carry the ball to advance the play further into the attacking phase. 
He possesses quick feet with the ability to shift the ball away from the opposition player whilst travelling at speed. He also has very good upper body strength and is able to shield possession from the opponent which gives him the opportunity to search for a teammate or look to travel with the ball himself.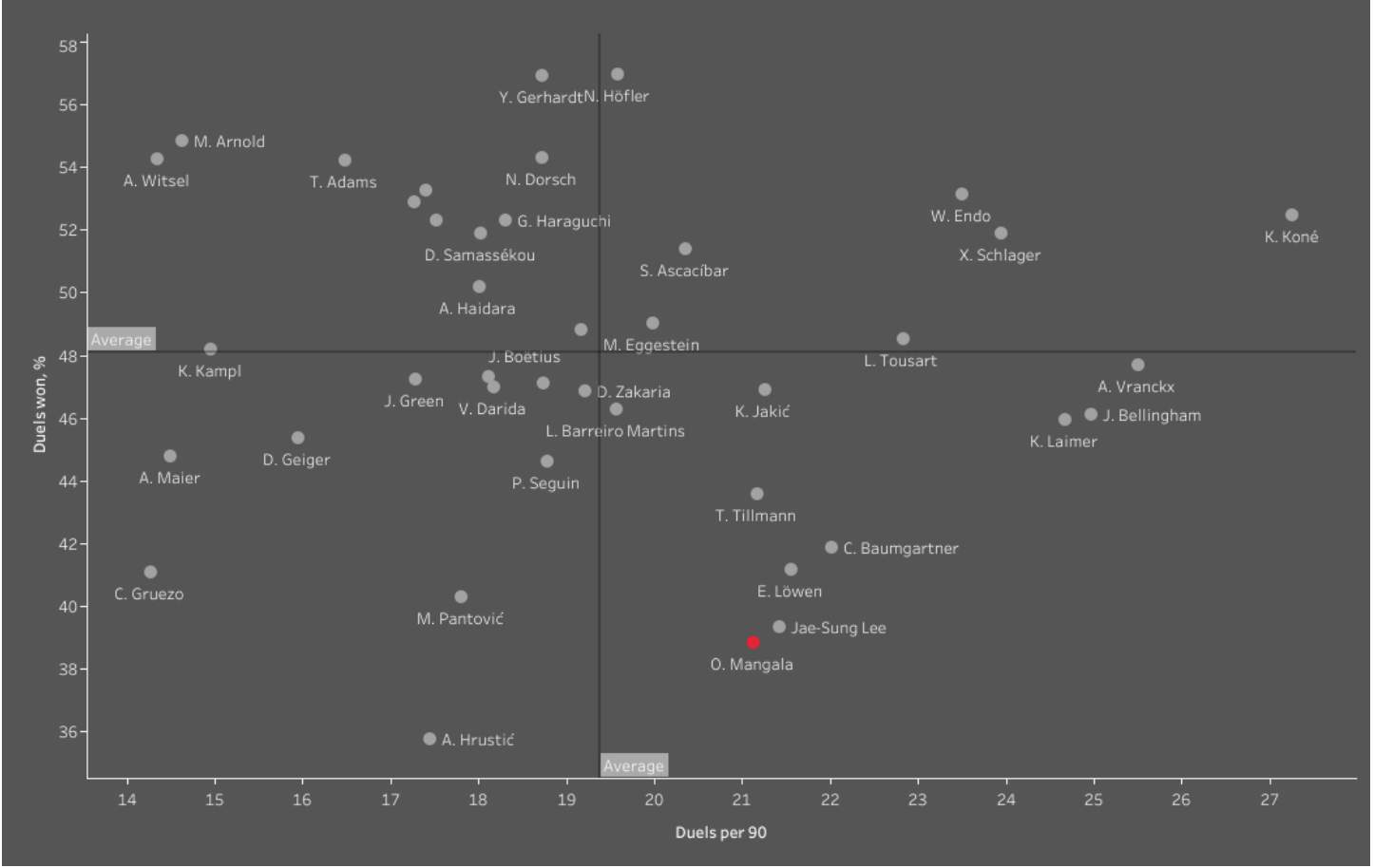 As mentioned above, Mangala was more akin to a box-to-box midfielder at Stuttgart while most of the defensive duties fell to his midfield partner, the Belgian did of course have to help out defensively. Mangala actually engaged in a higher-than-average number of duels per 90 however his win percentage was rather low.
This is an area where the midfielder will need to improve, especially in the Premier League which is well known for its physicality and battles in the middle of the pitch. His willingness to participate in duels is also found in his ability to pressure the opposition, very often forcing an error.
He shows good understanding and reading of the game in this area, which will be a good addition to the Forest midfield, especially with the likes of Jesse Lingard and Brennan Johnson in attack. A quick turnover would allow them to possibly be devastating on the counter. 
The 24-year-old does not perform well in terms of the number of interceptions and tackles he makes per 90. Whist this is not his primary role on the football pitch, you would expect his numbers to be slightly higher for someone who has played the amount of football that he did during the previous season.
Mangala's defensive positioning could be a factor in this, on occasion he is slow to react, and the play will bypass him before he even makes a move to try and intercept the ball. This is something that Forest will want to eradicate from his game as it will leave them defensively vulnerable as the season goes on.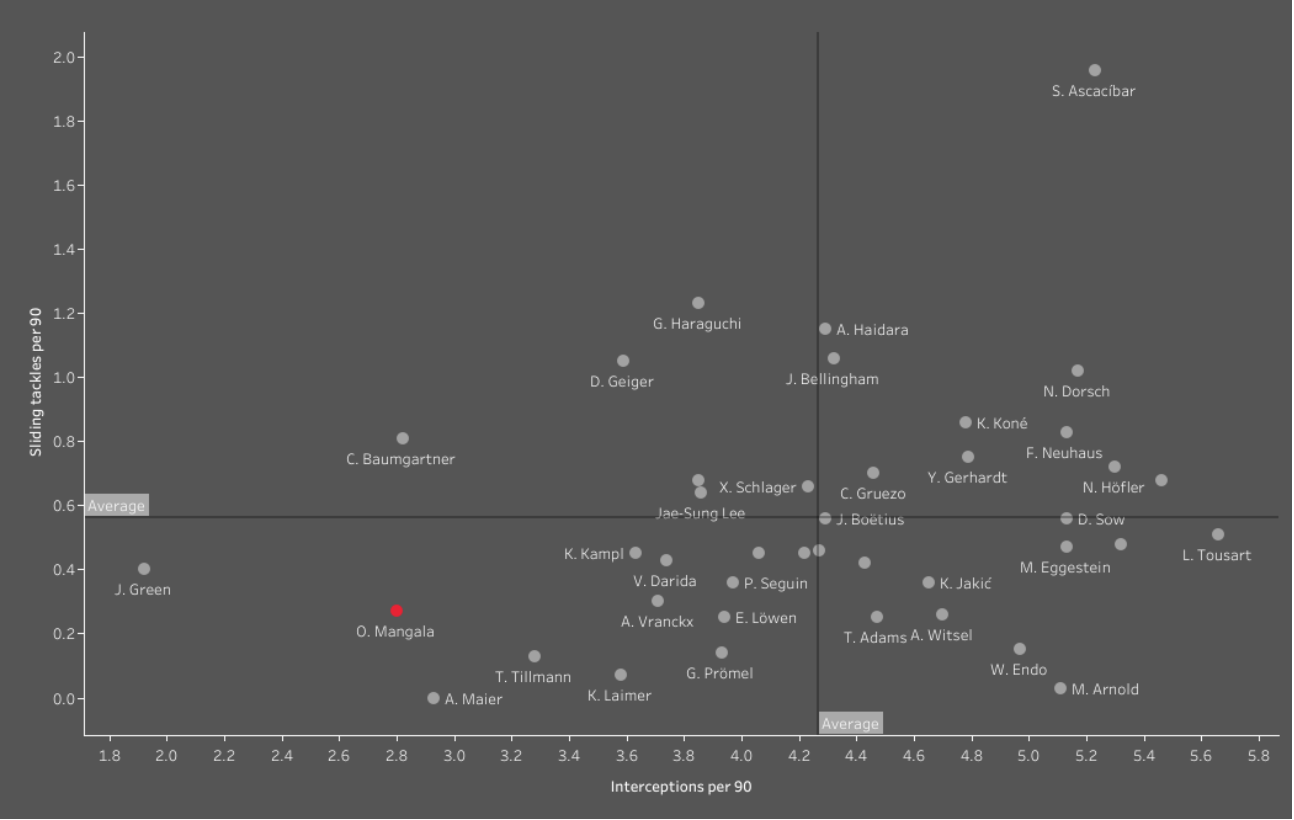 Orel Mangala is very happy to make progressive runs, he will often appear in the opposition penalty area. This willingness to get forward and be an extra body in the box can drag defenders away from some of his teammates and create that extra half a yard of space for the forwards. It is traits such as this where the Belgian's footballing intelligence shines through, and whilst he has plenty to improve upon, he also brings a lot to the table that Forest fans will enjoy.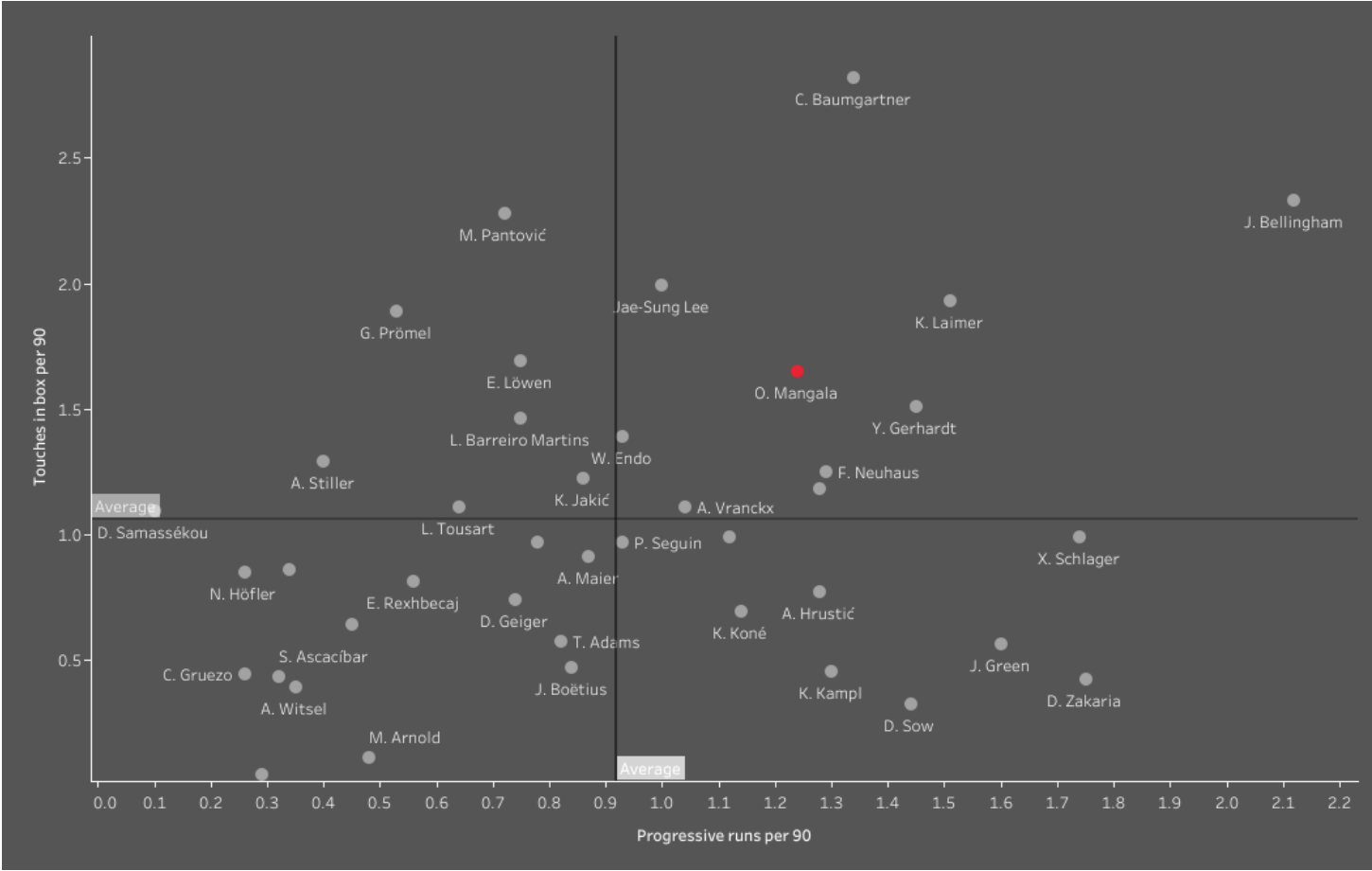 Mangala possesses a decent enough passing range which will be put to good use in the Premier League. However, when he receives the ball, he does not often make progressive passes. The former Stuttgart man is much more of a ball carrier than a progressive passer. He averaged 0.5 key passes per 90 in the previous season, this was a decent number and shows that he has a good level of passing intelligence.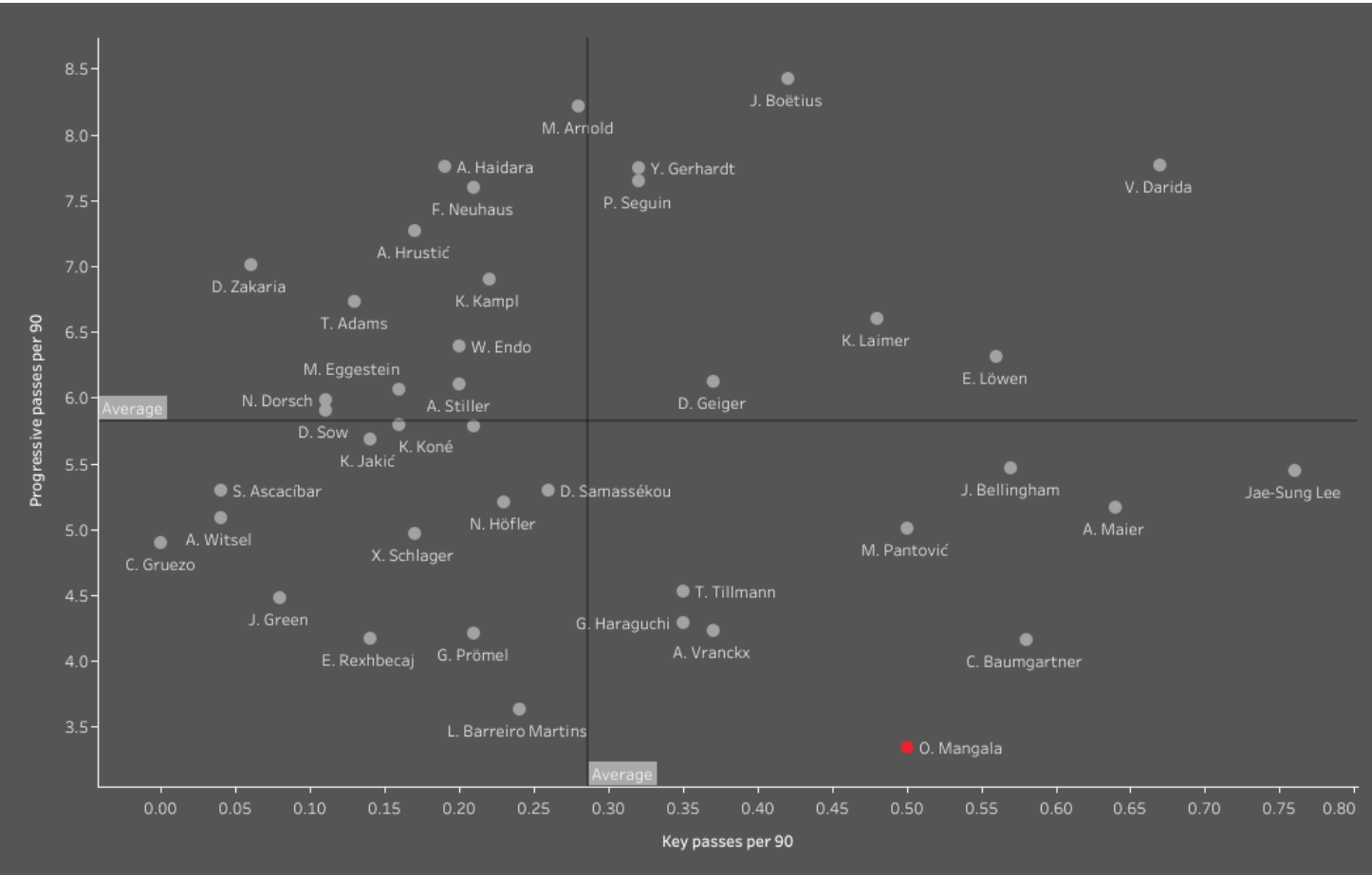 Mangala's consistency in appearing in the opponent's penalty area also means that he ranks quite high in terms of assists per 90. By getting into the final third regularly he is always available to play through the lines and bring the forwards into goal-scoring positions.
He is relatively calm in possession and does not often make rash decisions, he had a pass accuracy of 85% per 90 during the 21/22 season. This kind of reliability with the ball at his feet could be a very useful tool for Steve Cooper's team. Especially in transition with the likes of Taiwo Awoniyi making runs in behind the opposition defence.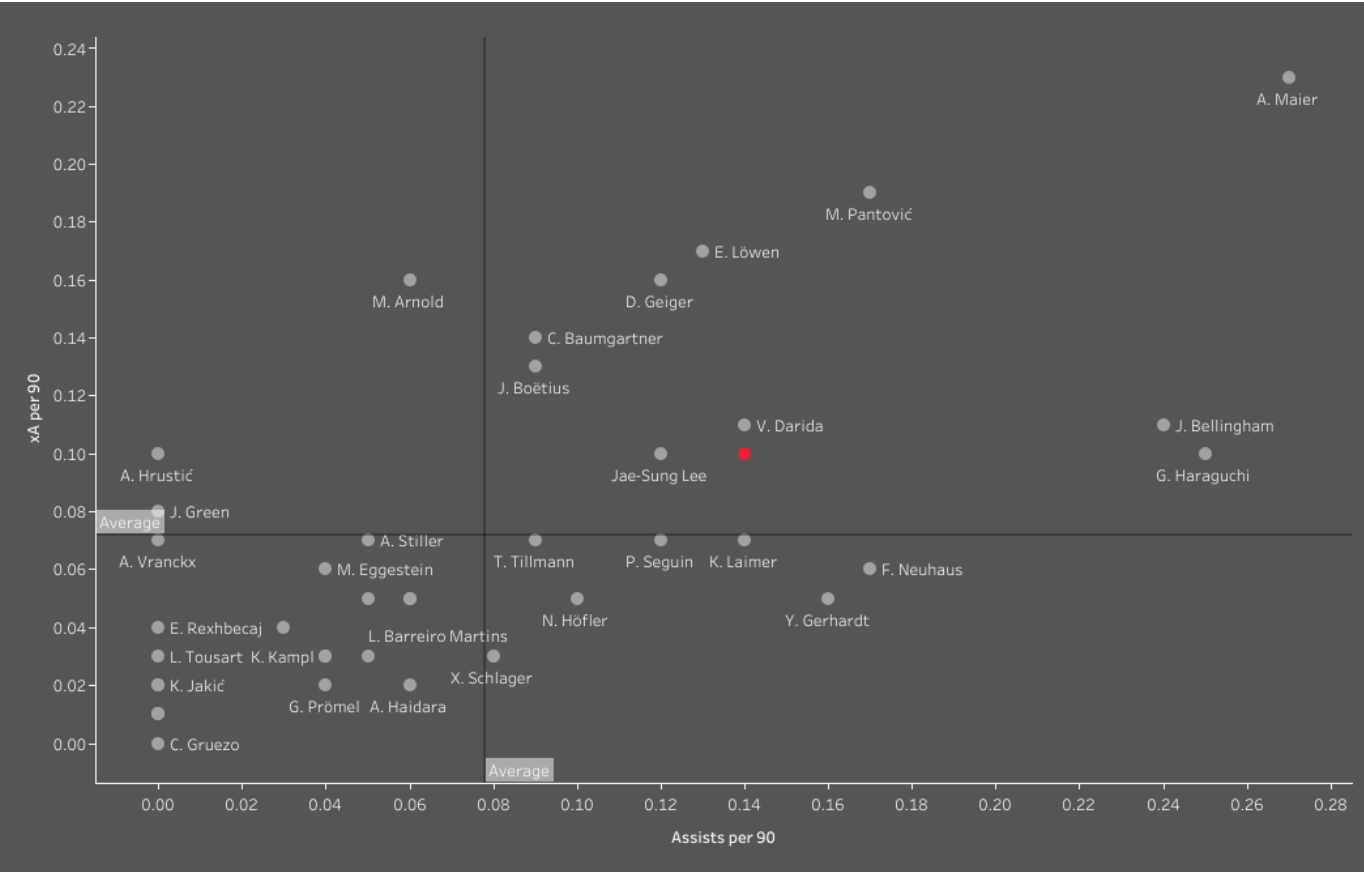 Overall, Orel Mangala is not the most exciting player Nottingham Forest have signed during the summer transfer window, but he could go on to be an important player for them. His game primarily revolves around his ability to carry the ball which means that he is able to influence the transitional play and carry the team up the pitch at speed.
For a team such as Forest who may be looking to counter effectively, this will be key. Mangala is not someone who is going to act as a playmaker and play defense-splitting passes, to get the best out of him it is more beneficial to give him the freedom to roam and in a certain sense, play through him.
Orel Mangala will flourish at Forest just as he did at Stuttgart if he is not loaded with defensive responsibility and allowed the opportunity to use his quality dribbling abilities and willingness to run tirelessly for the team. With players like Jesse Lingard, Dean Henderson and Taiwo Awoniyi likely to grab the headlines, the Belgian midfielder could be Forest's unsung hero this season. 
By: Bethany Limb / @bethlimb
Featured Image: @Juanfrann / Getty Images