Orkun Kokcu: Analyzing Benfica's Blockbuster Signing in Midfield
Age: 22
Nationality: Turkish
Position/s: Attacking Midfield/ Central Midfield
Height: 5ft 9 in
Current club: Feyenoord
Number: 10
Orkun Kokcu has recently made the switch from Feyenoord (where he has been since age 14) to Benfica for a reported fee of around €30 million. This comes after a fantastic season for Feyenoord, making 46 appearances in all competitions, scoring 12 goals and providing five assists from central midfield. This is also following a brilliant 2021/22 campaign, where Kokcu scored nine goals and provided nine assists.
These back-to-back excellent seasons at only the age of 22, is what has earnt Orkun Kokcu a move to Benfica. The Turkish midfielder has the potential to smash it in the Portuguese league and continue his climb to the top, representing Benfica in Europe and playing on the big stage.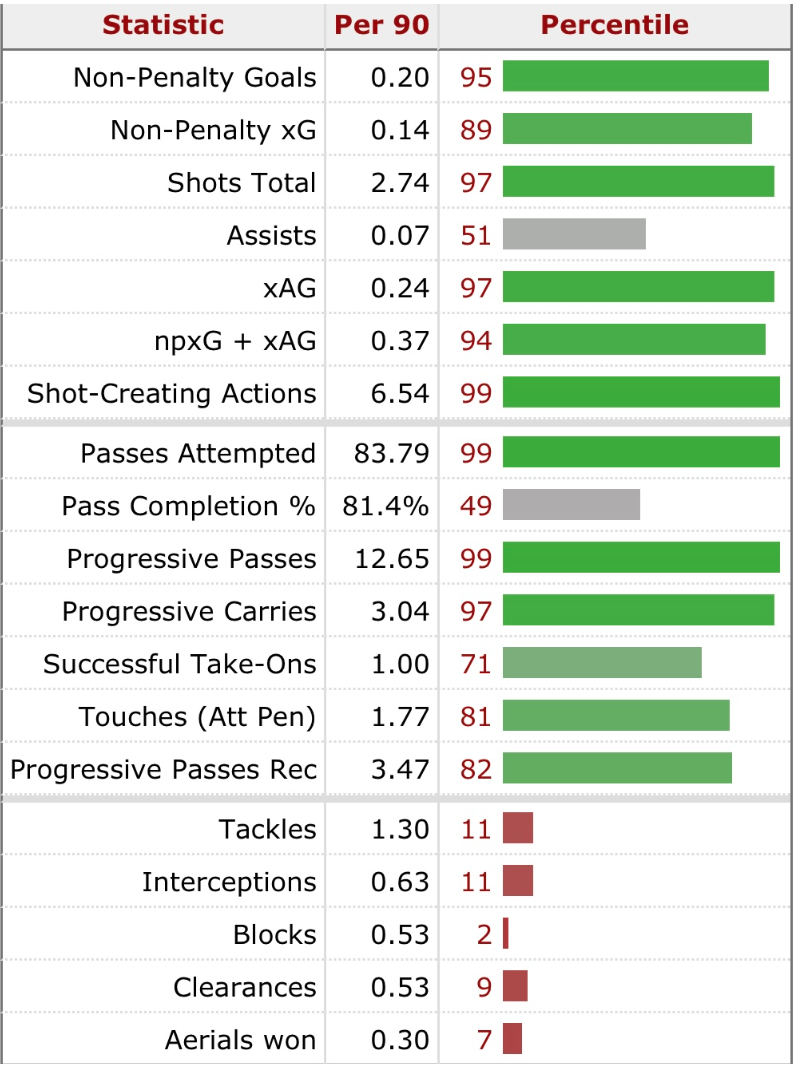 Photo: FBRef
The above figure shows Orkun Kokcu's FBRef stats, which show his many strengths and few weaknesses in his position. Kokcu excels in his passing ability, ranking in the top 99% amongst other midfielders for both passes attempted (83.79 per 90), and progressive passes (12.65 per 90). Kokcu also ranks in the top 99% for shot-creating actions, making 6.54 per 90, this shows that Kokcu's passing is effective and progressive, getting his teammates into shooting positions.
After losing Enzo Fernadez in January, Benfica will want to replace that passing output from midfield areas, especially creative and progressive passing, which can lead to chances created for the team. This is something that Kokcu can offer as shown by his FBRef stats.
Kokcu also has an eye for a goal and gets a lot of shots off from midfield areas. He produces 0.2 non-penalty goals per 90, and takes 2.74 shots per 90, which shows his ability to find himself in shooting positions and score goals. Kokcu has just come off the back of his best goal-scoring season in senior football, scoring 12 goals from central midfield for Feyenoord.
The main downside of Orkun Kokcu's player profile is his lack of defensive output, and defensive actions performed per 90. He performs 1.3 tackles per 90, 0.63 interceptions per 90, 0.53 blocks per 90, 0.53 clearances per 90, and 0.3 aerial duels won per 90. All of these five defensive statistics rank in the bottom 11% or lower amongst other midfielders.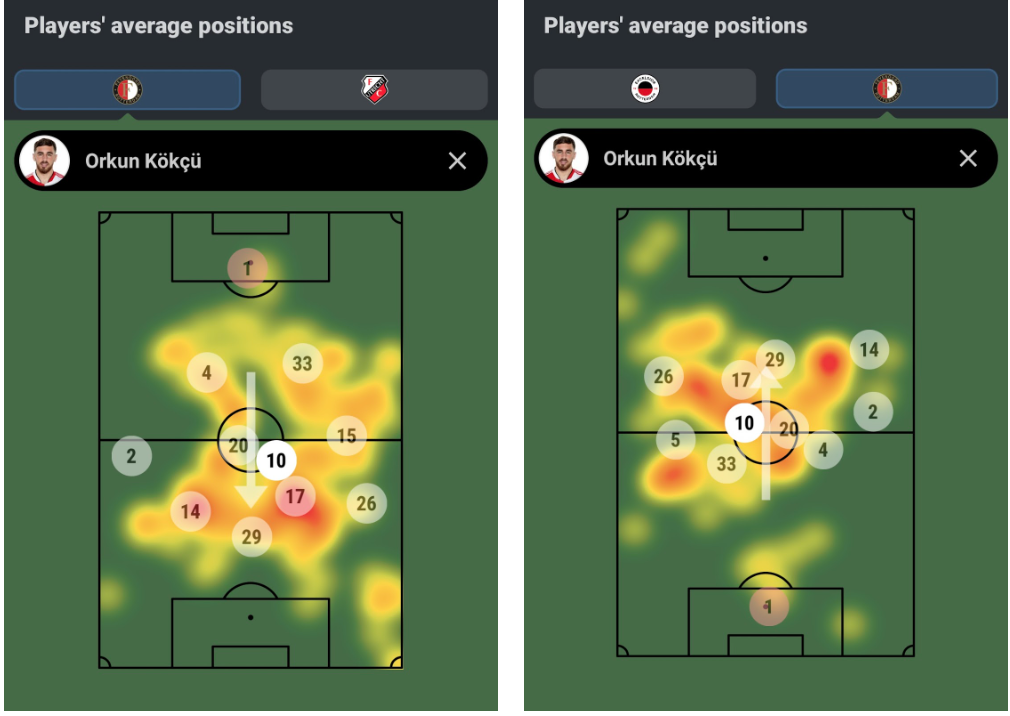 Photo: SofaScore
The above figure showcases Kokcu's average positions in two separate games, and both graphs show very similar things. He predominantly works in central areas, but floats around picking up the ball in deep and more advanced areas, depending on the flow of the game.

Photo: Brazil Scout Premium YouTube Channel
On the left, you can see an example of Kokcu dropping extremely deep in the midfield to progress play. On the right, you can see the outcome of the pass Kokcu played from the position in the image on the left. This shows his ability to play long, direct balls into dangerous areas to push the team forwards. This makes him incredibly hard for defenders to navigate as he can play through the press in tight spaces and play shorter, sharp passes, he can make progressive carries as shown by his FBRef stats (performing 3.04 progressive carries per 90) into midfield areas to progress the team, and he can also play long balls to start a counter-attack/put forwards into dangerous areas with minimal actions needed.
Conclusion
After playing a key role in Feyenoord's league title, Orkun Kokcu will revitalise the Benfica midfield, replacing the passing ability of Enzo Fernandez, and offering an eye for goal from midfield. At only the age of 22, Kokcu is showing developments in his game each year, improving his goal and assists output, and gaining valuable experience. This move to Benfica for the young Turkish midfielder will allow him to test himself in the biggest competition in Europe, as well as challenge for the Portuguese league title.
By: Connor Holden / @ConnorHolden00
Featured Image: @GabFoligno / Soccrates  Images – Getty Images