Ousmane Dembélé's Redemption Under Xavi and Why He Could Be a Massive Bargain in the Summer Window
It has been a fairly underwhelming spell at FC Barcelona for Ousmane Dembele. Whether due to injuries, the lofty weight of his price tag, or the massive expectations of replacing a superstar like Neymar, the French winger has been unable to justify his fee across five years under Ernesto Valverde, Quique Setién, and Ronald Koeman.
However, over the past few months, Dembele has reached the finest form of his Barcelona career under new manager Xavi Hernández. He has delivered in the final months of his contract, which is set to expire on June 30, providing 13 assists in just 1,411 minutes of league play this season. Let's take a deeper look at what makes Ousmane such an intriguing talent.
Speed and Dribbling
Despite suffering various injuries over the course of his time in Barcelona, Dembele remains one of the fastest players in La Liga and in Europe, hitting a top speed of 34 kilometres per hour. He is faster than almost every full-back and centre-back in La Liga and uses it to his advantage.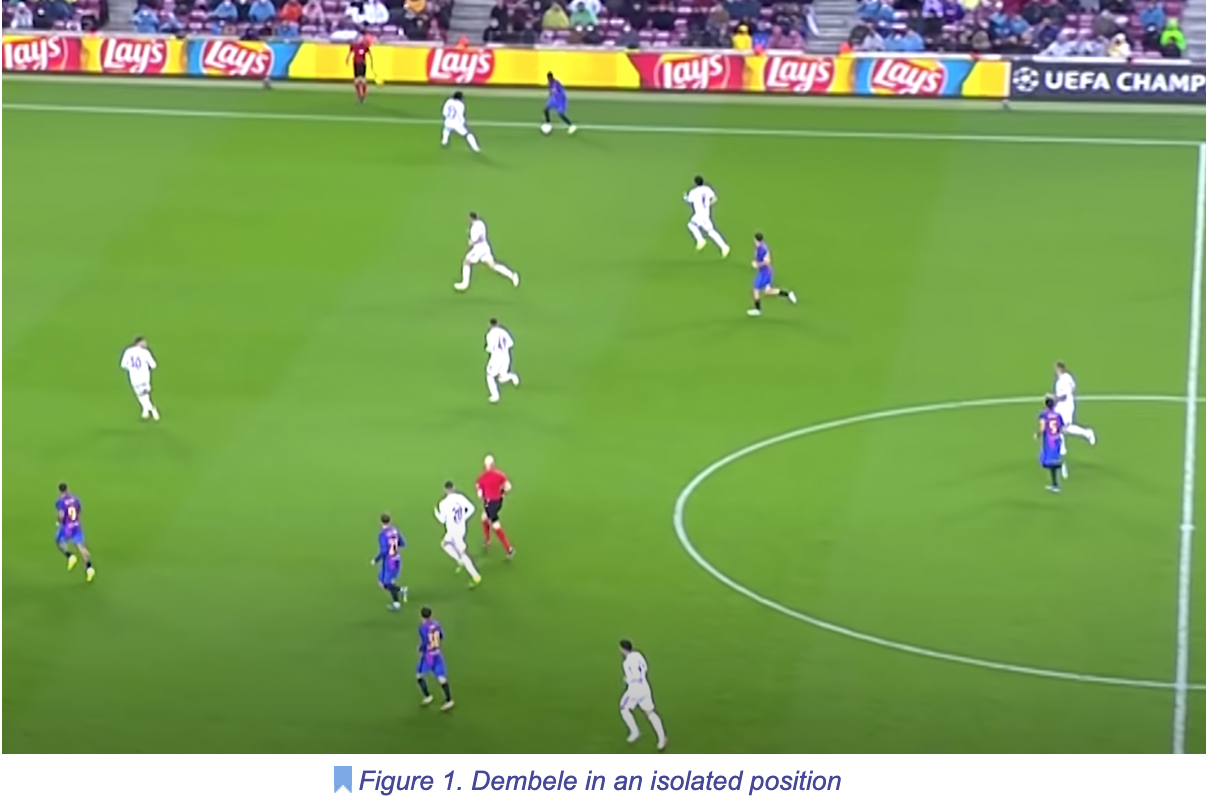 Here is an example of Dembele staying wide with the ball. He drops back to the halfway line to pick up the ball from Dani Alves before turning around quickly to face the opposition's goal. An important aspect is that Dembele does not play with his back to goal regularly, choosing to take opportunities head on by dropping deep or staying high to receive the ball and running at the defender.
An improvement he has made over time is that he picks his moments to start dribbling much better. A younger, rawer Dembele would tend to lose the ball often in an attempt to shoot or dribble into opportunities where opportunities did not exist. 
Dembele is constantly scanning around him to find passing opportunities or opportunities to cut inside. Here, Campaña and Son close Dembele well enough so that he is not able to cut inside, so he takes the other option, running forward.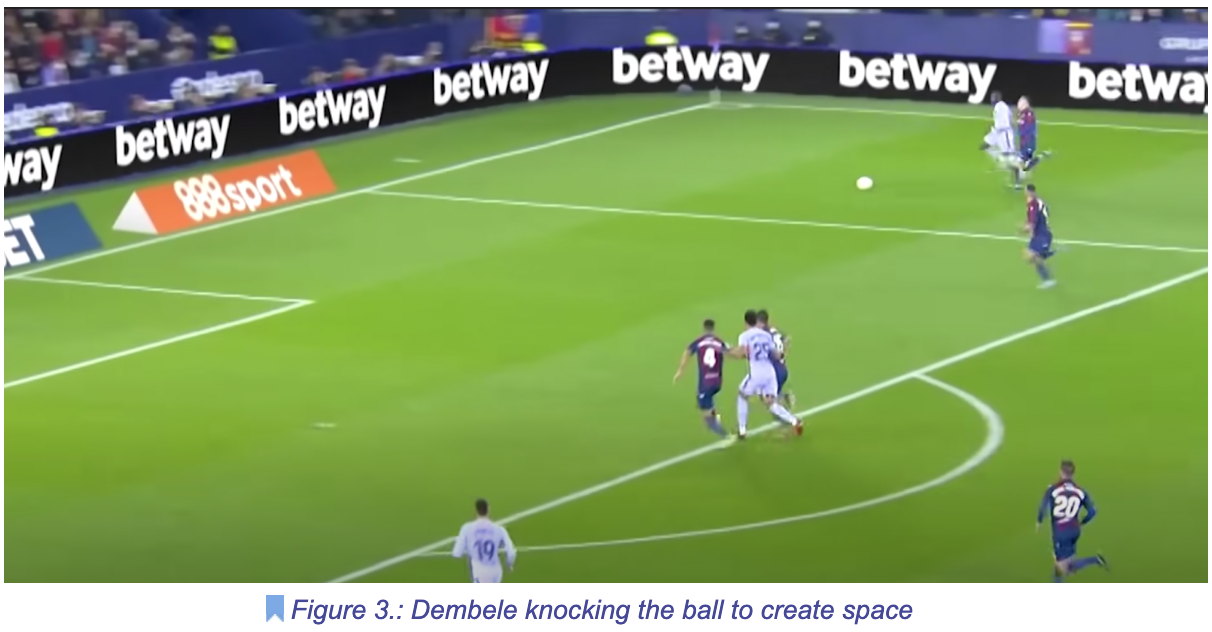 Due to his outright pace, he is able to knock the ball forward past Son and easily get to the ball before Son does. Dembele employs this tactic against slower defenders constantly by knocking the ball into dangerous areas and catching up there with ease. 
Now that he has knocked the ball into a dangerous position, he has a lot more space to cross the ball to Ferran Torress or Aubameyang. Dembele, in the above move, has demonstrated how he uses pure pace with a regular scanning of his environments to enter dangerous positions to pass.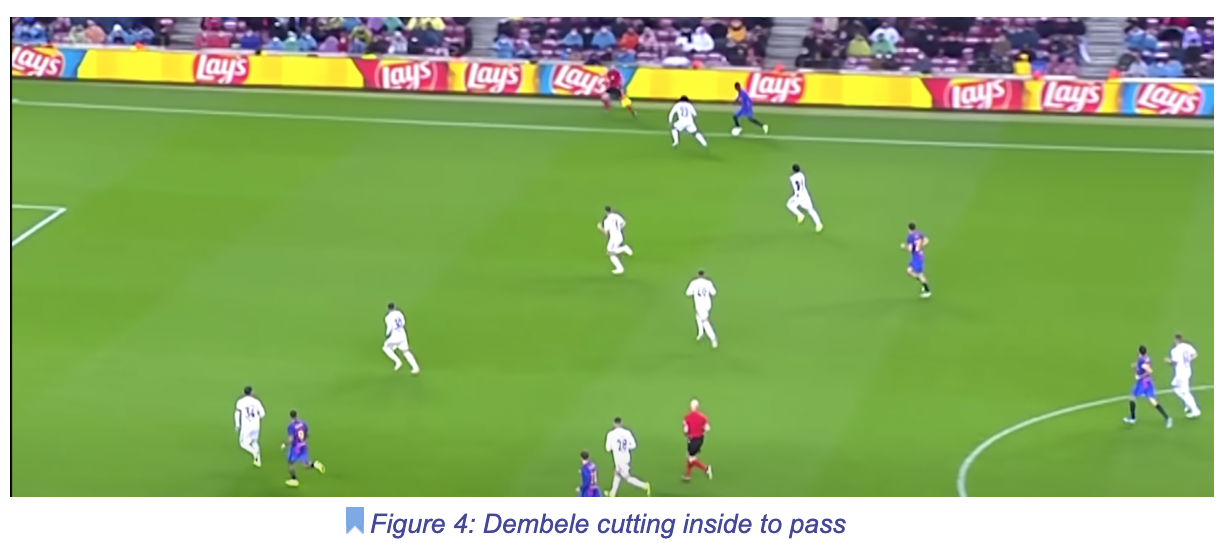 Here is another scenario where instead of dribbling forward, Dembele cuts inside and passes the ball centrally. 
He starts in a similar position on the wing with minimal support near him. Therefore, he has two choices: Cut inside or continue dribbling forward. Based on the above still, it would be a worse option for him to cut inside considering Darwin Nuñez is covering the inside. It is, therefore, easier for Dembele to try to knock the ball forward past Lazaro and put a ball into the box.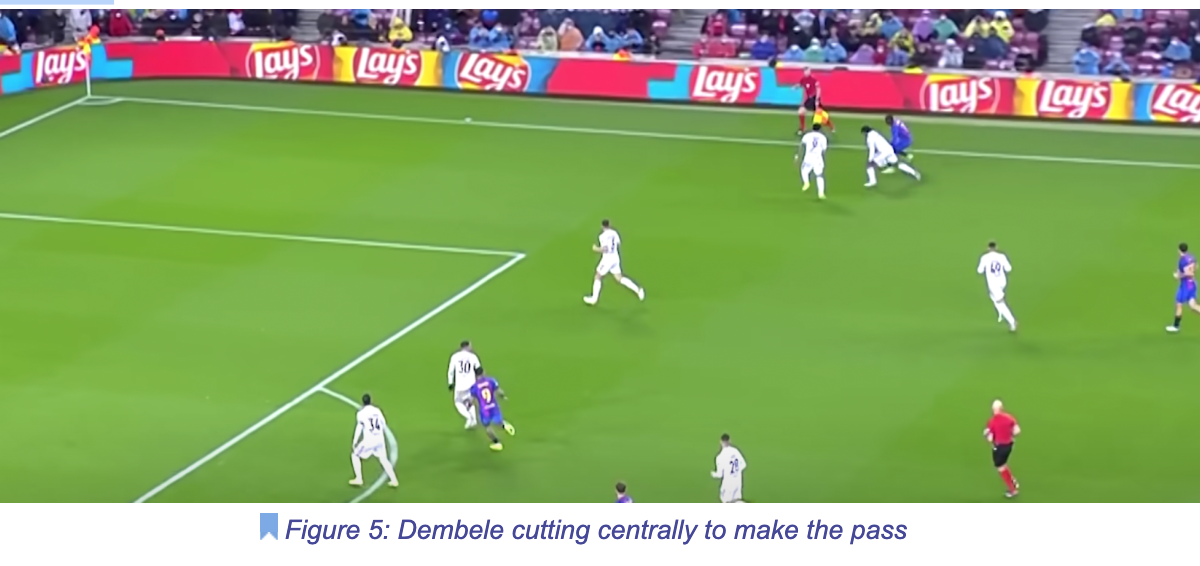 What has made the difference here is that Lazaro covers the wing much better than Dembele expected, putting him in a difficult position. Meanwhile, Nuñez catches up and attempts to win the ball from Dembele. This is where Dembele's intelligence is important.
Noticing that Nuñez has closed down the wing, but has opened up the central space, he baits both Benfica players into attempting a tackle, before cutting inside. Now that they cannot catch up with Dembele, he cuts inside with ease and makes a pass to Gavi.
Overall, while Ousmane Dembele has not improved massively in his speed, he is making smarter dribbles into the right positions, and under Xavi's tactical system, he is able to showcase his strengths to the maximum.
Defensive Workrate and Versatility
Another aspect of Dembele's game that has improved is his defensive workrate. We can observe this by comparing his heatmap this season to his last season.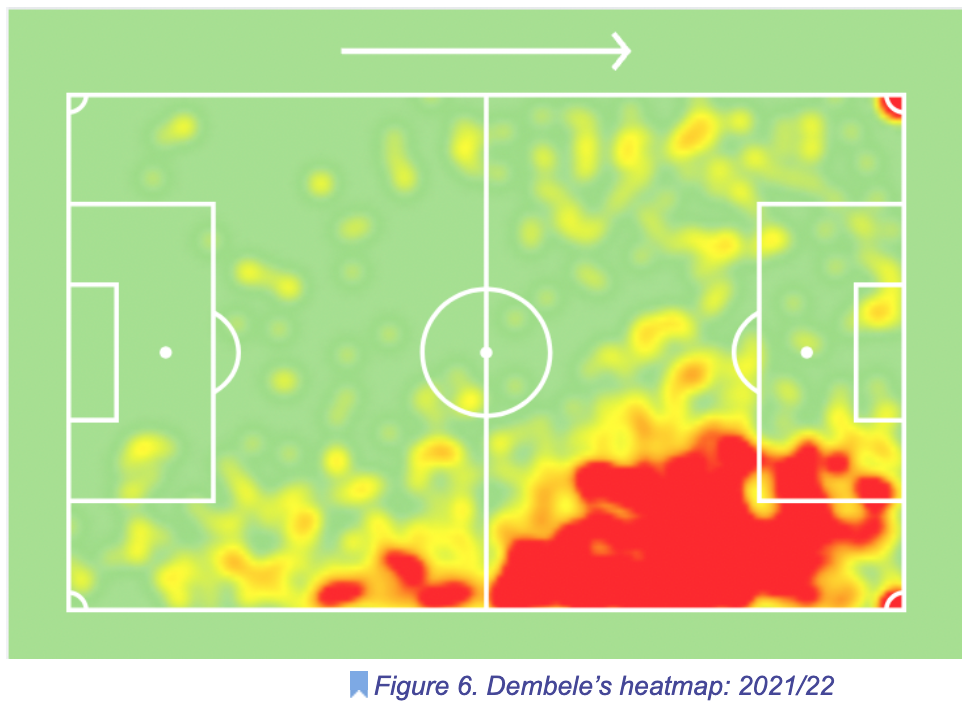 Other than sporadically playing in the left-wing, his biggest concentration is on the right side. However, we can see that his heat-map is intense in defensive positions behind the halfway line.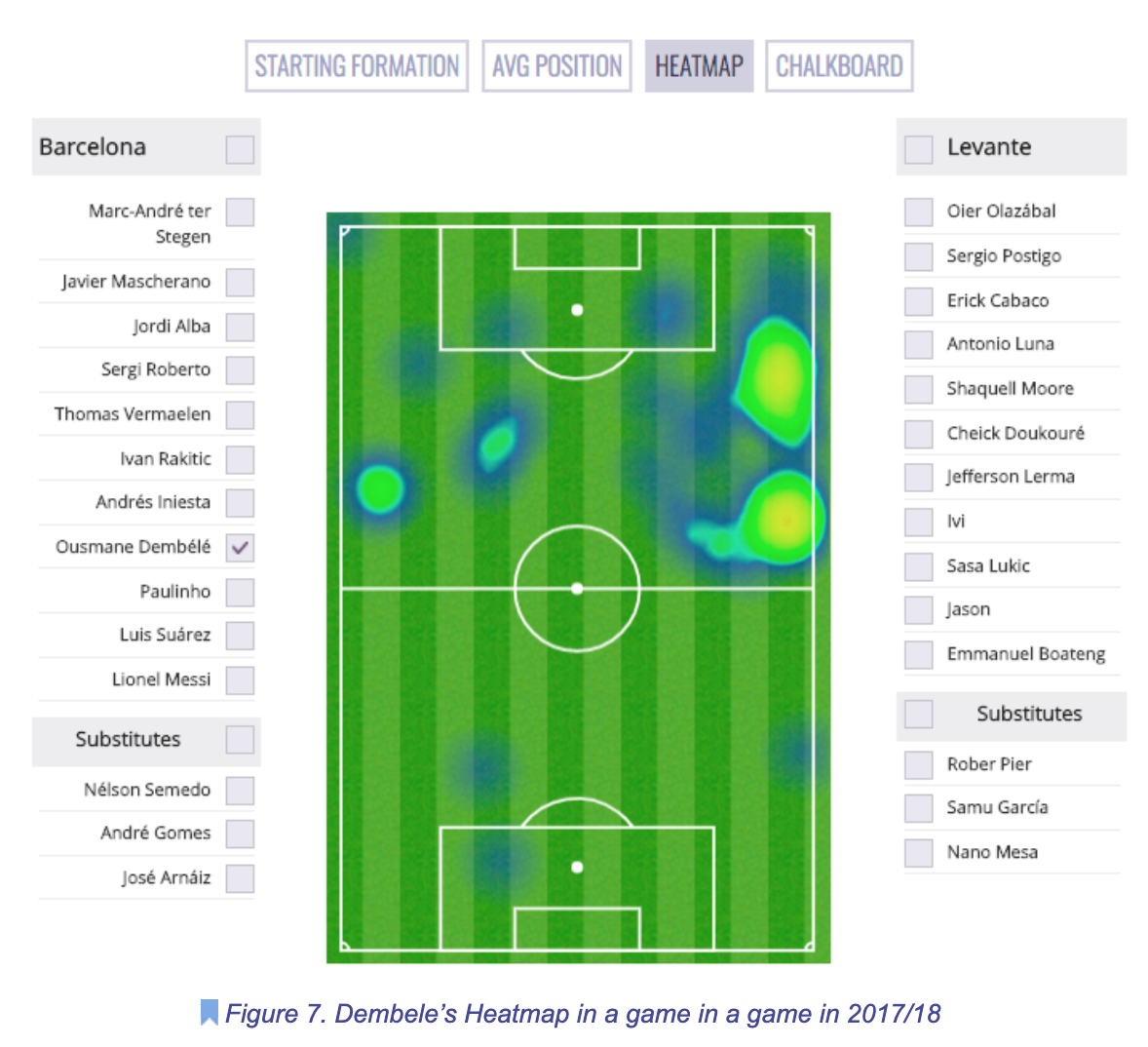 On the other hand, his heatmap barely has any intensity behind the halfway line in this game, meaning that he rarely tracked back. Why is this? There are two reasons. The first is differences in Xavi's and Valverde's tactical systems.
In Valverde's 4-4-2, Barcelona regularly made transitions to 4-3-3 to defend, meaning that Dembele would press the right or left side depending on Lionel Messi's positioning. However, players like Mascherano, Sergi Roberto or Ivan Rakitic would cover the right side meaning that Dembele did not need to track back.
Valverde's defending methods, while effective, had the opportunity to blow in his face, as did happen against Roma in the Champions League and Levante in La Liga. 
Xavi's defending system, on the other hand, is a more high-risk high-reward situation with their pressing. An illustrated example can be seen below, highlighting only Dembele for the purposes of our analysis.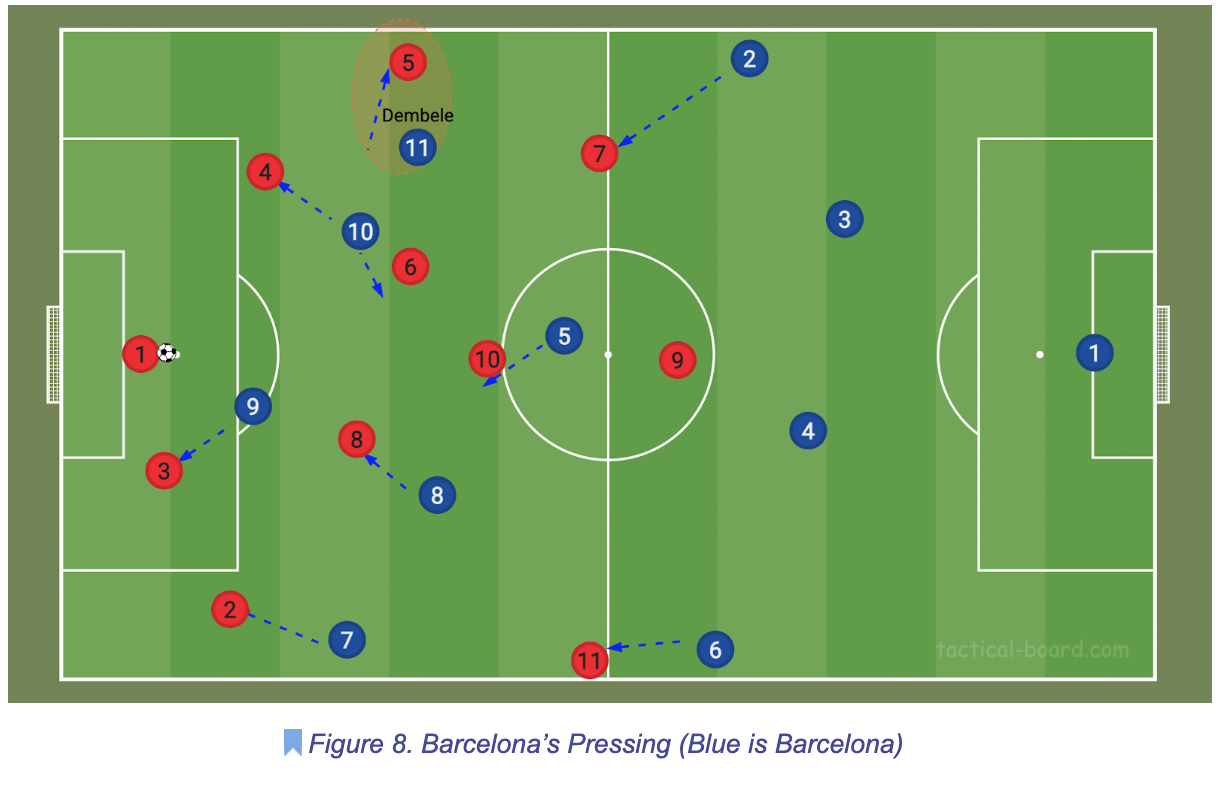 Barcelona's pressing mirrors that of Luis Enrique, which is more man-to-man oriented than zonal. The holding midfielder (usually Sergio Busquets) presses higher up the pitch, almost entering the final third, while the other two midfielders press the opposition's midfielders. Meanwhile, the wingers press the oppositions' full-backs while the striker presses the centre-backs. This can change depending on the position of the centre-backs and midfielders to determine who marks who.
Considering the extremely high line and aggressive pressing that Barcelona employ, balls can be played behind the midfield line and leaving the centre-backs vulnerable. Therefore, there needs to be cover on the flanks, especially considering Dani Alves, the right-back, goes up the pitch frequently. 
This is where Dembele comes in. He covers for Alves by tracking back and pressing the opposition's full-back or winger. We can see this in a real game below: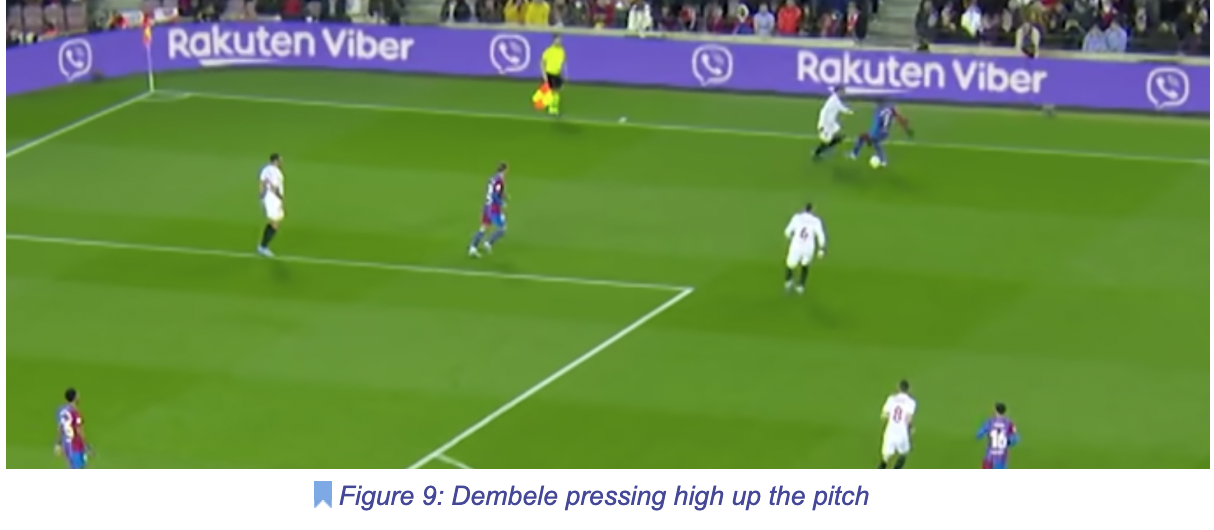 This is an example of Dembele pressing high up the pitch to win the ball back, which he successfully does against Karim Rekik, Sevilla's left-back in this game. This is the advantage of Xavi's defensive tactics. Dembele is able to win the ball up high and create a quick counter by crossing the ball into Aubameyang, which is unsuccessful. 

Here is Dembele dropping back to defend after Dani Alves was caught in an overlapping play. Considering that the only cover on that side was Ronald Araujo, who was the last man, Dembele, with his rapid pace, ran back to win the ball, which he successfully did. 
Dembele is also good at reading the game defensively, a facet of his game that has improved over the years. Even before the opponent wins the ball back, he is able to judge the direction of the attack and get a head-start to make the run there to intercept the attacking player.
Passing and Crossing (Playmaking)
Despite Dembele improving defensively and while dribbling, he has, without a doubt, seen the most progress in his improvement while playmaking. He had the most assists in La Liga this season with 13 assists and created 13 big chances as well, the third-most in the league. He made 2.2 key passes per game and created 2.9 chances per game as well, ranking him second in the league on both metrics. 
He constantly crosses into the box with 1.5 accurate crosses per game, which is one of the highest in the league and has improved with his decision-making while crossing as well, crossing in coordination with the runs of the attacker. We see this in the game against Athletic Club below, where he assisted Luuk De Jong and Memphis Depay by crossing, but differently in both goals.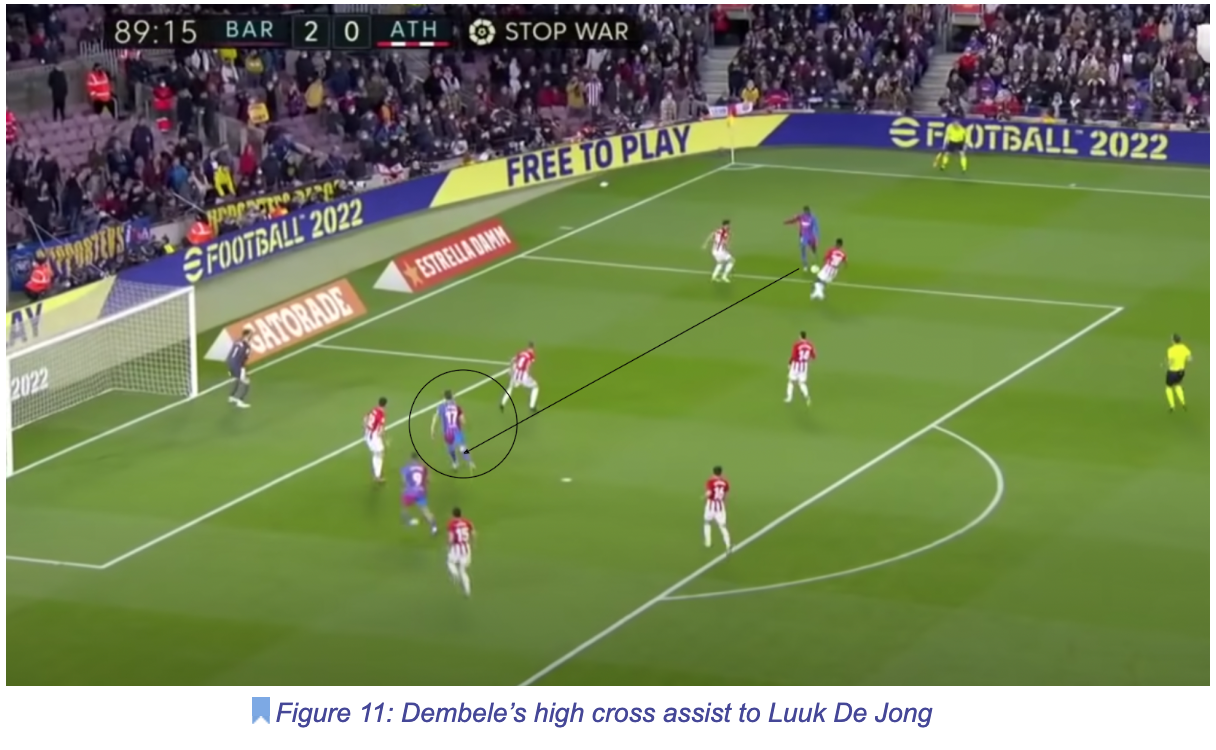 This is Dembele's first assist to Luuk De Jong, a high cross that Luuk headed in. The goal was created due to Dembele's brilliant crossing and Luuk finding the right runs.
While Depay could have been an open option as well, he floated in the perfect cross to Luuk by crossing it between Unai Simon and Iñigo Martinez. By putting in the perfect weight behind the cross and timing it such that he is in an open position and Luuk is just about to make the run, the goal is scored.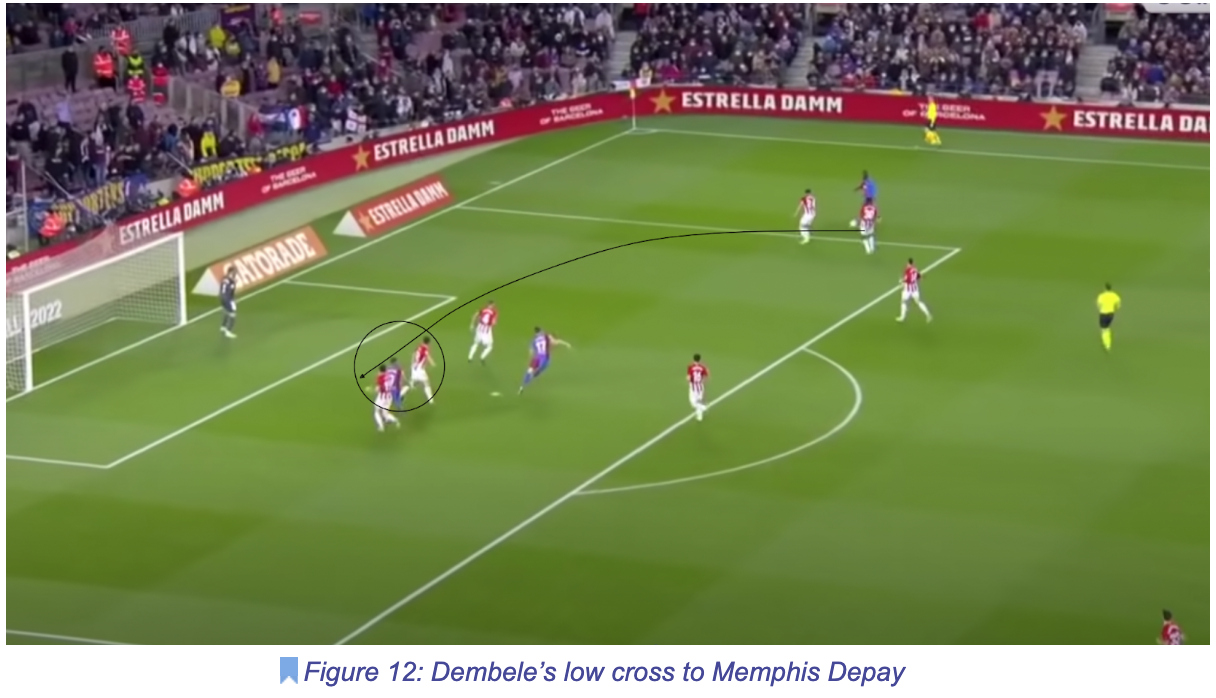 This is the second assist that Dembele makes within the space of 2 minutes, and it is markedly different. He plays a grounded through cross into the box for Depay. While he could have passed between the defenders to Luuk in the box, Luuk would have been in a difficult position to shoot and would not have played to his strengths.
Once again, he times his pass brilliantly to match Depay's run, but what is more important here is the quality of the ball that Dembele plays by weighting the pass correctly. In the past, he has messed up these balls regularly by either not clearing the first man going past all the players. 
Overall, his passing has improved as his vision, timing of passes and the calculation of weight of the passes have all gotten better over time, especially under Xavi Hernandez.
Conclusion
Ousmane Dembele has turned over a new leaf this season, with little injuries, a better diet and overall regimentation and improving his on-pitch performance by building on his mental capabilities and using them with his already brilliant physical capabilities. Considering that his contract situation is a toss-up at the moment, it is to be seen where he will end up this season. 
By: Sachin Prabhu Ram
Featured Image: @GabFoligno / Fran Santiago – Getty Images