Player Analysis: Aaron Boupendza
Antakya, the capital of the southernmost Turkish province has borne witness to countless empires and rulers, the Akkadians, Amorites, Assyrians, Neo-Babylonians, and Persians amongst others, however, Hatay has found a new ruler, this time in the form of a Gabonese panther. Often after the panther has struck, a customary cartwheel-backflip is performed, striking fear and envy into fans across Turkey. This proverbial panther was born in Gabonese media, a nickname for the predatory forward and new star Aaron-Salem Boupendza.
Boupendza as a 19-year-old made the move that so many young African players do, to France, more specifically, Bordeaux after a stellar debut season in Gabon for CF Mounana. A litter of moves around France and Portugal followed, with only one stint of distinction, a loan to Pau FC, where he scored 15 in 21 in the Championnat National. Increasingly, it appeared that Boupendza would be stuck in the labyrinth of lower league French professional football, with prospects of success and notoriety increasingly cloudy.
The Gabonese forward failed to gain the confidence or support of much of the Bordeaux faithful. I discussed Boupendza with Bordeaux fan and editor-in-chief of GIFN, Raphaël Jucobin, who shared sentiments with the majority of Les Girondins' fans, "He had a few disciplinary issues and some pretty underwhelming loan spells despite initially doing well for the reserves when he arrived. Needless to say, his form in Turkey has surprised us all."
The Bordeaux faithful are not alone being surprised by Boupendza's explosion in Turkey, it's safe to say his performances have come to the surprise of all but the Hatayspor recruitment team. For the €100,000 fee paid, Boupendza's arrival in southeastern Turkey may be the best piece of business done in Turkey, or all of Europe for that matter this season.
As always the Turkish media has lapped up this opportunity, a new star in the Super Lig comes with vast headlines and comparisons. Boupendza has already been likened to his countrymen, Kylian Mbappé and Alexandre Lacazette after just six months. Their praise doesn't come unwarranted, Boupendza has been a revelation in Turkey so far. Like his countrymen, Boupendza has been utilised out wide, either on the left or right of a 4-2-3-1, but has proved most comfortable and effective spearheading the attack as the central striker.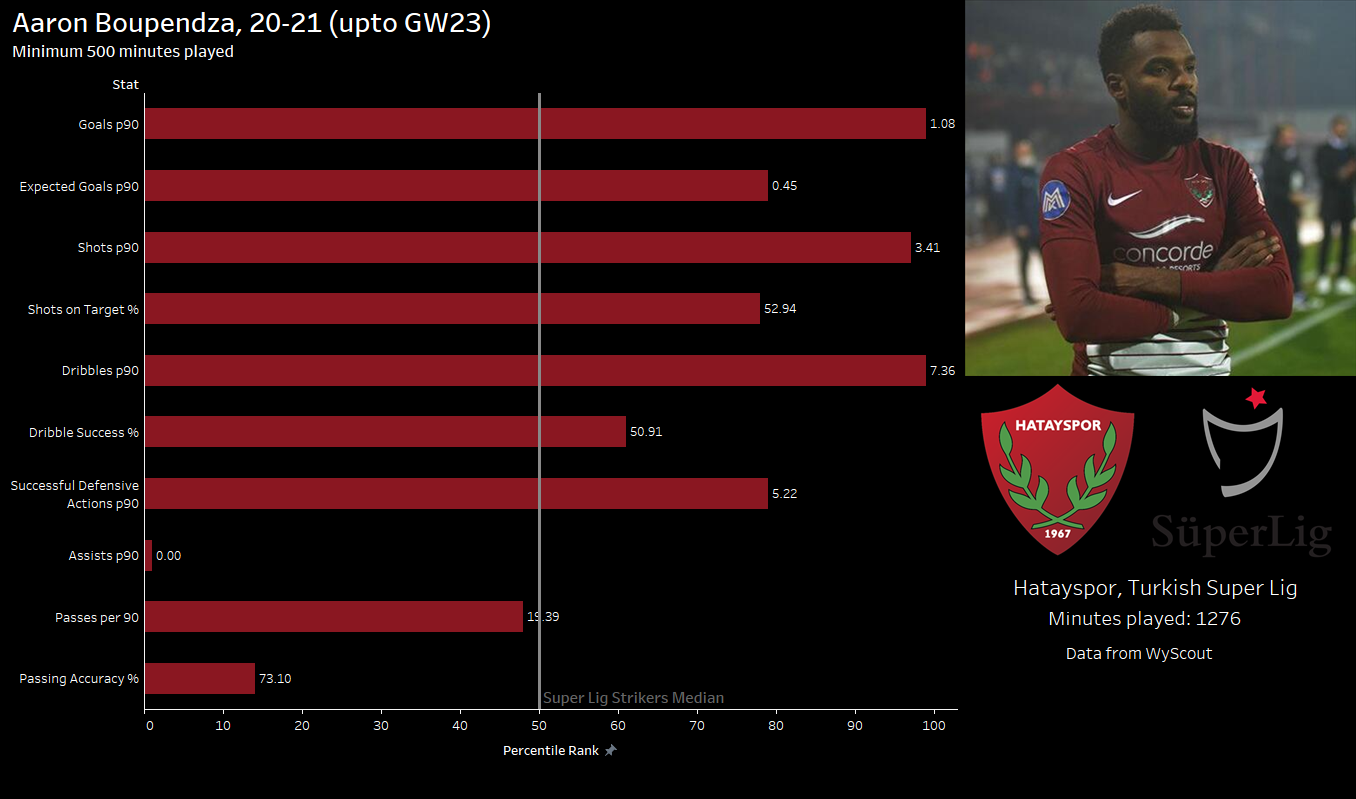 Boupendza is the Süper Lig's runaway top scorer with 17 goals at an absurd rate of 1.08 goals per 90 minutes; the second-top scorer is a tie between Beşiktaş strikers Cyle Larin and Vincent Aboubakar with 12. This comes as little surprise when you watch Boupendza. His goalscoring prowess is seen best in a 6-0 win against Antalyaspor in December 2020. Bopuendza was responsible for four of those goals, a high for any Super Lig player this season, with two of them being finishes any player would pride themselves on.
The first a rifled shot from outside the box into the top left corner of Ruud Boffin's net, the second somehow more impressive, he paces his man and then rockets the ball into the roof of the net from a tight angle on the left-wing. The arrogance of both finishes exemplifies his game perfectly, he is ambitious, outrageous, and unapologetic, always following his goals up with a fitting celebration.
Somehow neither of these two goals are his best, which was saved for Mesut Özil's first minutes as a Fenerbahçe player. In the dying embers of the match, Boupendza flicks the ball over Attila Szalai, spins, and hits it on the volley into the opposite top corner of Altay Bayındır's net. A goal which will be talked about long after the 90 minutes. Boupendza is not merely a player made for Twitter clips and YouTube, he is a well-rounded forward with a variety of strings to his bow.
The Hatay forward has excellent close control and touch, he often comes short to utilize these skills, soaking in defenders, then with a dynamic touch or spin beating his man or passing it to a teammate, defeating the trap. His close control was best exemplified in his goal against Beşiktaş, where his control and tricky first touch gave him enough space to bury the ball into the bottom right corner from just inside the box.
Boupendza doesn't give up out of possession, he aggressively presses and challenges passing lanes, apt to lead a press from the front. His first goal against Antalyaspor was born out of an effective high press from him and his fellow forwards. He uses his impressive physicality and pace both in and out of possession, often found on the front post defending corners as well as the target of crosses and corners.
Internationally, an attack spearheaded by Boupendza, Pierre-Emerick Aubameyang, and Saint-Étienne's Denis Bouanga should be revered in Africa and could bring some much-needed footballing clout to Libreville. If you have the opportunity to watch Hatayspor do so, the newly promoted club is thriving in a traditionally polarised league through effective recruitment and good coaching, a breath of fresh air in the Süper Lig. If no time for a full match, I ask only of you to watch a quick video of his highlights for this season on YouTube, it will not be a dull five minutes.
As for Boupendza, his future is up in the air. It would be surprising to see him at Hatayspor next season, he has already garnered serious interest from Fenerbahçe and Dynamo Kyiv. A move to a top 5 league may be a little premature at this point, as there would be uncertainties surrounding the forward as this is his first season of note. Whatever is in store for the Gabonese forward, he will be fondly appreciated by the people of Antakya and remembered frustratingly by fans of Turkey's other top clubs.
By: Patrick Caskie
Featured Image: @GabFoligno / Anadolu Agency